The Old Changi Hospital has plenty of spooky stories to tell...
If you're into stranger things, these haunted places in Singapore are ripe for ghostbusting adventures...
Whether you believe it or not, Singapore has a rep for being haunted. And no, we're not talking about the scare actors at Halloween Horror Nights or haunted houses in malls. This is the real deal. We're all for science and facts, but when we've heard too many ghost stories, supernatural sightings and urban legends surrounding particular areas, it's hard to shake it off. As a treat for all you ghostbusters, we've compiled a list of the most haunted places in Singapore. From derelict buildings to old hospitals, these are NOT for the scaredy cats. Explore the spookiest spots in Singapore… only if you dare!
17 haunted places in Singapore that give us the creeps
1. Old Changi Hospital
When you think of haunted places in Singapore, chances are, Changi Hospital comes to mind. The vacated colonial-style building is not for the faint of heart. Background: it was constructed as part of a military base where more than 50,000 prisoners were detained during the Japanese Occupation. Crying and moaning sounds in the vicinity, plus fearsome sightings of shadowy figures and pontianaks have been reported. No wonder it's named one of the most notoriously haunted spots in the world.
2. MacRitchie Reservoir
Known for its luscious greenery and hiking trails, MacRitchie Reservoir is actually a hot spot for the paranormal. Deep in the reservoir lies a Japanese shrine from WWII. Syonan Jinja, built to commemorate Japanese soldiers who died in the war, now sees its remnants engulfed by nature. It's said to be haunted by spirits of the dead protecting the shrine from outsiders (some have gotten lost while veering off the path to find it). Even though the National Heritage Board has declared it as a historic site, its dark legacy continues to live on…
3. Block 852 Woodlands Street 83
Built in the 80s, this housing estate's dark history started with its abandonment in the early 2000s. It was later used as a Sars quarantine facility in 2003 before availing its flats for rentals. In 2009, it made headlines as the location of murder involving a mentally unwell woman and her teenage daughter. While people still live there, the number of frightful stories emerging from this block are numerous. Filled with tragedies and misfortunes, it's the perfect setting for a haunted place in Singapore.
4. Yellow Tower at East Coast Park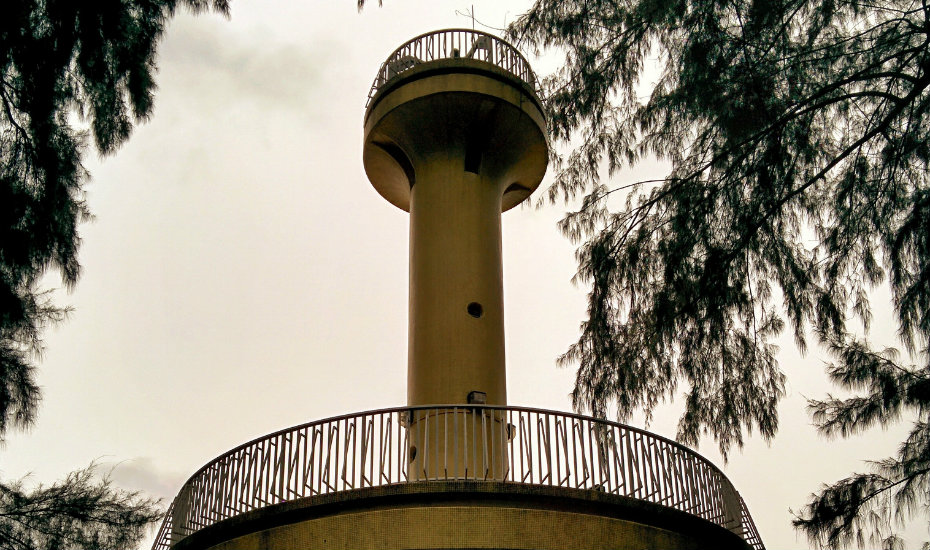 This spot at the popular family destination, East Coast Park, actually comes with a tragic history. Allegedly disturbed by the spirit of a murder victim, Amber Beacon Tower near Carpark C is an active site for curious paranormal investigators. Passers-by have claimed to see a female apparition crying for help on some nights. Research shows that a murder actually took place at the beacon where a young lady died from stab wounds. Could this be the ghost haunting the tower?
5. Bedok Reservoir
The site is relatively well-known in Singapore… for being a suicide destination. It's morbid, we know. But from 2011 to 2012, six suicides (and one attempted suicide) occurred at the reservoir. Now, its reputation as one of Singapore's most haunted places is here to stay. The multiple suicides sparked government intervention when an inter-religious blessing was organised in November 2011. Religious leaders from eight faiths took turns to bless the site. Ironically, on the morning of the blessing ceremony, the sixth body was found. The location has since become the subject of paranormal discussions. But, we think the most chilling thing at Bedok Reservoir are the signs displaying 24-hour crisis hotlines to remind you that life is precious.
6. Haw Par Villa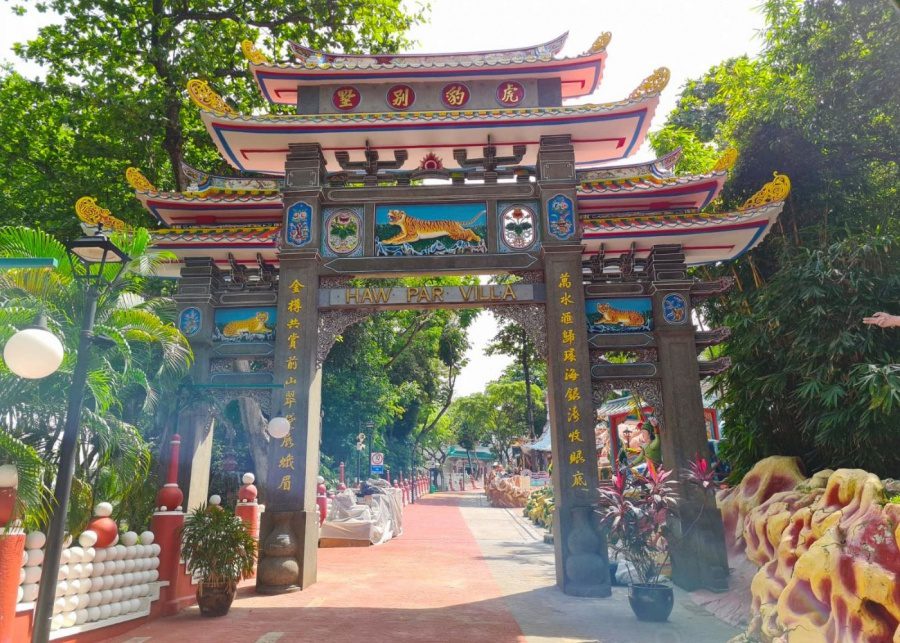 The strange theme park, also known as Tiger Balm Gardens, is just as freaky in broad daylight. Just look at its bizarre statues that depict Chinese legends and folklore. The spookiest spot on the property? The Ten Courts of Hell, which show in gruesome detail the torture and punishments for sins committed in one's lifetime. Rumour has it that Haw Par Villa may be one of the gates to hell. Security guards have spoken about how the place comes alive at night. We've also heard that some of the statues are actually dead humans covered in wax, or possessed by wandering spirits. Yikes!
7. The Matilda House
Colloquially known as The Waiting Palace or Ghost House, this six-bedroom, single-storey bungalow in Punggol has a rich history. Named after his mother, it was built in 1902 by Alexander Cashin as a gift to his wife. The house served as a weekend hideaway for the Cashin household. Over the decades, it was passed down from generation to generation before the land was acquired by the government for residential development in 1985. There have been spooky tales that the house "couldn't" be demolished with supernatural forces in play. So it stood there for decades, worn down by time until it was converted into a clubhouse for the condominium, A Treasure Trove.
8. Sentosa
What, our State of Fun is spooky? Well, it has a dark history as Pulau Belakang Mati. The former name of Sentosa roughly translates to 'Back Island of Death', where executions took place on pristine beaches. There have been sightings of ghostly soldiers haunting the quieter spots on the island. Psst: we hear one of them may be the Jurassic Park area at Universal Studios Singapore. Guess you can say Sentosa is indeed a State of Fun for both the living and the dead!

9. Bukit Brown Cemetery
Opened in 1922, Bukit Brown Cemetery is believed to be the biggest Chinese graveyard outside of China with about 100,000 graves. That information alone is enough to send a chill down your spine! Make your way there with the help of the Bukit Brown Wayfinder (a self-guided trail put together by Singapore Heritage Society). You'll discover untold stories and learn about its role in the Japanese Occupation. Fun fact: there's actually a non-operating train station in the vicinity, part of the Circle Line. Take a closer look at the train map and you'll see the missing station code "CC18" between Botanic Gardens and Caldecott. It's believed the station will be up and running once the place is fully developed. More reasons to visit this place before it becomes obsolete!
10. Caldecott Hill
It's no secret the former Mediacorp headquarters is totally haunted. Anyone who's worked there has at least one creepy experience on the sprawling grounds. Plus, it's located behind fellow famous paranormal hotspot, Bukit Brown Cemetery. From strange voices calling your name to ghostly figures in dark corners, we're pretty sure the Mediacorp gang are happy to be at their new shiny digs in Mediapolis now.
11. Woodleigh MRT
Singapore is a land-scarce area, so it's no surprise Woodleigh MRT sits atop what used to be Bidadari Cemetery. What's the spooky part? Well, the train station was built in 2003, but it only opened to the public in 2011. Rumour has it, the spirits were unhappy with the redevelopment. Commuters used to report white ghostly figure sightings when the train went past the then-closed station.
12. Sembawang Park
Sembawang beach is a perfect spot for sun-soaking fun in the day. But come nightfall, the seaside park has an eerie chill in the air. Joggers have reported sightings of pontianaks and some have caught a whiff of frangipani – an alleged sign of a female vampire in the area. Did you know: the Japanese infiltrated the nearby Beaulieu House to use it as a naval headquarters during WWII. There's also speculation of a hidden tunnel that leads to a bomb shelter just behind the park.
13. Neo Tiew HDB Estate
This small public housing estate situated in Lim Chu Kang was vacated in 2002 under the Selective En Bloc Redevelopment Scheme. But, it remains empty and deserted. Currently used by the Singapore Armed Forces for military training, the low-rise HDB blocks are the subject of constant gossip. Apparently, they're rife with vengeful banana tree spirits. And residents in the area claim to have seen pontianaks outside their windows.
14. National Museum of Singapore
Beautiful as it looks, the notorious Victorian-style spiral staircase at the museum (which was built in 1882) is the most haunted spot in the building. Visitors and staff have claimed to see the wandering spirit of the former museum director, a British doctor and zoologist named Carl Alexander Gibson-Hill. He suffered from poor health in his later years and committed suicide, according to the rumour mill. Others have described sightings of a priest-like figure and unexplainable cold spots or drafts. Plus, there are reports of people being stopped and tripped up by an unseen force when they attempt to climb it. That's probably why the stairway is sealed off to the public.
15. View Road Hospital
This secondary mental institution was built to ease the overcrowding problem at Woodbridge Hospital in 1975. Later, it became a foreign workers' dormitory named View Road Lodge. But, this now-unoccupied property is said to trap both the living and spirits of past patients within. A strange watchman, phantom scents, poltergeists and bloodstains are among the spooky elements that've been reported.
16. Woodneuk House
Tucked into the woods at the Holland Road and Tyersall Road area, Woodneuk House or Istana Woodneuk was formerly owned by a Sultan of Johor. Now covered by vegetation after a century of being empty, the haunted place is out of bounds to outsiders. You won't find it charted on any modern maps of Singapore. As with all abandoned places, this one comes with creepy sightings and the like. But you could say it's the decay and deterioration of the house that's scarier above anything else.
17. Siglap
Literally meaning 'the dark one' after a solar eclipse that happened in 1821, Siglap has undergone quite the facelift to become a hip and lively neighbourhood in the East. That said, it has a creepy history. You can't miss the Kubur Kassim cemetery along Siglap Road, with its bright yellow gates, lush trees and sprawling grounds. The 90-year old cemetery is the burial ground for Muslims who used to live in the area. If you manage to get in and take a look around, you may be able to spot grave plots dedicated to the 'Orang Bunian', supernatural human-like beings from Malay folklore. On top of that, Siglap inspired the Malay classic film, Pontianak, because of such sightings in the area.
Got shivers down your spine yet? If not, it's time to start exploring Singapore's creepiest haunted places!