Follow us on our Emerald Hill stroll… Photography: Amelia Ang
More than just an Instagram spot: we uncover the storied pasts of Emerald Hill's bars, school and terrace houses, with plenty of photos for your viewing pleasure...
Just across the sleek, modern structure of Orchard Gateway, Emerald Hill beckons with low rise heritage houses painted in delightful hues. This street sits quietly in the midst of the malls and traffic of Orchard Road, as a carefully restored piece of the area's past. Since moving into our Somerset office, us at Honeycombers have been wanting to explore this entire stretch; and one fine morning, we did just that.
Strolling along the beautifully serene and heritage-rich hill full of Peranakan establishments, it took much will not to overstay our welcome. We're pretty sure the residents of this area are used to curious tourists and locals gawking at their abodes, but we tried to keep our exploration as quick and low-key as possible. Keep scrolling for gorgeous houses and historical tidbits…
From orchard to houses
Emerald Hill used to be a nutmeg and fruit orchard, established by the acting Postmaster General William Cuppage in 1837, before being bought over by businessmen Seah Eng and Seah Boon Kang in 1900. From there, small pieces of the land were sold to new owners who went on to build the terrace houses and shophouses we still see today.
Heritage buildings and happy hour drinks
What used to be the first few residential houses along the row have since been transformed into quaint watering holes like Acid Bar (180 Orchard Rd), Alley Bar (no. 2 Emerald Hill), No.5 Emerald Hill, Que Pasa (no. 7 Emerald Hill) and Ice-Cold Beer (no. 9 Emerald Hill). Before their boozy revamp, the terraces from 8 to 16 Emerald Hill Road were built in 1911 for developer Phua Poh Kim by Tan Seng Chong – the first Chinese to start his own architectural firm in Singapore.
After the bars, we came upon the much-photographed restored residences. (Cue the #ihaveathingfortiles and OOTD snaps!) Peranakan tiles, carved timber window screens and half-length timber doors (known as pintu pagar) add to their traditional character.
Up ahead at 37 Emerald Hill Street, Chatsworth International School occupies the building where the original Singapore Chinese Girls School (SCGS) stood for almost 70 years. The school was founded in 1899 by Dr Lim Boon Keng, Sir Song Ong Siang and Khoo Seok Wan, originally as an educational institute for Peranakan girls.
This way for Sino-baroque architecture
Further along, a row of houses greeted us with whitewashed facades and traditional Teochew gateways featuring emerald green, porcelain roof ornamentations. The terrace houses at 39 and 43 were built for Goh Kee Hoon, designed in 1905 by Wan Mohamad Kassim, who was leading the architectural department at G.A. Fernandez & Company. Fun fact: when no. 41 was undergoing restoration works, the antique pintu pagar was salvaged from another property on Smith Street.
The neighbouring No. 45 caught our eyes with the widest frontage and a swallow tail roof ridge – something you'd hardly see nowadays unless you're on a temple visit. This house was originally designed in 1903 for Messrs Seah by Wee Teck Moh, a renowned architect best known for his part in shaping the classic Sino-baroque shophouse look that we all know and love to Instagram (he's said to have designed hundreds!).
Cross-cultural design influences
Majolica tiles, abundant foliage and mood-boosting paint jobs are clear trends along Emerald Hill. Adding to the list of design elements we swooned over, the architecture further down the street references traditional European influences too. Think cast iron balustrade and classical pilasters used alongside architectural features steeped in Chinese symbolism, creating an eclectic yet elegant vintage aesthetic.
We have multiple designers to thank for dreaming up this combination of Chinese and European architectural elements. In 1916, houses 64 to 74 were designed by Johannes Bartholomew (Birch) Westerhout for Puey Soo Keng. The former also served as the Municipal Commissioner (1929 to 1934) and the Justice of the Peace (1935).
Across the street, R.T. Rajoo designed 17 properties from 53 to 85 in the mid-1920s for Low Koon Yee, a prominent Teochew businessman. (If you're wondering why the math doesn't add up, unit numbers of Emerald Hill's houses are even numbered on one side of the street and odd numbered on the other.)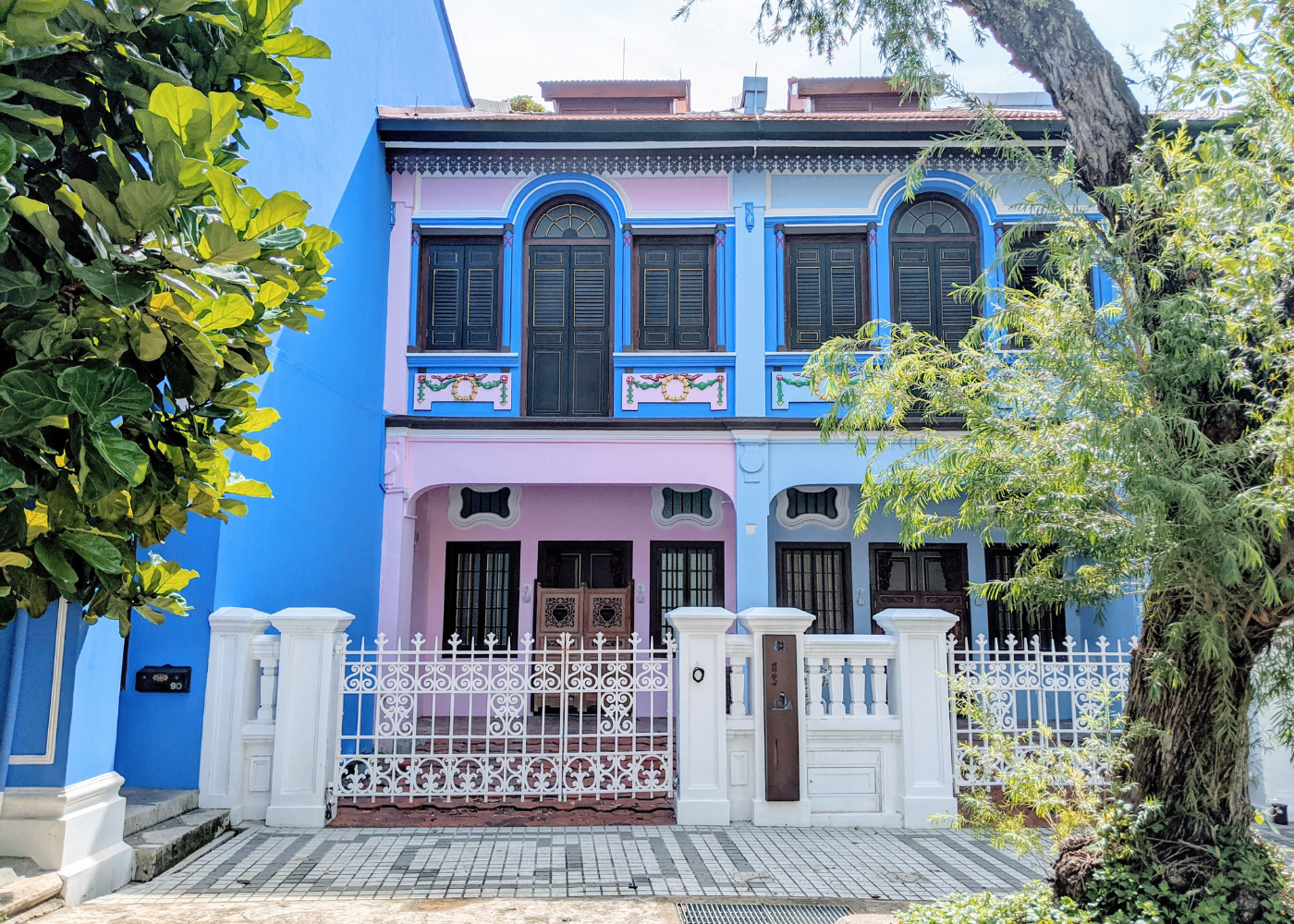 While we love the quaint bars at the start of Emerald Hill, this stretch of houses might just take the cake for beautifully capturing (through its restored architecture) the area's history when it was formerly a Straits Chinese settlement and under British colonial rule.
What's at the end of the hill?
Around units 134 onwards is where the heritage houses end and modern apartment blocks begin. (This is where you'll see the signpost for Saunders Road.) Beyond that lie more residential buildings and the main road, which is where our little adventure ends.
This street is seriously a thing of beauty and we wholeheartedly recommend popping by for a leisurely jaunt to get schooled on Orchard Road's history without spending a cent – just keep an eye out for the little metal signs along the way that feed you with bite-sized facts about these buildings!