Head to Coney Island for a day of fun!
To help you plan an amazing day at Coney Island, here's everything you need to know about this scenic park in Singapore.
We love a good outdoorsy day of leisurely cycling and picnics in the city's gorgeous parks. But Coney Island has gotta be one of our favourites in Singapore. The rustic green space in the city's north-east is home to hidden white sand beaches, flora and fauna. Its untouched trails stretch across mangroves, coastal forests, grasslands and casuarina woodlands. To explore it all, we rented a couple of bikes and took a trip around the ecologically sustainable park and its lovely Punggol surrounds. Pro tip: as the location is a little isolated, plan to spend half a day at Coney Island Park to make the most of your trip!
Coney Island: All the best things to do
1. Start at Punggol Point Park
Drop off or park here to start your journey. Relax by the jetty, meander along the promenade walk, sit on swings at the playground or say hi to a turtle or two in the pond. Since Coney Island Park is uninhabited, you'll want to rent a bike or grab extra water bottles and snacks before you head over. Fun fact: It's also called Serangoon Island or Pulau Serangoon. From the 30s to the 50s, it was known as Haw Par Island, because the Haw Par brothers owned it.
2. Snap a photo at the famous Coney Island Gate
Located at the East and West entrances of Coney Island, these iconic gates are what you've seen on the camera rolls of anyone who's ever been to the park. Pose away for the 'gram before your day of exploration kicks off.
3. Cruise along cycling routes
The park's rustic terrain makes cycling bumpy at times, but it's still a breezy and enjoyable experience that won't take up too much of your time. Cycle along the 2.5km Coney Island Park Connector, with the occasional pretty promenade view of Serangoon Reservoir. Or follow the signs to navigate your way to the beaches. Psst: If you're looking for a real adrenaline-pumping adventure, hit the hilly trails of Pulau Ubin on a mountain bike.
4. Chill out at the beach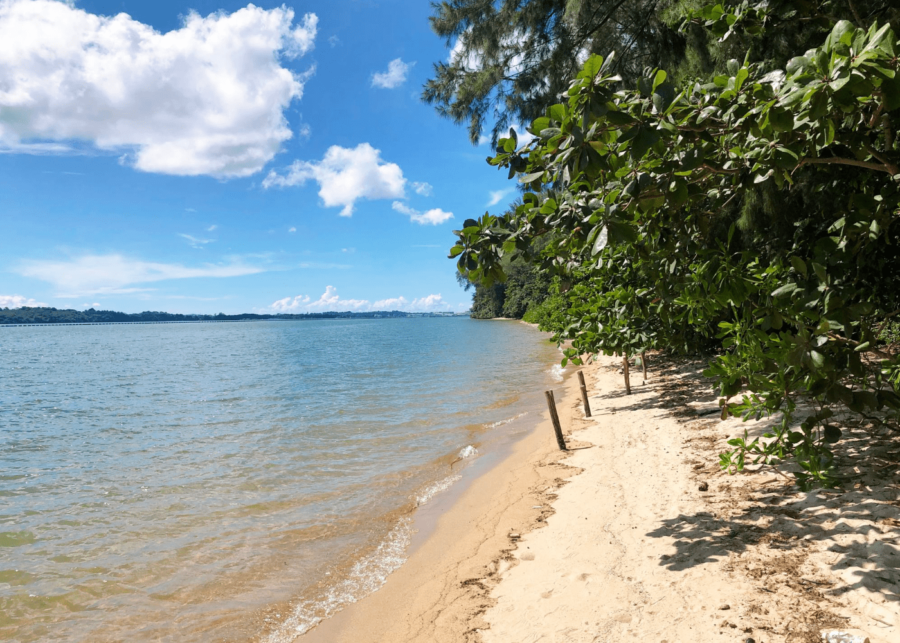 While cycling on the main path, look for signs that'll direct you to any of the five beach areas. These sandy spots don't offer pristine shores and azure waters, but they provide a quiet seaside break after you sweat it out on the bikes. Psst: we recommend beach areas C and E for tranquil times.
5. Hit the obstacle course
Constructed from the timber of uprooted casuarina trees and other recycled materials, the all-natural Casuarina Exploration playground will delight with its mini obstacle course. Spend some time at this environmentally-friendly hangout – with or without the little ones! Keep your balance across a wooden bridge, jump over stepping stones and race as you climb over log fences.
6. Embark on a picturesque walk
Keen to learn more about the biodiversity and history of Singapore's Coney Island? Sign up for a two-hour guided walk led by NParks volunteers on selected Saturday mornings in June, November and December. Just check the official website before heading over for updates and announcements, as areas of the park may be closed for construction work. Alternatively, feel free to take a nice, long stroll around the park on your own if you're not keen on cycling. Tip: stick to the designated trails and appreciate the animals (especially those wild boars) from afar.
7. Spot wildlife
Butterflies, birds and squirrels make Coney Island their home in Singapore. With over 80 species of birds on the island, it's not hard to catch a glimpse of these creatures busy at work in their natural habitat. Spot the baya weaver weaving nests from flowering Acacia trees, keep an ear out for the oriental magpie-robin's melodies or watch parakeets soar across the forest canopies. Other wildlife on the island include the white-bellied sea eagle and black-headed munia, as well as horseshoe crabs, tiger moon snails, snapping shrimp and sand sea stars.
8. Explore the nearby Punggol Waterway Park
Not done with your day out in nature? If you've still got time to explore the neighbouring areas on your bicycle, head over to Punggol Waterway Park. Here, you can relax by the benches, take in the waterfront views and do a little bird watching.
---
How to plan your day out at Coney Island
Best time to visit
Head over in the morning or late evening to avoid the blistering sun. Though Coney Island is mostly shaded by huge trees, areas outside the park and at Punggol Settlement are not. Keep in mind that the park is closed from 7pm to 7am.
What to bring
Pack sunscreen and insect repellent, as the park's raw, untouched grounds may mean that certain areas are inhabited by sandflies. Better yet, dress in long pants and covered shoes if you're planning on lingering by the beach pocket. It's a no-brainer, but do bring along bottles of water to stay hydrated. You can also pack homemade sandwiches or snacks to keep the munchies at bay. Just remember to beware of the monkeys and take home whatever you brought in to preserve the nature spot.
Rent a bicycle
If you don't have one of your own, pop by GoCycling, where bikes of all sizes are available for the whole family (from $10 per hour for adults, from $8 per hour for kids). Choose from mountain bikes and vintage-style ones, or kids' bikes in different sizes. Just take note of its opening hours (10am on weekdays and 9am on weekends) so you don't arrive too early. Best of all, if you want a cross-island adventure, you can rent and return your two-wheeler at any outlet in Singapore and cycle to your heart's content.
GoCycling @ Punggol Jetty, 911 Punggol Road (across the road from the bus stop), Singapore 829170
Getting there
By car: Drive to Punggol Settlement and either park your car there or outside Coney Island's exits by the West and East entrances.
By public transport: Take the train to Punggol and head to the bus interchange (via exit C). Hop on bus 84 to Punggol Point Park. Walk over to Punggol Settlement and simply follow the signs along Punggol Promenade Nature Walk towards Coney Island's west entrance.
Now that you're done exploring Coney Island, make your way next to secret parks and hidden gardens in Singapore!