Photography: Burst via Pexels
Cop a serious secondhand steal or two at these thrift shops in Singapore when you're rummaging for retro finds.
In a city bursting at the seams with fab shopping, it's little surprise that our island is also teeming with secondhand stores galore for incredible pre-loved goods. We love the thrill of a good thrift; dig a little deeper and you may just unearth a swishy vintage dress or a one-of-a-kind, Pinterest-worthy gem. All it takes is a little sleuthing and a clever eye for a good bargain. From mega charity consignment stores to old school furniture finds, we've sussed out all our favourite thrift stores in Singapore. Happy hunting!
Thrift store galore
1. Salvation Army Family Thrift Stores
Befitting its reputation as the most well-known thrift shop of the bunch, Salvation Army's Family Thrift Stores also charge the most, so bring wads of cash if you're planning to splurge. Outlets worth traipsing across the island for include Bukit Timah and Tanglin Road. These mega stores not only cater to the fashion junkie but also fans of vintage furnishings. Expect one-off designer coats, vintage shoes and 70s sunnies.
Salvation Army Family Thrift Stores, multiple locations including Bukit Timah and Tanglin Road
2. New2U Thrift Shop
A fave amongst hipsters and bargain-loving hunters, New2U Thrift Shop is a treasure trove of hidden gems like past-season designer goods or pre-loved statement pieces for your best secondhand shopping experiences. All proceeds from sales go to Star Shelter, a refuge for victims of domestic violence, or the various Singapore Council of Women's Organisations (SCWO) initiatives including The Women's Register, a platform for mentoring young women.
New2U Thrift Shop, 96 Waterloo Street, Singapore 187967; also available online 
3. Something Old, Something New
Chances are, even the most seasoned of thrifters may not have heard about this no-frills consignment store. Not only does it strive to care for the Earth by reusing goods and reducing waste, it also trains and employs people recovering from mental health issues. The scores of racks boasting vintage finds are a little chaotic but stay patient, you'll likely be duly rewarded.
Something Old, Something New, multiple locations including Simei, Pasir Ris, Jurong West and Yishun
4. Minds Shop
Providing pre-vocational training to the intellectually disabled, Minds offers an ever-evolving array of goodies, including home decor, clothing and accessories. Prices are usually kept below $10, with (reasonable) bargaining allowed for certain items. While there are outlets in Woodlands, and Rosyth, the go-to locale is Margaret Drive. It's the biggest and houses the largest assortment of knick-knacks.
Minds Shop, multiple locations including Margaret Drive and Woodlands
5. Shop+
Offering much more than just secondhand clothes and shoes is Shop+, an extension of the Singapore Red Cross organisation. This store started with a humble mission of wanting to better the community through the sale of its items. Expect to find other goodies like electronics, branded watches, sunglasses, household items and more. There's something for everyone!
Shop+, multiple locations including Dhoby Ghaut and Bedok
Trash or Treasure?
6. The Heritage Shop
Befitting its name, this secondhand store is all about Singapore's heritage. Take a journey through the country's history with its packed shelves of knick-knacks – think newspaper broadsheets from years' past, old school tiffin carriers, oil lamps, chamber pots and even women's magazines from the age of Malaya.
The Heritage Shop, #01-01, 93 Jalan Sultan, Singapore 198997
7. Odds and Collectables
Call us biased, but we've got a soft spot for this hole-in-the-wall secondhand shopping store located on one of our favourite cafe-populated streets, Telok Ayer. Admittedly, the range is a little dizzying, with all sorts of items stuffed into the space. But if you look hard enough, you may find cool trinkets like vintage enamel trays, posters and even mini peacock chairs!
Odds and Collectables, 128 Telok Ayer Street, Singapore 068576

8. Tong Mern Sern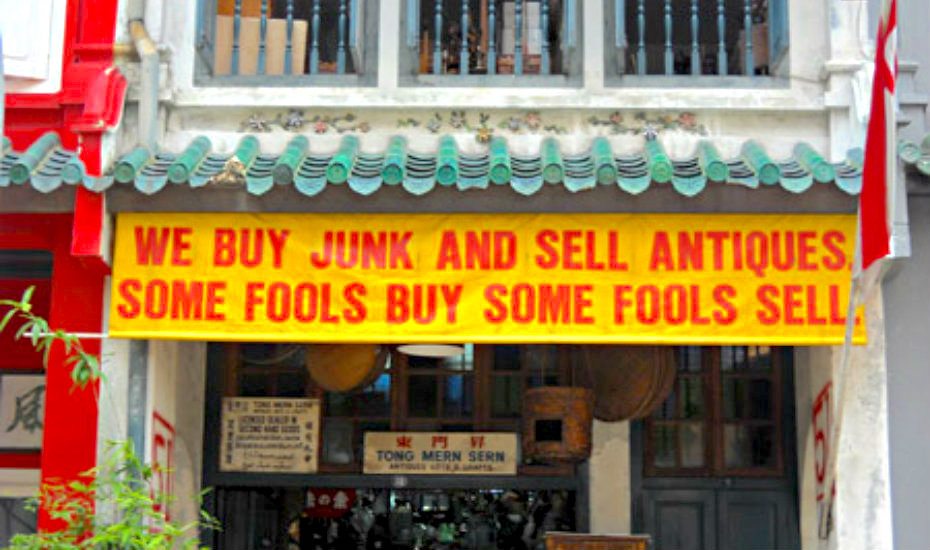 It's hard to miss Tong Mern Sern – its shopfront is adorned with the bright yellow banner above, which never fails to get a chuckle from us. Depending on your luck, the famous junk shop has countless treasures to uncover, including antique armoires, stone irons, porcelain China plates and kerosene lamps. Looking for something specific? Approach the elderly uncles, and don't forget to bargain!
Tong Mern Sern, 51 Craig Road, Singapore 089689
9. Junkie's Corner
True to its name, this is one store where you can find anything and everything. It's packed to the rafters with all sorts of junk and gems, including furniture from all eras, beautifully refurbished pieces and oddball knick-knacks you never knew you needed. Some haggling can be done, but be sure to bring wads of cash and a sharp eye! This one's a little out of the way, so think of it as a real treasure hunt. Just make sure to clear your boot space beforehand.
Junkie's Corner, 2 Turf Club Road, Singapore 287988
Legit vintage…
10. Dark Horse Vintage
If it's a one-of-a-kind vintage dress you're looking for, this is the place. Founder Jasmine scours the world for quirky additions to her Dark Horse boutique. While her physical secondhand store in Singapore may have closed, the online store still carries its spirit with 70s knee-length floral dresses, printed tops, quirky vests and more, perfect for some secondhand shopping adventure. Or plan an afternoon browsing through a range of curated unique vintage accessories at Le Salon or unique one-off pieces at The Eclectic Room.
Dark Horse Vintage, available at Le Salon by Ling & The Eclectic Room, and online
11. Style Tribute
Conscious about your ever-growing wardrobe? Perhaps skip the new and go old school with Style Tribute's vintage designer clothes. You can easily browse online for apparel and accessories by the likes of Chloe, Marc by Marc Jacobs, Burberry, Alexander Wang and Fendi. The best part? Your entire family can get in on the shopping spree, with collections for men and kids too.
Style Tribute, available online
12. Deja Vu Vintage
As Deja Vu Vintage so delicately puts it, it's had enough of "mass-produced fashion cloning". The store is a cut above the rest, with stylish personally selected pieces imported from the U.S., Europe, Australia and Japan. As you do some secondhand shopping, take your time to rifle through the tailored and timeless outfits displayed neatly on the elegant, spacious shelves. The range includes designer pieces by Carolina Herrera, Moschino and even Oscar De La Renta.
Deja Vu Vintage, #01-70, Millenia Walk, 9 Raffles Boulevard, Singapore 039596
13. Loop Garms
Streetwear your thing? Hit up this cosy store for a trip back to the 80s and 90s with racks of cool tees that are old but gold. Think comic characters, band merch, vintage sportswear (we see you, Nike and Adidas!) and even football jerseys.
Loop Garms, #01-148, 635 Veerasamy Road, Singapore 200635
14. Dustbunny Vintage
We simply could not exclude Dustbunny Vintage from the list – the vintage veteran is chock full of affordable designer gems from the likes of YSL and even Hermes (yes, really). Not one for big names? The store also stocks 60s wrap skirts and 50s flare dresses.
Dustbunny Vintage, 2A Keong Saik Road, Singapore 089110
So what are you waiting for? Cop your pre-loved gems at these thrift shops in Singapore!