Photography: Venkat Gunasellan
A little field trip up north brought us to Sembawang Hot Spring Park, and here's what we discovered...
A natural hot spring in Singapore? Who would've thought! Yet there we were, on a balmy weekday morning, paying a visit to Sembawang. After closing in Aug 2018 for redevelopment works, the hot spring park reopened to the public in January, bigger and better than before. We're all for getting our dose of vitamin D in nature, and it looks like everyone else had the same idea, as the place was packed with curious explorers checking out the floral walk, cascading pool and cafe.
Garden of (edible) Eden
Located along Gambas Avenue (right next to the Sembawang Air Base), Sembawang Hot Spring Park doesn't actually have a proper drop-off point or carpark, so you'll have to alight by the road. We started our adventure with a leisurely stroll along the floral walkway, where you'll be welcomed by edible fruit trees and plants (but don't go plucking them!) such as lemongrass, rambutan, mango, pandan and plum – a nod to our kampong heritage.
Along our way, we noticed a cafe called Sembawang Eating House. With floor-to-ceiling windows and an alfresco area, it's a neat little air-conditioned spot to chill and fuel up on local delights such as nasi lemak and laksa.
We also came across a sign that gave us a peek into the area's rich history. Did you know that the place was once a bottling plant for F&N in 1921 and a thermal bathhouse for Japanese soldiers during World War II? Oh, and once upon a time, it was almost destroyed to make way for the expansion of the adjacent military camp. 
The city's only natural hot spring
Trek further in and you'll find that what used to be a dilapidated little square with a red brick house and rusty taps dispensing hot spring water is now a 1.1-hectare park filled with lush foliage. Believed to be discovered in the early 1900s, the park still holds plenty of nostalgic kampong memories for the older generation. 
But, be warned. You'll know you're getting close to the main attraction when you smell the strong stench of sulphur wafting through the vicinity. On our visit, the square was brimming with children soaking their feet at the cascading fountain, elderlies seeking respite at the sheltered areas and others trying their hand at cooking eggs in scalding water.
Time to put on our science hats! We were intrigued by how Singapore is home to a natural hot spring, so we did a little digging. It is believed that the water source comes from Bukit Timah Granite, which comprises granite rock masses. The cool water manages to seeps through the cracks of said rocks masses and finds its way three kilometres below ground, towards the Earth's core. If you've watched enough sci-fi movies, you would know that Earth's core is hellishly hot – the underground temp increases by 25 to 30 degrees for every one kilometre. In this case, what goes down must come up: All thanks to pressure, the heated water finds its way back up to the surface at the temp of 65 to 70 degrees. And there you have it: A hot spring-turned-natural landmark.
The four-tier cascading fountain, right next to the red brick house, is where you can dip your feet into the water for some onsen-like indulgence. Hot spring water sprouts from the top at a piping hot 70 degrees and flows down to a comfortable 40 degrees, although some of us still found it a little too heated for comfort.
At the corner of the square, you'll witness people patiently waiting for their eggs to boil at the "egg cooking station". The water collection point has taps fitted at different heights, making the process easier for individuals of any height. However, a word to the wise: Perhaps don't rely on this place to cook your breakfast as we were told that it takes about two hours just to get the eggs soft boiled. Ain't nobody got time for that! Thanks to our impatience, we ended up with raw, runny eggs after leaving 'em under the hot water tap for a few minutes.
Wanting a spot of relaxation, we filled our pails – which can be borrowed from the communal area of wooden buckets and spoons – with hot spring water and made our way to the sheltered areas for our well-deserved foot bath. Going with the entire fam? There's an educational corner for the kiddos where they can learn about the groundwater cycle too.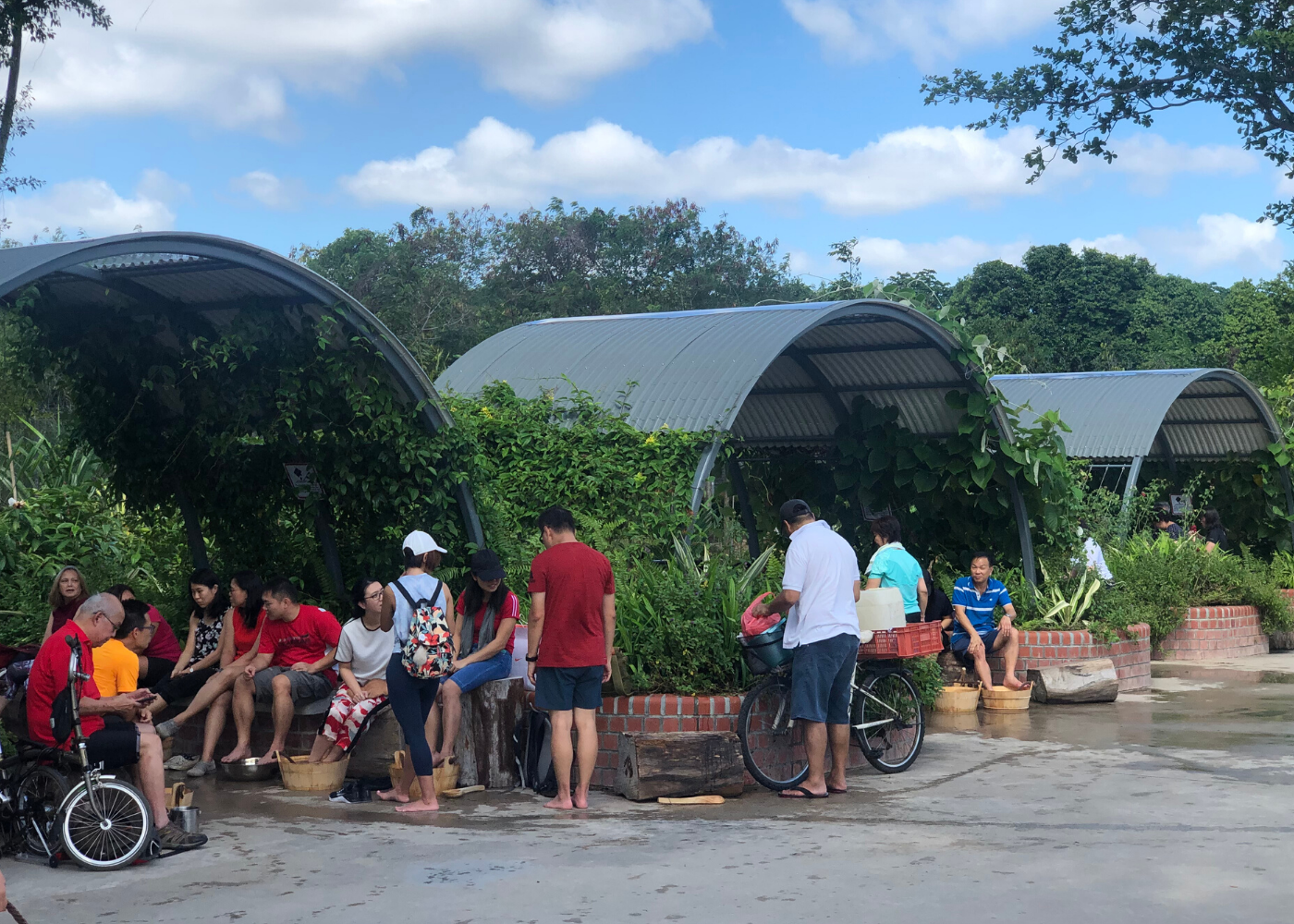 Open from 7am to 7pm daily, the park can be explored in under an hour if you're just there to sightsee. Otherwise, you can easily spend an afternoon chilling out at the rustic spa with your pals. For those looking to clock in your steps or appreciate Mother Nature a little more, we'd recommend this outdoor adventure for family fun. Just don't forget to lather on that sunscreen, pack an umbrella and come dressed in shorts with slippers or sandals (unless you fancy getting your shoes wet!) All in all, the park makes for a fun day out under the sun, though you should probably check the weather before heading out.