Photography: Jonny Clow via Unsplash
If you're planning a durian feast at home, get the thorny fruit delivered to your door, wherever you are in Singapore.
Ah, durians: one of the most polarising fruits that ever existed. Well, this list is for durian lovers only (soz, everyone else). Whether you love yours buttery and bitter, sweet and sticky or rich and bittersweet, there's a perfect one for you out there. Just head to any of these durian stores in Singapore (some offer delivery!) and get your orders in before the season ends. All hail the King of Fruits…
Where to buy durians in Singapore
1. 99 Old Trees
From Malaysia to your doorstep, 99 Old Trees gets its prickly fruit directly from the source. We love how these folks are honest in their dealings – they've swapped out bad seeds for us before, so we know they take pride in their goods. If you don't have time to pop by its cool new cafe space near Chinatown to enjoy durian desserts and more, just cart out your order online. Varieties include Black Gold Mao Shan Wang, Jinfeng, Red Prawn, D13 and more. Plus, Mao Shan Wang pulp and durian desserts to satisfy all your cravings. Bonus points for its cheeky marketing!
99 Old Trees, available online and at 1 Teo Hong Road, Singapore 088321
2. Combat Durian
Nestled in the Farrer Park area, the Rangoon Road stretch is home to several durian stalls including Combat Durian. We've spotted constant queues forming at its no-frills shop space, so be sure to WhatsApp these folks at 9278 9928 to check on availability before heading down. Oh, and check the Facebook page for price updates on durian goodies like D13, Mao Shan Wang, Golden Phoenix and more. Whether you like it bitter or sweet, these folks have it all in top-notch quality. Don't forget to grab a durian puff for the road!
Combat Durian, 206 Rangoon Road, Singapore 218452
3. Durian Culture
To satisfy your midnight hunger pangs, this durian hotspot stays open 24/7. Gotta love the brand's commitment to the thorny fruit! It's been in the family biz since 1969, supplying durians to supermarkets and retail outlets, so you know the quality is impeccable. Treat your buddies to a durian spread – you won't regret it.
Durian Culture, available at multiple locations including Sims Avenue and Upper Serangoon Road
4. 227 Katong Durian
From a humble stall in 2008 to a shophouse on East Coast Road, this popular durian store is famous for D13 in all its bitter and sweet glory. Order your faves online for a stay-home gathering of stinky fruit enthusiasts. We're talking about Golden Phoenix, Red Prawn, Mao Shan Wang and even durian mochi made from 100% creamy flesh.
227 Katong Durian, available online and at 227 East Coast Road, Singapore 428926
5. Durian Delivery
Just like its name suggests, Durian Delivery brings the goods to you – it's all fresh, with a replacement guarantee for any bad or unripe seeds. With no minimum order, you won't have to convince everyone else to pig out with you. It also offers same-day delivery for de-husked durians and free delivery for orders above $100. Don't miss out on decadent desserts like chewy durian mochi either. Time to dig into the creamy goodness of Red Prawn, Mao Shan Wang and Golden Phoenix!
Durian Delivery, available online
6. Golden Moments
Get your ultimate durian fix at Golden Moments – from fresh fruits to rich desserts. Want to indulge in creamy durian flesh? Order de-husked packs of Black Pearl, D13, Golden Phoenix, Mao Shan Wang and more. Love durian ice cream? Dig into a pint of Mao Shan Wang goodness. Got a special occasion coming up? Impress your fam with Mao Shan Wang burnt cheesecake for a calorific treat.
Golden Moments, available online and at #07-13, Victory Centre, 110 Lor 23 Geylang, Singapore 388410
7. Kungfu Durian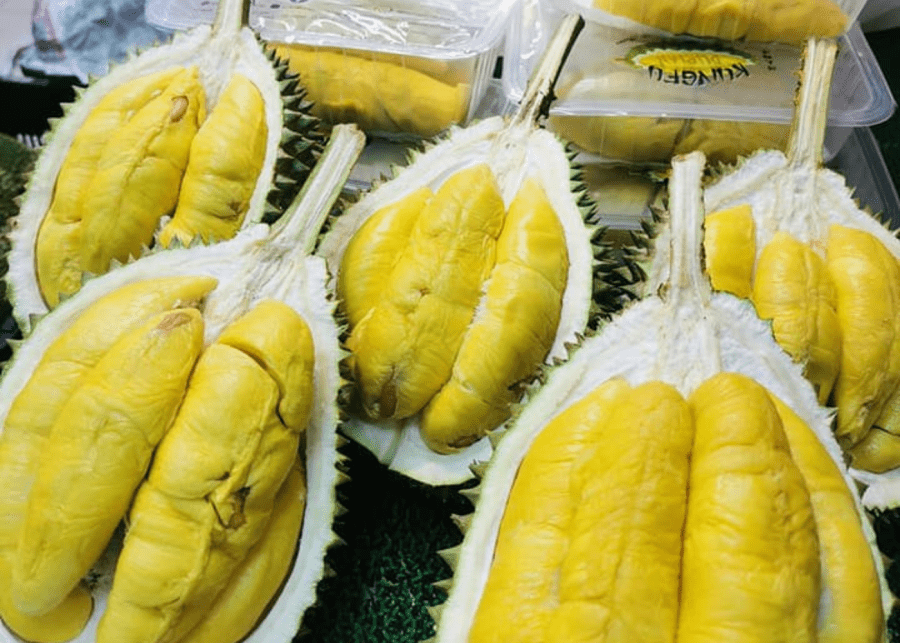 So you're dreaming of sinking your teeth into luscious durian flesh but you can't find the strength to change out of your PJs and leave the house. Fret not. It's Kungfu Durian to the rescue!  Everything's tightly sealed and freshly de-husked, with goodies like Golden Phoenix, D88, Black Thorn, D13 and Black Pearl on the menu. For an overdose of the stinky stuff, add Mao Shan Wang puree and gelato to your order. Spend above $120 for free delivery.
Kungfu Durian, available online and at #01-141, 304 Woodlands Street 31, Singapore 730304
8. Ah Seng Durian
Ah Seng is a hot fave for good reason, but take note: you'll have to collect your order at the store as it doesn't offer delivery. What started out as a provision shop in the 80s is now a full-fledged durian business with decades of experience under its belt. Ah Seng brings in the best durians from Malaysia – think Red Prawn, Golden Phoenix and Mao Shan Wang. You can also get your hands on Mao Shan Wang puree or ice cream. Oh, and it ranks each variety's sweetness and bitterness on the site so you can shop according to your preferences.
Ah Seng Durian, available online and at multiple locations including Alexandra and Ghim Moh
9. Durian 36
Fancy a durian party any time, any day? Get your King of Fruits fix from this Geylang store that opens 24/7. You'll enjoy creamy, custard-like flesh in no time. Whether you prefer your durians sweet or bitter, the line-up offers bestsellers like Mao Shan Wang, D13 and XO alongside varieties such as D24, D101, Tekka, Black Thorn and Gang Hai.
Durian 36, available online and at 608 Geylang Road, Singapore 389547
10. Fruit Monkeys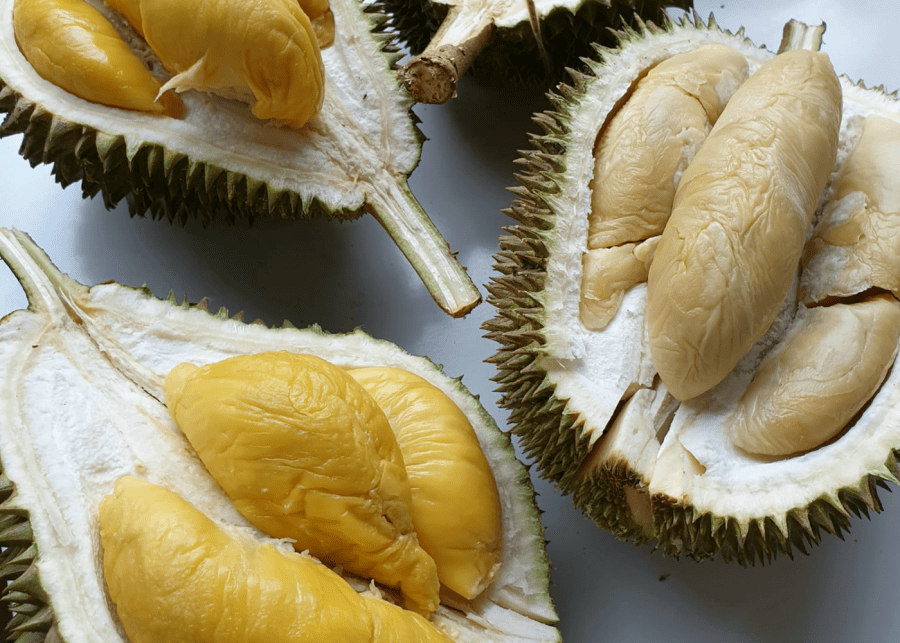 These friendly folks offer great service and fresh durians. Get favourites like D13, Red Prawn and Mao Shan Wang delivered to you whenever the craving strikes. Oh, and order a feast for the fam to get free delivery when you spend above $180.
Fruit Monkeys, available online and at #01-07, Rangoon 88, 88 Rangoon Road, Singapore 218374
Go ahead and get your durian beast mode on!