Photography: Claudine via Facebook
With all sorts of cuisines in the spotlight, you'll never run out of extraordinary food at the best restaurants in Singapore!
Our local culinary scene is always buzzing with hot new restaurants and bars, making us spoilt for choice when it comes to picking our next dining destination. In this nifty guide, we pick out the city's cream of the crop – the very best restaurants in Singapore. From classic hotspots to Michelin-starred wonders, this is your ultimate food bucket list. Side note: we're talking about the fancier side of things, so don't expect to see your fave hawker or heartland cafe here (we love them all the same, though!). Behold, Singapore's top restaurants to get your feast on – in no particular order.
Best restaurants in Singapore
1. Firangi Superstar
For a dining experience that's opulent and extravagant, Firangi Superstar fits the bill. Step into the luxuriously-decorated space and you'll find yourself whisked away on a journey through modern Indian cuisine. Touted as "a foreigner's love letter to India", the Wes Anderson-esque concept takes you through different moods across pockets of dining areas (we especially love the private Old Railway Room that's made to look like a charming train car).
The menu is simply sublime – each dish is a flavour bomb! We love how the restaurant puts thought into its line-up, with beautifully creative vegetarian versions of meaty favourites to ensure everyone at the table is satisfied. Best to come in a group, because you'll want to try everything the kitchen dishes out – from sharing plates to bite-sized delights to desserts.
Firangi Superstar, #01-03, 20 Craig Road, Singapore 089692
2. Jinhonten
Singapore has no shortage of great omakase restaurants, but the newly-opened Jinhonten is one of the best. Head chef Issey Araki impresses with top-notch ingredients from Japan whipped into shape for lunch or dinner. Expect to pay a pretty penny to dine here, but it's oh-so-worth the indulgent experience. Dishes are made fresh with minimal seasoning to focus on each ingredient, and we're huge fans of the donabe with crab meat and handroll with nodoguro.
Jinhonten, #01-11, Shaw Centre, 1 Scotts Road, Singapore 228208
3. Claudine
An exquisite French restaurant nestled in a 1930s colonial chapel on Dempsey Hill, Claudine sees chef-patron Julien Royer at the helm. Make a date with this warm and welcoming spot for a special occasion or a "treat yourself"-type lunch. The menu offers a mix of French classics and chef Julien's personal recipes with a focus on local ingredients and contemporary spins. Pop by in the afternoon for rotating set menus that include dishes like confit salmon, eggplant caviar and ravioli stuffed with brown mushrooms, morsels, pine nuts and spinach. Or head over in the evening and enjoy sumptuous plates of pan-seared New Zealand john dory, whole roasted Brittany pigeon and more.
Claudine, 39C Harding Road, Singapore 249541
4. Oumi
The city's new downtown skyscraper, CapitaSpring, is home to plenty of good grub. One of the best restaurants in this towering building is Oumi, a modern Japanese Kappo dining experience perched on the 51st floor. (It shares the same space as Kaarla, which offers coastal Australian cuisine.)
Made with fresh produce from Japan, Australia and local farms, the multi-course menu prepares dishes that let the natural flavours of the ingredients shine. You can choose to have your selection prepared in various ways: sashimi, sushi, teppanyaki, robatayaki, tempura or donabe. And let's not forget about that stunning view of Marina Bay and the sight of chefs at work in the open kitchen!
Oumi, #51-01, CapitaSpring, 88 Market Street, Singapore 048948
5. The Feather Blade
This steakhouse does things a little differently by highlighting alternative cuts. It stars the flat iron beef cut from the side of the shoulder, aka the feather blade (hence the name of the restaurant). Dishes are infused with intense flavours, allowing you to savour the meat without forking out a fortune. To pad your meal with more, order the sinful potatoes, which are deep-fried in beef fat. Oh, and don't forget about the beef-inspired cocktails like the beefy old fashioned, made with fat-washed Makers Mark.
The Feather Blade, 61 Tanjong Pagar Road, Singapore 088482
6. Odette
You know a restaurant offers a touch of class when it's housed at the National Gallery, one of the finest buildings in Singapore. Top that with three Michelin stars – amongst other accolades – and you've got an absolute winner. Step inside Odette, chef-owner Julien Royer's dreamy fine dining restaurant famed for its innovative French cuisine. Dishes are far from pretentious, as each tells a story and every ingredient serves a purpose. Oh, and you can't look past the gorgeous interior, which is clad in alluring pastels, with a glass-enclosed kitchen for diners to see the chefs at work.
Odette, #01-04, National Gallery Singapore, 1 St Andrew's Road, Singapore 178957
7. Art
Brought to you by Michelin-starred chef Beppe de Vito, this sleek dining concept is all about that elevated Italian experience. The sumptuous eight-course tasting menu takes you through the season's best ingredients, plated to artistic perfection. After your meal, feel free to head to the alfresco bar for cocktails to extend your stay.
Art, #06-02, National Gallery Singapore, 1 St Andrew's Road, Singapore 178957
8. Nouri
The one Michelin-starred restaurant is known for its polished plates on a menu that changes with the seasons. But the experience isn't your typical stuffy, fine dining one. Inside the minimalist space, the open kitchen encourages interaction with customers, and chef Ivan Brehm finds inspiration from all sorts of cuisines and cultures to give new life to familiar flavours. You'll find A5 Yamaguchi wagyu ribeye on the chef's tasting menu alongside turbot, all of which can be paired with your choice of wine or sake.
Nouri, 72 Amoy Street, Singapore 069891
9. Cloudstreet
Helmed by chef Rishi Naleendra, this restaurant focuses on an ever-evolving menu that highlights seasonal produce. The contemporary concept shows off his personal and professional prowess distinctly, with lunch and dinner tasting menus that give attention to dishes like grilled Jeju Island abalone, pork jowl, potato beignets, and French turbot.
Cloudstreet, 84 Amoy Street, Singapore 069903
10. Labyrinth
Labyrinth takes familiar Singaporean cuisine and gives it a progressive spin in a bold new direction. It's this experimental approach that has earned it a spot on the Michelin Guide's one-star list. Inside the cosy, dimly-lit space, you feel like you've entered a different realm, and the food takes that fantasy a step further. Paying tribute to the little red dot, chef LG Han expresses his creativity with locally sourced goods whipped into dishes like chilli crab ice cream and truffle chicken rice. Trust us, you'll be talking about your meal for days.
Labyrinth, #02-23, Esplanade Mall, 8 Raffles Avenue, Singapore 039802
11. Cicheti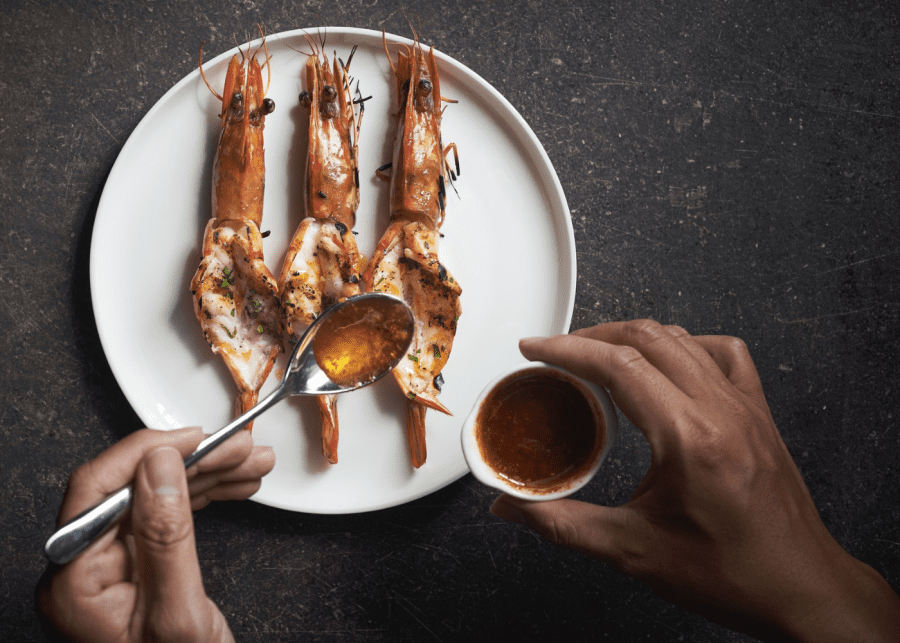 Pronounced "chi-keh-tee", this cosy Italian restaurant is one of the few places that does pizzas and pastas perfectly (in our humble opinion). Start with a selection of small plates before scarfing down the wood-fired pizzas, including variations like diavola and quattro formaggi. Feeling peckish? Try the gnocchi for its strong truffle flavour. Complete your meal with the addictive dessert "crack pie", and if you find yourself ordering another, just know you're not alone.
Cicheti, 52 Kandahar Street, Singapore 198901
12. Avenue 87
Set up by a chef duo, Avenue 87 is a mod-Asian concept sitting pretty in a shophouse. Asian classics are given a contemporary twist, with a good mix of new and old, nostalgia and modernity. You'll see familiar ingredients like tiger prawn, Iberico pork, and barramundi – but they're all given the elevated treatment here, with multiple components of each dish made from scratch. Try the eight-course dinner tasting menu with wine pairing for the ultimate experience.
Avenue 87, 47 Amoy Street, Singapore 069873
13. Whitegrass
In the hands of chef Takuya Yamashita, Whitegrass is all about fresh, seasonal ingredients and refined dishes. Using skills and knowledge from his stints at award-winning French restaurants Etude and Les Enfants Rouges, as well as the Michelin-starred Ciel et Sol, he whips up classic French fare with a modern twist on Japanese cuisine. These beautiful works of art come in the form of exquisite dishes inspired by nature.
Whitegrass, #01-26/27, Chijmes, 30 Victoria Street, Singapore 187996
14. Artichoke
Great vibes, a no-frills setting and finger-licking grub: Artichoke is just the kind of place you'd mainline for a good time. The least authentic Middle Eastern restaurant in Singapore – chef-owner Bjorn Shen's words, not ours – serves scrumptious plates perfect for communal dining. Its menu features green harissa seabream, creative renditions of hummus and ceviche, fried cauliflower, the signature 'lambgasm' slow-roasted with spices… and the list goes on. Rest assured you'll already be planning your next visit before the night is over.
Artichoke, 161 Middle Road, Singapore 188978
15. Meta
Another one-starred restaurant on the Michelin list, Meta takes French classics and gives them an Asian (mostly Korean) spin, using fresh and seasonal ingredients in its creations. Service is warm, and diners can choose from an ever-changing menu that comes with the option of a beverage pairing. Once you're all settled in, sit back, relax and enjoy the culinary ride.
Meta, 1 Keong Saik Road, Singapore 089109
16. Candlenut
Headed by Singaporean chef Malcolm Lee, Candlenut specialises in refined, innovative Peranakan cuisine. As such, its efforts have been recognised by the Michelin Guide in Singapore, making it the world's first Michelin-starred Peranakan resto. To get the full experience, try the Taste of Candlenut menu and savour communal-style dishes such as kapitan curry and yong tau foo soup.
Candlenut, Blk 17A Dempsey Road, Singapore 249676
17. Artemis Grill
Artemis Grill's Mediterranean food selection is just as sensational as the panoramic views. First-timer? Enjoy the freshest flavours from the kitchen – even if you're on a vegetarian, gluten-free or pescatarian diet, there's something for everyone. Highlights include Iberico pork chop, corn agnolotti, and Moroccan lamb chops. Oh, and before you leave, don't forget to luxuriate in the breeze with a cocktail in hand at the outdoor terrace, where a majestic 100-year-old olive tree stands.
Artemis Grill, Level 40, CapitaGreen Rooftop, 138 Market Street, Singapore 048946
18. Burnt Ends
A carnivore's haven, this Aussie-style, modern barbecue spot is constantly ranked on best restaurant lists. Expect a mouth-watering barrage of fantastic meats cooked in scorching ovens. We're talking about lamb chops, beef tenderloin and, of course, the signature pulled pork brioche sandwich. The open concept kitchen plates out new creations regularly, so you'll always be pleasantly surprised on a return trip. Be warned, though: the joint is perpetually packed, so plan your reservations way ahead of time.
Burnt Ends, #01-04, 7 Dempsey Road, Singapore 249671
19. Koma
This theatrical Japanese restaurant has an interior worthy of a movie set, with a splendid curation of dishes to match. Expect delicate and light flavours from the range of fresh seafood dishes on the menu, before you move on to sashimi, grilled skewers and Japanese wagyu delights. Fancy a tipple? The signature Koma Canary is the perfect concoction for those who appreciate a good gin drink.
Koma, #B1-67, The Shoppes at Marina Bay Sands, 2 Bayfront Avenue, Singapore 018972
20. Open Farm Community
Surrounded by the rustic greenery of Dempsey, Open Farm Community champions seasonal ingredients sourced from local and regional organic growers. Not only is it supportive of fresh produce, it also advocates for sustainable living, doing its best to cut back on single-use plastics and water waste. Take a seat indoors to admire the open concept kitchen or chill at the alfresco area by the edible garden. Dishes served are beautiful and fresh, with gluten-free, vegan and vegetarian options on the menu.
Open Farm Community, 130E Minden Road, Singapore 248819
21. Restaurant Euphoria
From Corner House to Restaurant Euphoria, chef Jason Tan is making his mark on the culinary world. This is where he showcases 'gastro-botanica' cuisine. The fine-dining restaurant is all about top-notch veggies, meats and seafood made sublime with herbs, spices and fruits. Embark on a gastronomic journey as he takes you through ingredients and prepares them in ways you've never seen before.
Restaurant Euphoria, 76 Tras Street, Singapore 079015
22. Luke's Oyster Bar & Chop House
Founded by Boston culinary genius, Travis Masiero, this New York-style restaurant serves top-notch seafood and meats. Oysters are sourced directly from the Eastern seaboard of America, which means you'll be slurping the very best of the lot. Oh, and we've just gotta say: the burgers are one of the city's best. For a boozy finish, treat yourself to warm chocolate chip cookies served with a stout milkshake.
Luke's Oyster Bar & Chop House, 22 Gemmill Lane, Singapore 069257
23. National Kitchen by Violet Oon Singapore
As the grand dame of Peranakan food in Singapore, Violet Oon has extended her culinary reach with restaurants across the island, each with their own flair and flavour. But her National Gallery space remains a hot favourite, thanks to its grand interiors in the historic former City Hall building. Whether you're digging into comfort food like buah keluak ayam, beef rendang and dry laksa or popping by for Nyonya kuehs over afternoon tea, it's always a fab experience.
National Kitchen by Violet Oon Singapore, #02-01, National Gallery Singapore, 1 St Andrew's Road, Singapore 178957
24. Esora
Located in a heritage shophouse, this lovely restaurant offers a Japanese Kappo-style experience, using the finest seasonal ingredients with precise attention to detail. With chef Takeshi Araki at the helm, all dishes are plated as though they're extensions of a whimsical garden, telling a story in each creation, along with nuances of nostalgia and passion. The stellar tea pairings are also a must to have with your meal.
Esora, 15 Mohamed Sultan Road, Singapore 238964
25. New Ubin Seafood
With humble origins as a kampong-style seafood specialist in Pulau Ubin, this homegrown zi char brand has come a long way since, expanding to various neighbourhoods across Singapore. But no matter which outlet you visit, you'll be treated to elevated local fare and New Ubin's unique spin on international cuisines. Think foie gras satay, USDA black angus ribeye with "heart attack" fried rice (it's caramelised with beef drippings) and "boss-style" bee hoon full of wok hei flavour.
New Ubin Seafood, multiple locations including Chijmes and Zhongshan Park

26. Fat Cow
Sink into a bowl of premium wagyu beef at this famed (and pricey) Japanese steakhouse. Nestled in an unassuming location, Fat Cow is known for giving diners a taste of Japan's finest beef from various prefectures, including Ohmi from the Shiga prefecture. Best of all, you can customise your dining experience with preparation methods like shabu shabu or sukiyaki. Feel like indulging in a magnificent meal? Go all out with the wagyu omakase menu that offers a smorgasbord of exquisite meats.
Fat Cow, #01-01/02, Camden Medical Centre, 1 Orchard Boulevard, Singapore 248649
27. Coucou
Step into Coucou and you'll be transported to a cosy ski cabin. The Swiss establishment is bedecked with kitsch cuckoo clocks (an ode to its moniker), warm lighting and wooden furniture. Much like its on-point ambience, the food hits all the marks. Must-tries include the selection of rosti and fondue for two. Swiss elements also stand out in desserts like Ovaltine (which originated from Switzerland) mousse served with lakerli. All in all, it's a great spot for an intimate evening with your other half.
Coucou, 9 Craig Road, Singapore 089669
28. The Summerhouse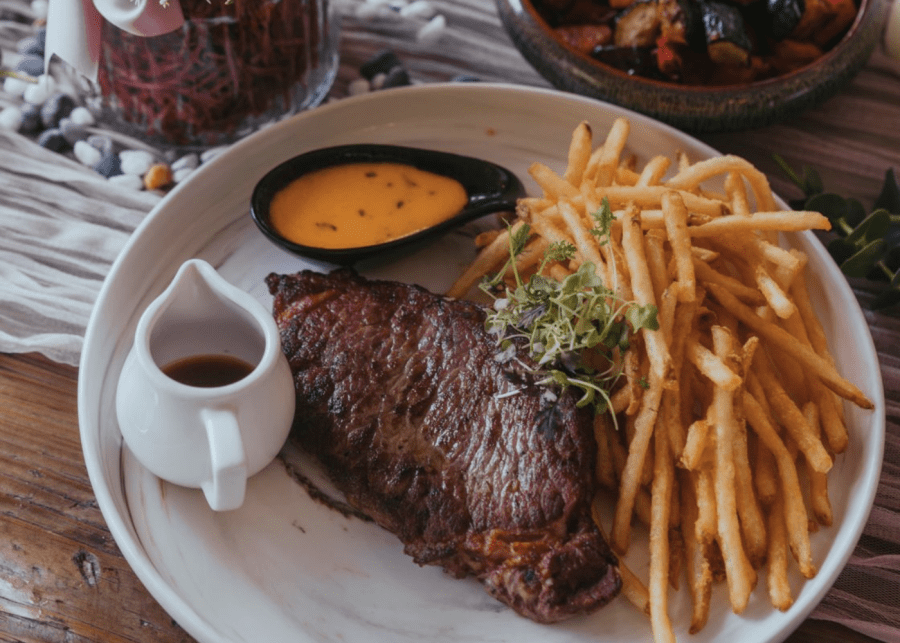 Looking for something a little more lowkey? Make a trip to the quiet countryside where Seletar Aerospace Park resides. One of its main restaurants, The Summerhouse is big on sustainability as it sources ingredients from its edible garden and a farming collective. While you're enjoying the farm-to-table cuisine, splurge on an exclusive private dining experience in its gorgeous air-conditioned garden domes, surrounded by fresh air and the twinkle of fairy lights.
The Summerhouse, Seletar Aerospace Park, 3 Park Lane, Singapore 798387
29. Flutes
Who would've thought the country's oldest museum is home to a top-notch resto? Flutes, which has been around for over a decade, gives off all the plush vibes in its grand, high-ceilinged dining room. And the food is just as good as the ambience. Besides afternoon tea and brunch fare, the Taste of Flutes menu will treat you to a thoughtfully crafted degustation dinner.
Flutes, #01-02, National Museum of Singapore, 93 Stamford Road, Singapore 178897
30. Publico Ristorante
This beautiful Italian riverside restaurant is well-known for its woodfired pizzas. We'll admit, we're still not over the tartufata, diavola and prosciutto pies. And that crisp crust? Divine. Don't miss out on the house-made pastas either. They come in options such as Publico lobster spaghetti, black truffle cacio e pepe and foie gras risotto. If you're a carnivore at heart, feast on the bistecca ribeye or the Iberico pork secreto, then wash it all down with cocktails, bubbles or beers on tap.
Publico Ristorante, Intercontinental Singapore Robertson Quay, 1 Nanson Road, Singapore 238909
31. Shoukouwa
Tokyo's Toyosu Market (formerly known as Tsukiji Market) is regarded as one of the best places to get fresh seafood. But there's no need for a flight out to satisfy your cravings because Shoukouwa ships premium sashimi from this market right to our shores. To get the most out of your two Michelin-starred experience, opt for the robust Hana or En omakase set, where the chef will delight you with the most luxurious creations.
Shoukouwa, #02-02A, One Fullerton, 1 Fullerton Road, Singapore 049213
32. Cure
A minimalistic hideaway amidst the bustle of Keong Saik, Cure is the sort of place where you know you'll be treated to an amazingly thoughtful tasting menu. The man behind the concept is chef-owner Andrew Walsh, who worked stints under renowned names like Jason Atherton and Tom Aikens before venturing out on his own in 2015. His line-up of Irish-inspired cuisine may change with the seasons, but you can expect the same relaxed experience with fine dining food.
Cure, 21 Keong Saik Road, Singapore 089128
33. Ristorante Luka
Delectable Italian cuisine with Japanese influences? Check. A relaxed setting to chill with friends? Double-check. What more do you need? Ristorante Luka boasts some of the best pizzas in town, freshly baked in a wood-fired oven, including the popular truffle pie that's a staple in every diner's order. Aside from that, must-tries include pasta and the most luscious wagyu steak sourced from Japan.
Ristorante Luka, multiple locations including Tanjong Pagar and Cross Street Exchange
34. Jaan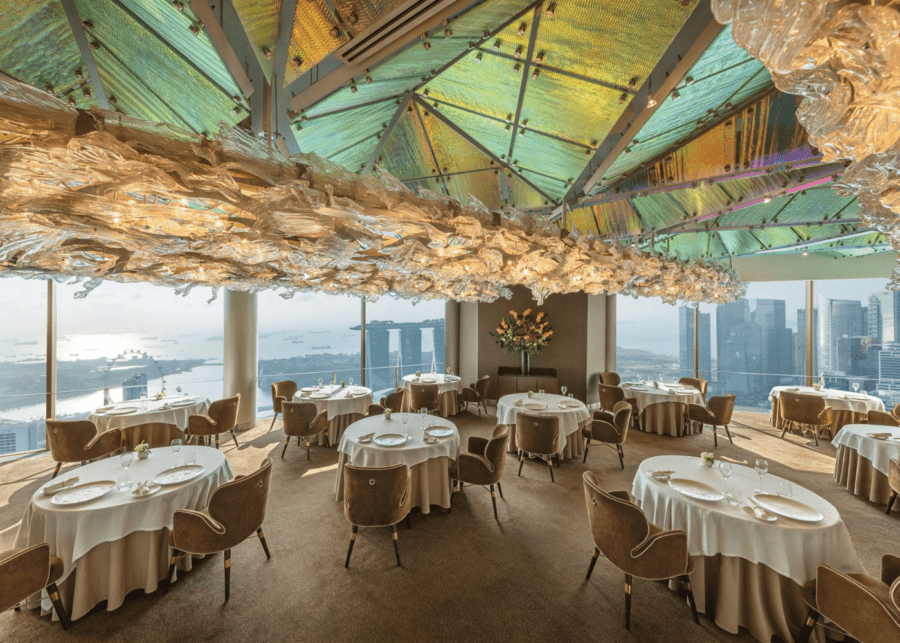 Chef Kirk Westaway's one Michelin-starred Jaan is one of the top restaurants in Singapore and beyond, offering a breathtaking view of the city from up high. Known for reinventing British classics using seasonal ingredients, he presents dishes that are as exquisite as the sophisticated interiors. Every visit is an amazing experience – from the ever-changing menu to the ambience to the service.
Jaan, Level 70, Swissôtel The Stamford, 2 Stamford Road, Singapore 178882
35. Morsels
This rustic, barnyard-style restaurant by chef-owner Petrina Loh has a charming ambience to complement its creative fusion dishes. She takes pride in kitchen experimentation with curing, aging and fermentation, resulting in flavours that take you from sweet and sour to salty, bitter and umami. The omakase menu gives you the full experience, and these plates are best paired with the curated selection of wines, sakes, craft beers and cocktails.
Morsels, #01-04, 25 Dempsey Road, Singapore 249670
36. Super Loco
At Super Loco, it's all about the vibe. Inspired by street food and the rich cultural experiences of Mexico, the founders created Super Loco with a fiesta-esque ambience, colourful interiors and food bursting with bags of flavour. Gather the gang for brunch with a Mex twist or dine familia-style over dinner – expect fresh ingredients and punchy flavours only. Thirsty? We recommend you share jugs of frozen margaritas in citrusy flavours. And let's not forget the sangria. They're the stuff cocktail dreams are made of.
Super Loco, multiple locations including Customs House and Robertson Quay
37. Restaurant Ibid
Spearheaded by Woo Wai Leong, winner of the first MasterChef Asia in 2015, Restaurant Ibid is the self-taught chef's permanent playground after a series of pop-ups and collabs. Taking influence from his heritage and memories, he creates intricate dishes to the tune of contemporary Chinese cuisine, putting utmost thought and care into each plate for a harmonious symphony of textures and flavours. Keep tabs on the tasting menu for a refreshed line-up every so often!
Restaurant Ibid, 18 North Canal Road, Singapore 048830
38. Preludio
Dining at Preludio is an adventure – one that comes with no guidebook. The restaurant sees its menus evolve every 10 to 15 months, writing its story one chapter at a time. And with the unusual combinations of texture, aroma and flavour in each dish, your palate will be taken on a most interesting journey.
Preludio, #03-01/02, Frasers Tower, 182 Cecil Street, Singapore 069547
39. Min Jiang at Dempsey
Granted, there's one at Goodwood Park Hotel, but Min Jiang's lush Dempsey outpost is in a league of its own. Stepping into the restaurant is like being transported to an ultra sleek island resort (Bali, anyone?). Think glamorous golds, greens and yellows, polished marble surfaces and contemporary chinoiserie interiors. On the menu, you'll find elegantly plated Cantonese and Sichuan fare, with signatures such as Beijing duck and lovely dim sum bites.
Min Jiang at Dempsey, 7A & 7B Dempsey Road, Singapore 249684
40. Empress
Equal parts modern and classy, this stunning restaurant offers incredible waterfront views and a traditional Chinese menu. Swing by for an exquisite dim sum brunch buffet amidst a lively setting, or enjoy a leisurely meal with cocktails at the alfresco area to wind down for the day. We recommend you try the signature roasts served on a triple platter featuring char siew, crackling roast pork and sticky sweet pork ribs. So. Good.
Empress, #01-03, Asian Civilisations Museum, 1 Empress Place, Singapore 179555
41. 2am: Dessert Bar
Roald Dahl may have Willy Wonka and his chocolate factory, but we have the dessert maestro that is Janice Wong. Time after time, she never fails to amaze with her quirky yet tasty creations. And with her dessert bar being a permanent fixture in Holland Village, you can satisfy your sweet tooth even in the wee hours of the morning! These avant-garde treats are sure to hit the sweet spot.
2am: Dessert Bar, 21A Lorong Liput, Singapore 277733
42. Foc Sentosa
We're big fans of Foc's open kitchen space on HongKong Street (great for dinner and drinks!), but the Sentosa outpost easily wins us over. Imagine a picturesque oasis on the sandy shores of Palawan Beach. If there's ever a culinary reason to visit the island, this is it. Whether you're fueling up for a sun-kissed afternoon or relaxing with a breezy dinner under the starry night sky, the kitchen offers plenty of flavourful paellas, deliciously grilled seafood and BBQ meats to fill you up.
Foc Sentosa, 110 Tanjong Beach Walk, Sentosa, Singapore 098943
43. Blu Kouzina
Dreaming of Greek grub? Blu Kouzina's sprawling Dempsey location is ideal for hosting hearty group meals or a romantic dinner for two over Greek wine. Blending both traditional and contemporary recipes with fresh ingredients from Greece, the warm restaurant features an extensive menu of salads, dips, meats and seafood. Pro tip: order a couple of dips (especially the taramasalata – white cod roe!) and kebab, meat or seafood platters to share, so everyone at the table gets a taste.
Blu Kouzina, #01-20, 10 Dempsey Road, Singapore 247700
44. Corner House
Fine dining in the gorgeous greenery of a Unesco World Heritage Site? Sign us up! Executive chef David Thien, who has spent time in Michelin-starred kitchens across the globe, blends French and Asian cuisines to divine effect. Whether you're dining during lunch or dinner, the omakase-style experience spotlights each ingredient beautifully.
Corner House, Singapore Botanic Gardens, 1 Cluny Road, Singapore 259569
45. Les Amis
A three Michelin-starred concept that indulges all visitors in a discerning fine dining experience, Les Amis is polished in that classic French way. With its accolades, you can bet the prices here are on the higher end, but for dishes served with finesse and fine ingredients, it's well worth the splurge. The menu takes you from caviar to langourstine and French sea bass.
Les Amis, #01-16, Shaw Centre, 1 Scotts Road, Singapore 228208
46. The Halia
A stroll through the Botanic Gardens is a pleasant way to spend an afternoon. But, you can make it even better with a delicious pitstop at one of the best halal-certified restaurants in Singapore. The chilli crab spaghettini is its strong suit, with each al dente strand of pasta perfectly coated in a spicy and sweet sauce, then topped with chunks of crab meat. It's the dream combination of pasta with an iconic local touch. Best of all, the alfresco ambience at the outdoor deck lets you immerse yourself in the beauty of nature.
The Halia, Ginger Garden, Singapore Botanic Gardens, 1 Cluny Road, Singapore 259569
47. Joie Restaurant by Dozo
Perched on the rooftop garden of Orchard Central, with views of the city's iconic shopping stretch, Joie (pronounced "joy") takes the modern meat-free route, making it one of the best vegetarian restaurants in Singapore. Settle in to savour veggies made impeccably flavourful with plates such as zucchini tower, wild rice with eggplant terrine, truffle risotto and grilled mushroom 'steak'. Meatless Monday, anyone?
Joie Restaurant by Dozo, #12-01, Orchard Central, 181 Orchard Road, Singapore 238896
48. Mott 32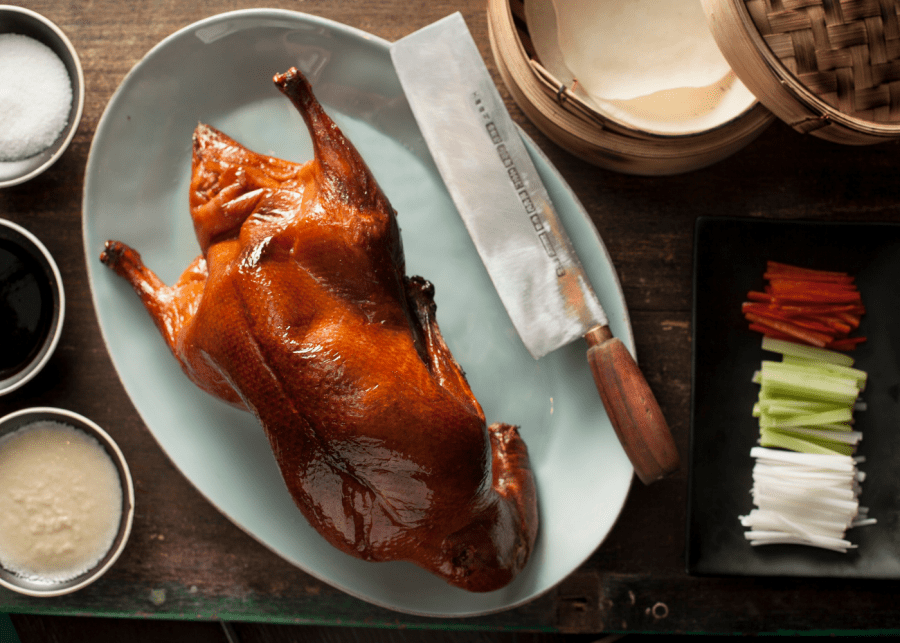 Step into the sophisticated space and you'll be transported to a vibrant world full of lush foliage and chinoiserie elements. Hong Kong's famed contemporary Chinese restaurant makes a splash in Singapore with the best of its glorious menu. A visit here isn't complete without ordering dishes like applewood-roasted Peking duck, barbecue pluma Iberico pork glazed with yellow mountain honey, and smoked black cod, we say.
Mott32, #B1-42-44, The Shoppes at Marina Bay Sands, 2 Bayfront Avenue, Singapore 018972
49. Thevar
Adding a sprinkle of spice to Keong Saik, this modern Indian eatery is helmed by chef Mano Thevar. He displays his finesse in the kitchen with a creative array of traditional Indian flavours made contemporary. Expect to see vibrant sharing plates on the experimental menu, which changes every so often whenever inspiration hits.
Thevar, 9 Keong Saik Road, Singapore 089117
50. Birds of a Feather
Featuring elegant decor and sophisticated western dishes tinged with Sichuan flavours, this resto delivers quite a unique dining experience. Its warm ambience complements the punchy menu, with dishes such as spicy oriental bolognese, the signature burger with foie gras, and Sichuan oxtail soup. It's great for group gatherings or family hangouts over good grub.
Birds of a Feather, #01-01, 115 Amoy Street, Singapore 069935
51. Park Bench Deli
There's a reason why this casual hangout is our go-to spot for OTT sandwiches. These creations run the range of sweet, creamy, crunchy and flavourful. It's not easy to pick a fave from the list of amazing sammies, so you'll just have to try them all and land on one. Oh, and keep tabs on PBD's Facebook page if you'd like to sink your teeth into some of its collabs with other kitchen whizzes in the city.
Park Bench Deli, 179 Telok Ayer Street, Singapore 068627
Time to eat your way through our list of Singapore's very best restaurants!