Photography: The Summerhouse
With cool cafes, lush nature parks and plenty of hidden gems, Seletar is a neighbourhood in Singapore worth checking out.
If you're wondering where Seletar is, you're not alone. Sure, it's one of Singapore's more well-kept secrets. But a cluster of lovely hidden eateries in the area has definitely put a spotlight on the 'hood. Plus, it has an interesting heartland history. It's Singapore's first air base, with a mix of new developments, low-rise and landed houses (including gorgeous heritage black and white bungalows that were once the homes of Royal Air Force staff). And its untouched greenery offers a respite from the concrete jungle of Singapore. Time to make the trip up north!
Guide to Seletar: Food and drinks
1. Chingu @ The Oval
Sitting in a refurbished colonial house, this resto is taking Korean BBQ to the next level. Come with a group of six and get the King Sejong Banquet. It'll prep you with a spread of wagyu ribeye steak, beef brisket, pork belly, and more. There are even unique sides of mozzarella squares and pineapple you can barbecue. Besides dry- and wet-aged meats that'll smoke up a storm on the grill, we hear that the seafood pancake is a must-have.
Chingu @ The Oval, 7 The Oval, Singapore 797865
2. Boh Geh Uncle Canteen
This old school eatery has been around since 1969, and it's as fuss-free as it gets. There are three stalls to choose from – a drink stall, cai png stall, and a nasi padang stall. It's the perfect pitstop for anyone cycling along Seletar Aerospace Drive. The canteen will blast you back to the past with its authentic kampong vibes. It's the last kampong canteen of its kind, so despite the inaccessible location, it's worth the visit before it disappears for good.
Boh Geh Uncle Canteen, 398 Piccadilly, Singapore 798638
3. Wheeler's Estate
Spot open lawns, fairy lights and massive alfresco dining areas in this beautifully restored colonial bungalow. It's true, Wheeler's Estate is an Instagram-worthy fave, but the menu is worth a shout-out too. Best for a laidback dinner with friends while you enjoy live music, the grub at Wheeler's Estate is designed for communal dining. Think pizzas, sharing platters and rounds of cold beer under the stars.
Wheeler's Estate, 2 Park Lane, Seletar Aerospace Park, Singapore 798386
4. The Summerhouse
The closest you can get to living in a black and white colonial bungalow is by having a long weekend lunch or dinner at The Summerhouse. Settle into the airy dining rooms with high ceilings. Or for something more intimate, dine in the garden… in your own air-conditioned igloo. With its nature-inspired French cuisine made with fresh, seasonal produce, farm-to-table dining has never looked so good. Brunch is a charming afternoon affair, while dinner brings on the romance in a tranquil setting.
The Summerhouse, 3 Park Lane, Seletar Aerospace Park, Singapore 798387
5. Di Wei Teochew Restaurant
Expect delicious dishes with light flavours when you dine at Di Wei Teochew Restaurant. This Chinese restaurant embodies the authenticity of Teochew cuisine, using only the freshest of ingredients to create the dishes on its menu. Think familiar delights like braised duck, Teochew liver roll, fu yong omelette and fish maw soup.
Di Wei Teochew Restaurant, 1 The Oval, Singapore 797859
6. 5 by Sans Facon
A lesser-known hangout at Seletar Aerospace Park, this French eatery offers a tranquil experience with home-style dishes. If you want to avoid the crowds at The Summerhouse and Wheeler's Estate, make this peaceful place your go-to. It's all about charming vibes as it makes its home in the black and white colonial building.
5 by Sans Facon, 5 The Oval @ Seletar Aerospace Park, Singapore 797863
7. Hangar66 Cafe
Situated within an aircraft hangar, this quiet aeroplane-themed cafe brings you up close and personal with private planes at the Seletar Airport runway. Dine on Western grub and take a peek at the helicopter in the space, then head to the outdoor area to watch the sun go down the horizon.
Hangar66 Cafe, #01-01, WOA Aviation Hangar66, 66 Seletar Aerospace View, Singapore 797509
8. Youngs Bar and Restaurant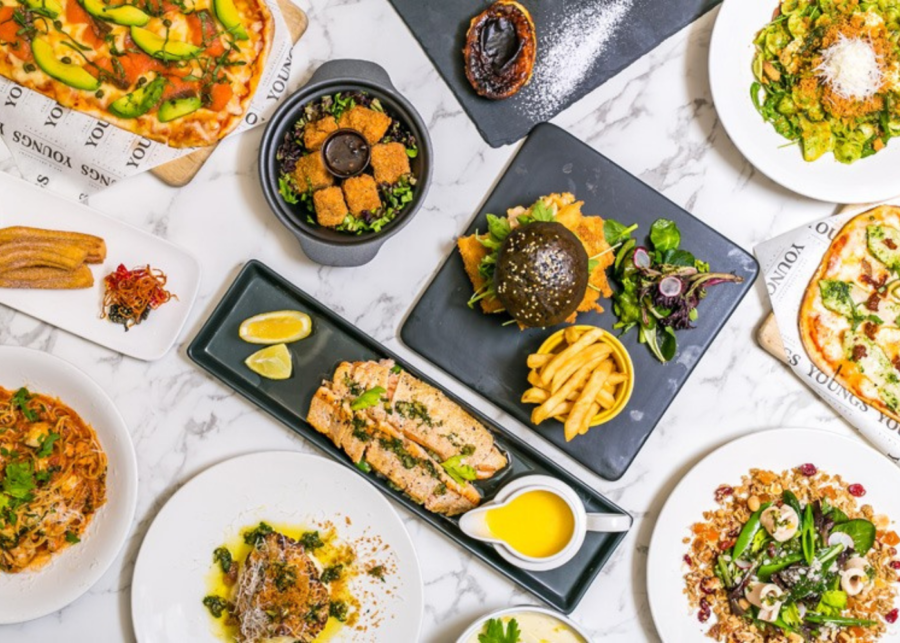 While other joints keep it simple, this restaurant is all about the luxe experience. For instance, you'll find cushioned walls, marble tabletops and wood details all around for that elegant and modern feel. Dine on modern European cuisine while you enjoy its alfresco ambience or air-conditioned comfort in the colonial building.
Youngs Bar and Restaurant, 3 Hyde Park Gate, Seletar Aerospace Park, Singapore 799531
9. Thasevi Food
Slightly outside the Seletar Aerospace area, Jalan Kayu is home to many established prata joints… and most of them serve up delicious variations of the dish. Thasevi is one of the area's more famous prata shops and it takes that accolade pretty seriously. Best of all, it's open 24 hours – so you know where to go when the craving hits.
Thasevi Food, 239 Jalan Kayu, Singapore 799463
10. Wildseed Cafe and Bar
Rustic and casual, Wildseed is a lush green cafe nestled within the dining enclave of The Summerhouse. It's all about lazy Sunday vibes with hearty brunch bites, sandwiches, cakes, pastries and freshly roasted coffee. But it gets better: Wildseed transforms into a bar at night, with a chill environment where you can enjoy grilled dishes and garden-to-bar cocktails.
Wildseed Cafe and Bar, 3 Park Lane, Seletar Aerospace Park, Singapore 798387
11. Tang Tea House
Everyone knows Jalan Kayu for prata and teh tarik, but if you're in need of something different, Tang Tea House offers halal Chinese cuisine including dim sum, noodles, chicken rice and giant glasses of the signature drink, Super Cooler (young coconut with a shot of wheatgrass).
Tang Tea House, 242 Jalan Kayu, Singapore 799466
12. Cinder Steakhouse
Soak up the old world atmosphere of Seletar when you dine at the Cinder Steakhouse. This authentic colonial steakhouse and wine bar serves quality steak cuts and delicious wines. It's perfect for a romantic date night or any other fancy occasion. Don't forget to pop by on Tuesday, Wednesday, and Thursday evenings for Irish oysters at half price from 6pm to 7:30pm!
Cinder Steakhouse, Level 2, Seletar Aerospace Drive, 2 Park Lane, Singapore 798386
---
Guide to Seletar: Things to do and explore
13. Seletar Fishing Village
Explore Seletar a little further and you'll find the last fishing village in Singapore – just spot the kampong-like huts and wooden boardwalks along the shore. It's a gorgeous place to admire sunrises and sunsets, so don't be surprised to find groups of people crowding around this place at the golden hour.
Seletar Fishing Village, Seletar North Link, Singapore 797445
14. Hampstead Wetlands Park
For a green day out, lace up your walking shoes and head to this undisturbed nature spot at Seletar Aerospace Park. Featuring boardwalks, view decks and a trail for adventurers to admire the area's flora and fauna, the untouched sanctuary is home to butterflies, dragonflies and even birds like the white-throated kingfisher.
Hampstead Wetlands Park, 1 Baker Street, Singapore 799977
15. Seletar Aerospace Park
Once a home for Royal Air Force personnel and their families, the black and white bungalows of Seletar Aerospace Park have been conserved and redeveloped as part of their transformation into a lifestyle enclave. The place houses plenty of eateries, with relaxed crowds thronging the area on weekends. Take a stroll around the green site, watch the planes fly by and have a spot of fun at the aeroplane-themed playground.
Seletar Aerospace Park, 2 Park Lane, Singapore 798386
16. Rower's Bay Park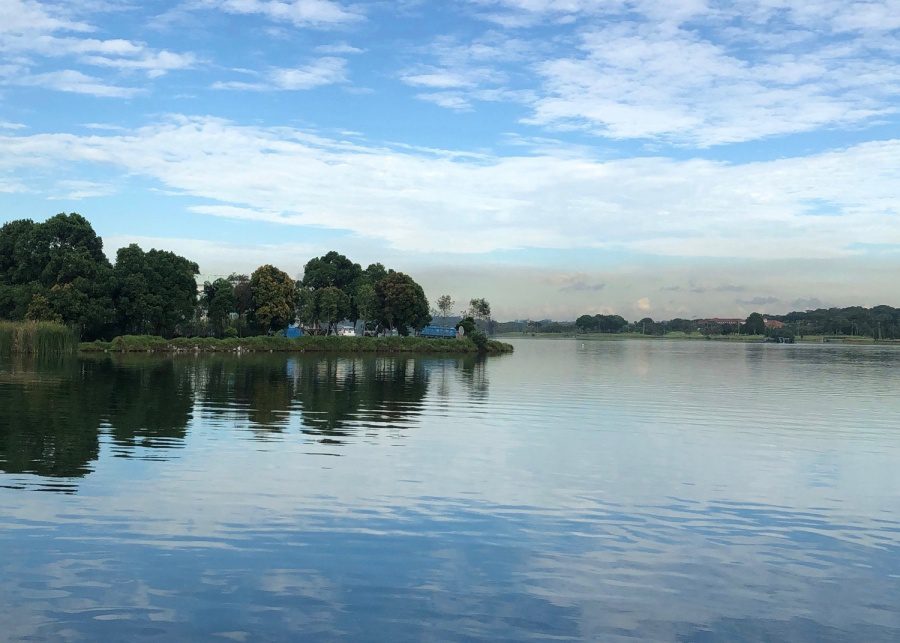 This gem in Seletar is the perfect place for an idle walk in the early morning. It's located at Lower Seletar Reservoir Park, and you can head to the boardwalk to get closer to the water and spot plenty of wetland wildlife. Take a rod with you if you want to go fishing, or maybe even go on a kayaking adventure across its turquoise waters and admire the various flora and fauna around you.
Rower's Bay Park, Seletar Club Road, Singapore 798273
Time to put on your explorer cap and make your way to Seletar!