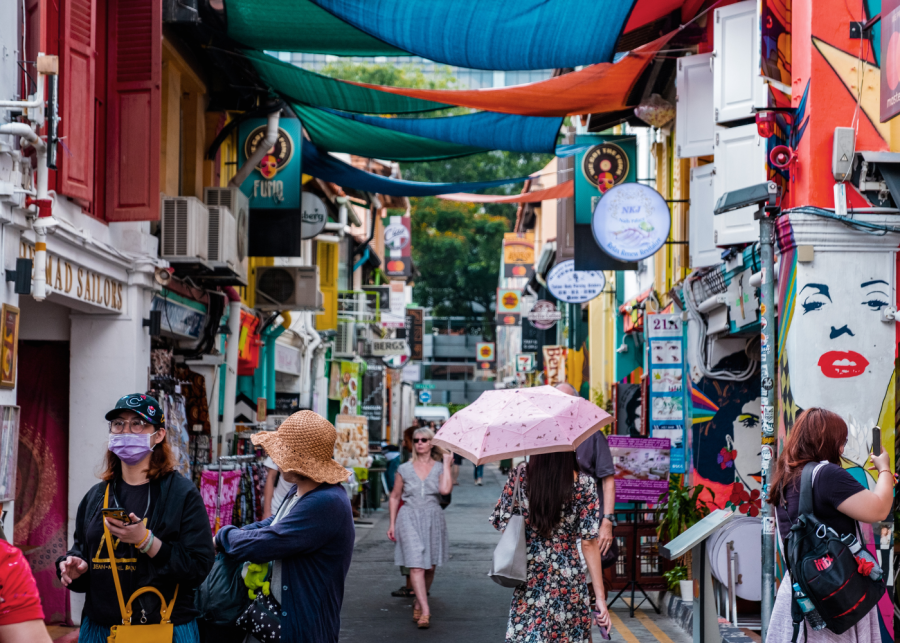 When you see this colourful street, you know you're in Haji Lane. Photography: Klanarong Chitmung via Shutterstock
What's not to love about Singapore's OG indie 'hood? It has everything you want, from hole-in-the-wall boutiques to hip food spots.
Before Tiong Bahru, there was Haji Lane – Singapore's original indie neighbourhood. This buzzing, all-hours enclave in eclectic Kampong Glam is peppered with cool boutiques, bars, cafes and restaurants that rank high on the hip factor – and let's not forget the street art. It's no wonder we keep coming back to one of our favourite 'hoods. Here are the best food spots, shops and hidden gems in Haji Lane and around the corner in Bali Lane, Arab Street and Beach Road for more good times…
Haji Lane guide: Food and drinks
1. Good Luck Beerhouse
If you're looking for a new hangout spot, look no further than Good Luck Beerhouse. This establishment is a taproom, cocktail dive, dim sum house, and izakaya all rolled into one. Talk about eclectic. Whether you love craft beer, a good ol' tipple, or even sake, there's something for everyone. Don't forget to order some food to go along with your drinks. Get crispy shrimp pasta karaage, carrot cake, or steamed dumplings for the perfect night.
Good Luck Beerhouse, 9 Haji Lane, Singapore 189202
2. Coffee Donkee
If you spot a swing and lawn setup while taking a leisurely stroll down Haji Lane, you've likely stumbled upon Coffee Donkee. Offering java made with coffee beans flown straight from Japan, it's the perfect spot to get your morning cuppa served in a unique cup and saucer. If you love its coffee, grab a bag of beans to bring home with you!
Coffee Donkee, 51 Haji Lane, Singapore 189244
3. Bears & Friends
We'll let you in on a secret – there's a candy shop along the lane that we absolutely love. Bears & Friends imports high-quality fruit gummies from Germany. Not only are they vegan and vegetarian, but they're also gluten- and lactose-free. So grab a cup and scoop away for these (mostly) guilt-free treats. We love getting fruit juice bears and sour peach hearts to snack on.
Bears & Friends, 78 Haji Lane, Singapore 189270
4. Pita Bakery
Once you've tried the freshly-baked pita bread (perfectly created with a 700-year-old recipe) paired with hummus, baba ganoush, tahini and falafel base dips, there's no turning back. In fact, we always make a quick takeout trip whenever we're in the hood. Tip: the kitchen sometimes runs out by evening so it's best to go early!
Pita Bakery, 29 Bali Lane, Singapore 189865
5. Afterwit Bar de Burrito
Bright pink neon greets you in this cosy space. The restaurant is relatively hidden but we love it for its standout Mexican fare. You can find tacos with a variety of fillings like bahn mi-style toppings, marinated tofu, and the classic baja that uses a grilled barramundi.
Afterwit Bar de Burrito, 778 North Bridge Road, Singapore 198746
6. Bar Stories
We've all had moments at the bar when we just can't pick a drink that'll satisfy us. You won't have that problem here 'cos there's no menu. Yup, the bartenders at Bar Stories will craft a cocktail according to your mood and from experience, they hit the mark all the time. The bespoke concoctions aren't just served in a mere rock glass. They don't skimp on theatrics – from incorporating dry ice to vibrant plating, it's best you whip out your phones to capture it all.
Bar Stories, 55-57A Haji Lane, Singapore 189248
7. Blanco Court Prawn Mee
In case you didn't know, Blanco Court's legendary prawn noodles are now at Beach Road. We tried it ourselves and it's one of the best we've had. Dig into this bowl of yellow (you can pick bee hoon or a mix of both) noodles topped with pork lard, fried shallots and a generous serving of succulent prawns. And that brown stock? Light, fragrant and warms you up in all the right places. Add chilli padi for an extra punch.
Blanco Court Prawn Mee, #01-01, 243 Beach Road, Singapore 189754
8. Meomi Cat Cafe
This cosy little nook houses less than 10 resident in-house cats but these beauties are quite the lookers. And with the personalities to boot! Thanks to its comfy seating, kitty toys and human treats like cake and coffee available, you'll spend hours at this place.
Meomi Cat Cafe, 668 North Bridge Road, Singapore 188801
9. Piedra Negra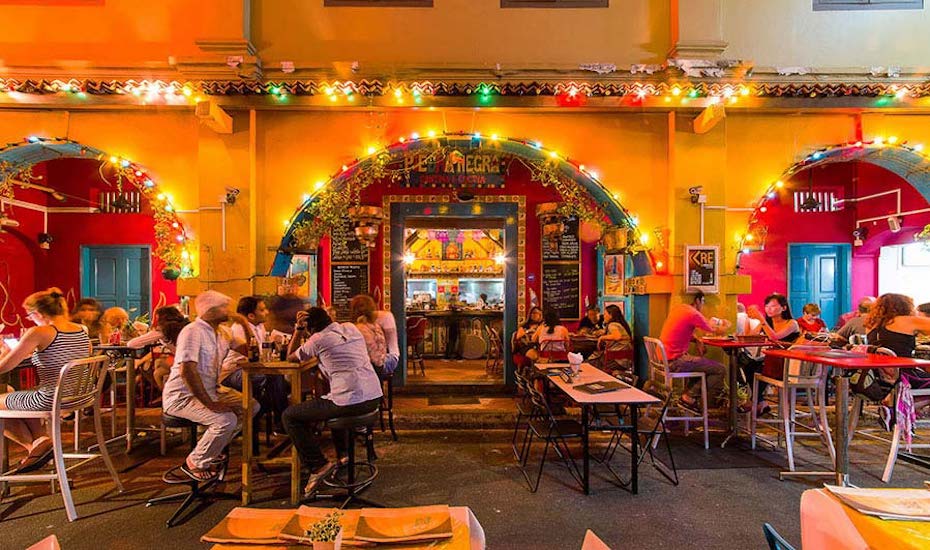 One of our favourite Mexican restos in Singapore, Piedra Negra is a buzzing gem that's worth checking out – especially if you have a weakness for killer guac made fresh on the spot (who doesn't?). Pair that with a steady supply of tortilla chips, hearty burritos, and potent frozen margaritas. You've got your night made. Ole!
Piedra Negra, 241 Beach Road, Singapore 189753
10. Blu Jaz Cafe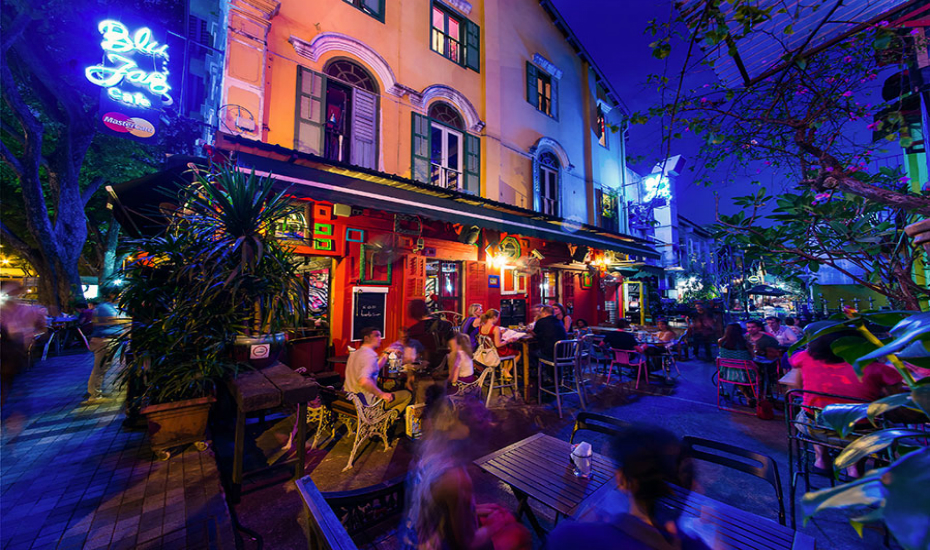 A place that needs zero introduction, Blu Jaz Cafe has established itself as the go-to amongst hip bar-hoppers looking for chill vibes and great grub. You gotta love this hip spot for outdoor dining – swing by for a laidback gathering with friends over drinks!
Blu Jaz Cafe, 11 Bali Lane (off Haji Lane), Singapore 189848
11. I Am…
This street-side cafe regularly draws crowds on the weekends and it's easy to see why. Inspired by Amsterdam, the joint serves up hearty mains like pasta, fish and chips and pizza in a so-hipster-it-hurts setting. The main draw? Signature burgers like the charcoal grilled sloppy beef burger, complete with a house special messy sauce that's worth getting your hands dirty for, and the oh-so Instagrammable multi-layer rainbow cake.
I Am…, 674 North Bridge Road (off Haji Lane), Singapore 188804
---
Haji Lane guide: Shops
12. Bella Kini Swimwear Boutique
Planning an island vacation? Get your beachwear fix from this colourful shop that has something for everyone. From sizzling bikinis to resort wear, everything you need for your holiday wardrobe can be found right here. The range also features shoes, bags and bohemian accessories you can add to your collection.
Bella Kini Swimwear Boutique, 69 Haji Lane, Singapore 189262
13. Drunken Balloon
Located at the end of Haji Lane, this shop is tough to miss (and ignore) with orange and red balloon sculptures suspended over a contrasting blue storefront. Drunken Balloon looks like the ultimate party store from the outside, but it's a whole different vibe inside. The shop is filled to the brim with ample retro memorabilia, board games, party games (The Harry Potter edition of Cards of Humanity caught our eye) and quirky novelty items for you to take home. Need some entertainment and supplies for a party? You know where to go.
Drunken Balloon, 84 Haji Lane, Singapore 189273
14. Crafune
Craft your own wallets, passport holders, keychains, money clips and cardholders at Crafune. Hidden on the second level, this indie boutique uses high-quality vegetable-tanned leathers (in various colours) that will age beautifully as you use them. Go for a wallet crafting workshop to create your own bespoke piece or select something in-store.
Crafune, #02-01, 38 Haji Lane, Singapore 189231
15. SSFW
SSFW, or Spring Summer Fall Winter, specialises in handmade arm candy for stylish peeps. Step into the boutique and you can have your pick of one-of-a-kind accessories like gemstone jewellery and even mask accessories.
SSFW, 75 Haji Lane, Singapore 189268
---
Haji Lane guide: Things to do
16. Admire wall art
Don't forget to take your best lens with you! What makes this vibrant lane pop is its mesmerising wall art, graffiti and other quirky artworks you can find at different corners of the street. Watch the space come to life when the sun goes down, highlighting neon wall paintings and colourful windows. The spotlight is, of course, on the cool graffiti – each tells a quirky story.
17. 99 Percent Hair Studio
We get it: trusting a hairstylist with a dye job, especially a bleach and dye job, is pretty risky stuff. But when you're in the trusty hands of the hair maestros at this hair studio, you'll be strutting out of there looking like #hairgoals.
99 Percent Hair Studio, #01-01, 40 Haji Lane, Singapore 189233
18. The Nail Social
There's more to this nail salon than meets the eye. While ladies can relax and pamper themselves with a well-deserved mani-pedi, The Nail Social is also committed to giving back to communities by offering vocational training and employment to local marginalised women.
The Nail Social, Second floor, 42A Haji Lane, Singapore 189235
19. Picasso Hair Studio
Tucked away in the 'hood is Picasso Hair Studio, which prides itself on "artistic hairstyling". Its tagline isn't just another gimmick. Aside from the salon's art studio-inspired premises, clients with perms or colouring work leave with genuine masterpieces. Just take a quick look through the colour gallery. Gorgeous ombre colouring in pastels and striking rainbow colours are artfully done, while perms are smooth, frizz-free and guaranteed to suit your face shape.
Picasso Hair Studio, 662 North Bridge Road, Singapore 188798
20. The Nail Artelier
Art takes centre stage here. Unlike other nail salons, there are no fixed designs, so nail artists work to make your specific design a dream come true. Do book ahead, 'cos this place is always packed with bright, young things – another testament to the popularity of its gorgeous nail art.
The Nail Artelier, 76A Haji Lane, Singapore 189269
Bookmark this guide to help you find your way around the best spots in (and around) Haji Lane!