A sight for sore eyes...this beautiful mural can be found inside Tiong Bahru market! Photography: Selina Altomonte
A perennial fave, this Tiong Bahru neighbourhood guide has everything you need for cool cafes, stores and restos.
Truth: we can't get enough of Tiong Bahru. Exuding old-school charm and home to one of the oldest housing estates, time stands still at the quiet streets of this hip heritage neighbourhood. Don't be mistaken by its quaint demeanour though – you'll find some of the island's best cafes, restaurants, stores and pretty street art right here. We point you in the right direction with our guide to Tiong Bahru.
EAT
Tiong Bahru Bakery
You simply can't think of Tiong Bahru without Tiong Bahru Bakery coming to mind – the two are as iconic as each other. A top spot for French pastries, the staple here is the wonderfully flaky and light butter croissant, but we never leave without the pain au chocolat either. If you need to satisfy your sweet tooth, you have to give the kouign amann a go. We'll take two of each please!
Tiong Bahru Bakery, #01-70, 56 Eng Hoon Street, Singapore 160056
PS.Cafe Petit Tiong Bahru
This cosy little tropical-themed bistro ranks high as one of our top spots for quiet afternoon chilling. Smaller than its other outlets and with limited seating, its menu is a takeaway one, but can also be enjoyed on site. Grab a seat near the leafy feature wall, order a glass of wine and watch the world go by.
PS.Cafe Petit Tiong Bahru, #01-41, Block 78 Guan Chuan Street, Singapore 160078
Plain Vanilla
The cupcake craze may be well over but big players like Plain Vanilla ain't going anywhere. One of the OGs on the scene, the secret to its success is its emphasis on quality – only the finest of ingredients like French butter, pure Madagascar Bourbon vanilla and bittersweet Belgian chocolate are used. No shortcuts, no preservatives. Pick from bestsellers like peanut butter fudge, chocolate and strawberry lychee. We not-so-secretly come here for the fantastic collection of homewares and kitchenalia too. Oh, and if you're in the CBD don't miss their quaint little shop at Telok Ayer.
Plain Vanilla, 1D Yong Siak Street, Singapore 168641
Tiong Bahru Market
Eggs benny, French pastries and speciality coffees not doing it for you? Keep it local with a hearty meal at Tiong Bahru Market instead. This hawker institution is home to some of Singapore's best local food, including chwee kueh, prawn noodles, roast meat and even a Michelin Bib Gourmand chicken rice stall.
Tiong Bahru Market, 30 Seng Poh Road, Singapore 168898
Merci Marcel
You can't miss this lovely little spot just next to Tiong Bahru Cafe. Hot new restaurant Merci Marcel is making waves, and we're happy to ride the currents. Light and bright, there's plenty of greenery here, with a trendy mix of rattan, gold and pastel interiors. Bring your gal pals and head here for photo-worthy brunch, or make it a date night for dinnertime – do yourself a favour and order the Australian grass-fed angus beef and ceviche of red snapper. Both promise an explosion of divine flavours. What's truly addictive? The signature dish of Ravioles de Royans with Tête de Moine cheese. Trust us. And this could be just as dangerous: Merci Marcel sells artisanal French cheese and wine to take home, and has its own little lifestyle store. Check out the super chic collection of Parisian sunglasses, chocolates and enamelware.
Merci Marcel, #01-68, 56 Eng Hoon Street, Tiong Bahru, Singapore 160056
The Butcher's Wife
Love your pasta, bread and pizza but gluten isn't vibing with your gut? Taking over Open Door Policy, The Butcher's Wife's got it out of the park with *applause* – an entire gluten-free menu of European comfort food. If your idea of gluten-free bread is less than stellar, the fluffy baked focaccia will change your mind. Other highlights include crispy pig ears and grilled octopus with manioc puree, white kimchi and grilled broccolini.
The Butcher's Wife, 19 Yong Siak Street, Yong Siak View, Singapore 168650
Foodie Market Place
Once you've had your fill of cafe grub and gallivanted around the neighbourhood, shop groceries at Foodie Market Place. Fill up your bags with ready-to-cook frozen products, gourmet meats, cheeses, yogurt, canned goods, condiments, snacks and more. There are some really competitive prices too!
Foodie Market Place, 225 Outram Road, Singapore 169038
Tiong Bahru Galicier Pastry
This famous family-run store is well-known for its array of Nyonya sweets and baked treats – don't be surprised to find a queue here. It does things the traditional way, which means you'll find an array of old school cakes and pastries to satiate your cravings. Must-haves include the ondeh ondeh, as well as kueh salat, kueh kosui, kueh dadar… and even the pandan kaya cake (just sayin').
Tiong Bahru Galicier Pastry, #01-39, Blk 55 Tiong Bahru Road, Singapore 160055
Bakalaki
Craving for authentic Greek food? Say no more. Located right in the heart of Tiong Bahru along Seng Poh Road, Bakalaki is the Eastern Mediterranean fix you need. For starters, tuck into the tzatziki dip with pita bread and Horiatiki, a traditional greek salad. We hear that Htapodi (grilled octopus), kebab and Paidakia (lamb chops) are some stellar must-tries. There's even a deli should you need to take home some delicacies like cheeses, olives, sauce, traditional sweets and Greek wines.
Bakalaki, 3 Seng Poh Road, Singapore 168891 
Ah Chiang's Porridge
Admit it, there's nothing like a bowl of comforting porridge to set your day right – Ah Chiang's traditional charcoal porridge is that perfect hearty breakfast that does the job. It gets pretty crowded during peak hours but it's worth the wait. Try the century egg, pork or fish porridge along with a side of fried pork liver.
Ah Chiang's Porridge, #01-38, Blk 65 Tiong Poh Road, Singapore 160065
Flock Cafe
This Tiong Bahru old timer wins hearts with its classic all-day breakfasts, sandwiches, salads, and gourmet coffee and teas. If you're looking for vegetarian options, they have just what you need too. Start your day right with a breakfast set, or stuff yourself silly with a hearty pasta – just don't say we didn't warn you about the post-lunch coma.
Flock Cafe, #01-25, 78 Moh Guan Terrace, Singapore 162078
Prive
Prive seems to be popping up at every corner and its latest outpost is in this lovely 'hood. The menu is also filled with ample vegan options – including vegan chicken rice and Impossible meatball spaghetti. Watch the world go by at the alfresco area or get comfy with the cool air indoors. Btw, it's where The Singapura Club used to be, just opposite Tiong Bahru Market.
Prive, #01-88, 57 Eng Hoon Street, Singapore 160057
Forty Hands
Long before the onslaught of neighbourhood cafes, there was Forty Hands. These guys are one of the pioneers of the coffee movement in Singapore, so you know you're getting quality brews here, made with freshly roasted beans. Brunch is the main food of the day, with smashed avo on toast, homemade granola, and toasties as the favourites of regulars.
Forty Hands, #01-12, 78 Yong Siak Street, Singapore 163078
Drips Bakery
If you're all about the sweet life, you need to check out Drips Bakery. The patisserie has everything from cakes and scrummy tarts to cookies and scones, served with homemade jam. Pair it with the cafe's signature cold drip coffee to ease the sweetness.
Drips Bakery, #01-05, 82 Tiong Poh Road, Singapore 160082
Bincho
Blink and you'll miss Bincho: a 70-year-old mee pok stall by day and trendy Japanese restaurant by night. Enter through the back door and you'll find yourself in a chic, dimly lit brass-plated bar. Venture further in and the confusion begins; you'll arrive at a kopitiam-style dining room.
Bincho at Hua Bee, #01-19, 78 Moh Guan Terrace, Singapore 162078
Creamier
Creamier has been causing us to experience a rollercoaster of emotions, what with the closure and reopening announcements of the Toa Payoh outlet (it moved across the street from the original location, in case you're wondering). But there's no need to worry about its Tiong Bahru location as it's business as usual here. The handcrafted ice creams are a dream with unique flavours such as sea salt gula melaka, Earl Grey lavender and charcoal black sesame. Pile on more than one scoop on your cup, waffle cone or handmade golden waffles 'cos it's absolutely necessary.
Creamier, #01-18, 78 Yong Siak Street, Singapore 163078
Coq & Balls
You won't find fancy brunch here but cheekily named Coq & Balls' pub grub is actually good. Chow down on pizza, pasta, fried rice or light bites of popcorn chicken and crispy pork. Wash it all down with a beer – the selection includes wheat, draught, lager, stout – and sink into the infectious good vibes of this place.
Coq & Balls, 6 Kim Tian Road, Singapore 169246
Sin Hoi Sai Seafood Restaurant
Sin Hoi Sai got the thumbs up from the Michelin Guide Singapore in 2016 and rightfully so too. This seafood resto serves up a plethora of delicious delicacies such as crabs and abalone, or go straight for their signature salted egg yolk and spicy crabs. But don't forget to order other tasty bites such as the fried mantis prawns and chilli oil fish fillets.
Sin Hoi Sai Seafood Restaurant, #01-59, Block 55, Tiong Bahru Road, Singapore 160055
House of Peranakan Petit
Peranakan cuisine doesn't get more authentic than this! Helmed by Chef Bob Seah who is a Baba himself, the restaurant serves up homely Nyonya dishes such as ayam buah keluak, itek sioh, and claypot crab soup. We're also huge fans of the pulut hitam – the coconut milk tart on the black dessert looks too beautiful to be eaten!
House of Peranakan Petit, 42 Eng Hoon Street, Singapore 169785
---
SHOP & DO
Books Actually
A mandatory part of visiting Tiong Bahru is a stop at one of our fave book stores in Singapore, super cool Books Actually. Its shelves stock a wide range of literature, including classics and ones by up-and-coming local authors. More than books, the store also has a quirky mix of souvenirs in the back, which includes antiques and random vintage odds and ends. Say hi to the furry friends in the store, and pick up a good read from the book vending machine at its doorstep.
BooksActually, 9 Yong Siak Street, Singapore 168645
Woods in the Books
Just next to Books Actually is Woods in the Books, an indie store specialising in picture books for all ages. Take a trip through memory lane, with books like Tintin, Meg & Mog and The Hungry Caterpillar, or shop cool knick-knacks and toys for your shelfie.
Woods in the Books, 3 Yong Siak Street, Tiong Bahru, Singapore 168642
 Heveya by European Bedding
Need something for a better night's sleep? Hop on over to Heveya by European Bedding, a cosy bedding store with homely and functional items. We love its Heveya bamboo duvet sheets (made sustainably from bamboo lyocell), which are silky soft, breathable and cool in the heat, plus antibacterial at the same time. Alternatively, the flexible ergonomic slatted bed base offers contoured comfort for your hips, allowing you to have the best possible rest. And the star of this showroom? The brand's signature Heveya natural organic latex mattresses that provide the perfect support for your spine.
Heveya by European Bedding, 32 Eng Hoon Street, Singapore 169780
OliveAnkara
We've raved about their qipaos that could be worn well beyond Chinese New Year. So if you're thinking of adding some spunk and colour into your wardrobe, you've come to the right place. With vibrant wax-print fabrics from Africa and fun resort wear-esque silhouettes, it's hard to leave empty-handed (trust us, we know). If you're planning to start things slow, start with a headband or a pair of Ankara sneakers.
OliveAnkara, #01-02, 79 Chay Yan Street (opposite Plain Vanilla) Tiong Bahru, Singapore 160079
Ask a French Flowers
The flower arrangements by Aude from Ask a French Flowers are almost poetic, as though taken right out of a still-life painting. No bouquet is ever the same as it's arranged according to her style with seasonal flowers, though you still have the option to pick your preferred hue and theme. If you've fallen hard for the flowers, wait till you visit the atelier. Aude conducts floral and lifestyle workshops at her beautiful studio so it's the perfect spot to learn a new skill, make friends or just escape from your hectic life for a sec.
Ask a French Flowers, Tiong Bahru, Singapore, by appointment only. Contact Aude for more details.
Curated Records
If you're on a hunt for indie music on vinyl, this little Tiong Bahru hangout is probably your best bet. There are over 1000 records to dig through – a treasure vault for hipsters to rummage through all day.
Curated Records, #01-53, 55 Tiong Bahru Road, Singapore 160055
Maissone Home
You've probably nailed your Pinterest board with chic items like homeware, tableware, and even hand soaps and creams. Now, you can touch and feel these gems at their physical shop at Yong Siak Street.
Maissone Home, 25 Yong Siak Street, Singapore 168653
Nimble and Knead
At first sight, you'd hardly believe this is a spa as its industrial interiors places it right at home with the nearby cafes. It's built from shipping containers and even features chairs made out of wooden crates (don't worry – you're not being massaged on them). Pop by for an hour's worth of foot massage after brunch.
Nimble/Knead, 66 Eng Watt Street, Tiong Bahru Estate, Singapore 160066
Grey Projects
More than just an art gallery, this cool multi-concept space also houses a library, a studio and a live-in residency that provides creative folks from Singapore and aboard a platform to publish, exhibit, and curate experimental works. Stalk its Facebook page to know what's coming up.
Grey Projects, 6B Kim Tian Road, Singapore 169246
Nana & Bird
Set up by fashion-loving besties, this little local store on Tiong Bahru's hippest streets offers some of the coolest labels around – both local and international. Browse through racks of dresses by fab Singapore label Aijek and Aussie brands C/MEO Collective and Malaysian designer Cassey Gan, or pick up quirky jewellery.
Nana & Bird, 1M Yong Siak Street, Singapore 168641 (the retail space is currently closed for renovations)
Yoga Movement
Finally, an om-chic yoga studio in a café-saturated Tiong Bahru, thanks to the arrival of Yoga Movement. Book a mat at just $35 per class (or $250 for a 10-class pack) with hot and non-hot options. Classes can get a bit crowded but the clean, tranquil environment and focused lessons make up for that.
Yoga Movement, 11 Yong Siak Street, Singapore 168646
Cat Socrates
Fair warning: Once you step inside, it's going to be tough to leave the store without purchasing an item or two. Filled to the brim with books, paper paraphernalia, quirky home decor, trinkets, fashion accessories and even plants, Cat Socrates is one of our favourite gift shops in the city. It also spotlights local and indie brands. Makes for great souvenirs too!
Cat Socrates, #01-14, 78 Yong Siak Street, Singapore 163078
---
ARCHITECTURE
Whether we intend to or not, we simply can't stop ourselves from admiring Tiong Bahru's stunning architecture. Above is the distinctive 'horse-shoe' shaped flat at Moh Guan Terrace and Guan Chuan Street. It's also home to the first air raid shelter to be built in a public housing project.
All around Tiong Bahru you'll see these pre-war apartments. These are designed in a late Art Deco movement called Streamline Moderne – it explains the clean curves, rounded shapes and simple, long lines.
Built after World War II, these four-storey flats (pictured above and below) steer clear of boxy designs, with the curved landing and rounded portholes. This spot here is an Instagrammer's dream, with its wonderful symmetry and mix of curves and lines.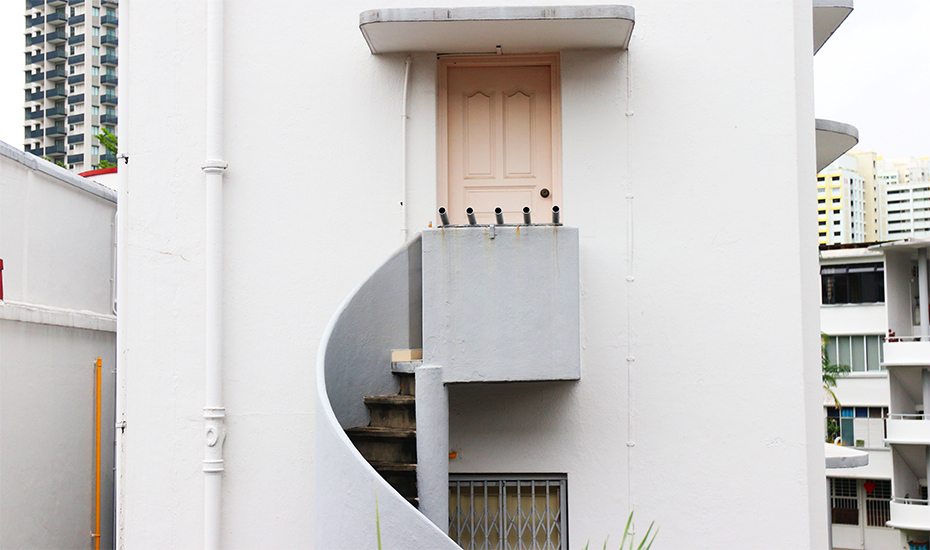 ---
MURALS
A district so colourful wouldn't be without its murals. The ones you see below are painted by Yip Yew Chong: one of Singapore's most popular street artists.
The "Pasar Tiong Bahru" features a stall named 'Seng Kee', poignantly named in memory of the artist's father. The details you see are reminiscent of Singapore's thriving past hawker culture as well as the artist's own preferences: the zhui kueh and laksa on the table on the right are his and his wife's favourites; the putu mayam sold by the Indian stall owner on the left is loved by the artist's father and daughter.
"Home" is a reflection of the estate's history and ambience. Painted on the TV screen is Wangsa Yefung, a famed comedic duo from the '70s while, if you look closer at the newspaper, you'll see late former Prime Minister Lee Kuan Yew promoting the Speak Mandarin campaign in 1979. On the table and the wall you'll spot objects familiar to local culture like Axe oil and a traditional calendar.
---
PARKS
Kim Pong Park
The relatively new (it opened in November) park may be small in size but you won't help but stop to take in this beauty. Designed to reflect the art-deco style of the old Tiong Bahru estate, the park forms three circular motifs with wide pathways that are stroller and wheelchair-friendly. Hop on one of the garden swings or sit on a terrazzo bench and watch the world go by. We visited the spot during a weekday afternoon and it was already packed with families.
Kim Pong Park, along Kim Pong Road and Kim Tian Road.
Tiong Bahru Park
This park may be a bit of a walk from Tiong Bahru's hotspots but there are plenty of activities for both young and old. Put Netflix on hold and clock in a quick workout at various fitness corners. The recently renovated playground with the iconic tiling train will keep the kids occupied for hours.
Tiong Bahru Park, along Tiong Bahru Road and Lower Delta Road.