Palawan beach
We're all about that island life! Check out our fave beaches and enjoy eternal summer...
We do love our beach clubs. Cocktails, sand between our toes and sunshine? Yes, please. But for those days when you just want to lounge with a book in hand or enjoy some quiet time in the great outdoors, our guide to the coolest beaches in Singapore has just the thing. Time to work your way from Sentosa to the East Coast to our secluded islands…
Best beaches in Singapore
East Coast Park
Everyone loves this family-favourite spot because there's always something fun to do. Besides the usual cycling and roller-skating activities, it's also an idyllic hangout for weekend picnics, camping adventures and beachside barbecues. If you go for a beach run, expect to find families with kids playing in the sand until sunset. Looking for things to do with the little ones? Head to the fantastic playground at Marine Cove. Oh, and those lounging around till evening can enjoy great alfresco dining with a breeze along Parkland Green.
East Coast Park, East Coast Park Service Road
Siloso Beach
Sentosa is a hotspot for fab beaches in Singapore. And we are definitely most fond of Siloso Beach for its fun-loving summer vibes. It may not be the most pristine stretch, but you can indulge in a plethora of water sports and chill with beach grub by the water. Come nightfall, feel the sandy shores spark to life with bar music and hip parties.
Siloso Beach, Sentosa
Changi Beach Park
This is slightly off the grid, but the journey totally is worth it. As one of Singapore's oldest beach parks, it's constantly buzzing with activity, making it the perfect place for outings with family and friends. Round off your day with a hearty meal at the nearby Changi Village, which is beloved amongst foodies for its many hidden gastronomic gems!
Changi Beach Park, Nicoll Drive
Palawan Beach
This is one of the more family-friendly beaches in Singapore, with the epic Palawan Pirate Ship water play park located nearby. It's also where you can find the iconic suspension bridge, which links Palawan Beach to the southernmost point of continental Asia, so get your cameras ready for some sweet photos when you're on an outing here with your fambam.
Palawan Beach, Sentosa
Lazarus Island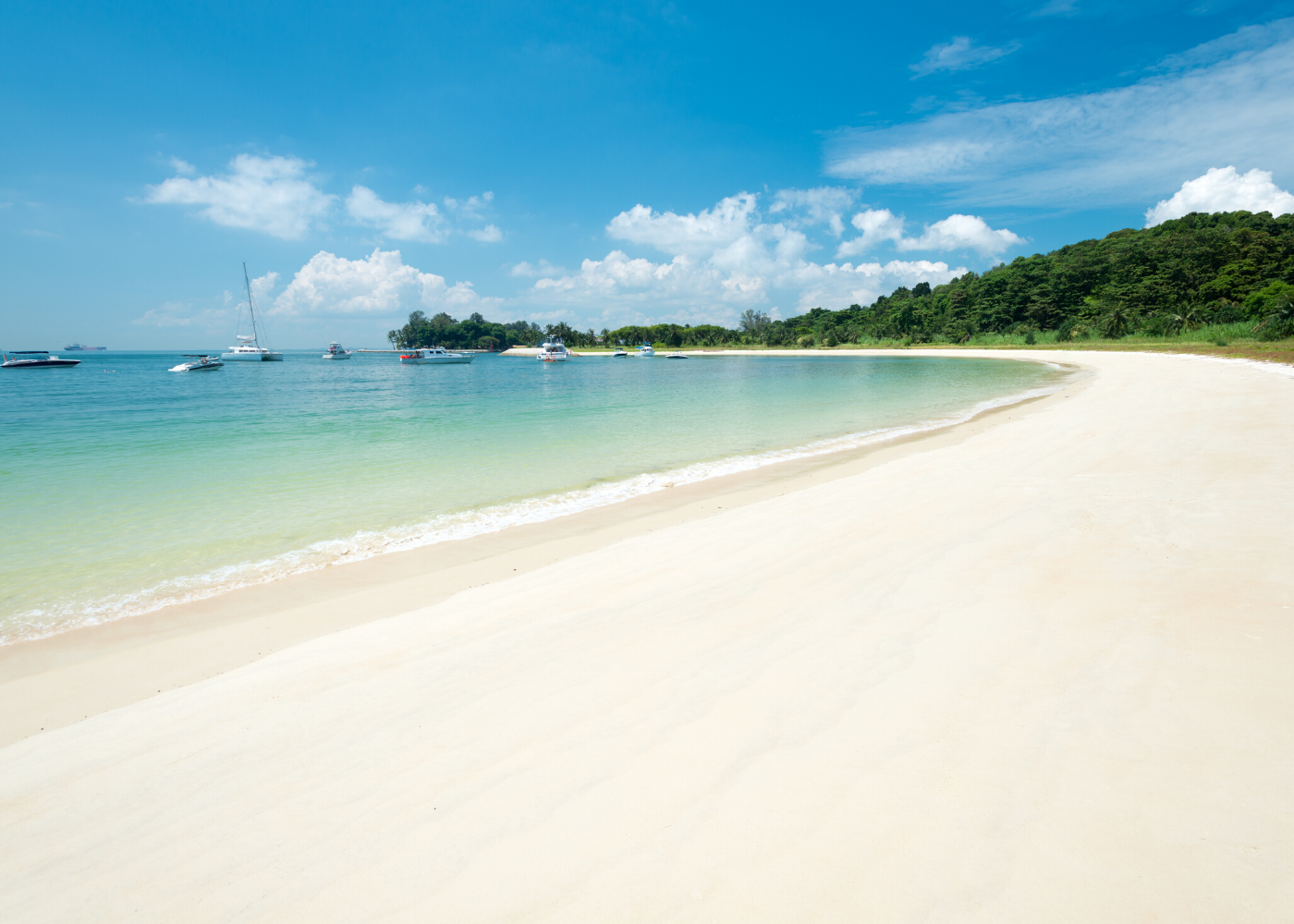 This is for the island-hoppers. Or anyone looking for a getaway from the main island, since it's just a ferry ride away. The sandy beaches here will make you feel like you've been transported into beach paradise – we think it's perfect for romantic dates.
Tanjong Beach
Looking for a full-on party beach in Singapore? Enter Tanjong Beach, home to everyone's favourite Tanjong Beach Club. It's well known as the hip haunt for party-goers, but it also offers a magnificent view of the water if you're just looking for somewhere to curl up with a book and a drink. After all, it's tucked away at one end of Sentosa.
Tanjong Beach, Sentosa

Sisters' Islands
These islands are two of Singapore's Southern Islands, and their inviting blue waters make 'em a popular destination for snorkelling. There's also a legend behind the formation of these islands, touching on sisterly love and acts of sacrifice. If you happen to drop by, do check out the Sisters' Islands Marine Park, which aims to give visitors a first-hand experience of the rich marine biodiversity.
Coney Island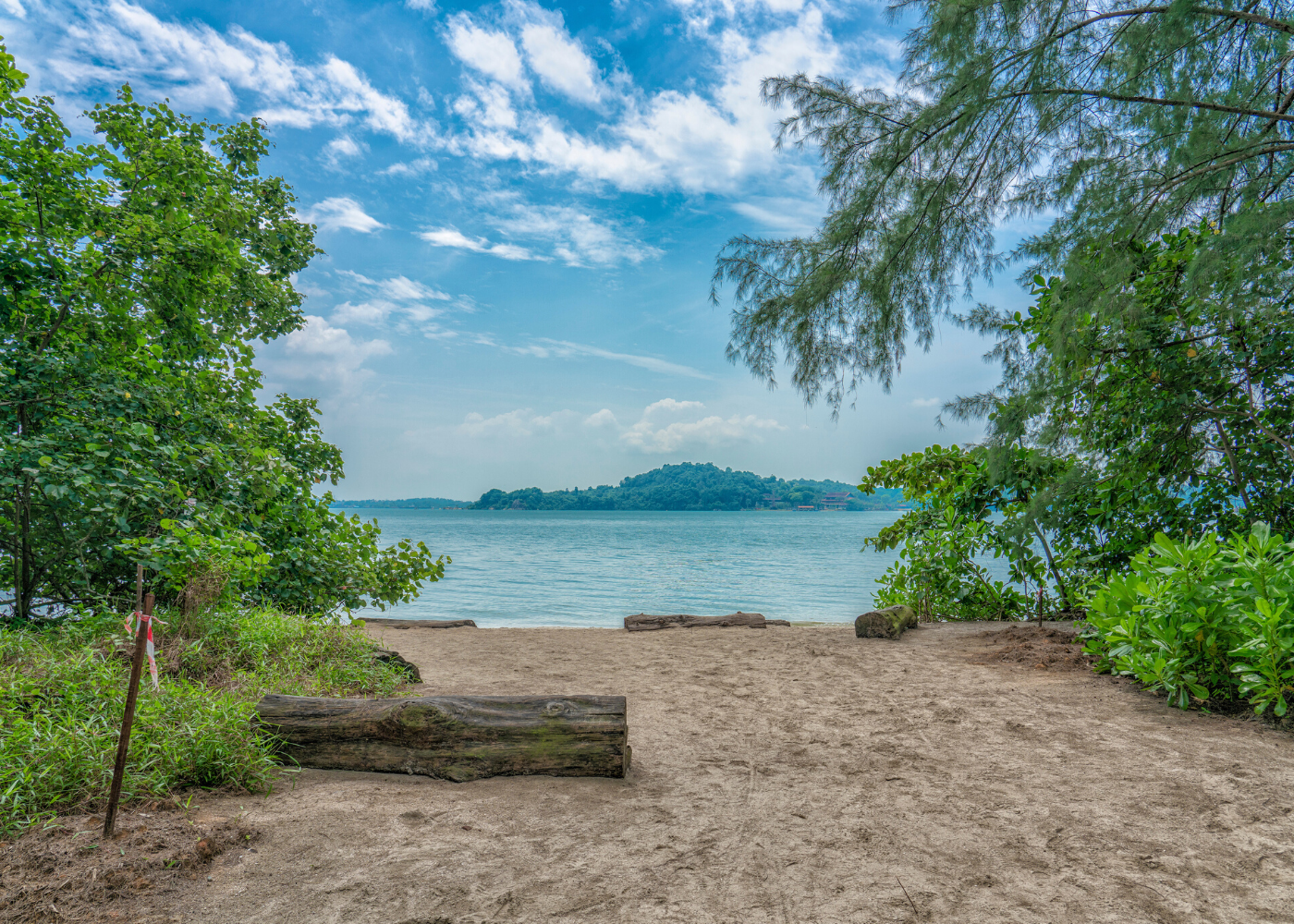 If you're all for gritty outdoor adventures, make your way to Punggol. No ferris wheels or riotous carnival games here – our Coney Island is an untouched, rustic green space. Getting here is quite the journey, to say the least, but you'll be rewarded with surroundings of quiet waters and vibrant flora and fauna. Don't expect pristine shores and azure waters, though. We like to call it nature at its peak.
Pasir Ris Park
Wander off the beaten path in the east and you will come across this tranquil park. It's home to ponies, a mangrove forest, a three-storey bird watching tower, inline skating and, of course, a beach! While the other attractions might take centerstage, come sunset, all eyes are on the beach as the glorious sun slowly sinks below the sea line.
Pasir Ris Park, Pasir Ris Central
Pulau Ubin
Located off the north-eastern corner of Singapore, Pulau Ubin is one of our most iconic islands, as it is home to Singapore's last kampungs and the Chek Jawa Wetlands. A 10-minute bumboat ride from Changi Point Ferry Terminal will take you into the wild – it's a haven for hundreds of native plants, birds and monkeys! While the beaches here are not ideal for suntanning and lounging, nature lovers will appreciate their rustic beauty.
St. John's Island
Here's another option if you're thinking of island-hopping. As one of Singapore's Southern islands, it's easily accessible via ferry cruises, and it's a hotspot for fishing enthusiasts. Head over for its beaches, which are tranquil and less crowded than those on the main island. Plus, you'll see plenty of greenery around to satisfy the nature-loving soul in you.
Sembawang Park
A mix of industrial-grunge and idyllic seaside vibes can be found on this beach. Marvel at the cranes and constructions in the distance while you stroll along the shore, or settle for the postcard-perfect 'coconut tree by the beach' sunrise – whatever floats your boat!
Sembawang Park, Sembawang Road
Kusu Island
Built on the legend of a giant tortoise that saved shipwrecked men by turning into an island, Kusu Island is a sanctuary for tortoises. Apart from marvelling at the shelled beauties, you can check out various historic shines, including a Chinese temple that pays homage to the Goddess of Prosperity. Afterwards, grab a picnic mat and relax on the sand. There are plenty of swimming lagoons and beaches to explore!