Thian Hock Keng Temple mural by Yip Yew Chong. Photography: Amelia Ang
Cameras out! Here's a list of places to find picture-worthy wall art and murals in Singapore for the street art lover.
Overhaul your weekend agenda by adding a dose of local exploration to your days. From locating secret hangouts to uncovering hidden gems, there are plenty of things to do around these parts (trust us, we found 158!). Drawn to art? Here's where to find the coolest street art in Singapore, guaranteed to satisfy any mural seeker.
Best neighbourhoods for street art in Singapore
1. Little India
If you're on the hunt for street art in Singapore, you can't miss strolling through heritage districts for the best murals. Case in point: Little India. Walk past the iconic House of Tan Teng Niah (you can't miss its multi-coloured facade!), take a left turn, and you'll come across Traditional Trades of Little India by Psyfool (8 Bebilios Lane).
This beautiful artwork reminds us of the people who settled in this precinct years ago – the parrot astrologers, washermen and other occupations that have since ceased to exist. Delving further into the precinct's history, don't miss multicoloured depictions of traditional dancers like Alive @ CLIVE by TraseOne (104 Dunlop Street) and Kathaka by Didier Jaba Mathieu (86 Serangoon Road).
No time for horsing around, there are many more murals to be found! Take a peek at the horses with A Ride through Race Course Road by Jaxton Su Jing Xiang (74 Race Course Road). A fitting tribute to the location's past as a racecourse, this realistic mural shows a steed galloping through a traditional market while two others graze leisurely.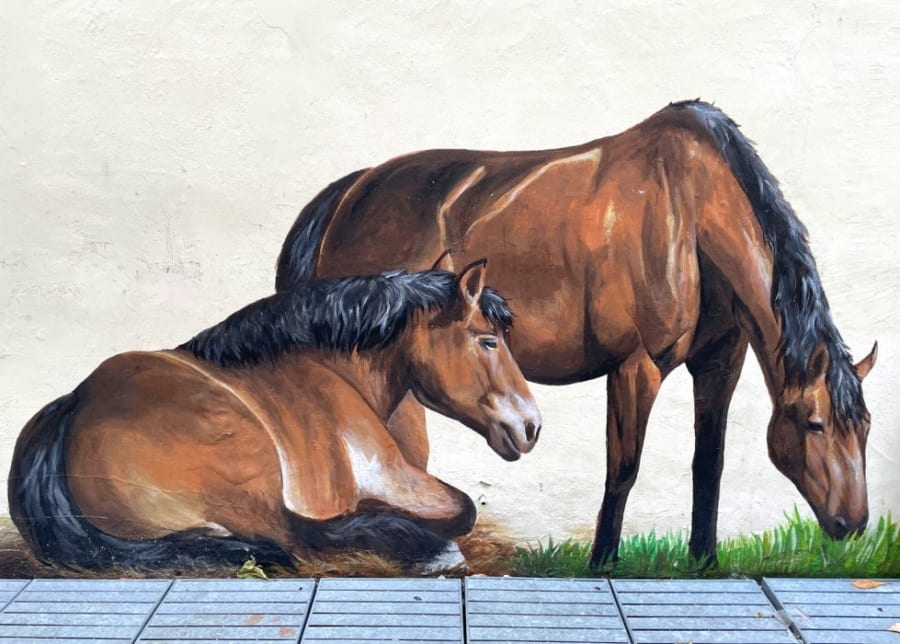 Down the same lane, you'll spot Madan Mogra, Jasmine of the City by Nadiah Alsagoff (13 Chander Road), a tribute to the migrant workers of Singapore. Parts of this mural have since deteriorated, but the flowers retain their colour and you can still spot the painting of the migrant worker behind motorbikes that frequently park there.
A few minutes away, spot Cattleland 2 by Eunice Lim (67 Kerbau Road), right behind Little India MRT Exit E. This rainbow-coloured artwork reminds us of the area's cattle trading past. And we can't get over how fitting this location is: what better spot for this whimsical mural than on a road that translates to buffalo in Malay?
Keeping with the animal theme, head to Broadway Hotel. On the side of the wall, Dancing in Unison by Sam Lo and Bhajju Shyam (195 Serangoon Road) is a seven storey-tall artwork that's hard to miss. This delightful piece sees intertwined branches with fluttering sparrows and peaceful deers, a stunning reminder of the interconnectedness of nature.
Cross the road for an eye-catching find. Right beside Minora Centre is Daily Delivery by Didier Jaba Mathieu (212 Serangoon Road), painted for the 2018 instalment of Artwalk Little India. This piece pays homage to the area's traditional tiffin businesses, with the old school tiffin man juxtaposed with depictions of recycled car models – the artist's vision of how sustainable transport will come to be.
A few minutes away, Layers by Shah Rizzal (240 Serangoon Road) tells the story of early brickmakers with a mural of old school shophouses, shedding light on the need to preserve our architecture.
Tamil cinema fans, check out the portrait of Rajinikanth with Working Class Hero by Zero (11 Hindoo Road), aptly named to reflect the Indian superstar's humble beginnings. Another intricate portrait, Light in Little India by El Mac (109 Rowell Road), can be found at the Broadcast HQ building.
Be sure to check out Future Reminiscence by Didier Jaba Mathieu (107 Rowell Road), which highlights Indian architecture. P.S.: Jaba built his artwork around an existing street art by American artist Elmac, which was created for the 2010 Singapore Night Festival.
2. Outram Park
Outram Park is known for cafes, the well-known Pinnacle@Duxton… and a handful of street art gems around Everton Road. A few minutes away from the MRT station, suss out Yip Yew Chong's Provision Shop (8 Spottiswoode Park Road) which is well-stocked with crowd-favourite childhood snacks and daily essentials.
Don't miss Fragile by Alex Face (64 Spottiswoode Park Road) outside Art Porters Gallery, which features two bunny-like creatures dressed in traditional Peranakan clothing.
But wait, there's more! No stranger to the street art scene in Singapore, Yip Yew Chong has painted multiple scenes of kampong life along 40 Everton Road – and you'll wanna photograph them all. Pay Amah (granny) a visit as she gets the washing done and take a trip to the old school Barber with his makeshift tent. The Everton area is an underrated spot for throwback mural-spotting, that's for sure.
Psst: burger fans, you'll be pleased to know that the Shake Shack outlet in the vicinity (89 Neil Road) also boasts a mural wall by Sam Lo that takes inspiration from the neighbourhood. Afterwards, walk down to Botanist (74 Neil Road) and spot an understated slinky mural, which immediately throws us back to childhood.
3. Kampong Glam
It's no secret that Kampong Glam's Gelam Gallery is one of the best places for amazing street art in Singapore. Who says back lanes are only for dustbins and drains? This stretch along Muscat Street is the country's first outdoor art gallery. Here, local and international works transform dull spaces into lively hangs for the art lover and Instagram addict alike.
We recommend freeing up an entire afternoon to wander around this buzzing yet relaxed cultural precinct. It's the ideal place for cafe-hopping – while you're at it, be sure to keep an eye out for artistic surprises in the alleyways. A well-known name in Singapore's street art scene, Columbian-born artist Didier Jaba Mathieu makes an appearance yet again on this list with his vivid murals located next to Bazuka Rooftop Bistro (122 Arab Street), at Blu Jaz Cafe (11 Bali Lane), and at Piedra Negra (241 Beach Road).
Go forth for more artsy finds on shophouse walls around this precinct! At Chix Hot Chicken (1 Jalan Pisang), the outdoor area is adorned with throw ups by Boon and Has.J, as well as a dragon mural by Sei Nishiyama.
Hot tip: don't miss a jaunt through Haji Lane. This sprightly stroll sees an assortment of cafes, retail stores, yoga studios and other shops vying for your attention amidst the display of murals all around.
As you grab a drink, snap a picture of The Singapura Club's mural by Ceno2 (he also created a portrait at the nearby Vintage Cameras Museum), depicting a Malay man, a Samsui woman, and a man in a turban. This monochromatic piece contrasts the splashes of colour down the lane, like the pop art-style mural by Idris Johor aka PrettyFreakyFantasy (23 Haji Lane).
Nearby, head to Sultan Arts Village (71 Sultan Gate) for incredible works and Singapore's first physical graffiti store, The Blackbook Studio. Plus, peek at the practice wall in its courtyard, where artists experiment with their craft. Aliwal Arts Centre (28 Aliwal Street) is another mural hotspot, with ever-changing artworks on the wall at the back of the building. Other spots to hit up include Beach Road, Baghdad Street, and the surrounding lanes.
4. Tiong Bahru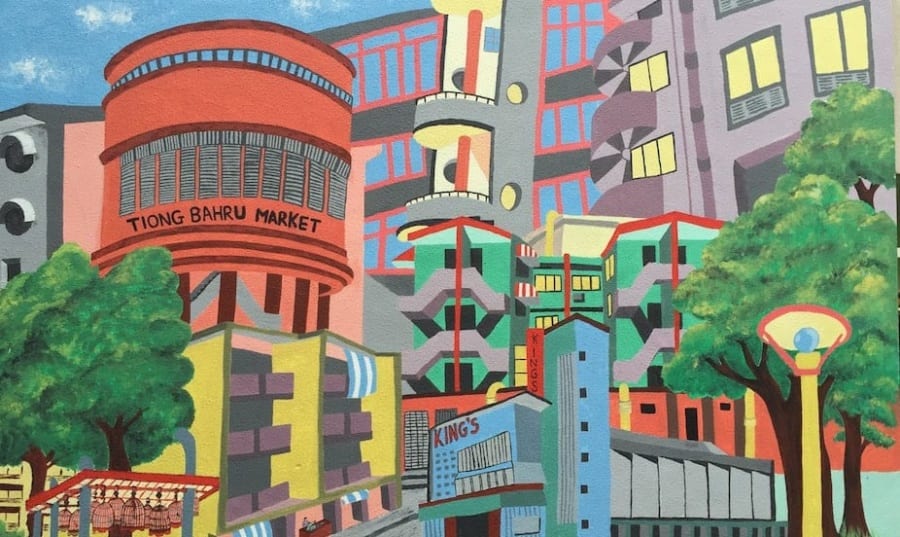 The Tiong Bahru district is painfully hip, starting from the mural-covered walls of Tiong Bahru market (30 Seng Poh Road), which also houses some of the best hawker food around. The market features the often-photographed mural that celebrates the area's architecture, as well as paintings of several adorable goats by Ernest Goh in the area. He's also painted a goldfish at the Tiong Bahru post office!
Done with your meal? Hit the streets to check out its myriad cafes and suss out more artworks by Yip Yew Chong, who once again transports us to days of the past. Bird Singing Corner (71 Seng Poh Road) reminisces the local pastime of chatting at bird corners with a cacophony of chirping in the background.
Home (74 Tiong Poh Road), drawn from the artist's own memory, shows us how he (and many others) lived. Marvel at this painting of the typical old school Singaporean home, adorned with retro furnishings like a rattan chair and a vintage television set, complete with family pictures on the wall.
Next, take a trip to Pasar and the Fortune Teller (73 Eng Watt Street). This beautifully elaborate mural is tucked away at an unassuming alley, depicting scenes at the local market ('pasar' means 'market' in Malay), where people are picking up groceries, having a hawker meal and the like. A few steps away, you'll see the painting of a traditional fortune teller, based on an actual person who used to have a stall just outside the market.
5. Jalan Besar
In the mood for nostalgia? Amidst the HDB blocks of Jalan Besar, seek out the mural at 805 French Road that showcases the highlights of the now-defunct New World Amusement Park, a popular hang in the bygone era. This throwback is thanks to Social Creatives – the folks behind this local charity have been responsible for many 'void deck art galleries' around Singapore!
6. Bras Basah
If you're an art junkie, you'll be familiar with the Bras Basah-Bugis district. Surrounded by art schools, studios and stores, it's no wonder this is a hotspot amongst the artsy crowd. Swing by the 222 + 51 arts center for snaps of the graffiti-filled wall by the 222 Queens Street building, or step into the entrance of 51 Waterloo Street to find a corridor of walls with doors capturing scenes from Singapore's past by mural painters Yip Yew Chong and Yuen Kum Cheong.
7. Telok Ayer
Telok Ayer has to be one of our fave 'hoods, with bars, restaurants and some of Singapore's most incredible street art to boot. Admire the murals even as you grab a meal at Amoy Street Food Centre (7 Maxwell Road).
Multiple murals are scattered around the space, created by students and staff of the different Anglo-Chinese Schools, which first opened in this very district. Notably, feast your eyes on a series of works on the first floor painted in collaboration with Ceno2, which reflects the street's close ties with China.
Take a post-meal stroll along the street and you'll come upon the unmissable Thian Hock Keng Temple mural (93 Amoy Street) by Yip Yew Chong. This impressive artwork at the back of the temple spans 40 metres, telling the story of Hokkien immigrants building a life here. There's also another mural by him tucked away in the lobby of Amoy Hotel.
8. Chinatown
The heritage enclave of Chinatown houses traditional Chinese eats, local fare and see-and-be-seen watering holes along the hip Keong Saik Street. In the heart of the bustling district, you'll spot Belinda Low's Samsui women mural at Chinatown Complex (335 Smith Street). This vibrant portrait pays homage to the hardworking construction workers who helped build Singapore.
Reminiscing childhood memories, Letter Writer at New Bridge Centre (336 Smith Street) is Yip Yew Chong's tribute to traditional letter writers. They were active till the 80s and played a huge role in helping migrant Chinese communicate with their families back in China.
Along Keong Saik's row of shophouses, you'll see the Floral Mural by Ripple Root (1 Keong Saik Road), an artist duo known for adding a whimsical touch to Singapore's street art scene. This playful burst of pastel hues comes to life on the side of The Working Capitol building, a prominent co-working space in the neighbourhood. Don't be surprised to see someone snapping OOTD pictures here!
Sharing the same mural space is an eye-catching collaboration between Sam Lo and Coach, which sees layers of the shophouse facade tearing off to reveal different versions of the building – all with a twist.
Venture further into the Tanjong Pagar area for more lively paintings by this artsy duo. Spot the Nutmeg Mural (21 Tanjong Pagar Road), a candy-coloured tribute to Singapore's heritage with depictions of a lion (because we were once known as the lion city), a sepoy (one of the first Indians to arrive here) and a nutmeg plant (the building was once a nutmeg plantation, as many others were in the past).
9. Singapore River
You've had a drink by the river, but have you taken a look underneath the waters? Head down to the Underpass Murals to admire the collection of art within. Paintings include Gaia – Mother Earth, a celebration of nature; The Dove, The Dragon and The Clock, which remembers playground designs of the 70s and 80s; The Early Days, a historical look at the good old days, as well as other photo-worthy murals to visit.
Ready for some street art spotting in Singapore? You know where to look.