Explore the best of Keong Saik Road with our ultimate guide.
We've got plenty of reasons for you to hop over to the hip 'hood of Keong Saik. The food is top-notch, the drinks are superb and the shophouses are quite the sight!
Keong Saik Road is a mecca for local eats, French food, Italian cuisine and the coolest bars in town. It's hard to imagine that the area was once a prominent red-light district peppered with brothels back in the 60s. Today, a new wave of residents sit nicely in this buzzing 'hood. Plus, it's located just a stone's throw away from the bustling Chinatown. We let you in on Keong Saik's coolest hangs, from the hottest food spots to hotels and even wall art to admire. Clear out your day – there's just so much to do!
Keong Saik Road guide: Food & drinks
1. Burnt Ends
This uber popular Michelin-starred resto is famously tough to get a reservation at. But your patience will pay off when you finally savour dishes from its wood-fired grill. There's a reason why it's been spotlighted on the World's and Asia's 50 Best Restaurants lists: the food is delish, it's as simple as that. Try the signature pulled pork sandwich, the bone marrow bun or the hearty meat selection. There are loads to stuff your face with.
Burnt Ends, 20 Teck Lim Road, Singapore 088391
2. Kafe Utu
Want a taste of African food? Swing by this cool cafe decked out with gorgeous crafts – the ground floor offers coffee and cosy seats, the second floor lounge is perfect for a private gathering, and the terrace area beckons one and all for a late-night drink. With dishes influenced by places from Kenya to Morocco, the menu features flavourful items like Liberian peanut chicken stew, macadamia goat stew, Swahili fish curry and more. If you're here for brunch, you'll find classics like eggs benny and ricotta hotcakes offered alongside Kenyan porridge and curried avo with raw garlic toast.
Kafe Utu, 12 Jiak Chuan Road, Singapore 089265
3. Keong Saik Bakery
A casual bakery beloved for its savoury goodies and sweet treats, this hotspot whips up everything from cakes and tarts to bread, cookies and pastries. You gotta try the burnt cheesecakes, Swiss rolls, cruffins and the signature sor hei.
Keong Saik Bakery, 33 Keong Saik Road, Singapore 089140
4. Kyuu
Expect a stellar ten-course sashimi and robatayaki course menu with the freshest ingredients here. There's also an a la carte menu with tempting dishes including diver scallop with butter soy sauce, omi sirloin, kaisen don, sashimi carpaccio and more. Your meal is best paired with sake – there's a whole list to choose from!
Kyuu, 29 Keong Saik Road, Singapore 089136
5. Gaston
So you've had French cuisine. How about Burgundian? We went on a jaunt and were floored with Gaston. Must-tries include oeufs en meurette (poached eggs in red wine sauce), hearty boeuf bourguignon and the oh-so-creamy mashed potato. Don't forget to save space for sweets like praline and ganache dark choc tart or pan-fried French toast with vanilla ice cream.
Gaston, 25 Keong Saik Road, Singapore 089132
6. Pasta Bar
Once you've had fresh pasta, you can't go back. Case in point: a throwback to our dinner at Pasta Bar. Watch the chefs whip out regional Italian pasta dishes based on family recipes in the open kitchen. Every pasta shape is handmade daily for the ever-evolving menu, which features plates like beef ragu tagliatelle, lobster ravioli, crab pappardelle, torched wagyu beef carpaccio, squid ink fettuccini and more. Or try the eggless lagane, a Southern Italian dish – that's apparently the first pasta dish ever recorded – made with chickpea and a spicy kick of chilli and garlic.
Pasta Bar, #01-05, 55 Keong Saik, Singapore 089158
7. The Old Man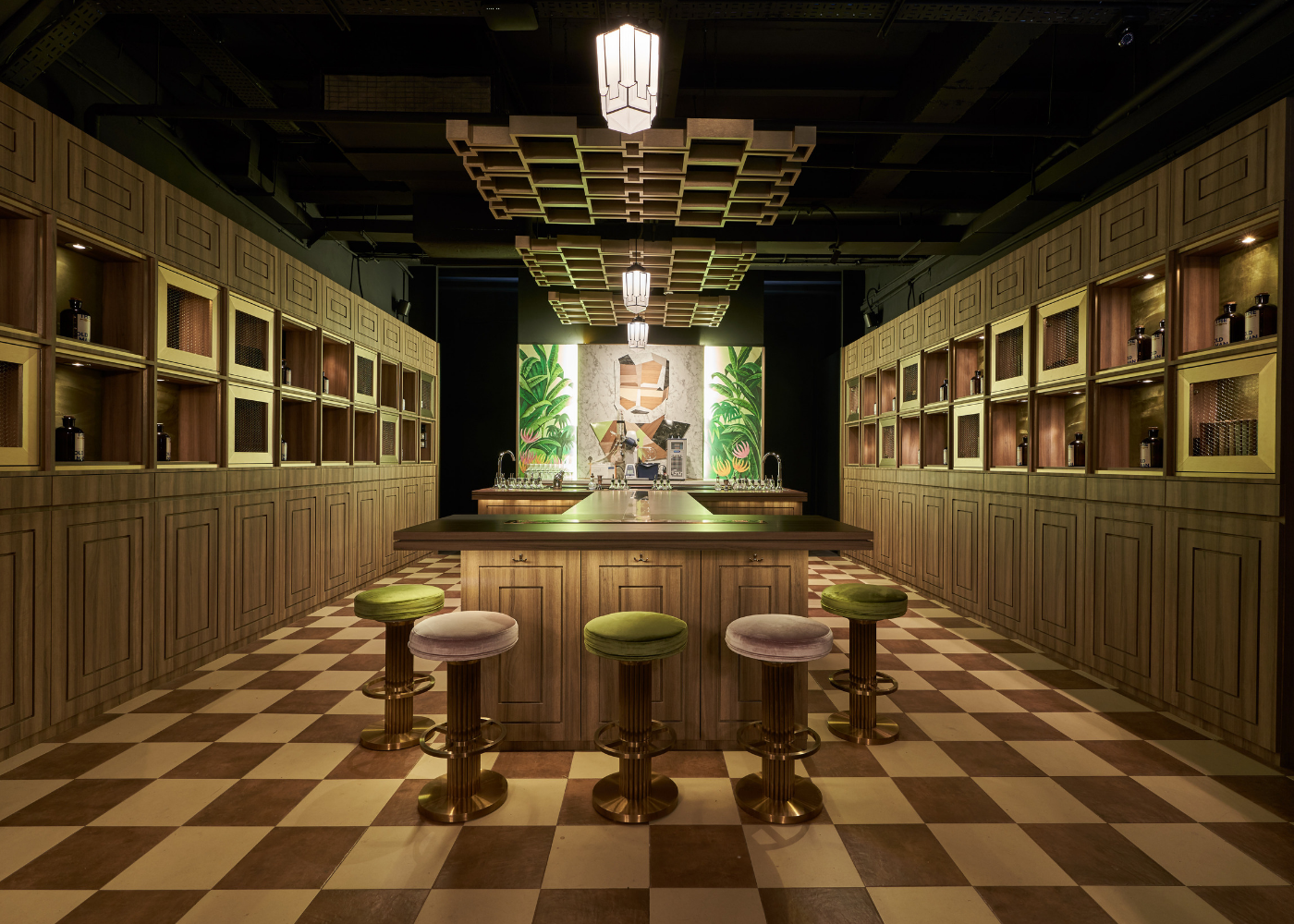 A star on the World's and Asia's 50 Best Bars list, The Old Man has a lot to celebrate. This unassuming spot in Keong Saik (you'd never guess the interior from outside) transports you to Ernest Hemingway's den. It's named after his Pulitzer Prize-winning book, The Old Man and the Sea. The drinks menu changes every so often, and the current V3 iteration features creative concoctions that are inspired by memories connected to Hemingway's journey. You'll be sipping on nostalgia in the form of liquid libations.
The Old Man Singapore, #01-04, 55 Keong Saik Road, Singapore 089158
8. Kok Sen Restaurant
A no-frills spot for local eats, Kok Sen is the kind of place you'd swing by if you fancy an authentic coffee shop-style experience – and Singapore Michelin Bib Gourmand zi char (also a perfect spot to impress the in-laws). Order up dishes like claypot yong tau foo, big prawns hor fun, curry fish head and the crowd-favourite, prawn paste chicken.
Kok Sen Restaurant, 30-32 Keong Saik Road, Singapore 089139
9. Heart of Darkness
Craft beer lovers, rejoice! Vietnam's Heart of Darkness has relocated to Keong Saik with an upgraded space that's bigger and better. You'll find great craft beers on tap at the bar, alongside a neat selection of red, white and orange wines. In the mood for food? Nibble on bar snacks like nachos, tacos, spring rolls and platters of cold cuts. Oh, and you won't miss the larger-than-life Dragon and Merlion mural symbolising the collab between the brand's home country and Singapore, done in partnership with local visual artist Tobyato.
Heart of Darkness, 1 Keong Saik Road, Singapore 089109
10. Olivia Restaurant & Lounge
You can't walk around Keong Saik Road and miss a chance to dine at Olivia Restaurant & Lounge. Step into the concept restaurant to experience Barcelona's vibrant, cosmopolitan dining culture smack in the middle of Singapore. Expect hearty homestyle Catalan-inspired dishes created using traditional cooking methods and presented with modern sensibilities. We're talking about treats like Iberico suckling pig, wagyu barbecue rib and grilled octopus. And of course, an array of Spanish and international wines to pair.
Olivia Restaurant & Lounge, #01-03, 55 Keong Saik Road, Singapore 089158
11. Potato Head Singapore
The undisputed face of Keong Saik, there's no doubt that Potato Head has taken Keong Saik by storm. Offering an awesome dining concept, here's where you can dig into gourmet burgers – including the highly-raved Impossible Burger – at Three Buns, lounge at cosy drinking den Studio 1939, or hit the rooftop garden and soak up the sights and sounds of Chinatown over a cocktail.
Potato Head Singapore, 36 Keong Saik Road, Singapore 089143
12. Wine & Chef
Fancy a fusion menu made up of Italian classics and Asian ingredients? Wine & Chef blends both cuisines with dishes like salmon "risotto", Iberico pork jowl, scallop capellini and sakura chicken. Wash it down with a glass of wine from the featured collection or take home a bottle from the wine cellar.
Wine & Chef, 7 Keong Saik Road, Singapore 089115
13. Thevar
A one Michelin-starred modern Indian restaurant, Thevar whips up creative interactions of traditional Indian flavours. Beautifully plated dishes arrive on your table in the form of black truffle samosa, madras crab curry rice and lamb seekh kebab. Finish off your meal with a drink or two!
Thevar, 9 Keong Saik Road, Singapore 089117
14. Butcher Boy
We love a good Sunday roast and Butcher Boy has just the kind of roast meat we live for. From roast beef to pork belly with Szechuan brussels sprouts, Yorkshire pudding and carrot miso mash, the menu is absolutely delightful. Who needs cutlery when you have the most tender roasts in front of you? Other dishes on the menu include fried chicken and Peking pork baos, Australian angus ribeye and grilled seabass.
Butcher Boy, 31 Keong Saik Road, Singapore 089138
15. The Guild
Have a penchant for craft beers? The Guild will quench your thirst. Hailing from Hong Kong's acclaimed and largest independent craft brewery Young Master Brewery, The Guild serves great craft beer on tap, along with natural wines and cocktails concocted with small batch, artisanal spirits. Browse through the food menu for the likes of fresh oysters (farmed in Pulau Ubin), chicken liver pate, chye poh hummus and more.
The Guild, #01-01, 55 Keong Saik Road, Singapore 089158

16. Tong Ah Eating House
We've got more than a few happy memories of chowing down on flavourful zi char plates and old school kopi and kaya toast brekkies at this nostalgic golden oldie. Pop by for a traditional coffeeshop experience!
Tong Ah Eating House, 35 Keong Saik Road, Singapore 089142
17. Cure
Ah, the cure for hunger (no pun intended). Cure hosts a fine dining experience without burning a hole in your pocket. Chef-owner Andrew Walsh takes you on a expedition through his Irish heritage with a menu spotlighting Nua Irish cuisine, taking inspiration from the Celtic nation. It's an elegant culinary journey you won't want to miss.
Cure, 21 Keong Saik Road, Singapore 089128
18. Meta
This Michelin-starred resto whips up excellent dishes adapted from chef Sun Kim's Korean heritage and experience in the kitchen. Blending Korean influences with Japanese and Western culinary touches, the menu is all about seasonal produce. Take a peek at the line-up, which features Spanish mackeral with caviar, prawn dumpling with zucchini, and more.
Meta, 9 Keong Saik Road, Singapore 089109
19. Don Ho
Bring the party to Don Ho! This tropical space is a buzzy hangout perfect for cheery gatherings. Start with small plates like kombu beef sliders, hamachi ceviche and charred octopus before moving on to the likes of slow-cooked lamb shoulder and black angus ribeye. End off with desserts like choc lava pudding and coconut mango rice pudding for a sugar high.
Don Ho, #01-05, 1 Keong Saik Road, Singapore 089109
20. Man Man Japanese Unagi Restaurant
This popular unagi restaurant serves fresh charcoal grilled unagi imported directly from Japan. You know it's fresh when the chef cuts, skewers and grills the freshwater eel in the flesh upon your order. If you can't stand the sight of blood, there's always a spot away from the "prime seat". Find eel-ectric dishes like unagi don, unagi rolls and unagi bone crackers on the menu.
Man Man Japanese Unagi Restaurant, #01-01, 1 Keong Saik Road, Singapore 089109
21. Taratata Brasserie
For a dose of authentic French fare, Taratata Brasserie is your answer. The kitchen dishes out classic French dishes complemented with top-class hospitality. You'll find your favourites like beef tartare, French onion soup, pan-seared duck foie gras and beef bourguignon on the menu.
Taratata Brasserie, 35A Keong Saik Road, Singapore 089142
22. Bread & Hearth
Keong Saik's artisanal bakery-cafe offers a lip-smacking spread of handcrafted European-style bread, tarts and sweet rolls. We love the place for a casual afternoon hang padded with hearty sandwiches and cups of coffee. You can also get pasta plates, big breakfasts and pastries to go.
Bread & Hearth, 18 Keong Saik Road, Singapore 089125
23. Afterglow
Offering plant-based treats that are free from gluten, refined sugar and preservatives, Afterglow is Keong Saik's go-to spot for the health-conscious. Pop by for nutritious grub like lentil flaxseed nuggets, kimchi avo rolls, "tuna" tartare dip platter, tom yum zoodles, cauliflower "steak" and desserts such as raw "cheese"cake.
Afterglow, 24 Keong Saik Road, Singapore 089131
Keong Saik guide: Explore & shop
24. Street art
Commissioned by The Working Capitol, art duo Ripple Root turned the boring white walls at Keong Saik into playful backdrops filled with their own take on floral motifs of traditional Peranakan tiles located around the area. See if you can spot this back-alley artwork! For more wall mural inspo, check out our guide to street art in Singapore.
Location: 1 Keong Saik Road, Singapore 089109
25. Duxton Plain Park
If you need a break from the hustle and bustle, Duxton Plain Park is a peaceful respite. Surrounded on both sides by the backs of shophouses, it's a narrow and curved park between New Bridge Road and Yan Kit Road. It offers a spin on the typical shophouse back alley and gets its shape from the site's past as an old railway line.
Duxton Plain Park, Keong Saik Road, Singapore 089140
26. Dustbunny Vintage
Is your wardrobe filled with vintage gems? You'll fit right in at Dustbunny Vintage. Spilling with in-house label items and finds from around the globe, here's where you can step up your style with sailor shift dresses, pencil skirts, and fit-and-flare pants in the most vibrant prints and patterns.
Dustbunny Vintage, 2A Keong Saik Road, Singapore 089110, make an appointment to visit
27. The Working Capitol
It's difficult to miss The Working Capitol — this massive facility sprawls across multiple shophouses and occupies an old 1920s biscuit factory. Adopting a minimalistic approach for the interior design scheme, the biz provides co-working spaces, event venues, private offices and a cafe concept within its premises. Talk about killing multiple birds with one stone.
The Working Capitol, 1 Keong Saik Road, Singapore 089109
28. Kesa House
Looking for a staycay or need temporary living space for a month? Imagine living in the heart of it all – with bars, restaurants and local eats located just steps away from you. Ahh… sounds like heaven to us. You can have it all with Kesa House's flexible-living concept. Choose between cosy options in the 60-room building, including apartments with a kitchenette and even a private patio. Plus, you can hang out and mingle at communal spaces like the lounge and common kitchen after a day out.
Kesa House, 55 Keong Saik Road, Singapore 089158
29. Covo
Trust the Japanese to know a thing or two about beauty fixes. This specialist salon from the Land of the Rising Sun draws a loyal crowd with its impressive range of services that includes colouring, curling and straightening.
Covo, 43 Keong Saik Road, Singapore 089147
30. Hotel Soloha
Check in to this boutique hotel for a tropical stay at one of the trendiest streets in town. The accommodations are lush and comfy, with small deluxe rooms, cool lofts and spacious suites that open up to an outdoor area complete with a luxurious tub. Plus, you'll be surrounded by some of the best restos – who's up for a staycay?
Hotel Soloha, 12 Teck Lim Road, Singapore 088387
There you have it, our ultimate guide to Keong Saik Road's restaurants, bars, shops and more!