Photography: Old Man Singapore
Iconic cocktails with a local twist, tipples with the craziest ingredients or creations by renowned bartenders – you'll find 'em at one of these cocktail bars in Singapore.
Singapore's dynamic nightlife scene is bursting at the seams with high-voltage nightclubs, happy hour promos and numerous ladies night deals – hell, even mocktails to 'drink when you're not drinking'. But if you're borderline snobbish about your martini, G&T, or negroni, then you've come to the right place. From whiskey watering holes to the most underrated speakeasies and recipients of Asia's 50 Best Bars, you'll find the perfect place for your drinking needs within this thorough guide to the best cocktails in Singapore. Cheers to that!
[Psst: We've updated this guide to reflect the bars that are open during Phase 2 for bites and booze.]
Best cocktail bars in Singapore
Live Twice
Open for dine-in or order online for delivery.
Jigger and Pony has breathed new life to the now-defunct Flagship space with a new-style Japanese cocktail bar – Live Twice. The menu is divided into two categories: One life for yourself and one for your dreams (inspired by Nancy Sinatra's "You Only Live Twice"). For the classicist, go for the mizuwari, a blend of Nikka Coffey Grain Whisky and Nikka Coffey Malt Whisky that is steeped in a pot with Hokkaido soft water for a minimum of three days. The Little Bell is for those who want a little zing in their lives. It's a clean mix of VSOP calvados by Christian Drouin, bell pepper and honey – a spirit-forward cocktail for discerning drinkers.
Live Twice, 20 Bukit Pasoh Road, Singapore 089834
The Old Man
Open for dine-in or order online for delivery.
Now that the original bar in Hong Kong has topped Asia's 50 Best Bars list, there's no excuse to delay your visit. The Old Man's menu 2.0 takes you from crowd faves to new creations, including an old fashioned amber lager done in collaboration with The 1925 Brewing Co. Inspired by Ernest Hemingway's work, these devilishly good cocktails include Winner Take Nothing (Campari, baby carrot sous vide suze, tarragon, blackened carrot bug, soda and dill) and For Whom The Bell Tolls (cocoa nibs, sous vide batavia arrack, sour strawberry, rotovap burnt butter Appleton rum and avocado burst). For something unique, try The Torrents of Spring, a concoction of glutinous rice cooked mezcal, grain Wild Turkey whiskey, pom-beet shrub and more.
The Old Man Singapore, #01-04, 55 Keong Saik Road, Singapore 089158
BeGin
Temporarily closed until further notice.
Let the drinks (and gin puns) BeGin. Hidden upstairs the English pub Penny Black on Boat Quay, it might be easy to miss BeGin at first glance – a testament to a good speakeasy amirite? Once you do spot it (follow the pink neon light sign that says 'gin this way') be transported to an industrial-esque space from Britain's Industrial Revolution and the gin craze in the 1700s. Expect exposed brick walls, concrete floor, retro high stools and old-school tools used as decor. The drinks menu is filled with British-Indian-inspired tipples, theatrical cocktails and over 50 gins from around the globe. House creations like the spice-heavy Jagmohan to the fragrant Lavender will take you on a multi-sensory ride. If you're feeling peckish, Samboo-sa pasties (tandoori chicken masala curry puffs) and the Nacho Del Goa (prawns and papadum bites) pack a punch.
BeGin, 27a Boat Quay, The Penny Black Upstairs, Singapore 049817
Tippling Club
Open for dine-in or order online for delivery.
We all need a fancy-schmancy night out every now and then – one of the firsts dinner spots that come to mind is Tippling Club. As for the drinks, the progressive cocktail menu is inspired by perfumes. So expect a multi-sensorial experience that engages all your senses.
Tippling Club, 38 Tanjong Pagar Road, Singapore 088461
IB HQ
Open for dine-in.
This speakeasy-like situation adds a Southeast Asian twist to the menu, whipping out mind-blowing infusions made in-house. Don't believe us? Try the Maharaja, made with curry gin (flavour explosion guaranteed!) for yourself. The Painapuru is very much a drinkable dessert with a great combination of matcha gin, chocolate vodka, pineapple, Kochi citrus and Gomme.
IB HQ, 76A Duxton Road, Level 2, Singapore 089535
Native
Open for dine-in or order online for delivery.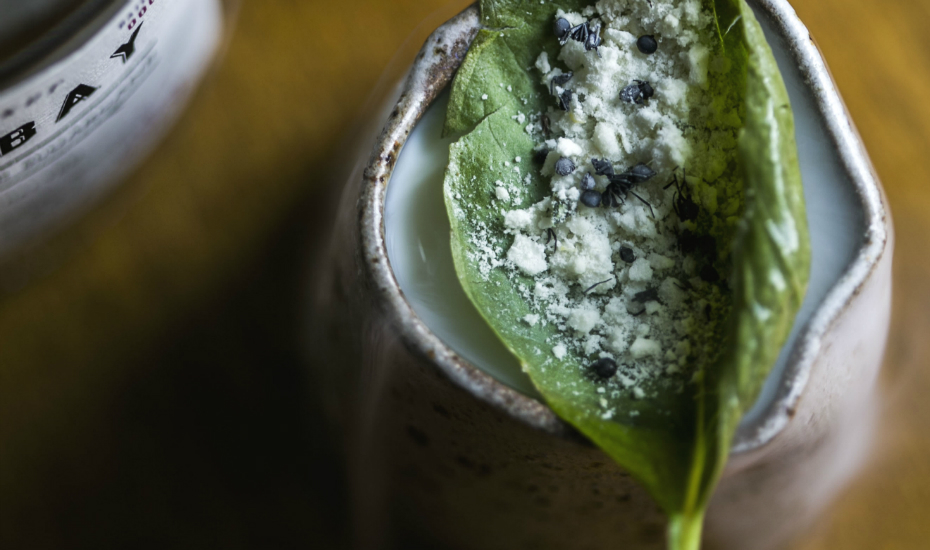 Now, after a few twists and turns, no thanks to Google maps, we found this gem of a bar. Located on the second floor of an unassuming shop house, Native has a succinct cocktail menu that changes from time to time. Vijay Mudaliar, the audacious fellow behind Native and its creations, focuses on foraging from his surroundings. So, if you're brave enough, order the cocktail served with edible ants! Oh, did we mention? You can have a quick tour of the microdistillery located above the bar for some boozy education.
Native, 52A Amoy Street, Singapore 069878
Lulu's Lounge
Temporarily closed until further notice.
Based on a fictional, salacious protagonist from 1960s New York, Lulu's Lounge is the brainchild of Joshua and Sarissa Schwartz, the power couple behind Employees Only Singapore. The new bar and live music venue boasts an aesthetic that's part-suave, part-grimy – you'll spot sleek couches oozing class and charm, as well as raw brick walls tainted by graffiti and ultraviolet scribbles. You'll definitely be spoilt for choice with bartenders' Tertius Wharton and Julyan Phillips' cocktail selections too; try the Cherry Red Lace, Loosen Mai Tai or the Slip of the Tipple that's even garnished with nipple pasties.
Lulu's Lounge, Pan Pacific Hotel, Singapore, 7 Raffles Boulevard, Singapore 039595
Flying Monkey
Open for dine-in or order online for delivery.
There was a lot to take in when we first heard of this bar on Bussorah street. Contemporary Indian? Tapas? Cocktails? There really aren't many serious Indian restaurants in Singapore with focused bar programs. That's where Flying Monkey distinguishes itself. The bar menu features Indian-inflected cocktails like an Old Fashioned with King's ginger and jaggery syrup. For something more exotic, try the the Lassi Wassi. It is an adult version of the classic Indian yoghurt drink which is spiked with Monkey Shoulder whiskey.
Flying Monkey, 67 Bussorah Street, Singapore 199480
Bar Stories
Open for dine-in.
Bar Stories is one of those blink-and-you'll-miss-it cocktail bars located at the lively Haji Lane. Shared with Scaled by Ah Hua Kelong – a farm-to-table restaurant that uses produce from local seafood markets – Bar Stories is one of the first bespoke cocktail bars to open in Singapore. There's no menu here and every drink is specially made for your palette. Also, the bartenders do not skim on presentation! Not sure what to get? Just ask the friendly bartenders and they'll whip up the perfect tipple for you. Oh, and while you're there, you have to try the curry mussels from Scaled by Ah Hua Kelong. Tip: order extra mantou!
Bar Stories, 55/57A Haji Lane, Singapore, Singapore 189248
Cin Cin
Temporarily closed until further notice.
Oasia Hotel Downtown Singapore is already stunning as an architectural wonder, but just wait 'til you hop into its gorgeous ground floor bar! Adorned throughout with debonair emerald hues and gold, metallic accents, Cin Cin evokes a nostalgic trip into the past with its Prohibition Era theme. Gin is this headquarters' specialty, so arm your appetites for DIY martinis, negronis, and other bespoke cocktails like the DR. Earl Potion. Check out our review, where we toasted "cin cin!" to this ritzy city bar.
Cin Cin, #01-02 Oasia Hotel Downtown Singapore, 100 Peck Seah Street, Singapore 079333
Atlas
Open for dine-in or order online for delivery.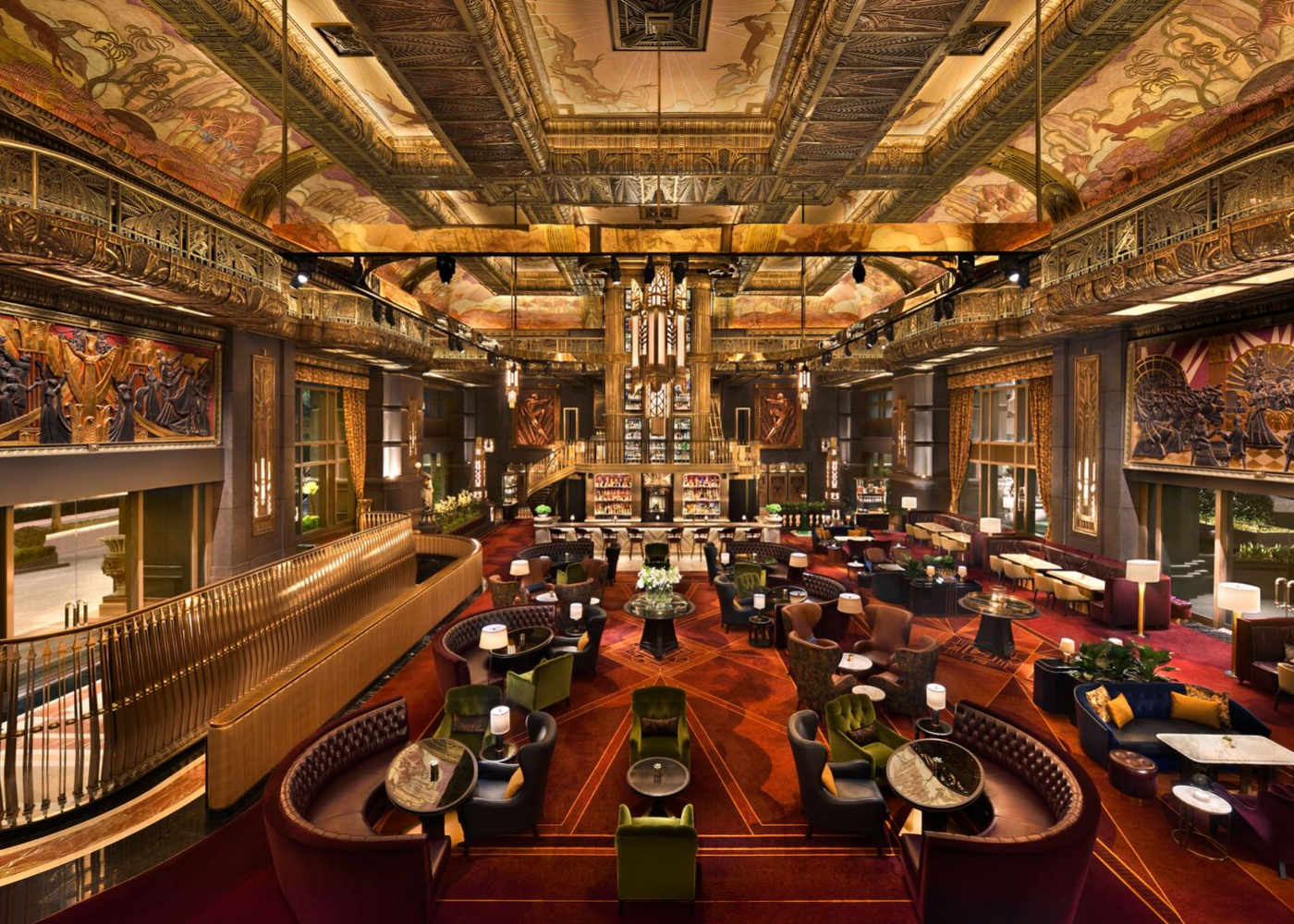 The Art Deco- and almost Gotham City-esque exterior of Parkview Square makes it one of Singapore's most spectacular buildings, and its new gin-focused lobby bar is an extension of that theme. Taking inspiration from the Roaring Twenties, Atlas Bar aims to be a luxurious interpretation of the grand European lobby bars of the Art Deco age. The open atrium-style bar offers masterfully crafted cocktails (by its Head Bartender, Jesse Vida), as well as what is perhaps Singapore's largest gin collection – Atlas already features over 1,300 bottles of gin, and it's set to grow… in its magnificent gin tower, no less!
Atlas, Parkview Square, 600 North Bridge Road, Singapore 188778
The Other Room
Order online for delivery.
"Speakeasy" is a description thrown around a lot these days, but The Other Room is probably one of the few cocktail bars we've found that are really hidden away, with only the scantest online presence. This "drinking house for the discerning" offers expertly crafted cocktails that pay homage to classic drinks while adding contemporary twists.
The Other Room, 320 Orchard Road, #01-05 Marriott Tang Plaza Hotel, 238865
Employees Only Singapore
Open for dine-in or order online for delivery.
In a nutshell, expect a bespoke cocktail experience worthy of the "4th Best Bar In The World" accolade, with an ambience that's neither stuffy nor exclusive. Split up into apertifs, cocktails and long drinks, the menu uses regional ingredients like basil, mango, ginger and pineapple. And don't even get us started on the bites! We have been stoked for this a long time.
Employees Only Singapore, 112 Amoy Street, Singapore 069932
Smoke & Mirrors
Open for dine-in or order online for delivery.
This bar atop the National Gallery oozes sophistication with its skyline view overlooking The Padang, The Esplanade and the Marina Bay Sands. And just as impressive is its modern decor with warm wood and metal accents. Grab a seat by the balcony, and take in the view while sipping creative, almost magical concoctions by Head Bartender, Jorge Conde, like The Japanese Gang is Still Alive, concocted with fat-washed black sesame and black rice with butter and whisky and topped with a frothy rice vinegar and aquafaba (brine from legumes), and the potent La Fumata Bianca, a twist on the Negroni.
Smoke & Mirrors, #06-01 National Gallery Singapore, 1 St. Andrew's Road, Singapore 178957
Le Binchotan
Eastern and Western influences come together in meticulously crafted cocktails in this addition to Amoy Street's bustling bar scene. Hungry? Not to worry, Le Binchotan also offers izakaya-style dishes that marry Japanese ingredients with French culinary techniques. Find out more here.
Le Binchotan, 115 Amoy Street #01-04 (Entrance via Gemmill Lane), Singapore 069935
Lime House Caribbean
Open for dine-in or order online for delivery.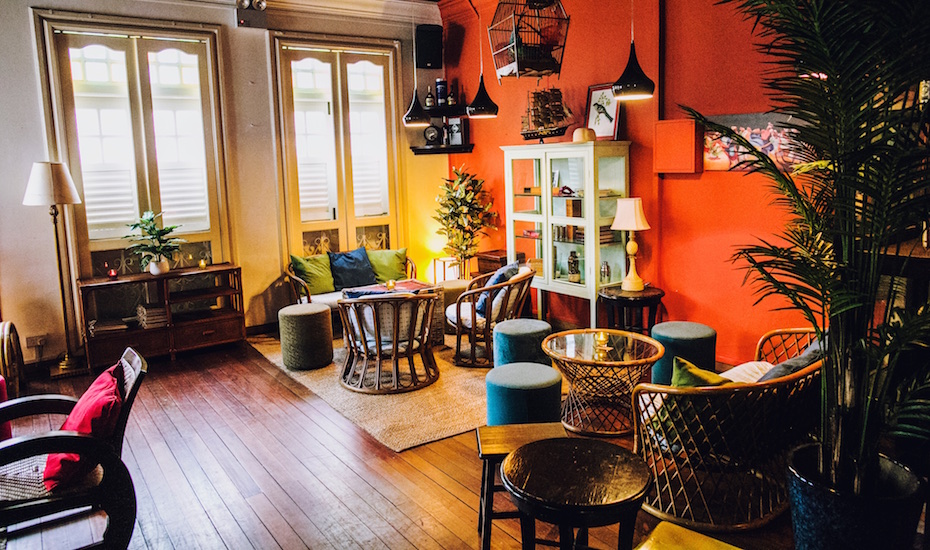 Living here, you're probably well accustomed to island life by now, but how cushy are you with Caribbean culture? Broaden your horizons (and your repertoire of tipple conquests) at this vibrant rum lounge at Lime House Caribbean. Honouring the traditions of Tobago – hence, its name – the place urges you to adopt the spirit of "liming", the art of doing nothing but having a good time. Sign us up! The colonial-decor lounge appeases with an appetising side of fish goujans and a glass of Rum Old Fashioned, which is a dark mix made with Abuelo rum and lime angostura bitters.
Lime House Caribbean, 2 Jiak Chuan Road, Singapore 089260
Hopscotch
Open for dine-in or order online for delivery.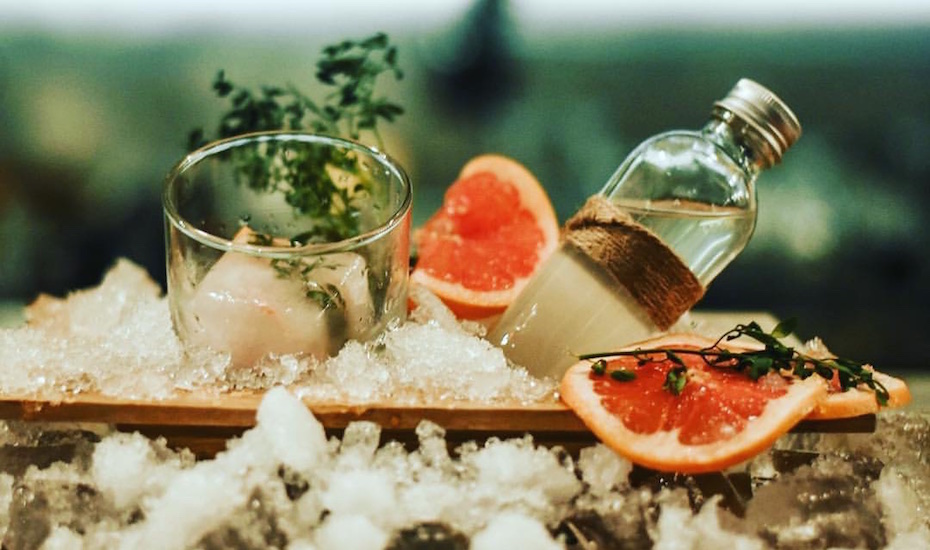 Prefer quirky to classic? Head down to this delightfully kitschy little bar tucked away in Gillman Barracks. Pick from an incredible variety of absolutely zany Singaporean-inspired cocktail offerings, from bandung shots and a boozy take on muah chee to an alcoholic rendition of Pei Pa Kao.
Hopscotch, 45 Malan Road, Singapore 109455
Gibson
Open for dine-in.
While the gold-accented interior may insinuate upmarket, a tipsy trip to Gibson is far from a formal, stuffy bar experience. The award-winning Gibson prides itself on its wide selection of potent tipples in its drinks menu, pleasing even the most discerning drinker. Cocktails aside, Gibson also lets you enjoy a modest selection of raw seafood dishes like the scallop crudo.
Gibson, Level 2, 20 Bukit Pasoh Road, Singapore 089832
Oxwell & Co
Open for dine-in or WhatsApp +65 9395 6690 for delivery.
A popular gastropub that's a stalwart of Ann Siang, Oxwell & Co has more than just your Sunday roast. Kick back and enjoy a couple of quirky cocktails at this breezy rooftop bar – it also offers a specially curated G&T menu, including the famous Gin & Chronic.
Oxwell & Co., 5 Ann Siang Road, Singapore 069688
Jigger & Pony
Temporarily closed for dine-in, order online for delivery.
Skilful, attentive, and extremely creative, the bartenders at Jigger & Pony concoct some of the best bespoke cocktails in town. With over 25 cocktails on the menu, no two (or three or four) visits are ever the same! Jigger & Pony's Old Fashioned gives a subtle fruity twist as your swirl the colourful citrus wheel around. Sip on trendy signatures such as the Madame President (pictured above), a deconstructed Negroni with a Campari lollipop. Yum!
Jigger & Pony, Lobby Level, Amara Singapore, 165 Tanjong Pagar Road, Singapore 088539
Jekyll & Hyde
Open for dine-in at its new Neil Road location.
Jekyll & Hyde's a bespoke cocktail bar, so yes, you can order exactly what your heart desires. But if you're in a big group, go for the boozy punch bowls that are named after flavour profiles: Sweet and sour. The former is a boozy Vitagen concoction and the latter is a citrusy blend of vodka, yuzu sake, lemon and soda.
Jekyll & Hyde, 74 Neil Road, Singapore 088839
Operation Dagger
Open for dine-in.
To enter the underground lair of Operation Dagger, you first have to walk through a dingy, dark stairwell that's marked by a scrawl of a curious rectangle and upside-down crown. For a fiery start, try the Golden Mile (named after the complex), a mix of coconut, Thai herbs and chilli droplets that look like a science experiment. Sweet tooths can pick the E-701, a lusciously-red tipple thanks to the beetroot infusion, with a sweet zing that will remind you of a red velvet cake. Finally, the Cheese, No Egg tipple (a smokey concoction of cheddar, honey and cream) looks simply divine.
Operation Dagger, #B1-01, 7 Ann Siang Hill, Singapore 069791
Maison Ikkoku
Open for dine-in or order online for delivery.
Both a café and a cocktail bar, Maison Ikkoku is where you will find all the trendiest peeps. Owned by Ethan Leslie Leong – the creator of Asia's most expensive cocktail "The Jewel of Pangaea" (it was $35k a glass!) – you can bet your bottom dollar any concoction's gonna be uh-mazing. Go loco for coco with their impressive chocolate flambé-tini that's served with toasted marshmallow and cookie roll.
Maison Ikkoku, 20 Kandahar Street, Singapore 198885
28 HongKong Street
Open for dine-in or order online for delivery.
Sans PR fanfare and signage out front, 28 HongKong Street is notorious for snubbing the system in the most radical way when it first opened its doors. The place screams privacy and quiet with the non-descript entrance, but once inside, it's safe to be social with a group of friends! The best part for tippleholics is the larger standard shot served here (as compared to the usual 30ml). Cocktails are also priced reasonably at $15-22. Reservations are required; tables get snapped up faster than free ice cream – no kidding.
28 HongKong Street, 28 Hong Kong Street, Singapore 059667
Neon Pigeon
Closing on 11 July.
From the graffiti murals on the walls to the quirky ninja cocktail "cups" from the bar and the industrial-style, dark wood-fitted space, everything about this spot's pretty darn hip. On the menu are Japanese small-plates like edemame hummus, cucumber-goma salar, tuna tartare and baos with bone marrow. In addition to these small dishes, dubbed "birdfeed", Neon Pigeon also whips up some killer cocktails, including the Wasabi Drop and Yagi which is spiked with goat milk-washed gin.
Neon Pigeon, #01-03, 1 Keong Saik Street, Singapore 089109
Bitters & Love
Order online for delivery.
You can throw out the menu because the boys at Bitters & Love will concoct something from the drink profile you provide. One drink they do really well is the kaya (coconut jam) toast cocktail, presented with bread and a dollop of kaya on top. Plus, a whimsical food menu makes sure you're never hungry at this place, ever.
Bitters & Love, 118 Telok Ayer Street, Singapore 068587
Anti:dote
Open for dine-in.
Anti:dote's selection of cleverly concocted cocktails would appeal to even the most discerning. Combining the artistry of classic cocktail-making with modern mixology, it only uses only premium spirits, house-made bitters and liqueurs, and herbs from the hotel's very own herb garden.
Anti:dote, Level 1 Fairmont Singapore, 80 Bras Basah Road, Singapore 189560
Martini Bar at Mezza9
Temporarily closed until further notice.
Offering over 50 different signature martinis, this swanky cocktail bar never fails to give us a case of decidophobia whenever we're there – we just end up telling them to surprise us! But if you prefer ordering straight from the menu, we recommend ordering the refreshing Lemon Basil.
Martini Bar, Mezza9, Mezzanine Level, Grand Hyatt Singapore, 10 Scotts Road, Singapore 228211
Shin Gi Tai
Open for dine-in or order online for delivery.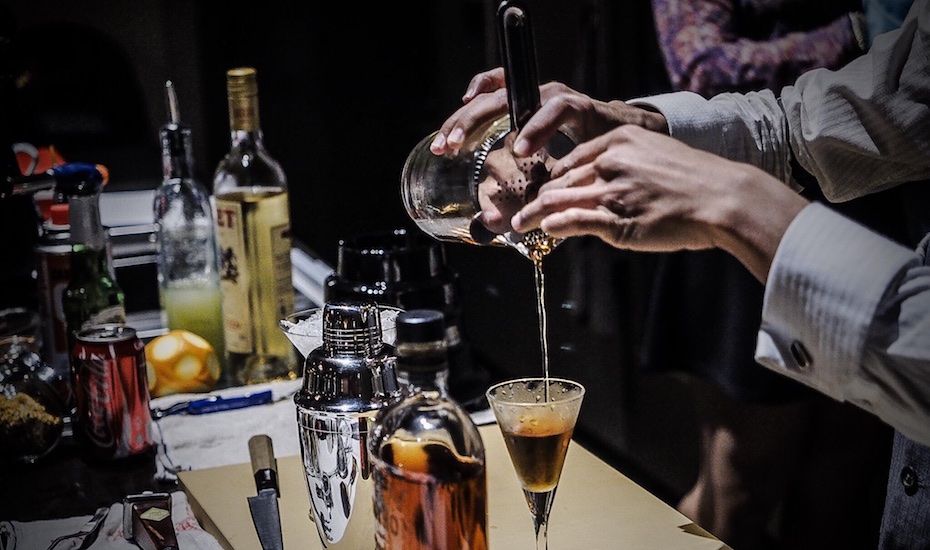 When we heard Jigger and Pony's ex-bartender was opening Shin Gi Tai, we knew we had to support. Known for his creative concoctions, Anthony Zhong will take taste buds for a ride. The Japanese bar also has a list of unique drinks including a Hot Peanut Butter Rum with brown butter puree.
Shin Gi Tai, 179A Telok Ayer St Singapore 068627
Tess Bar & Kitchen
Open for dine-in or order online for delivery.
Over here, you can savour an award-winning cocktail Clergyman Martini along with other creative concoctions. The bar also aims to be a platform for its team of young Asian mixologists to experiment and hone their craft, so you can expect nothing short of a casual, welcoming, and highly interactive experience.
Tess Bar & Kitchen, 38 Seah Street, Singapore 188394
Nutmeg & Clove
Order online for delivery.
Oozing old-world Oriental glamour, this cocktail bar is adept at revitalising the traditional use of Asian herbs and spices, and introducing fresh flavour pairings to the discerning drinker.
Nutmeg & Clove, 10 Ann Siang Road, Singapore 069697
Manhattan
Open for dine-in or order online for delivery.
Regent Hotel's luxurious bar offers up a slice of 19th-century New York. Check out the world's first in-hotel rickhouse – a workshop space featuring over 100 American oak barrels of imported whisky for experimentation. Manhattan also has a collection of unusual ingredients like wildcherry bark and shisandra berries – and an amazing boozy Sunday brunch. And, if you're savvy with your bar buzz, you'll also know that Manhattan was voted the third best bar in the world back in 2018.
Manhattan, Regent Hotel, 2nd Floor, 1 Cuscaden Road, Singapore 249715
Ah Sam Cold Drink Stall
Open for dine-in or order online for delivery.
This is not your regular kopitiam drink stall; it's a cosy bespoke cocktail bar opened by former Jigger & Pony bartender, Sam Wong. The lack of a menu means you have free reign to order anything you want, although we recommend trying Ah Sam's unique cocktails that incorporate local flavours like soya bean milk, Milo, and chin chow.
Ah Sam Cold Drink Stall, 12 Haji Lane, Singapore 189205
The Secret Mermaid
Open for dine-in or order online for delivery.
Operating as Japanese salad bar Shinkansen by day, The Secret Mermaid unveils its tail upon nightfall. It's easy to miss this speakeasy 16-seater bar, especially with its lack of signage, but keep your ears peeled for groovy beats, chatter, and distinctive clanking of glasses, and you'll know you're in the right place. Bar owner Howard Lo (who also owns Standing Sushi Bar and Tanuki Raw) prefers to describe The Secret Mermaid as a tasting room, where guests can savour over 45 spirits in its booze library, most of which comes from small-batch distillery with names almost unheard of.
The Secret Mermaid (Shinkansen by day), B1-08, Ocean Financial Centre, 10 Collyer Quay, Singapore 049315