Here's the way to our fave hidden bars...
A well-kept secret amongst enthusiastic drinkers, these hidden bars in Singapore are actually not that hard to find if you know where to look!
You might think that you know the ins and outs of this city, from breakfast spots in the CBD to swanky rooftop restos and hot venues for ladies' night. But have you heard of a bar without a menu or a hidden watering hole in a museum? To help you make the most of your nights out, we searched high and low and uncovered these cool hidden bars that are slightly off the beaten path.
The Apothecary
You'll find this medieval pharmacy-themed bolthole on the third floor of British-style gastropub Oxwell & Co, with a hidden door that leads to a private dining room. A secret spot for just 12 lucky souls, the interior is all lush emerald green and dark wood, with moody vintage odds and ends collected from all around the world; the shelves are lined with antique-style bottles containing house-made concoctions that promise to 'treat all that ails you'.
The Apothecary at Oxwell & Co., 5 Ann Siang Road, Chinatown, Singapore 069688
BeGin
Let the drinks (and gin puns) BeGin. Hidden above English pub The Penny Black on Boat Quay, this gin-obsessed lounge might be easy to miss at first glance – a testament to a good speakeasy. Once you do spot it (follow the pink neon light sign that says 'gin this way'), you'll be transported to an eclectic space inspired by Britain's Industrial Revolution and the gin craze in the 1700s. The drinks menu is filled with British- and Indian-inspired tipples, theatrical cocktails and over 50 gins from around the globe. House creations like the spice-heavy Jagmohan and the fragrant Lavender will take you on a multi-sensory ride.
BeGin, 27a Boat Quay, The Penny Black Upstairs, Singapore 049817
The Elephant Room
Tucked away on a second floor shop house (right above Burnt Ends), The Elephant Room (read our review) joins the long list of bars scattered around Keong Saik. The bar picks up subtle nuances of Indian culture – think vermillion-coloured walls, lattice or jaali-patterned surfaces and traditional sarong or lungi-embroidered coasters for decor. To sip, try innovative cocktails like the refreshing Buffalo Road, an Indian take on the classic G&T, featuring house-made pink guava gin and vetiver. If you find yourself reaching for unique cocktails, chances are, Beeda Man will hit the spot. It's a mix of sour mango rum and caraway, and it comes with a sweet sugar glass garnish made to resemble paan (an Indian after-dinner mouth refresher).
The Elephant Room, 20A Teck Lim Road, Singapore 088391
Operation Dagger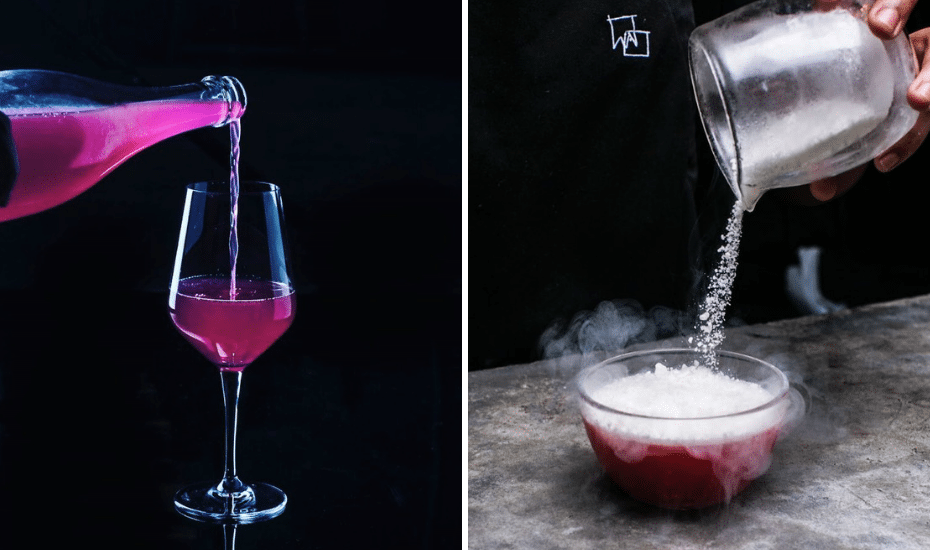 To enter the underground lair of Luke Whearty, Operation Dagger's leading bartender, you first have to walk through a dingy, dark stairwell that's marked by a scrawl of a curious rectangle and upside-down crown. Locating one of the World's Best Bars isn't an easy task, but it's all worth it once you're within its artistic interior – think clean, minimal furniture and an art installation-esque cloud structure arranged from thousands of overhanging bulbs. This cubbyhole of a speakeasy offers a tightly curated menu of interesting concoctions that are pleasing to the eyes and palate like the Harajuku Highball, made with distilled walnut and kombucha.
Operation Dagger, #B1-01, 7 Ann Siang Hill, Singapore 069791
Le Binchotan
Eastern and Western influences come together in exquisitely crafted cocktails in this snazzy addition to Amoy Street's bustling bar scene. Expect popular classics as well as unique concoctions like the Kinoko, made of whiskey, miso and shiitake. Hungry? Not to worry, Le Binchotan also offers izakaya-style dishes that marry Japanese ingredients with French culinary techniques.
Le Binchotan, 115 Amoy Street #01-04 (Entrance via Gemmill Lane), Singapore 069935
Catchfly
In the land of countless rooftop bars, this one goes underground. Spot Coriander Leaf Grill, an Asian-style charcoal grill restaurant at 12 Ann Siang Road and make your way downstairs. This dimly lit watering hole muddles industrial style decor with old world luxury – so expect brick walls, plush velvet armchairs and glossy marble tabletops in a moody setting.
Catchfly, 12 Ann Siang Road, Singapore 069692
Junior The Pocket Bar
For this discreetly located bar, just bring along the core clique (sorry friends of friends). To get into this 10-seater pub, hunt down an unassuming white door with a minimalist signage in the back alley of Tanjong Pagar. Go past the second door and into a cosy concept bar – such secret society vibes. If you're in love with their exotic concoctions, better relish every moment of it – the drinks are rotated every few months.
Junior, 43 Tanjong Pagar Road, Singapore 088464
Mr Punch Public House
Stylish, modern bars are a dime a dozen in this Singapore – but where do you go for a simple pint (and a low-key evening) around the city? One venue that ticks all of these boxes, Mr Punch Public House, is a 'hidden' gastropub at Mint Museum of Toys on Seah Street. Peek into the museum's basement, and you'll find decades-old enamel posters on the walls, one intriguing menu and drinks named after 1900s puppet shows – which you can find out more about in the museum.
Mr Punch Public House, 26 Seah Street, Singapore 188382
Colbar
Travel back to the '50s at this quaint colonial bar. Previously a canteen for the British Army back in 1953, Colbar is tucked along Whitchurch Road. Serving up a wide selection of craft beers and comforting Hainanese/Western grub, this bar's selling point is its charming atmosphere. From vintage weighing machine to historic photos of the Colbar Football Club, Colbar delivers a slice of old Singapore.
Colbar, 9A Whitchurch Road, Singapore 138839
Native
Now, after a few twists and turns, no thanks to Google maps, we found this gem of a bar. Located on the second floor of an unassuming shop house, Native has a succinct cocktail menu that changes from time to time. Vijay Mudaliar, the audacious fellow behind Native and its creations, focuses on foraging from his surroundings. So, if you're brave enough, order the cocktail served with edible ants! Oh, did we mention? You can have a quick tour of the microdistillery located above the bar for some boozy education.
Native, 52A Amoy Street, Singapore 069878
Bar Stories
Bar Stories is one of those blink-and-you'll-miss-it cocktail bars located at the lively Haji Lane. Sharing a space with Scaled by Ah Hua Kelong – a farm-to-table restaurant that uses produce from local seafood markets – Bar Stories is touted as one of the first bespoke cocktail bars to open in Singapore. There's no menu here, every drink is specially made for your palette and, the bartenders do not skim on presentation! Not sure what to get? Just ask the friendly peeps behind the counter and they'll whip up the perfect tipple for you.
Bar Stories, 55/57A Haji Lane, Singapore 189248
Maison Ikkoku
Both a café and a cocktail bar, Maison Ikkouku is where you will find all the trendiest peeps. Owned by Ethan Leslie Leong – the creator of Asia's most expensive cocktail "The Jewel of Pangaea" (it was $35k a glass!) – you can bet your bottom dollar any concoction's gonna be uh-mazing.
Maison Ikkoku, 20 Kandahar Street, Singapore 198885
Gibson
While the gold-accented interior may insinuate upmarket (pictured above), Gibson is far from a formal, stuffy bar experience. Gibson prides itself on its wide selection of potent tipples in its drinks menu, pleasing even the most discerning drinker. Cocktails aside, Gibson also lets you enjoy a modest selection of seafood dishes like oysters and lobster roll.
Gibson Bar, Level 2, 20 Bukit Pasoh Road, Singapore 089832
The Other Room
"Speakeasy" is a description thrown around a lot these days, but The Other Room is probably one of the few bars we've found that is really hidden away, with only the scantest online presence. This "drinking house for the discerning" offers expertly crafted cocktails that pay homage to classic drinks while adding contemporary twists. Holding court behind the bar is Master Bartender Dario Knox, previously of FOC.
The Other Room, #01-05, Marriott Hotel Singapore, 320 Orchard Road, Singapore 238865
Bincho
Behind a 70-year-old mee pok stall – which opens in the day – is this grungy open-concept yakitori restaurant-bar run by chef Asai Masashi, who whips up some stellar grilled bites featuring chicken. If you're here after the mee pok stall has closed, get into the establishment via its unassuming entrance (look out for its easy-to-miss gold lettering sign) at the open-air carpark. Otherwise, you can make your way from the front; just venture in. Drink-wise, expect playful cocktails like the yuzu shiso
Bincho, 78 Moh Guan Terrace, #01-19, Singapore 162078
The Horse's Mouth
Beside the cashier of Uma Uma Ramen is a curtained door. Through that door is a flight of stairs, and at the end of it, you'll find The Horse's Mouth. This small izakaya bar has got their technique down pat – watch wide-eyed as the pros mix some classic drinks – and it's not the least bit intimidating.
The Horse's Mouth, #B1-3, Forum The Shopping Mall, 583 Orchard Road, Singapore 238884
Ah Sam Cold Drink Stall
This is not your regular kopitiam drink stall. It's a cosy bespoke cocktail bar opened by former Jigger & Pony bartender, Sam Wong. The lack of a menu gives you free reign to order anything you want. And yes, before you ask, Sam incorporates local flavours from the likes of soya bean milk, Milo, and chin chow into his cocktails soon. Psst: Sam was our favourite bartender at Jigger & Pony, so this one, located on the second floor above a shophouse, is worth checking out.
Ah Sam Cold Drink Stall, 60A Boat Quay, Singapore 049848
Bitters & Love
Don't be fooled by the boarded up shopfront that's littered with random scribbles. Push the door open, and you will see Bitters & Love is very much alive and no longer under renovation. You can throw out the menu because the boys at this bar will concoct something from the drink profile you provide. One drink they do really well is the kaya (coconut jam) toast cocktail, presented with bread and a dollop of kaya on top. Plus, a whimsical food menu makes sure you're never hungry at this place, ever.
Bitters & Love, 118 Telok Ayer Street, Singapore 068587
28 HongKong Street
Sans PR fanfare and signage out front, 28 Hong Kong Street is notorious for snubbing the system in the most radical way when it first opened its doors. The place screams privacy and quiet with the non-descript entrance, but once inside, it's safe to be social with a group of friends! The best part for tippleholics is the larger standard shot served here (as compared to the usual 30ml). Cocktails are also priced reasonably at $15-22. Reservations are required; tables get snapped up faster than free ice cream – no kidding.
28 Hong Kong Street, 28 HongKong Street, Singapore 059667
The Spiffy Dapper
Inspired by 1920s speakeasy bars (Great Gatsby themed parties, anyone?), the old-world charm here is unpretentious; a real diamond in the rough. Spiffy Dapper is situated on the second floor of an undisclosed shophouse on Amoy Street – we had trouble finding it despite having directions! Cocktails range from classics and fun mixes alike and start from $18.
The Spiffy Dapper, 73 Amoy Street, Singapore 069892
The Secret Mermaid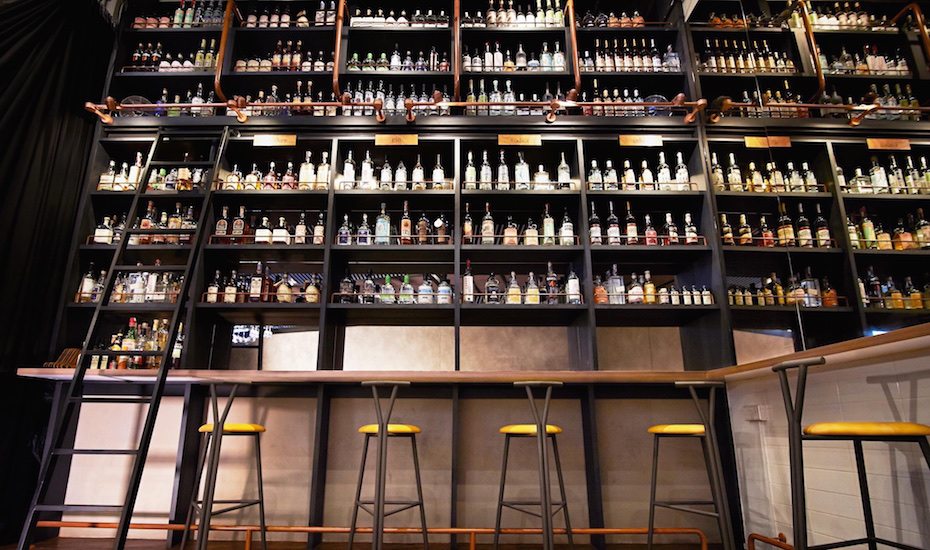 A Japanese eatery by day and a bar and liquor store by night, The Secret Mermaid counts over 45 spirits in its booze library, and most of them come from small-batch distillery with names almost unheard of, like gin from New Deal Distillery and whisky from Pinckney Bend Distillery. It's all about the thrill of discovery here, so go for the tasting flights and up your booze knowledge.
The Secret Mermaid, B1-08 Ocean Financial Centre, 10 Collyer Quay Singapore, 049315
Honourable Mention: Burger Joint New York
Sure, it's not technically a "pub". But if you're loitering on Amoy Street and find yourself craving a divine burger and a cold one – this hidden burger place has unique beers on tap. Skip over to Gemmill Lane (back alley) and you'll bump into a few monochrome doors. Keep an eye out for a neon burger sign – that's your door. A quick walk down a curtained corridor and you've found the perfect pre-gaming joint.
Burger Joint New York, 115 Amoy Street #01-03, Singapore 069935