Recognise this familiar breakwater? Photography: Jnzl via Flickr
Here are all the things we love about East Coast Park, from great eats to exhilarating water activities.
You know the saying, "East side, best side"? Well, as much as we love other neighbourhoods like Punggol, Hougang and Queenstown, there's just something special about the East. From Bedok and Tampines to Joo Chiat and Siglap, the area is buzzing with cool cafes and bars, iconic local establishments and rich history. Let's not forget the idyllic East Coast Park! Located a stone's throw from Marine Parade, this gorgeous sandy stretch exudes eternal summer vibes (when it's not raining cats and dogs, of course) and has a bit of everything for everyone. Read on for all the fun things you can do in this sun-drenched spot.
Things to do in East Coast Park
1. Take your furry friend for a run
Speaking of dogs, East Coast Park is great for your four-legged companions to run around and burn off their energy. We recommend bringing them to Parkland Green Dog Run, one of the largest dog runs on this side of Singapore. Doggos will get to stretch their paws while you enjoy scenic views of the ocean.
Parkland Green Dog Run, 920 East Coast Parkway (next to Carpark C1), Singapore 449875
2. Coastal Playgrove
What's better than one playground in East Coast Park? Two of them! Coastal Playgrove took over the former Big Splash site, though the old water park lives on through a four-storey, 16-metre tower dubbed Singapore's tallest outdoor play structure. There are vertical climbing nets, a mini rock climbing grip wall, and a pair of giant slides that'll keep you occupied for hours. Little ones can have fun in the nature play garden and water play areas.
Coastal Playgrove, 902 East Coast Park Service Road, Singapore 449874
3. Hit the beach on wheels
Stretching over 15km, the best way to explore the park is on two wheels. Cover the entire belt all the way to Marina Bay by cycling the stretch. And if you didn't bring your bicycle, easily rent one from any bike rental shops scattered around the area. For a rush of adrenaline, you can also wheel through the park on rollerblades, rollerskates or scooters.
4. Xtreme SkatePark
Xtreme SkatePark is practically Disneyland for skater heads. Spanning 1.4 hectares (the size of two football fields), the skate park boasts a combo bowl, a vertical bowl and a street course comprising of street obstacles for pros to flaunt their Tony Hawk-like moves.
Xtreme SkatePark, located near Carpark F1
5. Singapore Wake Park
Wakeboarding is an invigorating water sport that allows you to surf on a specifically designed board whilst being towed by a high-speed craft. Singapore Wake Park is brilliant for this. The place features three cable systems for beginner, intermediate and full-sized courses. Thrill-seekers of all ages are welcome – including families! Equipment and gear including kneeboards, wakeboards, helmets and vests are provided, and rates start from $50 for an hour.
Singapore Wake Park, 1206A East Coast Parkway, Singapore 449891
6. Marine Cove Playground
This 3,500sqm playground is the stuff of dreams for kids. We're talking about swings, rope bridges, a rock-climbing wall and a three-storey play tower that takes the shape of a lighthouse. For toddlers, there's a spacious area filled with talking tubes, fun mirrors and colourful drum sets. Told you this playground has all the works.
Marine Cove Playground, located near Carpark C3 and C2
7. Camp out by the beach
Ditch the usual hotel stay and set up camp here for a different kind of staycation. Do take note that only Area D and Area G are eligible for camping purposes. While you're at it, book a BBQ pit to make your camp sleepover merrier. Plus, who can resist the picturesque seaside view at the crack of dawn?
8. Have a picnic!
Thanks to the azure waters and shady trees, East Coast Park is an idyllic hangout for a weekend picnic. Pick a comfortable spot and soak in the breathtaking views of the sea, then stay for the sunset. Trust us, it will be worth your while.
9. Passion Wave @ East Coast
Think you've got what it takes to venture out into the sea? Hit up Passion Wave @ East Coast for all your water adventure needs. For newbies, before you hit the choppy water, just enrol yourself in standup paddleboard or windsurfing classes to get the hang of things.
Passion Wave @ East Coast, 1390 East Coast Parkway, Singapore 468961
---
Where to eat in East Coast Park
10. Tash Tish Tosh
This halal establishment, famous for its buffalo wings and red mutton bone dishes, has a second outlet at Marine Cove. That means you don't have to travel all the way to Bugis to satisfy your cravings. All your favourites are available here, including nasi minyak (ghee rice), pasta, fish and chips, nasi lemak, and signature red bone "toolang". Bone appetit!
Tash Tish Tosh, #01-02, Marine Cove, Singapore 449876
11. PS.Cafe East Coast Park
Thanks to PS.Cafe's East Coast branch, we now can enjoy decadent brunch delights by the sea. Look forward to chorizo and calamari stew, salmon benedict, crab tart and beer-battered fish and chips. Oh, don't forget to put in an order for the eatery's popular truffle fries.
PS.Cafe East Coast Park, #01-05/06/07, 1110 East Coast Parkway, Cyclist Park, Singapore 449880
12. Bakery & Bar St Marc
Beachfront dining gets a Japanese spin at Bakery & Bar St Marc. Located at East Coast Parkland Green, this cafe doubles up as a watering hole, serving weekend brunch, burgers, steaks, Japanese desserts and booze all under one roof. It's also child-friendly with a play area and a kids' menu.
Bakery & Bar St Marc, #01-09/10, Parkland Green @ East Coast Park, 920 East Coast Parkway, Singapore 449875
13. Jumbo Seafood
Here's a fun fact: this iconic seafood restaurant opened its first outlet at East Coast Park in 1987. Now, onto the food – though most of us need no introduction. Go straight for the chilli crab and mop up the delish gravy with deep-fried golden buns. Other highlights include bamboo clam steamed with minced garlic, cereal prawns and seafood fried rice. Bring the entire fam for communal-style dining!
Jumbo Seafood, #01-07/08, East Coast Seafood Centre, 1206 East Coast Part, Singapore 449883
14. East Coast Commune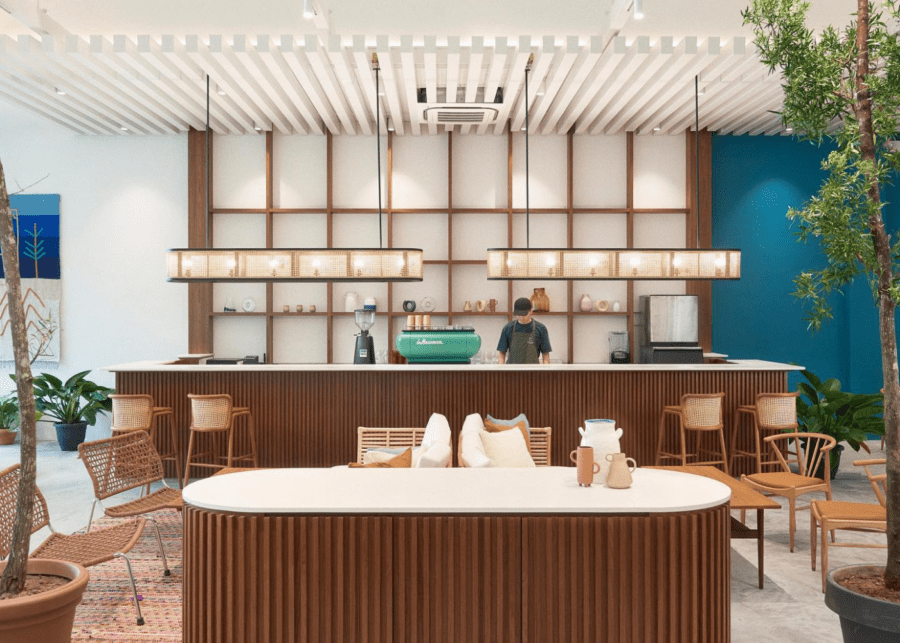 Nestled within the Marine Cove enclave, East Coast Commune is a cool spot that draws inspiration from its location. Think beige and sea blue accents, rattan furniture and pockets of greenery. While the menu offers standard cafe dishes like pasta, sammies and fries, we recommend going for the sourdough waffles. They come in savoury and sweet flavours like fried chicken and butterscotch banana. Dining with kids? There's a special menu for just for them: oatmeal topped with fruits and peanut butter, and pasta with mushroom or tomato sauce.
East Coast Commune, #01-03, 1000 East Coast Parkway, Singapore 449876
15. East Coast Lagoon Food Village
Seafood by the beach – what could be better? This is the place to hit up if you're looking for a spot to have a meal with a large group of friends. Plenty of stalls specialise in barbecued seafood, as well as satay and other local delights, so take your pick. Don't forget to order a side of rojak for some variety.
East Coast Lagoon Food Village, 1220 East Coast Parkway, Singapore 468960
Bookmark this handy guide for your next East Coast Park adventure!
[This article was originally published in 2022 and updated in 2023 by Sufyan Saad.]