Photography: Cottonbro Studio via Pexels
Don't feel camera shy! These photo studios in Singapore offer beautiful set-ups, and you won't even need a pro photographer.
Do photoshoots sound like your thing? Well, now you can have them without professional photographers – and at affordable rates, too. Snap your own pics at self-photo studios in Singapore where you're in charge of capturing your memories. This might just be the next trending activity to do with your friends, family or partner. We're talking flattering studio lighting, cool backdrops, creative props and more!
Best self-photo studios in Singapore
1. Hana Film
There's a new self photo studio around the block and it's Hana Film! No reservations are required for this studio that opens 'till late for you to get your snaps in. You can get two photo strips for just $10 and walk away with a reminder of a precious day out with your loved one. Or go for one whole multicut to share amongst a group of friends. You can even get your ID picture taken here with fantastic lighting.
Hana Film, B1-51, CityLink Mall, 1 Raffles Link, Singapore 039393
2. Life 4 Cut
This photo studio feels like it got transported straight of Seoul and onto our sunny shores. Life 4 Cut is chockful of costumes, props, and fun accessories that you can wear to make your photoshoot an extra fun one. Pile all your friends into the huge booth and pose away for tons of snapshots. You get soft copies and gif videos by the end of it!
Life 4 Cut, multiple locations including Suntec City and Bugis Junction
3. Fotomat
Fotomat specialises in monochrome shots. Because let's be real: black and white pics never go out of style. If you're into monochrome aesthetics (and can never quite get over your awkwardness in front of photographers), this is the place for you. Enjoy 15 minutes of unlimited photo-taking, bring home two printed photos from the session on the same day as part of the $30 package, and show 'em off! Oh, and the studio's so popular it even has a second outlet.
Fotomat, multiple locations including Waterloo Street and Keong Saik Road
4. Photobytes
Photobytes leaves the shutter in your hands. But fret not, with professional photography equipment all set up, you can make memories without having to worry about the quality of your pictures. Find the background colour of your choice and get busy with merrymaking throughout the 30-minute session ($35) of capturing and picking the perfect snaps. Themes on the menu include RGB colour, film white, dark mood and profile!
Photobytes, 61A Haji Lane, Singapore 189254
5. Dollop Automat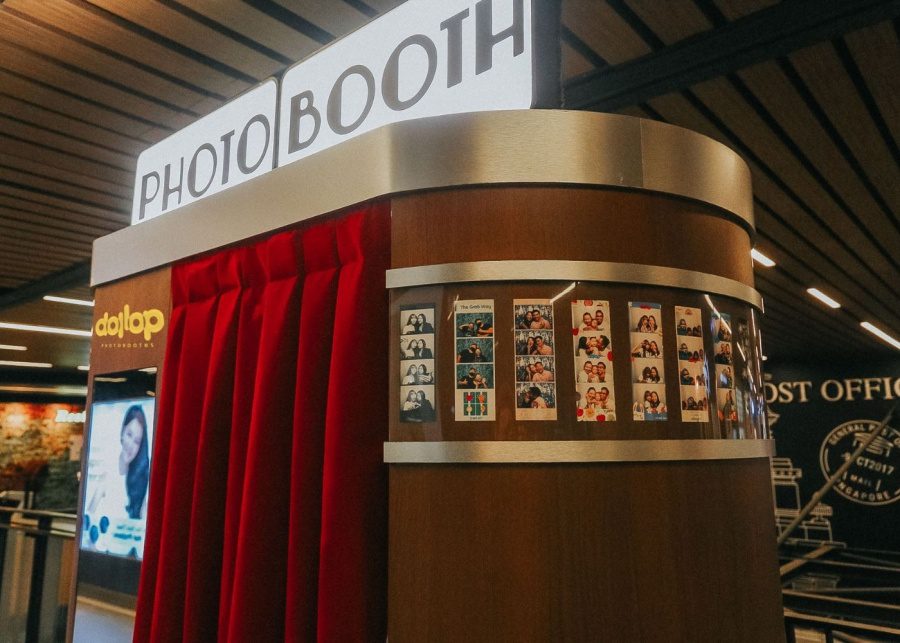 Calling all K fans! This one's a Korean-inspired black and white studio. Ideal for executing your creative ideas, the intimate photo booth offers professional-grade cameras and studio lighting for shoots in Singapore. Plus, spruce up your shots with props (they're regularly disinfected, in case you're wondering). Experience the power of vintage aesthetics and expect to receive photo prints in less than a minute, along with a complimentary plastic sleeve.
Dollop Automat, multiple locations including Arab Street and Bain Street
6. Studio 03
The struggle is real when it comes to taking professional photos for your IC or LinkedIn profiles. Studio 03 ensures these images are taken professionally but at your comfort level. All you have to do is pick a background colour, take the pics yourself and edit them. Easy peasy, don't you think? With different packages available for different groups of people, you'll bring home one edited shot and the rest of the raw photos. Want to capture your graduation moments? Or do a shoot with your furry friend? The photo studio allows for both formal and informal fun times – add it to your bucket list of things to do in Singapore!
Studio 03, #01-65, CT Hub 2, 114 Lavender Street, Singapore 338729
7. Self Photo Studio
We love the brands under Self Photo Studio – they're oh-so-unique. The Korean-inspired concept, beloved by K-celebs, has become quite a viral TikTok trend in Singapore. It promises professional equipment, a private experience and easy-to-use setups! Whether you're an introvert who wants to take your Insta-worthy selfies in private, a couple commemorating milestones with a photo-taking date, or just unleashing your creativity with family and friends, this studio is one to check out. There are black and white or coloured backdrops to choose from, with brand collaborations located conveniently in malls all around Singapore.
Self Photo Studio, multiple locations including Funan and The Centrepoint
8. 123 Chicha
Temporarily closed.
This 24-hour spot is the first immersive selfie photo studio in Singapore. Offering larger than life set-ups, the studio takes up two levels. With a refresh in themes every couple of months, you'll never run out of exciting photo opportunities, no matter the occasion. Costumes, accessories and props come with unlimited use of themed spaces – it's a party! We especially love the floral fantasy and neon-lit rooms.
123 Chicha, #03-07, Victory Center, 110 Lorong 23 Geylang, Singapore 388410
The next time you're wondering what to do for a fun day out, hit up these awesome self-photo studios in Singapore and snap away!
[This article was originally published in 2021 and updated in 2023 by Ashe Liao.]