Photography: Dempsey Hill via Facebook
From brunch cafes to stellar restaurants to boutique stores, we let you in on where to eat and what to do at Dempsey Hill.
When you think of Dempsey, brunch comes to mind. But besides amazing cafes and top-notch restaurants in Dempsey Hil, this serene enclave is also home to cool boutiques, a pet hotel, a wellness studio and so much more. So if you're looking for a little getaway from the hustle and bustle of Orchard or Clarke Quay, Dempsey Hill fits the bill. Here's what to eat, shop and do amidst the area's lush greenery!
Dempsey Hill guide: Best restaurants and cafes
1. Dempsey Cookhouse and Bar
World-renowned chef Jean-Georges Vongerichten's touch is seen and felt in every aspect of this sleek and modern eatery. Expect contemporary Asian-inspired European fare created with fresh and locally-sourced produce. Enjoy a cosy but elegant dining experience with crispy salmon sushi, angel hair pasta with shrimp, and a decadent black truffle and fontina cheese pizza. Order a cocktail while you're there, and don't be afraid to ask the mixologist for a drink recommendation!
Dempsey Cookhouse and Bar, 17D Dempsey Road, Singapore 249676
2. RedDot Brewhouse
This is for the beer connoisseurs among us. The young family business is helmed by a father and daughter duo who both share a love for homebrewed beers and are excited to share the experience with everyone. Signatures include a summer ale, Czech pilsner, and a green lager that's quite literally green, getting its colour from spirulina. Make sure to fill up on its great eats like lamb racks and beer sausages.
RedDot Brewhouse, #01-01, 25A Dempsey Road, Singapore 247691
3. Claudine
From the lighting to the plush sage green velvet banquettes, everything within Claudine has been so meticulously picked out that you just have to stop and admire every intricate detail. Wear your Sunday best for brunch with yellowfin tuna tartare, Mozambique langoustine, and a Hokkaido uni and crab remoulade. Or elevate your night with Claudine's dinner menu. Pair oysters and caviar with cocktails by the bar made out of brass and crowned with the chapel's original glass stained window.
Claudine, 39C Harding Road, Singapore 249541
4. Maduro
Lovers of live music, particularly classical and jazz, boy do we have a place for you. Nestled in lush greenery, Maduro is a cocktail bar, supper club, and listening lounge all rolled into one. Unwind for the night with signature cocktails like the kopitiam gentleman made with rye whiskey, char siu reduction, gula melaka and orange bitters served with a bak kwa garnish. If you're lucky, you might catch founder Peter Ng (fondly known as Mr. P) roaming the hallway, ready to greet the many guests of Maduro.
Maduro, Level 3, 40C Harding Road, Singapore 249548
5. Siri House
Brunch can be easy and fun, but it also can also be chi-chi. Enter Siri House. With its refined offerings and alfresco terrace, brunch at this dining space is unforgettable. From the small plates section, go for the burrata, and bikini sandwich. Then work your way through the selection of large plates with choices like unagi risotto and beef ribeye. Noms!
Siri House, #01-02, 8D Dempsey Road, Singapore 249672
6. Atout
French plates take centrestage at Atout. We're talking an array of cheeses and charcuterie, plus dishes like roasted angus beef prime rib and crispy duck confit with mashed potatoes — bon appetit! Plus, the alfresco area makes for a romantic date, especially at night when the skies are studded with stars.
Atout, 40C Harding Road, Singapore 249548
7. Morsels
Morsels is big on small plates and progressive Asian fusion. One's thing for certain, the dishes are far from boring. You'll find inventive recipes that feature different culinary techniques like fermentation and curing. Go for the omakase experience which will take you on a flavour voyage, from sweet and sour to salty, bitter and umami.
Morsels, #01-04, 25 Dempsey Road, Singapore 249670
8. Candlenut
This Michelin-starred Peranakan restaurant hardly needs any introduction. Headed by Singaporean chef Malcolm Lee, you'll find a mix of traditional and contemporary Peranakan plates on the menu. Enjoy classics ikan assam pedas (Kuhlbarra barramundi fillet cooked in a spicy tangy gravy), ngoh hiang (deep-fried minced pork roll) and wagyu beef rib rendang. For more innovative creations, go for the Taste of Candlenut menu, which rotates monthly.
Candlenut, Blk 17A Dempsey Road, Singapore 249676
9. Samy's Curry
Samy's Curry, an age-old Indian curry house, doesn't rely on its ambience and decor for business. Think ceiling fans, boisterous open surroundings (a mess hall and a verandah) and shuttered windows. So why is it perpetually crowded? It's the food, of course! Our go-to combo is a mountain of biryani rice drenched in the resto's famous fish head curry with tasty morsels of chicken masala and fish cutlet on the side. Since the place isn't fully air-conditioned, your best bet to cooling off is a mug of lime juice.
Samy's Curry, 25 Dempsey Road, Singapore 249670
10. Huber's Butchery
Once you've spent more than you should've to stock up on premium cuts of meat, settle in at the bistro for a belly-busting feast. Vegetarians, you've been warned. This is the perfect restaurant in Dempsey for steak, schnitzel and meatloaf. Wash it all down with your choice of poison, from beers and wines to cocktails and spirits.
Huber's Butchery and Bistro, 22 Dempsey Road, Singapore 249679
11. Jumbo Seafood
Jumbo Seafood has always been the place to go for Singapore's iconic chilli crab dish since it opened in 1987 at the still-popular East Coast Seafood Centre. Lucky for us, the brand opened branches all around the island so we can easily get our chilli crab fix. The gravy accompanying the flavoursome crab at Jumbo is slightly more tomato-y than elsewhere and richly layered with egg. Still a classic! Also fill up on familiar faves like cereal prawns, seafood fried rice and the popular mocha pork ribs.
Jumbo Seafood, #01-16, Blk 11 Dempsey Road, Singapore 249673
12. The Dempsey Project
The Dempsey Project is your one-stop store where you can brunch and grocery shop in one place. First, fill up on delish brunch delights like bacon and egg wrap, avo toast, eggs benedict and French toast. Next, stock up on fresh bakes, pantry staples, gourmet cheeses and wines. This place hardly disappoints.
The Dempsey Project, #01-12, Blk 9, Dempsey Road, Singapore 247697
13. PS.Cafe
Weekends are synonymous with PS.Cafe, especially if truffle fries is involved. The picture-perfect Dempsey restaurant looks out onto a manicured lawn and boasts a stylish interior that makes us want to dress up for brunch. Do breakfast right with cinnamon and blueberry pancakes. Or go all out with the namesake big breakfast which comes with eggs done to your preference, smoked bacon, spinach, toast, baked beans, tomatoes, rocket and basil salad with honey truffle dressing, and a choice of pork or angus sausage. It's also a perfect date night spot for steak and bubbly.
PS.Cafe, 28B Harding Road, Singapore 249549
14. Open Farm Community
What's better than feasting for a good cause? The open-concept eatery is big on the farm-to-table movement. Diners can dig into innovative and hearty European dishes prepared using fresh and sustainable ingredients sourced from their own gardens as well as local and regional farms. Or go for the Farm Feast, where you can tuck into Open Farm Community's highlights alongside seasonal plates.
Open Farm Community, 130E Minden Road, Singapore 248819
15. Chopsuey Cafe
Brought to you by the folks from local favourite haunt PS.Cafe, Chopsuey gets a bit adventurous with Asian cuisine, doing it with a modern twist. The weekend brunch menu includes sweet and sour fish and chips, beef pho, and crab laksa with prawns. Oh, and there's the big breakfast platter which features pork and lemongrass sausage, crispy bacon, sesame-soy mushrooms, wok-crisped rosti, sweet and sour baked beans, grilled tomato, coriander chilli, almond pesto and eggs done your way.
Chopsuey Cafe, #01-23, 10 Dempsey Road, Singapore 247700
16. Carrotsticks and Cravings
Founded by Terri-Anne Leske, a Melbourne expat living in Singapore, Carrotsticks and Cravings is a health food haven. If you're looking for great gluten-free, dairy-free, nut-free and vegetarian options, this is one place to hit up. Eat your way to health with options like baked chia parfait, keto chicken avo salad, acai berry bowl and chicken and goat cheese sammie. Psst: there's a colouring station and trampolines to keep little ones busy while you unwind.
Carrotsticks and Cravings, #01-05, 81 Loewen Road, Singapore 249701
17. Sprmrkt
Decked out with high ceilings, square columns and natural light from large windows, Sprmrkt is an idyllic place to spend a weekend morning in Dempsey Hill. On the menu, you'll find classics like buttermilk pancakes, French toast and avo toast. In the mood to devour something hearty? Head straight for the breakfast platter to chow down on eggs, mushrooms, sausages, bacon, tomato and toast. Get a little pep in your step with coffees and cold brews – or try juices, slushies and milkshakes. For the health nut, try smoothie bowls packed with superfoods like chia seeds, blueberries and spinach.
Sprmrkt, #01-15A, 8 Dempsey Road, Singapore 247696
18. Da Paolo Dempsey
Fill up on Italian plates at Da Paolo. We're talking fresh pasta, wood-fired pizzas and yes, the classic tiramisu. If you're here for brunch, get classics like avo toast and eggs benedict. Or go all out with dishes like carbonara, lobster linguine and diavola pizza, which is studded with salami. Otherwise, come for dinner and start your evening with a glorious spread of charcuterie and cheese before diving into hearty mains like grilled sea bass, ribeye steak and more.
Da Paolo Dempsey, #01-13, 8 Dempsey Road, Singapore 247696
19. Tiong Bahru Bakery Safari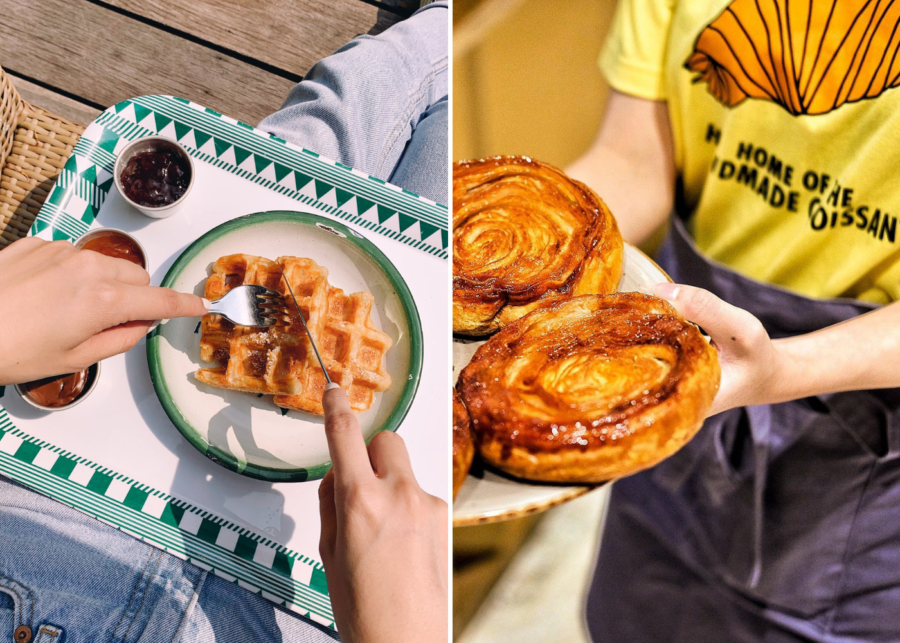 This foodie hill has everything, including Tiong Bahru Bakery's famed croissants. At this branch, expect an uber-cool safari with a tent facade amidst lush greenery. Grab your favourite baked goods like kouign amann and pain au chocolat with a strong cuppa and enjoy an outdoorsy brunch without having to actually sit on dirt or bask in the sun. You can say it's almost like glamping.
Tiong Bahru Bakery Safari, 130E Minden Road, Singapore 248819
20. Como Cuisine
The world is your oyster… and the saying rings true at Como Cuisine. The menu is embellished with international plates that'll have you savouring dishes from India and Bhutan to Italy and Thailand all in one evening. Start off your meal with momo dumplings and shelled crab salad. For mains, there's lobster biryani, braised duck ragu, and pork ribs with Asian slaw. Be sure to make space for desserts like Basque cheesecake and hot fudge sundae. Food coma is inevitable, but oh so worth it.
Como Cuisine, Block 18A Dempsey Road, Singapore 249677
21. Margarita's
If you're particular about your pico de gallo, Margarita's offers one of the best chunky salsas in its selection of Mexican staples. We've got a soft spot for the margaritas, chicken grande taco salad and enchiladas, too. Swing by the Mexican restaurant in Dempsey Hill with your squad to enjoy the carne asada (grilled ribeye steak). The platter features grilled ribeye steak, tortillas, pico de gallo, guacamole and black beans for the ultimate DIY taco extravaganza.
Margarita's, #01-09, 11 Dempsey Road, Singapore 249673
22. Red Sparrow
Red Sparrow is the answer to your cravings for a homecooked Vietnamese meal in Singapore. The extensive menu features classic dishes alongside lesser-known gems. That includes pho, dac biet, an assortment of fresh spring rolls, tom nuong (chargrilled tiger prawns), thit kho tau (pork belly braised in coconut and soy sauce glaze) and canh chua (sour soup). All this is wrapped in a cosy setting of oriental lamps and wall murals.
Red Sparrow, #01-18, Dempsey Hill, 11 Dempsey Road, Singapore 249673
23. Moonbow
Awash in pastel hues of champagne and gold, Moonbow exudes a romantic ambience, making it an excellent date night spot in Dempsey Hill. Expect European plates with an Asian influence. Our eyes are on the wagyu carpaccio, shakshouka made with Impossible meatballs, and seafood paella. Its brunch line-up is worth waking up early for. Think local breakfast dishes with a twist like nasi lemak, which features pasta in a creamy coconut sauce with onion sambal chilli, fish fillet, sunny-side-up egg, pickled cucumber, chicken wing, spiced nuts and luncheon meat fries.
Moonbow, #01-21, Block 10 Dempsey Road, Singapore 247700
Dempsey Hill guide: Explore and shop
24. Kids21
A fashion and lifestyle brand, but make it for kids. Trust Club21 to ensure that there's luxury fashion accessible for the whole family. Stocked up with carefully selected ranges of clothes and accessories from the world's top brands, Kids21 is the place to be for a statement piece for your little ones. For parents, keep an eye out for the Kids21's club rebrand. They're gearing up to open a family-focused club in Dempsey with bespoke experiences and a community space.
Kids21, 16 Dempsey Road, Singapore 249685
25. Terra Madre
A store and restaurant, Terra Madre boasts the largest collection of natural and organic foods in Singapore. Drop by to get your groceries sorted and then make a pitstop at their restaurant for an Australian-inspired meal which includes vegan friendly options. If you're there early enough, get the full Aussie breakfast with your choice of eggs, a corn rosti, kurobuta sausage, and lots of other goodies with white sourdough. Or if you're feeling cheeky, drop by in the afternoon for two hours of free flow bubbly, wines, beer, or Aperol spritz.
Terra Madre, #01-02, 71 Loewen Road, Singapore 228847
26. Timothy Oulton @ Curio
With all the lights and mirrors, it'll feel like you're stepping into a set from The Great Gatsby – in Dempsey Hill. Looking for a unique piece of furniture to throw into your newly renovated home? This is exactly where you need to be. Get your next statement piece with Timothy Oulton's unique and eclectic collection of furniture. You can even book a gallery tour or get some room planning done for your home.
Timothy Oulton @ Curio, #01-01, 13 Dempsey Road, Singapore 249674
27. B.P. de Silva Jewellers
A jeweller with over a century of heritage, this business is now being run by the family's fifth generation. Boasting one of the nation's most extensive natural gem libraries, you'll have a huge array of sparkly stones to choose from. Whether it's an engagement ring or a gift for a special occasion, its immaculate collection gives you options from simple and smooth wedding bands to huge sapphires circled by diamonds.
B.P. de Silva Jewellers, 14C Dempsey Road, Singapore 249687
28. Dover Street Market
Besides brunch and pretty scenery, Dempsey can be edgy too – by way of Dover Street Market, of course. Founded by Comme des Garçons designer Rei Kawakubo and her husband, the multi-label concept store stocks luxury fashion brands, streetwear labels and exclusive collaborations.
Dover Street Market, 18 Dempsey Road, Singapore 249677
29. Trimmings Salon & Spa
If self-care is on the agenda, treat yourself to a luxurious spa session after brunch. Work out those knots in your body with a relaxing massage, but don't stop there. Top it off with a body scrub and a relaxing scalp massage. Other facilities include a nail and hair salon, which means a mani-pedi and blowout are in order. Told you we take self-care days seriously!
Trimmings Salon & Spa, 75B Loewen Road, Singapore 248852
30. Core Collective Dempsey
This isn't your usual gym. Core Collective is part gym, part co-working space and part wellness centre. The space offers group fitness classes and wellness services, so bump up your BPM with an intense HIIT workout. Here's where you can also educate yourself with body talk, chiropractic, meditation, and physiotherapy sessions.
Core Collective Dempsey, 27A & 30B/C Loewen Road, Singapore 248839
31. The Wagington
Strictly for felines and canines, this luxury boutique pet hotel offers four different suites: The Royal, Superior, Junior and Garden. Pups get to enjoy a queen-sized bed with micro-suede bedsheets and quilts, a 32-inch LED TV for entertainment, and complimentary fitness walks and swims. Meanwhile, felines get a premier cat condo that comes with a scratch post, soothing classical music and carpeted floors. Each room is kitted out with a high definition IP camera, so rest assured the hotel staff will keep an eye on your pets at all times. The place also has a spa service, bone pool and daycare for pups.
The Wagington, 27B Loewen Road, Singapore 248850
32. Bungalow 55
Founded by interior stylist Nina Beale, Bungalow 55 is a home interior store in Dempsey Hill that champions the jungalow style. From home accessories and furniture to art and lighting, the selection is exquisite. If you need professional advice on home styling, Nina also offers consultation services for free. We'd be surprised if you leave this shop empty-handed.
Bungalow 55, #03-04, 8D Dempsey Road, Singapore 249672
Time to explore the grounds of Dempsey Hill with our handy guide to restaurants, shops and more!