Photography: Dipesh Gurav via Unsplash
Fire up your tastebuds at these curry houses, North Indian spots and South Indian restaurants in Singapore.
Singapore is a melting pot of cultures and with that comes a smorgasbord of multicultural cuisines like Mexican and French. In this food guide, we're taking a look at the top Indian restaurants in Singapore. Whether you're hankering for a wicked fish head curry or in the mood for a wholesome thali meal, look no further. Scroll down to take your pick and if you can't take the heat, you know what they say – get out of the kitchen!
Best Indian restaurants in Singapore
Samy's Curry
Established in the 1950s, Samy's Curry is a no-nonsense eatery. Be prepared for things to get a little messy as you scoop your food off banana leaves with your hands. The main draw is the fish head curry, of course, but we'd also recommend the fish cutlet, chicken masala and fried cauliflower.
Samy's Curry, 25 Dempsey Road, Singapore 249670
The Banana Leaf Apolo
A hotspot for Indian cuisine lovers, this long-standing institution has been doling out its food on banana leaves for over 40 years. It offers a mix of North and South Indian fare like tandoori chicken, fried fish and mutton curry, but we're positive most patrons come for the signature fish head curry that packs a punch. We certainly do!
The Banana Leaf Apolo, multiple locations including Race Course Road and Little India Arcade.
Sakunthala's
If you're craving scrumptious Indian fare, Sakunthala's will charm you with every bite. The menu is packed with North and South Indian (and even Chinese!) dishes – great for fussy eaters. Try the biryani meals, tandoori platters, masala chicken, prawn masala and fish head curry. Then cool down from all the spice with a refreshing glass of lime juice. Bring the whole family along because, trust us, you'll want to try everything.
Sakunthala's, multiple locations including Race Course Road and Dunlop Street.
Flying Monkey
There aren't many Indian restaurants in Singapore with focused bar programs, but that's where Flying Monkey fits in. Here, you'll find seriously good Indian food paired with Indian-inflected cocktails that aren't merely an afterthought. Kick off your pan-Indian feast with Galouti kebab, a terrine-like dish made with very finely minced lamb. Then, move on to mains like beef vindaloo and the incredibly tender nalli gosht. End the meal with a selection of Indian-inspired nightcaps like Mumbai 2 Milan and Quick Gun Murugan.
Flying Monkey, 67 Bussorah Street, Singapore 199480
The Song of India
True enough, satisfied diners have sung plentiful praises for this opulent dining experience. Sequestered within a bungalow away from the hustle and bustle of Orchard Road, The Song of India adds a homely touch to modern Indian cuisine, yet presents it with savoir faire that's fit for a maharaja. Think along the lines of pan-seared foie gras spiced with star anise masala, lemon chilli lobster in Kerala moily sauce, and tandoori pepper scallops. Did we also mention this is the first Indian restaurant in Singapore to receive the prestigious Michelin star?
The Song Of India, 33 Scotts Road, Singapore 228226
Ananda Bhavan
Ananda Bhavan is a no-frills vegetarian Indian restaurant in Singapore that has been around since 1924. If you're looking to fuel up on pocket-friendly, calorie-heavy brekkie, treat yourself to the appam set. This fermented rice batter pancake is a popular Kerala dish loved for its soft fluffy centre and crispy edges. Dip it in coconut milk and dab it off in the orange sugar for the ultimate morning pick-me-up. While Ananda Bhavan has several outlets, we recommend you visit the original one at the entrance of Little India.
Ananda Bhavan, multiple locations including Syed Alwi Road and Buffalo Road.
Komala Vilas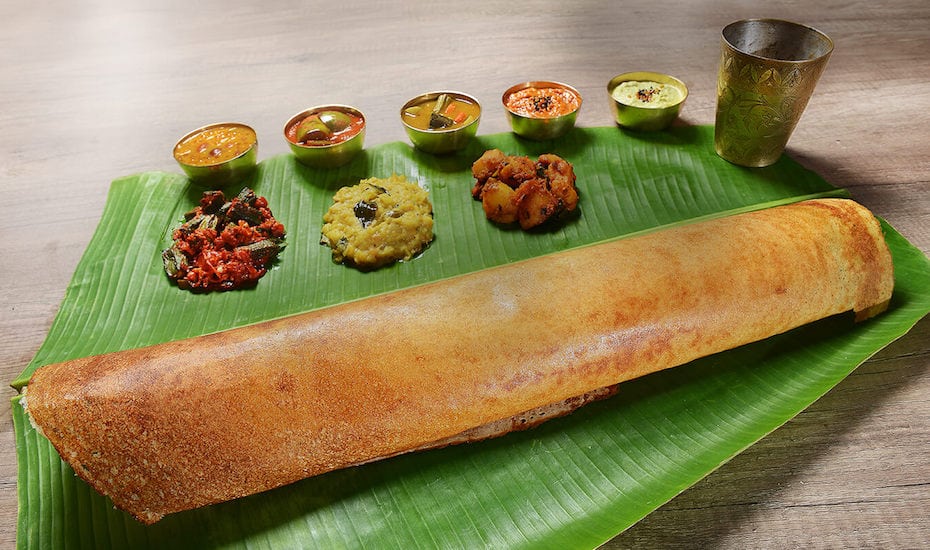 This Little India stalwart hardly needs any introduction. Devoted diners love Komala Vilas for one simple reason – its simple yet authentic vegetarian fare that has remained unchanged throughout its 69-year history. Offering over 20 different types of dosai (lentil and rice flour pancakes), parata (flatbread) and idli (steamed rice cake) served with lashings of sambar stews and chutney, the menu is vast and an example of hearty Indian cuisine at its finest.
Komala Vilas, 76 Serangoon Road, Singapore 217981
Rang Mahal
With its swanky interiors, extensive wine menu and impeccable service, Rang Mahal is unsurprisingly a pricey affair. But judging by the food, it's all worth it. Expect classic Indian cuisine served with flawless attention to detail and contemporary flair. Highlights include pani puri (round crispy puffs stuffed with masala potatoes, spiced mint water starter and sev) and lamb rogan josh, a spiced tomato curry with tender lamb cubes. Honourable mention also goes to Table by Rang Mahal, its casual offshoot at Naumi Hotel, which serves similarly conceptualised fare with a healthy spin at prices that won't break the bank.
Rang Mahal, Level 3, Pan Pacific Singapore, 7 Raffles Boulevard, Singapore 03959
Zaffron Kitchen
You'd be forgiven for mistaking Zaffron Kitchen as a high-end gastropub. After all, with its sleek fixtures and cool downtown vibe, it definitely does not look like your typical Indian restaurant. But rest assured, the menu serves the real deal with classic Indian fare that looks good but tastes even better. An absolute must-try is the dum chicken biryani, a seriously moreish dish with fluffy basmati rice and succulent pieces of chicken.
Zaffron Kitchen, multiple locations including East Coast Road and Westgate.
Thevar
Adding a sprinkle of spice to Keong Saik, this modern Indian restaurant is helmed by chef Mano Thevar, who displays his finesse in the kitchen with a creative array of traditional Indian flavours made contemporary. Expect to see vibrant sharing plates on the experimental menu, which changes every so often whenever inspiration hits.
Thevar, 9 Keong Saik Road, Singapore 089117
Muthu's Curry
We don't need to tell you that the 'curry' in its moniker refers to the establishment's star offering – the deliciously eye-watering and deceptively dangerous fish head curry. Few may argue but many will agree it is one of the best in Singapore. If you're looking for less spicy options that won't have you sweating bullets, Muthu's Curry also serves a range of dishes, from North to South Indian, and even vegetarian options.
Muthu's Curry, multiple locations including Race Course Road and Suntec City Mall.
Chat Masala
One of the many restaurants East-siders get to boast about is this cosy East Coast establishment that has been serving North Indian, South Indian and fusion dishes for over a decade. We recommend the steaming pots of mysore mutton and the crowd-pleasing butter chicken that pair perfectly well with the fluffy garlic naan.
Chat Masala, 158 Upper East Coast Road, Singapore 455254
Madras New Woodlands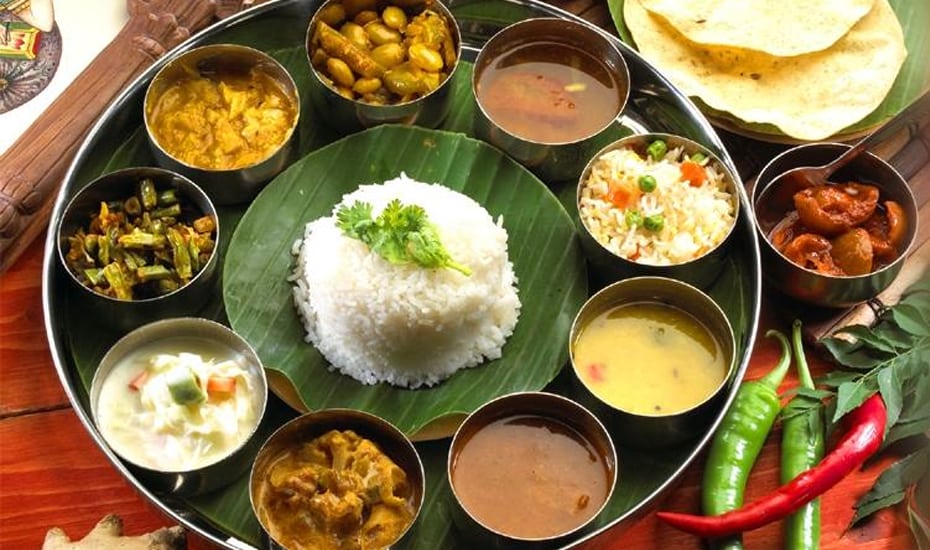 You'll get a lot of foodies swearing by this joint or Komala Vilas for lip-smacking Indian food. We think they're both pretty darn good, but if you find yourself at Madras New Woodlands, make sure you try the VIP thali set. It's a massive platter of various dhals, curries and a hearty portion of rice. To stave off the food coma, make sure you order a cup of its signature masala tea or coffee.
Madras New Woodlands, 14 Upper Dickson Road, Singapore 207474
Singapore Zam Zam
The name is synonymous with one thing, and one thing only: Murtabak (Indian flatbread stuffed with egg, minced meat and onion). Having been around for over a century, this Kampong Glam institution has devotees coming from all corners of the island just for a taste of its signature dish – that's how good it is. Be it mutton, chicken, or even deer murtabak (yes, really), Singapore Zam Zam does it best. But it's no one-trick pony. Also on the menu: A mind-boggling array of classic supper fare like mee goreng (fried noodles), biryani and prata.
Singapore Zam Zam, 697 North Bridge Road, Singapore 198675
Kebabs & Curries
After beating the crowds at the usually packed Mustafa Centre, do your feet and stomach a favour. Take a breather at Kebabs & Curries, located on the top floor of the departmental store. As the name suggests, you can expect generous amounts of kebabs, curries, biryani dishes and a great selection for vegetarians. Plus, save space for dessert if you want to go big on your meal.
Kebabs & Curries, #07-00, Mustafa Centre, 171 Syed Alwi Road, Singapore 207704
Springleaf Prata Place
When it comes to comfort food in Singapore, prata will never go out of style. Especially not at Springleaf Prata Place, where the crispy Indian flatbread gets a tasty upgrade. From the incredibly meaty and cheesy murtabak burger to the savoury prata alfredo special, it's best you come to this joint with an empty stomach.
Springleaf Prata Place, multiple locations including Yishun Safra and The Rail Mall.
Mustard
This resto's forte lies in Punjabi and Bengali cuisine (the latter is a rather uncommon sight in Singapore). It serves a selection of authentic dishes like crumbed fish cutlets with homemade mustard sauce, a special Kolkata chicken biryani with spiced potato, as well as a selection of grilled vegetarian options. You'll also find unique sweets to end your meal with. Think ras malai (cottage cheese patties soaked in cardamom-flavoured milk) and pati shapta (rice flour crepes with sweetened shredded coconut and thickened milk).
Mustard, 32 Race Course Road, Singapore 218552
Yantra
Another worthy contender in the Indian fine dining scene is Yantra, a classy joint that isn't afraid to push the envelope and experiment with its offerings. The result? An inventive menu that is nothing short of delicious. We're spotlighting the macher paturi (mustard and coconut-marinated seabass cooked in banana leaf), quinoa chaat and hara moong chiligoza kebab (a vegetarian potato cake mixed with pine nuts and mung beans).
Yantra, #01-28/33, Tanglin Mall, 163 Tanglin Road, Singapore 247933
Punjab Grill
This swanky Indian restaurant in Marina Bay Sands is a treat for meat-lovers. Look forward to a medley of tandoori-style meats and seafood, from lamb and chicken to prawn and the luxurious lobster! Vegetarians are also welcomed as it offers a wide array of BBQ veggies and meat-free curries. Want a bit of everything? The best way to experience the restaurant's varied menu is to opt for the chef's special five-course menu.
Punjab Grill, #B1-01A, The Shoppes at Marina Bay Sands, 2 Bayfront Avenue, Singapore 018972
Annalakshmi
Run by volunteers, this social enterprise restaurant offers a smorgasbord of lunch offerings with no fixed price. The dishes you're served vary according to who's manning the kitchens, but dishes like dhal, chutney and sambar are staples. While it's pay-as-you-wish, that's no excuse to short-change 'em! The restaurant has helped those going through financial difficulties receive a wholesome meal during dire times. So if you can afford it, it's worth putting in a little more for those who can't.
Annalakshmi, #01-04, Central Square, 20 Havelock Road, Singapore 059765
Now that you're well acquainted with the top Indian restaurants in Singapore, you know what to do…