Photography: PublicDomainPictures via Pixabay
Fire up your tastebuds at these curry houses, North Indian spots and South Indian restaurants in Singapore.
Singapore is a melting pot of cultures and with that comes a smorgasbord of multicultural cuisines like Mexican and French. In this food guide, we take a look at the top Indian restaurants in Singapore. Whether you're hankering for a wicked fish head curry or in the mood for a wholesome thali meal, look no further. Scroll down to take your pick and if you can't take the heat, you know what they say – get out of the kitchen!
Best Indian restaurants in Singapore
1. Tiffin Room
When we're talking about Indian restaurants in Singapore, we can't miss the iconic Tiffin Room. With India native Kuldeep Negi at the helm, this famed restaurant serves up authentic North Indian cuisine in a sophisticated setting with table-side service. New creations are now on the menu alongside firm favourites that you can't miss.
These delicious additions include aloo dal Tikki Chaat, crispy potato and lentil patties dressed with yoghurt and mint chutney; Murgh Jaitun Seekh, tandoori-grilled minced chicken with green olives, cheddar cheese, saffron and spices; and Balti Gosht, tender lamb leg cubes in a delectable curry. For popular favourites, order up the Jingha Kebab, which features succulent grilled jumbo prawns marinated in yoghurt and rose powder; Tiffin Dal Makhani, a delectable organic black lentil curry; and Mera Dabba, the Instagram-worthy set meal with your choice of appetisers and main course presented in custom-made copper tiffin boxes.
Guests can also opt for the customisable, Mera Dabba (meaning 'my box' in Hindhi) Experience, an authentic and elevated set meal where guests can choose from a refreshed selection of appetisers and main courses presented in an iconic four-tiered custom-made copper tiffin box. Think aloo gobhi, a classic cauliflower and potato delight with a perfect blend of yogurt, garlic, and masala onion gravy; succulent kadhai prawns with bell pepper, coriander seeds and onion-tomato masala and more. Round off the meal with desserts like rasmalai and pista gulab jamun.
Wash it all down with a selection of signature beverages like chai masala and lassi. Craving a tipple? There are Indian wines, cocktails and spirits on the menu too!
Tiffin Room, Raffles Hotel Singapore, 1 Beach Road, Singapore 189673
2. SanSara
What do you know about Awadhi cuisine? If you've never heard of it, allow us to introduce SanSara, the newest restaurant by the river, in the recently refurbished Grand Copthorne Waterfront Hotel. It's headed by chef Akhilesh Pathak, whose culinary career spans luxury restaurants across North India. A meal here is an invitation to sample dynamic flavours and culinary offerings.
Kick off your dining experience with Kumbh Ki Galouti, a signature appetiser comprising minced button mushrooms, cajun spice, and galout masala on soft paratha. You must also try the Murgh Paan Kebab, which features tender chicken breast, various spices, and a dollop of Greek yoghurt.
The drinks menu boasts creatively reinvented classics you know and love. We're eyeing the Hyderabad Jira Mojito, a refreshing spin on the mojito that blends rum, jira, curry leaves, lime zest, and five-spice sugar syrup.
Perk alert: My Millennium members enjoy 25% off the total bill till 31 December 2023. Terms apply.
SanSara, Grand Copthorne Waterfront Hotel, 392 Havelock Road, Singapore 169663
3. Royal Taj
Combining the traditions of India with global ingredients and techniques, you're sure to have a unique experience here. Tucked away in a restored colonial building, Royal Taj boasts a sleek and classy interior with impeccable food to match. Get upscaled street food faves like aloo tikki chaat (fried potato patties) and cocktail samosas. Move on to mains like lamb rogan josh and fish curry with a side of fragrant rice. Not forgetting sweets like pistachio gulab jamun or flavoured kulfi.
Royal Taj, #02-06, Mess Hall, Village Hotel Sentosa, 16 Gunner Lane, Singapore 099567
4. Tandoor
Good news for fans of North Indian fare: Tandoor is re-opening its doors after a two-year hiatus. Boasting contemporary interiors and traditional cuisines, the restaurant is led by chef Sunder, a recipient of the Times Food Award for Best North-Indian Restaurant in New Delhi for four consecutive years.
Its menu includes addictive samosas topped with sweet yoghurt and tamarind chutney, as well as soups like the zafrani murg badam kashorba, a chicken soup infused with saffron. There's also a variety of kebabs, including lahsooni murg tikka (grilled chicken with garlic) and tandoori jhinga (spicy chargrilled jumbo prawns. Try crowd-favourite main courses like kadai paneer (pan-fried cottage cheese cooked in an onion and tomato masala), or kacche aam ki sabzi (ripe mango curry). With grilled meat, seafood and vegetarian options, Tandoor is perfect for those seeking a taste of India's rich culinary heritage.
Tandoor, Holiday Inn Singapore Orchard City Centre, 11 Cavenagh Road, Singapore 229616
5. Sexy Indian
With a menu that marries tradition and modernity, this classy Indian restaurant at The Vagabond Club brings plant-based, GMO-free and gluten-free Indian fare to the table. Expect delicious flavours created from scratch with the best ingredients. The menu includes addictive sharing plates like masala fries and palak chips, alongside hearty mains like the maharaja bbq burger, tofu falafel kathi roll and mashallah moussaka. Every dish features the best veggies and meat alternatives for sumptuous bites.
Looking for tipples? The cocktail menu features picks like Isle of Time, made with thyme and rosemary infused gin; Chai Tapri, a creation with citrus vodka and masala chai; and Jai-Jeera, a spicy cocktail with chaat masala and ginger ale. There are also non-alcoholic classics like lassi and masala chai.
Sexy Indian, The Vagabond Club, 39 Syed Alwi Road, Singapore 207630
6. GupShup
Nestled within the heritage-rich district of Little India, GupShup offers delicious Indian street food with cultural delicacies from Delhi, Bombay, Punjab and central India. Don't miss the experience of bhel papdi tossed at your table for ultimate freshness – this appetising dish is prepared with puffed rice, sev, green apple, mango, papdi, chutneys and spices for a flavourful bite.
Behind the menu is chef Surjan Singh (or chef Jolly), a celebrated kitchen whiz with over two decades of experience in the hospitality industry. He's been a chef judge for MasterChef India and was nominated to join the prestigious International Taste Institute of Brussels as a chef juror. With all that under his belt, you can be sure that the menu is filled with amazing creations. We're talking about addictive curries, tandoori bites, aromatic kebabs and more. End with classic desserts like jamun and kulfi for a hearty meal.
Gupshup, 301 Serangoon Road, Singapore 218224
7. Firangi Superstar
Modern Indian plates take centre stage at Firangi Superstar. But first, take a moment to admire the gorgeous architecture. It takes inspiration from cities like Kashmir, Chennai, Bombay and Rajasthan. The restaurant is brought to life with well-thought-out interiors that evoke a certain cinematic quality. There are four distinct rooms: Officer's Club, Old Railway Room, Elephant Palace and Jungle Lodge. We also love how the menu offers vegetarian versions of its meat superstars, so everyone can have a seat around the table. Oh, and don't miss out on the cocktail programme for stellar tipples.
Firangi Superstar, #01-03, 20 Craig Road, Singapore 089692
8. Sakunthala's
If you're craving scrumptious Indian fare, Sakunthala's will charm you with every bite. The menu is packed with North and South Indian (and even Chinese!) dishes. Great for fussy eaters. Try the biryani meals, tandoori platters, chicken tikka, prawn masala and fish head curry. Cool down from all the spice with a refreshing glass of lime juice. Bring the whole family along because, trust us, you'll want to try everything.
Sakunthala's, multiple locations including Race Course Road and Dunlop Street
9. Flying Monkey
There aren't many Indian restaurants in Singapore with focused bar programs. But that's where Flying Monkey fits in. Here, you'll find seriously good Indian food paired with Indian-inflected cocktails that aren't merely an afterthought. Kick off your pan-Indian feast with Galouti kebab, a terrine-like dish made with very finely minced lamb. Then, move on to mains like beef boti and the incredibly tender rogan josh. End the meal with a selection of Indian-inspired nightcaps and that's your night sorted.
Flying Monkey, 67 Bussorah Street, Singapore 199480
10. Gabbar
Brace yourself for a Bollywood fiesta at Gabbar. This Indian bistro and bar's got the food, music and ambience covered for a dose of fun. Indulge in the vibrant flavours of India as you step into Gabbar's lively Clarke Quay location. From classic dishes like pani puri and aloo kulcha to exciting new flavours and even an extensive list for tandoori lovers, you're in for a feast.
Immerse yourself in a modern interior adorned with hand-painted murals of Bollywood icons, or choose a riverside dining experience for breathtaking views of the Singapore River. Then, crank up the fun with live music performances and head-bobbing Bollywood beats from DJs at the indoor bar area from 9.30pm, daily.
And for the ultimate weekend treat, don't miss the Gabbar Bottomless Brunch from 11.30am to 3.30pm. Indulge in a feast of delectable Indian street food from across the Indian subcontinent, served endlessly to satisfy your cravings.
Gabbar, #01-05/06, Block E @ Clarke Quay, The Circuit, 3E River Valley Road, Singapore 179024
11. Shikar
Want to dine like royals? Shikar is the place to be. Inspired by the grand feasts of Indian royals in the past, the restaurant takes cues from their luxurious tastes and lifestyles, giving patrons a throwback to those regal days through a modern culinary lens.
The man behind the scenes is celebrated Indian chef Jolly. You might recognise him as a judge for MasterChef India. He's a TV anchor and culinary consultant with over two decades in the hospitality industry. On the menu, expect to find traditional Indian dishes. But reinterpreted with global culinary techniques and influences. Highlights include the whole wheat parantha, whole fish roasted in lotus leaf, Australian lamb saddle and shoulder biryani and more.
Shikar, Maxwell Reserve, Autograph Collection, 2 Cook Street, Singapore 078857
12. Ananda Bhavan
Ananda Bhavan is a no-frills vegetarian Indian restaurant in Singapore that's been around since 1924. If you're looking to fuel up on a pocket-friendly, calorie-heavy brekkie, treat yourself to the appam set. This fermented rice batter pancake is a popular Kerala dish loved for its soft fluffy centre and crispy edges. Dip it in coconut milk and dab it off in the orange sugar for the ultimate morning pick-me-up. We also love its rendition of cheese prata – one of the better ones around, we'd say! While Ananda Bhavan has several outlets, we recommend you visit the original one at the entrance of Little India.
Ananda Bhavan, multiple locations including Syed Alwi Road and Serangoon Road
13. Komala Vilas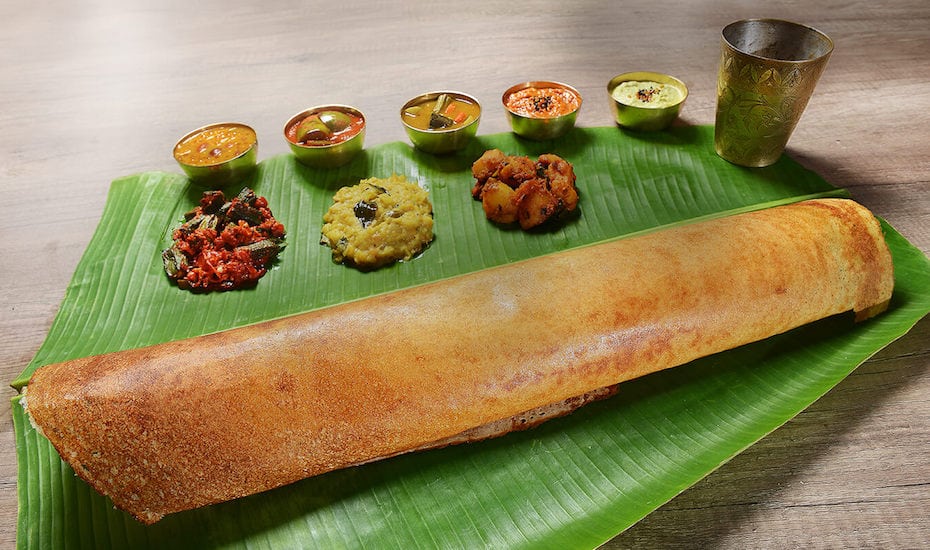 This Little India stalwart hardly needs any introduction. Devoted diners love Komala Vilas for one simple reason. Its simple yet authentic vegetarian fare remains unchanged throughout its history. Offering over 20 different types of dosai (lentil and rice flour pancakes), vadai (savoury doughnuts) and naan, the menu is vast. An example of hearty Indian cuisine at its finest!
Komala Vilas, 76-78 Serangoon Road, Singapore 217981
14. Rang Mahal
With its swanky interior, extensive wine menu and impeccable service, Rang Mahal is a dream. Expect classic Indian cuisine served with flawless attention to detail and contemporary flair. Get entrees in the form of tandoor seabass, tandoori chicken, or grilled lamb chops. Vegetarian options come in the form of pain puri, avocado kebabs, and palak chai.
Rang Mahal, Level 3, Pan Pacific Singapore, 7 Raffles Boulevard, Singapore 03959
15. Thevar
Adding a sprinkle of spice to Keong Saik, this two Michelin-starred Indian restaurant is a gem. It's helmed by chef Mano Thevar, who displays his finesse in the kitchen. With a creative array of traditional Indian flavours made contemporary, the food is exquisite. Expect to see vibrant sharing plates on the experimental menu, which changes every so often whenever inspiration hits.
Thevar, 9 Keong Saik Road, Singapore 089117
16. Muthu's Curry
We don't need to tell you that the 'curry' in its moniker refers to the establishment's star offering. Yes, the deliciously eye-watering and deceptively dangerous fish head curry. Few may argue, but many will agree it's one of the best in Singapore. If you're looking for less spicy options that won't have you sweating bullets, Muthu's Curry also serves a range of dishes, from North to South Indian, and even vegetarian options.
Muthu's Curry, multiple locations including Race Course Road and Suntec City
17. Chat Masala
One of the many restaurants East siders get to boast about is this cosy East Coast establishment. It's been serving North Indian, South Indian and fusion dishes for over a decade. We recommend the steaming pots of Mysore mutton. Or the crowd-pleasing butter chicken that pair perfectly well with the fluffy garlic naan.
Chat Masala, 158 Upper East Coast Road, Singapore 455254
18. Madras New Woodlands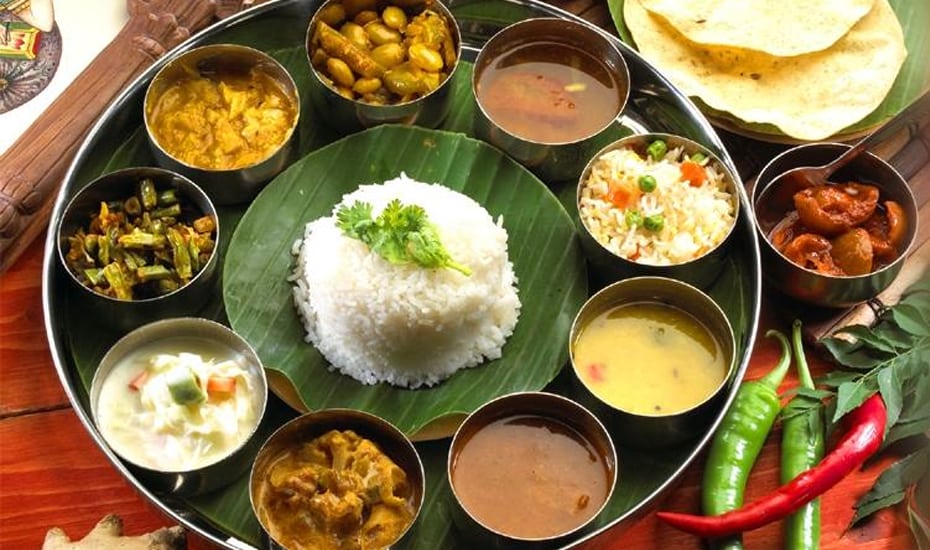 You'll get a lot of foodies swearing by this joint or Komala Vilas for lip-smacking Indian food in Singapore. We think they're both pretty darn good. But if you find yourself at Madras New Woodlands, make sure you try the VIP thali set. It's a massive platter of various dhals, curries and a hearty portion of rice. To stave off the food coma, make sure you order a cup of its signature masala tea or coffee.
Madras New Woodlands, 14 Upper Dickson Road, Singapore 207474
19. Singapore Zam Zam
The name is synonymous with one thing, and one thing only: murtabak. If you haven't had it, it's Indian flatbread stuffed with egg, minced meat and onion. This Kampong Glam institution has been around for almost a century. Devotees coming from all corners of the island just for a taste of its signature dish – that's how good it is. Be it mutton, chicken, or even deer murtabak (yes, really), Singapore Zam Zam does it best. But it's no one-trick pony. Also on the menu: a mind-boggling array of classic supper fare like mee goreng (fried noodles), biryani and prata.
Singapore Zam Zam, 697-699 North Bridge Road, Singapore 198675
20. Springleaf Prata Place
When it comes to comfort food in Singapore, prata will never go out of style. Especially not at Springleaf Prata Place, where the crispy Indian flatbread gets a tasty upgrade. From the incredibly meaty and cheesy Murtaburger to the savoury prata alfredo special. It's best you come to this joint with an empty stomach.
Springleaf Prata Place, multiple locations including Yishun Safra and The Rail Mall
21. Mustard
This resto's forte lies in Punjabi and Bengali cuisine (the latter is a rather uncommon sight in Singapore). It serves a selection of authentic dishes like a special Kolkata chicken biryani with spiced potato. Not to mention a selection of grilled vegetarian options. You'll also find unique sweets to end your meal. Think sugary gulab jamun and gokul pithe.
Mustard, 32 Race Course Road, Singapore 218552
22. Yantra
Another worthy contender in the Indian fine dining scene is Yantra. This classy joint isn't afraid to push the envelope and experiment with its offerings. The result? An inventive menu that's nothing short of delicious. We're spotlighting the Maithili maach (red snapper simmered in an aromatic gravy) and sutta gosht (slow-cooked mutton).
Yantra, #01-129/130/131, Tanglin Mall, 163 Tanglin Road, Singapore 247933
23. Punjab Grill
This swanky Indian restaurant in Marina Bay Sands is a treat for meat lovers. Look forward to a medley of tandoori-style meats and seafood. Start with prawns with citrusy lemon juice to lamb chops glazed with a sweet and sour sauce. Vegetarians are also welcome as it offers a wide array of BBQ veggies and meat-free curries. Want a bit of everything? The best way to experience the restaurant's varied menu is to opt for the set menus
Punjab Grill, #B1-01A, The Shoppes at Marina Bay Sands, 2 Bayfront Avenue, Singapore 018972
24. The Banana Leaf Apolo
A hotspot for Indian cuisine lovers, this long-standing institution has been doling out its food on banana leaves for over 40 years. It offers a mix of North and South Indian fare like tandoori chicken, fried fish and mutton masala. But we're positive most patrons come for the signature fish head curry that packs a punch. We certainly do!
The Banana Leaf Apolo, multiple locations including Race Course Road and Rivervale Mall
25. The Curry Club
If you're looking for innovative spins on Indian cuisine, drop by The Curry Club. Check out the selection of murtabak pizzas. It features Indian faves like chicken tikka masala or spicy sardine sambal baked into an Italian classic. Try the curry pots with chicken, mutton, or prawns. And for something to share amongst your group of friends, check out the Signature Shellout. This is an array of seafood soaked in a sauce of your choice, from garlicky cream to spicy masala. Add on some fried mantou buns and you'll have a finger-licking good meal.
The Curry Club, #01-01, 11 Mohamed Sultan Road, Singapore 239010
26. Adda
This elevated Indian restaurant in Singapore features a menu curated by Michelin-starred chef, Manjunath Mural. Each dish served is a flavour bomb that showcases the best of what India has to offer. We love kicking things off with the desi tacos that are filled with pulled kadhai lamb, sweet chilli and sour cream. Of course, you can't leave without trying Adda's signature cocktails for the complete experience.
Adda, #01-201, Diners Building, 7500E Beach Road, Singapore 199595
27. Zaffron Kitchen
You'd be forgiven for mistaking Zaffron Kitchen for a high-end gastropub. After all, with its sleek fixtures and cool downtown vibe, it definitely doesn't look like your typical Indian restaurant in Singapore. But rest assured, the menu serves the real deal with classic Indian fare that looks good but tastes even better. An absolute must-try? The dum chicken biryani, a seriously moreish dish with fluffy basmati rice and succulent pieces of chicken.
Zaffron Kitchen, multiple locations including East Coast Road and The Star Vista
28. Samy's Curry
Established in the 1950s, Samy's Curry is a no-nonsense eatery. Be prepared for things to get a little messy as you scoop food off banana leaves with your hands. The main draw is the fish head curry, of course. But we'd also recommend the fish cutlet, chicken masala and fried cauliflower.
Samy's Curry, 25 Dempsey Road, Singapore 249670
29. Annalakshmi
This establishment comes from humble beginnings. It celebrates the mothers and grandmothers who came together as volunteers to curate recipes that were passed down to multiple generations. The dishes you're served vary according to who's manning the kitchens, but dishes like dhal, chutney and sambar are staples. While it's pay-as-you-wish, that's no excuse to short-change 'em! The restaurant has helped those going through financial difficulties receive a wholesome meal during dire times. So if you can afford it, it's worth putting in a little more for those who can't.
Annalakshmi, #01-03, OUE Downtown 2, 6A Shenton Way, Singapore 068815
Now that you're well acquainted with the top Indian restaurants in Singapore, you know what to do…