Photography: Saltwater via Facebook
Whether you're Muslim or dining with Muslim friends, never find yourself stumped for halal dining ideas again.
The great thing about living in Singapore is its diversity, and we're not just talking about the people. Virtually any type of cuisine is found here – whether you're nursing a craving for Peranakan food or sticking to a vegetarian diet. Case in point? Halal food. In recent years, the city's seen a huge surge in the halal scene, with cafes popping up all over town, coffees and pastries in tow. Keen to know more? Scroll down for our massive list of top halal restaurants and cafes for Muslim foodies.
RESTAURANTS
Saltwater
Enjoy islandwide delivery with various delivery offers (T&Cs apply). Call 6379 7018 for takeaway.
Changi Village remains one of our favourite go-tos for a breather out of town – which makes Saltwater one of the best, hidden halal-certified culinary destinations on this island! Enjoy the area's flora and fauna, all within the air-conditioned comfort of Saltwater. Our tip: Buffet dinners are available from Friday to Sunday, and they come with abundant meat cuts, fresh seafood grilled on the spot, and local favourites like laksa, kueh pie tee and rojak.
Saltwater, Level 1, Changi Village Hotel, 1 Netheravon Road, Singapore 508502
Tipo Pasta Bar
Available for pickup and islandwide delivery with a minimum spend of $50. Enjoy 50% off your first order till 25 April.
Hell yeah, another handmade pasta joint is exactly what we need. Freshly pulled daily, the halal pasta at Tipo is made with flavoured doughs – think beet and garlic-infused angel hair, paprika caserecce, and lemon malfade – so you can expect pops of colour and flavour bursts in your meal. Oh, and did we mention you can customise your dish by picking your fave sauces from a list of tom yum, beef ragu and creamy pesto? Sounds good to us!
Tipo Pasta Bar, 785 North Bridge Road, Singapore 198753
Yi Zun Noodle
Hungry for Chinese noodles? These springy, hand-pulled strands are top-notch, especially when they're served swimming in a broth with beef chunks. Dry minced meat or scallion noodles are available too, along with lamb skewers and salted egg chicken to complete your meal.
Yi Zun Noodle, multiple locations including 45 Sam Leong Road, Singapore 207935
Sedap Thai BBQ Steamboat
Temporarily closed until 1 June.
If you're in the mood for soup, look no further than Sedap Thai BBQ Steamboat to get bang for your buck sets and a no-frills steamboat dinner. Platters come with the usual suspects like prawns, squid, crab sticks, meatballs, quail eggs, veggies and a medley of marinated meats. Oh, and beef fat is used to grease up the grill, which makes it more flavourful than butter, no? Spice lovers should get the tom yum broth and drench your meats in that powerful chilli dip. Sedap!
Sedap Thai BBQ Steamboat, #01-08, Food Centre, 166 Jalan Besar, Singapore 208877
The Dim Sum Place
Islandwide delivery with free delivery for orders over $50. WhatsApp 9666 7420 or call 6655 8787 for takeaway (get 20% off the total bill).
These guys have whipped out a great halal option for all dim sum lovers and those craving for authentic Cantonese cuisine. Chef recommendations include the crystal shrimp dumpling, baked bun with roast duck filling, handmade beancurd with chicken and salted fish, and a delectable salted egg custard bun. It's some of the best halal food in Singapore.
The Dim Sum Place, 791 North Bridge Road, Singapore 198759
Ichikokudo Hokkaido Ramen
Available for delivery via GrabFood. Online takeaway menu limited to don bowls and sides.
Taking pride in its authentic flavours and fresh ingredients, this ramen joint is known for putting out bowls of umami goodness. Its satisfying chicken broth brims with veggies, bonito, mackerel and kelp, plus the menu allows you to pick your "richness level", from light to extra concentrated. Besides the signature, you can also try smoked duck, beef and seafood versions, or go for the donburi selection of fried ebi, unagi and chicken cutlet.
Ichikokudo Hokkaido Ramen, multiple locations including Suntec City and Paya Lebar Quarter.
Noosh
The next time you're hanging around The Esplanade for a performance, stop by Noosh for a spot of fusion comfort food. Start with squid fritter or deep-fried oysters before moving on to mains like bulgogi beef rice, sambal bali chicken cutlet, ribeye and sausage platter, or Szechuan beef rib noodles. If you still have room after munching your way through the extensive menu, dig into slices of ondeh ondeh, durian pengat or Milo crepe cakes.
Noosh, #01-13B, Esplanade Mall, 8 Raffles Avenue, Singapore 039802
Kucina Italian Restaurant
Islandwide delivery, pickup and stay-at-home packages available.
Since it's one of the few halal Italian restaurants in Singapore, expectations for Kucina are understandably high. But rest assured, its food is nothing short of delicioso. On the menu, you'll find hearty creations a Nonna would approve of. Think gnocchi, spinach ravioli, vongole, squid ink risotto and more.
Kucina Italian Restaurant, #B1-09/10, Kinex Mall, 11 Tanjong Katong Road, Singapore 437157
The Halia
Islandwide delivery with 20% off all items till 31 May 2020. Call 8798 0180 for takeaway.
After its halal certification, The Halia has quickly climbed up the ranks as a popular spot for special occasions. Hidden in the Ginger Garden of the Botanic Gardens, the restaurant's proximity to the city and tranquil setting make it the perfect escape. Seated next to full-height glass windows, guests can sip their mocktails and brunch out while enjoying sunny rays in total air-conditioned comfort. Post-sunset, head to the terrace, where majestic palm trees surround the facade.
The Halia, Singapore Botanic Gardens, 1 Cluny Road, Singapore 259569
Elfuego
Elfuego is temporarily closed.
The halal-certified eatery by Collin's offers European plates at pocket-friendly prices. Helmed by a young head chef, who spent time working at Michelin-starred restaurants prior to this, the kitchen dishes out prettily plated knock-outs like Hokkaido scallop ceviche, glazed spiced duck breast and grilled red snapper. You can also get sharing portions of grilled meats and seafood to pair with sides such as steak fries and field mushroom ragout.
Elfuego, #02-216, Jewel Changi Airport, 78 Airport Boulevard, Singapore 819666
Fat Papa's
Order online for islandwide delivery or call 6291 8028 for pick up.
Founded by Sheikh Haikel, Fat Papa's is the halal counterpart of Fatboy's The Burger Bar. Like the original, this American-style burger joint really hits the spot with staples like The Wimpy and oddities like The Elvis, a beef burger served with grilled bananas and peanut butter. Alternatively, build your own bun-and-patty combo with customisable meat options, add-ons and sauces.
Fat Papa's, multiple locations including 17 Bali Lane, Singapore 189853
The Landmark
Islandwide delivery and takeaway menu available.
Ready to feast? The Landmark's sumptuous spread and classy decor make for a magnificent meal, especially if you're celebrating a special occasion. The weekday buffet serves North Indian, Mediterranean, Western and Asian delicacies, while weekends feature live food stations doling out pizzas, pastas, satay and seafood. Those who prefer an outdoor table can grab a seat by the pool to lounge in comfort.
The Landmark, #05-01, Village Hotel Bugis, 390 Victoria Street, Singapore 188061
Peppercorn
Peppercorn is temporarily closed.
Get your hit of mind-numbing mala at the aptly-named Peppercorn, where the menu is influenced by the street food of Beijing, Shanghai and the Sichuan area. Bowls are easily customisable to your preference, with more than 20 ingredients (including fish, chicken, beef, mushrooms and veggies), three noodle variants and four spice levels. Need a little more fuel? Add luncheon fries, black fungus in vinegar or fried wantons to your order.
Peppercorn, 30 Kandahar Street, Singapore 198890
The Bravery
Takeaway and delivery available via Foodpanda, WhatsApp 9388 2973 for islandwide delivery.
This Muslim-owned halal cafe has got to be one of our top favourites. Its no-signboard, blink-and-you'll-miss-it location hides a precious secret: The Bullseye steak, aka the best halal steak we've ever had. It's served with a sunny-side-up, grilled spiced vegetables and a mysterious, delicious sauce we can't help smothering our meat with.
The Bravery, 66 Horne Road, Singapore 209073
Captain Kim Korean BBQ & Hotpot
Captain Kim Korean BBQ & Hotpot is temporarily closed.
We love ourselves a good Korean BBQ, and the halal-certified Captain Kim sure satiates our cravings. Pick out your fave items from the massive buffet, eat to your heart's desire, and go back for more if you feel like it! Besides BBQ goodies, the affordable eatery also serves Korean fried chicken and army stew, plus fruity desserts for a sweet end to your meal.
Captain Kim Korean BBQ & Hotpot, #01-06, Ntuc Income Tampines Junction, 300 Tampines Avenue 5, Singapore 529653
Wakuwaku Yakiniku
Islandwide delivery and takeaway available.
Need a meaty fix? This Japanese BBQ resto is as obsessed with protein as we are. Brought to you by the same team behind FatPapas, it's all about the beef, with varying cuts grilled to perfection. If you need your carb dose, order the rice bowls topped with onsen egg and karaage chicken or beef.
Wakuwaku Yakiniku, 27 Bali Lane, Singapore 189863
Straits Kitchen
Straits Kitchen is temporarily closed until further notice.
Variety is the name of the game at Grand Hyatt's swanky in-house buffet restaurant. Expect lots of local favourites like Hainanese chicken rice, laksa, satay and fried carrot cake. The mind-boggling choices require several return trips to the buffet line, so enter with a hearty appetite (and a pair of roomy pants).
Straits Kitchen, Lobby level, Grand Hyatt Singapore, 10 Scotts Road, Singapore 228211
Fika Swedish Cafe & Bistro
Available for islandwide delivery, pick up and drive-through, with discounts over 20%.
No need to head to Ikea for your fix of Swedish meatballs – Fika actually does it better. With its whitewashed walls and light-filled interiors, the homey halal cafe is a breath of fresh air amidst the myriad Mediterranean eateries in Kampong Glam. Browse through its small but serviceable menu for delish Swedish classics.
Fika Swedish Café & Bistro, 257 Beach Road, Singapore 199539
Coba Coba
Islandwide delivery via Oddle or delivery via GrabFood and Deliveroo. Call 6382 2622 for preorders and pick up.
If it's soul food you're looking for, don't miss Coba Coba, an authentic nasi padang haunt in Yishun. With its brick walls, vintage decor accents and kitschy trishaw located just outside its premises, the chic spot won't look out of place in Kampong Glam (i.e. halal cafe heaven).
Coba Coba, #01-106, Block 156 Yishun Street 11, Singapore 760156
Carousel
Arguably the most popular halal buffet in Singapore, Carousel boasts an extensive, all-encompassing spread that has everything from Asian and Japanese to Mediterranean and Indian. Not only is the restaurant famous for variety, but it's also known for serving fresh, quality food. Top that with the exceptional customer service, and it's no surprise the place is often booked out on weekends and during festive seasons.
Carousel, Lobby Level, Royal Plaza on Scotts, 25 Scotts Road, Singapore 228220
Tash Tish Tosh
Islandwide delivery available, WhatsApp 8714 8677 for orders.
This halal resto has perfectly blended Western dishes with Malay influences. The toolang (bone marrow) stew and wings are clear standouts. Plus, you can get milkshakes, root beers and Thai tea floats to pair with your meal. Lazy to head out? Try the delivery option!
Tash Tish Tosh, 50 Kandahar Street, Singapore 198900
Afterwit
Islandwide delivery with minimum spend of $35, takeaway available.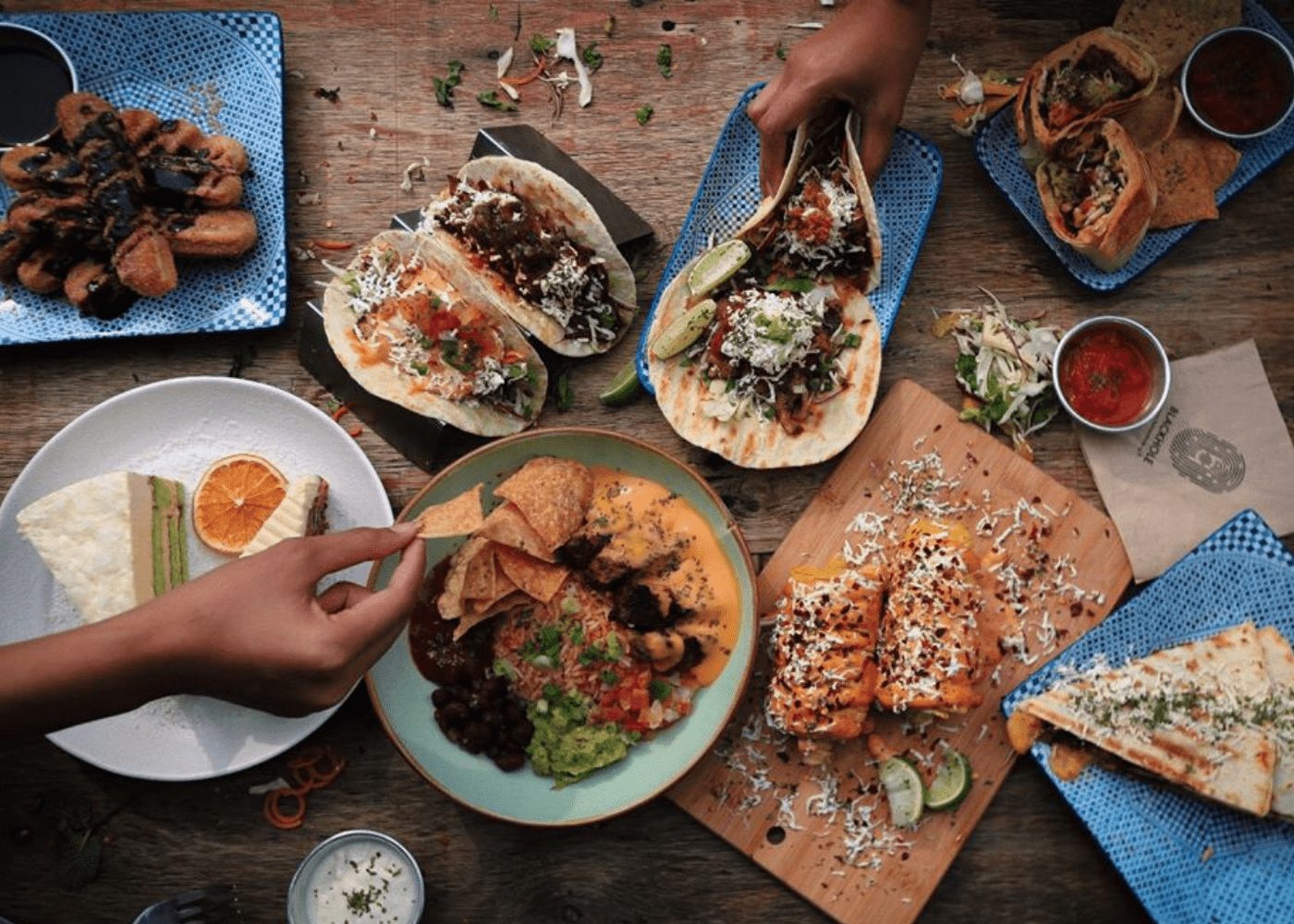 Beloved for its tasty take on traditional tacos, Afterwit dishes out stellar savouries that flawlessly meld classic Mexican and Malay flavours. Do yourself a favour and order the pulled beef tacos, the butter chicken burrito, and the chicken with mango quesadilla. More flavourful tacos abound with options like grilled cod, Peking duck, Cajun-spiced chicken and truffle mushroom. Delish!
Afterwit, 778 North Bridge Road, Singapore 198746
Kohnangkam
Walk-in takeaway orders and islandwide delivery available with minimum spend of $50.
Located right next to the Vintage Cameras Museum, this southern Thai joint serves a mean pad Thai, steamed sea bass and Thai yellow curry. Save room for dessert, though. The durian with sticky rice is a must-try for fans of the creamy fruit.
Kohnangkam, 4 & 6 Jalan Kledek, Singapore 199261
IndoChilli
Enjoy 20% off takeaway orders, WhatsApp +65 8922 8185 to order. Islandwide delivery available, free delivery for orders above $50.
We definitely don't have a shortage of Indonesian restaurants in the city, but if we had to choose, our top pick would be IndoChilli. Its classics like beef rendang, tahu telor and ayam panggang are flavourful and authentic; it'll feel like you're dining on the streets of Jakarta itself (minus the grime). And when it gets too hot, cool down with a bowl of cendol.
IndoChilli, multiple locations including Zion Road, Tanjong Pagar Centre and Science Park.
The Royals Steakhouse
The Royals Steakhouse is temporarily closed.
If you think you can't get quality halal steaks in Singapore, you'd be proven wrong at this popular steakhouse. The restaurant focuses on using chilled meats for maximum freshness and flavour. Steak options include Angus striploin or ribeye, prime tenderloin and Côte de boeuf, all of which you can get with sauces like caramelised onion, mushroom or black pepper.
The Royals Steakhouse, 10 Jalan Pisang, Singapore 199077
21 On Rajah
21 On Rajah is temporarily closed.
Days Hotel's main restaurant gets our vote for its extensive selection of local flavours, Mediterranean cuisine and seafood options in the buffet spread. Be sure to check out its special offers throughout the year, especially during Ramadan.
21 On Rajah, Days Hotel, 1 Jalan Rajah, Singapore 329133
Kintamani Indonesian Restaurant
Available for self-collection, drive-through and islandwide delivery. Enjoy free delivery for orders above $50.
Known for its traditional Balinese and modern Indonesian buffet, the eatery's tantalising spread includes mains like ketam sambal (crab in spicy sauce), peha kambing bakar (grilled lamb leg) and beef rendang. Tip: Don't forget to sop it all up with lemang (glutinous rice cooked in bamboo) sprinkled with heaps of serunding (spicy fried coconut flakes). Got room for only one dessert? Load up on the pisang epek (grilled banana with cheese).
Kintamani Indonesian Restaurant, 405 Havelock Road, Furama Riverfront, Singapore 169633
The Orange Lantern
Delivery available via Deliveroo and Foodpanda, make an order at 6844 3789 or via email at [email protected].
Dreaming of slurping up some Vietnamese pho goodness? The Orange Lantern serves mighty fine bowls of noodles with a few unorthodox twists. If regular beef pho doesn't do it for you, try the chilli beef noodle soup for a spicy kick.
The Orange Lantern, multiple locations including Killiney Road and HarbourFront Centre.
Time for Thai
Islandwide delivery with minimum spend of $30. Free delivery for orders over $70. Call 6909 3903 (Beauty World) or 6909 9404 (Simpang Bedok) for takeaway orders.
Located in Bukit Timah, the joint's Thai food is as authentic as it gets. The menu includes all the classics you're familiar with – think pad Thai, beef tendon soup and stir fried basil chicken – plus unique ones we promise you'll be excited about. Case in point? The dough fritters with sangkaya. These fried, doughty sticks dipped in the creamy, pandan-infused custard are basically heaven on earth.
Time for Thai, 15 Cheong Chin Nam Road, Singapore 599739
Sakura International Buffet Restaurant
On a budget? This household name won't burn a hole in your pocket. Plus, there's something for everyone, from dim sum and American staples like meatballs to French food like Whelk a la Boueguignonne.
Sakura International Buffet Restaurant, multiple locations including Downtown East and Admiralty Park.
Flavour Flings
Available for self-collection and delivery. Call 6286 0051 to order or WhatsApp +65 8113 3441.
If you're one of the few who still haven't gotten over the raclette cheese craze, Flavour Flings has got you covered. Have yours over a juicy steak and baked potatoes, or with a salted egg yolk croissant. Best recommended for an empty stomach!
Flavour Flings, #01-1348, Block 121, Hougang Avenue 1, Singapore 530121
Sofra Turkish Cafe & Restaurant
Enjoy islandwide delivery (free delivery around the city area for orders above $80) or call 65 6291 1433 or 65 9771 3767 for takeaway orders.
For authentic Turkish fare in a casual chic setting, Sofra is a good bet for the best halal food in Singapore. This crowd favourite gets it right every time with its classic, hearty and affordable Ottoman cuisine served in very generous portions. Dessert-wise, the kunefe (sweet cheese pastry with sugar syrup) is simply ambrosial – one bite is all it takes to get you hooked.
Sofra Turkish Cafe & Restaurant, #02-42/44, Shaw Tower, Shaw Leisure Gallery, 100 Beach Road, Singapore 189702
Royz et Vous
Islandwide delivery service available with $10 delivery fee. Call 6291 7152 or WhatsApp 9781 9343 to place an order. Pre-orders will be closed at 3pm daily during the month of Ramadan.
Mains here are nothing short of spectacular, with classic dishes like wagyu beef burger, beef short ribs and lamb shank. But one thing that puts this restaurant ahead of the game is its halal wines (yup, you read that right) – these have been de-alcoholised through vacuum distillation.
Royz Et Vous, multiple locations including Telok Ayer and Sultan Gate.
Asian Market Cafe
Feeling flush? Take a delicious dive into the buffet selection of local faves, fresh seafood and DIY desserts. Asian Market Cafe's elegant interiors, newly revamped and inspired by black-and-white colonial houses, set the scene for a classy meal with your fam.
Asian Market Cafe, Level 2, Fairmont Singapore, 80 Bras Basah Road, Singapore 189560
Padi
Enjoy free islandwide delivery with orders over $50. Call 6291 3921 or WhatsApp 8798 7891 for takeaway orders (10% off for drive-through and pick up).
You're missing out if you've never tried nasi ambeng at Padi. Served communal style, it's meant to be eaten with your hands while you share the food with others. Around a heap of steamed white rice sit traditional dishes like begedil (fried potato patties), ayam lemak chilli padi (creamy chicken curry cooked with birds' eye chilli), beef rendang and sambal goreng (a spicy coconut vegetable dish).
Padi, 53 Bussorah Street, Singapore 199469
CAFÉS
The Hashtag Cafe
Update: The Hashtag Cafe is closed and will be relocating in the second half of 2020.
A casual hangout in Bugis, this spot is great for an afternoon of chillin', padded by a hearty meal of pastas and meats. Snack on chicken spam and sweet potato fries or wings with spicy sauce before you move on to mains like slipper lobster and mussel linguine, ravioli mac and cheese, wagyu beef burger, and Sichuan ribeye.
The Hashtag Cafe, 743 North Bridge Road, Singapore 198711
Two Hana
Two Hana is temporarily closed.
Got a hankering for Korean-Western food? Be sure to try the East-meets-West fusion creations at this halal-certified eatery. Start with honey butter chicken bites and kimchi mac and cheese before digging into hearty stuff like spicy chicken bulgogi carbonara, seafood green laksa and curry beef bap.
Two Hana, #01-21, Century Square, 2 Tampines Central 5, Singapore 529509
Badoque Cafe
Available for pickup and delivery. Call 6446 6928 to order.
This casual joint is the perfect no-frills hideaway serving up generous portions of dishes like braised lamb shank, black pepper steak and burgers. Do not leave without getting (your hands) down and dirty with the succulent beef ribs in BBQ sauce!
Badoque Cafe, 298 Bedok Road, Singapore 469454
Working Title – Burger Bar
Islandwide delivery (minimum order of $35) and pick up available.
When it comes to comfort food, Working Title has it down pat. Burgers here are crazy good – think beef or chicken patties sandwiched with ingredients like guacamole, kimchi, cheese and everything in between. There's even a duck burger with hoisin glaze and crushed tater tots! Wash it all down with a PBJ or strawberry smoothie.
Working Title – Burger Bar, 783 North Bridge Road, Singapore 198751
I Am Cafe
Available for delivery and pick up. Free islandwide delivery with minimum spend of $30. Place your order online or call 6295 5509.
Started by three brothers who share a love for Amsterdam, this rustic, open-air bistro serves satisfying comfort meals like fish and chips and rainbow mille crepe. Popping by for brunch? Dig into eggs, toast, tomatoes and potatoes, or get your hands messy with the ribs platter.
I Am Cafe, #01-01, 674 North Bridge Road, Singapore 188804
Penny University
Available for takeaway and delivery via GrabFood, Deliveroo and Penny Delivery. WhatsApp +65 87271395 or order online. Order by 4pm for same-day delivery.
A perennial favourite amongst Easties, this quaint coffeehouse in Katong is perpetually crowded during the weekend – and with good reason. We can't get enough of its amazing selection of desserts. Grab a cake, a cappuccino, and settle down for a lazy afternoon of total indulgence.
Penny University, 402 East Coast Road, Singapore 428997
Krave
Tucked away at Bali Lane, Krave is a western cafe that offers a smorgasbord of palate-pleasing grub. Here, you can find Asian fusion plates, burgers, pizzas, seafood, steak, local delights, and even vegetarian creations. The best thing you can get from Krave is its deliciously famous cempedak creme brulee – one bite, and it'll send you straight to foodie heaven!
Krave, 28 Bali Lane, Singapore 189864
Hawkerman
Available for takeaway and islandwide delivery via GrabFood and Deliveroo. Enjoy up to 20% off bento sets. Call 8110 5218 (SingPost outlet) or 6243 6803 (Seletar Mall) to order.
A collaboration between local juggernauts Tenderfresh, Warung Kim's Seafood and Ah Boy's Popiah, Hawkerman serves all your local favourites with a twist. Ah Boy's Popiah, for instance, offers the skinny popiah with salted egg sauce and crispy chicken skin. Meanwhile, Warong Kim's 'Lolex Hokkien Mee' pays homage to the restaurant's Rolex-wearing-Hokkien-mee-frying founding father, Tan Kue Kim. The hearty dish features 500g of fresh lobsters, prawns, clams and octopus.
Hawkerman, multiple locations including SingPost Centre and Funan
& Why
Opened by the same founders of I Am Cafe, & Why brings New York's delicatessen culture to halal diners. Mains include sandwiches, brunch plates and pastas. Don't forget to end your meal with a delicious mocktail (these are said to be better than the real thing)!
& Why, 30/31 Bali Lane, Singapore 189867
Big Fish Small Fish
Available for delivery via Oddle (islandwide), GrabFood, Deliveroo and Foodpanda. Enjoy 20% off takeaway orders.
Operating out of a container along Punggol Park, the cafe is all about fish and chips. Choose from six type of fish – the selection includes salmon, cod and sea bass – and get your order freshly battered and fried. Then, take your pick from the slew of free sauces and dips available, and complete your meal with sides like potato crisps and pilaf rice.
Big Fish Small Fish, #01-K35, Punggol East Containers Park, 50 Punggol East, Singapore 828826
BAKERIES
Fluff Bakery
Fluff Bakery is temporarily closed.
An uber popular bakery that started out in a home kitchen, Fluff has been feeding our sweet dreams for years. Thanks to its ever-evolving line-up of cupcakes, tarts and cakes, each visit is a saccharine surprise. Needless to say, we're always excited to step into the store! If you've never known the pleasure of sinking your teeth into one of these goodies, try signature cupcakes like Nutella red velvet or salted caramel. Otherwise, look out for unconventional flavours such as mango pop rocks, Snickers and Thai milk tea.
Fluff Bakery, 4 Jalan Pisang, Singapore 199071
Konditori
Available for delivery and pickup. Order online two days in advance.
It's hard to miss Konditori while on Bussorah Street – simply follow the glorious scent of baked dough and freshly brewed coffee. Brought to you by the same people behind Fika Swedish Cafe & Bistro, this hotspot serves artisan bakes and comforting cuppas. Take your pick from croissants, crusty loaves, cakes and delectable tarts.
Konditori, 33 Bussorah Street, Singapore 199451
All Things Delicious
Available for takeaway and islandwide delivery with free delivery for orders over $250. Pre-order here.
Like its name suggests, this charming bakery-cafe whips up goodies that are nothing short of delish. We suggest you get your hands on treats like toffee apple crumble, bread and butter pudding, sea salt caramel brownies, chocolate almond shortbread, gula melaka scones… and the list goes on.
All Things Delicious, #01-01, 34 Arab Street, Singapore 199733
Mother Dough Bakery
For handcrafted, artisanal breads baked fresh each day, Mother Dough is our go-to. There's nothing better than a warm pastry or toastie from this spot, so even if you're just passing by, you gotta pop in to take home treats like croissants, sticky pecan buns, pain au chocolat and loads more. Your sweet tooth will thank you!
Mother Dough Bakery, #01-01, 749 North Bridge Road, Singapore 198717
Butter Studio
Available for delivery and pick up at Jalan Besar store only (other outlets will be closed during the circuit breaker). Free delivery for orders above $100.
There's nothing we love more than the buttery smell of baked goods, and that's what pulled us into Butter Studio, which started off as a small store in Changi Airport Terminal 3. These cupcakes are all-round winners – try the red velvet – and they get extra points for the nostalgic decor.
Butter Studio, 147 Jalan Besar, Singapore 208865
Woodlands Sourdough
Contrary to its name, Woodlands Sourdough is not located in Woodlands (you can heave a sigh of relief now). What started as a humble micro-bakery eventually expanded into a quaint cafe in Serene Centre, and now it's moved into a new home at Upper Thomson. Well known for delectable breads and brownies, the joint is a must-visit if you've got a thing for sweets and carbs.
Woodlands Sourdough, #01-03, The Longhaus, 183 Upper Thomson Road, Singapore 574332
Bonus: Wanderlost Lounge
Available for delivery and takeaway orders.
Picture this: It's a breezy evening, you're sipping on a cool drink, and the view from your seat is spectacular. This non-alcoholic rooftop concept by The Halal Mixologist brings the bar experience to you without the booze, thanks to the groovy selection of mocktails named after classic books like The Little Prince and Where The Wild Things Are. Nibbles are available too, should you decide to extend your stay with your pals.
Wanderlost Lounge, #12-01, Realty Centre, 15 Enggor Road, Singapore 079716