Photography: Vue
Care for a drink several floors up? Count us in! These rooftop bars in Singapore are quite literally raising the bar with unparalleled views of the city.
In a city where space is limited, rooftop bars in Singapore are almost a necessity. Boasting spectacular views, good drinks (hello, ladies night), and – relief!– cool breezes, you will never break a sweat up here. We've rounded up a list of Singapore bars (including the ones at our favourite hotels) with unbelievable views that aren't just your usual Marina Bay variety. Get ready to see Singapore from a bird's eye view – a toast to high times!
Psst: Due to Covid-19, take note that alcohol will not be served after 10.30pm.
Best rooftop bars in Singapore
Vue
With a bang-on location at the penthouse of Oue Bayfront on Collyer Quay, Vue is definitely a force to be reckoned with. Munch on binchotan-grilled specialities and spritz cocktails as you gaze at unobstructed views of the Marina Bay skyline from the 19th storey. It makes a great place for a romantic date too!
Vue, Level 19, Oue Bayfront, 50 Collyer Quay, Singapore 049321
Level33
Perched high above the city in the penthouse of Marina Bay Financial Centre, this high tech brewery, restaurant and lounge is an impressive venue to add to Singapore's list of sky dining. For a more intimate experience, book a private dining room with a spectacular view of the city where you can immerse yourself in relaxed elegance. There's limited outdoor seating, so call ahead to snag that sweet spot.
Level33, #33-01, Marina Bay Financial Centre Tower 1, 8 Marina Boulevard, Singapore 018981
Zafferano
This Italian rooftop restaurant on the 43rd level of Ocean Financial Centre features two open kitchens, a charcoal grill, antipasti bar and a walk-in wine cellar showcasing a variety of Italian labels. But if you want to enjoy breathtaking views of Marina Bay's waterfront, the refreshed Terrace Lounge is the place to be.
Zafferano, Level 43, Ocean Financial Centre, 10 Collyer Quay, Singapore 049315
Ce La Vi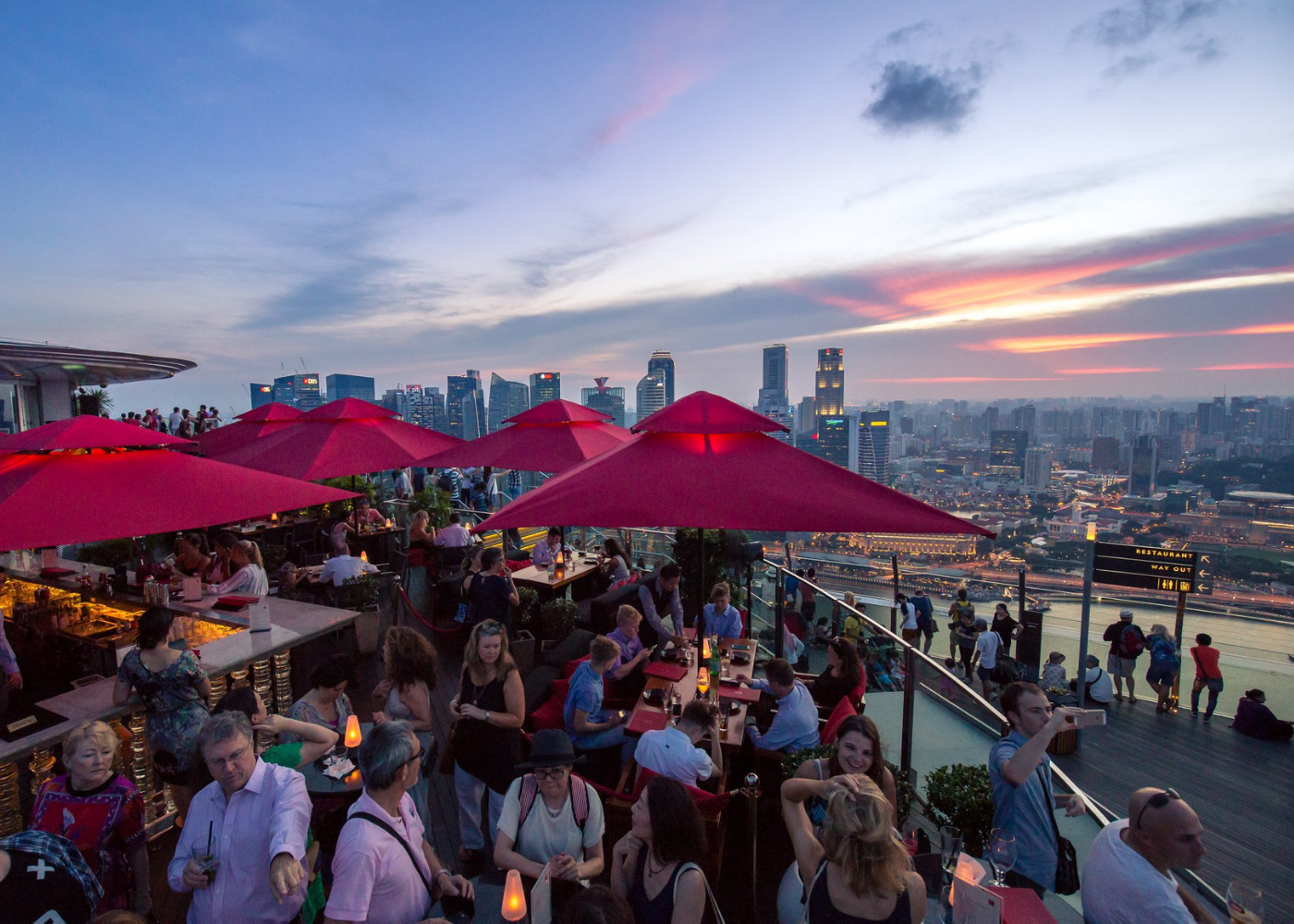 Perched above the observation deck of the SkyPark at Marina Bay Sands, Ce La Vi boasts a restaurant, club lounge and an unrivalled view of Singapore and beyond. The rooftop bar has extended its space by opening Sky Lounge, a relaxed open-air area boasting astounding views of the iconic Sands Skypark infinity pool and the Marina Bay skyline.
Ce La Vi, Level 57, Tower 3, Marina Bay Sands Hotel, 1 Bayfront Avenue, Singapore 018971
Braci
Perched atop the taller shophouses along the bustling Boat Quay stretch, Braci is a concept by restaurateur Beppe De Vito, serving up modern Italian fare. The restaurant features a luxe 16-seat dining area on the fifth floor, as well as a 30-seat rooftop bar that flaunts a fantastic view of the Singapore River that you can enjoy while you savour unique cocktails.
Braci, #05-01/#06-01, 2 Boat Quay, Singapore 049841
Skai
This rooftop restaurant and bar tucked away on the 70th storey of Swissôtel The Stamford ticks all the boxes for a truly memorable experience. Besides the contemporary Japanese-inspired grill, the bar also offers cocktails influenced by Mother Nature. Thanks to its strategic location, Skai is probably one of the best spots to witness Singapore's buzzing skyline in all its glory.
Skai, Level 70, Swissôtel The Stamford, Singapore 178882
The Other Roof
The Other Roof at Ann Siang Hill is a rooftop bar that wants to introduce tea to your pub situation. From the folks that gave us The Other Room, this tea bar merges the tea and spirits world by housing over 400 tea-infused spirits. Founder Dario Knox and bar manager Macarena Rotgers sourced tea leaves from all over the world, made their own blend and infused spirits with it in-house. Talk about spilling the tea! You'll get a view of Chinatown and the CBD here.
The Other Roof, Ann Siang House Hotel (Blue Shop House), 28 Ann Siang Road Rooftop, Singapore 069708
Smoke & Mirrors
You don't always have to be way up in the sky to enjoy a rooftop view. Your scenery can be just as sensational a mere six storeys above ground. Nested atop the summit of the grand National Gallery, Smoke & Mirrors boasts one of the most staggering skyline vistas on the isle, majestically overlooking The Padang, Esplanade and Marina Bay Sands. You can choose to sit inside lest you get sweaty while you swig. But with a view like this, it's truly hard to resist chilling out in the alfresco area grounded by wood and copper accents.
Smoke & Mirrors, #06-01, National Gallery Singapore, 1 Saint Andrew's Road, Singapore 178957
Mr Stork
Sitting on the rooftop of Andaz Singapore at level 39, Mr Stork offers an amazing 360-degree view. Lounge at one of the ten teepee huts and take in the tropical vibes while you sip on botanical cocktails featuring fruits like watermelon and grapefruit. Go for Ruby, a refreshing concoction of ginger, mint, lemon juice, vermouth and Ceylon arrack. You'll definitely forget you're in Singapore for a second.
Mr Stork, Andaz Singapore, 5 Fraser Street, Singapore 189354
Lavo Italian Restaurant and Rooftop Bar
Lavo has many faces. By day, it's a luxurious lounge that throws massive weekend party brunches. And by night, a sleek nightclub complete with live DJ sets as the outdoor bar and terrace come to life. Since you're on the 57th level, you best believe you'll be treated to stunning views of the city skyline. If you're feeling peckish, turn to American-Italian cuisine like the famous Lavo meatball or potato gnocchi.
Lavo Italian Restaurant and Rooftop Bar, Level 57, Tower 1, Marina Bay Sands Hotel, 10 Bayfront Avenue, Singapore 018956
Aqua Luna
Temporarily closed.
Your turn to pick a spot for girls' night out? Look no further than Aqua Luna, probably the most iconic rooftop bar in the Southwestern precinct. Enjoy a 180-degree view of the southern ridges and Queenstown hood (hello, Interlace!) in a classy ceiling-to-floor glass enclave. What a stunner!
Aqua Luna, Park Hotel Alexandra, 323 Alexandra Road, 159972

Bar Rouge
Temporarily closed.
You don't have to travel all the way to Shanghai for this one. Just a trip to Swissôtel The Stamford will suffice. Party it up 72 storeys above ground level at Bar Rouge. The bar promises exciting themed nights, performances from raised cages overlooking the venue, the hottest hits spun by regional DJs and unobstructed views of Marina Bay's glitzy skyline. Let's not forget the signature red lights (similar to the ones in the Shanghai establishment)! Psst: check out our little tribute to one of the signature cocktails at Bar Rouge: Mr & Mrs Rouge.
Bar Rouge, Swissôtel The Stamford, 2 Stamford Road, Singapore 178882
Potato Head Folk
Soak up the sights and sounds of Chinatown at Potato Head Folk's dreamy rooftop bar. Offering a slice of tropical ambience, the rooftop bar in Keong Saik serves excellent tiki cocktails (created by Dre Masso). Sit back and relax amongst fragrant herbs and exotic flora planted around the rooftop as you take in the view of Singapore's skyline.
Potato Head Folk, 36 Keong Saik Road, Singapore 089143
Kinki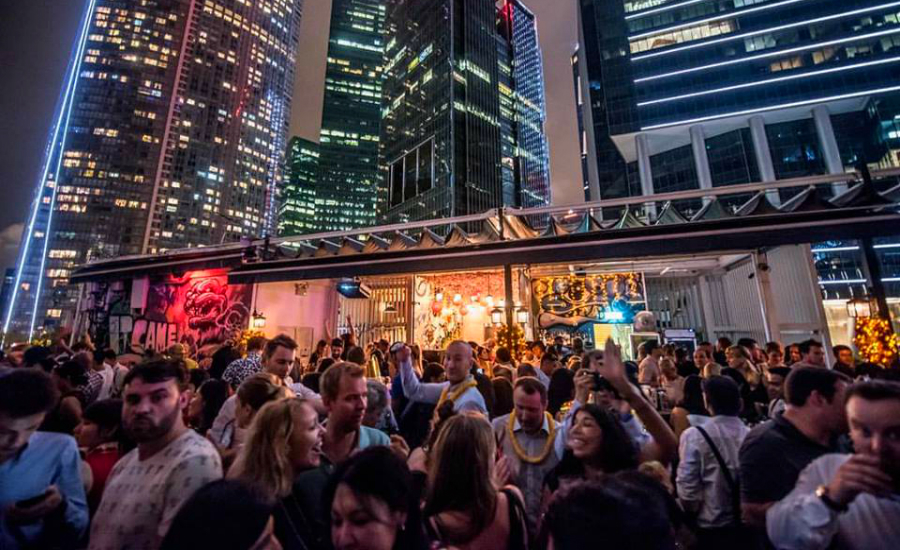 Situated on the second floor of Customs House is Kinki, a contemporary Japanese bar. A quirky mural by Miami Ink's Chris Graver plus the rhythmic blend of beats give this establishment a cool, high-style vibe. It's a particularly good joint to let your hair down, especially on a Friday night after work.
Kinki, #02-02, Customs House, 70 Collyer Quay, Singapore 049323
Loof
Singapore's first standalone rooftop bar is a delightful marriage of swank and old school nostalgia. Sip Southeast Asian sunset cocktails and snack on local munchies of yesteryear like fried mantou with chilli crab dip.
Loof, #03-07, Odeon Towers Extension Rooftop, 331 North Bridge Road, Singapore 188720
1927
Temporarily closed.
It's an urban oasis at 1927, a glitzy bar perched atop So/ Singapore. Sip on artisanal equatorial cocktails, clink glasses with your girlfriends and enjoy the night by the infinity-edged pool.
1927, So/ Singapore, 35 Robinson Road, Singapore 068898
Lantern
Swish rooftop bar and tapas restaurant Lantern is the place to be if you want killer views of the Marina Bay waterfront. Go for light bites like the popular mini wagyu beef sliders for a little something to nibble on. Head there before 8pm and you can catch Marina Bay Sands' spiffy laser light shows from your seat.
Lantern, The Fullerton Bay Hotel, 80 Collyer Quay, Singapore 049326
1-Altitude
Elevate yourself up and away from the bustle of the CBD at the city's tallest bar. Standing at 282 metres above sea level, this three-in-one venue houses a fully-alfresco bar (that's 1-Altitude), award-winning restaurant Stellar, and chillout bar Alt Cafe & Bar.
1-Altitude, Level 61, 1 Raffles Place, Singapore 048616
Southbridge
Oysters and alcohol? Best. Combo. Ever. If you're like us, be sure to hit up Southbridge. The bar, which overlooks the Singapore River, knows a thing or two about umami with its show-stopping creations like smoked pork taco, seasoned baby octopus and signature oysters in ponzu and yuzu sauce (Umami), and bulldog sauce and togarashi (Nikkei).
Southbridge, 5/F (rooftop), 80 Boat Quay, Singapore 049868
Orgo
Temporarily closed.
Located on Esplanade's spacious roof terrace overlooking the bay, Orgo brings drinking and dining to the next level. Led by renowned Japanese mixologist Tomoyuki Kitazoe, the creative bartender who only uses fresh ingredients (read: no liqueurs and syrups) still manages to come up with a list of adventurous martinis, including a wasabi salt chocolate martini and a dragon fruit and vanilla concoction.
Orgo, Roof Terrace, #04-01, Esplanade, 8 Raffles Avenue, Singapore 039802
The Great Escape
Temporarily closed.
We feel ya. Sometimes a stiff drink is what you need after soaking in a life-changing art-house film at The Projector. So head on upstairs to get some liquid fuel for your intense post-pondering. This gritty rooftop bar will take good care of you. Grab a beer or cocktail and mingle with fellow movie buffs while you wrestle with opinions as passionately as you guzzle your grog. This film-friendly pad is also a popular spot for pop-up brunches and underground raves. Now showing: who knows?
The Great Escape, Level 5, Golden Mile Tower, 6001 Beach Road, Singapore 199589
Artemis Grill
The Terrace at Artemis Grill is an outdoor rooftop space with amazing 360-degree views of Marina Bay. Park yourself at one of the strategic seats and enjoy fine Mediterranean cuisine. The highlight has to be the 100-year-old olive tree that's planted right smack in the middle of the bar.
Artemis Grill, #40-01, CapitaGreen (Rooftop), 138 Market Street, Singapore 048946
Bar Canary
Located in the nexus of Orchard Road, this rooftop bar is a great spot to rest your legs. You'll immediately feel relaxed thanks to the laid-back garden setting and chill vibes. Sip on summery tipples and pad your stomach with bar bites and skewers fresh off the grill.
Bar Canary, Level 4, Grand Park Orchard, 270 Orchard Road, Singapore 238857
So who's ready to raise a toast to these rooftop bars in Singapore?