The former house of Tan Teng Niah is a colourful, iconic sight in Little India.
There's a reason why Little India has earned a rep as a hip 'hood. We explore the best Indian restaurants, boutique hotels and things to do.
The name says it all. This vibrant neighbourhood is a little slice of India in multicultural Singapore. Blending old and new, the buzzing ethnic enclave is peppered with spice shops, jewellery stores, saree specialists, flower vendors, trendy cafes and hip watering holes. Each offers a heady experience like no other. Along with the gleaming Deepavali lights, there's plenty to see and do in our extensive guide.
Guide to Little India: Where to eat and drink
1. Indian Express
Need some spice? Drop by Indian Express. It's Michelin-starred Song of India's second concept space. Meat eaters, go all in with the tandoori mix grill platter that's topped with a big fat lamb chop, fish, chicken tikka, kebabs and a bowl of lip-smacking mint chutney. If you're going with a vegetarian friend, be sure to order to homely okra masala, palak paneer (pureed spinach with cottage cheese chunks) and double down on Indian street food.
Indian Express, 38 Race Course Road, Singapore 218555
2. The Banana Leaf Apolo
A hotspot for Indian cuisine lovers, this long-standing institution has been doling out its food on banana leaves for over 40 years. It offers a mix of North and South Indian fare like tandoori chicken, fried fish and mutton curry. But we're positive most patrons come for the signature fish head curry that packs a punch. We certainly do!
The Banana Leaf Apolo, multiple locations including Race Course Road and Little India Arcade
3. Madras New Woodlands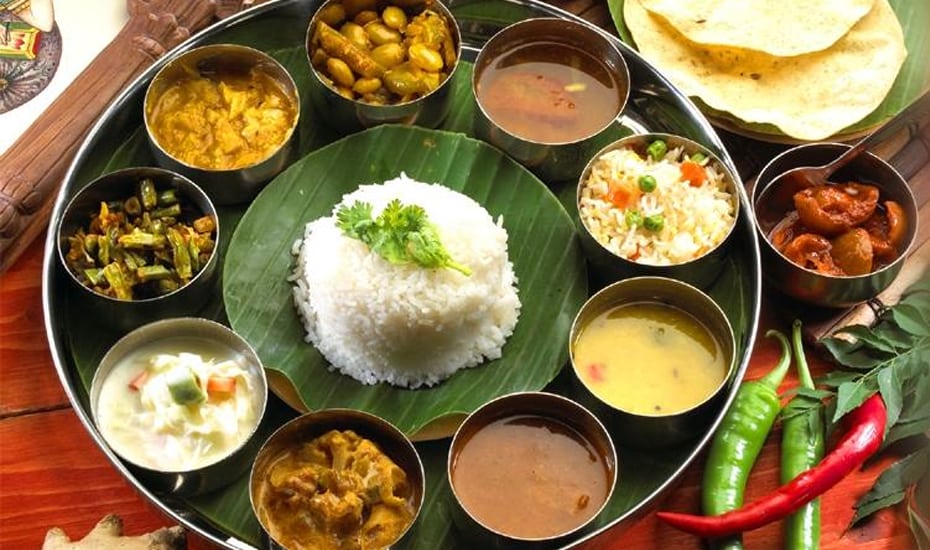 This South Indian restaurant has a vegetarian VIP thali meal fit for a king. Thali is a selection of vegetables and curries in mini metal pots served on a large platter. We'd recommend sharing with a friend unless you don't mind the food coma that comes after. You can also find a selection of great vegetarian delights like appam, paper dosa, parootha and curd vadai. Wash it all down with a satisfying cup of masala chai.
Madras New Woodlands, 12/14 Upper Dickson Road, Singapore 207474
4. Moghul Sweet Shop
Fair warning if you have a sweet tooth! This sweet shop at Little India Arcade is probably the Indian version of Willy Wonka's Chocolate Factory. It serves a variety of authentic North Indian sweets including gulab jamun, laddoo, jilebi and mysore pak, just to name a few. It's a grab 'n go kinda spot so you can take away all you want. Best to go during off-peak hours (especially before or after the lunch crowd) to avoid snaking queues. Oh, and don't leave without ordering a samosa. It'll blow your mind.
Moghul Sweet Shop, #01-16, Little India Arcade, 48 Serangoon Road, Singapore 217959
5. Brunches Cafe
Struggle to get up for breakfast? This cafe is for you. It serves a mean all-day breakfast menu as well as gourmet sandwiches, waffles and freshly baked bread. Dying for a change in setting? Just make a reservation for affordable high-tea sets. Vintage furniture collections are available around the cafe and you can even purchase those with a price tag attached. The highlight here has to be its vintage Mini Cooper repurposed as a four-seater sofa set.
Brunches Cafe, 96 Rangoon Road, Singapore 218381
6. Azmi Restaurant
Craving chapati (unleavened flatbread)? Hit up Azmi Restaurant. Located at an unassuming coffee shop between Serangoon Road and Norris Road, this eatery has been whipping out heavenly rotis for over 30 years. There are various dips and curries you can have 'em with, but the mutton keema (curried minced mutton with peas) and chapati combo are simply divine. Vegetarians can opt for channa masala (curried chickpeas), which also packs a punch.
Azmi Restaurant, 2 Dalhousie Lane, Singapore 209671
7. MTR Mavalli Tiffin Rooms
Serving Karnataka cuisine for over nine decades, MTR Mavalli Tiffin Rooms is the numero uno South Indian restaurant for a quick snack or light meal. We recommend you tuck into a plate of steamed rice cakes (idli) or a savoury doughnut (uddin vada). Or opt for the hearty masala dosa if you're feeling peckish.
MTR Mavalli Tiffin Rooms, 438 Serangoon Road, Singapore 218133
8. Meatsmith Little India
As its name suggests, the resto is known for grilling Indian-influenced BBQ meats. The menu features a smorgasbord of dishes that combines the unlikeliest of ingredients. Look forward to plates like beef brisket chapati, crab and tobiko biryani, Kerala beef short rib and the spiced papadum, which is slathered with smoked creme fraiche and topped with ikura and tobiko.
Meatsmith Little India, 21 Campbell Lane, Singapore 209894
9. Sakunthala's
If you're craving scrumptious Indian fare, Sakunthala's will charm you with every bite. The menu is packed with North and South Indian cuisine, plus Chinese dishes – plenty to appease fussy eaters. Try the biryani meals, tandoori platter, masala chicken, prawn masala and fish head curry. Then, cool down from all the spices with a refreshing glass of lime juice. Bring the whole family along because, trust us, you'll have a lot to taste before you leave.
Sakunthala's, multiple locations including Race Course Road and Syed Alwi Road
10. Khansama Tandoori Restaurant
For unbelievably tasty North Indian cuisine, Khansama does it best. We're talking piping-hot servings of palak panner, aloo ghobi, chicken tikka masala and spicy curries washed down with a cold bottle of Kingfisher beer. The cheese naan is a definite winner – just think of it as a slice of cheesy heaven on a plate!
Khansama Tandoori Restaurant, 166 Serangoon Road, Singapore 218050
11. Komala Vilas
This 69-year-old establishment is the closest you'll get to authentic South Indian vegetarian cuisine. It's always packed 'cos diners can't get enough of its signature masala dosai (pancake made from rice and lentil batter, filled with mashed potato) served with free-flow sambar (lentil vegetable stew). Or try the massive paper thosai (pictured above) if you're feeling extra peckish. We like to have it for breakfast.
Komala Vilas, 76-78 Serangoon Road, Singapore 217981
12. Ananda Bhavan
This no-frills vegetarian Indian restaurant in Singapore has been around since 1924. If you're looking to fuel up on a pocket-friendly, calorie-heavy brekkie, treat yourself to the appam set. The fermented rice batter pancake is a popular Kerala dish loved for its soft fluffy centre and crispy edges. Dip it in coconut milk and dab it off in the orange sugar for the ultimate morning pick-me-up. While Ananda Bhavan has several outlets, we recommend you visit the original one at the entrance of Little India.
Ananda Bhavan, multiple locations including Syed Alwi Road and Buffalo Road
13. Muthu's Curry
Savour eye-watering, lip-tingling spicy fare at this longstanding restaurant. It's known for doling out one of Singapore's favourite delicacies: fish head curry. For less spicy options that won't leave you sweating, Muthu's Curry also serves a range of tamer, flavour-packed Indian fare, from North to South Indian, with plenty of vegetarian dishes.
Muthu's Curry, #01-01, 138 Race Course Road, Singapore 218591
14. Old Chang Kee Cafe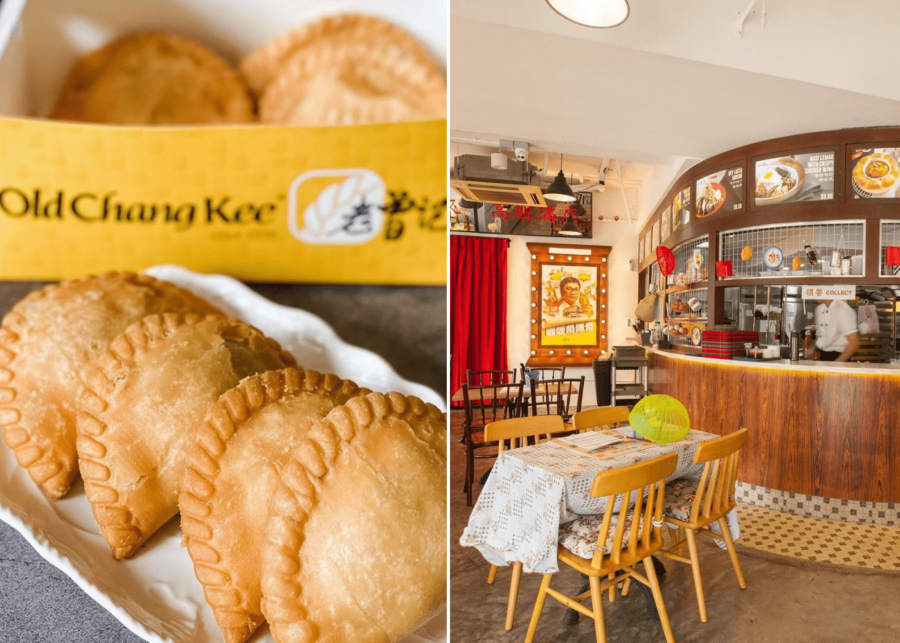 You know you love a curry puff from Old Chang Kee, which opened a flagship outlet at its original location where it all began 60 years ago. Nestled along Mackenzie Road, the cafe can be easily spotted from afar, thanks to a giant curry puff planted right outside the store. Reminisce the glory days with star dishes like Flower Bread served with a choice of lip-smacking chicken curry, chicken stew or beef stew, local delights like nasi lemak and burbur cha cha, and of course, some fluffy curry puffs.
Old Chang Kee Cafe, #01-01, 19-23 Mackenzie Road, Singapore 228678
15. Anjappar Chettinad Restaurant
As its name suggests, Anjappar is synonymous with Chettinad cuisine (a region of the Tamil Nadu state in India). Never had it? Brace yourself for a multitude of spices and special Chettinad masala. Must-try dishes include mutton sukka varuval (a dry and spicy mutton dish), fish fry (fried fish marinated with special spices) and sura puttu (shredded shark meat with eggs and veggies).
Anjappar Chettinad Restaurant, multiple locations including Race Course Road and Syed Alwi Road
16. Tekka Centre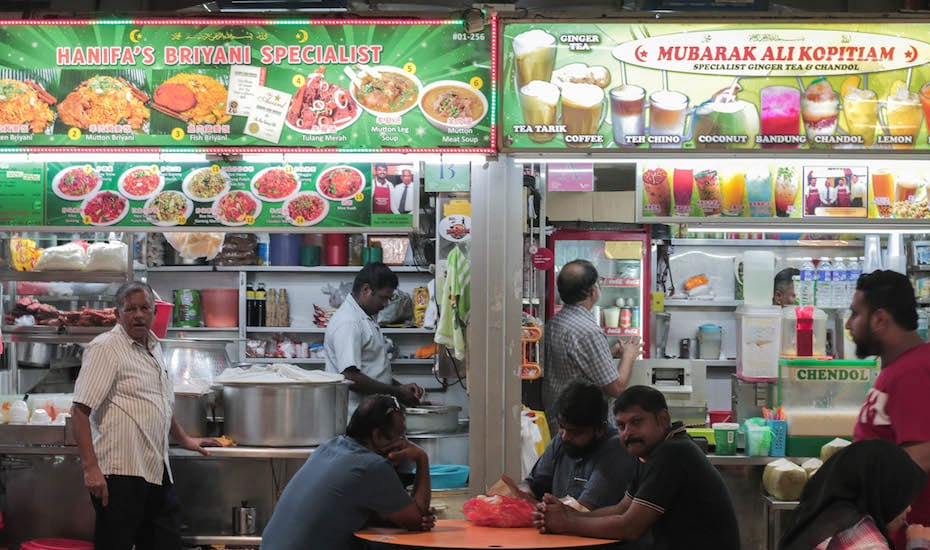 A wet market, food centre and shopping complex in one, Tekka Centre is the go-to for your Indian cuisine fix. Specialities include biryani (spicy rice dish served with chicken or mutton gravy) from Hanifa's or Allauddin, and Indian rojak (a salad of fried dough fritters, boiled potatoes, cuttlefish, hard-boiled eggs and more) from Temasek Indian Rojak. Finish your meal with a glass of teh tarik (frothy hot milk tea) from any of the drink stalls!
Tekka Centre, 665 Buffalo Road, Singapore 210665
17. Machan's Kitchen
With authentic Tamil cuisine in a contemporary cafe setting, Machan's Kitchen teleports you to different parts of Tamil Nadu (a state in South India). Our faves include nandu rasam (crab soup), mutton kola urundai (fried mutton kheema balls made with a secret recipe), kalaki (an egg dish famous in Madurai state) and meen poondu kolambu (home-style fish curry). Wash all that spice down with a refreshing cup of vasantha neer (coconut water)!
Machan's Kitchen, 74 Race Course Road, Singapore 218574
18. Old Hen Coffee Bar
If there's anything that can make us stray from our usual order of lattes, it's Old Hen's ingenious bottled cold brews. Just pop them open (like you would a bottle of Heineken) and savour the chilled caffeinated goodness in either smooth black or creamy white. Feeling a little er… peckish (pun intended)? Old Hen's decadent banana chocolate waffles served with vanilla bean ice cream should satiate you quite nicely.
Old Hen Coffee Bar, #01-03, 88 Rangoon Road, Singapore 218374

19. The Malayan Council
If you're hitting a cafe more for food than coffee, The Malayan Council offers some truly eclectic menu items featuring local twists. Tuck into hearty mains like roti kirai beef ribs or the perennial favourite, asam pedas seafood aglio. For dessert, choose from the cafe's wide selection of cakes that include flavours such as ondeh ondeh.
The Malayan Council, multiple locations including Dunlop Street and Bussorah Street
Guide to Little India: Where to shop and stay
20. Little India Arcade
Take a walk around this bustling shopping destination to pick up souvenirs such as beautiful silk saris, handicrafts and dazzling jewellery.
Little India Arcade, #02-07, 48 Serangoon Road, Singapore 217959
21. Haniffa Textiles
Looking for a saree to suit any occasion? Ask any local and all fingers will point to Haniffa Textiles. You'll find a treasure trove of sarees in various colours, designs, patterns, materials and price ranges to suit all your needs.
Haniffa Textiles, 60 Serangoon Road, Singapore 217967
22. Mustafa Centre
Think about shopping in Little India and one iconic name springs to mind: Mustafa Centre. This 24-hour shopping behemoth sells just about anything. From affordable electronics to delicious Indian food, this is a paradise for bargain-hunters and hardened shopaholics.
Mustafa Centre, 145 Syed Alwi Road, Singapore 207704
23. Pottu Kara Maami
Founded in Singapore by sisters Sindu and Shruti Suria, Pottu Kara Maami is a saree haven for anyone seeking something out of the ordinary. Slip into chic with a range of modern silhouettes like embroidered sarees, sequin sarees and block print sarees. Or opt for traditional pieces like mangalagiri cotton sarees and kanchipuram sarees.
Pottu Kara Maami, 121A Serangoon Road, Singapore 218026
24. The Great Madras
Unless you've been living under a rock, you've probably heard of this hotel in Little India. The Great Madras is a breath of fresh air with picturesque frames taken right out of a scene from Wes Anderson's The Grand Budapest Hotel. Rooms range from a hostel-style co-living space with king-sized beds to a cosy suite with a circular bathtub. Wallpaper-heavy walls and quirky interior decor aside, this aesthetically pleasing boutique hotel also has a barber and bistro at the lobby.
The Great Madras, 28 Madras Street, Singapore 208422
25. Wanderlust
Wanderlust was one of the pioneers of cutting-edge boutique hotels in Singapore, breathing life to the city's 'themed hotels' scene. The place has since undergone a revamp. Blending old world charm with contemporary style, all 29 rooms and suites are now decked in sleek natural finishes and smart textural overlays. Our pick? The Loft, which comes with a cosy kitchenette and workspace.
Wanderlust, 2 Dickson Road, Singapore 209494
26. Park Hotel Farrer Park
Situated right on top of Farrer Park MRT Station, this 300-room hotel is set amidst a thriving enclave. A harmonious blend of old and new, the building's facade and classic silhouette sit tastefully with the surrounding heritage pre-war shophouses. Rooms and lofts are equipped with organic Australian-owned Appelles amenities. Make a splash at the outdoor pool on the rooftop terrace and end your night with a Thai gastronomical encounter at Blue Jasmine restaurant.
Park Hotel Farrer Park, 10 Farrer Park Station Road, Singapore 217564
27. One Farrer Hotel
The leading five-star urban hotel features an award-winning collection of over 700 pieces of original contemporary abstract art. The "hotels within a hotel" concept allows you to select from chic rooms including loft-style apartments, a sophisticated penthouse and luxurious villas. Now, this is what we call value for your buck. While you're there, don't miss out on dining at Socieaty, which houses Les Amis brands like Tenjin, Mui Kee Congee, Lemak Boys and Peperoni Pizzeria.
One Farrer Hotel, 1 Farrer Park Station Road, Singapore 217562
28. The Vagabond Club
Three words: Parisian swank factor. The Vagabond Club knocked the boutique hotel game out of the park when it opened. For starters, each of the 41 rooms is super swish. Think boudoir chic havens of tranquillity. To help you scratch your arty itch, pop-up events are held regularly.
The Vagabond Club, 39 Syed Alwi Road, Singapore, 207630
29. Bunc Hostel
Hostels may get a bad rep for being dodgy fleapits – too many bad memories from our backpacking days – but oh no, not this one. Easy on the eyes and on the wallet, Bunc is a 233-bed boutique hostel (emphasis on boutique) with all the fixings of a swish establishment. It's got sleek Scandi decor, custom-made beds, free Wi-Fi, recreation rooms, an outdoor tanning deck and a ladies-only floor.
Bunc Hostel, 15-18 Upper Weld Road, Singapore 207372
30. Hilton Garden Inn Singapore Serangoon
If you've got a weakness for luxury staycays, Hilton's first Garden Inn in Singapore may just be your new go-to sanctuary. The 328-room hotel features 10 room categories, with top-tier ones like the King Deluxe rooms, offering varying views of the old race course or neighbouring shophouses. No matter which room you pick, one thing's for sure. You're guaranteed plush furnishings like the ultra luxurious and renowned Suite Dreams by Serta beds, bay window seating areas and large HDTVs.
Hilton Garden Inn Singapore Serangoon, 3 Belilios Road, Singapore 219924
Guide to Little India: Where to explore
31. Former house of Tan Teng Niah
Sitting along Kerbau Road and Buffalo Road, the last surviving Chinese villa in Little India is hard to miss. If you look closely, you'll find this cultural monument has a mix of southern Chinese and European influences, including a bamboo tiled roof. But the vibrant medley of colours is what attracts hordes of tourists to get the perfect shot.
Former house of Tan Teng Niah, 37 Kerbau Road, Singapore 219168
32. Sri Veeramakaliamman Hindu Temple
Dedicated to Kali, the Hindu Goddess of power, this grand, intricately designed temple has a South Indian architectural style and was established in 1855. That makes it one of the oldest religious sites in Singapore.
Sri Veeramakaliamman Hindu Temple, 141 Serangoon Road, Singapore 218042
33. Indian Heritage Centre
The galleries within this ultra-modern museum are chronologically arranged and span the period from 1st century CE to the 21st century. Here, visitors can learn about the historical links between the Indian sub-continent and Southeast Asia, as well as the experiences of South Asians in Southeast Asia.
Indian Heritage Centre, 5 Campbell Lane, Singapore 209924
34. Abdul Gafoor Mosque
You'll be amazed by the architecture of Abdul Gafoor Mosque, which features Arabian, Indian and Renaissance influences. The green and yellow monument houses a sundial in the middle of the mosque with 25 rays, decorated with Arabic calligraphy.
Abdul Gafoor Mosque, 41 Dunlop Street, Singapore 209369
35. The Temple Of Thousand Lights
Also known as Sakya Muni Buddha Gaya Temple, its focal point is the 15-foot seated Buddha surrounded by numerous lightbulbs. There's also a statue of the sleeping Buddha in a room below the main temple hall.
The Temple Of Thousand Lights, 366 Race Course Road, Singapore 218638
36. Murals and wall art
To add to its beauty, the neighbourhood doesn't shy away from beautiful murals by local artists. You'll thoroughly enjoy scouting for these beauties on your street art tour.
There's so much to do in Little India. Time to get exploring!