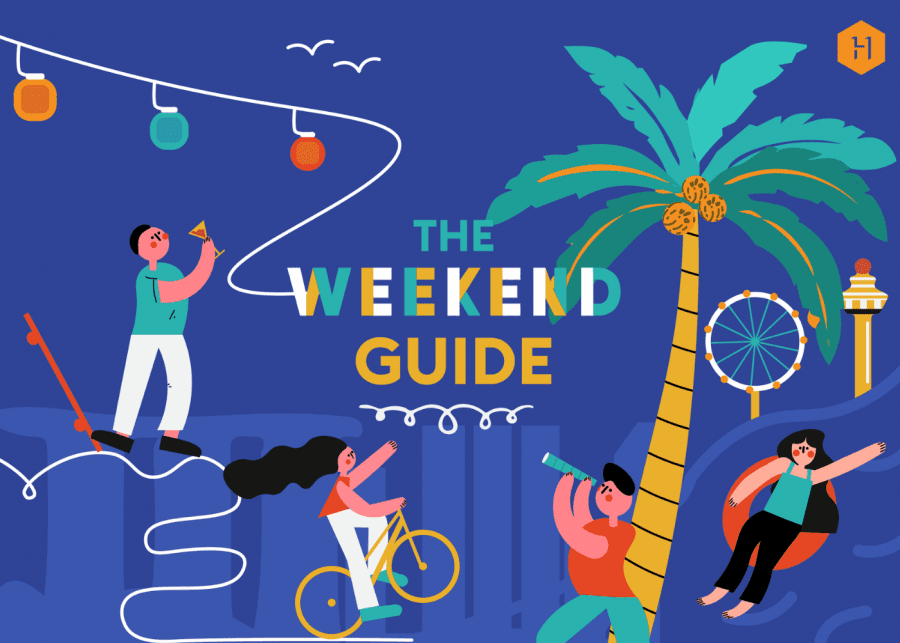 Illustration: Xin Hua Ho
Wondering what's good this weekend? Get the first scoop on all the fun things to do this weekend in Singapore!
As we reach the last weekend of another month, it's our last chance to enjoy all the September goodness! Grab your friends and family to enjoy exciting events and opportunities to wrap up the month. We're talking delish grub, unique exhibitions and shopping sprees you don't want to miss! Read on for the fun things to do this weekend in Singapore…
Fun things to do this weekend in Singapore
1. Eat: SKAI tropical brunch
25 Sep, Saturday
Enjoy an extensive mix of island cuisines at Skai's tropical brunch! Overlooking a stunning view of the city's skyline, it's a treat for both your eyes and taste buds. Indulge in dishes like the classic charcuterie board with chutney, smoked duck with green mango salad and jerk chicken thigh for a taste of Jamaica. You also don't want to miss the bottomless tipples like pina tairo and ume mojito. Talk about a loaded brunch.
Tropical Brunch, Skai, Hotel Swissôtel The Stamford, 2 Stamford Road, Singapore 178882
2. Watch: Forever Young
All weekend
Sing'theatre is bringing back the classic hilarious musical, Forever Young! Ensembled by talented local thespians, enjoy this amazing Asian rendition of the European cult classic. Get thinking while laughing as the actors shed light on issues surrounding ageing and eldercare. What better way to end the month with a lively show?
Forever Young, #03-01, Drama Centre Theatre, National Library Building, 100 Victoria Street, Singapore 188064
3. Exhibition: With You Here Between: Defamiliarizations
All weekend
Sometimes it's interesting to see things in a different light. Objectifs is doing exactly that with their new exhibition that features works from talented local artists like Dylan Chua, Fitri Ya' kob, Mazuri Mazlan and Vimal Kumar for you to explore the best of intimate spaces and photography. If you're into poetry, expect inspiration from renowned Sufi poets like Rumi, and get your creative juices flowing with floral arrangement and Yantra cartography workshops as well!
With You Here Between: Defamiliarizations, Objectifs, Chapel Gallery, 155 Middle Road, Singapore 188977
4. Nature: Morning in the Woods – A forest bathing journey
24 Sep, Friday
Immerse in luscious nature as you experience a forest bathing journey at the Shiseido Forest Valley. Guided by a professional, all your senses are in for a delightful surprise in this more-than-nature event, Morning in the woods. Fret not! It isn't a strenuous activity. Enjoy a "walking spa treatment" as you bask in the ambience of this green oasis. Get ready to reach nirvana!
Morning in the Woods, 8am-10am, Shiseido Forest Valley, Jewel Changi Airport, 78 Airport Boulevard, Singapore 819666
5. Art: Perceptions
All weekend
Admire the works of Allen Tang at this unique solo art exhibition where the artworks evoke a range of emotions from dark to light, patterns to landscapes and more. Through carefully placed hidden details in his artworks, the showcase calls for a new perception as you find yourself through his paintings, perfectly defining its moniker. You're sure to be enchanted by this intimate and artsy experience!
Perceptions, Gallery II, The Arts House, 1 Old Parliament Lane, Singapore 179429
6. Shop: Amazon Beauty Fair
All weekend
If you didn't already know about this first-ever beauty fair, this is your last chance to shop till you drop for skincare, fragrances and makeup products from a variety of international and local brands on Amazon. Expect up to 30% off across the various categories and check out the expanding selection of your fave Korean and Japanese brands too. Beauty enthusiasts, time to spruce up your collections!
Amazon Beauty Fair, available online
7. Culture: Halloween Horror Nights – Trick or Thrills
All weekend
It's the time of the year to get your spooky senses tingling! Enjoy the frights, trick or treating, and exciting rides that await you. You can even meet and greet your favourite characters from Kungfu Panda, Sesame Street and Despicable Me (we're starstruck). If that doesn't pump you up enough, take part in the best Halloween costume contest and stand a chance to win prizes!
Halloween Horror Nights – Trick or Thrills, Universal Studios Singapore, Resorts World Sentosa, 8 Sentosa Gateway, Singapore 098269
8. Eat & Drink: Lucali BYGB weekend brunch
All weekend
Lucali BYGB has organised an all-you-can-drink weekend brunch experience to amp up your weekend dining experiences. If you're into bottomless booze and brunch, this is not something you want to miss. Choose a drink based on your palette, mood and occasion or a vino of your choice directly from the wine fridge. Try out tipples and pair them with dishes like boneless buffalo wings and meatball parmesan sandwiches to enjoy an explosion of goodness in your mouth!
Lucali BYGB weekend brunch, Level M, Lucali BYGB, 66 Kampong Bugis, Singapore 338987
9. Eat: Revolver launches a new grill menu
All weekend
Bringing the taste of India internationally, Revolver has recently opened its posh outlet at Tras street. The refined restaurant has launched three different tasting menus to give diners an exquisite dining experience. With premium meats, seafood and vegetables charred to perfection in the hand-built tandoor, you're in for a gastronomic journey. So bring along your family and friends to devour the awesome food with wine pairing!
Revolver, 56 Tras Street, Singapore 078997
10. Art: The People's Gallery
All weekend
The National Gallery is bringing art to your heartlands. More than 25 void decks across eight heartland neighbourhoods are turning the place into an art getaway with artworks by local artists. Taking insightful and creative works beyond museums, check out the various talented works of our people. Oh, and be sure to explore the interactive AR microsite where the works are accompanied by multilingual audio guides. Appreciate these artworks and share your perspectives on the microsite for a wholesome experience!
The People's Gallery, various locations, also available online
So, bring on the weekend with this fun list of things to do in Singapore!