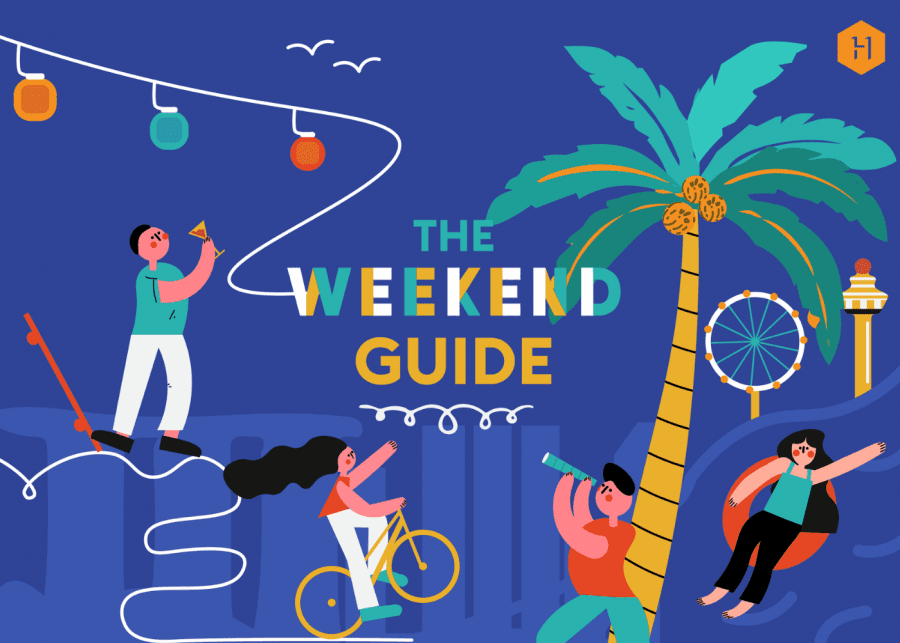 Illustration: Xin Hua Ho
Wondering what's good this weekend despite bouncing back to phase 2? Get the first scoop on all the fun things to do this weekend in Singapore!
It's almost the end of July and we definitely did not expect to enter a new month and celebrate our nation's birthday with heightened restrictions. But remind yourself to have some fun amidst the set back as there are always other avenues to enjoy the weekend. So fret not! Read on for all the fun things to do this weekend in Singapore during Phase 2 (Heightened Alert).
Fun things to do this weekend in Singapore
1. Culture: Kampong Gelam's Hall of Fame
All weekend
This is the perfect opportunity for us to celebrate and acknowledge our very own home-grown artists and talents in Singapore. Get your cameras ready and come on down to Kampong Gelam (only in twos, of course) and marvel at the outdoor murals in the alleys. Take part in urban-art themed activities like the Polaroid walk where you will be provided a polaroid camera for photo opportunities alongside a guided tour around the vibrant area filled with stories! Return home with some takeaways from Blu Jaz Cafe to have a hearty experience altogether.
Hall of Fame, Bali Lane and Ophir Road
2. Exhibition: The Lasalle Show
All weekend
With both online and offline possibilities to admire the works of Lasalle's graduates, the Lasalle College of the Arts is bringing back an exhibition to showcase different works by various faculties. Ranging from fine arts, film, media arts, dance and more, you're sure to have an artistic time with this one. Support the efforts taken to adapt the exhibition online, by attending the virtual exhibition. For a more detailed experience, you can visit the exhibition in person too and request for an arrangement to meet with some of the graduates for some interview opportunities.
The Lasalle Show, Lasalle College of the Arts, ​​1 McNally Street, Singapore 187940; available online
3. Exhibition: The Families, Out of Law
All weekend
Explore the theme of family at this unique exhibition. The showcase consists of photographs, installations and paintings highlighting the adversities of underprivileged and unprotected families like immigrant and LGBT+ families. Challenging traditional beliefs of what confines a family, check out the thought-provoking works by acclaimed artists from Singapore, Vietnam, Indonesia and the USA.
The Families, Out of Law, Hatch Art Project, 7 Yong Siak Street, Singapore 168644
4. Virtual: By Design
30–31 July, Friday to Saturday
Watch the screening of a performance-centred art experience at the comfort of your home. Art and design intersect in this virtual event, bringing you a taste of unique creativity. If you're a lover of the arts, traverse across the line-up of fun and unusual performances.
By Design, available online
5. Fitness: Historical Singapore Bicycle Tour
All weekend
You know what's the silver lining when it comes to the Covid restrictions? We've got time to rediscover Singapore and its rich history in a fun and exciting way. Let's Go Bike Singapore is in charge of this adventure that'll bring you along a scenic and historical trail of our city's old and new landmarks. Be sure to stock up on water and bring out the sunscreen as you're going to give those leg muscles a good workout.
Let's Go Tour Singapore, #01-57, Block 462, Crawford Lane, Singapore 190462
6. Virtual: Jazz in July
30–31 July, Friday to Saturday
Are you into jazz music? Then treat your ears to a plethora of jazz music performances online! Enjoy the live streaming of soulful acts by 40 local-based bands. With a performance to jazz up every weekend for this month, you're sure to have a good time with this one!
The Jazz Room, available online
7. Culture: A Tribute to Rudolf Nureyev
All weekend
France had its own fair share of kings. Now, come and experience the legacy of "the king of dance" Rudolf Nureyev who left such a lasting impression during his generation. As this is the third programme of a dance series by Alliance Française, it's not just an exhibition but is also packed with events, workshops, film screenings and much more.
A Tribute to Rudolf Nureyev, Alliance Française, 1 Sarkies Road, Singapore 258130
8. Watch: Mexican Film Festival
30–31 July, Friday to Saturday
Explore a different culture and language through carefully selected films by The Projector. Amidst the new restrictions, this festival is still being carried out with a limit of two to catch the richness of the Mexican art scene. It's okay if you can't enjoy the food and drinks segment that was initially planned. Opt for the food combo and walk away with some delish nacho with dips and drinks after the screening.
Mexican Film Festival, #05-00, The Projector, Golden Mile Tower, 6001 Beach Road, Singapore 199589
9. Art: Downtown East's Wave Hello!
30–31 July, Friday to Saturday
Created by Space Objekt and Aeropalmics, the Wave Hello! art installation brings you on a journey of varied perspectives. There's even a contest for the most creative Wave Hello! Instagram posts. So dress up and get your cameras ready because you don't want to miss this IG-worthy opportunity.
Wave Hello!, Downtown East, Open Plaza Level 1 (in front of D'Marquee); 1 Pasir Ris Close, Singapore 519599
10. Or just stay at home
Planning to stay safe in your crib? Keep yourself busy with fun yet productive things to do at home. Grow your green thumb by creating your own plant nursery or cuddle up with a good read. If you miss dining in, treat yourself with some scrumptious meals at the comfort of your home with the best food delivery options available. Oh, and why not pamper yourself with some online retail therapy too?
So cheer up and welcome the weekend with these fun activities!