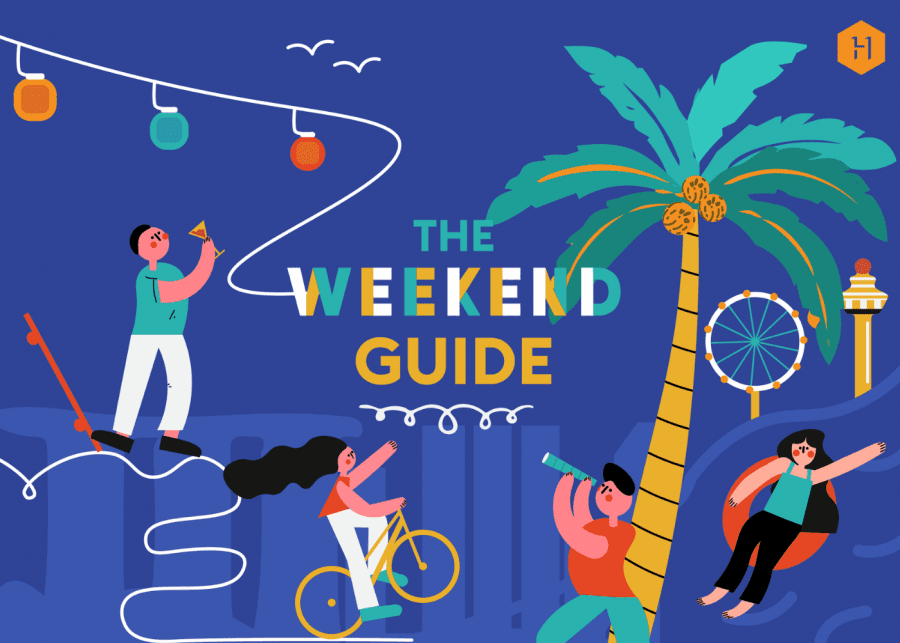 Illustration: Xin Hua Ho
Get the scoop on all the fun things to do this weekend in Singapore!
Our city is bursting with life and adventure, from new cafes in cool neighbourhoods to secret spots waiting to be discovered. Now that group size limits are a thing of the past (so long icky Covid-19 restrictions), here's a variety of things you can do with all your friends and family to make the most of this weekend in Singapore.
Things to do this weekend in Singapore
1. Things to do: Gardens by the Bay's Rose Romance
All weekend 
Why give your lady love a rose bouquet when you can bring her to a garden? Add a fairytale spin to your weekend by visiting the Rose Romance showcase at Gardens by the Bay. In collaboration with the Embassy of Italy in Singapore, the floral display has the unique touch of the European land. Couples can click snaps and enact dramatic shots of the famous Romeo and Juliet scene with Verona's Juliet balcony that's constructed amidst other dreamy, rustic architecture. Aside from the range of orange, red and pink hues, you'll spot some rare beauties such as the Rosa 'Friedenslicht', which translates into 'light of peace' – a rose named for 70 years of peace after World War II.
Gardens by the Bay's Rose Romance, until 12 June, Flower Dome at Gardens by the Bay, 18 Marina Gardens Drive, Singapore 018953
2. Arts and culture: Time Heist: Civic District
All weekend
Go on an immersive outdoor adventure in the heart of the city with your pals. Time Heist: Civic District promises a good time with an exciting team game. Here's the setup: time-bandits from 2055 have travelled back in time to 2022 to steal and destroy our national monuments – and you, a Time Agent of 2055, have been tasked to stop this Time Heist.
Gather your crew to participate in this adventure, which is a combination of an outdoor treasure hunt and virtual theatre and gameplay. This game is a programme as part of the Civic District Alliance's (CDA) placemaking efforts to activate the Civic District – a unique way to explore five arts and culture icons of the Civic District: Asian Civilisations Museum, Esplanade – Theatres on the Bay, National Gallery Singapore, The Arts House, and Victoria Theatre and Victoria Concert Hall. You can also expect live elements and plot twists as you solve puzzles and complete quests in the precinct.
Tickets start at $40 per person and there's no time limit for the game (however, tickets expire within 24 hours upon activation). Sign up now for a unique adventure in the city!
Time Heist: Civic District, until 3 July, tickets available online
3. Eat and drink: Indulge in a fun house party
All weekend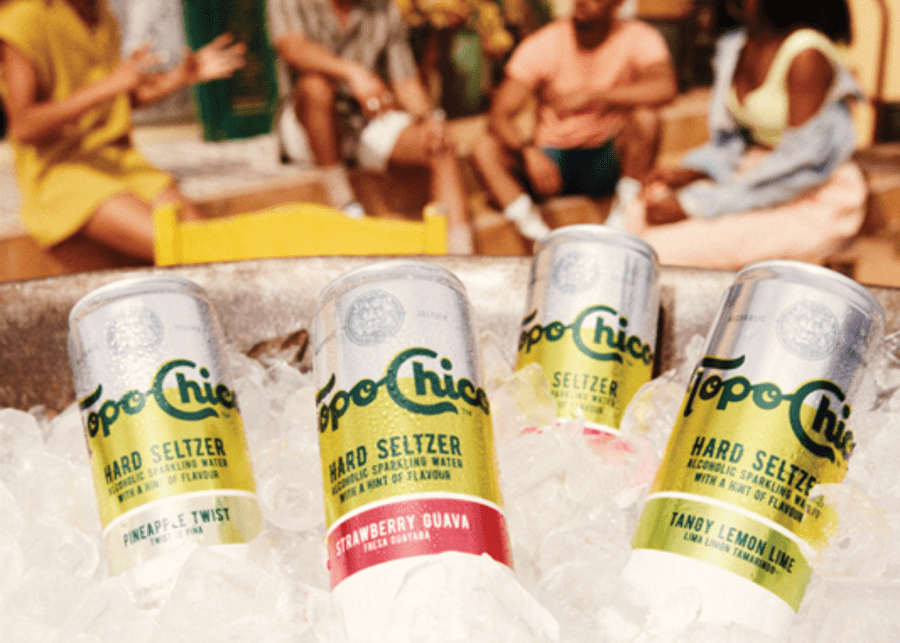 Gather your pals for a fun house party! Plan a laid-back catchup with movies, music and bites. It's been a while since we've had no limitations on group sizes, so what better time to celebrate?
To cool off, grab a few cans of Topo Chico Hard Seltzer in a flavour of your choice: Pineapple Twist, Strawberry Guava and Tangy Lemon Lime (available at selected supermarkets, convenience stores and RedMart). Fun fact: each can has less than 105 calories! Perk alert: buy two four can packs from Redmart and get a free Topo Chico Hard Seltzer glass.
The fruity drink is also free of preservative and gluten, and comes with added minerals for taste. Pair it with easy bites like sandwiches and your fave snacks for a breezy catch-up. That's your weekend plans sorted!
4. Eat: Jurassic World Dominion Dining Adventure
All weekend
Can't wait for the movie Jurassic World Dominion to debut in cinemas on 10 June? You'll love this awesome adventure at Universal Studios Singapore. Featuring a Jurassic World-themed feast, special effects and meet-and-greets with prehistoric predators, the dining experience is all sorts of cool.
Step into Discovery Food Court at the theme park and you'll be whisked back in time to a land where dinosaurs roam. Marvel at a newly-hatched velociraptor egg, get your pics with an adult velociraptor and dine on a four-course dinner served with a side of drama (think thrilling music, lights and projection effects). Inspired by the herbivores, carnivores and omnivores of the dinosaur world, the meal includes delish dishes like BBQ pork ribs, beef skewers and an amber-hued egg-shaped dessert made of lemongrass osmanthus jelly. Plus, free-flow boozy and non-alcoholic drinks for adults, and ice cream for the little ones.
Make sure you stay till the end for a special surprise: you never know who will be making a grand appearance (ahem, T-Rex and Blue – the velociraptor from the movie!). Don't forget to get those Insta-worthy snaps with the dinosaurs. Each ticket also gives you entrance to the theme park and a Universal Express Unlimited Pass so you can enjoy the rides all day long.
Jurassic World Dominion Dining Adventure, available on select dates until August, 6.30pm – 9pm, $248/adult, $188/child; Universal Studios Singapore, Resorts World Sentosa, 8 Sentosa Gateway, Singapore 098269

5. Things to do: Marina Bay Sands Presents Top Gun: Maverick
21-22 May, Saturday and Sunday 
Excited for Tom Cruise's highly anticipated movie, Top Gun: Maverick? Get hyped up with this special edition of Spectra, a 10-minute multimedia light and water show that's set to light up the skies. You'll be mesmerised by Lady Gaga's new single "Hold My Hand" as a visual spectacle of projections, lasers, lights and water effects takes over, with thrilling scenes from the sequel. From the three iconic cascading hotel towers and underbelly of Sands SkyPark to the facade of ArtScience Museum, the captivating display covers it all.
Marina Bay Sands Presents Top Gun: Maverick, 8pm-9:30pm, until 25 May, 10 Bayfront Avenue, Singapore 018956
6. Eat: Limited Edition Singa Curry Puffs
All weekend 
Kindness Day is coming up on May 20! Don't miss out on offline and online activities as part of the Singapore Kindness Movement's campaign to remind Singaporeans to show appreciation to others. What better way to a person's heart than food? Old Chang Kee's limited edition singa curry puffs with the most recognised local icon will once again be available at all store locations across the island. So grab one and be kind enough to share it!
Limited Edition Singa Curry Puffs, available at all Old Chang Kee's locations, including Jurong Point and Somerset
7. Music and Nightlife: Holly Herndon's Proto
20-21 May, Friday and Saturday
Singapore International Festival of Arts (SIFA) 2022 takes on a fresh, new direction and one of its much-anticipated events is Holly Herndon's concert. Experimental music lovers are in for a treat as she proves to be one of the most disruptive musical voices of our age. Operating at the edge of electronic and avant-garde pop, Holly Herndon's work involves augmentation of her voice and image. Her latest album Proto has sounds created on stage by Herndon, her A.I. "baby" Spawn, and the ensemble combining elements from her personal journey. This includes the folk traditions of her childhood, the avant-garde music she explored in college, and the radical club culture of Berlin; all enhanced by her recent PhD composition studies researching machine learning and music. Can a musical performance get any cooler than that?
Holly Herndon's Proto, 8pm-9pm, #01-02, Victoria Theatre, 11 Empress Place, Singapore 179558
8. Things to do: Dog Training Livestream
20 May, Friday
Having a hard time training your furry friend? Learn a few tricks of the trade from certified dog trainer Theresa Yoong from Paws In The City. Not only will she teach you the theory but she'll also demonstrate the process step-by-step so you can train along with her! Positive reinforcement is essential for the discipline of your furkid, and this will allow you to spend quality time outdoors which improves their physical and mental well-being. Theresa will help you unlock the benefits of meaningful outdoor engagement in the most fun and safe way.
Dog Training Livestream, available online
9. Shop: United Women Singapore X Buytosave Spring sale
All weekend 
Shop for a good cause this May when you visit United Women Singapore X Buytosave's Spring sale. Buytosave gathers the best pre-loved designer clothing, shoes and accessories, and puts them up for sale to raise funds for girls' education and initiatives against domestic violence and abuse in Singapore. You'll see familiar brand names like Marni, Prada, Balenciaga, Issey Miyake, Tory Burch and many more. What are you waiting for? Make a date with your shopping pals today.
United Women Singapore x Buytosave Spring sale, 10am-5pm, #01-01, Strathmore Block, Tanglin International Centre, 352 Tanglin Road, Singapore 247671
Pack this weekend with all the fun things to do in Singapore!