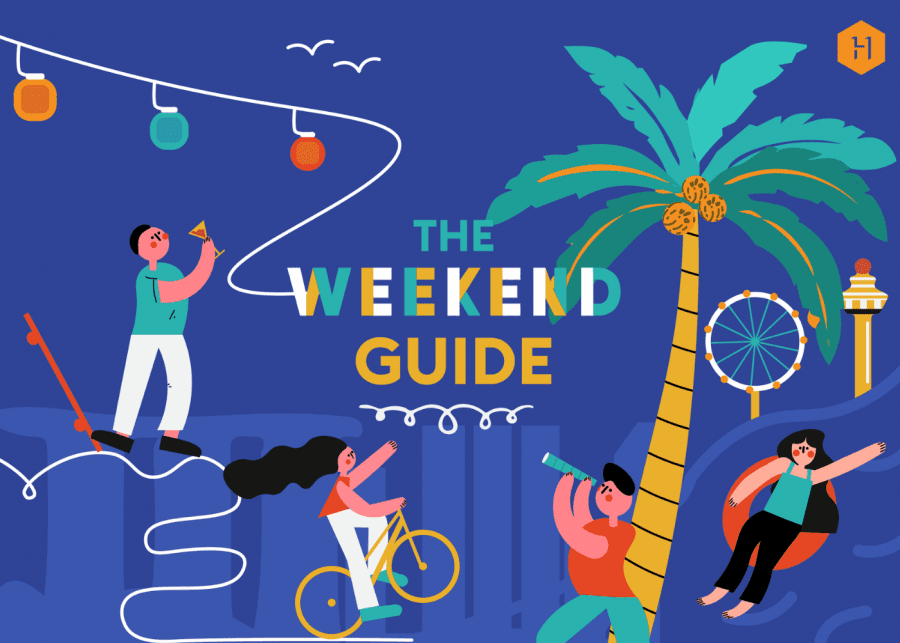 Illustration: Xin Hua Ho
Wondering what's good this weekend? Get the first scoop on all the fun things to do this weekend in Singapore!
Now that we're done with the Squid Game hype (hopefully), let's explore exciting screenings, exhibitions and much more lined up this weekend. Oh, and we're biting our nails in anticipation for Halloween next week (cue thriller music)! Without further ado, here are all the fun things to do this weekend in Singapore!
Things to do this weekend in Singapore
1. Watch: The Swimming Pool Library
All weekend
Explore the world of traditional gender stereotypes via The Swimming Pool Library –  a multimedia installation and live performance by acclaimed artist Brian Gothong Tan. Join discussions that challenge the definitions of masculinity through unique storytelling mediums like paintings, paper sketches, 3D printed sculptures and much more! Head over with an open mind for a surreal experience.
The Swimming Pool Library, T:> Works, 72-13, Mohamed Sultan Road, Singapore 239007
2. Book ahead: Complete Works of William Shakespeare (Abridged)
From 30 Oct
Can't remember the last time you watched a play? We've got just the right show for you. Singapore Repertory Theatre presents London's longest-running comedy – Complete Works of William Shakespeare (Abridged). Leave your worries at the door as director (and theatre veteran) Daniel Jenkins and actors Shane Mardjuki, Erwin Shah Ismail and Tia Andrea Guttensohn take you through all of Shakespeare's 37 astounding comedies, histories and tragedies in one sitting. The actors will be adding their wacky twists to leave you in splits at KC Arts Centre. That's right – expect a night of fun and tons of ROTFL moments from the gang at this unique event.
Complete Works of William Shakespeare (Abridged), KC Arts Centre – Home of SRT, 20 Merbau Road, Singapore 239035
3. Exhibition: Fleeting Moments
23 – 24, Saturday & Sunday
Let's teleport to Japan this weekend with local artist Tsuyumi Miwa's solo exhibition, Fleeting Moments, along with posh Japanese-inspired afternoon tea. Check out a mix of her original works and giclee print of the originals. The best part: you can have your name specially calligraphed in Japanese by Tsuyumi herself as part of the tea experience. What's not to love?
Fleeting Moments, Level 2, The Public Art Space, Pan Pacific Singapore, Marina Square, 7 Raffles Boulevard, Singapore 039595
4. Watch: Still Somehow, It's Illusions We Recall
All weekend
Have you been missing on-site screenings recently? Singapore Arts Museum is showcasing a film programme at National Gallery Singapore, curated for an ongoing exhibition, The Gift. Catch ticketed feature films and free short films that focus on the unexpected pandemic and its consequences. Get ready for a 'lil thought-provoking action (with some popcorn) through the series of film screenings!
Still Somehow, It's Illusions We Recall, #01-01, National Gallery Singapore, 1 St Andrew's Road, Singapore 178957
5. Exhibition: Día de Muertos (Day of the Dead)
All weekend
Did you know: honoring and celebrating the dead has always been a significant event and tradition for Mexicans. This year's Day of the Dead exhibition by the National Museum of Singapore centres around the Aztec empire and how they celebrated this special holiday. Expect two main exhibits, a 360-degree pyramid and marketplace showcasing Aztec culture.
Día de Muertos (Day of the Dead), Level 1, The Salon, National Museum of Singapore, 93 Stamford Road, Singapore 178897
6. Drink: All-You-Can-Drink Liquid Buffet
All weekend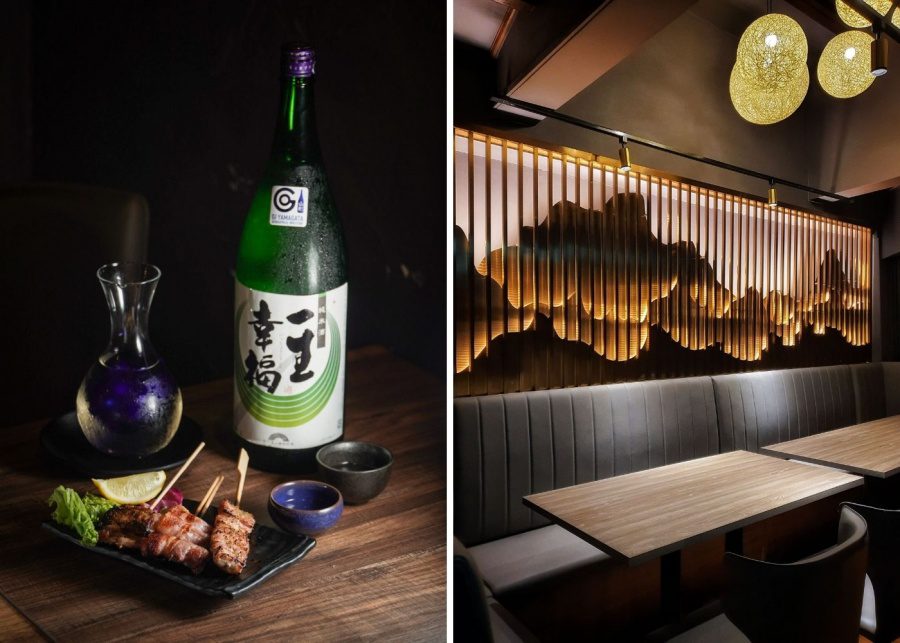 For your weekend's sake, let's have some sake. Japanese sake and yakitori bar, Kakurega (The Lair), launches a liquid buffet that offers two hours of the finest Japanese booze like Asahi draft beer, Hakkaisan honjozo and yamagata issyou koufuku junmai (try saying that fast). Pair these tasty beverages with grilled yakitori and enjoy them in a cosy ambience. The weekend's set!
All-You-Can-Drink Liquid Buffet, Kakurega (The Lair), 12 Smith Street, Singapore 058926
7. Watch: 25th German Film Festival
All weekend
Say "auf wiedersehen" to the wait as the German Film Festival is back for its 25th year! Expect online and offline opportunities to enjoy screenings of German stories (some award-winning) that delve into the themes of self-discovery, cultural clashes and even socio-political situations back in Soviet rural Germany. Film lovers and connoisseurs, you don't want to miss this.
25th German Film Festival, available online and at #05-00, 6001 Beach Road, Golden Mile Tower, Singapore 199589
8. Exhibition: Night Glory
22 – 23 Oct, Friday & Saturday
Lighting up for a good cause, Youth for Causes initiative Project Asagao dedicates a beautiful night for kids and youths at Beyond Social Services. Expect a dazzling light show and bring your picnic mat to engage in activities with your loved ones. Also, learn more about their work in empowering children and youths despite adversity.
Night Glory, Tanjong Pagar Community Green (the grass patch in front of Guoco Tower)
9. Watch: Perspectives Film Festival 2021
All weekend
Watch movies in the comfort of your home with Perspectives Film Festival's nine breakthrough films that'll make you go "What the___?!" Yup, that's this year's theme. Enjoy local premiere screenings like "Shooting the Mafia", "We're All Going to The World's Fair" and more. With documentaries, musicals and sci-fi, there's something for everyone. So get your popcorn popping!
Perspectives Film Festival, available online
10. Exhibition: Tulipmania
All weekend
This one's special! For the first time in two years, Tulipmania is making a return to our little island at Gardens by the Bay. This year, its floral display is also available online, so there'll be no FOMO. With Kazakhstan being the central focus, you can expect the displays to symbolise clear Kazakhstan skies and waters, as well as its role as a trading hub!
Tulipmania, Flower Dome, Gardens by the Bay, 18 Marina Gardens Drive, Singapore 018953
11. Watch: Creator's Lab new Instagram Series
All weekend
Creator's Lab, a platform for creatives to share their culinary stories, launched its much anticipated Instagram pilot episode last Friday. Check out the first two instalments (one features Artichoke chef Bjorn Shen!) just in time for the third one on pastry chef Janice Wong airing in November. If you're into culinary arts and want to know the stories of people who don't fit into the traditional mould, you'll want to keep tabs on this series.
Creator's Lab Instagram Series, available online
With a bunch of exciting events to catch, you know this weekend's not gonna be dull!