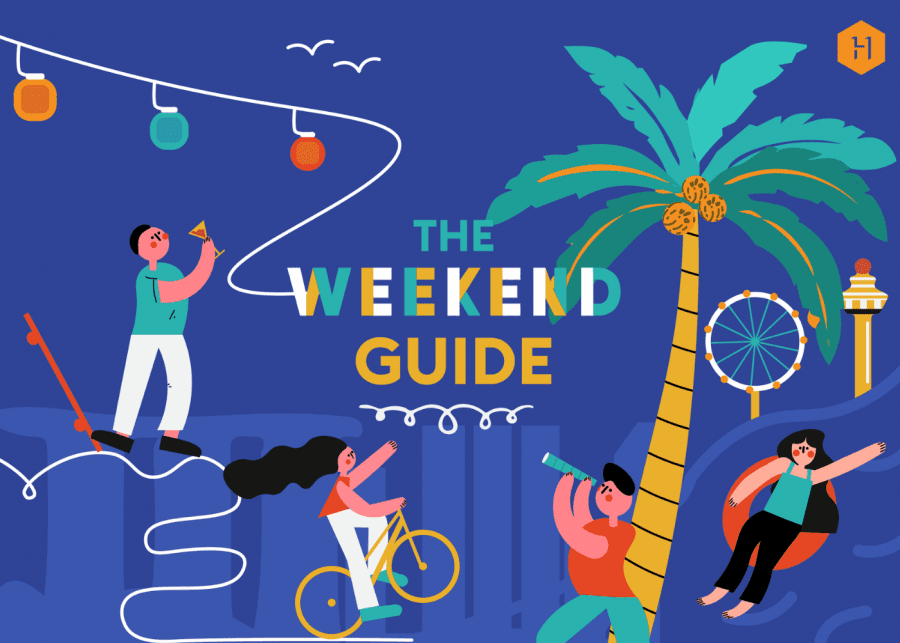 Illustration: Xin Hua Ho
Wondering what's good this weekend? Get the first scoop on all the fun things to do this weekend in Singapore!
Are your weekend plans looking dull? We can help you out! There are plenty of events to keep you busy and entertained. If you're done trying out Eggslut's iconic sandwiches and filling yourself up with delish mooncakes during the Mid-Autumn Festival, we've got more dining experiences and other fun events for you! Read on for all the awesome things to do this weekend in Singapore.
Things to do this weekend in Singapore
1. Eat: Revolver launches a new grill menu
All weekend
Bringing the taste of India internationally, Revolver has recently opened its posh outlet at Tras street. The refined restaurant has launched three different tasting menus to give diners an exquisite dining experience. With premium meats, seafood and vegetables charred to perfection in the hand-built tandoor, you're in for a gastronomic journey. So bring along your family and friends to devour the awesome food with wine pairing!
Revolver, 56 Tras Street, Singapore 078997
2. Culture: Rock & Indie Festival
17 & 18 Sep, Friday & Saturday
Calling all music festival lovers! Make some time for the fifth edition of this student-led event, the Rock & Indie festival. Returning back on the physical stage, you're going to have a great time celebrating an array of Singapore's underground music through 14 acts and some debut music as well. Whether you're into rock or pop, you're sure to revel in the electrifying performances by these local bands and musicians. Let's support our local talents and bring back the concert vibes!
Rock & Indie Festival, Lasalle College of the Arts, 1 McNally Street, Singapore 187940 
3. Culture: Halloween Horror Nights – Trick or Thrills
All weekend
It's the time of the year to get your spooky senses tingling! Enjoy the frights, trick or treating, and exciting rides that await you. You can even meet and greet your favourite characters from Kungfu Panda, Sesame Street and Despicable Me (we're starstruck). If that doesn't pump you up enough, take part in the best Halloween costume contest and stand a chance to win prizes!
Halloween Horror Nights – Trick or Thrills, Universal Studios Singapore, Resorts World Sentosa, 8 Sentosa Gateway, Singapore 098269
4. Exhibition: You Can Tell Me
18 & 19 Sep, Saturday & Sunday
Admire deeply personal artworks centring on the topic of gender at this exhibition by Marla Bendini and Victoria Cantons. Their works specifically revolve around the heart of feminine liberation. In the era of social progressiveness, their works embody the concept of rejecting the dated idea of traditional gender norms. So why not marvel at these beautiful art pieces?
You Can Tell Me, Cuturi Gallery, 61 Aliwal Street, Singapore 199937
5. Donate: The Rescue Project
All weekend
Looking to declutter your closet? Hold up! Make sure to keep some of the preloved items you aren't using anymore and drop them off at The Rescue Project's declutter drive. Give your preloved pieces a new owner and life by giving them up for upcycling and donation. Take part in this empowering event and refresh your closets to help slow down the fashion industry's unsustainable pace of production. Pssst… there's a Refresh party coming up, so stay tuned for updates!
The Rescue Project, #04-07, Swap Shop @ Orchard Central, 181 Orchard Road, Singapore 238896
6. Eat & Drink: Lucali BYGB weekend brunch
All weekend
Lucali BYGB has organised an all-you-can-drink weekend brunch experience to amp up your weekend dining experiences. If you're into bottomless booze and brunch, this is not something you want to miss. Choose a drink based on your palette, mood and occasion or a vino of your choice directly from the wine fridge. Try out tipples and pair them with dishes like boneless buffalo wings and meatball parmesan sandwiches to enjoy an explosion of goodness in your mouth!
Lucali BYGB weekend brunch, Level M, Lucali BYGB, 66 Kampong Bugis, Singapore 338987
7. Art: The People's Gallery
All weekend
The National Gallery is bringing art to your heartlands. More than 25 void decks across eight heartland neighbourhoods are turning the place into an art getaway with artworks by local artists. Taking insightful and creative works beyond museums, check out the various talented works of our people. Oh, and be sure to explore the interactive AR microsite where the works are accompanied by multilingual audio guides. Appreciate these artworks and share your perspectives on the microsite for a wholesome experience!
The People's Gallery, various locations, also available online
8. Virtual: LPB Market online French wine tour
All weekend
Calling all wine connoisseurs! The LPB market is offering over 100 selections of French wines through a 10-day online wine fair. Be spoilt for choices and enjoy promotional prices of up to 30% off. Whether you're into the cold and fragrant Gewurztraminer, rosé or a bottle of Bordeaux, there's something for every wine lover here. The best part? It's available in the comfort of your home. We love it!
LPB Market French wine tour, available online 
9. Eat: Ce La Vi's Sunday BBQ
19 Sep, Sunday
Ce La Vi's got a lineup of events this month, including a Sunday BBQ. Pairing the BBQ menu with a slew of spritz options, you're in for an exciting rooftop bar experience along with stunning sunset views. Suitable for all ages, bring your family along and indulge in a lovely evening. Don't forget to bring your sunnies!
Ce La Vi Sunday BBQ, 5pm onwards, Level 57, Marina Bay Sands SkyPark, Hotel Tower 3, 1 Bayfront Avenue, Singapore 018971
10. Eat: Tindle Bar Bites & Booze
All weekend
Looking for a fabulous evening with friends? Tindle is taking the experience to another level with its all new "Bar Bites & Booze" menu. This menu is specially curated by chefs and bartenders from 10 of the best bars out there right now. Enjoy delish grub like the specialty chicken that's made from plants, a selection of dazzling cocktails and Tindle's very own Spotify playlist to set the mood. You don't want to miss this!
Tindle Bar Bites & Booze, multiple locations including Moonstone, Three Buns and TXA Gastrobar
11. Exhibition: Voyage to the Vulva-verse
All weekend
Intimate wellness awareness has been increasing over the years. However, women still shy away from topics like vulva care. The Voyage to the Vulva-verse movement, created by Strip and Two L(i)ps, is organising a series of events. A multimedia vulva-themed exhibition (featuring works by eight local artists) awakens new perspectives for you to expand your horizons on vulva care. The art show continues online till late September with added activities like public opinion polls and fundraising. Walk through this meaningful showcase where you're given the opportunity to think and have open and honest conversations centring on intimate care. Break taboos and celebrate your body through this campaign!
Voyage to the Vulva-verse, Hatch Art Project, 7 Yong Siak Street, Singapore 168644
So, bring on the weekend with this awesome list of things to do in Singapore!