Illustration: Emily Rosadi
Get the scoop on all the fun things to do this weekend in Singapore!
Hurray for the weekend! Our city is bursting with life and adventure, from cool new cafes, bars and restaurants to other fun things to do in October. If you're looking for date night ideas this weekend, make a beeline to some of the best fine dining restaurants the city has to offer. Otherwise, dress comfortably for unique dining experiences that involve crawling through hidden doors and letting tarot cards pick your drink. And if you're thinking about watching the new Don't Worry Darling movie, our review will help you make your decision. Read on to find out how you can make the most of this weekend in Singapore.
Things to do this weekend in Singapore
1. Things to do: F1 Singapore Grand Prix and all the fringe events
All weekend
It's finally race weekend! After two long years, we welcome back the high-octane event that is the Formula 1 Singapore Grand Prix and all its fringe activities. Good for you if you've clinched your tickets; we hope you're ready for the off-track entertainment. The stage plays host to headliners like Marshmello, Westlife, Green Day, and Black Eyed Peas. There are also other exciting pre- and post-race events that'll get the weekend rolling. This includes parties at Marquee, Ce La Vi, Amber Lounge, Smoke & Mirrors and more. Check out our guide for a whole list of things to do.
F1 Singapore Grand Prix and all the fringe events, multiple locations
2. Things to do: Halloween Horror Nights 10
30 September – 1 October, Friday – Saturday
Spooky season is upon us and what better way to celebrate than with Halloween Horror Nights? Three haunted houses, two scare zones, a laser tag challenge, macabre dining, and a behind-the-scenes experience – it's really pulled out all the stops for a night to remember. If you're not satisfied with just a walk around Universal Studios, go for the RIP Tour. You get access to the Monsters & Manifestations and Die-ning with the Dead experiences, express access, and private meet-and-greets with select characters! Hope you're not too afraid of ghosts…
Halloween Horror Nights 10, Universal Studios Singapore, 8 Sentosa Gateway, Singapore 098269
3. Art and culture: The LKY Musical
All weekend
Get excited, 'cos history comes alive this month! The iconic Singaporean show returns to theatres as the first locally-produced large-scale musical to be staged here since the pandemic. If you haven't guessed by the title, it tells the tale of Lee Kuan Yew, the nation's former Prime Minister and founding father. After its successful debut in 2015, this 2022 rendition by Singapore Repertory Theatre and Aiwei makes a splash with a talented cast of theatre veterans and famous names. We're talking about Adrian Pang (Lee Kuan Yew), Kit Chan (Kwa Geok Choo), Sebastian Tan and loads more.
Taking you from the 40s to the 60s, the stunning set is a great backdrop for the story. Adrian Pang does a fantastic portrayal of Lee Kuan Yew – from his student days and his love story to wartime years during the Japanese Occupation and overcoming challenges in the journey towards Singapore's independence in 1965. Kit Chan sings beautifully, but we only wish she had a more powerful stage presence as the other half of the country's most famous couple.
Expect to enjoy jokes with a local flavour and a medley of heartwarming and triumphant songs (by none other than Dick Lee) as the musical dives into passion, pride, political intrigue and love.
The LKY Musical, until 2 October 2022; Sands Theatre, B1, Marina Bay Sands, 4 Bayfront Avenue, Singapore 018973
4. Eat and drink: Festival of Wines
1 October, Saturday
Considering how successful last year's festival went, it's only right that Shangri-La Singapore hosts a second edition. This year's Festival of Wines comes with an exclusive showcase of over 100 different wine and champagne labels curated by Shangri-La's head sommelier Britt Ng. Drop by Origin Grill for a Tuscan wine lunch. Wines selected from Tuscany are featured in this dining experience, alongside the restaurant's famed Origin Octopus and Westholme beef tenderloin. End on a sweet note with a dessert using marsala, coffee mascarpone, and cocoa paper.
Festival of Wines, Lobby Level, Origin Grill, Tower Wing, Shangri-La Singapore, 22 Orange Grove Road, Singapore 258350
5. Things to do: Central Beach Bazaar
All weekend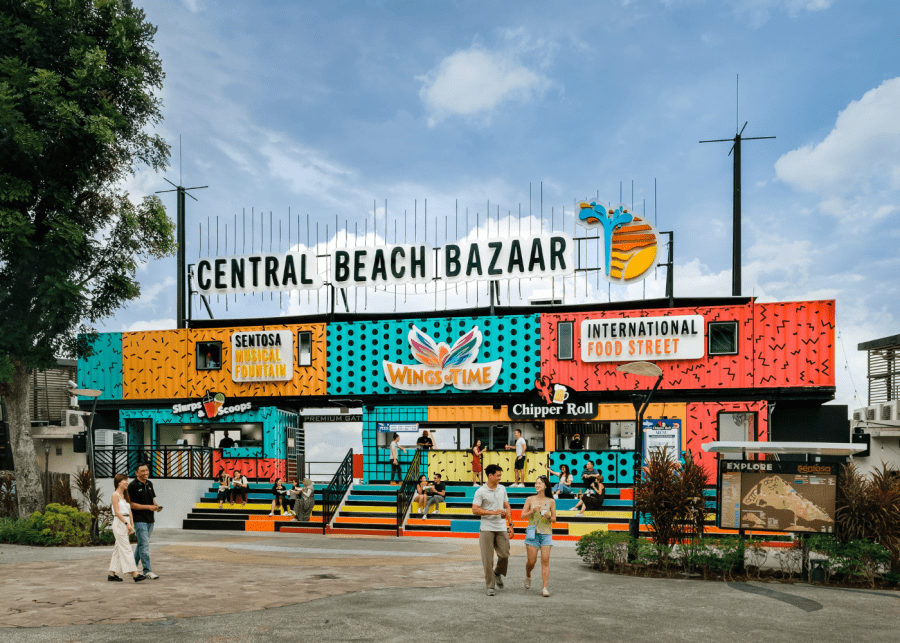 A new and unique day-to-night carnival beach experience opens up in the heart of Sentosa's beaches. Thanks to the Mount Faber Leisure Group, you get a plethora of entertainment and dining experiences for the whole family, all in one place. Get a glimpse of the Sentosa SkyJet, an 80-metre tall fountain during the day. Then at night, a visual masterpiece with lights illuminating its stream. Enjoy the iconic Sentosa Musical Fountain and fan favourite Wings of Time, a story of courage involving pre-historic creatures. And not forgetting the food at International Food Street, full of vans and food trucks offering street food from countries like London and Tokyo.
Central Beach Bazaar, 60 Siloso Beach Walk, Singapore 098997

6. Eat and drink: Capitol Kempinski's F1 Champagne Brunch
2 October, Sunday
Boozy brunches are the highlight of our weekend, and we're gearing up for the F1 special at Capitol Kempinski. At $148 per person, enjoy cocktails and a slew of mouth-watering eats to kick start race day right. Highlights include an array of seafood like freshly-shucked seasonal oysters, tiger king prawns, steamed mussels, smoked salmon, and sashimi. Moving on from that, hit up The Bar at 15 Stamford for some tunes and get yourself glasses of Bombay gin, Grey Goose vodka, or a Dewars 12-year highball.
Capitol Kempinski's F1 Champagne Brunch, 15 Stamford by Alvin Leung, The Capitol Kempinski Hotel, 15 Stamford Road, Singapore 178906
7. Things to do: Glamboyant: Kampong Gelam's Grand Prix Singapore Activation
All weekend
Looking for an affordable way to party it up for the Formula 1 weekend? Drop by Kampong Gelam. It has everything you could possibly need for a street festival. Food? Oh yes, with 15 grab-and-go food stations that offer an assortment of local and trendy street food favourites. Entertainment? You bet, with street dance battles, live music acts, live podcast discussions, and traditional dance performances. Thrills? Settled, with an extreme sports competition featuring BMX street riders battling it out at Sultan Gate Park for a $3,000 cash prize. All this, plus an outdoor cinema and pop-up F1 truck at Sultan Gate with games and a racing simulator.
Glamboyant: Kampong Gelam's Grand Prix Singapore Activation, Aliwal Street Carpark, Kampong Gelam
8. Shop: Sunday Social Market
30 September – 1 October, Friday – Saturday
Browse and buy goods from local brands at Sunday Social Market. This pop-up market features emerging brands and brings a whole community together through the simple pleasures in life – music, market, and makan. Sift through the wares of over 30 local vendors that embody the values of sustainability, creativity, and entrepreneurship. Not only that, catch live DJ sessions and get tasty food just a few blocks away from the F1 actions.
Sunday Social Market, Funan Roof Garden, 107 North Bridge Road, Singapore 179105
9. Beauty: Estee Lauder's Supercharged ANRcade Pop-up
All weekend
We all know how important a good night's sleep is. But sometimes, it's hard to stick to a schedule. And if the damage is already done to your skin, what can you do? Lucky for us, Estee Lauder has the Advanced Night Repair (ANR) solution. In its latest pop-up at Paragon, Estee Lauder features its latest breakthrough in eye repair, the Advanced Night Repair Eye Gel-Creme. In this interactive setting, get complimentary high touch beauty services ranging from skincare to makeup. The extensive menu of services include the Fatigue Fighter, learning concealing techniques for your under eyes, and the Power Nap Mini Facial which nourishes and gives your skin all the pampering it needs with custom treatments.
Estee Lauder's Supercharged ANRcade Pop-up, Paragon Atrium, 290 Orchard Road, Singapore 238859
10. Eat and drink: World Sake Day at Goodwood Park Hotel
1 October, Saturday
Fans of sake (both hot and cold) are in luck. In celebration of World Sake Day, Goodwood Park Hotel is hosting a one-night-only exclusive event. A buffet spread of beef short ribs, Cajun tiger prawns, with live stations for laksa, satay, and Peking duck to go with free-flow sake? Count us in. You also get to enjoy a wadaiko performance, which is the use of traditional Japanese drums used for an explosive start to your evening.
World Sake Day at Goodwood Park Hotel, 22 Scotts Road, Singapore 228221
Pack this weekend with all the fun things to do in Singapore!