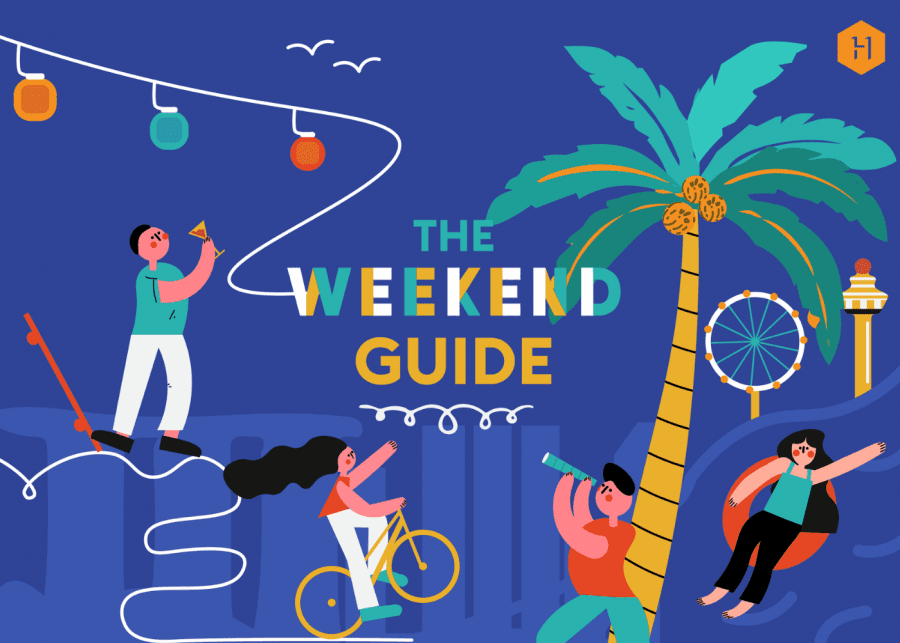 Illustration: Xin Hua Ho
Get the lowdown on the most incredible things to do this weekend in Singapore!
As we look forward to the weekend, do take note of the latest Covid updates and restrictions. Let's do our part to lower the number of community cases by social distancing, wearing masks and practising good hygiene. But that doesn't mean we can't indulge in a bit of fun! For things to do this weekend in Singapore, we have Mother's Day feasts, art exhibitions and the much-anticipated European Film Festival.
Fun things to do this weekend in Singapore
1. Eat: Bread Street Kitchen Mother's Day Set Menu
9 May, Sunday
Step inside this celebrity restaurant for a three-course feast. Available for both lunch and dinner, off-menu items include heirloom tomato tart and salmon tartare. Once you've teased your palate, dig into the all-time favourite beef fillet wellington paired with bone marrow and glorious sides. Draw Mother's Day dining to an end with a raspberry cake with frozen lemon yoghurt.
Bread Street Kitchen, 11am – 10pm, #01-81, The Shoppes at Marina Bay Sands, 2 Bayfront Avenue, Singapore 018956
2. Eat: House of Hokkaido Dinner Party
8 May, Saturday
Araya Yuichiro, a purveyor of high-quality Japanese ingredients, puts together a feast that will transport you to the Land of the Rising Sun. Just for one night, the kitchen takeover at Upstairs by The Council features a five-course meal with fresh ingredients from Hokkaido. We're talking oysters handpicked from Yamada Bay, Osaka-style octopus balls and fresh sashimi salad. Did we mention Yuichiro comes from a family of fishermen? So expect only the best seafood.
House of Hokkaido Dinner Party, 6pm, 8pm; Upstairs, 66 Boat Quay, Singapore 049854
3. Arts & Entertainment: European Film Festival
All weekend
This year, the European Film Festival showcases 23 films from 23 countries. This weekend, the movie line-up includes Irish animation Wolfwalkers, Danish WWII film The Good Traitor and Norwegian flick Before the Snow Falls, which touches on honour killing.
European Film Festival, multiple screenings at The Projector, #05-00, Golden Mile Tower, 6001 Beach Road, Singapore 199589
4. Workshop: Cocktail Trail with Chimichanga Holland Village
9 May, Sunday
Why not celebrate Mother's Day with a fun mixology class? Chimichanga will school you on how to master the art of cocktail making from start to finish. That includes sourcing fresh ingredients from the nearby supermarket and concocting three Mexican cocktails. The workshop also offers tacos and nachos to compliment your tipples.
Cocktail Trail with Chimichanga Holland Village, #01-02/03, Holland Piazza, 3 Lor Liput, Singapore 277725
5. Exhibition: Georgette Chen: At Home In The World
All weekend
Who is Georgette Chen? She's a painter who pioneered the Nanyang style of art in Singapore. Learn about Chen's fascinating life at the National Gallery in this retrospective exhibition. Held across two galleries, the showcase features significant works alongside new finds, spanning five decades and three continents. Noteworthy pieces include Malay Wedding (1962), East Coast Vendor (1962) and Vegetables and Claypot (1940 – 1947), which is believed to be painted during WWII when she and her husband were under house arrest in Hong Kong.
Georgette Chen: At Home In The World, National Gallery Singapore, 1 St Andrew's Road, Singapore 178957
6. Exercise: Yoga for a Change
8 May, Saturday
Unwind this weekend at the historic grounds of Fort Canning Park with yoga. All you have to do is bring your own mat, towel, mosquito repellent (just to be safe) and sunscreen. The best part? All proceeds will go to charity! Do good to your mind and body while giving back to society.
Yoga for a Change, Fort Canning Green (the big space on the National Museum side), Fort Canning Park
7. Shop: Boss x Russell Athletic Showcase
All weekend
This Hugo Boss and Russell Athletic collab is proof that athleisure is still in. Combining workout gear with superb tailoring, the collab features unisex pieces such as sweatshirts, hoodies, tapered shorts and more. The collection is available at the Hugo Boss store in Mandarin Gallery. But before you start shopping, check out Boss' interactive booth outside the mall for a little prelude. As part of the launch, the showcase is awash in pink pastel hues and modelled after a basketball court — you know what that means? Instagram ops, of course! While you're snapping away, participate in the AR basketball game via a QR code in the booth to stand a chance to win an exclusive basketball from the collection.
Boss x Russell Athletic Showcase, #01-06, Mandarin Gallery, 333A Orchard Road, Singapore 238897
8. Exhibition: Chronicles of a Circuit Breaker by Joseph Chiang
All weekend
Epigram and Mulan Gallery present a series of original comic artwork from local printmaker Joseph Chiang's new book. Titled Chronicles of a Circuit Breaker, the comic book spotlights the strange occurrences of Singapore's CB last year. Yup, revisit toilet paper shortage, mask-wearing woes and other inconveniences we're facing in the new normal. It's not all serious though. The stories document these idiosyncrasies in a light-hearted manner.
Chronicles of a Circuit Breaker by Joseph Chiang, #01-07, 36 Armenian Street, (off Loke Yew Street), Singapore 179934
9. Exhibition: Dale Chihuly: Glass in Bloom at Gardens by the Bay
All weekend
Kick off this month by immersing yourself in a world of glorious glass sculptures by renowned American artist Dale Chihuly. Set in the lush landscape of Gardens by the Bay, the exhibition marks the debut of his garden exhibition in Asia. Noteworthy works include Red Reeds at Serene Garden, White Tower at Flower Dome and the cascading Cloud Forest Persians.
Dale Chihuly: Glass in Bloom at Gardens by the Bay, 18 Marina Gardens Drive, Singapore 018953
10. Art: There's a Fun in Funeral
All weekend
The name of the exhibition alone is enough to pique our interest. There's a Fun in Funeral is a series of intriguing works by Indonesian artist Agan Harahap. In response to the challenges brought about by the pandemic, Harahap envisions a new reality by juxtaposing images from his own archives and the internet. Equal parts haunting and beautiful, the pieces focus on surrealism. We think it's an artistic ode to the current surreal times we're living in.
There's a Fun in Funeral, Mizuma Art Gallery, #01-34, Gillman Barracks, 22 Lock Road, Singapore 108939
Take your pick from our list of things to do this weekend in Singapore and enjoy!