Memories, the start of Path's eight-course menu. Photography: Path
We scout out the best new restaurants and menus in Singapore for 2023 so you'll always be in-the-know. Bookmark this page for regular updates!
New year, new bucket list of restaurants in Singapore to try. This December, Keong Saik welcomes an omakase restaurant to its fold, China's restaurant chain serving Hunan cuisine lands in Singapore, and new menus abound. Hungry yet? These are the finest fresh faces in town right now.
Best new restaurants and menus in Singapore: December 2023
Chicco Pasta Bar
No fuss, no frills, just good food. If you're looking for an honest-to-goodness pasta spot that exudes relaxed vibes and dishes out pasta made from scratch without an exorbitant price tag, this is it. We'll let you in on a little secret: Chicco Pasta Bar is our new favourite casual eatery because it's pasta-tively amazing for breezy lunch catch-ups with colleagues, leisurely dinner gatherings with friends or even laid-back first dates.
Australian-Italian chef Drew Nocente of Cenzo (and formerly Salted & Hung) is the man behind this new CBD spot, which prides itself on pasta made fresh daily. You'll spot pasta varieties like conchiglie, rigatoni and mafaldine on the menu, all made from scratch for the best quality.
On our visit, almost half the menu was recommended as signature well-loved dishes, and after sampling some of 'em, we concur. For a cheesy start, get the fried mozzarella and basil ($12) or the classic burrata ($20) on a bed of rocket leaves, cucumber slices and melon chunks. Next, move on to carb-y goodness with the oh-so-fluffy focaccia slices (from $10). They're generously portioned and come topped with everything from chorizo and zucchini to roasted pork belly and fennel.
Of course, you can't visit a pasta bar without trying its namesake dish, and this place doesn't fail to impress. We're obsessed with the carbonara ($18) that's amazingly creamy and tossed simply with guanciale, egg and pepper (the way it should be). The fresh and flavourful tagliolini with slipper lobster and bisque ($24) is another must-try, as well as the fusilli with mushroom and nduja ($20). Coming with a group of friends? You're in luck because that means you can order up a storm. Look to the dinner-exclusive meaty mains like pork with roasted baby potatoes ($24) or Australian grass-fed ribeye ($28) to satisfy your cravings.
Finally, end with the pistachio tiramisu and coffee mascarpone ($12), a dish you'll want to capture on camera as the rich, creamy layer cascades down the side of the dessert. No doubt, we'll be back for seconds of everything.
Chicco Pasta Bar, 208 Telok Ayer Street, Singapore 068642
Imbue
Fantastic restaurants on Keong Saik Road aren't uncommon, but Imbue is one we've got our eye on. Step away from the hawkers, cafes and bistros on the street; instead, enter the contemporary European restaurant's space for an elevated dining experience. It's a dimly-lit 38-seater complete with a private room and a small bar by the entrance for pre- or post-dinner drinks. Helmed by chef Lee Boon Seng of The Spot, the menu is a delight to behold. Its focus on Asian ingredients and sauces shines through with each dish – but in an innovative way that twists what you thought you knew as familiar.
Start by selecting your menu of choice: The five-course Infuse ($158) or eight-course Simmer ($198). We went for the latter, complete with a five-glass wine pairing ($98), and blissed out on it all. Tip: take a seat by the counter to immerse yourself in the quiet kitchen bustle.
To start, the snacks are a trio of gorgeous bite-sized nibbles. Even if you detest oysters (like us), you'll enjoy the oyster mousse with citrus white soy, confit fennel, chopped jellyfish, plus a sprinkle of algae powder and sesame oil on the shell. It's got umami flavours, a nice crunch from the jellyfish, and an earthy touch from the algae. Next, the succulent drunken chicken is punctuated with green Szechuan peppercorn oil for spice, and elevated with shaoxing wine jelly and crunchy black sesame crisp. Rounding things out, the century egg crab is a beauty to behold, topped with kaluga hybrid caviar.
Each dish after that outdoes the one before. There's the light, creamy egg custard made of ginkgo nut, cream and kelp powder, topped with seared abalone, roasted pine nuts and spicy fermented cabbage relish. It's followed by a tender dry-aged horse mackerel slice that has a touch of 30-year aged tangerine oil and comes with a potato pancake that you wrap around the fish – inspired by Peking duck, of course.
The highlight of it all? A glistening plate of Malai bread, which is what the chef calls a bridge between ma lai gao (sponge cake) and bread. It's light and fluffy on the inside, glazed with malt molasses for a stunning crust, and sprinkled with sea salt and thyme. Paired with salted butter that gets a dose of honey and ginseng powder, this dish is totally addictive. In fact, it's also on the a la carte menu, which you'll be sorely tempted to return for.
End with a strawberry sorbet palate cleanser, a yuba pavlova enveloping sesame oil-infused sponge cake, and petit fours before you roll yourself out the door, happily stuffed to the brim.
Imbue, 32 Keong Saik Road, Singapore 089137
Nong Geng Ji
Always wanted to sample Hunan cuisine? Well, you're in luck: this renowned restaurant has opened its first overseas outlet in Singapore. Gather your posse, grab a table, and look forward to savouring authentic dishes. Keep a lookout for the restaurant's bestseller: stir-fried pork with plump baby abalone and Hunan green peppers. The dish is served in a wok with a burner, so you can enjoy it warm at all times throughout your meal.
Another classic Hunan dish you must try is the pan-seared green chillies with century egg and garlic, which comes in a mortar. You gotta put in the work before eating, though. Just pound everything to extract the aromas and goodness, mix them up, and enjoy. Fish head lovers, don't miss out on the steamed fish head with chopped peppers. The soy sauce, as well as red and green peppers, lend a sweet and spicy kick to the freshwater fat head fish.
FYI, everything on the menu should be enjoyed with rice. Don't forget to order the Wuchang steamed rice, which comes with sweet potatoes and red dates. If that's not your preferred carb, we recommend getting the steamed shrimp with vermicelli and garlic. You'll need something refreshing to wash down all the spicy dishes, and the signature lemon tea is a welcome relief.
Nong Geng Ji, #01-01/02, Collyer Quay Centre, 16 Collyer Quay, Singapore 049318
An Omakase
Another day, another omakase dining experience opens in Singapore. Located in the buzzy Keong Saik enclave, An Omakase stands out from the pack with the team's exceptional skills and dedication to sourcing the freshest, premium ingredients from around the world. These include A4 and A5 Japanese wagyu beef, Japanese lobsters, and China Dungeness crab. Of course, the restaurant's most prized ingredient is the uni, airflown from Tsukiji Market and used in all the dishes.
Diners can choose between two lunch ($188 to $288) and three dinner ($288 to $688) menus, all of which offer exquisite culinary experiences and feature the chef's selection of seasonal nigiri. Expect a sensory feast that exceeds all expectations when you have your meal here.
An Omakase, 33 Keong Siak Road, Singapore 089140
Path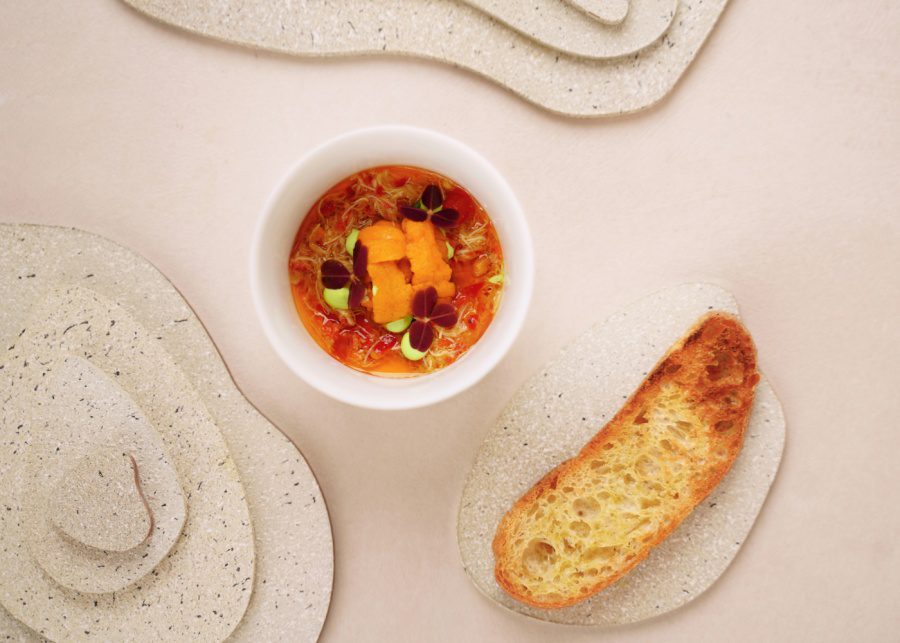 Psst: you're invited to go on a culinary odyssey with Path's new menu. Executive chef Marvas Ng deftly wovens his French skills with East Asian flavours, resulting in dishes that draw inspiration from his cherished memories and experiences. While there are four- and six-course menus to choose from, the Expedition eight-course dinner ($228++) is the one that's worth splurging on. Oh, there's wine pairing for the courses too; you can decide between a flight of three ($88+) or five glasses ($128++).
The experience kicks off with Memories, which features fascinating combinations like cherry tomatoes pickled in yuzu sauce and osmanthus tea shaped like a sphere gel. Other unique twists to look out for include the Japanese tai, which we liken to deconstructed and elevated chicken rice. And if you love chilli crab, you're going to love the Shanghainese hairy crab roe. The mixture superbly captures that familiar spicy-sweet mouth feel. Dip the accompanying Spanish crystal bread into the broth and lap it all up.
Be sure to save stomach space for the sweet treats. We truly enjoyed the citrusy persimmon, which has been torched with brown sugar and served with calamansi and pomelo pulp. The red date longan is another standout, which is presented as a lollipop. With such innovative approaches, we daresay Path has outdone itself this time.
Path, #01-05/06, Tower 3, Marina Bay Financial Centre, 12 Marina Boulevard, Singapore 018982
Altro Zafferano
If you've been craving a full-blown Italian feast, you're in luck. Altro Zafferano is gracing us with an all-new and refreshed a la carte menu that highlights seasonal vegetables, mushrooms, honeyed fruit, and prime catches from the Mediterranean Sea. The menu is interpreted through the southern Italian lens of executive chef Andrea de Paola. It weaves flavours of tradition inspired by the rich history and stories of southern Italy.
We highly recommend sampling the dishes through the Experience menu ($148), which offers you a four-course dinner. Choose a starter, pasta, main course, and dessert to be enjoyed 43 floors up with gorgeous views of the city. The acquerello risotto topped with scallop crudo and sea grapes is a robust dish bursting with flavours of the ocean. Meanwhile, the scampi tortelli is a light dish topped with a fragrant mushroom tea. For mains, we say pay a little extra for the sanchoku wagyu striploin which is buttery and seasoned to utter perfection.
The highlight is most definitely the house-made tagliolini with shavings of Piedmont white truffle (an off-menu item we were surprised by). Those thin strings of pasta are doused in a creamy sauce that's wonderfully salty without being overpowering. The wine pairing is also thoughtfully curated with each dish that you order. End off with a drink or two in the alfresco area to soak in the views.
Altro Zafferano, Level 43, Ocean Financial Centre, 10 Collyer Quay, Singapore 049315
---
Best new restaurants and menus in Singapore: November 2023
Lo Quay
Look up "new Vietnamese cuisine" on Google, and this new restaurant might pop up. Located in a shophouse along Amoy Street, Lo Quay takes being non-descript to the next level. You need to press the doorbell before you're let in; once inside, you'll be greeted by a moody, stylish space with AI-generated artworks (which are on sale) adorning the walls.
Skip the a la carte items and go for the Discover menu ($138++, available for dinner from Monday to Saturday), which reflects chef Qunyh Brown's vision of modern Vietnamese cuisine. The starter is a party of seven snacks, including wagyu tartare, oyster with caviar, and scallop and ikura in a pate choux. We're all for innovation, and the banh mi Wellington certainly didn't disappoint in that department. Shout out to the puff pastry, which is glazed with Maggi seasoning and topped with pickled Japanese cucumbers.
Everyone at the table were pleasantly surprised by the fried jackfruit topped with tomato. It doesn't taste like the fruit at all. Try it for yourself and you'll get what we mean. We needed a minute to process everything after each bite. Next, slurp the pho bo (beef noodle soup), a piquant combination of beef broth, wagyu, and offal bits. It's a good segue into the main portion of the menu.
If you're a small eater, rejoice: the large plate can be shared among three people. Choose between the lamb, sea bass, duck, and wagyu. The fish, served whole with tangy citrus salad, is flaky and falls off the bone easily. It's reminiscent of home-cooked food, which we deeply appreciate. Being voracious meat eaters, of course we can't pass up on the beef. Final verdict? The moreish wagyu is tender and flavorful, while the demi-glace gave the dish a full-bodied kick.
Of course, it's not over until dessert is served. Chef Qunyh reimagined Vietnamese coffee into a crunch parfait, paired with condensed milk and espresso sponge. It's a great palate cleanser and the perfect ending to our dinner. If you plan to eat here, be sure to pair your meal with complementary vintage wines ($98++) meticulously selected by the sommelier.
Lo Quay, 88 Amoy Street, Singapore 069907
Shin Terroir
Hidden along an alleyway, the entrance to Shin Terroir is unassuming. But step in and you'll be warmly welcomed by a zen garden. Follow the stone-laid path into the cosy ten-seater space, where you'll spot Singaporean chef Nicholas Lee and Hokkaido native Takeshi Nakayama creating lip-smacking masterpieces. At this omakase concept, the spotlight shines on the custom-made three-tier grill that's filled with hot kishu bincho coals made of a Japanese oak from ubamegashi wood. The result? Fiery, smoky magic.
Settle by the counter for a scrumptious 15-course menu ($198++) that starts off light with a smooth chawanmushi studded with snow crab and Japanese abalone. Next, the negitoro yakionigiri boasts a crisp bite with its toasted rice providing a base for fatty tuna belly and briny Iranian caviar. Of course, the stars of the show are the succulent yakitori dishes, and they certainly don't disappoint.
You'll be happy to know that no part of the chicken goes to waste on this menu, so expect to enjoy juicy skewers of chicken breast, wing, skin and more. Look forward to the signature mille feuille, a beautifully layered stack of chicken gizzard and chives enveloped by a crackling piece of chicken skin. The liver dish, which is grilled to your liking, is uniquely served with a dash of sweet, spiced cookie crumbs. Meanwhile, the glazed and glistening tsukune pairs perfectly with a savoury soy-marinated egg yolk.
Pace yourself, because there's more coming. To wrap up the meaty meal, the smoky A4 Miyazaki wagyu is plated with asparagus, hollandaise and ikura. Enjoy those fatty, tender melt-in-your-mouth bites before you tuck into a bowl of ramen. It comes brimming with quail egg and chunks of chicken breast swirling in one of the thickest, richest, collagen-filled chicken broth we've ever had (made with chicken bones and offcuts).
To end on a delightful note, nibble on the kaya mochi that's been given a touch of Japanese brown sugar, complete with hojicha custard and azuki. For further indulgence, order your sake of choice or retreat to the lounge for post-dinner wine sips.
Shin Terroir, 80 Tras Street, Singapore 079019
Tenshima
Omakase fine dining with a kaiseki approach to tempura? Yes, please. Chef Takahiro Shima elevates the art of tempura with his new concept, Tenshima. Each delightful piece is prepared by hand, one at a time, coated with a batter of low gluten flour, egg yolk and filtered water before it's dropped into sizzling sunflower oil. The result is impeccably light and crispy tempura.
You can't help but notice the crackling sounds, because there's no background music at this joint. It's all about focusing on the beautiful harmony between the ingredients and the chefs, as well as their friendly interactions with you. With the calming effect of traditional ryokan materials used in the space, the intimate 10-seater ensures everyone enjoys personalised service. It's luxurious in a quiet, sleek way that says there's no need to shout to get recognition because the dining experience speaks for itself. Choose from an omakase lunch experience ($180++) or the indulgent dinner ($400++) with additional seasonal and premium picks.
Every seat welcomes you with a front row view of the action, and it's a marvel to watch chef Shima meticulously prepare each dish. From ginkgo nuts and tiger prawn head to scallops and kisu fish, each tempura piece goes wonderfully with the corresponding dip (such as sea salt and lemon or tempura sauce and saikon). We particularly enjoyed the succulent A5 Miyazaki tenderloin chunks, which you can swirl around in the egg yolk and sukiyaki sauce for maximum umami. The rich, one-bite seaweed tempura layered with uni, snow salt flakes and Eight Gems caviar is another standout.
But just when you think you're full, the delectable goodies keep coming (for dinner guests, that is). Pick the tendon to enjoy flavourful kakiage atop Yamagata white rice, with tendon sauce made from prawn head stock, or the tencha with ichiban dashi poured over it. Finally, the ending to your meal is just as excellent and thoughtful. Deep-fried sweet potato, which is steamed for hours and dry-aged in a chiller for two days, comes paired with creamy milk ice cream to ensure you finish on a flawless note.
Tenshima, #01-09, Millenia Walk, 9 Raffles Boulevard, Singapore 039596
Restaurant Born
Clinching a Michelin star is no small feat for a new restaurant. Doing that and securing a spot on Asia's 50 Best Restaurants within a year of its debut? That's pretty exceptional. And the man at the helm, chef Zor Tan, wastes no time revealing his second menu ($368++). Weaving together his culinary journey and personal stories, the nine-course tasting experience takes you through familiar flavours elevated with pizzazz. We recommend you slip into a counter seat for a view of the quiet kitchen action.
With each dish comes a little glimpse into chef Zor's memories, and that's a charming part of the magic. Canned pineapples aren't uncommon, but he takes his childhood fave and turns it into a cocoa butter sphere filled with the sweet and spicy flavours of roasted Sarawak pineapple, chilli padi and dried licorice root. Oh, if you've ever dipped fries into ice cream, you'll get a flashback of that with the rolled potato crisp that's filled with potato vanilla creme anglaise, served with a dollop of oscietra caviar.
Every item on the menu is a revelation, but some of the standouts we enjoyed were the five spice cracker topped with char-grilled beef tongue; boneless deep-fried chicken stuffed with pig stomach atop pepper gel; and monkfish that's steamed and finished over binchotan, served with jade fungus and fermented yellow imperial chilli.
Inspired by espardenyes in Spain and Portuguese egg tarts in Macau, chef Zor's egg custard with blanched sea cucumber muscle, foie gras sauce and black balsamic pearls is another creamy, comforting creation. Soak it all up with a butter brioche enhanced by maple syrup and toasted buckwheat. And get ready to gaze in wonder at the squid dish, as hot cuttlefish consomme is poured tableside over raw squid ribbons. You'll watch them curl up and cook instantly.
Those anticipating the desserts will be exceedingly pleased by the beautiful sweet potato creation that's inspired by chef Zor's favourite cartoon, Doraemon. Featuring sweet potato puree, crisps and tater tots alongside oolong chantilly, crushed sable, sea salt ice cream, burnt butter, a gorgeous sable and sea salt flakes, the dish impresses with its layers of texture and flavour. Finally, the petite fours journey with you from sour to sweet to bitter to spicy, in the form of hawthorn and passion fruit, brown sugar and taro, ginseng and dark chocolate, and XO sauce and burnt butter madeleine.
Restaurant Born, 1 Neil Road, Singapore 088804
La Bottega Enoteca
This just in – we found our new favourite pizza place and we can't keep it a secret. Rejoice, East-siders, because the joint is in your 'hood. In case you haven't heard, La Bottega Enoteca is chef Antonio Miscellaneo's tribute to his home country, Italy. And what a beautiful homage it is. All the ingredients are fresh and dishes are made in-house – from the pasta to the pizza dough to the sorbet and gelato. Two years after its debut, it's now recognised on the prestigious Asia-Pacific's 50 Top Pizza list – the only pizzeria in Singapore to earn a spot. A well-deserved one, too.
The rustic, retro-looking space offers outdoor and indoor tables for Italian piazza vibes, as well as counter seats where you get a front row view of the pizza-making action. But these pies aren't your ordinary ones. There's the "Newpolitan", a modern take on the traditional Neapolitan pizza with a charred crust and the most delightfully crispy and airy dough base. Meanwhile, the "Doublecrunch" is influenced by Pala Romana with its pillowy bread that's crispy on the outside and chewy inside.
Newbies on the pizza menu include charred broccolini with lemon bread crumbs, oregano and chilli; bottarga with fior di latte, burrata and onion marmalade; and mortadella with robiola, roasted datterino and parmigiano reggiano. Each creation is bursting with a harmony of flavours, so if you don't have stomach space for 'em all, you'll just have to return for round two (or five).
Besides pizzas, new menu additions include a bright, zesty dish of grilled baby calamari, a lovely fettuccine pesto e mare with seafood and basil pesto, and a savoury parmigiano reggiano gelato for dessert. Oh, and you don't want to miss out on the seadas, a traditional Sardinian delicacy of fried raviolo with cow's cheese and a drizzle of honey. It's sweet, creamy, savoury and crisp – and it'll make you look at the pasta dish in an entirely new light.
La Bottega Enoteca, 346 Joo Chiat Road, Singapore 427596
Lucha Loco
Our favourite Duxton Hill hangout has flung open its doors after a makeover, and it's looking mighty fine. The space is now upgraded with cushy booths and tropical vibes inspired by the coastal jungles of Tulum, Mexico. With the elegant ambience comes a new menu featuring modern renditions of traditional Mexican cuisine. So, expect to see dishes uncommon to Singapore alongside your usual tacos, quesadillas and churros.
We highly recommend you start with the plantain and cheese molotes ($15). These glorious fritters pack a crispy, cheesy punch in each bite and pair well with the smoky chipotle tomato sauce. That mix of sweet and savoury flavours is the bomb! If you're leaning towards the tostadas, get the blue swimmer crab one ($18) with pickled jalapeno, mint and lime mayo, and avocado on blue corn tortillas.
Keep the good times rolling with an order of pork cochinita pibil ($36) to share. The beautifully tender 20-hour slow-cooked pork is impeccably juicy and served in a bowl for you to DIY your own creation with pickled onions, habanero salsa and tortillas. As for dessert, churros and blue corn cake are staples you can't go wrong ordering. But if you'd like to end on a refreshing note, try the mezcal sorbet ($8) that blends orange, grapefruit and lime flavours. Speaking of mezcal, spot the restaurant's new mezcal bar that shakes up classics like margaritas with a mezcal spin!
Lucha Loco, 15 Duxton Hill, Singapore 089598
Sushi Sato
A serene space nestled in the greenery of Dempsey, the two-year-old Sushi Sato never fails to impress. And its new Autumn omakase menu is no different. With master chef Yuji Sato at the helm calling attention to fresh seasonal ingredients from Japan, you're always in good hands. He draws on his 30 years of experience, which is evident in his deft knife skills and utmost confidence behind the counter.
Wander through the corridor and its bonsai corner before stepping into the wood-lined dining room, where you'll find the centrepiece made from 200-year-old hinoki wood and a feature wall inspired by leaves. Before you're ushered into a seat by the warm staff, you'll already be drawn into the tranquil allure of the space.
Sit back, relax and enjoy the meal as you're whisked away on a culinary adventure that's like no other. Lunch menus start from $220, while dinner starts from $380. Every ingredient shines gloriously through the way it's prepared, from sushi to sashimi to his signature rice bowl that's topped with beautiful uni and glistening ikura. The pacing is great and his shari (rice) is fantastic. It's made with three Japanese red vinegars and Tsuyahime rice from the Yamagata prefecture. Carefully moulded in his hands, it's the perfect balance of sticky, firm and well seasoned.
The best part of omakase is the anticipation, so we won't spoil the surprise for you. Safe to say, you'll be enchanted by the chefs as they go about intricately piecing together each dish, crafting superb creations. Even watching them make warabi mochi is like admiring a work of art coming together. It's clear that the friendly chefs take pride in their food; you'll most definitely leave content with a (very) full stomach.
Sushi Sato, 6B Dempsey Road, Singapore 247662
---
Best new restaurants and menus in Singapore: October 2023
Wheeler's Tropikana
Imagine this: a tropical haven with lush greenery, rustic rattan wooden furniture, bamboo accents, and a stunning outdoor pool. If that's your idea of heaven on earth, you should hit up Wheeler's Tropikana, the latest venture by the folks behind Wheeler's Estate. The restaurant is located within Gillman Barracks and aims to be a "local destination for tropical adventures".
That theme extends to its collection of signature cocktails, which will transport you to an exotic paradise. From refreshing and invigorating to rich and indulgent flavours, each drink is expertly crafted, sporting names such as Cocokana, Drago, and New Fashioned. Psst: happy hour runs from 12pm to 8pm on weekdays, which means you can enjoy a round of day drinking under the sun.
What about the food? Get ready for "Australasian" cuisine – a unique fusion of flavours and heartiness from Down Under with the zest of the Pacific Islands. Here's what we spotted on the menu: grilled Tasmanian salmon with hand-milked caviar ($38), island trout croissant ($22), blue swimmer crab croquette with citrus mustard aioli ($20), and organic spinach and nutmeg linguine ($30).
The space comes alive from Tuesday to Sunday evenings when the in-house DJs and live bands will get you dancing under the stars with their curated music and electrifying setlists. If you prefer to wind down somewhere intimate, head up to the lounge on the second level. While the ambience echoes the restaurant's vibes, the plush furnishing and air-conditioned comfort allow you to unwind in privacy.
Wheeler's Tropikana, 9A Lock Road, Singapore 108926
TA Community
This multi-concept space in the Farrer Park area is a gem of a find. Stepping in, you'll be welcomed by an array of charming dried and preserved florals, elegant homeware, and gifts in the retail area. Hidden in the back, the bar is decked out in emerald and black elements, while the backyard area offers cosy vibes for casual catch-ups and the disco embellishments lead you towards the restroom. There's a lot going on, but we're here to spotlight the food and drinks.
With Knut Randhem at the helm, the menu gets a Swedish touch. Must-tries include the meatballs ($12 for six) served with gravy, mashed potatoes and lingonberry cucumber pickles; beetroot trio ($18), a salad of baby spinach, orange vinaigrette, shallots, goat cheese and walnuts; and 24-hour braised short ribs ($48) with pumpkin puree and crispy kale. If you love all things carbs, order the roast pork burger ($18) stuffed with juicy meat chunks and crispy crackling. For something a little different, get the Skagen toast ($12). It's a fresh mix of shrimp, boiled egg and caper's mayo sprinkled with ikura and dill.
One dish we couldn't get enough of? The Swedish ham sandwich cake ($15). Don't be fooled by the name; it's more like a delicious sandwich disguised as a cake. Topped with ham and eggs, slathered with cream cheese, and adorned with cucumber slices, it's perfect for a savoury birthday treat. Oh, and it also comes in a seafood version ($15) with smoked salmon and prawns. To end with a light yet creamy dessert, choose the lemon posset ($12) of lemon, blueberries and beetroot meringue.
But don't forget the drinks! Potent and flavourful, the cocktails are priced at $18 each, with classics like espresso martini alongside creative concoctions such as peanut butter daiquiri and Allen Key (Bacardi 8, bitters, apple, and yes, there's an actual Allen key in there – but don't worry, it's never been used).
TA Community, 594 Serangoon Road, Singapore 218208
Kun
An omakase-style Sichuan restaurant? That's what Kun, the newest restaurant to join the ranks at Amoy Street, is all about. If your knowledge of Sichuan cuisine is limited to mala, here's where you can sample lesser-known flavour profiles like tangerine peel and fish fragrance.
Diners can look forward to the reinvention of Sichuanese classics, from butterfly bamboo fungus and glutinous rice dumplings to braised deer tendon and tripe stew. These long-forgotten dishes are given a new lease of life with premium produce and rare ingredients sourced from the province. Its 12-course omakase menu ($268++) includes refreshing cold appetisers, Sichuan tapas, steamed dishes, hearty stir-fries, and decadent sweet endings. You might even be presented with hidden dishes in the middle that reset your palette. Pair your meal with wines, sakes, and Chinese liquor such as maotai.
Allure is the look Kun goes for, with warm wood tones, beige hues, and hints of gold. Every course is presented on Chinese tableware aligned with the design approach and the restaurant's modus operandi. The main room can seat up to 18 people, while a private room – accessible through a discreet corridor and accented with dark wood and gold – can accommodate an eight-person dining party.
Kun, 74 Amoy Street, Singapore 069893
Fico
Hey foodie, Italy's calling – and you don't have to jet off to get there. Head to East Coast Park and make a beeline for Fico, an Italian restaurant helmed by chef-partner Mirko Febbrile, who used to head the kitchen of Michelin-starred Braci.
The seasonal menu is inspired by cucina povera, an Italian philosophy that translates to "kitchen of the poor" and originated from the rural population. The restaurant has adopted a "waste not, want not" approach by using simple ingredients to create hearty sharing dishes like terrines, handmade pasta, and its signature focaccina – a focaccia and pizza love child. Sip on free-flow cocktails, beers, and wine ($78), or order its kombucha, which comes in apricot, pineapple, and blackberry flavours.
With Fico being so close to the shoreline, dining alfresco should be the de facto option: you can drink in the seaside view, enjoy the sea breeze, and bask in the littoral vibes. Otherwise, the indoor seating is a cool choice since there's air-conditioning (a relief for those who can't stand our humid weather). That's where you can get a peep into the kitchen for a piece of the action. An extra-long communal table seating up to 14 people takes centre stage here.
Keen to visit this restaurant? We hear it's booked and busy, so make your reservation in advance. However, if you don't have time for a sit-down meal, you can get Fico to go between 3pm and 5.30pm from Fridays to Sundays. We're talking freshly churned gelato, pasta, and refreshing drinks. Make your orders through a cute window at the back of the restaurant.
Fico, 1300 East Coast Parkway, Singapore 468964
Sushi Kawasemi
Singaporeans love Japanese food, and that's a fact. Raise your hand if you have it at least once a week! For those who can't get enough of sushi, Telok Ayer has a new Japanese omakase spot to satisfy your cravings. Named after the kingfisher, this 14-seater fine dining restaurant sports the bird everywhere in its design.
Sushi Kawasemi specialises in edomae-style sushi made with ingredients flown in from Japan four times a week – there's no doubt you're getting the best and freshest produce here. There are various omakase menus on offer (lunch is from $98++, and dinner starts from $268++); the itamae (head chef) will prepare the finest cuts for your dining pleasure. And what's a Japanese restaurant without sake? You'll find the standard premium selections that pair well with your sushi.
So, if you're into aged fish and a zen omakase experience, this is one restaurant you have to pop by, stat. Itadakimasu!
Sushi Kawasemi, 120 Telok Ayer Street, Singapore 068589
Frying Fish Club
Make your way to this gastro bar in Owen Road if you're hankering for fish and chips. Its flagship dish comprises white tuna encrusted in a light tempura batter with a touch of dashi and edamame in teriyaki sauce. There are three versions to choose from: signature ($18.50), nori (Japanese seaweed, $19.50), and spicy ($19.50). What goes well with fish and chips? Beer, of course. There's a selection on tap here, though you can also forego the ales for wine, highball cocktails, or good ol' fashioned iced lemon tea.
Frying Fish Club also serves other mains such as steak and hummus ($24), grilled fish taco ($18.50), and chicken namban salad ($18.50). Plus, sides like furikake fries ($8), fried cauliflower ($8), and house special oyster shooters ($4).
Frying Fish Club, 140 Owen Road, Singapore 218940
---
Best new restaurants and menus in Singapore: September 2023
Capasso
The CBD welcomes Capasso into its fold, and we're excited. This restaurant aims to bust the myth that whiskies are only for men by creating a space for everyone. Savour curated selections from famous distilleries worldwide, including unique bottles from independent makers. Or sip on stylish swigs from its cocktail and wine lists.
Capasso's menu, inspired by chef Fernando Arevalo's grandfather, is all about contemporary Italian dishes. Imagine creamy burrata skin wrapped around a lush mix of stracciatella cheese and tomatoes ($32). There's also a side of fresh figs and briney serrats anchovies ($18), perfect for sharing with your dinner party. Enjoy some fluffy and umami Koji sourdough and don't skip the patate gratinate ($16), a dish that elevates the humble potato with a salt garlic marinate and paprika aioli topping, sprinkled with parmesan shavings and chives.
Those who aren't into mutton will change their opinion after sampling the Sella di Agnello ($46) – pan-seared Australian lamb saddle, which is cooked whole in the oven and served with fermented mushroom glaze and a sauce made of onions and yoghurt. If you prefer something more traditional, the 1.1kg costata di manzo ($198) is where it's at. This ribeye has a smoky charred exterior and a tender pink centre.
We love many things about the decor, especially the custom-made marble pedestal, cheeky brass door handles, and a magnificent chandelier comprising 200 crystals. Oh, and you've got to check out Dark Matter, a striking art piece that's basically a neon dream.
Capasso, 92 Telok Ayer Street, Singapore 048472
Chaleur
Tanjong Pagar is a foodie's haven, and there's a new restaurant joining the hood's vibrant culinary scene. Picture this: an elegant space where refined dishes and excellent wines unite perfectly. That's what Chaleur's all about, and we're so here for it. Its name means warmth and heat in French, perfectly capturing the restaurant's ambience and commitment to excellence.
The restaurant's star is, of course, the food, which showcases French cuisine with Japanese elegance. Indulge in a seven-course lunch ($128++) or a 10-course dinner ($268++). The menus revolve around Japan's seasonal produce, with creations that offer a symphony of flavours. One highlight is the ayu dish, where deep-fried sweetfish is served on a warm crepe with a mochi-like texture. It's garnished with organic greens and edible flowers.
Into gamey meat? Chaleur has two dishes worth trying. The pigeon is marinated in housemade salt koji and miso for three days before the meat is pan-seared and cooked in the oven. The dish is served with a sauce comprising of pigeon jus, white and port wines, shallots, and shasho pepper. We also can't forget the signature duck noodle, a rich and flavorful broth made of chicken and duck bones and served with whole-grain noodles. It's like a warm, comforting hug in a bowl.
When it comes to wine, the restaurant's collection caters to both newcomers and seasoned enthusiasts. Sip on champagnes, reds, whites, ports, sherries, sakes, and more, all expertly curated to pair perfectly with your meal. Drink pairings start from $88++ for five glasses and $138++ for seven glasses.
Chaleur, Level 2, 77 Neil Road, Singapore 088903
Burma Social
Step into the elegant space of Burma Social for a peek into the beauty of Myanmar. Never tried Burmese cuisine? Fret not. The restaurant elevates traditional recipes and infuses them with a touch of familiar flavours from the country's neighbours: China, Thailand, India, Bangladesh and Laos.
After you receive a warm welcome at the door, you'll enjoy a golden hour welcome drink and get a Burmese silk scarf to bring home (for dinner guests). Choose to dine alfresco on the first floor where the bar sits, head upstairs for a modern setting, or pick the private room for an intimate setting. But don't miss out on the spinning of Buddhist bells at the end of the night, as well as a glittering, fire-tinged performance once a week.
Start with a creamy soup of raw coconut milk embellished with flying fish roe, broccolini and crushed Burmese nuts ($22). Mix 'em all in for extra umami. Next, the papaya and mango thoke ($22) ups the flavour factor with Burmese papaya and poached prawns. If you've got a good tolerance for spice, order the laphet nay wai thoke ($18), a bright, crunchy salad of fermented tea leaves, green tomato, nuts and Brussels sprouts.
We particularly couldn't get enough of the crispy tohu jaw ($20), little cubes of chewy goodness made from ground Indian chickpeas and pin sean basil leaves, drizzled with a sweet black jaggery sauce. Get a plate of it as a snack to share, or have it all to yourself before moving on to the mains. The signature ohn-no kyaukswe ($32) serves a plate of gluten-free noodles with vegetable soup and barramundi fish cakes for a satisfying dish that won't leave you feeling too heavy afterwards. Happily, that means you'll have space for the burnt mango and black jaggery coconut sorbet ($14) to end on a sweet spot.
To make a night of it, pair your journey across the restaurant's Feast of Six Kingdoms with cocktails or mocktails. Our favourites include the Laos-inspired Silky Smooth (martini with fresh rambutans) and the Jewel of India, a twist on the Mata Hari cocktail with saffron, cumin and kokum-pomegranate.
Burma Social, 34 Tras Street, Singapore 079026
Brasserie Astoria
If you love Zen, you'll enjoy Brasserie Astoria, the newest brainchild of Swedish chef Bjorn Frantzen. Picture this: 100 cosy seats, a swanky bar and lounge, and a private dining room that can seat 10 people, all in the stunning Victoria Concert Hall. The restaurant fashions itself as a traditional brasserie with a dash of international flair – think glitz, glamour, and a dose of escapism.
Beyond the decor, we're talking flambe trolleys lighting up the room, excellent table service, and unique takes on classical brasserie fare. The extensive a la carte menu includes butter fried raraka ($36), the Swedish version of rosti with Agria potatoes and vendace roe; tartare steak that's prepared tableside ($48); and wild turbot accompanied by white cockles and baby fennel ($68). Plus, there's a killer wine list and cocktails that blend Nordic vibes with a Singaporean twist.
Brasserie Astoria, #01-01, 11 Empress Place, Singapore 179558
Kelim Dakdoritang
Say "annyeonghaseyo" to the newest Korean restaurant in town! Kelim Dakdoritang, which has been around since 1965 with over 50 outlets in South Korea, just opened its first outlet in Singapore at Serangoon Gardens. This established eatery specialises in dakdoritang (spicy chicken hotpot).
The titular dish (from $36.90) consists of sizeable potato chunks and fresh chicken with generous amounts of rice cakes, leeks, and chives in a spicy, fragrant red stew. Be warned: it comes with a heap of minced garlic! Not a fan of piquant stews? Go for the dakhanmari (from $36.90), a non-spicy alternative. You can also add kalguksu (knife-cut noodles, $5), udon ($4), and king oyster mushrooms ($5) to your order. Both dishes are available in small, medium, and large portions, which can be shared between two and four people. When you're done, the staff will add rice to the leftover stew and turn the dish into bocumbap ($8), aka scorched fried rice – and that's your second meal for the day.
Of course, it's not just the spicy stew you should be sampling. If you're an adventurous eater, the menu offers side dishes such as dakbal (spicy chicken feet, $19.90) and dakttongjip (fried chicken gizzards, $15.90). Otherwise, go for the grilled semi-dried squid ($20.90) or flying fish roe seaweed rice ball ($9.90). End your meal on a sweet note by getting the hotteok ($9.90 for two pieces), thick Korean pancakes filled with nuts and gooey syrup.
Like its Korean counterpart, this 56-seater restaurant embodies the no-frill approach – the tables are equipped with gas stoves to enjoy the delectable dakdoritang experience.
Kelim Dakdoritang, 14B Kensington Park Road, Singapore 557265
---
Best new restaurants and menus in Singapore: August 2023
Matera
The Fullerton Waterboat House is an iconic location. And Matera, headed by chef Bjoern Alexander, is the latest restaurant to join the ranks. His food draws inspiration from traditional Italian cuisine fused with Japanese and Chinese influences, so expect a gastronomical feast.
The three-course dinner (from $138) commences with scallops burrata, a light and refreshing starter featuring paper-thin Hokkaido scallop sashimi, creamy buffalo burrata jelly and sauce, and a drizzle of olive oil. It's a good palette cleanser to kick off the evening. Foie gras, which has been marinated for three weeks and coated with pure cocoa powder, is served next. If you're a fan, this interesting rendition is a must-try. Following that is gnocchi, which contains no flour and eggs.
Look forward to the whole red prawn, which is cold smoked for six minutes before plating. Pro tip: separate the prawn's head and pour the XO sauce over the meat – it elevates the dish. Don't forget to dip the toast in the sauce to lap up the flavours. The other main is French pigeon breast served with butter mushrooms, sweet onion, and a rich Cantonese jus. If you're an adventurous eater, this signature dish is right up your alley. We really enjoyed the sweet onion, which looks and tastes absolutely divine. End the meal on a sweet note with Japanese melon, which comes with limoncello jelly, tofu ice cream with burrata sauce, and tapioca. Psst: if you fancy a tipple, pair specially curated wines with your meal (from $148).
Of course, the Fullerton Waterboat House lends a decadent air to the ambience – the romantic lights and all-white decor set the mood for a fantastic evening. So if you're looking for a new restaurant to dine in this month, make this one of your top picks.
Matera, #02-01/02/03, The Fullerton Waterboat House, 3 Fullerton Road, Singapore 049215
Honbo
Picture this: thick, juicy burgers dripping with all that beefy goodness and melty cheese running down your fingers. Craving 'em yet? Get in line to be one of the first to sink your teeth into Honbo's burgs at Chijmes – its first overseas space outside of Hong Kong.
We love how it doesn't just serve regular burgers; it's laser-focused on top-quality ingredients without the nasties. The USDA double gold beef from Wisconsin is grounded fresh from whole chuck, brisket and short rib cuts, made daily sans preservatives and additives. Sandwiching each smashed patty, the freshly made potato milk buns are pillowy soft and fluffy. Meanwhile, the greens are sustainably sourced, the pickles cured in-house, and the sauces made from top-secret recipes.
Stepping into the space on the first week of its opening, we were welcomed by its inviting bright colours, American diner vibes, and cool tunes from the jukebox. Best of all, this burger joint doesn't judge if you're a little peckish or bodybuilder-on-a-mission-to-bulk ravenous. The burgers range from the Honbo BB ($15), a mini version of the original with one patty, to the Honbo 2.0 ($28) with four whopping patties.
Our fave? Hands down, The Gold Standard ($28) with its two generously thick beef patties, two slices of cheese, applewood smoked bacon, pickles, onion, and lettuce. It reaches all the right notes and pairs well with the salty fries. Other options include the teriyaki chicken burger ($18) and limited time specials such as the scallop burger ($26) – go for it if you love cilantro – and the upcoming soft shell crab burger. Add chili fries ($15), sweet potato fries ($8) and drinks like apple pie iced tea ($7) to your order for a truly hearty meal. This new burger joint definitely gives our usual go-tos a run for their money.
Honbo, #01-09, Chijmes, 30 Victoria Street, Singapore 187996
Buca Buca
Get a slice of the newly rebranded Buca Buca. Formerly known as Milano Pizza and Wine, the Italian restaurant at the buzzing Craig Road takes on a new avatar with expanded menu offerings and an even cooler vibe. Make yourself comfy at the alfresco Aperol Terrace or enjoy an atmospheric meal indoors.
The modern osteria serves up artisanal sourdough neo-Neapolitan pizza with a 24-hour naturally fermented sourdough dough that's baked to perfection in a stone-fired oven. But for something different, try the Sicilian grandma pie. Don't be fooled by the small size. It's a thick two-inch pie with a light and airy crust, and a sweet honeycombed crumb centre that complements every topping. We went with hot honey and soppressata ($32), topped with salami, chilli-infused honey, creamy caciocavallo fior di latte and the restaurant's signature pizza sauce. Every bite was hefty and had an explosion of flavour.
We reckon you'll want to save space for the handmade pasta too. Our eyes were drawn to the pappardelle with beef cheek sugo ($38) and linguini prawn rosso ($42) with gochujang spiced prawns, nduja, cherry tomato and seafood bisque. The pappardelle was as classic as they come – perfectly al dente pasta with a hearty meat sauce. While the linguini had a perfect balance of spicy-seafood flavours. Finally, save room for the table-side tiramisu ($25) that feeds two.
Buca Buca, 10 Craig Road, Singapore 089670
Butahage
Hello, Hokkaido! So you aren't going to the famed Japanese destination anytime soon? Find comfort in Butahage, which hails from the city of Obihiro. Known for its butadon (pork bowl), the popular restaurant lands in Singapore this month armed with its juicy, meaty signature dish (from $11.80). It's all about that fragrant char and flavourful sauce over a fluffy bowl of rice. You can also get fresh seafood tempura with the Hokkaido special tendon ($16.80), which features black tiger prawns, salmon, yari ika (spear squid), shiitake, scallop, asparagus and nagaimo (mountain yam). Plus, look forward to the Singapore-exclusive salmon mentai avocado don ($17.80).
Pad your meal with sides like chawanmushi ($3.20), onsen tamago ($1.80), and the Butahage bun ($4.60) made with Canadian pork belly. Finally, finish off with bites of Hokkaido strawberry milk cheesecake ($5.80) and maple-glazed sweet potato ($4.80).
Butahage, #01-625/626, Tower 3, Suntec City, 3 Temasek Boulevard, Singapore 038983
Saint Pierre
Vegetarian menus have been receiving an elevated treatment these days, and we're perfectly happy getting on board this meat-free movement. At Saint Pierre, chef-owner Emmanuel Stroobant draws from his personal journey as a practising vegetarian for the last decade to create the lovely Elegance menu ($398++). This seven-course vegetarian degustation, which can be customised for vegans upon request, is now available as a permanent offering. Whether you're a conscious consumer or an occasional plant-based diner, the fine dining experience is crafted so brilliantly that you don't miss the meat – we certainly didn't give it a second thought.
At the two Michelin-starred restaurant, you'll enjoy one of the most spectacular views in the city, with floor-to-ceiling windows facing the Marina Bay waterfront. On top of that, service is sublime. Dishes on the Elegance menu change and evolve all the time based on seasonality, so you'll always be pleasantly surprised.
We got off to a smashing start with a delightful trio of champagne snacks that played with ingredients like Hokkaido white corn, tomato jelly, white asparagus vichyssoise, and burnt leek for a mix of flavours and textures. Next, the amuse-bouche truly impressed us. The tart-lookalike ensconced roasted smoked beetroot, green herb and wasabi mousse, and vegetable jelly in a buttery pastry ring, topped with a heap of mountain tonburi (mountain caviar).
If you love a good artichoke dish, you'll enjoy the crunch of the Jerusalem artichoke and coconut tartare embellished with black Périgord winter truffle, as well as Brittany purple artichoke with truffle ginger dressing. But the standout for us? The Bath wild asparagus dish. It's a medley of vegetables nestled within the lightest brown butter puff pastry, and it absolutely hits all the right spots with a ragu of Japanese snap endo, shallots and green peas, glazed micro turnips, and little touches of black garlic purée.
The beauty of such an elegant vegetarian menu is that you're not left with a feeling of heaviness after, so you'll definitely have space for the decadent Manjari chocolate mousse dessert atop a chocolate sablé base with fresh Tulameen raspberries. End off with petit fours like fluffy yuzu brown butter financiers and rich chocolate bonbons, or keep going with a cheese supplement at $38++. You can also indulge in the best way with a wine pairing (from $248++).
Saint Pierre, #02-02B, One Fullerton, 1 Fullerton Road, Singapore 049213
Sanchos Mexican Bar and Grill
Hola, fans of Mexican food! Take your next night out to Clarke Quay and bring the party to this vibrant 80-seater gleaming with neon lights and bright splashes of paint. Kick things off with sharing portions of tacos (from $14) and chili con carne nachos (from $24) piled high with queso, frijoles refritos, jalapeno and avocado. The menu spotlights all the usuals: burritos (from $26) stuffed with turmeric rice, fajitas (from $26) served on a sizzling plate, and quesadillas (from $20) oozing with cheese and your choice of meat or seafood.
Don't miss out on the barbacoa tacos ($48) with blue corn tortillas, slow-cooked shredded duck confit, queso, crema, pico de gallo, and guacamole. Plus, fill up on meaty mains such as tomahawk steak ($198, for three to four pax) served with crispy tots, vine tomatoes and salsa roja, duck confit ($32), and grilled prawns ($28). Of course, you can't escape from the iconic margaritas here. Sip on the classic, try a spicy spin with jalapeno, or get yours for the 'gram with the Coronarita, which comes with an overturned bottle of Corona.
Sanchos Mexican Bar and Grill, #01-07, Block D, CQ @ Clarke Quay, 3D River Valley Road, Singapore 179023
---
Best new restaurants and menus in Singapore: July 2023
Province
If you love the idea of interacting with chefs and watching them deftly craft each dish in front of your eyes, you'll absolutely take delight in a meal at Province. It's a cosy restaurant with counter seats for less than 10, hidden behind the busy 808 Eating House (which you'll have to walk through).
Ensconced in the bustling Joo Chiat area, where there's no lack of good food, Province holds its own by offering an intimate dining experience. Rock up to the space for dinner (or lunch on Saturdays) and settle in for a relaxing time. It's got an almost homey vibe bringing you up close and personal with chef-owner Law Jia-Jun and his team, but the food is, of course, elegant and elevated.
The seven-course prix-fixe menu ($138) zeroes in on fresh, seasonal ingredients sourced locally and around Southeast Asia. (Even the craft beers come from local brand Niang Brewery.) As a result, the menu changes every three months, revolving around produce like carrots, sweet potatoes, buah keluak and more. For the flavours to truly dazzle in the spotlight, each dish consists of just five components.
Inspiration comes from chef's childhood, culinary journey, and the people he's met along the way. And his retelling of personal stories and memories is the highlight of the experience. So sit back and enjoy (or engage with him) as he regales you and your companions with tales of his travels, unfortunate kitchen incidents, and unconventional dishes he's tried (tadpole, anyone?).
Having trained at three Michelin-starred Manresa, it's no surprise that one of the dishes on the menu is a tribute to David Kinch. Into the Garden gives vegetables the love they deserve with ravioli swimming in a smoky tang-o (garland chrysanthemum) sauce, surrounded by lush greens. But our favourite has to be Tubers, a stunning celebration of all things sweet potato. Each layer lends a different flavour and texture, with the star featured in varying forms: gnocchi glazed with chicken stock, cubes deep-fried in duck fat, creamy smoked espuma, and crispy fried strips. Let's not forget the buah keluak puree, which truly takes things to the next level.
Crustacean I, a medley of flower crab, ginger flower, charred corn and corn foam, is another standout for its fresh flavours. As is Finned, thanks to the pomfret's perfectly crisp skin, garlic puree, charred cabbage and calamansi beurre blanc sauce. Ending off with Fruit, the poached jambu is a lovely, refreshing finale – though it feels the tiniest bit weighed down by the scoop of vanilla ice cream. Province may be new, but we're already excited to see what's next.
Province, at the back of 808 Eating House, 153 Joo Chiat Road, Singapore 427431
Miyoshi by Fat Cow
Step into a sun-lit colonial-style conservation building in Sentosa and enter Miyoshi. The new concept by Fat Cow showcases modern ways of enjoying Japanese flavours through ramen, teppanyaki and omakase dining experiences. If you're in the mood for a bowl of noodles, take your pick from the a la carte menu. Each ingredient is carefully chosen to pair with the star of the show: wagyu beef. Indulge in the wagyu shoyu ramen ($58) for shabu slices of Miyazaki A4 wagyu served with a piping hot broth made of oxtail, kombu, carrots and chicken. Other ramen options include wagyu dry ramen ($58) and lobster ramen ($88).
For a sizzling time, take a seat by the teppan counter and enjoy the teppan-kaiseki menu. Its lunch line-up ($98) spotlights live lobster, while dinner features 11 courses ($280) of seasonal ingredients including dishes like straw smoked Hokkaido scallop and teppan-style sukiyaki.
If you choose the omakase option, you'll enter a separate dining area with apple blossom trees by the entrance and a wood counter drawing your attention. The 10-seater space offers an intimate experience with the culinary team. Their sushi omakase menu ($228) draws influence from tradition with the freshest flavours and seasonal treats.
Miyoshi by Fat Cow, #01-04/05/06, Mess Hall at Sentosa, 2 Gunner Lane, Singapore 099567
Restaurant Fiz
A new addition to the buzzy Tanjong Pagar 'hood, this restaurant is a nod to the cuisines of Southeast Asia, highlighting regional dishes and oft-forgotten indigenous ingredients. We love how chef-owner Hafizzul Hashim's aim is to switch up the menus every three to six months to keep things fresh and feature different regions. Ep. 1 ($288 for eight courses) gives you a peek into his background growing up in Lumut, Malaysia.
You'll see traces of his love for pasar malams (night markets) in the blood cockle dish, which is grilled and served in its shell with sambal. Or the quail – inspired by ayam percik – that's marinated in a spice paste and cooked over a smoking charcoal grill. Fill up on rice with the hidang course, where you'll be served a spread of dishes reminiscent of Asian communal dining. Traditional Malay kuih-muih in rattan baskets end the meal.
Restaurant Fiz, #01-01/02, 21 Tanjong Pagar Road, Singapore 088444
Bacata
From Preludio to Bacata, chef-owner Fernando Arevalo brings a new experience to the local scene with his Latin American dining concept. The 36-seater space features counter seats with a view of the showkitchen, a private room, and vivid black and red walls. Its seven-course tasting menu ($158) of modern Colombian cuisine offers a creative take on seasonal produce.
Start with chipiron: Japanese cuttlefish with chimichurri and a sauce made of 'Nduja and house-cured egg. An innovative take on the traditional sobrebarriga, the lengua spotlights veal tongue with blackberry sauce and herb salad. Carb enthusiasts can look forward to the arroz caldoso, which serves Arborio rice with a mixed seafood broth that boasts the flavours of uni cream and smoked eel. N25 caviar is sprinkled atop the dish for added texture and taste.
Bacata, #03-01/02, Frasers Tower, 182 Cecil Street, Singapore 069657
Kagayaki by Ishigaki Yoshida
Settle in by the 12-seater teppan counter and watch the bustling action in the kitchen. This elevated take on teppanyaki is a Singapore-based offshoot of Ishigaki Yoshida in Tokyo, Japan. If you haven't heard, the original by chef Junichi Yoshida was the first chef-owned teppanyaki place to clinch a Michelin star in 2015. The Singapore concept is helmed by head chef Nobuyasu Kamiko from Asakusa, Japan – he trained under chef Yoshida before heading to our shores.
Fun fact: this restaurant is the only one in Southeast Asia to cook with Masuda Kagayaki beef, so you know it's got something special. Naturally, it's the focus of the eight-course menu ($380). You'll find it featured with finesse in the ultimate crispy yaki steak, where the beef is cooked at low temperatures on the teppan and grilled over ubame oak tosa binchotan. Besides seasonal menu items like Japanese wild scallops, another highlight of the menu is the scrambled eggs with uni. Think of it as your breakfast staple elevated to the highest levels.
If you're in the mood to splurge on an exquisite experience, try the omakase menu ($480) which offers more specialty dishes created by chef Yoshida.
Kagayaki by Ishigaki Yoshida, 27 Keong Saik Road, Singapore 089134
Lime House
Round up your brunch bunch and laze the afternoon away at Lime House. The new brunch menu is conceptualised by Jamaican chef Ricardo Allen, featuring flavourful Caribbean classics and street food that will fuel you up. Tip: come in a group so you can order more dishes to share, 'cos you'll want to try a bite of everything!
We love how the friendly chef gives us an insight into his childhood in Jamaica, whipping up his favourites in dishes like beef mini patties ($15). Those flaky pastries with jerk BBQ sauce make an addictive snack. Another comfort food treat for chef? The vegetable stamp and go ($10): crispy deep-fried fritters that pair well with the mango-flavoured sweet chilli sauce. Oh, and you can't miss out on the hearty bowl of rich, thick oxtail ragu ($32) with chewy house-made spinners (Jamaican dumplings) and butter beans.
For something light to refresh your palate, order the quinoa salad ($20) and tuck into forkfuls of leafy greens, avocado slices, plantain, pumpkin seeds, smoked feta, and toasted sesame seed dressing. We're also big fans of the stuffed bakes ($16), chef's take on a Trinidad classic with crispy fish, avo and spicy mayo. If you're dining with the fam, get the reggae jerk platter (from $50) to enjoy jerk BBQ shrimp, chicken and pork or beef ribs, roasted corn, and coleslaw.
Wanna make it a boozy brunch? Cocktails go for $12, featuring drinks like Lime House punch (sorrel, spices, bajan rum, honey and lime). Or tap into the free-flow promo with bottomless glasses of prosecco and house red and white wines ($48 for two hours).
Lime House, multiple locations including Keong Saik Road and East Coast Road
Ce La Vi
Revel in the mecca of Marina Bay Sands with Ce La Vi's new menu. The rooftop bar and restaurant tantalises with a contemporary Asian-style spread led by chef Maksym Chukanov. Delve into his unique lens starting with Japanese amela tomato ($30). The highest grade of all sweet tomatoes, this will turn any hater thanks to its balanced sweet and sour profile. Little is done to the produce – just a little toss in extra virgin olive oil and fleur de sel, with a splash of tomato consommé and basil oil. If anyone says tomato isn't fruit, have them try this dish.
Laksa gets a new spin in the form of kinmedai ($45), a flaky, tender fillet with crispy skin. Traditionalists may take a second to warm up to this dish. But, the laksa foam has the usual suspects like belachan, chilli, tomato, shallot, garlic, fish sauce and aromatics such as lemongrass, ginger and laksa leaf.
Desserts are a delightful end to the evening. We couldn't stop going in for the gluten-free chocolate miso ($18). Creamy and crunchy frozen chocolate mousse and macadamia praline are balanced with savoury miso caramel layers of texture and toastiness.
Ce La Vi, Marina Bay Sands, Hotel, Tower 3, 1 Bayfront Avenue, Singapore 018971
---
Best new restaurants and menus in Singapore: June 2023
Mish Mash
Feeling particularly indecisive this evening? Gather your friends for a dining experience at the newest gastro bar on the block. Mish Mash is Singapore's first to serve a lineup of wine cocktails shaken, stirred, or poured over ice. You've got choices like champagne, white, red, rosé, sake, and sherry-based cocktails. We loved Lusty Lemony, a champagne-based cocktail with yuzu and lychee for that added sweet and citrusy zing. For something a little more complex, give Cocoa Climax a go. You'll get chocolatey notes from the cacao cabernet sauvignon.
True to its name, don't expect just one style of cuisine at this joint. It grabs inspiration from all over the world. Think Spanish manchego fried tempura-style with truffle honey or lamb saddle tandoori with edamame hummus and coin pratas. For us, the steak tartare was a dream. It's topped with a light layer of torched miso foie gras that adds to the savoury flavour. Pile it on top of crispy moffles (mochi waffles) for the perfect bite!
Mish Mash, 198 South Bridge Road, Singapore 051747
Barrio by Kulto
A new Spanish restaurant in the leafy Bukit Timah neighbourhood, Barrio by Kulto joins the stretch of eateries and shops surrounded by private residences. Step in and you'll notice thoughtful Spanish touches like flower pots and wooden shutters adorning the walls. This cosy, convivial space is perfect for romantic dates, family gatherings and friendly catch-ups over good food and drinks. If you're not people-watching at the alfresco seating area, check out the team at work in the lively open kitchen helmed by chef-owner Jose Alonso.
Once you've settled down in your seat, it's tapas time! Tip: come in a group 'cos this menu is great for sharing. The jamon Iberico croquettes ($14 for four) are crisp on the outside and creamy on the inside, while the bikini sandwich ($20) offers aromatic bites of juicy roast beef, cheese and black truffle. Want more plates for the table? Get grilled green asparagus ($18) with Iberico chorizo and hazelnuts, or the ceviche dish ($20) made of marinated seabass and served with tortilla crisps.
Amp up your dining experience with meaty mains such as charcoal lamb rack ($36) and Iberico pork ribs ($40). Or split half a roasted chicken ($45) with your partner – this perfectly cooked bird comes with panadera potatoes and a salad. Of course, you can't forget the paella: we tried the seafood one ($42 for two pax) and loved the flavourful rice topped with chunky prawns. End with the classic churros and chocolate sauce ($14): these ones are incredibly crisp and fluffy, melting beautifully in your mouth. Delish!
Barrio by Kulto, 73 Hillcrest Road, Singapore 288945
Tajine
Transport yourself to a quaint patio in Morocco at this new tapas and cocktail bar that combines the country's rich culinary heritage with a modern twist. The versatile space is ideal for intimate dinners and big groups but we suggest the latter so you can try everything on the scrumptious menu.
Call dibs on the mixed platter (from $36), where you can select up to six dips and salads. Our faves: zaalouk (grilled eggplant), bessara (fava bean hummus) and gar'a m'asla (roasted butternut pumpkin puree). Scoop up all the flavours with house-made woodfired pita and batbout ($8 each). Feeling thirsty? Choose between 15 signature cocktails ($24 each) from the fresh Marrakesh with gin, mezcal, passionfruit and orgeat, to Sumactini, made of sumac-infused vodka mixed with pomegranate, elderflower and pink grapefruit.
It'd be criminal to skip the tajines – a Moroccan staple with your choice of slow-cooked protein in a cone-shaped claypot. We tried the milk-fed veal shank ($98) with bone marrow that you can slather on bread. The hearty broth is a flavour bomb thanks to prunes, apricot, saffron, almonds, honey and sesame. Save room for pastillas, a savoury pastry pie stuffed with tender meat, spices, dried fruits and nuts. The crunch from the layers of filo was exceptional, and our poulet ($68), featuring organic free-range chicken, turmeric, roasted almonds and orange blossom had just the right amount of sweet and savoury flavours.
For dessert ($16 each), go light and easy with the refreshing sorbet or try classics like riz au lait (almond milk and orange blossom rice pudding) and cornes de gazelle, a unique crescent-shaped cookie. End your meal with a minty fresh Moroccan tea ($12).
Tajine, 18 Mohamed Sultan Road, Singapore 238967
Tinto
If you love Canchita Peruvian Cuisine (as much as we do), you'll want to try Tinto, which is brought to you by the same husband-and-wife chef team. This warm Spanish restaurant loves all things tapas, paellas and wines from the country. You'll see that in its menu, which is a nod to regional favourites from Andalucia, Catalonia, Seville and Valencia. Try tapas plates like cangrejo, a zesty salad with crab meat, avocado, green apple and salmon caviar, or pulpo a la brasa, a dish of grilled Spanish octopus served with Catalan lentil stew.
Mains take you from land to sea with carabinero prawns, roasted Spanish suckling pig, and beef rib eye with Jerusalem artichoke purée and chimichurri sauce. For a carb-tastic option, look to the paella and fideua creations: new Valenciana pairs saffron-flavoured bomba rice with chicken, pork chorizo, roasted artichoke and raw zucchini strips, while the carabineros and setas noodle paella comes with prawns, grilled organic mushrooms and truffle aioli.
Save space for desserts such as churros with chocolate sauce and vanilla pastry cream, orange cake topped with olive oil ice cream and blood orange jelly, or vanilla and coconut rice pudding.
Tinto, #01-21, Block 10 Dempsey Road, Singapore 247700
Mutiara Seafood
You may know the Jumbo Group thanks to its famous restaurants. Now, it's diving into the halal world with its first halal-certified seafood concept. Expect all the signatures you know and love, including chilli crab, fried baby squid, prawns with salted egg, and more. Or try familiar favourites with a new twist: mocha fried chicken, scallop wrapped in yam ring, and chilli crab meat sauce with mantou.
Wondering what's new about this menu? The grilled items! We're talking about Indonesian grilled chicken, Jimbaran grilled prawns, grilled red tilapia with sambal, and grilled chicken satay. Grab mugs of fruity coolers in flavours like yuzu or grapefruit pomelo to wash it all down.
Mutiara Seafood, #01-02 & #02-02/03, Wisma Geylang Serai, 1 Engku Aman Turn, Singapore 408528
Skai
One of our favourite sky-high restaurants debuts a new a la carte menu thanks to a fresh face leading the charge in the kitchen. Executive chef Seumas Smith, who was formerly at Moosehead Kitchen and Maggie Joan's, intricately crafts dishes from fresh Japanese produce and traditional techniques.
After you're done admiring the ever-so-stunning views, start your meal with freshly baked bread and a creamy slab of butter that's enhanced with whipped beef fat. Clearly, chef isn't playing around when it comes to food – even the bread starter is amazingly addictive. For more appetising bites, try the Irish oysters (from $68 for six), aged kaluga hybrid N25 caviar (from $95 for 30g), and bluefin tuna tartare ($42) with uni atop rice cake. But pace yourself, because there's a lot to enjoy here.
Next up, appetisers. The seared Hokkaido scallop dish ($42) is a lovely treat, pairing the seafood with a miso beurre blanc sauce that's accompanied by barbecued peas. And you'll want to try the shima aji ($34), a fusion of mackerel and hamachi. The fish is dry-aged in-house before it's cured and given a light torch on the binchotan grill. Each plate is served with a splash of ponzu sauce, yuzu kosho, finger lime and Japanese radish.
Meat is the main highlight at Skai, and the new lineup spotlights exquisite Australian and Japanese cuts. Japan's saga wagyu A5 ($165) was a standout for us, as each bite truly was melt-in-your-mouth tender and flavourful. From Down Under, we enjoyed the Westholme wagyu flat iron ($76) and Wylarah wagyu sirloin (available on the chef's tasting menu) alongside an array of sauces.
To round it off – if you're not already stuffed – refresh your palate with Greek yogurt sorbet ($18) that's zesty and fruity. Or go all out with the decadent araguani chocolate ($24) with chocolate ganache, dulce de leche creme and house-churned vanilla ice cream.
Skai, Level 70, Swissotel The Stamford, Singapore 178882
---
Best new restaurants and menus in Singapore: May 2023
Kubo
Think you've seen (and tried) it all when it comes to Filipino food? Enter Kubo. It's been around since the later part of 2022, but if you haven't dined there yet, you're missing out. The beautiful 140-seater at Robertson Quay is named after the recognisable thatched huts in the Philippine countryside. A traditional wood-fired brick oven takes centre stage in the restaurant, which explains its open kitchen and counter seats where you can dine right in front of the blazing action.
Chef Kurt Sombero, who's done stints at Burnt Ends and Meatsmith, draws influence from his Filipino heritage to shine a brighter spotlight on the cuisine's beauty and diversity. He finds inspiration in food across the country, constantly reinventing the wheel with his elevated take on famous and lesser-known dishes. You know you're in for a treat when you spot the flames heating up the kitchen, and that divine smokiness is showcased in signature dishes like the insanely tender inasal (chicken) mid-wings ($12) and sisig ($25). The house-aged duck ($42) is another must-try: it's served in two ways – grilled and confit – for maximum enjoyment.
Our standout of the night? The pork longganissa ($20), a new appetiser that gives a nod to the Filipino breakfast classic. Textures and flavours meld together in the dish to offer you a little bit of everything with the layers of grilled hamonado naked-pork patty, pickled cucumber, ikura, cured egg, smoked cheddar cheese and toasted potato bread. Also new: the turmeric banana leaf rice ($12) for those who yearn for a plate of carbs to complete the meal.
Oh, and if you're the type to get a little squeamish about animal parts (like us), you might wanna toughen up and give the beef tripe ($12) a shot. It's fried to crunchy perfection and seasoned with paprika and spiced chickpea purée – all of which makes it rather addictive. Dare to go one step further? Order the smoked beef tongue ($24). Served with smoked mushroom and tare aioli, it's surprisingly tender and delish – if you can get past the idea of what you're eating. End off with Kubo's signature halo halo ($14), a dessert of ube ice cream, coconut and meringue.
Kubo, #01-12, The Pier at Robertson, 80 Mohamed Sultan Road, Singapore 239013
Neon Pigeon
Neon Pigeon welcomes two amazing talents to its coop and the result is a gamut of fresh culinary creations and creative cocktails. Head chef Sean Mell of Nobu fame and bar manager Mario la Pietra (previously from The St. Regis Hong Kong) join hands for Eat. Drink. Belong. Many items from the new menu are inspired by chef Sean's knack for Japanese flavours mixed with dishes reminiscent of his childhood. Shime Iwashi with crispy ramen and miso tofu ($25) is an elevated example of a quick-fix childhood Mamee snack.
The clear soup broth ($18) made of garlic roasted Amela tomato with parmigiana dashi, and Misozuke tofu cheese served alongside kombu toast, hits the spot with the right amount of zing, umami and crunch. Don't be fooled by this unassuming grilled cheese sandwich and clear tomato soup combo as it might just be your dish of the night. Speaking of sandwiches, the hearty kuruboto katsu sando ($27) has a thick slab of smoked pork collar in the middle of buttery brioche.
We bet preparing the Chilean seabass ($39) was like a walk in the park for chef Sean. The fish is grilled to perfection: crispy on the outside, and flaky on the inside with dry miso seasoning and aromatic yuzu and truffle sauce to elevate it. The grilled tsukune ($18) is as classic as it comes – smoky grilled minced chicken is marinated with a sweet and salty sauce, and served with a dollop of velvety egg yolk. Tip: order some paos and make it into a mini sandwich, then scoop up all the leftover sauce.
For dessert, the banana tobanyaki has the right mix of flavours and textures. Who can resist a sizzling hot pan of smoky bananas (grilled at the table) topped with miso caramel and bourbon pecan ice cream? Not us!
Neon Pigeon, #01-01, 36 Carpenter Street, Singapore 059915
Humpback
After a brief break, this seafood restaurant and wine bar welcomes diners back with a refreshed look and a reinvented menu. Start with its signature oyster platter ($8 each, minimum six pieces per order), sourced directly from the Pacific Northwest. Each oyster is shucked and served with a lemon slice and mignonette made in-house with chardonnay vinegar and rice vinegar. We recommend starting with the Eid Inlet – plump oysters with a sweet, almost honeydew-like finish. Save the Hama Hama, which has a clean and crisp finish, for last.
If you want a moreish snack before your mains, go for the mussel toast with spicy nduja ($16 for two pieces). These juicy and plump Australian mussels are tossed in smoked oil and served on toasted brioche fingers. It's been days and we still can't stop thinking about them! We also can't get enough of the buckwheat bread with yuzu butter ($13). The sourdough is chewy and has a lovely, nutty flavour. A slightly tangy and creamy yuzu butter complements the bread perfectly.
As for the small plates, it's tough to decide what we like best. The red prawn tartare with tosazu jelly and pomelo ($26) is light and refreshing, and the marigold petals garnishing adds a floral hint to the dish. But if we really have to choose, our vote goes to the ricotta cavatelli with swordfish bacon and chitose corn ($28). The handmade pasta is cooked al dente and perfectly matches the fish belly bacon.
Finish your meal with the toasted castella cake with creme fraiche ice cream and soy caramel ($14). Don't worry about it being too sweet – the ice cream, soy caramel, and thin snow salt flakes lend a savoury, umami touch to the cake. We daresay, this is a must-try! The perfect ending to your night at Humpback.
Humpback, 18-20 Bukit Pasoh Road, Singapore 089834
Common Man Night Shift
Common Man Coffee Roasters is a name we all know and love. It's now cooked up something new for an after-hours treat, and we're so here for it. Formerly known as Drunken Farmer, the natural wine bar debuts a new food menu and boasts more than 80 labels of vino varieties on the drinks side. But before you scoff and think of your last jaunt with natural wine ("funky" may come to mind, and we won't blame you), here's the thing. It's not all bad (or expensive). And Common Man Night Shift is living proof. With bottles starting from $60 and glasses going from $13 to $16, the natural wine selection is wallet-friendly and unexpectedly good.
In a space that's casual and cool, you're invited to explore the different taste profiles of wine – no judgment involved. Whether you're into fresh and clean wines or bold and earthy notes, the Drunken Farmer team curates something for everyone. You can even try a flight of three glasses for $50.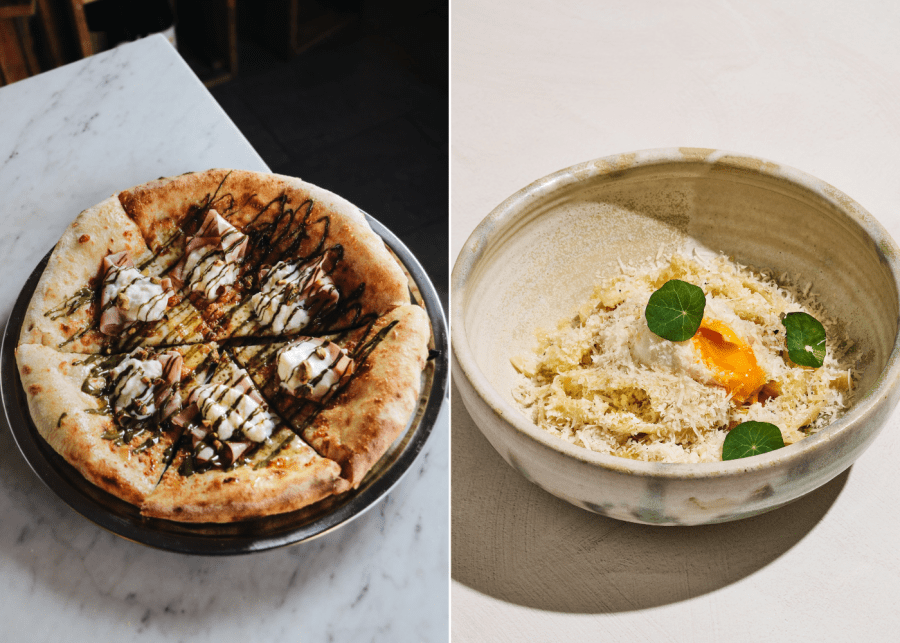 To pair with the wines, order appetisers like hummus ($12) and labneh ($12), both creamy dips to mop up with fresh sourdough flatbread. The chewy cacio e pepe udon pasta ($24) is a game-changer topped with a gooey egg and parmesan shavings. But if you're in the mood to indulge, get the duck and foie gras pie ($38) for bites of duck mince, foie gras and black truffles enveloped by flaky puff pastry.
Don't miss out on the sourdough pizzas, though. Options include Umami Magic ($22), a mix of mushrooms, ricotta, mozzarella, poached egg and ma la chilli crisp; and Sweet Dreams of Stracciatella ($26), a sweet-savoury combination of mortadella, mozzarella, pistachio paste and honey. Veggies aren't overlooked here either. The panzanella ($18) takes the classic Italian tomato salad and tops it with candied peanut and sesame brittle. Oh, and save space for desserts like yuzu cheesecake ($14) drizzled with herb oil and Okinawa black sugar tiramisu ($16), which is soaked in hojicha instead of coffee.
Common Man Night Shift, multiple locations including Stanley Street and Joo Chiat Road
Dakga
So you love K-BBQ? Say hello to the city's first Korean barbecue spot that calls attention to the humble chicken – specifically, chicken neck. Available in limited quantities daily, it comes in two varieties: boneless neck meat ($28/150g) or marinated neck meat ($29/150g) in spice rub. If thigh meat is your jam, get it dressed with the house-blend seasoning ($28/400g). For a clucking good time, add to your order chicken oyster, gizzard, tenderloin and heart. Don't forget to try side dishes like cheese fondue ($15) with nacho chips, kimchi pancake ($16), truffle triple eggs ($6), and curry fried chicken ($22).
Haven't had your fill yet? Turn to carbs for a hearty meal. Dakga ramen ($12) offers a bowl of chicken broth ramen with onsen egg, while gye bim myun dry cold noodle ($14) kicks it up a notch with chilli oil. If rice is more your thing, go for the old school lunch box ($10) of Korean chicken spam, sunny side up, stir-fried anchovies and kimchi. Drinks like soju and Korean beer are available on the menu, too.
Dakga, 17 Duxton Road, Singapore 089483
Blackbird
Heads up: there's a new bird on the (live music) block. Housed in a black-and-white building at Gillman Barracks, Blackbird is the brainchild of four friends who have a passion for live music (one of 'em is the founder of Timbre Group). The Western-style dishes include pizzas, lamb chops and steaks, as well as bar bites such as onion rings and chicken wings. Plus, you'll find draft beers, cocktails and wines on the drinks list. It's a pretty standard menu, so just come for the tunes, and stay for the lively vibes. Performers on the line-up feature names like Havana Social Club, Reverie, New Kitten Party, Jack & Rai, Shirlyn + The UnXpected, and loads more.
Blackbird, 8 Lock Road, Singapore 108936
---
Best new restaurants and menus in Singapore: April 2023
Aniba
A buzzworthy new restaurant has landed in Singapore, and we're lovin' it. Set up by the team behind Miznon and North Miznon, Aniba houses an upscale restaurant, cocktail lounge (complete with boozy bashes on Saturday nights) and private room. The menu is put together by chef Meir Adoni, who elevates Middle Eastern cuisine at this dining concept, which is one of the rare kosher spots in the city.
Aniba's entrance is hidden – head in through a private lift next to Bonham Street – but once you enter the smouldering space, it's all about dark wood tones, dim lights and a grand centrepiece bar. There's an electrifying energy in the air, boosted by booming beats and the hum of the open kitchen. And did we mention the view of the Singapore River and beyond? Spectacular.
You might be surprised to find only fresh seafood and vegetable-centric dishes on the menu, but on our visit, we didn't miss the meat at all. Instead, we filled up on hearty carbs with the scrumptious kubaneh ($34). The platter of traditional Yemenite brioche comes with crushed tomatoes, schug, olive oil, creme fraiche with za'atar, pickled radishes and baby eggplant for you to polish off every bit of that addictive bread.
For a deliciously creamy bouillabaisse, order the Jaffa Shore-line ($84) to enjoy oven-roasted grouper paired with the fluffiest couscous you'll ever try. If you're in the mood for a fruity dessert, we recommend Malabi ($31), a stack of caramelised shredded filo tuile with strawberries, raspberry sorbet, plum and spices compote, and malabi cream.
Oh, and don't forget to get a cocktail or two. The drinks lineup is influenced by flavours from North Africa, the Middle East and Asia, with unique concoctions like the Panacea ($25), a mix of London Dry Gin, orange sec, limoncello, bitters, citrus and shaved pecorino.
Aniba, #05-03, 6 Battery Road, Singapore 049909
Salt & Palm
From Sydney to Singapore, brother-and-sister duo Mark and Natasya Soetantyo bring their brand to town. Their neighbourhood restaurant-bar offers a fresh take on the flavours of the East Indies. Embellished with artworks by Australian, Indonesian and local artists, the space is abuzz with vibrant tunes, good food and wine. Try starters like corn fritter ($15), a vegan-friendly deep-fried corn snack served with chilli tomato salsa, or potato cake ($12), the eatery's rendition of perkedel made with potato, vegan mayo and seaweed-based vegan caviar.
Choose from heartier plates like beef short ribs ($52) cooked in a rendang sauce; prawn bisque pasta ($32) topped with an onsen egg, beansprouts, tobiko and chives; and duck confit served with Indonesian green mango tomato salsa and green sambal. For dessert, get the pandan coconut creme brulee ($15) – made without dairy or eggs – that's topped with jackfruit and berries. To round off the night, sip on natural wines from France, Italy, Spain and more.
Salt & Palm, 467 Joo Chiat Road, Singapore 427678
Numb Restaurant
Authentic Sichuan cuisine with a modern spin? Sign us right up. Brought to you by the team behind Chengdu Restaurant, this 80-seater's mouth-numbing dining experience is a delightful one – if you're into dishes that pack a punch. Go all out with the mala broth boiled seabass (from $39.80) or spicy chilli chicken with fried dough twist (from $30.80). Other must-tries include applewood smoked crispy chicken ($33.80) and Peking duck in a spicy stew ($39.80). To cool off, get the sweet and sour pork ($32.80) served with purple sweet potato, strawberries, blueberries and pineapple on a plate of ice.
For a little boozy pairing, order from the selection of craft beers by Brewlander, sip on red, white and sparkling wines, or clink cocktail glasses to wash down that tingling, numbing feeling.
Numb Restaurant, #01-12, Marina One West Tower, 5 Straits View, Singapore 018935
Nae:um
Korean chef Louis Han of one Michelin-starred restaurant Nae:um takes inspiration from his BBQ gatherings back home for the latest menu refresh. Front Yard Barbecue, which will be on offer till the end of summer, comes in the form of six-course Classic ($198) and eight-course Signature ($258) tasting menus. You'll find three cold dishes and three hot dishes in both, with extra signatures and contemporary creations in the latter, which we happily savoured.
Three beautiful bite-sized snacks arrive on the table first, served in a garden tray dotted with bunnies. Next, the gorgeously grilled duckgalbi, made of minced duck wrapped around a rice cake and skewered. Each bite gives you the crunch of quinoa puffs, that sticky sweet chilli sauce, and the herbaceous flavour of Korean perilla leaf.
The somyeon dish was another one we polished off – these aren't your average Korean buckwheat noodles. They're tossed in a mix of chopped white kimchi, spring onions, garlic, shallots, crab soy sauce and more, served with grilled Kurobuta black pork belly and cured tobiko sauce. For more meaty goodness, the binchotan-grilled MS7 wagyu tenderloin is a fork-tender treat. Just like everything else, it's pleasingly plated and comes with pickled sweet potato leaf, grilled king oyster mushroom, shishito peppers and a tiny bouquet of herbs.
Of course, you can't skip the carbs in K-BBQ, and the pork rib rice had us wishing there was a second serving waiting around the corner. Marinated in a sweet-savoury blend of soy sauce, apple, pear, onions, potatoes and chilli, the meat sits on a bed of barley, short white rice and brown rice, topped with a vibrant edible garden. End off with a refreshing dessert of lime, mint and lemon fruit sorbet with soju and lemon juice granita, vanilla yogurt mousse and melon tuille.
Nae:um, 161 Telok Ayer Street, Singapore 068615
Ikkagoyo
The newest kaiseki restaurant on Amoy Street, Ikkagoyo is helmed by Japanese chef-owner Mitsutaka Sakamoto, who's created a menu revolving around the finest seasonal ingredients from his home country. Get comfy in the 16-seater space and admire the counter made with 100-year-old Yoshino cypress as you partake in the prix fixe menu ($338). The 12-course lineup dishes out Spanish mackerel with aburi-style skin, and otoro served raw with kombu shoyu and gold flakes, as well as aburi-style topped with black peppercorns.
For the 'hassun' or seasonal platter, expect to dig into monkfish liver that's been chilled on ice and steamed over dashi. Other highlights include yellowtail enveloped in rice paper and deep-fried, abalone that's steamed for three hours and served with udon sauteed in abalone liver sauce and butter, and Japanese A5 wagyu cooked shabu shabu-style. Elevate your meal with a selection of junmai daiginjo grade sake or wine.
Ikkagoyo, #01-14, 115 Amoy Street, Singapore 069935
---
Best new restaurants and menus in Singapore: March 2023
Art di Daniele Sperindio
Ah, the beautiful one Michelin-starred Italian restaurant. Shall we list all the things we love about this fine dining destination? It's settled in snug at the rooftop of National Gallery Singapore, offering breathtaking views of Marina Bay and its surroundings. Service is attentive and impeccable. The decor is modern and classy, with few tables dotting the space to make it an exclusive experience. And the food is just splendid.
Now relaunched as a chef-owned venue, the former Art Restaurant sees ilLido's previous group executive chef Daniele Sperindio at the helm, and the change in hands is one we're totally on board for. At $328 per person, the seven-course Art 4.0 tasting menu is a bit of a splurge, though you can pop by for a slightly more pocket-friendly lunch. But we'd recommend this culinary experience for special occasions in the evening – that's when it shines the brightest (and the views are spectacular). Tip: carve out a good chunk of time for dinner, 'cause you'll be grazing for a couple of hours.
Each dish is a true work of art, but the creations also weave stories of the affable chef's home country and experiences. We love how he reveals a little bit about himself in every course, whether it's through the way the ingredients come together or the personable tales he tells. From the humble bread course elevated with rustic sourdough and high hydration ciabatta (along with a simply sublime butter sourced from Beppino Occelli) to the elegant bite-sized snacks bursting with flavour, our meal was off to a great start.
Tea time underwent a makeover, catching our fancy with its medley of glazed porcini, sabayon and mushroom tea – it's an earthy, feel-good dish. But our standout? La Superba, a pasta course influenced by chef's hometown of Genova. Taglierini is made with flour and yolks (not a drop of water), served in an infusion of clams and stock fish, with parsley butter, taggiasche olive puree, and a zesting yellowfin tuna bottarga for an intense seafood flavour that lingers in the mouth.
Part two came in the form of a giradito, a colourful pasta noodle shaped into a ravioli-like form and stuffed with ragout of aged Challans duck. Finally, the course wrapped up with chef's signature scarpetta, a fluffy slice of Ligurian focaccia that you can dip into braised meat tocco, basil pesto and parmigiano sauces.
Dessert was an absolute banger, amusingly named Tourists on Mount Vesuvio, as chef describes it as common to come across Italians from the south heading to a restaurant in the north with a "little piece of home in their pocket" to add to a dish. Sort of a play on the classic mont blanc, the dish is sweet, savoury, creamy and brimming with depths of flavours from buffalo milk gelato, whisky-laced toffee, cocoa nib tuille, and a deconstructed Napolitan biscotti all'amarena. The finishing touch? A non-Napolitan ingredient: a 40-year-old aged balsamic vinegar that chef jokes he chose because they're both around the same age and can grow old together. What a work of art.
Art di Daniele Sperindio, #06-02, National Gallery Singapore, 1 St. Andrew's Road, Singapore 178957
Xiabu Xiabu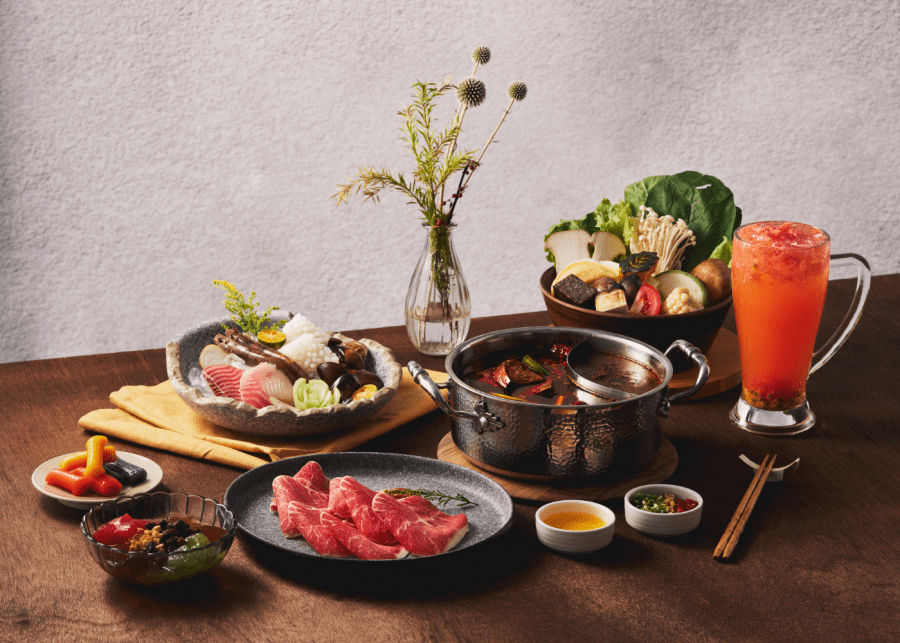 Individual hotpots with free-flow noodles and shaved ice desserts? You bet we ran to Bras Basah to get ourselves a spot at Xiabu Xiabu for lunch. Whether you're dining alone or in a large group, the restaurant has several tables fitted with individual induction stoves and ample space for all your ingredients. You can order a la carte plates of sliced pork, beef, lamb, or chicken and seafood, but we highly recommend going for the set menus to enjoy a feast.
It'll set you up with a soup base, vegetable platter, tea, your choice of protein, and access to free-flow condiments, noodles, and the dessert bar. We say top up a little more to get a taste of the spicy Sichuan soup or pork tripe and chicken soup base, which uses Oatly milk! It even comes with a mini portion of the mushroom soup base. That's right, you'll get two soups for this hotpot experience. Plus, there are cooked sides like crispy squid, popcorn chicken, and Taiwanese sausage to dig into. If you're craving bubble tea, browse the huge list of flavour options. We promise you'll walk away full and satisfied – we certainly did.
Xiabu Xiabu, #01-03/04, Lazada One, Bras Basah Road, Singapore 189554
Fat Cow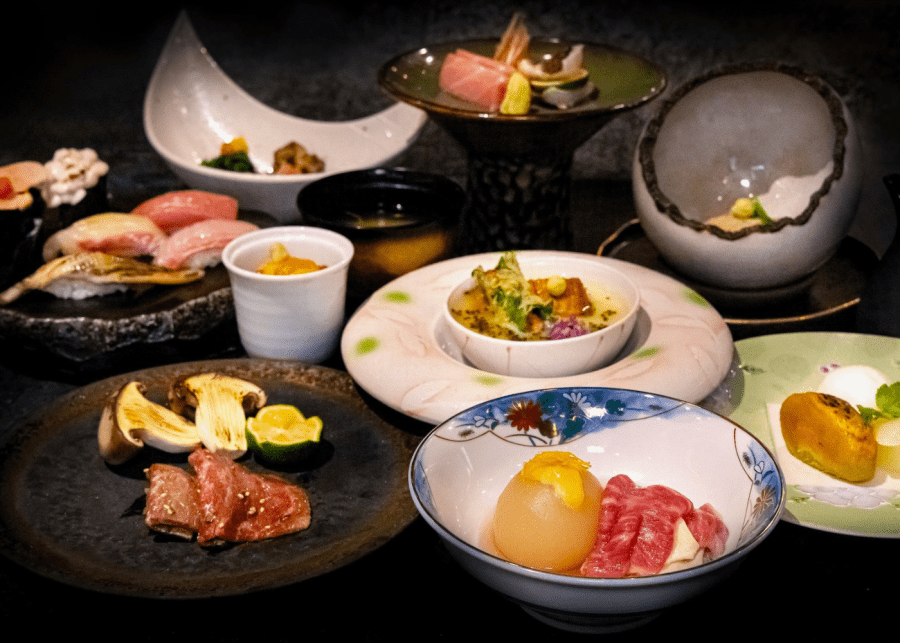 If you haven't been to Fat Cow in a hot minute, we recommend you make plans. The renowned fine dining establishment, which has been in operation for 13 years, is now under the leadership of head chef Shingo Iijima. He's placed a greater emphasis on washoku – traditional Japanese flavours and techniques. You'll find his influence is evident all throughout the revamped Chef's Table omakase menus, which include the Shin omakase ($168) and Tetsu omakase ($350) for lunch and dinner, respectively.
We tried the decadent Tetsu omakase menu, which pays tribute to chef Shingo's master of the same name. This includes nine intricate courses, each artfully presented as miniature masterpieces that are almost too exquisite to consume. The dishes are thoughtfully arranged in an alternating light-and-heavy format, creating balance for our palates – we enjoyed the entire meal without feeling overwhelmed.
Expect each course to contain elements of contrasting flavours and textures. The kamasu warayaki and hon maguro otoro showcased a smoky and robust Japanese barracuda, accompanied by extra tender slices of bluefin tuna belly that literally melted in our mouths. The unagi tamajimushi, an elevated chawanmushi dish, presented a silky smooth base layered with charcoal-grilled unagi. This was complemented by mountain caviar sauce and creamy uni nestled within a crispy deep-fried perilla leaf, delivering a super satisfying crunch with every bite.
While you can satisfy your craving for Japanese wagyu with dishes like lotus root glutinous rice cake with wagyu beef, the highlight of our meal was undoubtedly the two sushi courses served in the middle and at the end. Chef Shingo uses two types of sushi rice: one mixed with white vinegar, and the other with red vinegar to match the different types of fish. We fell in love with the steamed monkfish liver: its texture was incredibly velvety and indulgent, having been meticulously strained twice to achieve a luxuriously thick consistency.
Perfectly balanced, well-paced, and absolutely delicious: this is one omakase experience well worth the price tag. We can't wait to see what else chef Shingo will conjure up during his tenure with Fat Cow.
Fat Cow, #01-01/02, Camden Medical Centre, 1 Orchard Boulevard, Singapore 248649
Restaurant Chedi
Head to a shophouse in Jalan Besar for the ultimate Thai experience. You'll gaze at folk art along the wall while vibing to a cool playlist of pop and rock Thai tunes at this new restaurant. Plop down at the counter for the chef's table, or gather your group in the dining space. From hot and sour to salty and sweet, the ever-changing eight-course tasting menu ($148) takes you on a trip through the Land of Smiles in a way that's both comforting and new.
Highlights from the current line-up include tom kha gai – this rendition offers up a chicken wingette stuffed with peppery chicken and mushroom glutinous rice as well as foie gras, served with a cold espuma of coconut milk infused with shallots, lemongrass and galangal. Next, gaeng som fak thong is an orange curry that's thickened with Japanese pumpkin puree and paired with Chilean sea bass on tilapia fish floss. For more indulgence, add the signature salted ikan kurau (threadfin) fried rice to your order and enjoy the smoky char with each bite of fresh crabmeat and tobiko.
Restaurant Chedi, 15 Hamilton Road, Singapore 209185
Noka
Regulars of Noka may already be familiar with this modern restaurant's lineup of dishes like Kagoshima pork belly with dashi noodles, or its uber-indulgent 17-course omakase experience. But it's recently released another option that'll give you a reason to head down: a lunch omakase menu priced at a mere $80. Talk about value for money.
Available weekly from Tuesdays to Fridays, this experience features seven mouthwatering courses that emphasise Noka's provenance-driven and progressive vision. While waiting for the meal to start, we sipped on a warm glass of lemongrass tea harvested from the neighbouring open-air farm. Pretty apt, considering Noka means 'farmhouse' in Japanese.
Our first course featured a seared and scored scallop snow crab that sat in a tart vinegar jelly, perfectly complementing its fresh flavours. The next two courses, hirame (flounder) and amaebi (sweet shrimp), were served together and had a subtle sweetness that paired perfectly with freshly grated wasabi. Other standout dishes include seared unagi on a rice cracker and minced bluefin tuna with diced wasabi and avocado, stuffed into a flower-shaped monaka.
However, the highlight of the entire experience was undoubtedly the gindara saikyo miso – a succulent cut of black cod cooked to perfection in a collagen-rich bone broth with a delicious salty-sweet flavour. The dish is served with a side of blended puffed rice to balance out the richness of the cod.
To cap off the meal: a serving of seasonal fruit. This varies on a weekly basis. We were treated to snow white strawberries on crushed ice and topped with freeze-dried strawberry powder. At $80, this is one omakase experience you can't miss. We left feeling content and comfortably full, with seven courses being just the right amount for a satisfying lunch.
Noka, #07-38, Lift Lobby A, Funan, 109 North Bridge Road, Singapore 179097
Marguerite
Haven't been to Marguerite since it snagged its first Michelin star in 2022? Now's the time to hit up the restaurant and try chef Michael Wilson's refreshed seven-course menu ($288) inspired by nature and the season's finest. You'll start with smoked eel and oyster mousse pearl in a pool of smoked eel consomme, followed by Roscoff onion custard with pearl onions, wood-grilled Scottish diver scallops and crosne in foie gras-infused chicken jus.
When the mains roll around, you'll be served dry-aged St Peter's fish with salsa verde made from wood sorrel and watercress. To end off, the unique Jerusalem artichoke gelato sits on a bed of cocoa and coffee soil, chocolate sponge, and hazelnut diplomat cream. It's finished with chocolate twigs, 20-year aged balsamic vinegar, coffee oil and pumpkin maple leaf crisps.
What's a memorable meal without canapes and fabulous dessert nibbles? The bouillabaise is whipped into an espuma and served with Dungeness crab, espellete pepper, croutons and pink garlic aioli. Meanwhile, the Mallard duck dish shows off different parts of the bird. Don't miss out on the fantastic trolley of sweet treats to go with your coffee or tea! Oh, and vegetarian courses are available if you'd like to go that route.
Marguerite, #01-09, Flower Dome, Gardens by the Bay, 18 Marina Gardens Drive, Singapore 018953
---
Best new restaurants and menus in Singapore: February 2023
Fleurette
Hidden on a street teeming with durian stalls, bak kut teh joints, hawker spots and cafes, Fleurette stands out with its minimalist, enigmatic entrance. The restaurant has a quiet allure, drawing you in with its warm, dark woods and raw brick walls that extend to the interior. It's helmed by chef Tariq Helou, who's relaxed and personable behind the open kitchen counter. The 28-year-old is of Japanese, Chinese-Singaporean and Lebanese descent, but it's his Japanese background that holds the biggest influence on his food at Fleurette.
With just 10 counter seats and a private dining room for six, the space is small. But that also means every diner experiences impeccable service. For the curious among us, you'll notice the attention to detail – from the custom-made Japanese plates to the gorgeous seasonal blooms by locally-based artisans. Get cosy by the counter, where all the action takes place, and try the incredible new winter menu ($298) best experienced with the sake pairing ($198).
To start, the botan ebi somen with chilled dashi and botan ebi oil (made from the leftover heads and shells) gives you that intense prawn flavour with a clean broth you'll want to polish off. In case you're wondering, it's chef Tariq's take on prawn mee. The tuna akami with avocado is beautifully done – it's smooth and salty with a bit of texture in each bite from the caviar. And that uni-topped choux puff with soy milk bechamel? Absolutely scrumptious – fluffy, light and decadent in all the right places.
The foie gras monaka with black winter truffle and madeira jelly, and caramelised onion jam, is another one-bite wonder. It's crisp and creamy all at once. Plus, chawanmushi gets the luxe treatment with Fleurette's special reserve caviar. But the pan-seared Hokkaido scallop served with sambal beurre blanc was definitely the highlight of our night. We loved the local touch with sambal for just a lick of heat, and those pickled pearl onions and finger lime added a welcome crunch and cleansing zest.
For the main, a French guinea fowl is grilled over binchotan charcoal and served with potato puree and maitake mushrooms, plus a drizzle of XO oil. We were kind of obsessed with the crab donabe too – it's a scoop of fragrant rice that's light on flavour and won't put you in an instant food coma. For dessert, you'll see Hokkaido milk ice cream in a new light as it's served with a splash of Spanish extra virgin olive oil and snow salt from Osaka. That sweet creaminess of the frozen scoop paired with a salty, savoury touch was pure delight. Wondering about that buttery aroma wafting towards your seat as your meal comes to an end? Tahitian vanilla and honey madeleines – don't miss out on 'em.
Fleurette, 204 Rangoon Road, Singapore 218451
Quay House
New to Singapore, this restaurant is a modern, refined space that plates out dishes inspired by the heritage and cuisine of Southeast Asia. The flavours and ingredients are familiar, but they're given a beautiful, contemporary spin thanks to head chef Keith Wan. You'll find the dining experience hearty and comforting, executed to perfection with techniques like fermentation, ageing and wood-fired cooking.
Highlights include the Balinese kampung chicken ($36), which is marinated in a betutu rub (a spice paste made of chilli and Southeast Asian herbs), octopus patak ($42) served in a spiced spinach puree, and the Quay House duck ($58). You get the bird in two different variations: confit, as well as aged and smoked over lychee wood for six hours, served with a Nonya curry. To start with a zing, get the Burmese tomato salad ($14): a vegan creation with juicy tomatoes, roasted peanuts for crunch, and an outstanding house-made chickpea dressing.
We particularly loved the bo kho sticky beef cheeks ($45). The traditional Vietnamese stew is reduced to a braised finish, served with smoked pineapple, shrimp floss, shallots and chives. Each bite of wagyu is tender, with a sweet stickiness from the sauce and a tart brightness from the pineapple chunks. The otak-otak steamed egg ($16) is another must-try, as the familiar dish is taken up a notch with the addition of rempah gravy.
For dessert, try the egg tart ($16) with toasted rice ice cream and brown butter crumble. It's reminiscent of a Portuguese egg tart, with a creamy custard centre and flaky base. Don't forget the drinks! Spice up your meal with The Southeast ($22), made with Sichuan pepper and chilli-infused gin, mint, Thai basil, lime, sugar and herbs. Or go the unique route with Smoky Ducky ($24), an intense umami mix of smoked duck fat-washed dark rum, maple syrup, bitters and applewood smoke.
Psst: we'll let you in on a little secret. If you're here on a date or with a group of fun-loving friends, head upstairs after your meal for an interactive adventure with Kulnari Mystery Golf. Once you step into the hazy, dimly-lit space, you'll be transported to 1920s Boat Quay as you tackle escape room puzzles and mini golf games.
Quay House, 51 Circular Road, Singapore 049406
Revolver
Step into this buzzy, open-fire grill restaurant and you'll immediately lay eyes on the team bustling around the kitchen's custom-built wood-fire and binchotan grills, as well as the tandoor. There's a tinge of smoky aroma in the air, and that's when you know you're in for a good time. Plop down by the counter for an unbeatable view of chefs doing what they do best, or pick a seat at the booths for a little privacy. The sleek space is perfect for lively gatherings and cosy dates, with an electrifying playlist that'll get you bopping every now and then. It's the kind of place you'll want to bring friends who love discovering cool new hangouts.
As for Revolver's revamped menu, Bullet 8 is fiery, flavourful and fire-kissed. We recommend you go for the nine-course Experience ($229). It starts with a stunning snack box of burrata chaat (the cheese is mixed with dry ginger chutney and enveloped in a basil shell), sago crab (with the crustacean served on a spiced sago patty) and wagyu caviar tostada. If only all bite-sized treats could be as impressive as these!
Next up, the wood-fire grilled romanesco with ginger and tomato sauce will make any veggie-hater change their mind. Oh, and that plate of fresh paneer stuffed with cashew nuts and chunda goes perfectly with the sweet mango and habanero salsa. Now that you're all fired up about the food, things amp up with the Japanese hamachi collar. Marinated with mustard oil and garam masala before it's sent to the tandoor, the fish is fall-off-the-bone tender, and the sprinkle of spiked chilli dust and lemon juice gives it that extra oomph of spice and zest. No doubt, it's the kind of dish you'll make a return reservation for.
More spices, sublime sauces and deliciously grilled plates come in the form of the Australian marron with coriander and mint butter, as well as the nicely-charred New Zealand Pamu venison chop. But you'll want to save space for the kulchette elevated with black truffle. This parmesan-stuffed Indian bread arrives on your table fresh out of the tandoor, and you can watch the chef shave those coveted black truffles right in front of you. Finally, end off with a sea buckthorn and cherry panjiri dessert.
Wine pairings, lunch and vegetarian courses are available as well – just hit up Revolver from now till the end of March to experience Bullet 8. Oh, and if you have room for more, head upstairs to sister bar Barood and liven up your evening with cocktails.
Revolver, 56 Tras Street, Singapore 078997
Nagai Hokkaido Cuisine
A name that's been around since 1993, this popular kaiseki restaurant from Sapporo has chosen Singapore as the destination for its first new international outpost. Featuring four omakase menus (from $98), every dish is made with the freshest sashimi, seafood and produce air-flown from Japan twice a week. One signature you have to try? The hand-carved ice plate sashimi, a showstopper that stars kinki fish, hirame, akami, botan ebi, shirako and more.
When lunch time rolls around, head over for affordable sets (from $28) such as the premium kaisen don. This bestseller tops fluffy Japanese rice with botan ebi, ikura, salmon, uni, maguro and more, served with miso soup, chawanmushi and pickles. Other picks include the wagyu roast beef set and the tempura set with deep-fried seafood and vegetables. Pair your meal with spectacular sips of sake for the full experience.
Nagai Hokkaido Cuisine, #03-314, Eat at Seven, Suntec City Tower 1, 3 Temasek Boulevard, Singapore 038983
Sushi Sei
Treat yourself to a kaiseki dining experience in Singapore at this new minimalist Japanese restaurant that's home to just 10 counter seats and a private room for six. Headed by a master chef armed with decades of experience, the kitchen crafts simple yet refined dishes that serve to spotlight the fresh flavours of each ingredient.
The menu takes you through courses from soup and sashimi to grilled items and nigiri, all made with produce regularly flown in from Toyosu Market in Tokyo and Hokkaido. Dinner courses start from $400, while the price tag for lunch starts from $200, so save this place for a splurge. Want a peek at what to expect? Highlights include blue squid sashimi with konowata and deep-fried artichoke with grilled A5 Miyagi sirloin.
Sushi Sei, #01-13/14, Holiday Inn Singapore City Centre, 11 Cavenagh Road, Singapore 229616
---
Best new restaurants and menus in Singapore: January 2023
Alkove
French food in the heartlands? Yes, please. Armed with experience in the kitchens of Joel Robuchon Restaurant and Les Amis, chef Haikal Johari sets up shop at a cosy bistro in Kovan. But don't expect a fine dining experience. This colourful space is all about casual catch-ups with family and friends over sweet and savoury French faves.
Pop by in the morning for almond coconut croissants ($5.50), cardamom kouign amann ($5.80) and gula melaka caneles ($3). Or swing by during brunch for dishes like scrambled eggs with sourdough and smoked beef sausage ($17.90) and smoked duck with brie and foie gras pate on sourdough ($18.90). For a classic treat, there's always the croque monsieur ($16.90)! Other lunch highlights include French onion soup ($11.90), ocean trout ($25) and wagyu onglet steak frites ($32). Complete your meal with brews by Cata coffee and Ette tea.
Alkove, #01-10, Simon Plaza, 2 Kovan Road, Singapore 548008
Ahara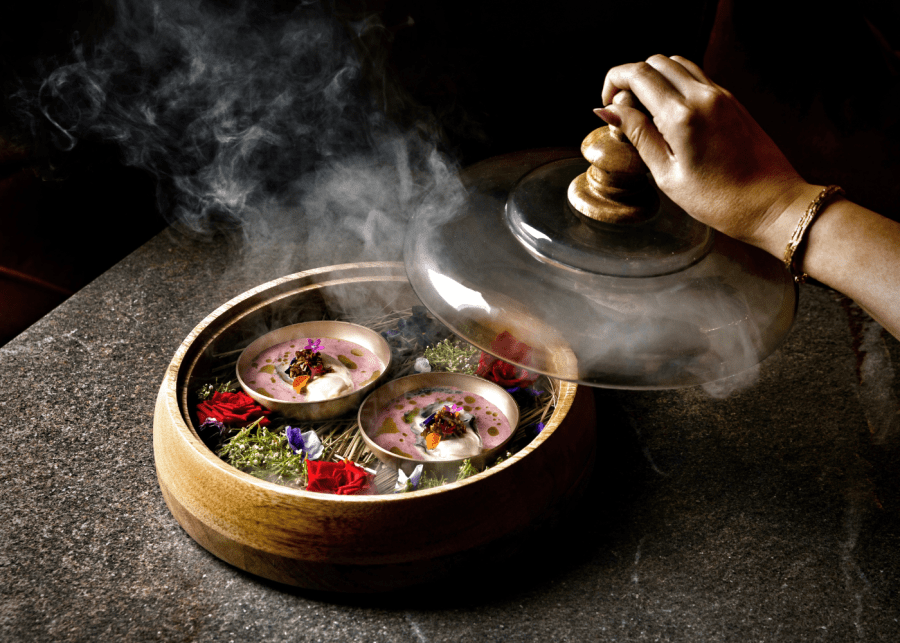 Keong Saik Road welcomes a new fine dining face: chef-owner Vikramjit Roy's first restaurant in Singapore. The celebrated Indian chef pays tribute to India by drawing from the country's diverse history, culture, traditions and arts. Step into the 32-seater space and you'll feel immediately welcomed by contemporary artworks. Settle in before choosing between the Explore (nine-course, $248++) and Expedition (16-course, $338++) menus.
To start, a sublime series of snacks. The hay smoked oysters with sol kadhi are tart and fresh. Next, you'll move on to dishes like Hokkaido scallops with aloo gobhi (potato and cauliflower) mash and pickled cauliflower florets, Madra curry sauce, and ikura, followed by The Grandeur. This stunning centrepiece features a whole marinated chicken encased in wholewheat dough and baked in the tandoor. It's served with sides like dak makhni, lehsuni palak, roasted onion pulao and more.
Ahara, 20 Teck Lim Road, Singapore 08839
Soi Social
Celeb chef Ian Kittichai – the name behind places like Issaya Siamese Club in Bangkok and Spot Dessert Bar in NYC – debuts a new concept at Resorts World Sentosa spotlighting Thai cuisine. Taking up a revamped dining space at RWS' Festive Walk, the restaurant cooks up modern renditions of classic dishes across Thailand. Grab your buddies for a communal feast with plates of Chiang Mai duck sausage, seared scallops, duck leg confit with papaya salad and sticky rice, and roasted marinated duck in Thai red curry sauce.
For heartier plates, try the creations that come straight out of the wood-fired oven or binchotan grill. Order BBQ Southern-style toothfish with yellow curry sauce or the charcoal-grilled striploin with Thai chilli dipping sauce. Of course, with all those potent flavours, you'll need Thai-inspired cocktails to keep you going. Get the Siam Sour for a mix of Phraya rum, lemon juice, egg white, and hom mali rice and lemongrass syrup.
Whether you choose to dine alfresco, indoors where the glass show kitchen sits, or enclosed in one of the two private dining rooms, Soi Social welcomes one and all into its space for a tropical chic evening.
Soi Social, Festive Walk, Resorts World Sentosa, 8 Sentosa Gateway, Singapore 098269
Yue Bai
If you're searching for new restaurants in Singapore, head to Duxton Road for contemporary renditions of Chinese heritage dishes created by co-owner and chef Lee Hongwei. Here, the cuisine is influenced by the principles of traditional Chinese dietary therapy, but made modern through his lens. The result? A menu that juggles balanced dishes and familiar flavours to rejuvenate the mind and body. With a decor backdrop that's reminiscent of a traditional teahouse, this dining experience is an elegant, tranquil one.
Take a peek at the a la carte menu for double-boiled soups, seafood, meat, rice and noodles. Or go for the set menus that are said to nourish the body according to the seasons. Appetisers to try include crispy burdock tossed with sesame seeds and 7-spice powder ($14), roselle flower-infused winter melon ($12), and Australian lamb jelly with black bean and passion fruit-infused pumpkin ($22). For something meatier, the braised duck with sea cucumber, hawthorn and Korean snow pear ($58) will satisfy. End off with crispy black sesame mochi ($12) for a tinge of sweetness.
Yue Bai, 33 Duxton Road, Singapore 089497
Add these new restaurants in Singapore to your 2023 bucket list!