Photography: Art di Daniele Sperindio
We scout out the best new restaurants and menus in Singapore for 2023 so you'll always be in-the-know. Bookmark this page for regular updates!
New year, new bucket list of restaurants in Singapore to try. This March, the feast starts with everything from Japanese food to Italian cuisine. Hungry yet? These are the finest fresh faces in town right now.
Best new restaurants in Singapore: March 2023
Art di Daniele Sperindio
Ah, the beautiful one Michelin-starred Italian restaurant. Shall we list all the things we love about this fine dining destination? It's settled in snug at the rooftop of National Gallery Singapore, offering breathtaking views of Marina Bay and its surroundings. Service is attentive and impeccable. The decor is modern and classy, with few tables dotting the space to make it an exclusive experience. And the food is just splendid.
Now relaunched as a chef-owned venue, the former Art Restaurant sees ilLido's previous group executive chef Daniele Sperindio at the helm, and the change in hands is one we're totally on board for. At $328 per person, the seven-course Art 4.0 tasting menu is a bit of a splurge, though you can pop by for a slightly more pocket-friendly lunch. But we'd recommend this culinary experience for special occasions in the evening – that's when it shines the brightest (and the views are spectacular). Tip: carve out a good chunk of time for dinner, 'cause you'll be grazing for a couple of hours.
Each dish is a true work of art, but the creations also weave stories of the affable chef's home country and experiences. We love how he reveals a little bit about himself in every course, whether it's through the way the ingredients come together or the personable tales he tells. From the humble bread course elevated with rustic sourdough and high hydration ciabatta (along with a simply sublime butter sourced from Beppino Occelli) to the elegant bite-sized snacks bursting with flavour, our meal was off to a great start.
Tea time underwent a makeover, catching our fancy with its medley of glazed porcini, sabayon and mushroom tea – it's an earthy, feel-good dish. But our standout? La Superba, a pasta course influenced by chef's hometown of Genova. Taglierini is made with flour and yolks (not a drop of water), served in an infusion of clams and stock fish, with parsley butter, taggiasche olive puree, and a zesting yellowfin tuna bottarga for an intense seafood flavour that lingers in the mouth.
Part two came in the form of a giradito, a colourful pasta noodle shaped into a ravioli-like form and stuffed with ragout of aged Challans duck. Finally, the course wrapped up with chef's signature scarpetta, a fluffy slice of Ligurian focaccia that you can dip into braised meat tocco, basil pesto and parmigiano sauces.
Dessert was an absolute banger, amusingly named Tourists on Mount Vesuvio, as chef describes it as common to come across Italians from the south heading to a restaurant in the north with a "little piece of home in their pocket" to add to a dish. Sort of a play on the classic mont blanc, the dish is sweet, savoury, creamy and brimming with depths of flavours from buffalo milk gelato, whisky-laced toffee, cocoa nib tuille, and a deconstructed Napolitan biscotti all'amarena. The finishing touch? A non-Napolitan ingredient: a 40-year-old aged balsamic vinegar that chef jokes he chose because they're both around the same age and can grow old together. What a work of art.
Art di Daniele Sperindio, #06-02, National Gallery Singapore, 1 St. Andrew's Road, Singapore 178957
Xiabu Xiabu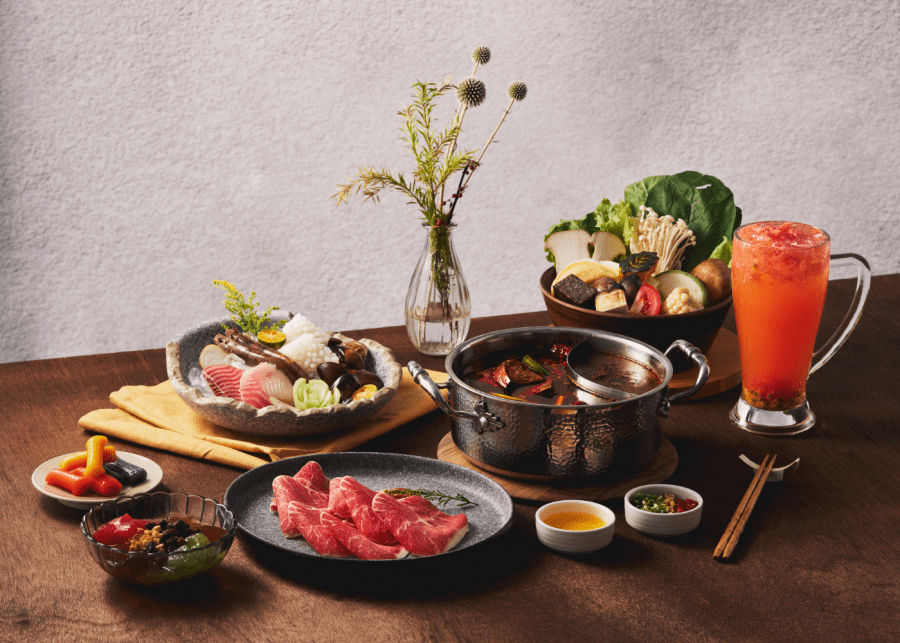 Individual hotpots with free-flow noodles and shaved ice desserts? You bet we ran to Bras Basah to get ourselves a spot at Xiabu Xiabu for lunch. Whether you're dining alone or in a large group, the restaurant has several tables fitted with individual induction stoves and ample space for all your ingredients. You can order a la carte plates of sliced pork, beef, lamb, or chicken and seafood, but we highly recommend going for the set menus to enjoy a feast.
It'll set you up with a soup base, vegetable platter, tea, your choice of protein, and access to free-flow condiments, noodles, and the dessert bar. We say top up a little more to get a taste of the spicy Sichuan soup or pork tripe and chicken soup base, which uses Oatly milk! It even comes with a mini portion of the mushroom soup base. That's right, you'll get two soups for this hotpot experience. Plus, there are cooked sides like crispy squid, popcorn chicken, and Taiwanese sausage to dig into. If you're craving bubble tea, browse the huge list of flavour options. We promise you'll walk away full and satisfied – we certainly did.
Xiabu Xiabu, #01-03/04, Lazada One, Bras Basah Road, Singapore 189554
Fat Cow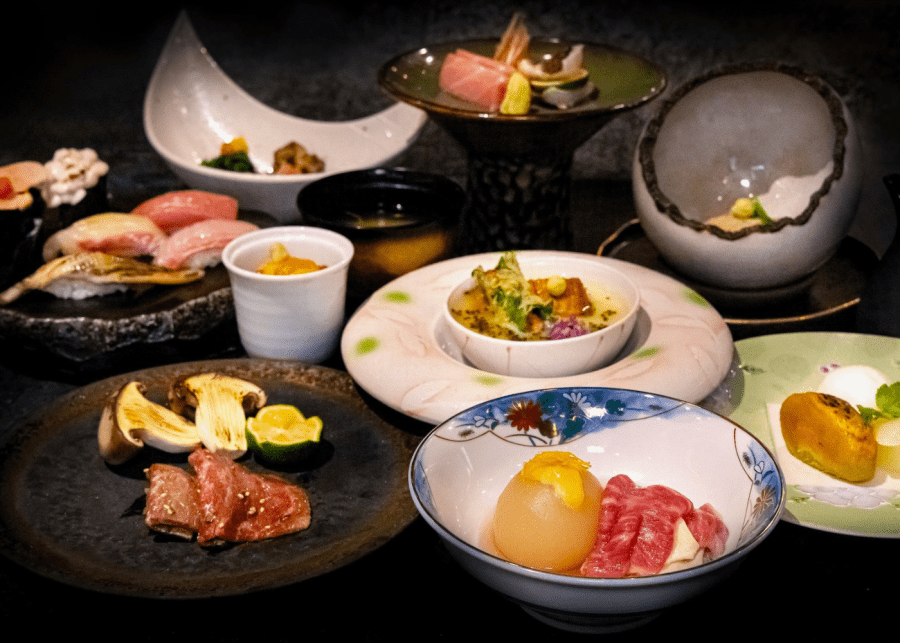 If you haven't been to Fat Cow in a hot minute, we recommend you make plans. The renowned fine dining establishment, which has been in operation for 13 years, is now under the leadership of head chef Shingo Iijima. He's placed a greater emphasis on washoku – traditional Japanese flavours and techniques. You'll find his influence is evident all throughout the revamped Chef's Table omakase menus, which include the Shin omakase ($168) and Tetsu omakase ($350) for lunch and dinner, respectively.
We tried the decadent Tetsu omakase menu, which pays tribute to chef Shingo's master of the same name. This includes nine intricate courses, each artfully presented as miniature masterpieces that are almost too exquisite to consume. The dishes are thoughtfully arranged in an alternating light-and-heavy format, creating balance for our palates – we enjoyed the entire meal without feeling overwhelmed.
Expect each course to contain elements of contrasting flavours and textures. The kamasu warayaki and hon maguro otoro showcased a smoky and robust Japanese barracuda, accompanied by extra tender slices of bluefin tuna belly that literally melted in our mouths. The unagi tamajimushi, an elevated chawanmushi dish, presented a silky smooth base layered with charcoal-grilled unagi. This was complemented by mountain caviar sauce and creamy uni nestled within a crispy deep-fried perilla leaf, delivering a super satisfying crunch with every bite.
While you can satisfy your craving for Japanese wagyu with dishes like lotus root glutinous rice cake with wagyu beef, the highlight of our meal was undoubtedly the two sushi courses served in the middle and at the end. Chef Shingo uses two types of sushi rice: one mixed with white vinegar, and the other with red vinegar to match the different types of fish. We fell in love with the steamed monkfish liver: its texture was incredibly velvety and indulgent, having been meticulously strained twice to achieve a luxuriously thick consistency.
Perfectly balanced, well-paced, and absolutely delicious: this is one omakase experience well worth the price tag. We can't wait to see what else chef Shingo will conjure up during his tenure with Fat Cow.
Fat Cow, #01-01/02, Camden Medical Centre, 1 Orchard Boulevard, Singapore 248649
Restaurant Chedi
Head to a shophouse in Jalan Besar for the ultimate Thai experience. You'll gaze at folk art along the wall while vibing to a cool playlist of pop and rock Thai tunes at this new restaurant. Plop down at the counter for the chef's table, or gather your group in the dining space. From hot and sour to salty and sweet, the ever-changing eight-course tasting menu ($148) takes you on a trip through the Land of Smiles in a way that's both comforting and new.
Highlights from the current line-up include tom kha gai – this rendition offers up a chicken wingette stuffed with peppery chicken and mushroom glutinous rice as well as foie gras, served with a cold espuma of coconut milk infused with shallots, lemongrass and galangal. Next, gaeng som fak thong is an orange curry that's thickened with Japanese pumpkin puree and paired with Chilean sea bass on tilapia fish floss. For more indulgence, add the signature salted ikan kurau (threadfin) fried rice to your order and enjoy the smoky char with each bite of fresh crabmeat and tobiko.
Restaurant Chedi, 15 Hamilton Road, Singapore 209185
Noka
Regulars of Noka may already be familiar with this modern restaurant's lineup of dishes like Kagoshima pork belly with dashi noodles, or its uber-indulgent 17-course omakase experience. But it's recently released another option that'll give you a reason to head down: a lunch omakase menu priced at a mere $80. Talk about value for money.
Available weekly from Tuesdays to Fridays, this experience features seven mouthwatering courses that emphasise Noka's provenance-driven and progressive vision. While waiting for the meal to start, we sipped on a warm glass of lemongrass tea harvested from the neighbouring open-air farm. Pretty apt, considering Noka means 'farmhouse' in Japanese.
Our first course featured a seared and scored scallop snow crab that sat in a tart vinegar jelly, perfectly complementing its fresh flavours. The next two courses, hirame (flounder) and amaebi (sweet shrimp), were served together and had a subtle sweetness that paired perfectly with freshly grated wasabi. Other standout dishes include seared unagi on a rice cracker and minced bluefin tuna with diced wasabi and avocado, stuffed into a flower-shaped monaka.
However, the highlight of the entire experience was undoubtedly the gindara saikyo miso – a succulent cut of black cod cooked to perfection in a collagen-rich bone broth with a delicious salty-sweet flavour. The dish is served with a side of blended puffed rice to balance out the richness of the cod.
To cap off the meal: a serving of seasonal fruit. This varies on a weekly basis. We were treated to snow white strawberries on crushed ice and topped with freeze-dried strawberry powder. At $80, this is one omakase experience you can't miss. We left feeling content and comfortably full, with seven courses being just the right amount for a satisfying lunch.
Noka, #07-38, Lift Lobby A, Funan, 109 North Bridge Road, Singapore 179097
Marguerite
Haven't been to Marguerite since it snagged its first Michelin star in 2022? Now's the time to hit up the restaurant and try chef Michael Wilson's refreshed seven-course menu ($288) inspired by nature and the season's finest. You'll start with smoked eel and oyster mousse pearl in a pool of smoked eel consomme, followed by Roscoff onion custard with pearl onions, wood-grilled Scottish diver scallops and crosne in foie gras-infused chicken jus.
When the mains roll around, you'll be served dry-aged St Peter's fish with salsa verde made from wood sorrel and watercress. To end off, the unique Jerusalem artichoke gelato sits on a bed of cocoa and coffee soil, chocolate sponge, and hazelnut diplomat cream. It's finished with chocolate twigs, 20-year aged balsamic vinegar, coffee oil and pumpkin maple leaf crisps.
What's a memorable meal without canapes and fabulous dessert nibbles? The bouillabaise is whipped into an espuma and served with Dungeness crab, espellete pepper, croutons and pink garlic aioli. Meanwhile, the Mallard duck dish shows off different parts of the bird. Don't miss out on the fantastic trolley of sweet treats to go with your coffee or tea! Oh, and vegetarian courses are available if you'd like to go that route.
Marguerite, #01-09, Flower Dome, Gardens by the Bay, 18 Marina Gardens Drive, Singapore 018953
---
Best new restaurants in Singapore: February 2023
Fleurette
Hidden on a street teeming with durian stalls, bak kut teh joints, hawker spots and cafes, Fleurette stands out with its minimalist, enigmatic entrance. The restaurant has a quiet allure, drawing you in with its warm, dark woods and raw brick walls that extend to the interior. It's helmed by chef Tariq Helou, who's relaxed and personable behind the open kitchen counter. The 28-year-old is of Japanese, Chinese-Singaporean and Lebanese descent, but it's his Japanese background that holds the biggest influence on his food at Fleurette.
With just 10 counter seats and a private dining room for six, the space is small. But that also means every diner experiences impeccable service. For the curious among us, you'll notice the attention to detail – from the custom-made Japanese plates to the gorgeous seasonal blooms by locally-based artisans. Get cosy by the counter, where all the action takes place, and try the incredible new winter menu ($298) best experienced with the sake pairing ($198).
To start, the botan ebi somen with chilled dashi and botan ebi oil (made from the leftover heads and shells) gives you that intense prawn flavour with a clean broth you'll want to polish off. In case you're wondering, it's chef Tariq's take on prawn mee. The tuna akami with avocado is beautifully done – it's smooth and salty with a bit of texture in each bite from the caviar. And that uni-topped choux puff with soy milk bechamel? Absolutely scrumptious – fluffy, light and decadent in all the right places.
The foie gras monaka with black winter truffle and madeira jelly, and caramelised onion jam, is another one-bite wonder. It's crisp and creamy all at once. Plus, chawanmushi gets the luxe treatment with Fleurette's special reserve caviar. But the pan-seared Hokkaido scallop served with sambal beurre blanc was definitely the highlight of our night. We loved the local touch with sambal for just a lick of heat, and those pickled pearl onions and finger lime added a welcome crunch and cleansing zest.
For the main, a French guinea fowl is grilled over binchotan charcoal and served with potato puree and maitake mushrooms, plus a drizzle of XO oil. We were kind of obsessed with the crab donabe too – it's a scoop of fragrant rice that's light on flavour and won't put you in an instant food coma. For dessert, you'll see Hokkaido milk ice cream in a new light as it's served with a splash of Spanish extra virgin olive oil and snow salt from Osaka. That sweet creaminess of the frozen scoop paired with a salty, savoury touch was pure delight. Wondering about that buttery aroma wafting towards your seat as your meal comes to an end? Tahitian vanilla and honey madeleines – don't miss out on 'em.
Fleurette, 204 Rangoon Road, Singapore 218451
Quay House
New to Singapore, this restaurant is a modern, refined space that plates out dishes inspired by the heritage and cuisine of Southeast Asia. The flavours and ingredients are familiar, but they're given a beautiful, contemporary spin thanks to head chef Keith Wan. You'll find the dining experience hearty and comforting, executed to perfection with techniques like fermentation, ageing and wood-fired cooking.
Highlights include the Balinese kampung chicken ($36), which is marinated in a betutu rub (a spice paste made of chilli and Southeast Asian herbs), octopus patak ($42) served in a spiced spinach puree, and the Quay House duck ($58). You get the bird in two different variations: confit, as well as aged and smoked over lychee wood for six hours, served with a Nonya curry. To start with a zing, get the Burmese tomato salad ($14): a vegan creation with juicy tomatoes, roasted peanuts for crunch, and an outstanding house-made chickpea dressing.
We particularly loved the bo kho sticky beef cheeks ($45). The traditional Vietnamese stew is reduced to a braised finish, served with smoked pineapple, shrimp floss, shallots and chives. Each bite of wagyu is tender, with a sweet stickiness from the sauce and a tart brightness from the pineapple chunks. The otak-otak steamed egg ($16) is another must-try, as the familiar dish is taken up a notch with the addition of rempah gravy.
For dessert, try the egg tart ($16) with toasted rice ice cream and brown butter crumble. It's reminiscent of a Portuguese egg tart, with a creamy custard centre and flaky base. Don't forget the drinks! Spice up your meal with The Southeast ($22), made with Sichuan pepper and chilli-infused gin, mint, Thai basil, lime, sugar and herbs. Or go the unique route with Smoky Ducky ($24), an intense umami mix of smoked duck fat-washed dark rum, maple syrup, bitters and applewood smoke.
Psst: we'll let you in on a little secret. If you're here on a date or with a group of fun-loving friends, head upstairs after your meal for an interactive adventure with Kulnari Mystery Golf. Once you step into the hazy, dimly-lit space, you'll be transported to 1920s Boat Quay as you tackle escape room puzzles and mini golf games.
Quay House, 51 Circular Road, Singapore 049406
Revolver
Step into this buzzy, open-fire grill restaurant and you'll immediately lay eyes on the team bustling around the kitchen's custom-built wood-fire and binchotan grills, as well as the tandoor. There's a tinge of smoky aroma in the air, and that's when you know you're in for a good time. Plop down by the counter for an unbeatable view of chefs doing what they do best, or pick a seat at the booths for a little privacy. The sleek space is perfect for lively gatherings and cosy dates, with an electrifying playlist that'll get you bopping every now and then. It's the kind of place you'll want to bring friends who love discovering cool new hangouts.
As for Revolver's revamped menu, Bullet 8 is fiery, flavourful and fire-kissed. We recommend you go for the nine-course Experience ($229). It starts with a stunning snack box of burrata chaat (the cheese is mixed with dry ginger chutney and enveloped in a basil shell), sago crab (with the crustacean served on a spiced sago patty) and wagyu caviar tostada. If only all bite-sized treats could be as impressive as these!
Next up, the wood-fire grilled romanesco with ginger and tomato sauce will make any veggie-hater change their mind. Oh, and that plate of fresh paneer stuffed with cashew nuts and chunda goes perfectly with the sweet mango and habanero salsa. Now that you're all fired up about the food, things amp up with the Japanese hamachi collar. Marinated with mustard oil and garam masala before it's sent to the tandoor, the fish is fall-off-the-bone tender, and the sprinkle of spiked chilli dust and lemon juice gives it that extra oomph of spice and zest. No doubt, it's the kind of dish you'll make a return reservation for.
More spices, sublime sauces and deliciously grilled plates come in the form of the Australian marron with coriander and mint butter, as well as the nicely-charred New Zealand Pamu venison chop. But you'll want to save space for the kulchette elevated with black truffle. This parmesan-stuffed Indian bread arrives on your table fresh out of the tandoor, and you can watch the chef shave those coveted black truffles right in front of you. Finally, end off with a sea buckthorn and cherry panjiri dessert.
Wine pairings, lunch and vegetarian courses are available as well – just hit up Revolver from now till the end of March to experience Bullet 8. Oh, and if you have room for more, head upstairs to sister bar Barood and liven up your evening with cocktails.
Revolver, 56 Tras Street, Singapore 078997
Nagai Hokkaido Cuisine
A name that's been around since 1993, this popular kaiseki restaurant from Sapporo has chosen Singapore as the destination for its first new international outpost. Featuring four omakase menus (from $98), every dish is made with the freshest sashimi, seafood and produce air-flown from Japan twice a week. One signature you have to try? The hand-carved ice plate sashimi, a showstopper that stars kinki fish, hirame, akami, botan ebi, shirako and more.
When lunch time rolls around, head over for affordable sets (from $28) such as the premium kaisen don. This bestseller tops fluffy Japanese rice with botan ebi, ikura, salmon, uni, maguro and more, served with miso soup, chawanmushi and pickles. Other picks include the wagyu roast beef set and the tempura set with deep-fried seafood and vegetables. Pair your meal with spectacular sips of sake for the full experience.
Nagai Hokkaido Cuisine, #03-314, Eat at Seven, Suntec City Tower 1, 3 Temasek Boulevard, Singapore 038983
Sushi Sei
Treat yourself to a kaiseki dining experience in Singapore at this new minimalist Japanese restaurant that's home to just 10 counter seats and a private room for six. Headed by a master chef armed with decades of experience, the kitchen crafts simple yet refined dishes that serve to spotlight the fresh flavours of each ingredient.
The menu takes you through courses from soup and sashimi to grilled items and nigiri, all made with produce regularly flown in from Toyosu Market in Tokyo and Hokkaido. Dinner courses start from $400, while the price tag for lunch starts from $200, so save this place for a splurge. Want a peek at what to expect? Highlights include blue squid sashimi with konowata and deep-fried artichoke with grilled A5 Miyagi sirloin.
Sushi Sei, #01-13/14, Holiday Inn Singapore City Centre, 11 Cavenagh Road, Singapore 229616
---
Best new restaurants in Singapore: January 2023
Alkove
French food in the heartlands? Yes, please. Armed with experience in the kitchens of Joel Robuchon Restaurant and Les Amis, chef Haikal Johari sets up shop at a cosy bistro in Kovan. But don't expect a fine dining experience. This colourful space is all about casual catch-ups with family and friends over sweet and savoury French faves.
Pop by in the morning for almond coconut croissants ($5.50), cardamom kouign amann ($5.80) and gula melaka caneles ($3). Or swing by during brunch for dishes like scrambled eggs with sourdough and smoked beef sausage ($17.90) and smoked duck with brie and foie gras pate on sourdough ($18.90). For a classic treat, there's always the croque monsieur ($16.90)! Other lunch highlights include French onion soup ($11.90), ocean trout ($25) and wagyu onglet steak frites ($32). Complete your meal with brews by Cata coffee and Ette tea.
Alkove, #01-10, Simon Plaza, 2 Kovan Road, Singapore 548008
Ahara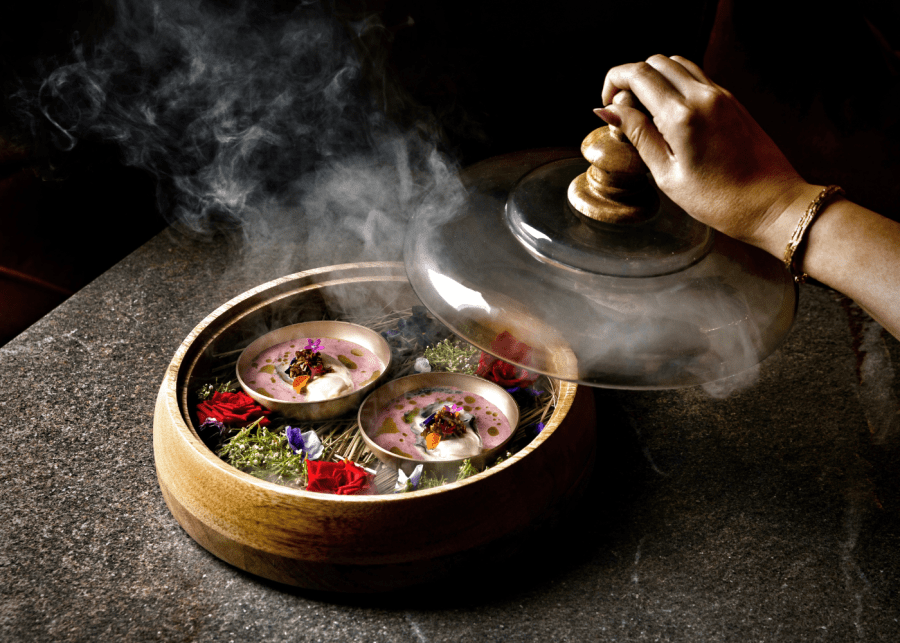 Keong Saik Road welcomes a new fine dining face: chef-owner Vikramjit Roy's first restaurant in Singapore. The celebrated Indian chef pays tribute to India by drawing from the country's diverse history, culture, traditions and arts. Step into the 32-seater space and you'll feel immediately welcomed by contemporary artworks. Settle in before choosing between the Explore (nine-course, $248++) and Expedition (16-course, $338++) menus.
To start, a sublime series of snacks. The hay smoked oysters with sol kadhi are tart and fresh. Next, you'll move on to dishes like Hokkaido scallops with aloo gobhi (potato and cauliflower) mash and pickled cauliflower florets, Madra curry sauce, and ikura, followed by The Grandeur. This stunning centrepiece features a whole marinated chicken encased in wholewheat dough and baked in the tandoor. It's served with sides like dak makhni, lehsuni palak, roasted onion pulao and more.
Ahara, 20 Teck Lim Road, Singapore 08839
Soi Social
Celeb chef Ian Kittichai – the name behind places like Issaya Siamese Club in Bangkok and Spot Dessert Bar in NYC – debuts a new concept at Resorts World Sentosa spotlighting Thai cuisine. Taking up a revamped dining space at RWS' Festive Walk, the restaurant cooks up modern renditions of classic dishes across Thailand. Grab your buddies for a communal feast with plates of Chiang Mai duck sausage, seared scallops, duck leg confit with papaya salad and sticky rice, and roasted marinated duck in Thai red curry sauce.
For heartier plates, try the creations that come straight out of the wood-fired oven or binchotan grill. Order BBQ Southern-style toothfish with yellow curry sauce or the charcoal-grilled striploin with Thai chilli dipping sauce. Of course, with all those potent flavours, you'll need Thai-inspired cocktails to keep you going. Get the Siam Sour for a mix of Phraya rum, lemon juice, egg white, and hom mali rice and lemongrass syrup.
Whether you choose to dine alfresco, indoors where the glass show kitchen sits, or enclosed in one of the two private dining rooms, Soi Social welcomes one and all into its space for a tropical chic evening.
Soi Social, Festive Walk, Resorts World Sentosa, 8 Sentosa Gateway, Singapore 098269
Yue Bai
If you're searching for new restaurants in Singapore, head to Duxton Road for contemporary renditions of Chinese heritage dishes created by co-owner and chef Lee Hongwei. Here, the cuisine is influenced by the principles of traditional Chinese dietary therapy, but made modern through his lens. The result? A menu that juggles balanced dishes and familiar flavours to rejuvenate the mind and body. With a decor backdrop that's reminiscent of a traditional teahouse, this dining experience is an elegant, tranquil one.
Take a peek at the a la carte menu for double-boiled soups, seafood, meat, rice and noodles. Or go for the set menus that are said to nourish the body according to the seasons. Appetisers to try include crispy burdock tossed with sesame seeds and 7-spice powder ($14), roselle flower-infused winter melon ($12), and Australian lamb jelly with black bean and passion fruit-infused pumpkin ($22). For something meatier, the braised duck with sea cucumber, hawthorn and Korean snow pear ($58) will satisfy. End off with crispy black sesame mochi ($12) for a tinge of sweetness.
Yue Bai, 33 Duxton Road, Singapore 089497
Add these new restaurants in Singapore to your 2023 bucket list!