Photography: Francois Le Nguyen via Unsplash
Clarke Quay has it all, from craft cocktails to vibrant restaurants. Make this riverside destination your first pick for an unforgettable night!
Now that we can drink after 10.30pm, the big question is – where should we go? Our best bet is Singapore's famed party central, Clarke Quay. Head over to knock back a few cocktails (happy hour, anyone?) with your squad for a fun night out. This famous nightlife district boasts a slew of top-notch bars and restaurants, making it a stomping ground for party animals and foodies alike. Put on your best 'fits and get ready to paint the town red with our lowdown on restaurants, bars and all things food in Clarke Quay.
Best bars and restaurants in Clarke Quay
1. The Riverhouse
The Riverhouse is set within the most iconic and time-honoured property in the neighbourhood of Clarke Quay. This multi-concept destination is definitely a must-visit, as it features an alfresco bar, modern Chinese restaurant and nightclub all rolled in one. It's also a gorgeous spot for wedding photos if you're planning for a shoot with traditional (yet edgy) Chinese vibes.
The Riverhouse, #01-02, Merchant's Court, 3A River Valley Road, Singapore 179020
2. Tsui Wah
Be transported to the streets of Mong Kok when you dine at Tsui Wah restaurant. This popular cha chaan teng chain has an outlet in Clarke Quay. This means you have access to its delish dim sum, thick milk tea, and crispy buns with condensed milk whenever you're near the Singapore River. We'd say this is the perfect place to fill up on a hot, affordable meal before heading out for drinks with friends.
Tsui Wah, #01-03, Block A, River Valley Road, Singapore 179020
3. Little Saigon
Little Saigon invites you to chill out, Vietnamese-style, along the Singapore River. Indulge in modern Vietnamese cuisine, wickedly refreshing cocktails, and groovy live music performances by local bands. Have fun with friends when you order the DIY fresh spring roll platter featuring a generous serving of pork belly, rice vermicelli and fresh herbs. Next, knock back creative tipples that pay tribute to Vietnam (like the Hanoi martini and the Mekong).
Little Saigon, #01-02, Block E, River Valley Road, Singapore 179024
4. Hanjip Korean Grill House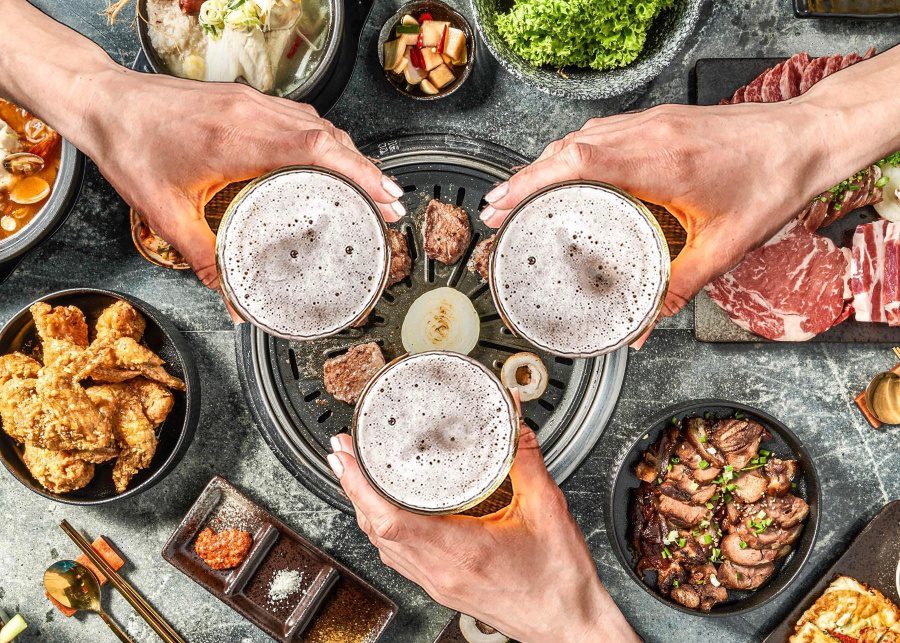 Looking for authentic Korean cuisine by the riverside? Head down to Hanjip Korean Grill House for the real deal. This K-BBQ resto serves fine cuts of Kurobuta Berkshire pork, Australia wagyu and USDA prime beef. If that's not enough to satisfy you, order a side of kimchi pancakes and Korean fried chicken, and wash it all down with a soju bomb.
Hanjip Korean Grill House, #01-11, Block C, River Valley Road, Singapore 179022
5. Wings Bar
Spicy, tangy wings and an ice cold beer sound like a fab time – and you can bet the best wings in town can be found at Wings Bar (duh!). With a chef that hails from Buffalo, New York itself, you can bet you won't be let down. We hear the smoked ribs are pretty great, too. Pop by for Ladies Night (from Monday to Wednesday), and you can get two frozen cocktails for the fair price of $20.
Wings Bar, #01-02, Block D, 3D River Valley Road, Singapore 179023
6. Holey Moley Golf Club
Who's ready to par-tee? Holey Moley is a two-storey mini golf club and cocktail bar that's all kinds of whacky. Give clubbing a whole new meaning at this mini golf course and club where you'll see putting holes that celebrate Game of Thrones, Jaws, The Simpsons and more pop culture themes. After your mini golf sesh, hydrate yourself with fun cocktails like Sugar Caddy (Ketel One vodka, lychee liqueur, cranberry lime juice and blueberry puree) and Wild Cherry (amaretto, cola and Hahn Super Dry).
Holey Moley Golf Club, 3B River Valley Road, Singapore 179024
7. Zouk
This mega clubbing institution has been around for decades. Pre-Covid, it was the destination to see international DJs. Past names that have graced its stage include house and techno elites like Sven Väth and John Digweed, as well as EDM crowd-pleasers like Diplo and R3hab. When clubbing was off-limits, Zouk transformed its space into a spin studio, cinema club and pop-up kitchen. But the return of live music means the venue has plenty of new shows lined up for the months ahead, including DJ acts by Ghetto, Nash D and Jeremy Boon.
Zouk, #01-05 to #02-06, The Cannery, 3C River Valley Road, Singapore 179022
8. Highlander
This Scottish bar hits all the right spots if you're seeking a piece of Scotland in the heart of Clarke Quay's nightlife. Even the staff are clad in kilts. The selection of 250 whiskeys, as well as micro-brewed beers and specialty cocktails, will satisfy any drinker. Of course, the alfresco area is perfect for people-watching (which we find very entertaining towards the end of the night).
Highlander, #01-11, 3B River Valley Road, Singapore 179021
9. Zorba The Greek Taverna
Pretend you're living it up in Athens at this Greek riverside restaurant in Clarke Quay. The menu is embellished with Mediterranean dishes that are perfect for sharing. Start your meal with the dips platter featuring spreads like hummus and tzatziki on pita bread. For something filling, get the mixed grilled platter, which comprises lamb rump steak, pork gyro meat, chicken souvlaki and bifteki. This goes without saying, but end your big fat Greek feast with baklava.
Zorba The Greek Taverna, #01-02, 3A River Valley Road, Singapore 179024
10. Octapas
Traditional tapas and modern Spanish cuisine take precedence at Octapas. Think along the lines of fresh prawns sauteed in garlic, creamy shrimp on baguette, paella and seasoned beef tenderloin. Food aside, we can't ignore the gorgeous interior of exposed brick walls, terracotta floor tiles and the elegant sea of red from ceiling lamps.
Octapas, #01-08, 3D River Valley Road, Singapore 179023
11. Level Up
We love a good arcade bar. Level Up gets us all nostalgic with its mix of arcade games like Time Crisis, Bishi Bashi and air hockey, as well as perennial party favourites such as beer pong, foosball and billiards. Did we mention the 80s and 90s throwback aesthetic? Quite a bonus. We can't forget the food and drinks! Draft beers, classic and signature cocktails, and jug options for bigger groups go hand-in-hand with burgers and pizzas.
Level Up, #02-04, 3A River Valley Road, Singapore 179020
12. Redtail Bar
The party peeps at Zouk have you covered with Redtail Bar, a stone's throw away from the iconic superclub. Floor-to-ceiling glass walls let you peer at the midnight madness outside, while you cosily mix and mingle amidst bamboo murals and high tables, armed with heady cocktails.
Redtail Bar, 3C River Valley Road, Singapore 179022
13. Sque
Ice-cold pints of Tiger are great, no doubt, but we do like ourselves some proper German lager sometimes. And it's a bonus if that doesn't burn a hole in our wallets. At Sque, indulge in one-for-one happy hour deals on beers, wines, cocktails and even mocktails.
Sque, #01- 70, Clarke Quay Central, 6 Eu Tong Sen Street, Singapore 059817
14. The Chupitos Bar
Start the revelry at Chupitos and drink your way through the extensive list of shot flavours (there are 130!), which are categorised according to different drinking palates and tolerance levels. Bestsellers include Milo Godzilla and Paddle Pop. Want to go all out? The Absinthe Trilogy will make you go weak in the knees.
The Chupitos Bar, #01-05, 3B River Valley Road, Singapore 179021
15. Tomo Izakaya
Meaning "friend" in Japanese, Tomo is an ideal watering hole to see the best (or most embarrassing) sides of your pals when they're hammered. With irresistible happy hour deals for beers and cocktails, it's easy to see why this place is ideal for catch-ups. As for grub, expect izakaya fare like deep-fried prawns, grilled squid and garlic fried rice.
Tomo Izakaya, #01-04, 3A River Valley Road, Singapore 179020
16. Cuba Libre
This convivial Cuban cantina is much-loved for its mojitos that come in flavours like strawberry, lychee and passionfruit. On the menu, you'll find nosh like tacos, burgers, roast pork and steak, as well as a bevy of tapas dishes.
Cuba Libre, #01-13, Block B River Valley Road, Singapore 179021
17. Cafe Iguana
Expect top-notch Mexican cuisine at this decades-old hip hangout, which is always buzzing with locals and visitors alike. The margaritas are positively lip-smacking (and affordable, especially during happy hour!). Plus, its tacos, fajitas, burritos and chimichangas stuffed with the likes of beef, chicken and prawn will fill you up happily.
Cafe Iguana, #01-03, Riverside Point, 30 Merchant Road, Singapore 058282
18. Hooters
This American sports-themed restaurant in Clarke Quay is known for its cheerleader-clad waitresses. It serves classic comfort food such as burgers, sandwiches, salads and, of course, its "nearly world-famous" chicken wings. Not feeling peckish? Grab a beer with your pals. It's just one of those tick-the-box-places where you come curious about the experience.
Hooters, #01-03, 3D River Valley Road, Clarke Quay, Singapore 179023
Visit Clarke Quay for fun times at hip restaurants and bars in this riverside destination!