Photography: Ashe Liao
The heritage-rich Joo Chiat 'hood has more than just laksa - it's also home to quaint cafes, fab restaurants and historic architecture.
More than just an over-populated residential district, Joo Chiat rightfully earn its place amongst the most bustling neighbourhoods in Singapore. Steeped in history, the eastern neighbourhood of Katong is known for its colourful, picture-perfect shophouses, rich heritage, and dizzying array of fantastic local food. Take a walk around to discover both old and modern Singapore, and find out more about the Peranakan (Straits Chinese) and Eurasian cultures. Need a recommendation? Here are Joo Chiat's best food spots, shops and places to explore.
Joo Chiat guide: Best food and drinks
1. Micro Bakery & Kitchen
If you're like us and can't get enough of good ol' artisanal bakes, we've got just the place for you! Micro is a small-batch bakery that fills itself to the brim with bread and pastries that are freshly baked daily. You'll feel right at home as you take a seat in this cosy spot. Order a coffee and dishes like the green goddess avocado tartine or grilled flatbread with mushrooms. It's the perfect weekend brunch, sorted. Plus, it's situated within the iconic Red House, so you definitely can't miss it.
Micro Bakery & Kitchen, 63 East Coast Road, Singapore 428776
2. Little Farms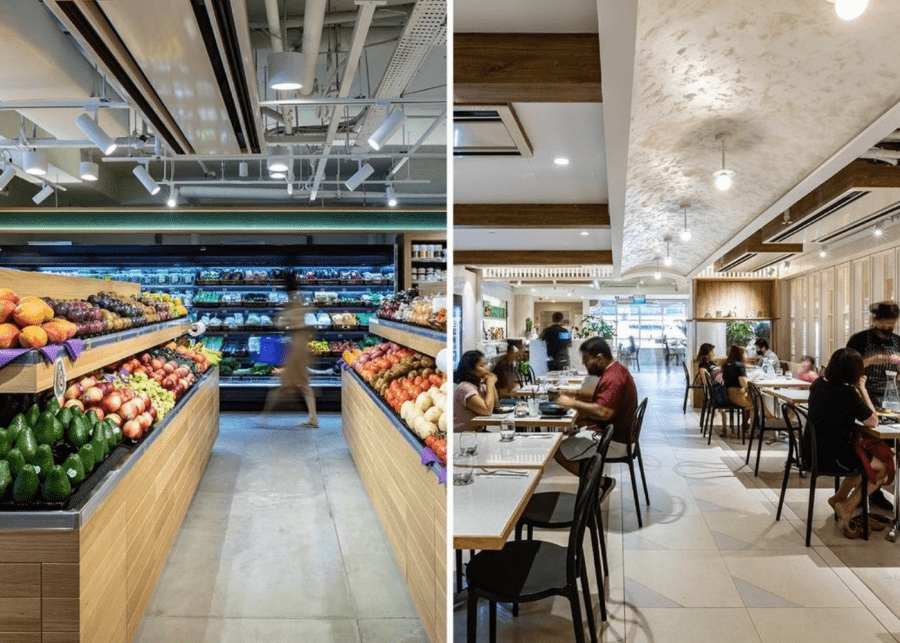 Enjoy the best of both worlds with Little Farms Grocer and Bistro right next to each other. Stock up on groceries and savour delicious mouth-watering bistro food and bespoke cocktails right after! Little Farms is located right along Joo Chiat Road at Katong Point. Its extensive range of all-natural, organic produce, fresh poultry and gourmet groceries will wow you with its freshness and quality. Wanna recreate the dishes you enjoyed at Little Farms Bistro? Some of the ingredients can be found at its grocery store, too. Try the air-flown Australian avocados, boasting a soft and creamy filling that will taste amazing on toast (no nasties, ever)! Need help? Ask away: Little Farms' friendly team members will gladly assist you.
Little Farms, 451 Joo Chiat Road, Singapore 427664
3. Blue Smoke
Created by the same team that's behind the 1925 Brewing Co, this contemporary Asian smokehouse celebrates all things Asian with a Texan-style cooking method. Proteins like lamb, crispy pork belly, and octopus are grilled and smoked in limited portions. So don't be surprised if there's none when you get there, 'cause this place is quite the popular spot. But even though it's a meat haven, you gotta try the cauliflower steak. Grilled with miso butter and served with yuzu sauce, it's the perfect main for your vegetarian pals.
Blue Smoke, 261 Joo Chiat Road, Singapore 427515
4. 328 Katong Laksa
Slurp on laksa (noodles in coconut milk-based curry broth) the traditional way with just a spoon. This eatery is one of the famous stalls that claim to be the original makers of the popular local dish. Want affordable food in Joo Chiat? You know where to go.
328 Katong Laksa, 51 East Coast Road, Singapore 4289770
5. Petit Pain Bakery
The smell of freshly baked goods always reels us into this quaint bakery. This local hidden gem churns out crusty French loaves, flaky croissants and other small batch pastries that your heart desires. Oh, and did we mention they're free of improvers, preservatives and artificial flavours? It's so good, it sells out quickly! If you end up missing out on the morning bakes, never fear. The team takes reservations for afternoon bakes that you can collect later in the day.
Petit Pain Bakery, 315 Joo Chiat Road, Singapore 427566
6. Awfully Chocolate Bakery & Cafe
This lovely cafe concept by the Awfully Chocolate folks is a highlight in the hip Joo Chiat 'hood. Chocolate taps tempering fresh cocoa, an array of pastries and pies baked in-house, and a scrummy menu can be found. If you're popping by in the afternoon, try the brunch set for two with fruit and greek yoghurt, truffle scrambled eggs, fresh bread with aubergine, and chocolate milk. Dinner comes with options like French onion soup and angus sirloin steak.
Awfully Chocolate Bakery & Cafe, 131 East Coast Road, Singapore 428816
7. Five Star Hainanese Chicken Rice
You can't argue about the best chicken rice in Singapore without Five Star Hainanese Chicken Rice being thrown in as a contender. With three outlets islandwide, Five Star's East Coast outlet is the answer to all easties' chicken rice cravings.
Five Star Hainanese Chicken Rice, 191 East Coast Road, Singapore 428897
8. The Cheese Shop
No diet will stop us from entering this shop. The speciality store offers an award-winning selection of artisanal cheese from the UK, France, Italy, Spain and Holland. Creating an IG-worthy cheese platter or just need to satisfy those cravings? This is the place to be.
The Cheese Shop, #01-01, 267 Joo Chiat Road, Singapore 427521
9. Alibabar The Hawker Bar
Hit up Alibabar The Hawker Bar for local grub and craft beer, kopitiam style. This Katong gem is a crowd favourite amongst easties thanks to its diverse range of food stalls. It serves a mix of Singaporean, French, Filipino, Japanese, and Western food. Don't forget about the impressive range of craft beers.
Alibabar The Hawker Bar, 125 East Coast Road, Singapore 428810
10. Kim Choo Kueh Chang
Choose from a wide array of bak chang (glutinous rice dumplings) at this specialty outlet. The pyramid-shaped dumplings come wrapped in bamboo leaves and are stuffed with various savoury fillings such as pork, chicken and chilli prawn.
Kim Choo Kueh Chang, 60 Joo Chiat Place, Singapore 427784
11. Birds Of Paradise
Know what's even better than ice cream? Super-smooth gelato (made fresh daily) at this gelato house on East Coast Road. But what makes it truly special is its array of signature flavours – the gelato is made using natural and botanical ingredients like basil and blue ginger. And it's heavily influenced by Southeast Asian palates. It creates a refreshing gelato experience with aromas close to home. Get the true taste of Singapore with its pandan-flavoured gelato!
Birds Of Paradise, 63 East Coast Road, Singapore 428776
12. Mongkok Dim Sum
A sister outlet of the famed Mongkok Dim Sum in Geylang, this East Coast location lets you enjoy its signature handmade dim sum, hot-selling Geylang Lorong 9 beef noodles, and Cantonese stir fry.
Mongkok Dim Sum, 197 East Coast Road, Singapore 428910
13. Ponggol Nasi Lemak
We don't play when it comes to nasi lemak. It's all about perfecting the art of crisp chicken wings, flavourful coconut rice, and tantalisingly spicy sambal chilli. However you feel about Ponggol Nasi Lemak, you can't deny that its rendition is a crowd favourite. It definitely deserves its rep as one of the best on the island.
Ponggol Nasi Lemak, 238 Tanjong Katong Road, Singapore 437026
14. Mr and Mrs Mohgan's Super Crispy Roti Prata
Once you've taken some amazing shots of the Peranakan houses at Koon Seng Road, adjourn to Tin Yeang Restaurant. It's more of an old school eatery with various options to choose from. Go ahead and order Mr and Mrs Mohgan's Super Crispy Roti Prata. Look past the long waiting time, and you'll be rewarded with some of the crispiest – and fluffiest – roti prata in Singapore.
Mr and Mrs Mohgan's Super Crispy Roti Prata, Tin Yeang Restaurant, 300 Joo Chiat Road, Singapore 427551
15. Lower East Side
This Mexican joint hand-pickles its chillies, offers a selection of specialty salsas and guacamole, and even has homemade churros on its menu. You can get a Mexican-style weekend brunch done right here! You can't go wrong with a good breakfast burrito stuffed with eggs, bacon, beans, and mushrooms. Alternatively, try the huevos a la Mexicana or green enchiladas. For dinner, we recommend any of the trio tacos. Be sure to pair it off with one of the hot sauces for a true Lower East Side experience. How hot can you go?
Lower East Side, 19 East Coast Road, Singapore 428746
16. Smokey's BBQ
Opened by true blue Americans in 2009, the meats here are smoked by custom-made smokers. Talk about dedication! It uses a unique blend of hickory and mesquite wood chips to deliver smokey goodness. Get your hands messy with the baby back pork ribs and the Chux Hog burger. On Wednesdays, the wings go for a dollar – order by the half dozen!
Smokey's BBQ, 73 Joo Chiat Place, Singapore 427790
17. Baker's Well
Besides the flavoursome menu of specialty coffees, Baker's Well is also home to decadent in-house sweet treats. Get healthy muffins, banana cakes, buttery croissants, and even mini fruit tarts. All perfect if you feel like having high tea! Plus, this cosy cafe in Joo Chiat has chill vibes that are superb for a long, lazy catch-up.
Baker's Well, 35 East Coast Road, Singapore 428754
18. Baba Chews Bar & Eatery
Housed within the former Joo Chiat Police Station, the restaurant retains much of its colonial charm of the 20s. White walls brighten up the cosy establishment. Homely, colourful motif-scattered tiles are contrasted against metal mesh sliding panels that are more contemporary than stifling. Stand-out dishes include the ayam buah keluak, beef short rib rendang and fish collar in an assam emulsion.
Baba Chews Bar & Eatery, #01-01, Katong Square, 86 East Coast Road, Singapore 428788
19. Zaffron Kitchen
You'd be forgiven for mistaking Zaffron Kitchen for a high-end gastropub. After all, with its sleek fixtures and cool downtown vibe, it hardly looks like your typical Indian restaurant. But rest assured, the menu serves the real deal with classic Indian food. It looks good and tastes even better. An absolute must-try is the dum chicken biryani. A seriously moreish dish with fluffy basmati rice and succulent pieces of chicken.
Zaffron Kitchen, 135/137 East Coast Road, Singapore 428822
---
Joo Chiat guide: The coolest shops
20. Onlewo
Started by duo Eugene and Mike, Onlewo is the place to be for everything beautifully designed. From wallpapers to home decor, bags and even notebooks, you'll find loads of great stuff here. Onlewo's designs take inspiration from Singapore's roots. From there, a little fun and heritage are injected into each pattern. Got an old piece of furniture at home? Consider getting it upholstered! The team will help facilitate the process plus provide you with beautiful fabric.
Onlewo, 17 Joo Chiat Place, Singapore 427747
21. Lavavella
Any interior designers in the house? Let this be your next stop for unique knobs and home hardware. All the little details matter. Once you've figured out your carpentry, finish it off with stunning embellishments. Get brass handles for your door to elevate the look. But if that isn't quite your style, you've got other choices like ceramic and glass too. We even found some fun and unique door-knockers!
Lavavella, 329 Joo Chiat Road, Singapore 427586
23. A Vintage Tale
This little vintage boutique is a must-visit if you're looking to spruce up your wardrobe. The quaint shop is a bright blast of colour in the middle of Joo Chiat. You'll be sent to another world with vibrant wallpaper and displays. It even houses iconic branded archival pieces from Dior, Gucci and Chanel. Keep an eye out for the bright pink neon sign – you defo can't miss it.
A Vintage Tale, 277 Joo Chiat Road, Singapore 427531
24. Cat Socrates
Step into this quirky indie store for books, accessories, stationery, and other adorable knick-knacks. You'll also find nifty, Singapore-inspired trinkets by local designers – they make great souvenirs.
Cat Socrates, 448 Joo Chiat Road, Singapore 427661
25. Rumah Bebe
Just across the street from i12 Katong is Rumah Bebe, a purveyor of all things Peranakan. This includes gorgeous traditional Nyonya kebayas and beautiful beaded slippers. Do note that while photography is strictly not allowed within the store, the exteriors are still worth snapping, thanks to the striking cerulean facade and Peranakan tiled flooring of its shopfront.
Rumah Bebe, 113 East Coast Road, Singapore 428803
26. TheAC
This multi-label boutique celebrates #shoplocal in style with a bevy of homegrown gems and sustainable businesses. Splash your cash on everything from resort wear and skincare to kids' apparel and home accessories. The brands rotate regularly so you'll always find something new.
TheAC, 420 Joo Chiat Road, Singapore 427641
27. Feet Haven Reflexology
The award-winning Feet Haven clearly isn't your everyday spa. It's tricked out with cool lighting (hanging light bulbs and standing spotlights galore) and quirky furniture. Spacious and cosy, the value-for-money spa is staffed by experienced masseurs who will make your feet feel brand new. After cafe-hopping around the Katong area, pop in to rest your knackered feet.
Feet Haven, 136 East Coast Road, Singapore 428821
28. RetroCrates
So you're a vinyl lover? Go crazy with an extensive collection of pre-loved and new records spanning various genres like pop, rock and jazz. That's not all. Looking for speakers, turntables and amplifiers? You can find 'em right here.
RetroCrates, 450a Joo Chiat Road, Singapore 427663
29. Singapore Trading Post
Singapore Trading Post is like your Pinterest board titled "home decor inspiration" come to life. The store is peppered with colonial-inspired furniture and home decor. Think intricately carved sideboards and shelf units, pineapple-shaped lamps, cushion covers decked in tropical prints, gorgeous art and wall decor… we could go on all day.
Singapore Trading Post, 426 Joo Chiat Road, Singapore 427644
---
Joo Chiat guide: Where to explore and stay
30. Katong Antique House
Owned by Peranakan history and culture expert, Peter Wee, this antique shop is housed in a beautifully preserved two-storey shophouse. Pay a visit to have a look at Peranakan artefacts, and discover the stories behind each item. Call ahead to book a slot.
Katong Antique House, 208 East Coast Road, Singapore 428907
31. Heritage shophouses
For Instagram-worthy shots of Katong, walk around Joo Chiat Road. Here's where you get to check out the many carefully-conserved Peranakan shophouses, which have been around since the early 1900s. No Joo Chiat adventure is complete without a stroll past the renowned shophouses along Koon Seng Road. Narrow and tall, these houses are adorned with the signature ceramic Peranakan floral or geometrical tiles and pastel faces. Look out for the Chinese couplets below the windows – these motifs are believed to bring good fortune.
32. Sri Senpaga Vinayagar Temple
Sri Senpaga Vinayagar Temple is another one of our historic treasures. Built in the 19th century, it's one of the oldest Hindu temples on the island and has a distinct Chola-style architecture.
Sri Senpaga Vinayagar Temple, 19 Ceylon Road, Singapore 429620
33. The Intan
Curious about Peranakan culture? You'll want to check out The Intan. It's the private shophouse home of Alvin Yapp, who welcomes guests into his abode. This is where you'll get a glimpse of Peranakan culture. Start with learning about the traditions and food. Then move on to lifestyle with a collection of artefacts, embroidery crafts, knick knacks and furniture pieces.
The Intan, 69 Joo Chiat Terrace, Singapore 427231
34. Heritage and Art Trail @ Katong Joo Chiat
We were super stoked to find this heritage trail in the Peranakan enclave. It stretches all the way from East Coast Road to Joo Chiat Terrace, so come ready with your walking shoes. As part of the self-guided route, there'll be murals for you to stop by and check out – it's the perfect photo op.
35. Figment
Ever wanted to stay in quirky shophouses? Well, now you can! Figment has curated a collection of over 30 unique shophouses and refreshed them. You can now get flexible month-to-month living arrangements made with gorgeously designed spaces. There are plenty of boutique co-living spaces for you to choose from. Check out the tasteful Still House located in colourful shophouses along Koon Seng Road – it's a modern space within a homely building. Or swing by the Fig House at Joo Chiat Terrace. With all that glass, there's stunning sunlight streaming into every nook.
Figment, multiple locations including Koon Seng Road and Joo Chiat Terrace
36. Village Hotel Katong
Located in the Katong-Joo Chiat district, Village Hotel Katong defies cookie-cutter hotel designs. Its Peranakan decor is inspired by the heritage of its colourful surroundings. Bold, bright design accents feature heavily in its rooms – think cerulean, patterned carpets with matching throw pillows, and similarly brilliant colour hues for its headboard and window seat. The major bonus is room size. Even its smallest Superior Room flaunts a size of 29 square metres – a far cry from the standard 23 square metres. If you're (reasonably) splurging, book the Peranakan Club which comes with an in-room tub for sumptuous soaks over your fave TV programme.
Village Hotel Katong, 25 Marine Parade, Singapore 449536
Bookmark this guide for fun things to do, good food and fab hotels in Joo Chiat!