This cafe is just one of the places you must visit along Telok Ayer Street. Photography: My Awesome Cafe
Visiting Telok Ayer? These are the best restaurants, cafes, bars and more.
There's no denying that we seriously dig Telok Ayer (especially for its food!). A meal here is never dull, thanks to the huge variety of hawker centres and coffee shops, cafes and restaurants. Since we love it so much, we thought we'd give you the lowdown on what's buzzing in the neighbourhood.
Telok Ayer guide: Food and drinks
1. Basdban
This gastrobar spices things up Sichuan-style at its spiffy spot in Telok Ayer. Chef Pang Kok Keong from Sichuan Alley and Halcyon and Crane runs the show, so you know you're in for a treat. Think funky and fun dishes that follow the theme of "rock and roll Sichuanese food". This includes roasted eggplant topped with Sichuan-spiced caramel popcorn, and mapo tofu served with crab meat and ikura on a bed of mixed grain pearl rice. Wash it all down with some refreshing cocktails!
Basdban, #01-01, 51 Telok Ayer Street, Singapore 048441
2. Boeuf
If you're looking for delish cuts of steak and glasses of vino, you need to reserve a seat at Boeuf. These folks have a true passion for beef and wine, and the menu doesn't disappoint. Try signature dishes like flambe asada ribeye with mezcal or slow-cooked infused short ribs with celeriac puree. Or, choose your preferred cut from the raw, cured, fromage, special or natural selections for your beefy fix.
Boeuf, 159 Telok Ayer Street, Singapore 068614
3. French Fold
We love a good crepe, and the ones at French Fold don't ever disappoint. This charming crepe-centric concept is brought to you by the folks behind Merci Marcel. It dishes out the most Insta-worthy galettes and crepes, and they taste as good as they look. Choose from savoury fillings like ham, sauteed mushrooms, comte cheese and sausage. Or satisfy your sweet tooth with varieties like chocolate speculoos, salted caramel and brown sugar with butter. You can even top it off with a thick scoop of Birds of Paradise gelato. Perfection!
French Fold, 204 Telok Ayer Street, Singapore 068640
4. Free the Robot / Bitters & Love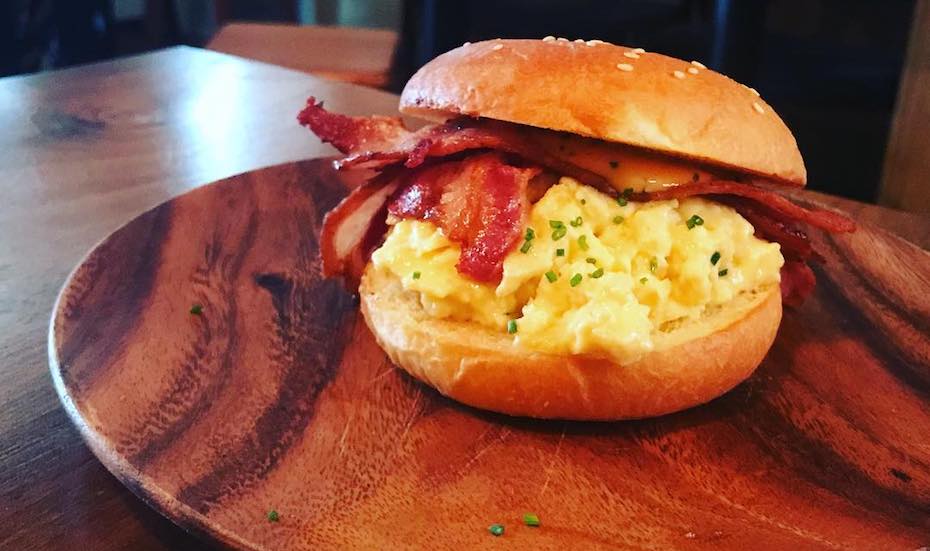 Yes, we come here a lot because we love Free the Robot's mascot, Baileys. But we're gonna come out and say it: Free the Robot serves the best coffee on Telok Ayer – and believe us, we've rigorously tested every cafe on this strip. Try breakfast classics like waffles and eggs and toast; or if you're looking for something healthier, the acai bowl won't disappoint. After hours, the place transforms into Bitters & Love: a buzzy alcove of specialty cocktails and bar snacks.
Free the Robot / Bitters & Love, 118 Telok Ayer Street, Singapore 068587
5. Park Bench Deli
If indulgent, messy and substantial sandwiches are more your speed, Park Bench Deli hits the spot. A departure from your ordinary sandwich, PBD knows just how to please any sammie snob by sandwiching spicy fried chicken thigh, hot honey, tex-mex coleslaw and chilli aioli between a sesame potato bun (it could give a certain popular fast food burger a run for its money). Plus, the crowd-pleasing pastrami reuben stuffs sourdough with pastrami brisket, sauerkraut, cheese and yellow mustard. So good, we almost shed a tear every time we bite into one.
Park Bench Deli, 179 Telok Ayer Street, Singapore 068627
6. MeatSmith
We're kinda obsessed with MeatSmith's brisket and fried chicken sandwiches, not to mention all the other juicy BBQ meats prepared on-site using smokers specially flown in from the US. Expect all the good stuff with just enough charred and fatty bits, plus comfort food including the best mac and cheese in town. If you're game for a serious feast, a meat platter for two features the full works. Think buffalo wings, brisket sausages and pork belly burnt ends.
MeatSmith, 167 & 169 Telok Ayer Street, Singapore 068620
7. Plain Vanilla Bakery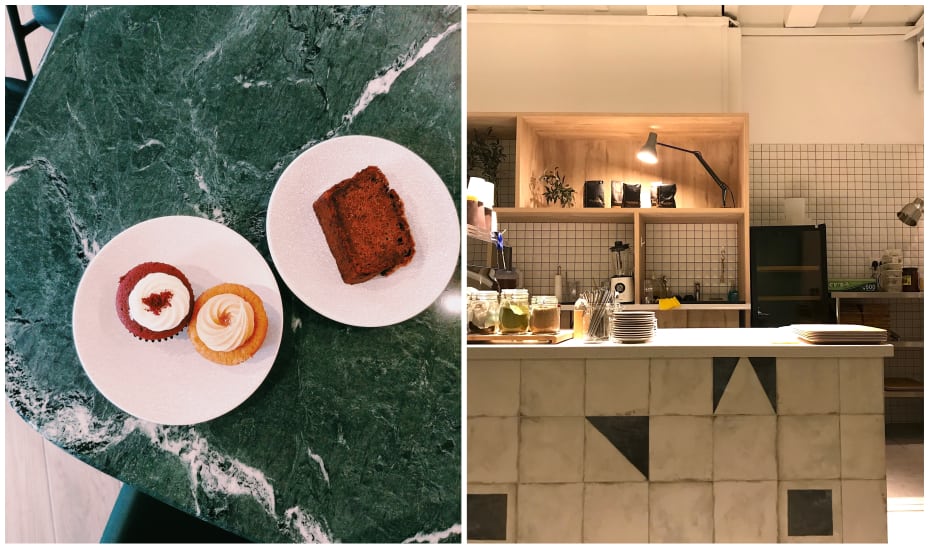 Try the cupcakes from Plain Vanilla and you'll know why we have such high standards. You could probably hear our internal screams when the bakery first opened an outlet at Telok Ayer. Too pretty-to-eat tarts and glazed galettes aside, there's also a deli section with wholesome options like granola bowls, toasties, sammies and pasta.
Plain Vanilla Bakery, 134 Telok Ayer Street, Singapore 068600
8. Pot Yummy Yummy
Craving hotpot but too lazy to arrange a meal with the buddies? Follow our lead and indulge in steamboat for one at Pot Yummy Yummy. You get a mini hotpot to yourself with a choice of your favourite soup bases. Ingredients are placed on a conveyor belt so all you gotta do is plonk your favourites in the pot.
Pot Yummy Yummy, #01-01, 80 Telok Ayer Street, Singapore 048466
9. Fu Lin Bar & Kitchen
Who'd ever guess you could fuse hipsters and yong tau foo together? Apart from delicious crispy tofu, served with springy noodles and minced chicken and mushroom broth, you can look forward to comforting Chinese fare like hor fun, dumplings and fried rice. And guess what? When the sun goes down, this place turns into a stylish tapas bar!
Fu Lin Bar & Kitchen, 127 Telok Ayer Street, Singapore 068596
10. The Market Grill & Wine 90
This snazzy, industrial chic restaurant on Telok Ayer has us salivating with its sizzling meats and naturally flavourful seafood. The buttery chargrilled lobster is a top choice, as are its sinful burgers – for a unique take, try the bleu cheese. This complex beef patty burger comes with sweet burnt onion marmalade and bacon sandwiched in a walnut raisin bun.
The Market Grill & Wine 90, 208 Telok Ayer Street, Singapore 068642
11. Napoleon
The impressive range of wine available at this underrated bar and French bistro should very well please vino lovers. Sample south European labels by the glass while noshing on exquisite plates like burrata salad, beef tartare, prawn rigatoni and pan-roasted duck breast.
Napoleon, 206 Telok Ayer Street, Singapore 068641
12. Sarnies
If you're yearning for an Australian hipster cafe, head to this place at Telok Ayer. Sarnies was one of the first decent coffee shops to open in the CBD with seating that spills out onto the pavement. It's a hotspot for meetings over coffee (and after-work drinks).
Sarnies, 36 Telok Ayer Street, Singapore 068601
13. Magal BBQ
It's safe to say Korean BBQ lovers have plenty of options at Telok Ayer. A popular hangout spot for big groups, this restaurant serves everything from flavourful beef cuts to dolsot bibimbap (bibimbap served in a hot stone bowl).
Magal BBQ, 123 Telok Ayer Street, Singapore 068592
14. Nusantara Cuisine
If you're in need of an affordable Indonesian feast that doesn't skimp on flavour, hop over to Nusantara Cuisine. This laidback nasi padang eatery has a pretty straightforward menu of Indonesian classics like nasi goreng cabe hijau (green chilli fried rice) and beef noodles. Order the teh tarik for a midday caffeine boost!
Nusantara Cuisine, 171 Telok Ayer Street, Singapore 068621
15. My Awesome Cafe
With its Chinese medicinal store facade and charming interior made up of random bits and bobs, My Awesome Cafe is absolutely endearing. The great range of salads makes for a satiating, healthy lunch. We can't go past My Awesome Salad, a generous portion of mesclun with smoked salmon, herbed chicken breast, duck rillettes, avocado and tomatoes.
My Awesome Cafe, 202 Telok Ayer Street, Singapore 068639
16. Sun Moon
One of the most affordable healthy options in the CBD, Sun Moon is a fruit shop that whips up nutritious juices and fresh salads for a mere $5 (that's no typo!). We love popping in for a drink as a mid-afternoon pick-me-up – this is a real winner in our books.
Sun Moon, 167 Telok Ayer Street, Singapore 068618
17. Shake Farm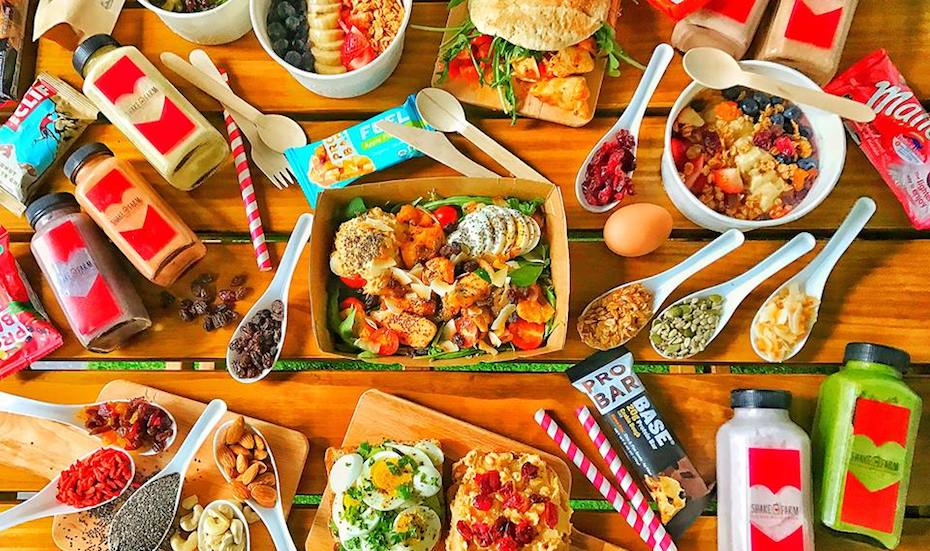 If your body's screaming for a detox from the indulgent and not-so-diet-friendly grub around the area, you're in luck. Shake Farm will save your diet with shakes, breakfast bowls, protein bowls, acai bowls and super toasts. We've been craving the avocado and feta cheese toast ever since we tried it! For guilt-free after-work drinks in the evening, the space transforms into a healthy bar with organic cocktails, biodynamic wine, gluten-free organic beers and healthy tapas.
Shake Farm, 126 Telok Ayer Street, Singapore 068595
18. Gold Ocean Curry Fish Head
The go-to place in Telok Ayer for those with a hankering for authentic fish head curry, this seafood restaurant has stood the test of time and continues to draw crowds with its winning recipe and quality ingredients. Heads up: the queues can get pretty insane, so go for an early (or late) lunch!
Gold Ocean Curry Fish Head, 181 Telok Ayer Street, Singapore 068629
19. Royz et Vous
Once located in Bali Lane, this cafe is now thriving in Telok Ayer. Mains are nothing short of spectacular, with classic dishes like herb-crusted salmon, steak and smoked duck with roasted potatoes. But one thing that puts this restaurant ahead of the game is its halal wines (yup, you read that right) – these have been de-alcoholised through vacuum distillation.
Royz Et Vous, #01-01, 137 Telok Ayer Street, Singapore 068602
---
Telok Ayer guide: Shop
20. Perk by Kate
Take a respite from the food (and heat) and enter Perk by Kate's intimate boutique just above Plain Vanilla Bakery. Expect to find a great selection of lingerie brands including Perk by Kate, Eberjey, Timpa, Addiction Lingerie and Commando. There are also sizes for fuller-bust women, bralettes, lace slips and even a maternity range. The brand practices sustainability by offering complimentary strap changes, band tightening and band replacement for delicates purchased here. Oh, and we gotta talk about that lovely space! It's filled with blush and deep blue hues alongside rose gold accents that scream French chic. You'll never want to leave.
Perk by Kate, 134A Telok Ayer Street, Singapore 068600
21. Odds 'N' Collectables
One man's trash is another man's treasure! Odds 'N' Collectables is a prime example. Opening hours are up to the owner, Telok Ayer icon Mr Juzer, but you'll often catch him after lunch on weekdays. His collection of vintage collectables, trinkets and nostalgic local treasures include cool oddities and legit collectors' pieces. Just have a chat with Juzer and you'll learn how serious a collector he is. We've snapped up everything from vintage coffee cups and antique kueh moulds to cool posters and original rattan chairs here.
Odds 'N' Collectables, 128 Telok Ayer Street, Singapore 068597
22. Q Menswear
Want to dress to impress? Q Menswear is the way the go. The label, which was founded in 2011, offers ready-to-wear casual apparel, accessories and grooming tools. But if you're looking for something more unique, it does bespoke too.
Q Menswear, 116A Telok Ayer Street, Singapore 068585
---
Telok Ayer guide: Explore
23. Nagore Dargah Indian Muslim Heritage Centre
So you thought Telok Ayer is all about food? Think again! This culturally-rich enclave also has a plethora of historic landmarks that'll excite any culture vulture. Take a peek inside Nagore Dargah – arguably one of the more prominent landmarks in the area – and you'll find a gallery that showcases Singapore's Indian Muslim culture and heritage.
Nagore Dargah Indian Muslim Heritage Centre, 140 Telok Ayer Street, Singapore 068604
24. Ying Fo Fui Kun
Another historic landmark to check off the list is Ying Fo Fui Kun. It's home to Singapore's Hakka clan association (a smaller Chinese dialect group). While centuries have passed since its construction, its heyday is far from over, with meetings and events still held there to this day.
Ying Fo Fui Kun, 98 Telok Ayer Street, Singapore 048474
25. Masjid Al-Abrar
Sandwiched between shophouses, this low-key mosque was one of the first few mosques to be built in Singapore. A place of worship among Tamil Muslims back in the 1850s, this mosque was later refurbished to accommodate 900 people, a whopping five times its original capacity.
Masjid Al-Abrar, 192 Telok Ayer Street, Singapore 068635
26. Thian Hock Keng Temple
A visit to Telok Ayer is never complete without checking out this marvel of ancient southern Chinese architecture! Singapore's oldest Hokkien temple has been a familiar sight in this area since 1839. And it's now a must-visit for tourists looking to explore Singapore's rich and diverse history.
Thian Hock Keng Temple, 158 Telok Ayer Street, Singapore 068613
27. Beng Kong Ee Seah
Curious about acupuncture? Steel your nerves and book an appointment at this acupuncture centre. The resident acupuncturist will insert needles in specific chi paths, practising a healing art that's widely believed to have many health benefits.
Bee Kong Ee Seah, 210 Telok Ayer Street, Singapore 068643
28. Singapore Musical Box Museum
Situated next to the majestic Thian Hock Keng Temple, this secret museum houses an extensive collection of musical boxes that date back centuries. Fun fact: these artefacts were left behind by European settlers back in the day.
Singapore Musical Box Museum, 168 Telok Ayer Street, Singapore 068619
29. Telok Ayer Green
On cooler days, have your lunch at Telok Ayer Green and watch the world go by. Located behind Nagore Dargah Indian Muslim Heritage Centre and Thian Hock Keng Temple, this secret park gives you a quick history lesson on Telok Ayer's origins and the Malay fishing community (who were also the first residents of the hood). The sculptures around the area paint quite a picture and depict the simple life in the past.
Telok Ayer Green, Telok Ayer Street
---
Telok Ayer guide: Fitness and wellness
30. Ministry of Fitness
Push your limit and get into shape! Participate in boot camps formulated using military influence. Individuals of all fitness levels are welcome, so there's no need to be afraid if you're just starting out. Sign up for Spartan boot camps or trampoline fitness programmes to burn off those extra calories. Its workouts are designed to sharpen your agility, endurance, strength and coordination – you'll walk out feeling stronger.
Ministry of Fitness, #06-01, Annex B above Amoy Food Centre, MND Building, Telok Ayer Street, Singapore 069111
31. Level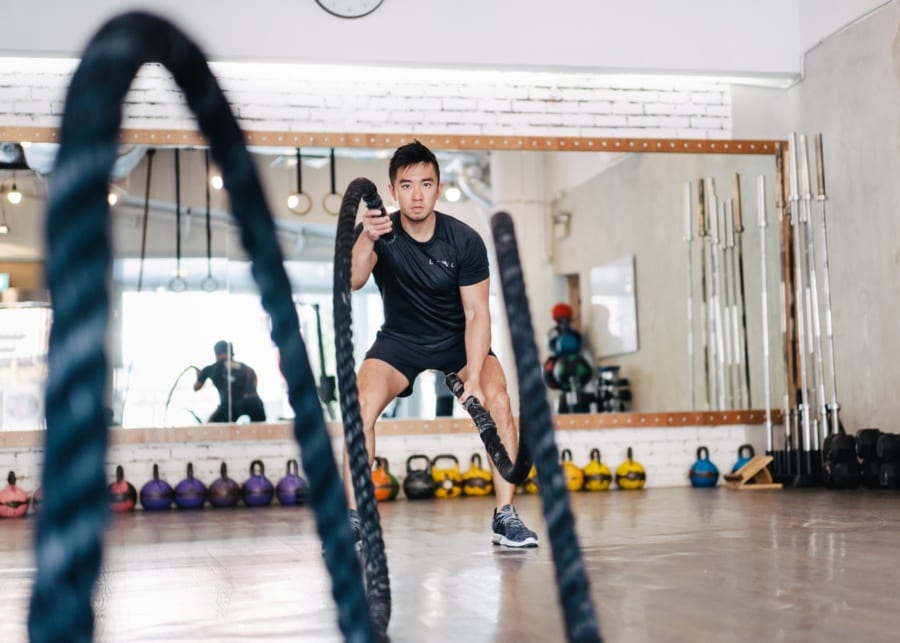 Aside from its convenient location, this boutique gym with two outlets in the CBD takes a holistic approach to fitness. Here, you'll find personal training and physical rehabilitation sessions, as well as small group classes (think strength, HIIT and Spartan skill).
Level, #01-03, 137 Telok Ayer Street, Singapore 068602
32. Beaute Hub
Beaute Hub is an award-winning spa and skincare specialist that caters to both sexes. It provides an array of services such as body contouring and slimming, skincare and spa treatments. For the lads, highlights of its face and body slimming services include microdermabrasion and meso body slim therapy. Don't worry, the friendly staff will walk you through the treatments to find one that best matches your needs.
Beaute Hub, 124 Telok Ayer Street, Singapore 068593
33. The Yoga Mandala
Relax, recharge and rejuvenate. All it takes is a short climb up the stairs to find this hidden sanctuary of stress-free vibes in the midst of the buzzing street. Classes are available for drop-ins, beginners and advanced yogis. Remember to bring a mat!
The Yoga Mandala, 134B Telok Ayer Street, Singapore 068600
34. Ancient Therapy
Okay, we admit it. A reflexology sesh can sometimes be a little torturous, but there's nothing like a good kneading from a relentless reflexologist to get us back on track. Ancient Therapy is a traditional Chinese massage studio – we're talking multiple massages going on in a room. But for us, it absolutely hits the spot when we need to turn the lunch break into an emergency therapy session. We've popped in for a 15-minute massage, and this is one of the most affordable places in town, so no excuses. Squeeze in a treat!
Ancient Therapy, 184 Telok Ayer Street, Singapore 068631
There you have it – everything you need to know about exploring Telok Ayer's food, shops and sights.