Presenting our fave food spots and shops in the Arab Street area.
Bugis is more than just Haji Lane. Step into Arab Street and check out the best food spots, shops and more...
When it comes to checking out the neighbourhood of Bugis, our to-do list is dominated by shopping at indie boutiques in the narrow alleys of Haji Lane, snapping street art for Instagram and sipping a cuppa at hipster cafes. Within the bustling district lies Arab Street, Kampong Glam's colourful row of textile shops, Middle Eastern restaurants and quaint cafes. Expect plenty of popping patterns, happy hues and delicious eats around the area!
Arab Street guide: Best cafes and restaurants
1. Overrice
If you've been emptying your wallet but you're still craving some kickass food, Overrice's affordable rice bowls are here to rescue you. This Muslim-owned eatery serving Mediterranean-inspired dishes just screams comfort food. The signature bowls and pita pockets have options for falafel, pulled beef and chicken, and the desserts are not to be missed. Soho gelato, Broadway banana pudding and Brooklyn brownie… how can you resist those?
Overrice, 48 Arab Street, Singapore 199745
2. Nasrin Restaurant
Craving a hot plate of Middle Eastern and Mediterranean food? Grab a table at Nasrin Restaurant to admire its gorgeous interior and survey its menu of mouth-watering appetisers, signature dishes and chef specials, including Turkish faves like kebabs.
Nasrin Restaurant, 58 Arab Street, Singapore 199755
3. Fika Swedish Cafe and Bistro
Need a Swedish meatball fix? Give Ikea a pass and head over to the end of Arab Street for Fika. Here, you'll find a small but serviceable menu of Swedish classics like Toast Skagen, Pytt i Panna and Smorgasbord. With its whitewashed walls and light-filled interiors, the homey cafe is a breath of fresh air amidst the many Mediterranean eateries within the area. Don't leave before trying the much raved about lingonberry cheesecake!
Fika Swedish Cafe and Bistro, 257 Beach Road, Singapore 199539
4. House of Kebab
Looking for a post-drink meal with your drunk pals? Open till 1am, this kebab spot offers authentic Lebanese and Turkish fare. Nothing like a hearty shawarma to awaken you from your drunken stupor! We're speaking from experience, of course. Also, don't skip the hummus – it makes for a good protein-filled starter.
House of Kebab, 21 Arab Street, Singapore 199844
5. % Arabica
Hailing from the Land of the Rising Sun, this popular coffee house attracts a snaking queue of thirsty cool cats to the heritage enclave. The beans are sourced from all over the world in countries such as Ethiopia, Brazil and Japan, depending on the season. A popular choice? The Spanish Latte. Mixed with condensed milk, it balances out the acidity with a mellow sweetness. Oh, and the magic happens at the back of the cafe, so feel free to take a peek at the roasting process before you grab a bag of beans to bring home.
% Arabica, 56 Arab Street, Singapore 199753
6. All Things Delicious
As the name suggests, this charming bakery-cafe whips up bakes that are nothing short of delectable. While they aren't your traditional rounded scones, the triangular, soft Scottish ones are no less scrummy, with toppings like gula melaka and orange cranberry calling out for liberal smears of salted butter. These folks also dish out hearty breakfast plates, pasta and rice bowls… which are all plain delish!
All Things Delicious, 34 Arab Street, Singapore 199733
7. Tabbouleh Lebanese Cafe and Restaurant
Decorated with mosaic lamps and red tablecloths, the Lebanese restaurant has a quaint and cosy vibe. Its menu is packed with a list of Middle Eastern and Western fare, including lamb kafta with hummus, halloumi cheese sandwich, charcoal-grilled meats and more. For sharing, get a mezze platter that's served with creamy yoghurt and warm pita bread.
Tabbouleh Lebanese Cafe and Restaurant, 41 Arab Street, Singapore 199740
8. Ratu Lemper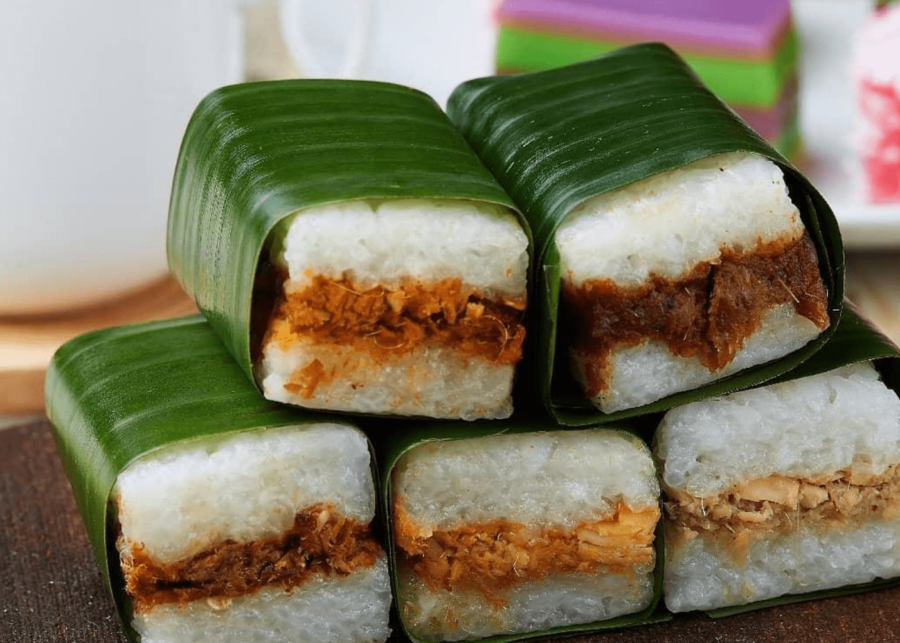 Before you explore the vibrant alleyways of Kampong Glam, fuel up at this snack shop that specialises in different types of lemper (a savoury Indonesian snack made with glutinous rice and meat floss). Flavours range from beef rendang and mutton satay to spicy tuna and spicy chicken, plus a plant-based version for vegetarians. There are also classic Malay desserts like ondeh ondeh for sugar fiends!
Ratu Lemper, 31 Arab Street, Singapore 177930
9. Aroma Gelato
We'll never say no to a sweet treat, and Aroma Gelato provides just that! Hop in for fresh, handmade gelato. It's a cool, refreshing treat on a hot afternoon. Flavours include caramel with sea salt, a non-dairy dark chocolate option and fruity picks like strawberry and mango. Can't decide? The staff will be happy to give you a free tasting.
Aroma Gelato, 29 Arab Street, Singapore 199728
---
Arab Street guide: Where to shop
10. Sifr Aromatics
Walk by this small indie studio and you'll find your curious nose guiding you into it. The niche perfumery explores the world of scent, offering small batches of refreshing fragrances and custom aromatics. Take your time to discover its curated selection of in-house perfumes, as well as wooden soy candles, infused balms and aromatic jewellery.
Sifr Aromatics, 42 Arab Street, Singapore 199741
11. Kin Soon
A treasure trove of artsy things, wholesaler Kin Soon is known for its range of ribbons in all kinds of colours and textures, including satin, grosgrain, organza, velvet, paper and wired ones. You can also get other DIY supplies like buttons, appliques, tissue papers and floral wrappers in the store. Perfect for craft enthusiasts!
Kin Soon, 36 Arab Street, Singapore 199735
12. Turkish lamps
How pretty are Turkish lamps? Get one (or two) for your home at DWiz, which is known for amazing ceramic works and handcrafted mosaic lamps inspired by different cultures of Anatolia. Many carpet stores stock these lamps and other home accessories, too. Just check out the beautiful display at Sarvan's Carpets! We couldn't resist snapping a picture.
DWiz, 53 Arab Street, Singapore 199750; Sarvan's Carpets, 49 Arab Street, Singapore 199746
13. Textiles
When it comes to shopping for fabrics, nothing beats this quaint street full of history and culture. You can't miss Achakzai Trading, a Persian carpets gallery that'll catch your eye with its vibrant pink walls. Meanwhile, Royal Fabrics is your one-stop-shop for traditional Asian fabrics including silk, linen and cotton in a variety of colours, with Middle Eastern- and South Asian-inspired designs. If you're looking to explore silk fabrics, look for the pros at Mahaco Impex. For more Asian fabrics, textiles and sewing supplies, check out Teng Joo Textiles further down the stretch.
Achakzai Trading, 94 Arab Street, Singapore 199790; Mahaco Impex, 51 Arab Street, Singapore 199748; Royal Fabrics, 84 Arab Street, Singapore 199780; Teng Joo Textiles, 102 Arab Street, Singapore 199798
So the next time you find yourself on Arab Street, let this be your guide to the best food and shops!