Kaya toast is undoubtedly one of Singapore's most iconic local breakfast dishes. We hunt down the top spots...
Kaya toast is a breakfast staple in Singapore, universally beloved by all for its simple combination of bread and spread. We've got a plethora of local food in the city, from prata to nasi lemak to laksa. But kaya toast, combined with half-boiled eggs and kopi (coffee), is classic. Even beyond morning meals, you can have it as a snack in the middle of the day.
The kaya toast recipe is pretty simple: It consists of bread slices toasted until they melt in your mouth, slathered with coconut egg jam flavoured with a tinge of pandan. Add in a slab of butter, and you're good to go. Ready to munch your way through eateries that best serve this delicacy?
Best kaya toast in Singapore
Killiney Kopitiam
From humble Hainanese shop beginnings to outlets scattered across the region, Killiney Kopitiam doles out thick, rich kopi and kaya that's freshly made in-house. Of course, kaya toast is one of its classics – you can't go wrong with that. But if you're in the mood for a hearty meal, the menu also covers local dishes like curry chicken, laksa and mee siam.
Killiney Kopitiam, multiple locations including Killiney Road and Lucky Plaza.
Tong Ah Eating House
Old is gold, and this zi char spot is the perfect place for kaya toast and kopi in the morning if you work or live in the vicinity. It's been around for years and nothing much has changed, but that's the way we love it. Toasted to perfection, the slices of bread go through deft hands that scrape off its charred bits before laying on the eggy house-made kaya with a hunk of butter. Psst: French toast fanatics can try Tong Ah's version – it's comfort food at its best.
Tong Ah Eating House, 35 Keong Saik Road, Singapore 089142
Ya Kun Kaya Toast
This decades-old household brand is synonymous with kaya toast – it's already in the name! While the menu has expanded over the years to include local dishes and Asian-style sandwiches, we still love it for its toast selection and aromatic traditional coffees and teas. You know what to expect when you order the beautifully crisp toasts smeared with house-made kaya plus pairings of thick butter chunks, cheese or peanut butter. Steamed bread slices with kaya are also available if that's your jam.
Ya Kun Kaya Toast, multiple locations including Plaza Singapura and Bugis Junction.
Heap Seng Leong
For kaya toast done right, you gotta go traditional. This no-frills coffee shop has been in the biz since the 70s, serving up butter coffee, kaya toast and soft-boiled eggs for a breakfast of champions. It gets crowded quickly with people waxing nostalgic and soaking in the retro vibes, so head over early if you want to be transported back in time without the wait.
Heap Seng Leong, #01-5109, 10 North Bridge Road, Singapore 190010
YY Kafei Dian
If good 'ol Hainanese fare is what you're looking for, this is for you. The casual eatery is known for its menu of chicken rice, Hainanese-style pork chop, coffee and kaya buns that are baked fresh in-house every day. Each slice is thick, crisp and fluffy, spread generously with kaya and butter for lip-smacking goodness.
YY Kafei Dian, #01-01, 37 Beach Road, Singapore 189678
Ah Seng (Hai Nam) Coffee
Amoy Street Food Centre is home to a treasure trove of culinary gems, and one of 'em is this old school family-run biz that has been around for years. What draws the crowds time and again is its slices of white bread that get toasted over charcoal for a tinge of smokiness. Apart from the standard combo of kaya toast, soft-boiled eggs and Hainanese coffee, the stall is well-known for its French toast served with house-made kaya.
Ah Seng (Hai Nam) Coffee, #02-95, Amoy Street Food Centre, 7 Maxwell Road, Singapore 069111
Toast Box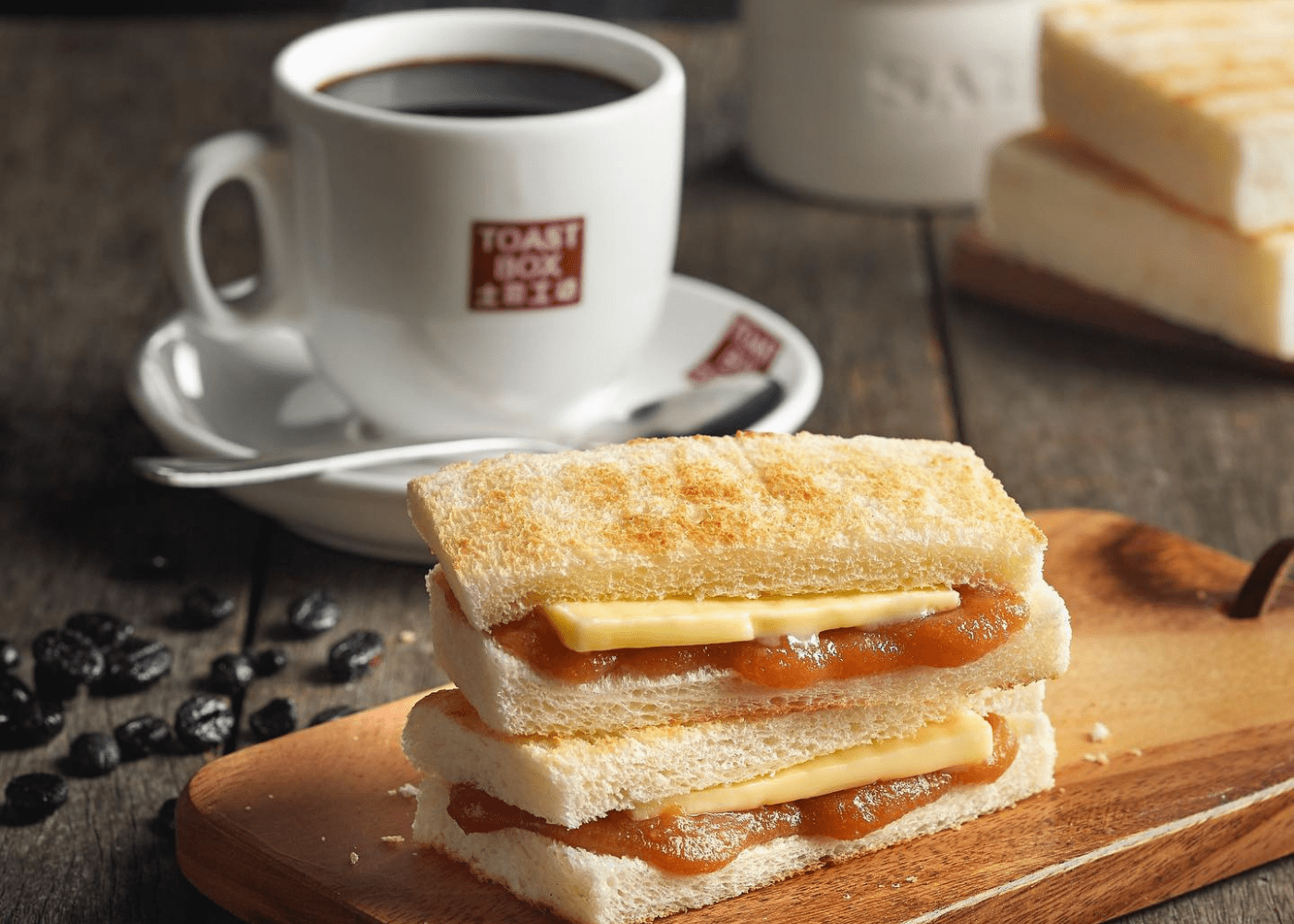 You can't turn a corner without bumping into Toast Box – it's all over the city. So when those kaya toast cravings come calling, this is an easy, convenient fix. The Nanyang-style coffee chain has been around since 2005, giving us our caffeine and kaya toast hit whenever we need it. If you're not up for its signature, the menu is also loaded with peanut butter or cheesy ham and egg thick toasts, as well as bigger plates like curry chicken and laksa.
Toast Box, multiple locations including Raffles City and Plaza Singapura.
Good Morning Nanyang Cafe
Pop over to this joint for a casual breakfast of kaya toast, soft boiled-eggs and fragrant kopi. The kaya spread is made in-house every day, and it's not far up on the sweetness spectrum, which we love. If you're in the mood for something non-traditional, opt for the orange ciabatta with kaya to get zesty hints of orange peel in each bite. It's crispy and fluffy all at once – a total delight to start your day with.
Good Morning Nanyang Cafe, #02-23, Far East Plaza, 14 Scotts Road, Singapore 228213
That's your local breakfast, sorted!