Photography: Nick Fewings via Unsplash
From underground music venues and beach clubs to rooftop bars and swanky lounges, here's where you'll find the best parties in the city.
Clubs may come and go in Singapore, but the nightlife scene here is absolutely alive and kicking! Just think of all our happy hour hotspots and the constant stream of new bars and music festivals. Want to hit the dance floor? Put on your rave face and head to a sizzling party spot or swing by top cocktail bars, ladies' nights and live music joints. From EDM clubs to R&B and hip hop hangouts to beach lounges, we've got the best nightclubs in Singapore covered.
P.S. Check out these popular supper spots for when you get a serious dose of the munchies after partying all night.
Best nightclubs in Singapore
Marquee
This is where the posh come to party – at the swanky spot that is Marquee, a brand that made its Asian debut in Singapore after taking over the nightlife scenes in New York City, Las Vegas and Sydney. Don your finest threads to enter the grand, high-ceilinged space – which features a full-sized Ferris Wheel that you can actually ride – and dance until dawn to beats by some of the hottest DJ names.
Marquee, B1-67 The Shoppes at Marina Bay Sands, 2 Bayfront Avenue, Singapore 018956
f.Club x Attica SG
Two bigwigs at Clarke Quay have recently joined hands, and the result is a double-for-one type deal, where partygoers get the best of both worlds. Dance it out at the hip hop and R&B space or head out to the courtyard area for the tunes of deep house and tech house.
f.Club x Attica SG, #01-08, The Foundry, Clarke Quay, 3B River Valley Road, Singapore 179021
Pinball Wizard
A hidden bar in the basement of Sim Lim Square, Pinball Wizard is where all your retro fantasies come true. To find the unassuming entrance, simply enter through Prinsep Street, and you'll be transported to a colourful underground space lined with old school pinball machines. Let loose your inner gamer geek and try your hand at the selection of over 500 games while you sip on cocktails and groove to wicked tunes.
Pinball Wizard, #B1-29 Sim Lim Square, 1 Rochor Canal Road, Singapore 188504
Kilo Lounge
Kilo Lounge might've departed its Kampong Bugis digs and broken our hearts again with news that it's leaving Tanjong Pagar at the end of 2019, but hey, there's still time to get your partying fix before you bid the place goodbye. From its alley entrance with a playful, winding corridor to its shrewd selection of house and techno acts week after week, Kilo Lounge will surely leave the stretch a little emptier when it says farewell. Let's hope it finds a new home soon.
Kilo Lounge, 21 Tanjong Pagar Road, Singapore 088444
Zouk
This mega clubbing institution has been around for over 25 years, making it a staple of Singapore's nightlife scene. It's the destination to see international DJs – think house and techno elites like Sven Väth and John Digweed, or EDM crowd pleasers like Diplo and R3hab. Even after its prolific locale shift from Jiak Kim to Clarke Quay, the world-renowned club (it's perpetually on the list of best clubs in the world as voted by DJ Mag) continues to stun and draw ravers by the hundreds.
Zouk, #01-05 to #02-06, The Cannery, Clarke Quay, 3C River Valley Road, Singapore 179022
Get Juiced
You get to skip the queues at Get Juiced, Singapore's first cashless bar. Simply pre-order your drinks in advance from the app and collect them at the bar without fuss. No need to flail around aimlessly for the bartender's attention or wait an infinite amount of time to have your cards returned. You even get to request songs via the app. How's that for interactive? Music-wise, you'll be spoilt for choice here, as the space is home to three rooms: Chill, live and dance.
Get Juiced, #02-01 Clarke Quay, 3E River Valley Road, Singapore 179024
Nineteen80
Nineteen80 is the vintage arcade bar of your dreams. Not only is it quirky and cool and stacked with hundreds of arcade games, it's got cool cocktails and throwback nights for partygoers to wax nostalgic. Think 80s and 90s pop and rock beats on Thursdays, hip hop and R&B melodies on Wednesdays and hits from the 80s to the noughties on Fridays. Plus, everything from the wall murals to the mirrored entrance just screams photo-worthy.
Nineteen80, #01-05, 21 Tanjong Pagar Road, Singapore 088446
Lulu's Lounge
A mix of grungy and edgy, Lulu's Lounge takes its design inspiration from the back alley lounges of 60s New York, with regular burlesque performances, music gigs and DJ sessions. The tunes here span everything from jazz and funk to hip hop and R&B to house and rock, but one thing's for sure: You'll have a rolling good time here no matter which night you pop in for.
Lulu's Lounge, Pan Pacific Hotel, 7 Raffles Boulevard, Singapore 039595
Bar Rouge
This iconic Shanghainese bar has been making major waves since its entry to Singapore, and we ain't complaining. Its local counterpart located at Swissotel The Stamford was made for the well-heeled. Boasting floor-to-ceiling windows, it serves up some of the best views (and cocktails!) in town. Stop by for a glam clubbing sesh – the club comes complete with cabaret dancers.
Bar Rouge, Level 71 & 72, Equinox Complex, Swissotel The Stamford, 2 Stamford Road, Singapore 178882
Canvas
After the closing of hipster haven Home Club, we were left craving for something to fill the alternative club void. Thank goodness for Canvas – a quirky art-meets-music club of top-tier indie floorshakers and underground vibes. Guest DJs spin everything here from old-school hip-hop to UK funky, and even some high-energy trance.
Canvas, #B1-01/06, The Riverwalk, 20 Upper Circular Road, Singapore 058416
Cé La Vi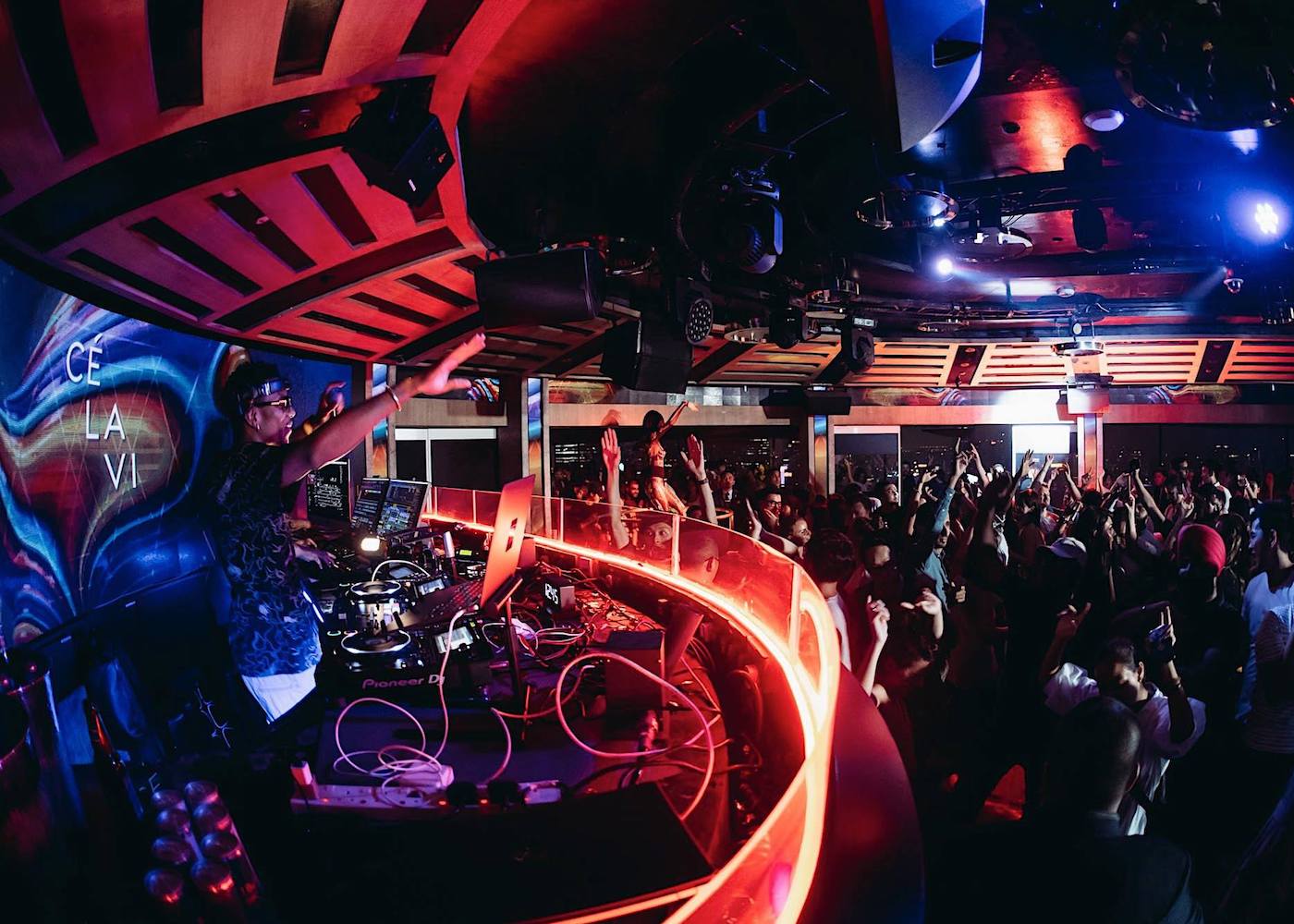 Taking the meaning of living the high life to a whole new level – 57 stories up, in fact! – is Cé La Vi. Perched atop the boat-shaped structure of Marina Bay Sands, it not only boasts a picturesque view of the city skyline, but also a luxe clubbing experience that combines swank with swagger. Want the best nightclub experience in Singapore? Jive on over for guest DJ gigs, themed parties and more.
Cé La Vi, SkyPark, Marina Bay Sands Tower 3, 1 Bayfront Avenue, Singapore 018971
Commas
Commas is that one place where the music is never bad. This intimate nightclub at the sky garden of Suntec City is charming with its Georgian regency inspired interiors. Find yourself grooving alongside a diverse range of individuals – from the young upstarts barrelling into nightlife territory to the seasoned pros just going through their routine. What makes Commas such an irresistible playground is that they dish out old school hip-hop and R&B, along with some of the sickest mash-ups. But the ultimate winner here has to be Friday and Saturday nights where bottles and glasses are 1-for-1.
Commas, #03-308 Suntec City Sky Garden, 3 Temasek Blvd, Singapore 038983
Empire
Be treated like royalty after a hard day's work at this "high-end ultra lounge" at Fifty Raffles Place. Catered to working sophisticated yuppies who feel the need to loosen that tie or slap on a killer set of heels, Empire is a ritzy bottle service establishment with enticing happy hour promos and 45-storey panoramic views. Ascend to tipsy heights with four hours of free-flow bubbly for ladies on Wednesdays or party it up on weekends with the glittering night sky as your backdrop.
Empire, L45, Singapore Land Tower, 50 Raffles Place, Singapore 048623
Altimate
Dance to new heights at Altimate – as one of the best nightclubs in Singapore, this super swanky space is oh-so-plush and offers glorious views of the glittering skyline (it's located on the 61st floor). Swathed in colourful LED lights and giant screens, cover charge is pricier than usual but the views and exclusive ambience are worth paying for.
Altimate, L61, 1 Raffles Place, Singapore 048616
Tanjong Beach Club
Okay, so this is not your typical nightclub found in the heart of the city, but the sun-kissed playground is famous for its riotous beach parties and great DJ line-up. Since it's located in the far end of Sentosa, all you need here is a bikini and sunscreen to prep for an epic beach blowout.
Tanjong Beach Club, 120 Tanjong Beach Walk, Sentosa, Singapore 098942
Kult Kafe
While it's not your average club with fancy laser lights and ostentatious service, this dingy, alfresco spot is still a prime player in the nightlife scene. It's hosted pop-up parties by local labels (Darker Than Wax being one) and even eccentric, big-time events like Silent Disco. Kult Kafe is also home to Salsa Under The Stars for those craving a lil' cha-cha, and the monthly Sunday On The Hill (formerly known as Sunday At The Training Shed) for resilient weekend warriors who like to boogie.
Kult Kafe, 11 Upper Wilkie Road, Singapore 228120
Headquarters by The Council
We crowned this joint our hippest club in Singapore quite a while back, and for good reason. While most clubs in Singapore commit to commercialised EDM, Headquarters by The Council is dedicated to underground nights. House, tech house and techno are your usual suspects, with all their derivative sub-genres given time to shine in the HQ – minimal, deep, tribal, acid… you'll hear it all (even some disco if you're lucky).
Headquarters by The Council, L2, 66 Boat Quay, Singapore 049854
Baliza
This is one sleek club where the music is accessible and energising, with an open-format approach that spans the gamut of EDM, hip-hop and other Top 40s goodies. Plus, every Friday is fab, every Thursday is full of mayhem, and ladies are encouraged to go wild at its mid-week parties.
Baliza, #01-04, 6 Raffles Boulevard, Singapore 039594
Wan
Aquatic themed interiors and oriental murals make this lush and playful club akin to stepping into an Asian utopian dimension. Nestled next to Pasarbella, Wan is a play on three mandarin homonyms, which mean play, night and bowl (as in food). As the name suggests, this venture combines a restaurant, bar and nightclub into one. P.S. Don't leave without sipping on the signature spiked bubble tea.
Wan, #01-434 Suntec City North Wing, 3 Temasek Boulevard, Singapore 038983
Bang Bang
In the space next to Pan Pacific Singapore lies cheekily named nightclub Bang Bang, where good-looking party revelers gyrate to dope club bangers and mashups. Searching for a little mid-week action? Swing by the club's popular Wild Wednesdays to get you pumped before the weekend.
Bang Bang, Pan Pacific Singapore, 7 Raffles Boulevard, Singapore 039595
Lavo
Looking for the best nightclubs in Singapore? This sleek establishment in Marina Bay Sands is roped in by Tao Group, which also boasts other VIP-suited, high-flying locales like Marquee. Lavo Singapore will join the roster of its Vegas and NYC counterparts with not just a star-powered line-up of DJs (it's hosted past headliners like Nervo, Benny Benassi and Tiësto), but also a bar, indoor/alfresco lounge and a restaurant dishing out Southern Italian cuisine.
Lavo, L57 Marina Bay Sands, 10 Bayfront Avenue, Singapore 018956
Fleek
Relaunching as Fleek 2.0, this hip hop club wants to set your weekends on fire. Whenever you plan to stop by, you're guaranteed a good night. Come early to kick the party into high gear before the masses arrive and toast to good times with a shot or two.
Fleek, #01-05, 6 Raffles Boulevard, Singapore 039594
Who's up for a party at one of the best nightclubs in Singapore?