Photography: Rappu via Facebook
You've only got an hour, so make the most of it with our guide to the best lunch spots in Singapore's CBD.
Flanked by towering skyscrapers, Singapore's Central Business District (aka CBD) isn't just a place for work. It's also home to popular cafes, swanky restaurants and amazing local food. So say goodbye to sad desk lunches in your stuffy, freezing office as we give you the full lowdown on the best lunch spots in Singapore's CBD
Where to get a good lunch in Singapore's CBD
1. Rappu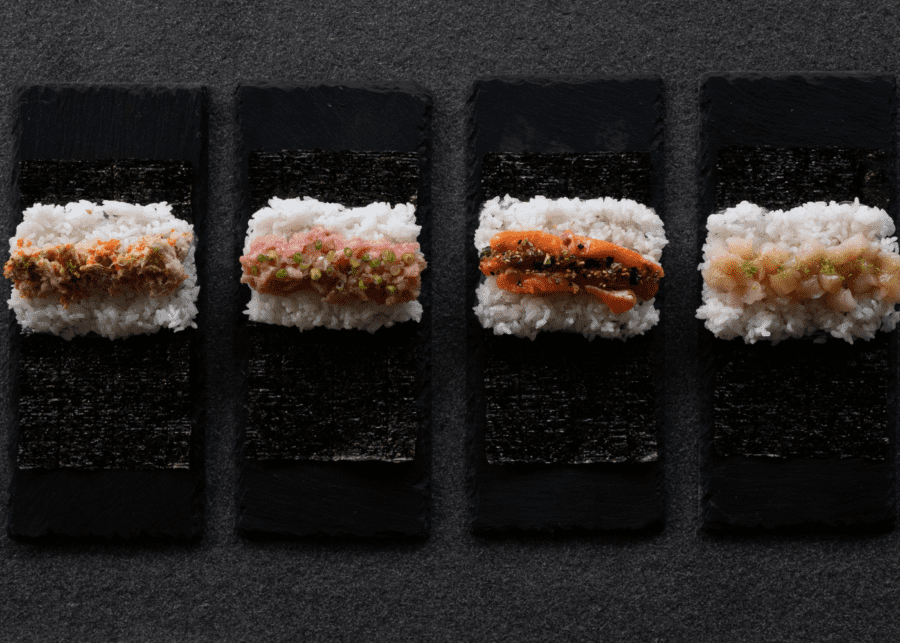 If you want omakase-style handroll sushi at wallet-friendly prices, hop over to Rappu. This bar lets you indulge in a six-course sushi meal, filled with ingredients like amberjack, tuna belly and more. If that's not enough, add on a sake pairing or sip on refreshing Japanese-inspired cocktails.
Rappu, 52 Duxton Road, Singapore 089516
2. Vietnamese Delights Pho 99
Nothing hits the spot better than a warm bowl of pho on a rainy office day. Pho 99 serves authentic and flavourful bowls of noodles and soup at Amoy Street. Add on crispy spring rolls and a cup of Vietnamese coffee to wash down this awesome power lunch. It's not stingy with the serving portions either.
Vietnamese Delights Pho 99, 57/58 Amoy Street, Singapore 069883
3. Sarnies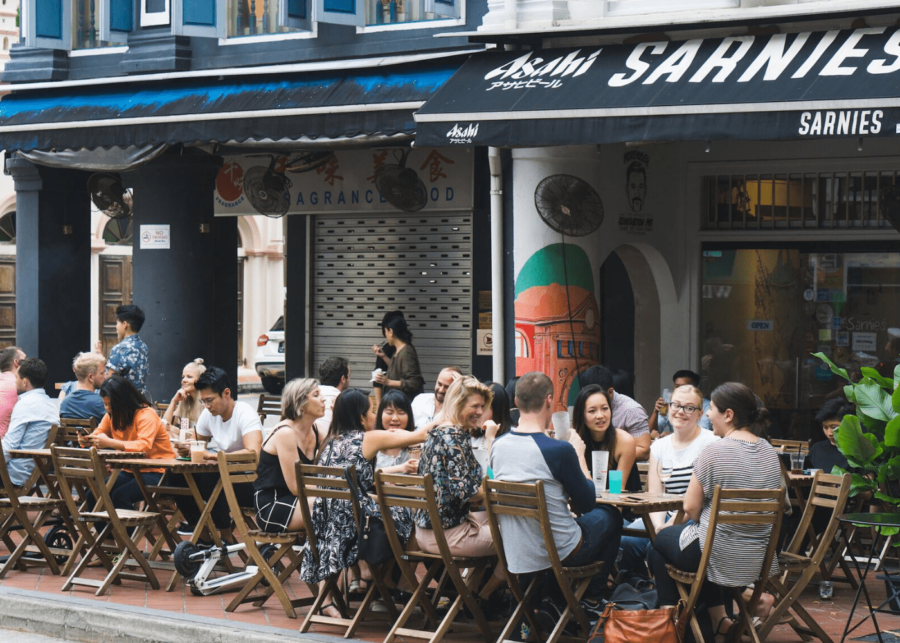 Hankering for a good cuppa? We're proud to share that Sarnies never disappoints. All beans are roasted in-house, so you get a fragrant brew every time. Don't forget to check out its lunch menu. It serves up delish Aussie-style grub like steak and eggs, tuna melts, and giant bowls of salad. Our favourite is the Pimp My Breakfast which allows us to build our own breakfast plate. A warm sesame bagel with half an avocado and smoked salmon? Yes, please.
Sarnies, 136 Telok Ayer Street, Singapore 068601
4. Nusantara
Using recipes from his grandmother and mother, chef Firdauz Nasir dishes up authentic Nusantara cuisine sans preservatives and MSG. The menu is pretty straightforward. All you have to do is take your pick from mouth-watering rice bowls like beef rendang and ayam kicap buah keluak. Pair your meal with a choice of sides such as sayur lodeh and sambal goreng. Don't forget to bag some curry puffs and fried banana fritters, together with the coffee kelapa for an afternoon pick-me-up.
Nusantara, 171 Telok Ayer Street, Singapore 068621
5. Shake Farm
If your body's screaming for a detox from the indulgent and not-so-diet-friendly grub around the area, you're in luck. Healthy cafe Shake Farm will save your diet with shakes, breakfast bowls, protein bowls, acai bowls and super toasts. The Beef Bros is packed with a whopping 35g of protein and the Mighty Mexican is well under 350 calories.
Shake Farm, 50 Robinson Road, Singapore 068882
6. Gold Ocean Curry Fish Head
Combining cai png (Chinese mixed rice) faves and its authentic fish head curry under one roof, this eatery has a loyal following amongst locals. Fill up your plate with squid, sweet and sour pork and kang kong, and drench your rice with the creamy fish curry. You won't regret it. Heads up: the queues can get pretty insane, so go for an early (or late) lunch!
Gold Ocean Curry Fish Head, 181 Telok Ayer Street, Singapore 068629
7. Common Man Stan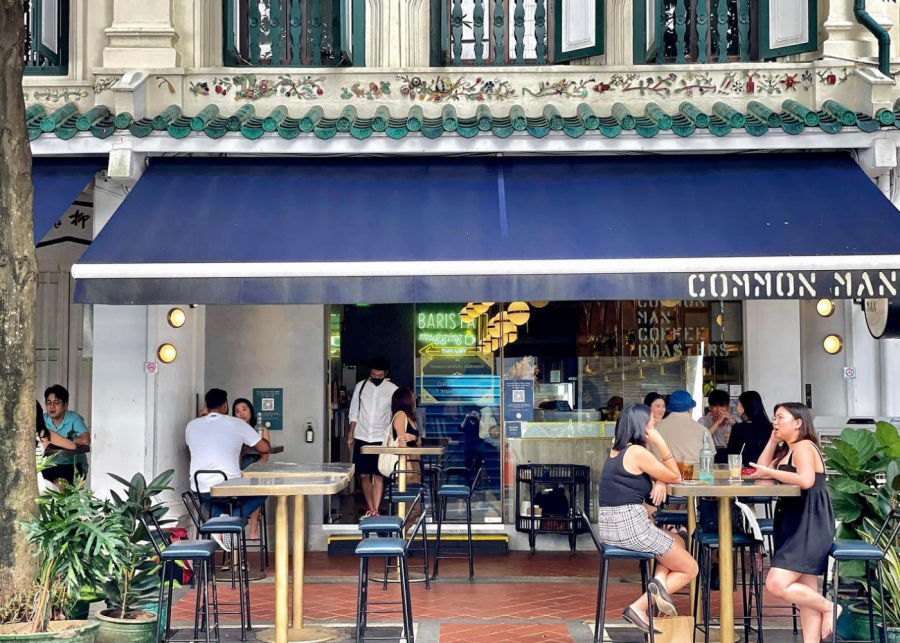 Breakfast for lunch? Say no more. Common Man Stan slings out plates like eggs benedict, brioche french toast, fluffy pancakes and egg white scramble with sauteed kale, all day every day. Coffee is a must at this cafe; just take your pick from fast, cold and slow brews. Our fave? Hands down, the nitro honey oat latte.
Common Man Stan, 11-12 Stanley Street, Singapore 068730
8. Pagi Sore
A popular lunch spot for the CBD crowd, Pagi Sore offers satisfying meal packages, so you can get the most out of the Indonesian dishes it offers. These include tahu telor (tofu omlette), ikan asam pedas (fish in tangy asam sauce), ayam goreng Java (Javanese-style fried chicken) and more.
Pagi Sore, Far East Square, 88 Telok Ayer Street, Singapore 048470
9. Chico Loco
One bite and you'll go absolutely loco for Chico Loco. This Mexican joint serves up guilt-free comfort food where you're encouraged to drop the cutlery, use your hands and get gloriously messy. Its menu encompasses a mix of breakfast items as well as salads and sandwiches. But the piece de resistance has to be its flavour-packed spit-roasted chicken.
Chico Loco, 102 Amoy Street, Singapore 069922
10. My Awesome Cafe
With its Chinese medicinal store facade and charming interior made up of random bits and bobs, My Awesome Cafe is absolutely endearing. The great range of salads and sammies makes for a satiating, healthy lunch. We can't go past My Awesome Salad, a generous portion of mesclun with smoked salmon, herbed chicken breast, duck rillettes, avocado and tomatoes.
My Awesome Cafe, 202 Telok Ayer Street, Singapore 068639
11. Fat Prince
In the mood for Middle Eastern? Stop by Fat Prince for its mezze and kebab offerings like pit-roasted lamb kebab, kale tabbouleh and cashew hummus. For the full experience, go for the royal lunch set which includes a choice of dip, mezze, main and dessert. Round off your meal with a cup of Turkish coffee.
Fat Prince, 48 Peck Seah Street, Singapore 079317
12. Park Bench Deli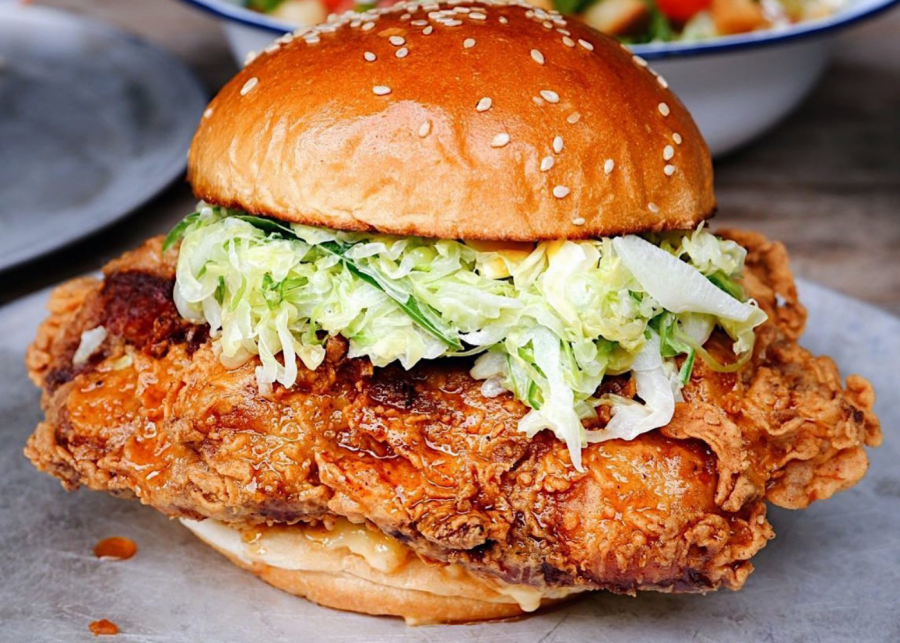 If indulgent, messy and substantial sandwiches are more your speed, Park Bench Deli hits the spot. A departure from your ordinary sandwich, PBD knows just how to please any sammie snob by sandwiching spicy fried chicken thigh, hot honey, tex-mex coleslaw and chilli aioli between a sesame potato bun. Plus, the crowd-pleasing pastrami reuben stuffs sourdough with pastrami brisket, sauerkraut, cheese and yellow mustard. So good, we almost shed a tear every time we bite into one.
Park Bench Deli, 179 Telok Ayer Street, Singapore 068627
13. Pasta e Formaggio
Pasta e Formaggio is one of those blink-and-you'll-miss-it places. This tiny Italian spot has rotating value-for-money weekday lunch sets. From penne bacon alfredo to linguine vongole to spaghetti arabitta with smoked salmon. You can always expect something different every day. Plus, it comes with a drink and a choice of soup or salad.
Pasta e Formaggio, multiple locations including Oxley Tower and Marina Square
14. Amoy Street Food Centre
If you're working at Tanjong Pagar, there's no way you haven't had lunch here. With two storeys of diverse hawker choices, Amoy Street Food Centre is a good lunch spot in Singapore's CBD. We've had our share of great Thai food, decent pasta, hearty congee, assorted noodle dishes and more – it's all about discovery!
Amoy Street Food Centre, 7 Maxwell Road, Singapore 069111
15. Maxwell Food Centre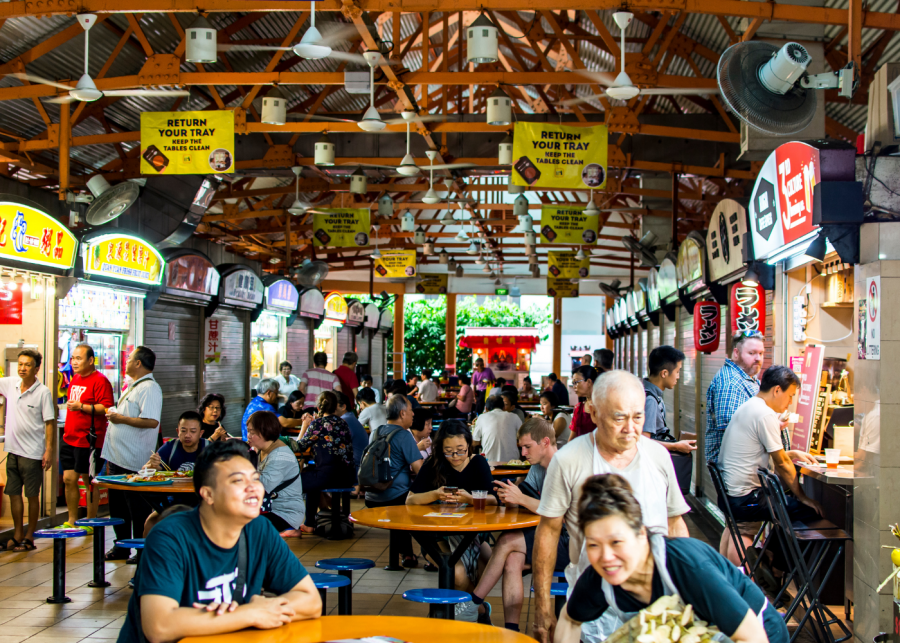 This massive dining enclave is home to over 100 food stalls, all with a focus on different specialities. There's chicken rice from Tian Tian (the late, great Anthony Bourdain was a fan), wholesome congee from Zhen Zhen Porridge, roasted meat from Fu Shun Shao La Mian Jia and others. Just be prepared to chope your seats before ordering as the place tends to get packed during lunchtime.
Maxwell Food Centre, 1 Kadayanallur Street, Singapore 069184
And there you have it, our fave lunch spots in Singapore's CBD.