Photography: Freepik
Thin crust or thick crust? Four cheese or pepperoni? Truffle or egg toppings? Try them all at these best pizzerias in Singapore!
Ah, pizza. It doesn't matter if we're having it delivered right to our doorstep, or pigging out on a fresh one at a cool new hangout — our love for the Italian food classic is deep (too deep, in fact.) Four-cheese, Neapolitan, Hawaiian, pepperoni, or juicy grilled chicken – no matter what toppings or flavours you like, there's something truly superlative on this extensive list. Make like a Ninja Turtle and have a slice of these pizzas in Singapore.
Best pizzas in Singapore
1. Lino
Get your pizza fix at this contemporary Italian restaurant, which specialises in fresh handmade pies that warm the heart and comfort the soul. The must-order? Burrata, which contains tomato passata, basil pesto, marinated cherry tomatoes, and the titular cheese in the middle. Heaven in a slice! Also try the mixed meat pizza – beef and pork meatballs, salami, and bacon. Don't forget to order profiteroles to finish on a sweet note.
Lino, multiple locations including Binjai Park and Forum the Shopping Mall
2. Wild Child Pizzette
Sporting the cheeky slogan "all good things come in 10 inches", Wild Child Pizzette's petite-sized pizzas prove it's not all about size. Opened by The Cicheti Group, we love its unconventional and playful creations that pack a punch. Don't forget to pair these irresistible slices with an ice cold beer or a freshly shaken cocktail.
Wild Child Pizzette, 50 Circular Road, Singapore 049405
3. Pano Kato
Pano Kato sits within House of AnLi, an interior retail and dining concept at Tanglin Mall. In Greek, the name means 'upstairs downstairs', referring to House of AnLi's store and bistro upstairs, and Pano Kato on the lower level. Bringing you the best of Greek Mediterranean cuisine, Pano Kato offers grilled items, pizzas, Greek gyros and deli treats all under one roof. But here, we're spotlighting its amazing pizzas.
Expect brick oven pizzas made with fresh ingredients, with the option to choose a gluten-free or keto pizza base as you wish. Vegans, try the Simply Vegan Pizza, with roasted zucchini, basil leaves and oregano. Meat eaters, dig into the Loukaniko, topped with pork sausage, capsicum and red onion, or the Crudo Bianco made with prosciutto ham and arugula. Going meat-free? There's an option for you with Impossible bolognese and tomato!
Pano Kato, #02-142/144, Tanglin Mall, 163 Tanglin Road, Singapore 247933
4. Yeast Side
The best side of Singapore has to be the Yeast Side. If you're around the King Albert Park area after 4pm, we recommend making a pit stop at this cafe for its handmade sourdough pizzas, bar bites, and craft beer. The pizza flavours rotate on a regular basis, so you'll always have something new to try. Recent creations include one inspired by breakfast, with bacon, spinach, eggs, and mozzarella cheese.
Yeast Side, multiple locations including King Albert Park and Farrer Park
5. Chooby Pizza
Chooby Pizza uses hydrated and naturally leavened dough as the base for its exquisite pizzas. Each pizza is hand-stretched and baked at 400°C, creating a soft and light texture that'll have you wanting more. Expect classic Napoli-style flavours like the margherita with San Marzano tomato, pecorino, basil and olive oil, as well as more contemporary renditions such as the truffle mushroom with portobello and bechamel.
Chooby Pizza, 125 Owen Road, Singapore 218929
6. Cicheti
Cicheti is famed for its Neapolitan-style pizzas with choices like Diavola with fior di latte mozzarella, salami, chilli and parmesan; Quattro Formaggi, a four-cheese pizza with a choice to add on Greek honey; and Romana, a basic tomato and cheese base with anchovies. We can't get enough of the chewy and perfectly charred crust that's baked to perfection in a wood-fired oven imported from Italy.
Cicheti, 52 Kandahar Street, Singapore 198901
7. La Bottega Enoteca
One of our favourite pizza joints in town, this East-side pizzeria is a rustic, cosy gem. It's already made it on the list of Asia Pacific's Top 50 Pizzas for 2023, and what a well-deserved accolade that is. With Italian chef-owner Antonio Miscellaneo at the helm, all ingredients are fresh, and items like pasta, pizza dough and gelato are made in-house.
You'll find two different types of doughs here: Newpolitan, which is crispy and airy, and Doublecrunch, a base that's crispy on the outside and chewy inside. Both are stunning works of art that come topped with the likes of broccolini with taleggio and lemon breadcrumbs; parmesan fondue with mortadella and sweet potato chips; and sardines with robiola and pachino reduction.
La Bottega Enoteca, 346 Joo Chiat Road, Singapore 427596
8. Amo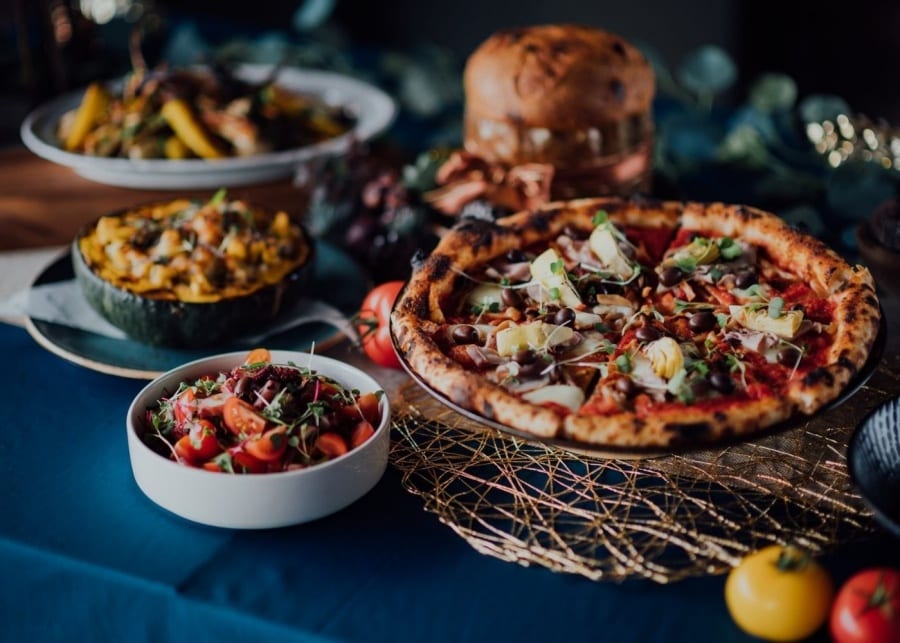 This chic Italian restaurant gives you the amazing opportunity to witness chefs making delicious pizzas. Get ready to drool over the wood-fired pizzas here. If you want to get hands-on, it also offers Italian meal kits with homemade ingredients to make your own pasta and pizzas. Enjoy a robust menu of items!
Amo, 33 Hongkong Street, Singapore 059672
9. La Nonna
If truffles make you weak, then you must have the La Nonna signature pizza (tomato, mozzarella, parmesan, asparagus, egg, and black truffle). It's a sheer truffle blasphemy. The quality of the crust also deserves special mention: it's light and crispy all around.
La Nonna, 26/26B Lorong Mambong, Singapore 277685
10. Blue Label Pizza & Wine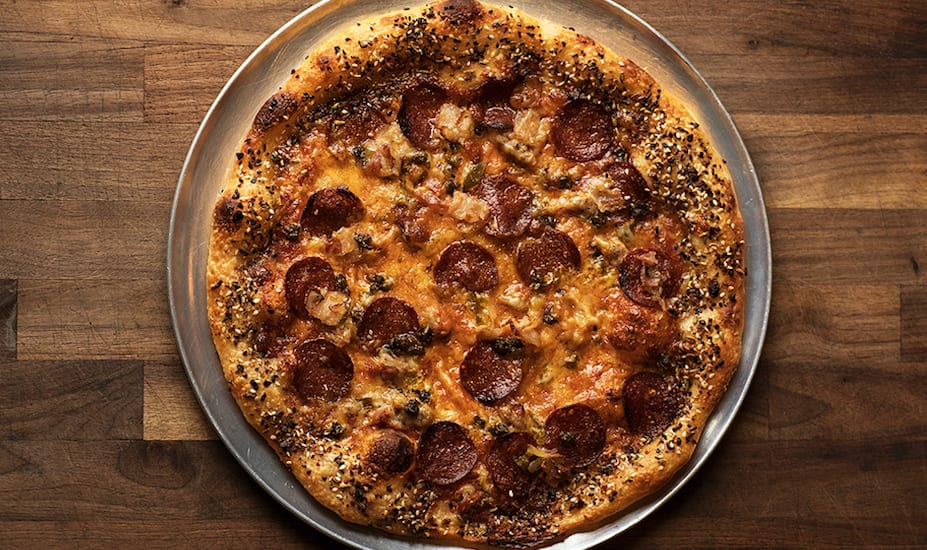 Tucked along Ann Siang Road, Blue Label gets it right in the bag with robust flavours like the Umami Bomb – shiitake, spinach, and anchovy sprinkled with goat's cheese on a cornmeal crust. Traditionalists can go for The Original Famous, a five-cheese blend with a tomato base garnished with fresh basil. And be sure to stay for dessert! Grandma's carrot cake is a must-try.
Blue Label Pizza & Wine, multiple locations including Ann Siang Road and Mandarin Gallery 
11. Cibo Italiano Singapore
Cibo Italiano is the 'good vibes only' kind of resto where friends can hang out and vibe hard. These folks serve up a mix of Italian grub – cold cuts, cheese platters and pasta plates – but the pizzas sit front and centre. It's also touted as the only negozzio (marketplace) and ristorante in Singapore, so you can purchase imported food, oils and dressings, dried and tinned food, wine and liquor after your meal.
Cibo Italiano Singapore, #01-01/2, 428 River Valley Road, Singapore 248327
12. PS.Cafe
A heap of truffle fries (that can feed a village), breakfast and brunch options, pasta, desserts that'll satisfy all sweet tooths and gourmet pizza… there's nothing PS.Cafe can't do. Try the smokey margherita pizza (roasted tomato sauce, mozzarella, scamorza, cheddar). It's one of our faves.
PS.Cafe, multiple locations including Great World and Katong
13. Da Paolo Pizza Bar
The pies at Da Paolo Pizza Bar in Chip Bee Gardens are thin, crispy and – best of all – loaded with heaps of your favourite toppings. Plus, they're not too costly and the food arrives pretty fast (in 10 minutes or so). Our pick: the Bolognese.
Da Paolo Pizza Bar, #01-46, 44 Jalan Merah Saga, Singapore 278116
14. Extra Virgin Pizza
Extra Virgin Pizza's material girl pizza comes laced with black truffle cream — something we find hard to resist. The meatless secret 'stache with bronte pistachio pesto, rocket, ricotta salata, fior di latte, and lemon citronette is another popular one to try. But if you can't make the trip to the restaurant, get your pies delivered.
Extra Virgin Pizza, #01-04, Asia Square Tower 1, 8 Marina View, Singapore 018960
15. Dario Pizza & More
Former Al Forno chef Dario Bonaccorso now has his very own pizzeria after a three-year stint at the pizza stalwart. Dario Pizza & More is all about thin, crispy crusts. Bestsellers include the salami and cheese-laden Diavola as well as the Bomba (artichoke, mushroom, bacon and ham).
Dario Pizza & More, 6 Clementi Road, Singapore 129741
16. Peperoni Pizzeria
If you're looking to feed a large group of people without breaking the bank, book a table right now. Peperoni serves pizza in XXL portions – that's a whopping 21 inches, good for four to six pax! With pies this affordable and delicious, do expect a crowd on the weekends.
Peperoni Pizzeria, multiple locations including Frankel Avenue and Zion Road
17. Pietro Ristorante Italiano
It's understandable to have some reservations about the authenticity of an Italian trattoria run by a Singaporean-Chinese chef, but the proof is in the pie, or rather, his brick-oven-baked pizza. Chef Peter Neo, who might seem familiar to you from his TV appearances, has curated a menu of wood-fired pizzas like Americana and the frutti di mare with generous seafood topping. This is, without a doubt, the best place to get authentic Italian nosh (at affordable prices) in Seletar.
Pietro Ristorante Italiano, 12 Jalan Kelulut, Seletar Hills Estate, Singapore 809030
18. PizzaExpress
It's easy to be dismissive of chain restos, but with over 50 years of experience, this casual London pizzeria's arrival in Singapore is a welcome one. Of course, the selection of toppings is dazzling, but the magic is truly in the hand-kneaded dough made in-house and baked thin. Must-try's include the pollo forza for a generous burst of spice and flavours as well as the classic American with pepperoni, mozzarella and passata.
PizzaExpress, multiple locations including Duo Galleria and Scotts Square
19. Picotin Express
A popular spot among families, Picotin Express offers crowd-pleasers like bronco, a tandoori chicken pizza and a bacon, pepperoni and honey-baked ham-topped pizza called the Banker. After chowing down on the good stuff, the little ones can have a go at mini golf!
Picotin Express, multiple locations including East Coast and Bukit Timah
20. Spizza
Spizza is one of your best options for a quick, casual pizza sesh with your mates. But this isn't just pizza you resort to when you can't find better. At this homegrown pizza resto, there's a massive variety to choose from, including one comprising Nutella, banana, and almond flakes.
Spizza, multiple locations including Bukit Timah and Jalan Kayu
21. Al Forno
This long-standing dining spot located in East Coast is famous for its Saporita (cheese, bacon and egg) and Con Carne (cheese, ham, salami, sausage, and minced beef). Even if you're not an East-sider, the journey sure is worth it.
Al Forno, 400 East Coast Road, Singapore 428996
22. Limoncello Pizza & Grill
Chef-owner Fabio Iannone prides himself on bringing the cuisine of the Amalfi Coast to Singapore. The menu features authentic Amalfi-style cuisine, and that absolutely includes pizzas. Must-tries include the signature Limoncello pizza with a creamy white base, mozzarella, fresh rocket, porcini and beef tenderloin. Love your seafood? try the frutti de mare. The restaurant also offers private dining experiences for more intimate dinners.
Limoncello Pizza & Grill, #01-19/20, Rivergate Condominium, 95 Robertson Quay, Singapore 235256
23. Alt. Pizza
Design your own dream pizza at this joint, which offers a wide range of delectable cheeses, homemade sauces, gourmet meats, seafood, and fresh herbs as topping options. Otherwise, go for signatures like The Hangover (tomato sauce, mozzarella, oregano, fennel sausage, and parmesan) and Truffle Shuffle (chicken fennel sausage, roasted mushrooms and onions, mozzarella, parmesan and of course, truffle oil).
Alt. Pizza, multiple locations including Holland Village and Katong
24. Pizza Fabbrica
Just a hop, skip, and a jump away from hip 'hood Haji Lane is Pizza Fabbrica. This pizza joint's most-talked-about item is the Funghi Scamorza, which features porcini mushrooms, mozzarella, scarmorza, and truffle oil. So. Good.
Pizza Fabbrica, 8 Haji Lane, Singapore 189201
25. TWB Pizza and Bar
TWB Pizza and Bar makes some really decadent options. We're talking about the pizza with prime cut beef and marinated tiger prawns (it's garnished with hollandaise sauce) and the peri-peri chicken one with caramelised onions.
TWB Pizza and Bar, 215R Upper Thomson Road, Singapore 574349
26. Bella Pizza
Want a slice of an authentic Italian pizza? Look no further than Bella Pizza, which has been serving Neapolitan slices for over a decade. Besides the scrumptious thin-crust selections, you can also dig into handmade calzones and Sicilian boat pizza.
Bella Pizza, #01-14, Riverside View, 30 Robertson Quay, Singapore 238251
27. Proper Slice Bygb
Proper Slice Bygb touts itself as a New York joint serving honest pizza. Located along Amoy Street, the hole-in-the-wall concept is known for doling out generously oversized pizza slices. Plus, it opens till midnight so you can drop by to satisfy your late-night pizza cravings. We recommend adding the garlic knots and meatballs on the side for the full experience!
Proper Slice Bygb, #01-02, 110 Amoy Street, Singapore 069930
28. Riccioti
Riccioti is about more than just the Italian culinary experience. The restaurant showcases other facets of Italian living like modern art, music and design along with its absolutely irresistible dishes. The pizza menu is quite vast and offers rather interesting variations like the Tartufo with black truffles, quail eggs and mushrooms.
Ricciotti, #B1-49/50, The Riverwalk, 20 Upper Circular Road, Singapore 058416
29. Daniele's Pizza
Led by founder and pizza chef Daniele Colaiacomo, the highlights at Daniele's Pizza are its fermented dough base and use of quality ingredients imported from Italy. Dining with picky eaters who aren't fans of red sauce? Fret not. At Daniele's, you can choose from myriad red and white pizzas with flavours to suit even the fussiest tastebuds. Buon appetito!
Daniele's Pizza, #01-19, Plaza 8 @ CBP, 1 Changi Business Park Crescent, Singapore 486025
Who's ready to enjoy a slice from one of the best pizza joints in Singapore?