A feast for the eyes and taste buds.
Greek, Turkish or Lebanese food – we've got the full lowdown on the best Mediterranean restaurants in Singapore.
While we might not be surrounded by the Mediterranean Sea, we for sure have a deluge of amazing restaurants plating up great Mediterranean food in Singapore. From the Middle East to Greece and everything in between, here are our top picks for kebabs, colourful condiments (tzatziki, anyone?) grilled meats and the works.
Where to get Mediterranean food in Singapore
1. Artichoke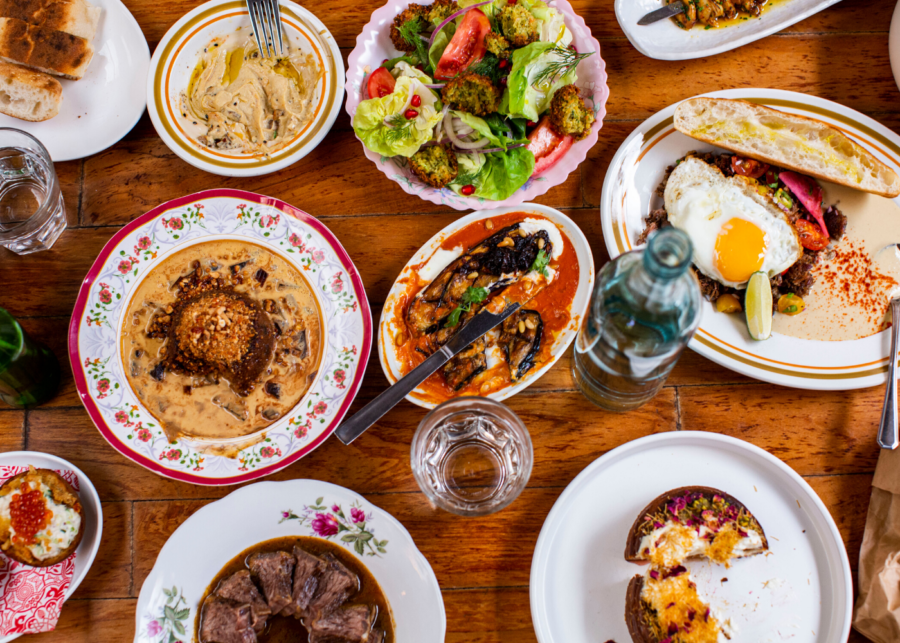 At one of Singapore's best Middle Eastern-influenced restaurants, chef-owner Bjorn Shen puts out innovative creations that are great for sharing. We're talking about crab tzatziki, grilled asparagus and green harissa prawns. Don't be surprised if you pop by and see something new on the menu – these folks are known for their spontaneity.
Artichoke, 161 Middle Road, Singapore 188978
2. Supergreek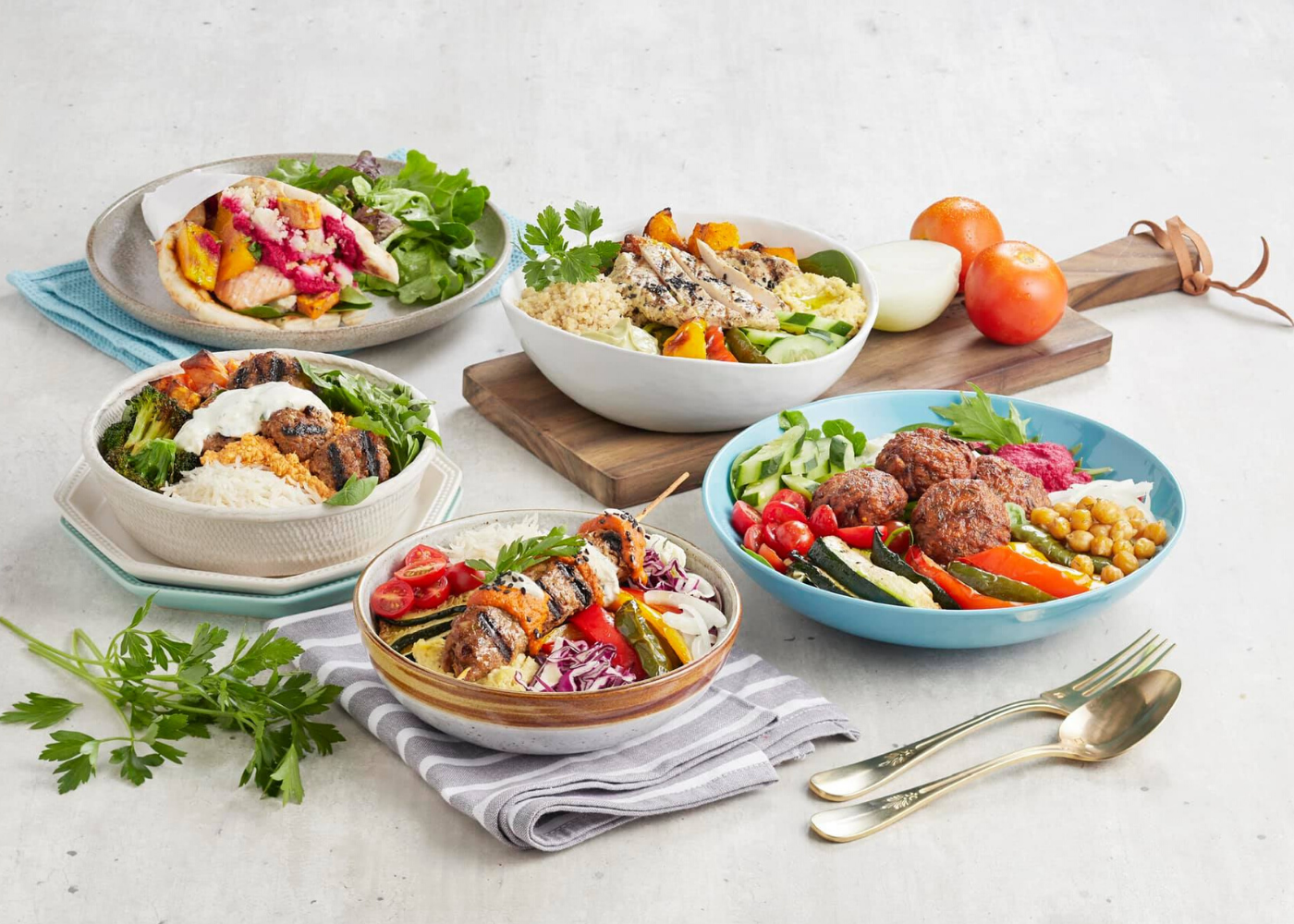 Go healthy at this fast-casual Greek eatery and order from its selection of grain bowls. Graze on flavourful dishes like beef meatballs, lamb kebab, Norweigeain salmon and grilled steak. All of 'em are accompanied with superfoods like quinoa, roasted broccoli, avocado sauce. Healthy but big on flavours!
Supergreek, multiple locations including Raffles City and Orchard Central
3. Original Sin
The Holland Village stalwart serves some of the best Mediterranean veggie plates on the island. You won't even miss the meat! Don't leave without trying the cheesy baked portobello mushroom with pesto and tomato basil sauce (aka the Magic Mushroom), and the vegetable and herb-layered lasagne that features zucchini and spinach.
Original Sin, #01-62, Block 43 Jalan Merah Saga, Chip Bee Gardens, Holland Village, Singapore 278115
4. Zorba The Greek Taverna
Pretend you're living it up in Athens at this Greek riverside spot in Clarke Quay. The menu features Mediterranean dishes that are perfect for sharing. Start your meal with the dips platter where you get to try spreads like hummus and tzatziki on pita bread. For something filling, get the mixed grilled platter, which comprises of lamb chop, pork gyro meat, lamb kebab, chicken souvlaki and bifteki. This goes without saying, but end your big fat Greek feast with baklava.
Zorba The Greek Taverna, #01-02, 3A River Valley Road, Singapore 179024
5. Blu Kouzina
Blu Kouzina blends both traditional and contemporary recipes with fresh ingredients from Greece. With that said, expect an extensive menu of salads, pitas, dips, meats and seafood. Pro tip: Order a couple of dips (especially the taramasalata – white cod roe!) and kebabs, meat platters or seafood plates to share. If you need help choosing the dishes, just ask one of the friendly servers for recommendations.
Blu Kouzina, #01-21, 10 Dempsey Road, Singapore 247700
6. Sofra Turkish Cafe & Restaurant
Always a crowd favourite in Singapore, this Mediterranean hotspot has a food menu that's pretty extensive. If you need help deciding what to order, the adana kebab (minced meat), hummus with spiced lamb, and beef pide are fab choices. Need a nice little pick-me-up? Order a cup of super potent Turkish coffee.
Sofra Turkish Cafe & Restaurant, #03-129A, 6 Raffles Boulevard, Marina Square, Singapore 039594

7. Fill a Pita
This CBD food stall that's tucked away in a coffee shop on Nankin Row is terrific. Wallet-friendly prices, great service, amazing food – what's not to like? The hummus is creamy and earthy (just the way we like it) and the falafel-filled wholemeal pita bread never disappoints.
Fill a Pita, #01-29, China Square Central, Nankin Street, 3 Pickering Street, Singapore 048660
8. Bakalaki
Craving for authentic Greek food in Singapore? Say no more. Located right in the heart of Tiong Bahru, Bakalaki is the eastern Mediterranean fix you need. For starters, tuck into the tzatziki dip with pita bread and traditional Greek salad. We hear the grilled octopus, kebab and lamb chops are stellar must-tries, too. There's even a deli, should you need to take home delicacies like cheese, olives, sauces, traditional sweets and Greek wines.
Bakalaki, 3 Seng Poh Road, Singapore 168891 
9. Mykonos on the Bay
Fantasising about sunsets along the Aegean Sea? Dining at Mykonos on the Bay is the closest you get to being on the Greek party island. Feast on a large selection of hot and cold mezze (appetisers), classic Greek salads, and traditional charcoal-grilled meats. One dish we can't get enough of is the graviera saganaki, which is basically pan-fried cheese with ouzo and lemon juice. Sinful, but so, so awesome.
Mykonos on the Bay, #01-10, Sentosa Cove, Quayside Isle, 31 Ocean Way, Singapore 098375
10. Fat Prince
Go on a gastronomical carpet ride with Fat Prince's lip-smacking kebabs. The list includes harissa prawn, spring pea falafel, chicken, roasted pumpkin and pit-roasted lamb. Pop by for its decadent weekend brunch to dine like royalty. Say hello to free-flow tipples alongside your choice of dip, mezze or salad, main and dessert.
Fat Prince, 48 Peck Seah Street, Singapore, 079317
11. Alati
Close your eyes, and you'll almost feel a cool Mediterranean sea breeze waft through the rustic blue and white interior of this Greek taverna. Alati makes use of fresh produce wild-caught by fishermen of the Aegean Sea. Every item on the menu is painstakingly and meticulously made by hand: from the beef mousaka (a traditional Greek casserole) to the tzatziki, and even quintessentially Greek desserts like baklava and portokalopita (orange phyllo cake).
Alati, 73 Amoy Street, Singapore 069892
12. Artemis Grill & Sky Bar
Tuck into an array of Mediterranean food 40 storeys high at this rooftop restaurant and bar. The ingredients are fresh and seasonal, the seafood and grilled meats are magnificent, and the dessert selection takes you from sweet endings to artisanal cheese. But let's not forget the vegan menu that whips up dishes so good, you won't miss the meat.
Artemis Grill, Level 40, CapitaGreen Rooftop, 138 Market Street, Singapore 048946
Take your pick from these Mediterranean restaurants when you're in the mood for good food in Singapore!