Photography: Claudine
Looking for the perfect French restaurant in Singapore? Here's our guide to the best tables for Francophiles.
For a long time, French has been the cuisine of fine dining in Singapore. It still is, but thankfully for our wallets, there are now more French restaurants (and bistros) in Singapore serving pates, oyster mignonettes, croque monsieurs and other classics that are kind on your wallet. Ahead, we've put together a big list of places to indulge in glorious Gallic fare – from fancy restaurants for a special occasion to casual and breezy outdoor spots.
Best French restaurants in Singapore
1. The Summerhouse
It's all about the countryside and summer vibes at The Summerhouse. The French Dining Room (so aptly named) is nestled among the rolling greenery of Seletar. Enjoy French favourites served family style with the chef's selection of sustainably sourced ingredients. Gather your friends and share stories over a pan-seared roasted French yellow chicken breast and grilled prawns wrapped in lardo. Top it all off with some decadent chocolate ice cream served with vanilla custard and hazelnut cookie. Heaven.
The Summerhouse, 3 Park Lane, Singapore 798387
2. Claudine
At Dempsey Hill, you'll find an old colonial chapel home to Claudine, a French neo-brasserie by Julien Royer and The Lo & Behold Group. Inspired by the simple pleasures of home cooking, Claudine brings you timeless French classics and recipes with local twists. Start off with a Miyabi madai carpaccio before moving on to warm your soul with Claudine's bouillabaisse with saffron.
Claudine, 39C Harding Road, Singapore 249541
3. Les Amis
A three Michelin-starred concept that indulges all visitors in a discerning fine dining experience, Les Amis is polished in that classic French way. With its accolades, you can bet prices are on the higher end. But for dishes like French sea bass and roasted challans duck breast, it's well worth the splurge.
Les Amis, #01-16, Shaw Centre, 1 Scotts Road, Singapore 228208
4. Odette
Housed at the prestigious National Gallery, the three Michelin-starred Odette is a dreamy fine dining restaurant famed for its innovative French cuisine. Each dish tells a story, through well thought out seasonal ingredients and artful presentation. Oh, and you can't look past the gorgeous interior, which is clad in alluring pastels – a fine job by Singaporean artist Dawn Ng.
Odette, #01-04, National Gallery, 1 St Andrew's Road, Singapore 178957
5. Restaurant Beurre
This restaurant combines the unique flavours of French and Asian cuisines to satisfy your tastebuds. From small plates to a variety of dishes to share, executive chef Darwin Wong teleports you to France with his creations. Go for the orange cured salmon confit with a seaweed sauce or stuffed black chicken with foie gras. Either way, you'll be treated to scrumptious grub!
Restaurant Beurre, #01-01, 23 Bukit Pasoh Road, Singapore 089837 
6. Bistro du Vin
French onion soup, duck leg confit and snapper en papillote are just some of the rustic French offerings you'll find at Bistro du Vin. Part of the Les Amis Group, this casual eatery at Shaw Centre offers comforting fare and a homely dining experience that promises an authentic taste of France, all at a reasonable price to boot. Its popularity with the French population in Singapore is testimony enough for us!
Bistro du Vin, #01-14, Shaw Centre, 1 Scotts Road, Singapore 228208
7. L'Entrecote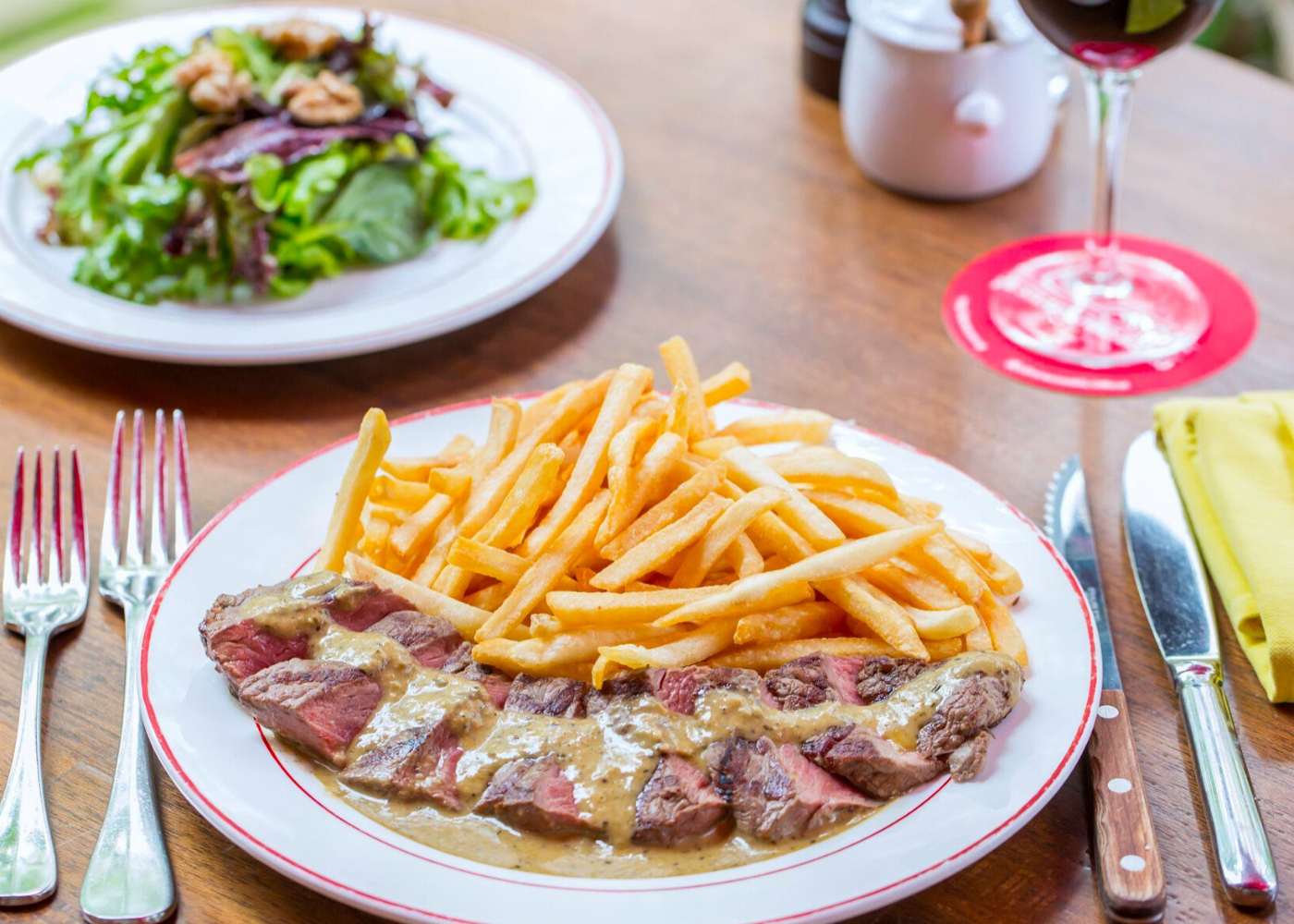 This Parisian bistro on Duxton Hill's menu is damn good (pardon our French). Its l'entrecôte steak is a popular dish with a legendary secret sauce generously poured over tender sliced steak. Beautifully accompanied with golden French fries and green salad with walnuts. The decadent mousse au chocolat, a dark chocolate mousse topped with Valrhona crunchy pearls, is great for afters.
L'Entrecote, multiple locations including Customs House and Duxton Hill
8. Meta
Another Michelin-starred French restaurant in Singapore, Meta takes French classics and gives them an Asian (mostly Korean) spin. It uses mostly fresh and seasonal ingredients in its creations. Service is warm, and diners can choose from an ever-changing menu of four courses at lunch or seven courses at dinner. Once you're all settled in, sit back, relax and enjoy the culinary ride.
Meta, 1 Keong Saik Road, Singapore 089109
9. Gunther's Modern French Cuisine
Gunther's is more than a restaurant to chef Gunther Hubrechsen. It's a second home for him to devise and visualise his culinary creations. The restaurant's luxurious art nouveau-styled interior incorporates panel art pieces and features natural, flowing patterns. But more importantly, the meticulously designed dining room sets the stage for chef Gunther's unique creations like grilled Brittany artichoke with hollandaise, and roasted "Salcietta" Corsica smoked sausage. If you're up for unconventional French fare, try the cold angel hair pasta.
Gunther's Modern French Cuisine, #01-03, 36 Purvis Street, Singapore 188613
10. Gaston
A cosy bistro and wine bar located in the buzzy Keong Saik 'hood, Gaston brings you on a culinary journey through Burgundy with French comfort food complemented by quality wines from France and beyond. Start with escargots in garlic and parsley butter or oeufs en meurette (poached eggs in red wine sauce) before moving on to hearty plates like boeuf bourguignon (beef stew).
Gaston, 25 Keong Saik Road, Singapore 089132
11. Atout
French classics are served at Atout. Its locale – the sequestered enclave of Dempsey – and the breezy alfresco area make this a perfect spot for date nights. While soaking in the beautiful starry skies, look forward to an array of cheeses and dishes like roasted angus beef prime rib and crispy duck confit with thyme jus.
Atout, 40C Harding Road, Singapore 249548
12. Brasserie Les Saveurs
Enjoy a contemporary French dining experience anchored by Parisian class at Brasserie Les Saveurs. While you take in the hand-cut glass chandeliers and floor to ceiling windows, tuck into a curated selection of epicurean delights ranging from brunch bites to afternoon tea nibbles. For savoury meals, relish in the lobster bisque or savour the classic steak frites.
Brasserie Les Saveurs, The St Regis Singapore, 29 Tanglin Road, Singapore 247911
13. Saint Pierre
This two Michelin-starred restaurant knows a thing or two about fine dining, with its modern French fare and Asian-inspired elements. Taking up an elegant space at One Fullerton, with spectacular views of the Marina Bay waterfront, Saint Pierre offers a beautiful dining experience that combines quality ingredients and amazing flavours.
Saint Pierre, #02-02B, One Fullerton, 1 Fullerton Road, Singapore 049213
14. La Dame de Pic
French delights within an iconic heritage building? Yes, please. Anne-Sophie Pic is a third-generation Michelin-starred chef, following in the footsteps of her Michelin-starred father and grandfather. The set menus here change with the seasons, but expect a complex array of flavours and aromatics as the food explores every ingredient's full flavour potential.
La Dame de Pic, Grand Lobby, Raffles Hotel Singapore, 1 Beach Road, Singapore 189673
15. Saveur
Looking for a French restaurant in Singapore that doesn't burn a hole in your wallet? Challenge accepted! Enter Saveur. This no-frills restaurant serves hearty French standards like duck confit, poulet roti pour and pan-fried foie gras. Best of all, most dishes on the menu are well below $30.
Saveur, #01-04, 5 Purvis Street, Singapore 188584​
16. Les Bouchons
Go back to basics at Les Bouchons, reputed as one of Singapore's best steakhouses. The house specials include cuts of angus beef, and they come with free-flow (yes, really!) homemade fries. The latter's certainly not for the faint-hearted (or health-conscious). For our friends out there that aren't keen on meat, Les Bouchons has an Impossible steak!
Les Bouchons, multiple locations including Ann Siang Road and Robertson Quay
17. Taratata Brasserie
For a dose of authentic French fare – and some of the most value-for-money set lunches in Keong Saik – Taratata Brasserie is your best bet. Chef-owner Bertrand Raguin works hard at dishing out classic French dishes complemented with top-class hospitality. Find your Gallic favourites like homemade duck foie gras, beef bourguignon and lobster bisque on the menu.
Taratata Brasserie, 35A Keong Saik Road, Singapore 089142
18. Brasserie Gavroche
Tucked away in an unassuming little shophouse is this homely Parisian bistro. French fare is made using recipes passed down to chef Frédéric Colin from his grandfather Henri. French cheese trolley and traditional French onion soup are just some of the many authentic dishes you can look forward to.
Brasserie Gavroche, 66 Tras Street, Singapore 079005
19. Fleur de Sel
Fleur De Sel offers a laidback setting for diners to enjoy refined French dishes. Among its set lunches and dinners, you'll see familiar favourites making an appearance from time to time. Think creamy, heavenly Boston lobster bisque and mains like braised monkfish and a two-hour roasted lamb rack. Oh, and the chef is known to make his rounds across the restaurant to chat with diners, adding to the homely atmosphere.
Fleur de Sel, #01-01, 64 Tras Street, Singapore 079003
20. Rhubarb Le Restaurant
Gallic cuisine runs the gamut from classy to cosy, and this restaurant is no doubt the latter. The one Michelin-starred spot houses just seven tables where diners can watch the chef in action as he personally prepares his contemporary French dishes with finesse. When you're served intricately plated dishes, you'll see what we're talking about.
Rhubarb Le Restaurant, 3 Duxton Hill, Singapore 089589
There you go! A complete list of the best French restaurants in Singapore that deliver to your door.