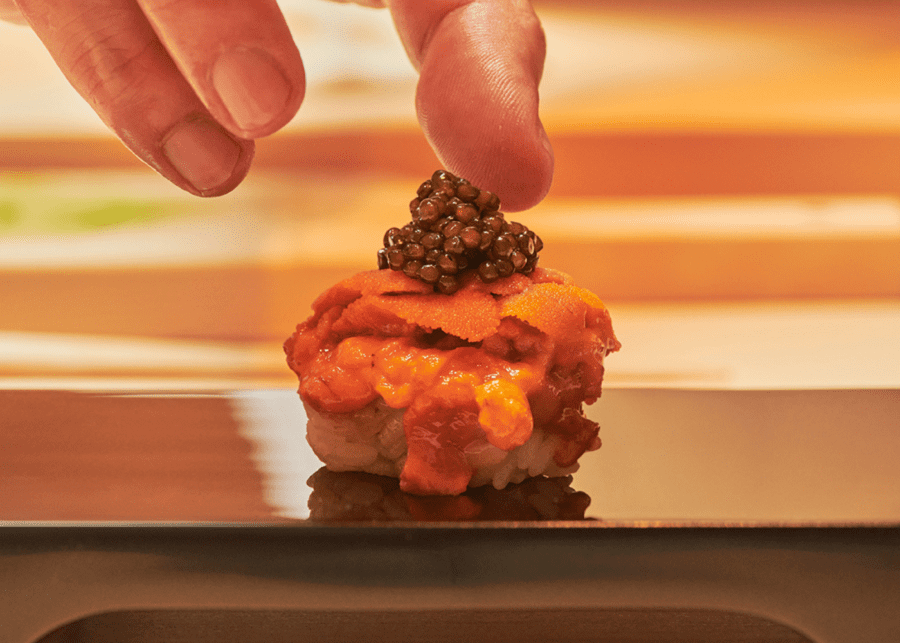 Photography: Masaaki
Compliments to the chef! Our list of omakase restaurants is not only limited to sushi and sashimi. You'll be on the edge of your seat...
When you think of Japanese food, sushi, ramen, yakitori, Japanese curry, teppanyaki and shabu shabu come to mind. That obviously leads us to choice paralysis, so when in doubt, we turn to the culinary art of omakase. For the uninitiated, omakase literally means "I leave it up to you" in Japanese. It's commonly used in restaurants where the chef dishes out a series of plates depending on the ingredients available. So forget about making decisions, respect the chef and enjoy the gastronomical ride. Here's our edit of the top omakase restaurants in Singapore.
Best omakase restaurants in Singapore
Masaaki
Kyoto-raised chef Masaaki Sakashita, who has helmed the kitchens of Ishi and Hashida Sushi, brings his culinary expertise here. The restaurant is outfitted by Takenouchi Webb, showcasing a stunning collision of contemporary design and oriental glamour. Think soft pink Gucci wallpaper with beautiful white crane illustrations, a cascading wave of washi sheets hanging from the ceiling, and a wood counter crafted purely from a 250-year-old hinoki. Specialising in sushi omakase, each dish is a reflection of chef Masaaki's skills and Japanese culinary ethos. Sit at the counter for a visual feast of the open kitchen. You'll set your eyes on live crabs meeting the flames in the charcoal hearth and the intricate art of sushi-making.
Masaaki, #B1-17, South Beach, 26 Beach Road, Singapore 189768
Fat Cow
Apart from its superb selection of Japanese wagyu beef, Fat Cow boasts an omakase dining room helmed by Tokyo-born chef Shigeru Kasajima. Drawing from his global career, he crafts lunch and dinner omakase menus that pay homage to traditional Japanese techniques, but with modern influences. Case in point? The nigiri sushi is served on a bamboo leaf and pickled chrysanthemum, instead of the traditional ginger. For true-blue beef lovers, go for the nine-course wagyu omakase. You won't regret it.
Fat Cow, #01-01/02, Camden Medical Centre, 1 Orchard Boulevard, Singapore 248649
Shoukouwa
Why Shoukouwa? For starters, it's the only two Michelin-starred sushi spot in Singapore. This fine dining establishment quickly beat other Japanese stalwart restaurants in its opening year to snag those coveted stars in Singapore's inaugural Michelin Guide. Its omakase menu stands out for featuring ingredients fresh from Tokyo's Toyosu Market, previously known as Tsukiji Market. So expect to splash some cash on this remarkable dining experience.
Shoukouwa, #02-02A, One Fullerton, 1 Fullerton Road, Singapore 049213
Rappu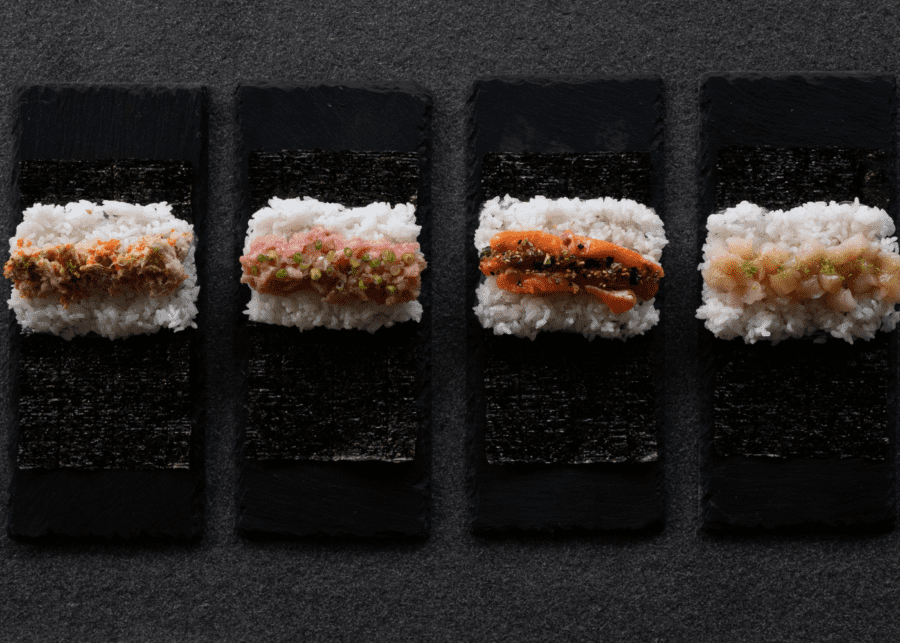 Brought to you by the same folks behind The Feather Blade, this 36-seater offers handroll sushi omakase-style at wallet-friendly prices. Rigged out in an industrial-chic ambience, the 20m-long quartz bar invites you to a six-course sushi meal. Expect ingredients like tuna belly, fluke fin and amberjack to make an appearance. Complete the experience with a sake pairing or Japnese-inspired cocktails.
Rappu, 52 Duxton Road, Singapore 089516
Sushi Kimura
Head chef Tomoo Kimura brings his 15 years of experience (including a stint at the Michelin-starred Ginza Restaurant) to this modern sushi-ya. The best way to savour his creations? Opt for the ever-changing omakase menu done in traditional edo-mae style. It showcases handpicked seasonal highlights from Japan.
Sushi Kimura, #01-07, Palais Renaissance, 390 Orchard Road, Singapore 238871
Terra
Hidden behind its earth-toned walls, Terra is chef-owner Seita Nakahara's love song to Tokyo-Italian cuisine. (He's particular about his cuisine not being labelled Japanese-Italian.) The Michelin-starred establishment has no a la carte menu in sight. Instead, Seita uses seasonal ingredients and flavours to showcase his innovative creations. Being an omakase-only place, there's no guarantee a particular dish will be on the menu. But if you're lucky, you might just taste his signature spaghetti with uni. It's *chef's kiss*.
Terra, 54 Tras Street, Singapore 078993
Babasan
Babasan spices things up by introducing Peranakan flavours to Japanese plates. Get the best of both worlds with its omakase menu. Dishes you might try include uni toast, tempura pasta, oyster with salmon ceviche and A4 Miyazaki beef steak. It's also worth checking out the a la carte menu as it is embellished with creations like sambal Iberico pork sando and unagi kueh pie tee.
Babasan, 50 Circular Road, Singapore 049405
Bam!
Singapore's first modern shudo (the way of sake appreciation) restaurant takes the road less travelled by marrying Spanish tapas with Japanese techniques. Following omakase-style dining, executive chef Pepe Moncayo serves up a five- and a seven-course menu that highlights the season's freshest ingredients. And it goes without saying, sake pairing is a must!
Bam!, 38 Tras Street, Singapore 078977
Hakumai Sushi
From the premium Koshihikari variety rice to the specially concocted garnishing sauce, every piece of sushi is made with the finest ingredients. Leave it to chef Gary Ng, who has two decades of experience under his belt. Get the sushi omakase that comes with an assortment of premium sushi, kawahagi (filefish), soup and ice cream. Alternatively, the signature omakase offers more substantial surprises with seasonal signature dishes.
Hakumai Sushi, #01-50A, International Plaza, 10 Anson Road, Singapore 079903
Ki-Sho
Chef Hamamoto, formerly from Waku Ghin, uses his wealth of experience to create an unforgettable dining experience at this omakase restaurant. While you can't choose your sushi, rest assured you'll be pleasantly surprised by creations such as the luxurious uni and caviar plate. Always trust the chef!
Ki-Sho, 29 Scotts Road, Singapore 228224
Shinji by Kanesaka
When it comes to decadent Japanese food in Singapore, there aren't many quite as elegant as this Michelin-starred spot. The revered establishment serves fuss-free yet formidable menus that boast fresh sushi and sashimi in nine-, 12-, or 15-piece sets. But we say go straight for the exquisite omakase sets that whip out all sorts of gastronomical curveballs! Oh, and look out for the sushi counter carved from the trunk of a 220-year-old hinoki tree.
Shinji by Kanesaka, multiple locations including The St. Regis Singapore and Carlton Hotel Singapore
Teppei
The waiting list for Teppei can be a tad insane (sometimes it goes up to six months). But that's because its omakase is famously affordable and delicious. Word to the wise: reservations open at the start of each month and it's a 22-seater restaurant, so fastest fingers first. You know what to do!
Teppei, #01-18, Orchid Hotel, 1 Tras Link, Singapore 078867
Are you ready to surprise your taste buds at these omakase restaurants?