Photography: Madie Hamilton via Unsplash
If you're not one to turn down a good, juicy slab of beef, ready your appetite and hit up Singapore's best steak restaurants.
Looking for the best steaks in Singapore? Indulging in a sumptuous steakhouse meal is great for everything from romantic date nights to family dinners. Our beefy picks include splurge-worthy favourites, premium beef cuts with fantastic sides and even a couple of steak restaurants that offer stunning views. Who's ready to feast on sublime steaks?
Best steak restaurants in Singapore
1. Bochinche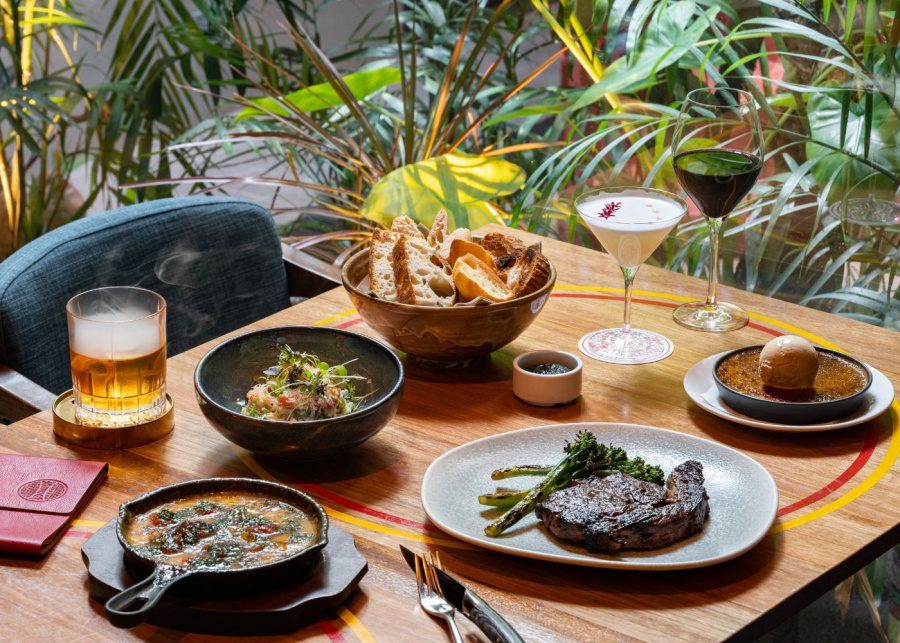 Offering an Argentinian steakhouse experience in the Club Street neighbourhood, Bochinche serves up modern Argentinian fare and masterful steaks. A wood and charcoal grill allows its chefs to showcase traditional Asado grilling techniques to create a lightly charred crust and smoky aroma that highlights the natural flavours of the beef. Savour unique meats curated from Argentina, Spain and Japan. Standouts include the bife de lomo (beef fillet steak) or the bone-in vintage galiciana striploin.
Meats aside, the empanadas are popular crowd-pleasers. Also, try the Bomba Arroz Verdez, a classic Spanish risotto-style dish made with grilled Argentinian prawns, and raw scallop bites folded into the rice. Glazed with a rich seafood stock, this will satisfy all your seafood cravings. Wash it all down with a premium pour. Choose natural wines from Drunken Farmer, as well as more than 30 labels of conventional and robust Argentinian wines.
Bochinche, 27 Club Street, Singapore 069413
2. Officer's Mess Polo Bar
Officer's Mess Polo Bar is the place to be for a luxurious steak dinner. Step inside for plush decor with oak panelled walls and African ebony floors, complete with a hand painted polo scene from the 1930s depicting a match at Guards Polo Club in Windsor (UK) between Royal Patiala and the British Army. The menu features some of the world's finest prime grade cuts of meats. Sink your teeth into the signature Polo burger or dig into a succulent selection of grass-fed beef and delectable sides.
Wash it all down with your choice of tipple. The Polo Bar features a world-class wine cellar, housing a collection curated by an expert team of sommeliers. Expect only the best champagnes, reds, whites, and rosés from some of the world's leading vineyards here! Take your pick and have a sip to go with your steak for the perfect indulgence.
Officer's Mess Polo Bar, 2 Cook Street, Singapore 078857
3. FBG
Pop by the Bukit Timah neighbourhood for this hidden gem. Formerly Fat Belly Steakhouse, this steak restaurant is known for its lesser-known cuts and its laid-back, communal vibe. FBG procures its meats from producers across the globe for a selection of beef, pork and more. Skillfully grilled over charcoal embers, each slice is aromatic and juicy, promising the perfect bite.
Try the full-blood wagyu Denver from renowned Australian heritage beef producer 2GR for a beefy treat. Expect a succulent bite that goes perfectly with the classic bordelaise red wine sauce. There's also a selection of moreish mains, sides and starters like the roasted Hokkaido scallops and fried Camebert cheese to complete your meal. Plus, don't leave without desserts like the signature tiramisu with brandy cream!
And if you're popping in for lunch (from 11am to 4pm), there are set lunch specials to be savoured. Try the two-course meal with a main and a starter or dessert; or the three-course special with a starter, main and dessert. Dinner starts from 5pm, with an option for a dinner for two that's perfect for date nights. Alternatively, try pop by for a weekend brunch (for creations like the chicken katsu on Creme Brulee French Toast or enjoy the ala carte menu that's available all day, every day!
FBG, #01-04, Serene Centre, 10 Jalan Serene, Singapore 258748
4. Bedrock Bar & Grill
Meat-obsessed foodies, make a beeline for Bedrock Bar & Grill. This stylish steakhouse is one of our favourite places to hit up for fine beef cuts like dry-aged USDA prime ribeye and tomahawk steak. It also has a great selection of whisky labels, so take your pick. And don't forget to order a side of truffle mash or mac and cheese!
Bedrock Bar & Grill, #01-05, Pan Pacific Serviced Suites Orchard, 96 Somerset Road, Singapore 238163; order online for delivery
5. Butcher's Block
Taking up the place formerly occupied by Long Bar Steakhouse at Raffles Hotel, Butcher's Block offers quality cuts of meats that are roasted, stewed and grilled. Our choice pick? The wagyu tartare, which practically melts in your mouth. Pair it with plates of Japanese hamachi or baby corn. The stylish space, home to a glass cooler display of meats and an exposed wine cellar, makes your dining experience a refined one.
Butcher's Block, #02-02, Raffles Arcade, 328 North Bridge Road, Singapore 188719
6. Black Marble by Otto
Hailed as the 'godfather of steaks', chef Otto Weibel's philosophy, "keep it simple with perfection", is lovingly reflected in the dishes. Take your pick from wagyu striploin, Australian angus ribeye or dry-aged bone-in ribeye and complement your grilled meat with red wine jus, herb butter, chimichurri, or black pepper mushroom sauce. If you're visiting with friends, get additional sides to share.
Black Marble by Otto, #02-01, Raffles Holland V Mall, 118 Holland Avenue, Singapore 278997
7. Cut by Wolfgang Puck
Trust celebrity chef Wolfgang Puck to serve some of the best steaks in Singapore. The American wagyu cuts are perfect if you like your steak juicy and a little on the fatty side. But for the ultimate mouth-watering option, try the pure breed wagyu beef from the Sendai prefecture in Japan. Your choice of filet mignon, New York sirloin or ribeye steak will be grilled gloriously over apple wood.
Cut by Wolfgang Puck, #B1-71, The Shoppes at Marina Bay Sands, 2 Bayfront Avenue, Singapore 018972
8. Opus Bar & Grill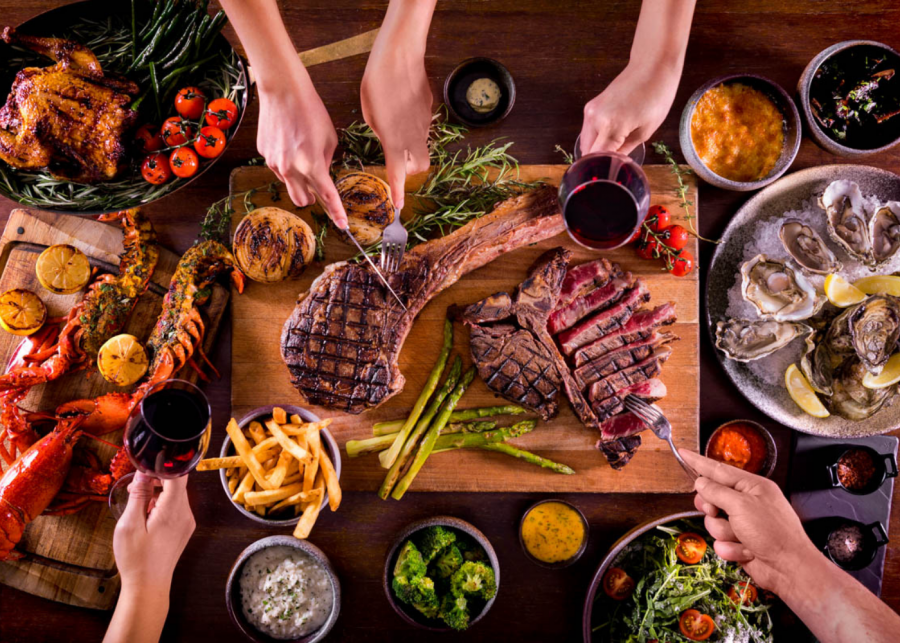 Serving up some of Australia's finest beef from Rangers Valley, Opus Bar & Grill will impress even the most discerning carnivores. Made for date dining, the menu features several sharing dishes that will make your inner caveman rejoice. For the ultimate indulgence, order the premium butcher sharing cut and get a side of seared foie gras.
Opus Bar & Grill, Ground floor lobby, Voco Orchard Singapore, 581 Orchard Road, Singapore 238883
9. Morton's The Steakhouse
Get a slice of the good stuff here at Morton's. It's one of those classic places where you know just what to expect from the menu. Choices like wgyu filet and tomahawk ribeye don't come cheap, but they sure are worth the hefty price tag. Even better when they're paired with tuna tacos and Morton's legendary hot chocolate cake.
Morton's The Steakhouse, Level 4, Mandarin Oriental Singapore, 5 Raffles Avenue, Singapore 039797
10. Bistecca Tuscan Steakhouse
This Italian steak restaurant in Singapore is cosy and intimate. Its quaint heritage shophouse premises and subtle lighting make it a prime spot for date night. Besides the menu's range of cuts like ribeye, striploin and tenderloin, you can get the Fiorentina-style steak to share. Bistecca's massive 1.1kg T-bone offering is perfect for three hungry meat lovers, though you can always pile on a few sides and starters too.
Bistecca Tuscan Steakhouse, 26 Mohamed Sultan Road, Singapore 238970; order online for delivery
11. Lawry's The Prime Rib Singapore
In the heart of Orchard Road, Lawry's The Prime Rib Singapore is well-known for its amazing steaks in an elegant space. Floor-to-ceiling windows allow you to overlook the vibrant streets below. Psst: there are also six private dining rooms for booking if you're planning a celebration or events.
You can't go wrong with the signature USDA prime rib of beef here: each standing rib roast is aged for up to 28 days for incredible tenderness, and slowly roasted on beds of rock salt to create juicy, flavourful meat. The meat is then carved table-side for optimal freshness, accompanied by sides of your choice like creamed spinach and mashed potatoes. And don't miss out on the original spinning bowl salad to whet your appetite!
Lawry's The Prime Rib Singapore, #04-01/31, Mandarin Gallery, 333A Orchard Road, Singapore 238897; order online for delivery
12. Fat Cow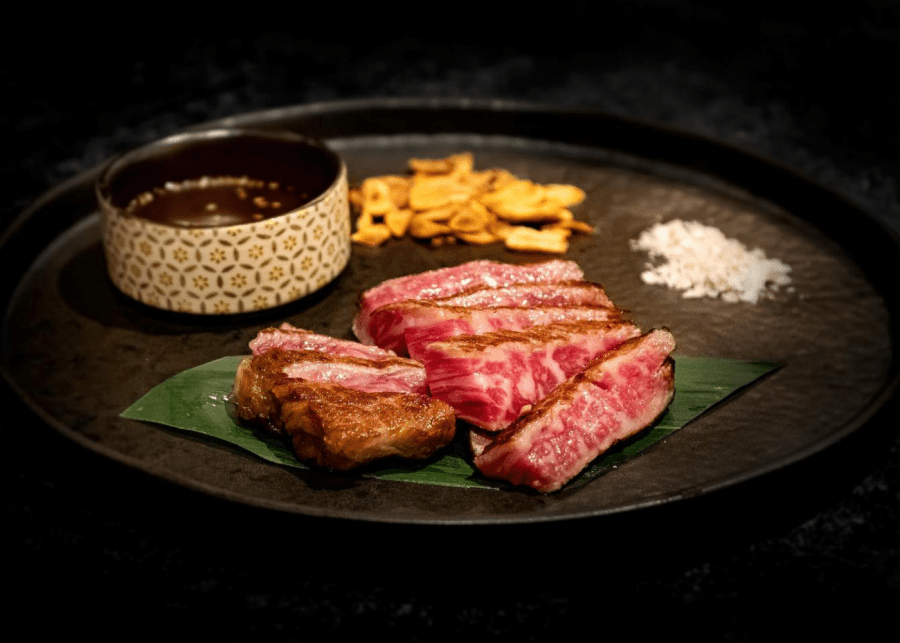 This Japanese-inspired steakhouse is one of the best restaurants in Singapore when it comes to authentic Japanese wagyu beef. Its range is the real deal, featuring Ohmi grade A4 wagyu, Tochigi grade A5 ribeye and Saga grade A5 wagyu. You even have the option of savouring the beef in shabu-shabu or sukiyaki style. Enjoy the succulent and tender meat that simply melts in your mouth.
Fat Cow, #01-01/02, Camden Medical Centre, 1 Orchard Boulevard, Singapore 248649; order online for delivery
13. Les Bouchons
Love that classic steak and fries combo? Pop by Les Bouchons for an awesome meal. This relaxed restaurant serves flavourful steaks made to your preference. The beef cuts include angus ribeye steak and angus prime rib, and they come with free-flow fries (yes, really!).
Les Bouchons, multiple locations including Ann Siang Road and Robertson Quay; order online for delivery
14. Wooloomooloo Steakhouse
This restaurant with floor-to-ceiling windows offers some of the best city skyline views you could get from any steakhouse in Singapore, and its premium steak selections will make your mouth water. Taking its name from a bayside town in Sydney, it's no surprise you'll find Australian-inspired offerings at Wooloomooloo Steakhouse. Enjoy cuts from Queensland like 150-day grain-fed rib eye and wagyu with sky high marble scores. All steaks are expertly seared and served with four complimentary sauces: au jus, peppercorn, mushroom and red wine madeira. Plus, try the beef wellington for beefy deliciousness with mushroom duxelle, parma ham and foie gras wrapped in a puff pastry. The team at Wooloomooloo Steakhouse have really upped their game with these outstanding meat cuts!
Alternatively, chill at the bar for a good ol' glass of Old Fashioned, magical gin cordials like the elderflower-based East Side or trending rum concoctions – there's something for everyone. Feeling hungry reading this? Snag a reservation via Chope. Pro tip: throw your diet out of the window while you're here!
Wooloomooloo Steakhouse, Level 3, Swissôtel The Stamford, 2 Stamford Road, Singapore 178882
15. Ruth's Chris Steak House
Founded decades ago in New Orleans, the American steakhouse has served plenty of hungry diners across 21 countries. The choices on its menu are pretty classic and straightforward. Petite filet, T-bone, New York strip, ribeye, porterhouse (for two)… just take your pick from your fave cut of USDA prime beef and watch it arrive on your table sizzling hot.
Ruth's Chris Steak House, Level 4, Parkroyal Collection, Marina Bay, 6 Raffles Boulevard, Singapore 039594
16. Wolfgang's Steakhouse
If dry-aged steaks, seafood and wine are what your heart desires, look no further than Wolfgang's Steakhouse. Hailing from New York and helmed by Wolfgang Zwiener, the fine-dining restaurant is warm and inviting. It's also famous for its USDA prime black angus beef that is dry-aged on-site for 28 days. So yes, you'll get an explosion of flavour with every bite.
Wolfgang's Steakhouse, #02-01, InterContinental Singapore Robertson Quay, 1 Nanson Road, Singapore 238909; order online for delivery
17. Burnt Ends
Don't expect ordinary beef at this one Michelin-starred Aussie-style restaurant. It serves slabs of meat grilled over open flames to give you a charred exterior and the taste of juicy tenderness once you bite into it. With custom built ovens and elevation grills, you know this place takes barbecuing seriously. Steaks like beef tenderloin and the signature Blackmore wagyu striploin are intensely rich and tasty to the bone.
Burnt Ends, #01-04, 7 Dempsey Road, Singapore 249671
18. Skirt
What sets this elegant steak restaurant apart from the rest? The kitchen uses a Parrilla grill to prepare the meats, so you can expect perfectly smoky and juicy prime cuts. The wagyu options are always beautifully indulgent, but if you're feeling ravenous, go for the tomahawk steak with grilled bone marrow. Finish it off with duck fat potatoes and blistered asparagus.
Skirt, W Singapore – Sentosa Cove, 21 Ocean Way, Singapore 098374; order online for delivery
19. L'Entrecote
This Parisian Bistro has one particularly sumptuous main course on its menu, and it's damn (pardon our French) good. Its highlight is the signature steak frites, smothered in its secret sauce and paired with deliciously seasoned fries and fresh salad. Oh, and the decadent Paris-brest is great for after.
L'Entrecote, multiple locations including Holland Village and Duxton Hill; order online for delivery
20. 665°F
Atop Andaz Singapore at level 38, treat yourself to a classy meal of prime cuts and sustainable seafood at 665°F. With a gorgeous interior inspired by classic Savile Row tailor shops, the restaurant offers spectacular views of the city skyline, alongside prime cuts and sustainable seafood. Perfect for date night or special celebrations, if you ask us!
Drop by for dinner where appetisers like lobster bisque and grilled octopus will get your appetite going. From the chargrilled pira oven, A4 Kagoshima wagyu striploin, grass-fed country lamp chops and New Zealand king salmon are just some of the highlights that will sate your cravings. Add to that sides like creamed spinach, mac and cheese or truffle French fries and you've got a truly hearty meal. Looking for dessert? There are homemade sorbets and other bites to choose from! Don't forget to order up a toast to end the night – there's a range of wines to choose from, plus barrel-aged cocktails to clink to the feast!
665°F, Level 38, Andaz Singapore, 5 Fraser Street, Singapore 189354; order online for delivery
21. Meadesmoore
Located in Telok Ayer, this modern resto boasts interiors that hark back to steakhouses of the early 1900s. Think dark teal walls and leather seats complete with arched shophouse windows. Meadesmoore is helmed by executive chef Victor Loy, who specialises in uncommon cuts of meat. The star of the show is obviously the 30-day dry-aged MS 2/4 prime rib that's been charcoal-grilled to bring out its natural flavours. But if you're brave enough, try the slow-braised pig's head meat that's been shaped into nuggets. Read our review of Meadesmoore here.
Meadesmoore, 21A Boon Tat Street, Singapore 069620
22. The Feather Blade
What was once a pop-up concept is now a permanent establishment at Tanjong Pagar. Starring the flat iron beef cut from the side of the shoulder, aka the feather blade (hence the name of the restaurant), the menu infuses its dishes with intense flavours, allowing you to savour this alternative cut without forking out a fortune. To pad your meal, order the sinful potatoes, which are deep-fried in wagyu beef fat.
The Feather Blade, 61 Tanjong Pagar Road, Singapore 088482
23. Skai
Tucked up high on the 70th storey of Swissôtel The Stamford, this exquisite contemporary grill is home to artisanal beef cuts – all grilled to perfection in a Josper charcoal oven. The menu boasts a variety of fantastic picks, from the likes of Japanese Miyazaki wagyu A4 to Australian black angus MB4. Everything's so good, it's almost rude to have your steak with anything else – though the choice of black truffle, red wine and green peppercorn sauces are welcome.
Skai, Level 70, Swissôtel The Stamford, 2 Stamford Road, Singapore 178882
Look out, the best steaks in Singapore are calling your name!