Photography: Baristart Coffee via Facebook
We've got the scoop on the most scrumptious food spots in Tanjong Pagar!
When it comes to lunchtime in the CBD, you'll be absolutely spoilt for choice with myriad food options in the Tanjong Pagar district. But the area is also fab for lazy weekend brunches and boozy dinners. That's why we've (Honey)combed through the area, sussing out the best restaurants, bars and cafes for meals beyond your midday boost. Oh, and just in case you decide to pop over to a nearby part of the concrete jungle, check out Telok Ayer, Ann Siang Hill, Keong Saik and Duxton Hill.
The complete food guide to Tanjong Pagar's restaurants, cafes and bars
1. Baristart Coffee
Hailing from Hokkaido, this coffee joint is all about concoctions made with the signature Biei Jersey milk from Brown Jersey cows. Have a taste of this creamy Hokkaido milk with your flat white, latte, cappuccino or brown sugar boba. You can even try it in sweets such as panna cotta, cream puff and affogato. For nibbles to go with your drinks, get the tonkatsu sando or Hokkaido carbonara.
Baristart Coffee, 65 Tras Street, Singapore 079004
2. Bearded Bella
A cool little cafe for chillaxing, Bearded Bella is big on flavours and textures. Its mains give you brunch with a twist. Think crab croissant with scrambled eggs and asparagus, or mushroom, hummus and almond dukkah on grain toast. Even the big brekkie is a spin on the usual with homemade luncheon meat, pickled enoki and bok choy. Don't miss out on the curly fries! And leave some space for dessert to relish the taste of sticky date pudding or blueberry tart.
Bearded Bella, 8 Craig Road, Singapore 089668
3. D.o.c
Short for Denominazione di Origine Controllata, this Italian eatery plates out delish Neapolitan cuisine. Seriously, the wood-fired pizzas are out of this world. Made fresh with toppings such as spicy salami, smoked Norwegian salmon or fresh burratina, each pie is a total delight. Pair yours with a glass of wine and you've got a winning combination.
D.o.c, #01-01, 21 Tanjong Pagar Road, Singapore 088444
4. Whole Earth
Going vegan or vegetarian? To eat your fill of meatless dishes in Tanjong Pagar, head to Whole Earth, which specialises in Peranakan-Thai plant-based food. You won't find mock meat or MSG here. Our recommendation? Bring a few friends and chow down on plates of XO or olive fried rice, crispy golden oat tofu, Penang rendang and Nonya curry. So. Good.
Whole Earth, 76 Peck Seah Street, Singapore 079331
5. Fat Prince
If you've got the munchies for Middle Eastern cuisine, stop by Fat Prince for its modern versions of kebabs, salads, large plates and desserts. From roasted cashew hummus to crispy sea bass to harissa prawns, the dishes are delightful. To get high on weekend brunch, top up $69 for a two-hour free-flow of prosecco, lager and wine. Oh, and the restaurant strives for sustainably sourced ingredients and works towards reducing food and plastic waste in its operations. Gotta love a resto that cares for the earth!
Fat Prince, 48 Peck Seah Street, Singapore 079317
6. Otto Ristorante
Nestled within Maxwell Chambers, this Italian spot is sophisticated enough for a business lunch, yet not too stuffy for a family meal or casual romantic dinner date. Dine on elegant plates of smoked Boston lobster, homemade squid ink tagliolini, spaghetti with sea urchin, salt-baked sea bass, slow-cooked duck leg confit and more.
Otto Ristorante, #01-02/03, Maxwell Chambers, 32 Maxwell Road, Singapore 069115
7. Teppei
Take a bite out of the Japanese restaurant's unique omakase feast, and you'll understand why everyone's clamouring to get a piece of the action. The 22-seater's waiting list has been known to drag on for months, which means you might want to book a table in advance. Its omakase menu changes all the time, so be prepared to enjoy a pleasant surprise!
Teppei, #01-18, Orchid Hotel, 1 Tras Link, Singapore 078867
8. Kko Kko Nara
Kko Kko Nara serves up a mean dish of KFC – no, not the Colonel's famous bucket but Korean Fried Chicken. With different flavours on offer – including sweet and spicy, cheese sprinkle and soy garlic – there's something for all taste buds. Add on to your meal with seafood pancake, kimchi stew, jap chae (glass noodles) and more.
Kko Kko Nara, 68 Tanjong Pagar Road, Singapore 088489
9. O.bba Jjajang
For a taste of Korean food – particularly jjajangmyeon (noodles in a thick black bean sauce) – swing by this popular Tanjong Pagar haunt. Complement your bowl with servings of sweet and sour pork or cheese kimchi pancake for a hearty meal.
O.bba Jjajang, 77 Tanjong Pagar Road, Singapore 088498
10. Tippling Club
Stepping into Tippling Club's chic interior will have you craving a dose of NYC. Its cocktails and cuisine are fresh and creative, and the place is no stranger to prestigious awards. So kick off happy hour with world-class drinks featuring innovative flavours, techniques and garnishes. While you're at it, munch on pastrami sandwiches and wagyu tartare tacos. Now you know where to bring clients for an impressive afternoon.
Tippling Club, 38 Tanjong Pagar Road, Singapore 088461
11. Tendon Ginza Itsuki
Craving tempura? Skip the sushi plates and dine at this popular hotspot (and sister resto of Ramen Keisuke). Its tendon bowls are light, fresh and tasty, with everything from seafood to pork to chicken tempura. And let's not forget the beautifully creamy chawanmushi. The menu is small and the lines are usually long, but we'd say it's worth the wait.
Tendon Ginza Itsuki, 101 Tanjong Pagar Road, Singapore 088522
12. Luka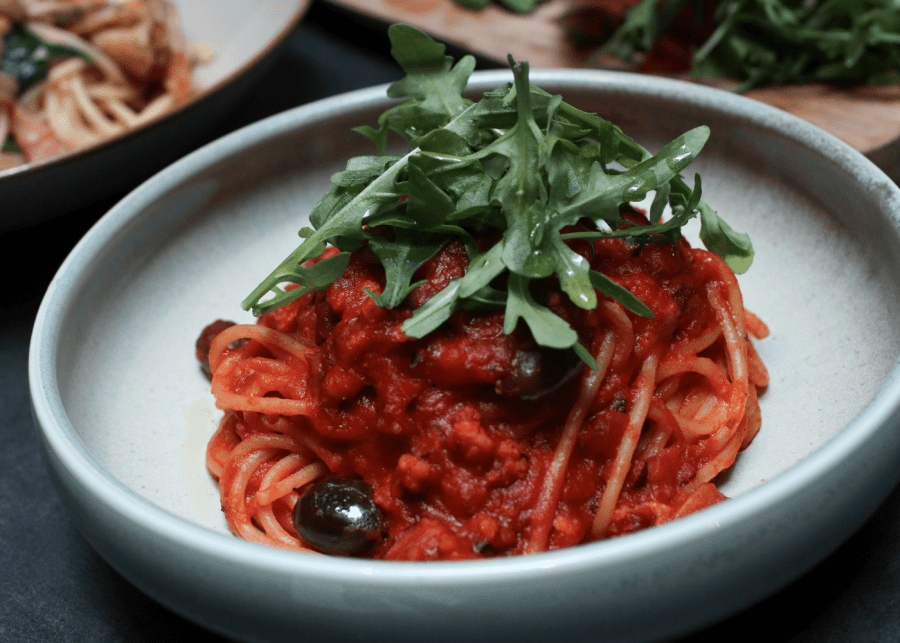 We've got mad love for Luka and its fresh take on Italian-Japanese cuisine. The hangout is casual and chill, great for team lunches or fun dinner gatherings with friends. We suggest you make space for pasta dishes like spaghetti with salmon roe and mentaiko cream or veal ravioli bathed in a beautiful butter sage sauce. Don't forget about pizzas to share! The parma ham and burrata pie is all kinds of amazing.
Luka, 18 Tanjong Pagar Road, Singapore 088441
13. Bar-Roque Grill
This joint is all about fun and togetherness, as chef Stephane serves French-inspired food with character. Must-try dishes include the charred, smoky beef cuts that are dry-aged in-house, or dishes like pork chop and spring chicken. For more variety, the menu also features pasta, seafood, cheese and charcuterie.
Bar-Roque Grill, #01-00, 165 Tanjong Pagar Road, Singapore 088539
14. Restaurant Euphoria
A hit on Asia's 50 Best Restaurants list for 2021, Restaurant Euphoria is a sleek and sophisticated experience like no other. Focusing on chef Jason Tan's Gastro-Botanica V2.0 cuisine, the menu elevates freshly-sourced ingredients in the most intricate, beautiful way. Dining here is quite the treat!
Restaurant Euphoria, 76 Tras Street, Singapore 079015
15. Ramen Keisuke Gyoza King
Tucked amongst the rows of Japanese restaurants in Tanjong Pagar is Gyoza King. Chef Keisuke Takeda's signature gyoza includes tonkotsu king (pork with tonkotsu broth), tori king (chicken with tori king soup base) and keisuke Tokyo (prawn and pork with crab broth). Pair your chosen gyoza dish with sides such as chicken nanban, stir-fried eggplant and deep-fried prawn for total satisfaction.
Ramen Keisuke Gyoza King, #01-15, Orchid Hotel, 1 Tras Link, Singapore 078867
16. Jigger & Pony
A constant fixture on the Asia's 50 Best Bars list (it was crowned #1 in 2020), Jigger & Pony hits all the right notes. The ambience is smokin', the service is on point, the decor is gorgeous and the cocktails are impeccable. But no worries if you can't choose a drink from the vast menu – just ask the friendly servers for a recommendation. Oh, and we love how alcohol-free options are available, too. They're so flavourful and classy, you won't miss the booze.
Jigger & Pony, Amara Singapore, 165 Tanjong Pagar Road, Singapore 088539
17. Terra
The brainchild of chef-owner Seita Nakahara, this place showcases Japanese food culture through Italian cuisine, and his menu is so worth the hype. The line-up changes according to the chef's whim, so prepare to be surprised by his creations! Psst: the one Michelin-starred spot is great for an idyllic date night.
Terra, 54 Tras Street, Singapore 078993
18. Coucou
In the mood for Swiss food? Step through the doors of Coucou for an elegant experience. You'll find plenty of rosti variations on the menu, including ones with veal sausage or melted Swiss raclette and ham. Speaking of cheese, the fondue options are not to be missed!
Coucou, 9 Craig Road, Singapore 089669
19. Chicken Up
Prepare to get your hands dirty, and trust us when we say don't wear white! If you're not savvy with the divine combination of fried chicken, sticky sauces and watermelon soju, here's where you'll get an education. Standout classics include soya chicken wings and, for seekers of spice, yangnyum chicken. But don't leave without getting your fill of kimchi fries – they're the bomb.
Chicken Up, #01-01, 48 Tanjong Pagar Road, Singapore 088469
20. Brasserie Gavroche
Housed in a little shophouse, this homely Parisian bistro is where you can indulge in French fare made by chef-owner Frederic Colin with recipes passed down from his family. Fish quenelles, steamed mussels with white wine, and angus beef tartare are some of the many authentic dishes you can look forward to.
Brasserie Gavroche, 66 Tras Street, Singapore 079005
21. Roji Monster
Got room for dessert? Roji Monster is a popular Taiwanese shaved ice dessert spot that'll help you beat the heat anyday. Just pick your preferred flavour – including uji matcha, black sesame and milk – and get toppings such as aloe vera, cornflakes or honeycomb. Each order comes with the brand's signature googly eyes. Adorbs!
Roji Monster, 52 Tanjong Pagar Road, Singapore 088473
22. Public Izakaya by Hachi
This space on the ground floor of 100AM is great for alfresco dining with a lively buzz. Plus, the menu is extensive and the food is scrumptious. Just pull up a seat at the bar counter and dine your way through udon, yakitori skewers and chicken karaage. It's a great, perpetually packed place for Friday night chillin'.
Public Izakaya by Hachi, #01-09, 100AM, 100 Tras Street, Singapore 079027
23. The Blue Ginger
When the thought of authentic Peranakan food has you salivating, head straight to The Blue Ginger. This long-standing institution sitting cosy in a lovely shophouse has been around since 1995. The kueh pie tee (shredded bamboo shoot and turnip with shrimp) and beef rendang have passed the test – we can't get enough!
The Blue Ginger, 97 Tanjong Pagar Road, Singapore 088518
24. 2D1N Soju Bang
Looking for a Korean BBQ bite? Grab a seat and dive straight into the offerings. We're talking about kimchi pancake, sweet and sour fried chicken, tofu stew, spicy seafood soup and loads more. Best of all, the joint opens till 1am so you can satisfy your midnight cravings.
2D1N Soju Bang, 44/46 Tanjong Pagar Road, Singapore 088467
25. Cake Spade
Got a sweet tooth? Hit up Cake Spade for the legendary strawberry tofu cheesecake and you'll be nibbling away at this delectable treat during tea time. Besides generous slices of speculoos cookie butter cheesecakes and lychee rose cakes, the sweet spot also whips up brownies and tarts in all their saccharine glory.
Cake Spade, 83 Tanjong Pagar Road, Singapore 088504
26. Ramen Keisuke Tori King
From the same team behind the Keisuke ramen group, this Japanese resto serves up exquisite goodness. The exceptional broth of the tori king ramen is made from chicken bones, chicken feet, Japanese seaweed and veggies boiled together for eight hours. Don't forget to slurp loudly while eating a bowl of the signature broth!
Ramen Keisuke Tori King, #03-15, 100AM, 100 Tras Street, Singapore 079027
27. Chef's Table by Chef Stephan
What was once a popular cooking school is now transformed by chef Stephan Zoisl into a swish restaurant. Sink your teeth into delicious dishes made with fresh, seasonal ingredients on the ever-changing degustation menu. Every meal here is a true delight.
Chef's Table by Chef Stephan, 61 Tras Street, Singapore 079000
28. Fleur de Sel
Francophiles will appreciate the French offerings of Fleur de Sel where chef-owner Alexandre Lozachmeur's experience includes six years working under renowned chef Alain Ducasse. The restaurant's set lunches and dinners include lovely plates of Boston lobster bisque, pan-seared foie gras, roasted veal rack and stuffed French quail.
Fleur de Sel, 64 Tras Street, Singapore 079003
29. Indochili
Hit up this halal hotspot for traditional Indonesian recipes featuring spices and pastes made from scratch. The menu takes you from classics like tahu telor (beancurd omelette) to ayam panggang padang (grilled chicken) to ikan bakar bali (grilled snapper fish). Rice sets are great for lunch, too. You'll have your fill of fried chicken, tofu, prawns, squid and more.
Indochili, #B1-03, 7 Wallich Street, Singapore 078884
30. Menya Sanji
For mouthwatering Kagoshima ramen, Menya Sanji just knows what you need. The absolute must-try is its signature mazesoba – dry noodles with minced meat, half-boiled egg and veggies immersed with its special spicy sauce. For the ultimate rainy day comfort food, slurp up tonkotsu (pork) broth with char siew slices and springy noodles.
Menya Sanji, #01-14, Orchid Hotel, 1 Tras Link, Singapore 078867
With places like these, you'll never go hungry the next time you're at Tanjong Pagar!