Photography: Art
Splurge and savour exquisite meals at fine dining restaurants in Singapore, from iconic names to Michelin-starred establishments to new players.
Singapore is truly a food paradise. On one hand, you can get a tasty local dish for well under three dollars. On the other, you can splurge on a gastronomical dining experience at the best restaurants in town. And as much we love our hawker centres for their affordable eats, you gotta spoil yourself every now and then. Whether you're in need of a romantic restaurant for date night, or you want to get classy with fancy plates, this list of fine dining restaurants in Singapore will help you plan your next culinary adventure.
Best fine dining restaurants in Singapore
1. Art
Perched at the top of National Gallery Singapore, this one Michelin-starred restaurant specialises in elevated Italian cuisine. As the moniker suggests, each plate is a work of art. Go for the tasting menu where you'll be whisked away on a gastronomical journey: a seven-course meal spotlights the season's finest ingredients. On the a la carte selection, the likes of challan duck, sea urchin and pigeon breast show up. But before that, head to the alfresco bar for cocktails and caviar.
Art, #06-02, National Gallery Singapore, 1 St Andrew's Road, Singapore 178957
2. Restaurant Euphoria
Restaurant Euphoria is chef and founder Jason Tan's love letter to onions. Having created 'gastro-botanica' cuisine during his time at the Michelin-starred Corner House, he elevates his vegetable-forward cuisine with the introduction of plant-based essences, aka 'gastro-botanica 2.0'. You'll never look at vegetables the same way after this epicurean experience. The restaurant's signature dish is a flower-shaped Oignon Jamboree that features five different types of onions with a glorious crown of exquisite caviar. The space is gorgeously decorated with elegant gold furnishings, hints of greenery and a sleek chandelier, which is an abstract ode to sliced onions.
Restaurant Euphoria, 76 Tras Street, Singapore 079015
3. Odette
Odette is another fine dining restaurant in the prestigious National Gallery Singapore. With three Michelin stars among its accolades, chef-owner Julien Royer focuses on seasonality, terroir and artisanal produce to create amazing French plates that look as good as they taste. To complement the sublime dining experience, the beautiful art installations by Singaporean artist Dawn Ng feature against a backdrop of pastel hues.
Odette, #01-04, National Gallery Singapore, 1 St Andrew's Road, Singapore 178957
4. Hashida Singapore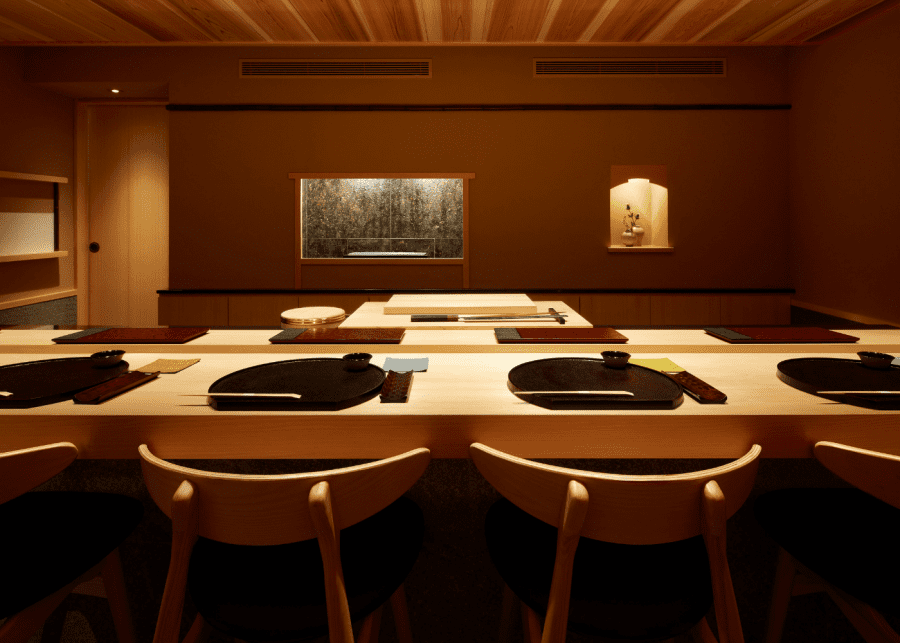 A meal here might burn a hole in your wallet but the experience is oh so worth it. Fronted by chef Kenjiro 'Hatch' Hashida, the Telok Ayer sushi restaurant transports you to the Land of the Rising Sun. Step in and you'll be greeted by the torii gate at the entrance. Make your way to one of the three private dining rooms and play witness to a culinary performance of sushi, sashimi and impeccable knife skills. But the highlight has to be the hand-carved sushi plates that send you to nirvana.
Hashida Singapore, #01-01, 77 Amoy Street, Singapore 069896
5. Les Amis
Look past the fashion boutiques and fast-food franchises in Orchard, and you'll find this award-winning French restaurant. Using the best ingredients sourced from France, every dish on the menu is created with finesse, from the wild salmon to the roasted challans duck breast to the beef tenderloin, All this is set against the backdrop of chandeliers, artworks and red velvet accents.
Les Amis, #01-16, Shaw Centre, 1 Scotts Road, Singapore 228208

6. Yan Ting
If you believe in the Chinese values of wealth and prosperity (and if you can flaunt it too!), this Cantonese establishment embraces them with its traditionally-prepared cuisine. Dine extravagantly on dishes like stir-fried lobster with shallots and golden garlic, braised abalone with superior oyster sauce, and crispy suckling pig stuffed with glutinous rice. On weekends, relish a decadent dim sum brunch – with champagne, of course.
Yan Ting, Level 1U, The St. Regis Singapore, 29 Tanglin Road, Singapore 247911
7. Jaan By Kirk Westaway
This Michelin-starred fine dining restaurant pairs modern British cuisine with a breathtaking view of the Singapore skyline (hope you ain't afraid of heights). The sumptuous four- and five-course lunch and dinner menus are a reflection of executive chef Kirk Westaway's 'Reinventing British' philosophy. With special attention paid to seasonal ingredients, expect lots of natural flavours in dishes like cornish seabass, roasted langoustine and organic chicken. Oh, and you'll also find meat-free menus for vegetarians.
Jaan By Kirk Westaway, Swissôtel The Stamford, 2 Stamford Road, Singapore 178882
8. Thevar
Located in the Keong Saik enclave, Thevar is a modern Indian restaurant with one Michelin star. At the helm is chef Mano Thevar, who displays his finesse in the kitchen with a creative array of traditional Indian flavours made contemporary. Excite your palate with dishes like oyster pakora, black truffle samosa, Madras crab curry rice and tandoori chicken momos.
Thevar, 9 Keong Saik Road, Singapore 089117
9. Whitegrass
Led by chef Takuya Yamashita, this fine dining restaurant is all about fresh, seasonal ingredients and refined dishes. Having cut his teeth at award-winning French restaurants like Etude and Les Enfants Rouges, he uses his skills and knowledge to craft seasonal menus where Japanese and French flavours meet. These beautiful works of art come in the form of fantastic dishes inspired by nature.
Whitegrass, #01-26/27, Chijmes, 30 Victoria Street, Singapore 187996
10. NAE:UM
Korean cuisine is known for its communal eats; but here, it's about sophisticated plates rooted in chef Louis Han's personal journey, spanning across Abu Dhabi, Seoul, Lebanon and Singapore. Using episodic menus to showcase his story, the dishes are anchored in contemporary Seoul cuisine. Anticipate elegant courses with nuanced flavours, plated to artistic precision.
NAE:UM, 161 Telok Ayer Street, Singapore 068615
The next time you're in the mood for something fancy, these fine dining restaurants in Singapore will do the trick.