Photography: Putien via Facebook
From casual eateries to elegant dining destinations, we've got Singapore's top Chinese restaurants all in one place.
Singapore has an incredible international food scene, with restaurants offering Japanese, Thai, Peranakan and more. But we've got a helluva soft spot for Chinese cuisine (mmm, dim sum). There's just something comforting about sharing a communal feast with your gang of family or friends around the lazy Susan. Hungry already? Thought so. Here are our top picks for Chinese restaurants in Singapore…
Best Chinese restaurants in Singapore
1. Summer Pavilion
The Ritz-Carlton's one Michelin-starred Summer Pavilion is a stunning place to enjoy contemporary Cantonese and Chinese cuisine. The lunch set menus see highlights like double boiled chicken soup, dim sum and abalone fried rice, while dinner standouts include barbecued Iberico pork, double boiled sea whelk soup and poached fish noodle taking the table. Plus, check out the tea selection for artisanal sips to end your meal. For special occasions, a dim sum and champagne pairing menu is available too!
Summer Pavilion, The Ritz-Carlton, Millenia Singapore, 7 Raffles Avenue, Singapore 039799
2. Yellow Pot
Within the luxurious Vagabond Club, the award-winning Chinese restaurant Yellow Pot from Duxton Road opens its second restaurant with amazing dishes to offer. For starters, it serves up clean eats that are delicious without any additives or artificial flavourings. Vegetable dishes are no pushover here, with tasty plates like sweet and sour eggplant with an addictive housemade sauce, or the refreshing cold starter of organic vine-ripened tomatoes. Don't miss the crowd favourite roast duck either! Sink your teeth into the tender duck meat with a satisfying crunch from the crispy skin. Tip: Pair your food with whiskey from The Whiskey Library for the best experience! Jacques Garcia red interiors reminiscent of Hotel Costes in Paris with accents from Anouska Hempel's eclectic yellow Chinese fans from Duxton function as screens together creating a curated upscale aesthetic.
Yellow Pot, multiple locations including 39 Syed Alwi Road and 83 Duxton Road
3. Shang Social
Experience three iconic Chinese cuisines – Cantonese, Huaiyang and Sichuan – all under one roof at Shang Social. With a menu created by Shangri-La's acclaimed master chefs, you can be sure that every bite is made to impress. Popular dishes include the house smoked chicken and eight treasures tofu pudding that'll transport your taste buds to an oriental land.
Shang Social, #01 – 219 to 222, Jewel Changi Airport, 78 Airport Boulevard, Singapore 819666
4. Wan Hao Chinese Restaurant
Step inside Wan Hao Chinese Restaurant and be transported into an ornate oriental setting. This restaurant within Singapore Marriott Tang Plaza Hotel is furnished with the theme 'house of a Chinese scholar' and it certainly looks the part! Equally impressive is the menu of authentic delicacies like dim sum, roast duck with flat noodles in xo sauce, braised abalone with sea cucumber, Peking duck and more.
Wan Hao Chinese Restaurant, Singapore Marriott Tang Plaza Hotel, 320 Orchard Road, Singapore 238865
5. Putien
From humble roots as a coffee shop, Putien has come a long way with its numerous outlets in Singapore and beyond. Specialising in cuisine from Fujian, China, the Chinese restaurant focuses on flavourful food made with fresh ingredients. If you want the Michelin-starred experience, head to its Kitchener Road location and order up a storm!
Putien, multiple locations including Kitchener Road and Ion Orchard
6. Hai Tien Lo
What we really love about Hai Tien Lo is its classic recipes and Cantonese treats served in a stunning setting. Work your way through appetisers like pan-fried foie gras and crispy suckling pig, followed by Beijing duck with black caviar, fresh seafood dishes and delish meats. When it comes to dim sum, the resto does it the best way with a brunch buffet that can be paired with unlimited champagne and wine. 'Nuff said.
Hai Tien Lo, Level 3, Pan Pacific Singapore, 7 Raffles Boulevard, Marina Square, Singapore 039595
7. Yan
Yan boasts an authentic menu, a sleek space and a prime rooftop location that attracts both locals and visitors. Its National Gallery locale is the perfect spot for Cantonese fine dining in Singapore. We'll never stop gushing over its Peking roast duck, suckling pig, steamed black cod fillet with truffle oil, lobster porridge with clams, and steamed Sri Lankan crab with rice wine. Don't even get us started on the excellent dim sum line-up!
Yan, #05-02, National Gallery Singapore, 1 St Andrews Road, Singapore 178957
8. Empress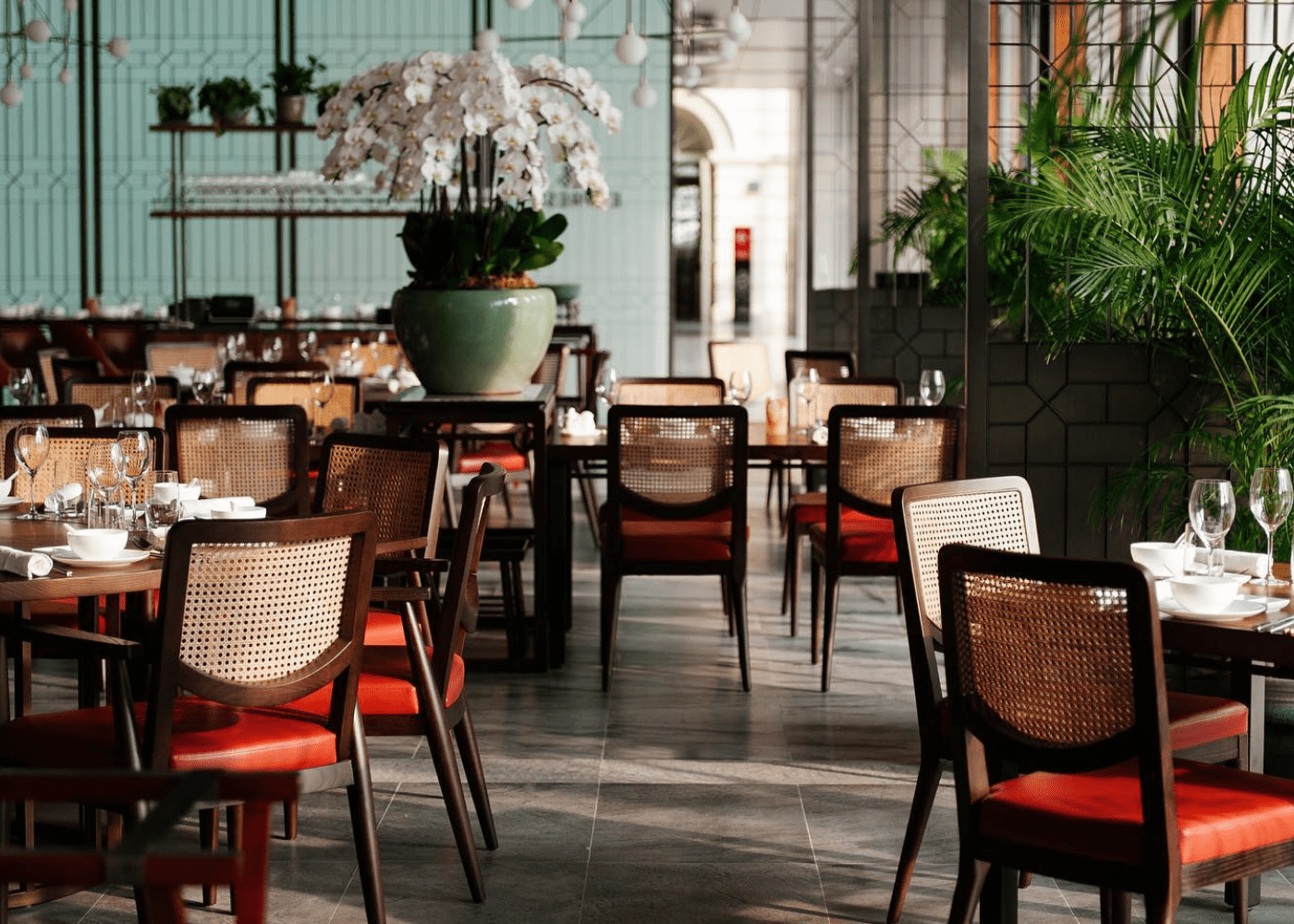 Empress proves that works of art at museums are just as likely to appear on your plate. This smart casual dining establishment offers beautifully plated, classic Chinese cuisine. Highlights include its signature roast platter, king prawns served two ways, XO chilli Hokkaido scallops and kung pao crispy sesame chicken. The elegant decor contrasts modern with traditional, featuring vibrant, fun interiors and alfresco seats that look out on splendid waterfront views. Psst: The dim sum brunch buffet is a must-try!
Empress, #01-03, Asian Civilisations Museum, 1 Empress Place, Singapore 179555
9. Yi by Jereme Leung
Live it up in style at this plush fine dining restaurant that takes you on a culinary journey through China's diverse provinces using seasonal ingredients. Start off with a glass of wine or champagne while you nibble on Sichuan spiced crispy fish skin at the cosy cocktail bar. Then, luxuriate in intricate, tasteful dishes by the masterchef. Innovative creations include hundred-ring cucumber and poached sea whelk with soy sauce vinaigrette and satay-spiced ice cream with peanut dust, fruits and nuts.
Yi by Jereme Leung, #03-02, Raffles Arcade, 328 North Bridge Road, Singapore 188719
10. Yun Nans
As the first overseas outpost of Yun Hai Yao, the largest Yunnan restaurant chain in the world, this casual eatery prides itself on the use of fresh ingredients from the highlands of Yunnan province. Specialities you have to try include the famous steamed pot chicken soup, braised wild porcini mushrooms, and charcoal grilled meats and seafood.
Yun Nans, multiple locations including Jewel Changi Airport and Nex
11. Yan Ting
The gorgeous and luxurious Yan Ting is where we go for excellent weekend dim sum brunches filled with Cantonese creations and champagne. This classy stalwart plates up mainstays of Chinese cuisine like drunken chicken, Peking duck, crispy sesame chicken and nourishing soups. It also gets top marks for presentation and service!
Yan Ting, Level 1U, The St. Regis Singapore, 29 Tanglin Road, Singapore 247911
12. Jiang-Nan Chun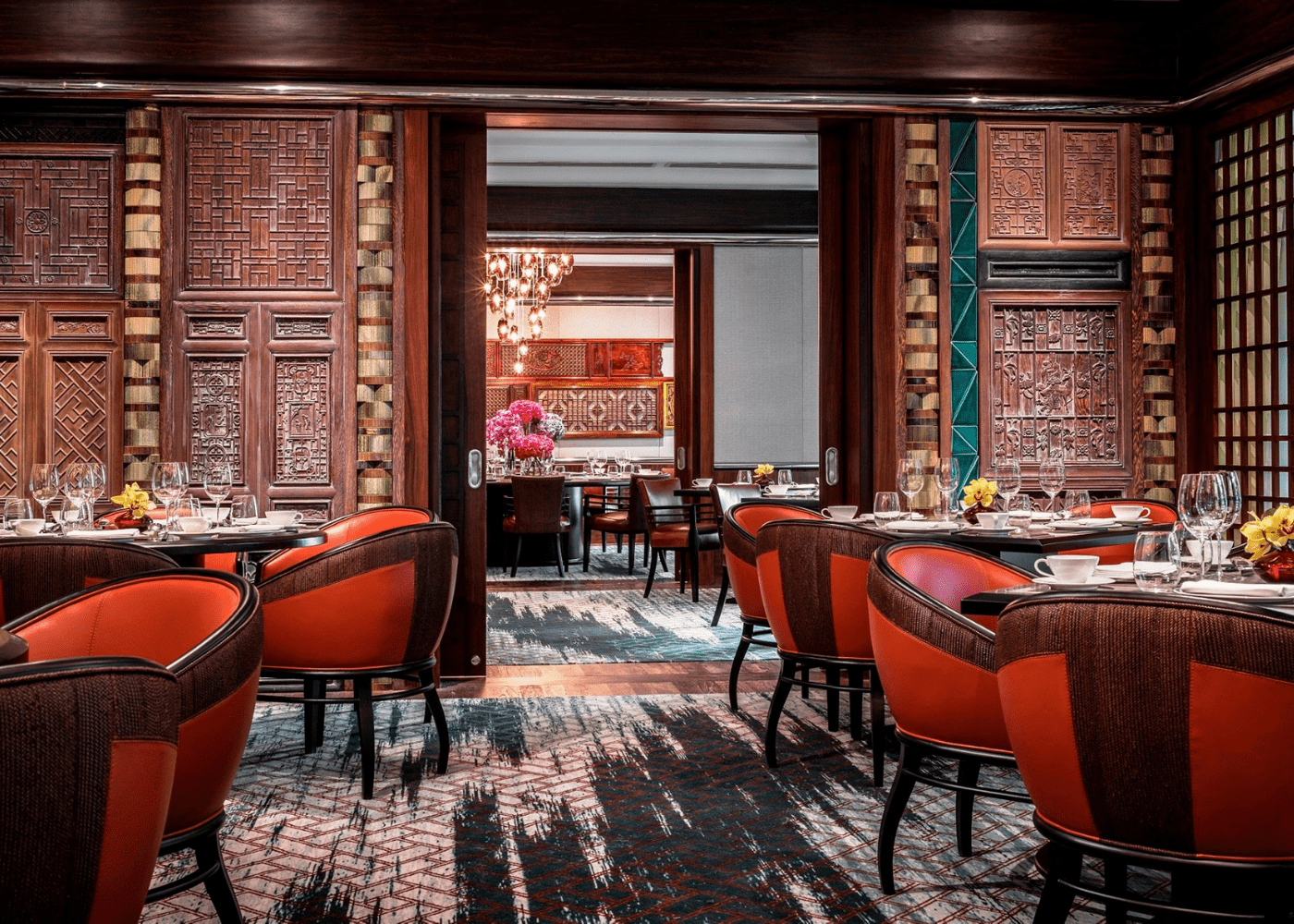 For a Michelin-starred Cantonese dining experience, this is it. Traditional meets modern at the distinguished Jiang-Nan Chun, which is perfect for anything from business lunches to family gatherings. The service is impeccable, giving you everything you need to enjoy favourites like pork ribs soup and a beautiful selection of handcrafted dim sum. Did someone say Peking duck? This bird is roasted in a mesquite wood-fired oven, served with caviar and carved tableside by the chef.
Jiang-Nan Chun, Four Seasons Hotel Singapore, 190 Orchard Boulevard, Singapore 248646
13. Min Jiang at Dempsey
Take a trip to the quiet tranquillity of Dempsey with Min Jiang. Situated amidst lush foliage, the refined restaurant is beautiful in its gold, yellow and green glamour complemented by minimalistic lines, marbled surfaces and chinoiserie charm. Its chefs specialise in Sichuan and Cantonese cuisines, with signatures like wood-fired Beijing duck and a superb range of dim sum.
Min Jiang at Dempsey, 7A & 7B Dempsey Road, Singapore 249684
14. Wah Lok Cantonese Restaurant
Since 1988, this top-notch Chinese restaurant in Singapore has been serving up modern Cantonese cuisine in its stylish space. Pop by for lunch and enjoy dim sum classics such as baked barbecue pork buns, deep-fried century egg wrapped with minced shrimps, and lobster mee sua.
Wah Lok Cantonese Restaurant, Level 2, Carlton Hotel Singapore, 76 Bras Basah Road, Singapore 189558
15. Forest
We can't possibly exclude celeb chef Sam Leong's resto from this list! His Chinese dishes tease a cosmopolitan approach, resulting in delectable plates of Cantonese-style New Zealand cod fillet, six-head abalone baked with black truffle sauce in salt crust, and tiger prawn rice vermicelli served with Chinese wine in superior chicken broth. A true genius in the kitchen, this one.
Forest, Lobby, Equarius Hotel, Resorts World Sentosa, 8 Sentosa Gateway, Singapore 098269
16. Imperial Treasure Super Peking Duck
The crown jewel of the Imperial Treasure group, this Chinese restaurant in Singapore is worth every penny. A must-try, obviously, is the authentic Peking duck. To complete the experience, knife-wielding servers slice it up into crisp pieces right in front of you. Other dishes to add to your order include perfectly barbecued meats, baked baby lobster and sauteed crab claw.
Imperial Treasure Super Peking Duck, multiple locations including Paragon and Asia Square Tower 1
17. Peony Jade Restaurant
With a menu of roasted meats and handcrafted dim sum, it's no surprise that this restaurant caught the attention of Michelin's Bib Gourmand guide. Its brand of Cantonese and Sichuan cuisine is a true treasure in our Chinese food scene!
Peony Jade Restaurant, multiple locations including Clarke Quay and Keppel Club
18. Jade
One of the loveliest-looking Chinese restaurants in Singapore, Jade is a beautifully modern space decked out in sleek pastels, warm hues and stylish motif prints. Come for the authentic Cantonese plates or treat yourself to a weekend dim sum brunch here. Either way, it's a dining experience you won't soon forget.
Jade, The Fullerton Hotel Singapore, 1 Fullerton Square, Singapore 049178
19. Lei Garden Restaurant
This long-standing restaurant serves sophisticated Cantonese seafood dishes, nourishing double-boiled tonic soups and smoky, tender barbecued meats. Its signatures include crispy roasted pork, baked chicken with sea salt, and preserved meat rice cooked in claypot. All of which attract large families on weekends for a feast.
Lei Garden Restaurant, #01-24, Chijmes, 30 Victoria Street, Singapore 187996
20. Mitzo
Forget about traditional Chinese plates. Mitzo takes a contemporary approach to crafting Cantonese cuisine. Most of the innovative dishes are great for communal dining, so you can round up the fam. Signatures include braised sea cucumber with shrimp-stuffed lobster claw, sophisticated dim sum platters, barbecued pork and deep-fried Chilean sea bass. On the drinks side, cocktails take you through Asian-inspired concoctions and new twists to old classics.
Mitzo, Level 4, Grand Park Orchard, 270 Orchard Road, Singapore 238857
21. Majestic Restaurant
Opened in January 2006, Majestic Restaurant continues to be a stylish destination for modern Cantonese dining. If you're in the mood for dim sum, swing by for lunch. Alternatively, enjoy plates of wasabi prawns, stewed lobster noodles and Peking duck from the kitchen. Then, end off with desserts such as black glutinous rice mango pudding and double-boiled fresh almond puree.
Majestic Restaurant, #04-01, Marina One, The Heart (East Tower), 5 Straits View, Singapore 018935
22. Kai Garden
Garoupa in lobster soup, sweet and sour pork 'on the rocks' and wok-fried liver fish in hot stone are just some of the unconventional creations cooked up by chef Fung Chi Keung. After decades in the culinary scene, he moved on from Paradise Group to start his own Chinese restaurant. Kai Garden is a concept that marries tradition with risk-taking which, in our opinion, has paid off extremely well. For an elegant Cantonese fine dining experience, make this your go-to.
Kai Garden, #03-128A/B, Marina Square, 6 Raffles Boulevard, Singapore 039594
23. Crystal Jade Golden Palace
Crystal Jade's various brands specialise in different cuisines and dishes, but we love the Michelin-starred Golden Palace restaurant for its elegant dining experience. One of the few upscale Chinese restaurants in Singapore to feature Teochew cuisine, this place is perfect for family reunions. From braised platters and Cantonese BBQ delights to Teochew classics and fresh seafood creations, the extensive menu offers all kinds of flavourful treats.
Crystal Jade Golden Palace, #05-22, Paragon, 290 Orchard Road, Singapore 238859
24. Blue Lotus Chinese Eating House
Looking for a picturesque place for the fam? This waterfront dining spot specialises in modern and traditional Chinese fare. From meats and seafood to live crabs and tapas plates, the resto has it all. Oh, and to make ordering a breeze, all you have to do is zero in on the menu's signature dishes. Think lemongrass prawn sticks with citrus spicy dressing, chilli pomelo crab, honey-glazed kurobuta pork ribs and Sichuan-style mapo tofu. Good stuff.
Blue Lotus Chinese Eating House, #01-13, Quayside Isle, 31 Ocean Way, Singapore 098375
25. Si Chuan Dou Hua
Dine on authentic Sichuan and Cantonese cuisine in elegant surroundings at Si Chuan Dou Hua. It has locations at Parkroyal hotels, but the one in Raffles Place is something special. Think panoramic views of the city from up high – you'll want to snag a table here for spectacular sights. This name has become a family favourite since its inception in 1996, thanks to its dim sum delicacies and tea masters – their tea pouring theatrics include martial arts and dance!
Si Chuan Dou Hua, multiple locations including UOB Plaza 1 and Parkroyal on Beach Road
26. Po
If mod-Sin is your thing, this one's for you. Po is one sleek space with a menu that gives Singaporean favourites and Chinese classics a luxe twist. Take Po's signature popiah, for example. Its filling is stewed and caramelised over four hours, and served with plump prawns or hand-picked flower crab. The super popular paper spring chicken takes 45 minutes to prep, so our hot tip is to pre-order this sharing fave. Alternatively, you can go for seafood congee with Hokkaido scallops and littleneck clams. Wash it all down with – what else – fragrant pots of tea.
Po, The Warehouse Hotel, 320 Havelock Road, Singapore 169628
27. East Ocean Teochew Restaurant
A go-to for Teochew families since 1992, this eminent Chinese restaurant in Singapore draws huge crowds during weekends. It's known for authentic dishes like roasted pork belly, Teochew cold crab, steamed bamboo clam and claypot seafood with vermicelli. Heads up: It can get pretty chatty in here, so be prepared to shout across the table. All part of the experience!
East Ocean Teochew Restaurant, #05-08/09, Ngee Ann City, 391 Orchard Road, Singapore 238872
28. Shisen Hanten
A Sichuan restaurant with Japanese origins? Who else is intrigued! Conceptualised by a Sichuan chef who settled down in Yokohama, the Singapore branch is spearheaded by his son, chef Chen Kentaro. And it's even scored two Michelin stars under its belt. Aside from exquisite dim sum bites like steamed dumplings and custard buns, Shisen Hanten's menu also flaunts Chinese classics such as barbecued suckling pig, Peking duck, marble goby and Buddha Jumps Over The Wall.
Shisen Hanten, Level 35, Mandarin Orchard Singapore, 333 Orchard Road, Singapore 238867
29. Lokkee
Lokkee by the TungLok Group gives a playful spin to classic Chinese dishes that will please both traditional and contemporary diners. You won't find regular Chinese creations here, only classics with a tinge of Western influence. Think wagyu truffle hor fun (rice noodles), braised beef served in a flaming pineapple, firecracker chicken with mango puree and even deep-fried durian (because why not?).
Lokkee, #03-01, Plaza Singapura, 68 Orchard Road, Singapore 238839
There you have it, our top picks for the best Chinese restaurants in Singapore!