Photography: Jeffrey Ngo via Unsplash
Journey to the far west of Singapore and discover the best places in Jurong: restaurants, cool malls and fun family activities.
There's more to Jurong than meets the eye. While it's not exactly as hip as Telok Ayer or Keong Saik, this huge suburban estate has its own charms and offers many interesting things to do. It's time to discover what the west side of Singapore has to offer with our nifty guide to this offbeat neighbourhood. West is best? Jurong sure makes a strong case!
Guide to Jurong: Best food spots
1. Boon Lay Power Nasi Lemak
If you're already in Jurong, you can't not visit Boon Lay Place Market and Food Village to grab a plate of the famous nasi lemak. As one of the best spots for nasi lemak in Singapore, don't be surprised if there's a snaking queue. But trust us, it's worth the wait!
Boon Lay Power Nasi Lemak, #01-106, Block 221B, Boon Lay Place, Singapore 642221
2. The Carving Board
This restaurant serves an array of scrumptious western dishes. Home to plates like steak frites, beef cheeseburger and mushroom risotto, The Carving Board is a great place to have a cosy dinner with your loved ones. You'll also find healthier options like grilled chicken and prawn salad on the line-up. Oh, and it has outdoor dining if you're going for an alfresco vibe. The classic menu will have you returning to this no-frills resto, fo sho!
The Carving Board, #01-107, 252 Jurong East Street 24,  Singapore 600252
3. Fusion Spoon
Located in the scenic Jurong Lake Gardens at Lakeside, this cafe promises a memorable feast amidst stunning views. Try the grilled salmon rice bowl, seafood fried rice or spaghetti bolognese with chicken cutlet. The fusion flavours will have you coming back for more. Next time you're thinking of where to go for a cosy date night or a friendly catch-up, think Fusion Spoon.
Fusion Spoon, Jurong Lake Gardens, 102 Yuan Ching Road, Singapore 618663
4. Poppy Pops
Head to this adorable and affordable cafe for an alfresco view overlooking lush greenery and stunning Jurong skyscrapers. Whether you're going for drinks, desserts or savoury treats, Poppy Pops has you covered with a delectable menu that changes every month for new creations. This place gets busier at night so be sure to head there early. Indulge in truffle fries or enjoy a plate of deep-fried cookie dough with ice cream – delish.
Poppy Pops, #06-03, Jem, 50 Jurong Gateway Road,  Singapore 608549
5. Venture Drive Coffee
Calling all coffee connoisseurs! Looking for a cafe that offers quality brews? Just a stone's throw from Jurong MRT station, this minimalist space is a casual hangout and photo-worthy spot. Oh, and it has a variety of milk options, in case you prefer vegan milk. Time for a good cuppa, we say!
Venture Drive Coffee, #02-41, Regus – Singapore, Vision Exchange, Singapore 608526
6. Flag White
Brunch, comfort food, quality coffee, desserts… you name it, Flag White has it. It's a beaut in the hood. You'll frequent this cosy hangout spot for its extensive menu of dishes like panko-breaded fish and chips, honey mustard pork ribs, grand slam bangers and mash with sides like crispy garlic parmesan wings. You know you're hitting an Insta-worthy cafe when everything, from the food to the ambience, is aesthetic.
Flag White, 106 Jalan Jurong Kechil, Singapore 598604
7. D' Life
Vegan peeps, this eatery is calling your name. Its extensive menu offers delish dishes like herbal bak kut teh, mixed mushroom pizza and hotplate sambal baked fish with rice. Don't miss its refreshing honey concoctions like honey passion fruit and honey yuzu tea. Be sure to save space for cakes and coffee after your scrumptious mains.
D'Life, #01-256, 428 Jurong West Avenue 1, Singapore 640428
8. Smoocht Pantry
Expect plant-based light bites and refreshing drinks at Smoocht. We especially love the champion brunch served with toasted sourdough, vegan sausage, tater tots, tofu scramble, sauteed Swiss button mushrooms and baked beans. Alternatively, try the creamy chicken linguine or the matcha waffles.
Smoocht Pantry, #01-58, 319 Jurong East Street 31, Singapore 600319
9. Westgate
While Westgate is a shopping destination, it's also commonly known as the food mecca in Jurong, housing some of the best eateries in Singapore. For a casual dining experience, swing by restaurants like Brotzeit, Poulet, Menya Musashi, Ippudo, Tim Ho Wan, Miam Miam and lots more. Searching for local cuisine? Try 328 Katong Laksa for the laksa that many Singaporeans can relate to. If you're after dessert, there's Haagen-Dazs, Fluff Stack and An Acai Affair, just to name a few.
Westgate, 3 Gateway Drive, Singapore 608532
Guide to Jurong: Things to do
10. Jurong Lake Gardens
You can't miss Jurong Lake Gardens when you head to the west. There's a huge play area that'll take you back to your childhood, stunning backdrop-worthy spots for your next IG post and even an indoor gym for workouts in a scenic ambience. It's also a great place for a nice stroll as you enjoy the sounds of nature. What's not to love?
Jurong Lake Gardens, 102 Yuan Ching Road, Singapore 618663
11. Snow City Singapore
Head to the only place where you'll experience winter in Singapore. Psst: Snow City has recently taken things up a notch with its first Ice Hotel Gallery! Replicating ice hotels in places like Finland, Norway and Sweden, it's the perfect snowy getaway for great photoshoots and a fun time. Check out its lounge at the Ice Bar or the ice bumper car ride.
Snow City Singapore, ​​21 Jurong Town Hall Road, Singapore 609433
12. Singapore Discovery Centre
Get ready to time travel as you learn a thing or two about our city's history at Singapore Discovery Centre. For an afternoon of fun, step into the arena for crossfire paintball, enter the four-lane computerised simulated shooting range for target practice or hop on the 4D simulator ride for a thrilling adventure.
Singapore Discovery Centre, 510 Upper Jurong Road, Singapore 638365
13. Jem
Jem can be dubbed the "Orchard Road in the West". As the third biggest neighbourhood retail therapy spot in Singapore, Jem has all sorts of stores suited for various needs (and wants). From H&M and Aldo to Mango and Charles & Keith, you'll be spoilt for choice. It's also home to Ikea in case you want to pick up some furniture before you leave this shopping haven.
Jem, 50 Jurong Gateway Road, Singapore 608549
14. IMM
While IMM has long been recognised by many as the place for electronics, furniture and grocery shopping at the hypermarket Giant, you can also find a slew of outlet stores in this huge shopping mall. Adidas, Bath & Body Works, Cath Kidston and Furla, just to name a few. Have your shopping bag ready!
IMM, 2 Jurong East Street 21, Singapore 609601
15. Jurong Bird Park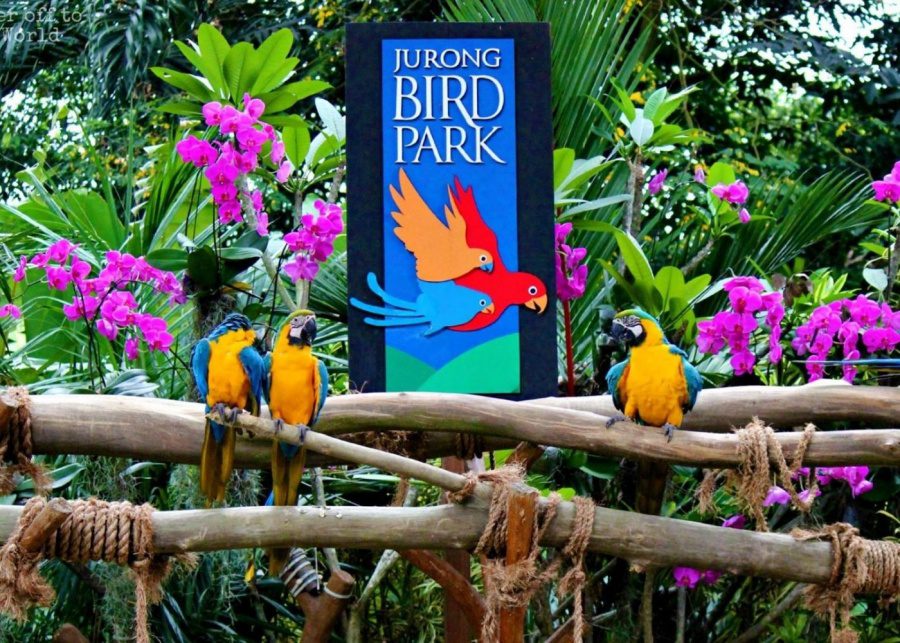 Looking for a fun day out with your family? Asia's largest bird paradise is just a short drive away. Be wowed by over 400 bird species and experience close-up encounters with beautiful and colourful birds at feeding sessions. Plus, be entertained by their show-stopping tricks at exhilarating shows.
Jurong Bird Park, 2 Jurong Hill, Singapore 628925
16. JCube
If you dig Bugis Street, there's a westie version of it on the second floor of JCube. From blogshop dresses to cool hipster accessories, you'll find interesting and affordable buys. Or, escape the sweltering heat and head to the first-ever Olympic-sized ice rink in Singapore. JCube also has the first Imax theatre in the 'hood, offering crystal clear images and exceptional sound for an immersive movie experience.
JCube, 2 Jurong East Central 1, Singapore 609731
17. Science Centre, Observatory Deck
The Science Centre's great for an interactive and engaging time with your little ones, but few things are dreamier than stargazing with your lover right next to you. If you're up for an astrological date, head over to the Observatory Deck for weekly sessions every Friday. You can also look through the telescopes to see various objects in the sky (and beyond).
Science Centre, Observatory Deck, 15 Science Centre Road, Singapore 609081
Time explore all the food spots, gardens and malls with our handy guide to Jurong!