Escape Bali and island-hop to neighbouring Lombok where the happening little town of Kuta awaits with cool cafes, spas, bars & world-class waves…
So, you've ticked off all of Bali's best beaches, and now you're looking for a new island adventure to escape to? We have just the spot. Just a hop, skip and a short 30 minute flight away from Bali, Kuta Lombok holds a very special place in our hearts. With its white sand beaches, turquoise crescent-shaped bays and rugged hillsides, it's a jaw dropping island paradise. Couple that with cool cafes, vibrant new restaurants and an assortment of boutique accommodation, and you've got yourself a pretty happening little 'hood.
So, we teamed up with resident and local expert Lucy Elliott from Reef Property Lombok to bring you this ultimate guide to Kuta Lombok, AKA one of the most popular towns in southern Lombok. We've covered the best places to eat, where to stay and how to make the most of that stunning coastline in Kuta, Gerupuk, Selong Belanak, Serangan and beyond.
Happy island hopping, Honeys!
BREAKFAST, BRUNCH & LUNCH: Cool cafes & restaurants in Kuta Lombok
Head to these cafes in Kuta Lombok and beyond for brekkie, brunch, lunch or later, with epic coffees, island-inspired cuisine and of course, all-day cocktails.
1. Bush Radio
Best for: Long, lazy and laid-back hangs throughout the day.
An industrial-chic warehouse with friendly, fun and laid-back vibes, Bush Radio serves seriously tasty salads, sandwiches, smoothie bowls and juices. Everything at Bush Radio is homemade, fresh and packed full of goodness – their home-baked sourdough is a standout.
Bush Radio, Jl Raya Kuta, Kuta, Lombok, p. +62 823 3987 4778; Open daily 7.30am – 9.30pm.
2. Milk
Best for: Expert coffee & Aussie café culture
Rise and shine at Milk for darn good coffee and classic Aussie brekkie combos in tropical homely surroundings. Think eggs benedict, scrambled tofu and colourful smoothie bowls. Coffee is also their thang, so expect a balanced hit of caffeine in your cuppa courtesy of the quality beans by Expat Roasters.
Milk Espresso, Jl Raya Kuta, Kuta, Lombok, p. +62 823 4242 0264; Open daily 7am – 2.30pm.
3. Siwa Resorts
Best for: Six-star views, fine food and relaxed, all-day dining.
For a breathtaking brunch or lunch overlooking the dazzling horizon, head to the club restaurant at Siwa Resorts. Perched high above Kuta Lombok, with panoramic views of the rugged natural landscape, Siwa Resorts is a lifestyle estate with a restaurant, club and penthouse villas to boot. It's where you can laze and graze all day on fire-forged cuisine designed to swap and share over multiple hours. It's served up in modern-Australian style, yet also pays homage to the unique flavours of the local area. And if that wasn't enough, there's also a large infinity pool and lawn, a cliff-hanging DJ podium, two private dining decks and a rooftop bar and cafe. Wowza!
Siwa Resorts, Pengembur, Pujut, Lombok, p. +62 817 7902 8864; Open daily 8am – 8pm.
4. Bara
Best for: All-day poolside hangs.
If you never want to leave the pool (after all, you are on vacation…), head to Bara on Kuta Lombok's main strip. Pool club meets restaurant and bar at Bara- a spot for grazing the day away whilst dipping your toes in the water. Start the morning with Bara bakery's famous pastries and a hot latte at the cosy indoor space. Then as the day goes by, nab a seat on a poolside sunbed and graze on the 'Lunch by the Pool' menu, featuring hummus, salads, burnt pumpkin and The Bara Burger made with Australian beef. Psst… Keep an eye on Bara's calendar for weekly events like live music and brunches.
Bara, Jl Raya Kuta, Kuta, Lombok, p. +62 813 3928 0646; Open daily from 7.30am.
5. Segara Lombok Bar & Restaurant
Best for: A long and lazy all-day grazing session with stunning sea views.
Sitting in prime view of Serangan's pristine white-sand bay and world-class wave, Segara Lombok Beach Resort & Restaurant is best known for its million-dollar vista and authentic homemade food. Falling somewhere between western and eastern cuisine, expect a mix of flavours from breakfast all the way through to dinner. Our top tip? Settle in for the day to laze and graze your way through the menu, sampling everything from smoothie bowls and pancakes alongside barista coffees and fresh juices, to tuna tataki and grilled tenderloin steak with imported wines and fancy cocktails. And yes, sunsets here shouldn't be missed either!
Segara Lombok Beach Resort & Restaurant, Serangan Beach, Lombok, p. +62 823 4096 3101
6. Terra
Best for: A healthy feast of custom-made plant-based goodness.
Eating to live, instead of living to eat, is the motto at Terra, serving up a colourful array of raw, vegan, vegetarian and plant-based goodness. Whether you go for a smoothie bowl or salad, you choose all the ingredients while the staff whip it up for you – then you can enjoy your creation on their beautiful and fresh rooftop terrace.
Terra, Jl Pariwisata Pantai Kuta, Lombok, p. +62 859 3663 3130; Open daily 8am – 4pm.
7. Café Fin
Best for: A post-surf refuel with local village vibes.
Located in the traditional fishing village of Gerupuk (the jump-off point for some of Lombok's best waves) is Café Fin. Smiling staff, a stunning wall mural and super tasty smoothies, smoothie bowls and epic sandwich combos – it's the perfect little surfing pit stop.
Gerupuk Cafè FIN, Sengkol, Pujut, p. +62 823 3956 4781; Open daily from 7.30am.
AFTER DARK DINING: The best restaurants for dinner in Kuta Lombok
Kuta Lombok's dining scene is surprisingly vibrant, with cuisines from around the world. With new restaurants opening up all the time, it can be hard to keep track, but here's our favourite spots to visit after dark.
1. Cantina Mexicana
Best for: Mexican bites, lively vibes and epic margaritas.
Cantina Mexicana is the newest name to hit the main street of Kuta Lombok. It's a technicoloured backyard cantina, fuelled by epic margaritas, ice-cold beer buckets and live music each week. Fill up on family-sized nacho plates, cheesy enchiladas, and whatever you do, don't miss the deep fried deliciousness of the 'puffy' taco menu. Top it off with a handful of churros, and of course, a round of margaritas, Arriba!
Cantina Mexicana, Jl Raya Kuta No. 6, Kuta, Lombok, p. +62 853 3761 5945; Open daily from 12pm.
2. El Bazar
Best for: Wholesome eats, touched by fire.
Longstanding favourite El Bazar is one of the most popular eateries in town. And rightly so. Step in and pick your spot on the terrace, salon or head straight to the back where a stunning, peaceful courtyard and fountain awaits. You'll spot the busy open kitchen with its Santa Maria grill, cooking up crowd favourites like grilled scallops, octopus, bonito crudo and lamb shanks – most of which have been touched by fire. Top tip: check out the wine cellar too, or make it a signature cocktail instead!
El Bazar, Jl Raya Kuta No. 5, Kuta, Lombok, p. +62 853 3761 5945, e. [email protected]
3. Mama Pizza
Best for: A sourdough pizza date with mates.
With its trademark sourdough pizzas baked in brick ovens, Mama Pizza has quickly become the favourite Italian restaurant in town. The kitchen uses premium ingredients to give you homey Italian pizzas and handmade pastas, just like how nonna makes them. And if you recognise this Italian icon – you're right, because Mama Pizza was first made famous on Gili Air, and this second address in Kuta Lombok is just as popular. So much so, you'll need to book ahead, and even reserve dishes in advance if you don't want to miss out on the deep-pan gnocchi or burrata pizza
Mama Pizza, Jl Pantai Gili Indah, Pemenang, Lombok, p. +62 878 2164 6371; Open daily from 4.30pm.
4. KRNK
Best for: Hungry, thirsty souls with a palate for pizza, burgers and margaritas.
Great tunes, dirty burgers, juicy pizzas and delicious cocktails. That's KRNK in a nutshell. Grab your mates and head down for a feast; it's the place to kick start a fun night out. Expect good times, happy hours, and big, beautiful portions fresh-from-the-oven.
KRNK Restaurant, Jl Raya Kuta No. 5, Kuta, Lombok, p. +62 853 3761 5945; Open daily 12pm – 10pm.
5. Kenza
Best for: A wholesome dinner with a bottle of great wine.
A healthy cafe by day, and a wine bar and restaurant by night, Kenza is all about wholesome dishes and plenty of pates designed to swap and share. Think small-bites starters like dips, prawns, cheeses and carpaccio, then Australian steaks and a whole charcoal chicken with all the trimmings for mains. Naturally, a bottle of wine to share is a must, or if you're feeling adventurous, try one of the signature cocktails – we love the Kenza Loves You, a vodka-based cocktail with raspberry, lemon and pineapple.
Kenza, Jl Raya Kuta No. 5, Kuta, Lombok, p. +62 821 4736 8006; Open daily 7am – 11pm.
6. Markisa Restaurant
Best for: An epic Mediterranean feast
Escape the scorching streets and cool down at Markisa; the breezy Mediterranean restaurant next to Rawa Lombok. A quick glance at the mouth-watering menu here and you're going to want to order one of everything. Think tomato crostinis, grilled sardines, anchovy toast and octopus ragu – an ever-changing menu of Mediterranean favourites, served up with a home-baked basket of the best bread in town.
Markisa at Rawa Lombok, Jl Pariwisata Pantai Kuta, Kuta, Lombok, p. +62 823 0132 9989, e. [email protected]; Open daily 8am – 9.30pm.
7. SeaSalt
Best for: Hella fresh seafood & naughty desserts
Bringing a slice of the Med to Kuta Lombok, SeaSalt takes the crown for the freshest locally caught seafood in town. Whether you're tucking into the chilli prawn aglio olio, or perfectly pan seared market fish, you won't be disappointed. Go with friends to take advantage of the tapas-style entrees to share, and whatever you do, don't leave without tasting their brownie or homemade ice cream (or both!).
SeaSalt, Jl Raya Pantai Kuta, Kuta, Lombok, p. +62 812 3944 6023; Open daily 12pm – 10pm.
8. The Mexican in Town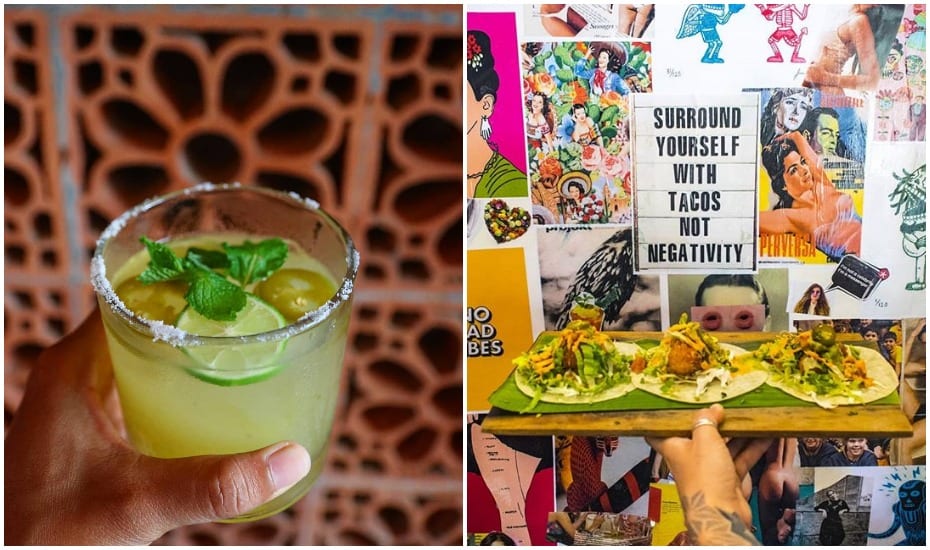 Best for: An authentic Mexican fiesta in humble surrounds.
Who doesn't love Mexican?! Run by a real Mexican, the food at The Mexican in Town is legit. Expect all the classics: mouth-watering baja fish tacos, jam packed burritos, the freshest tuna tostada, and to wash it all down, we highly recommend their tangy margaritas. Or better still, pair it with a fiery Bintang Michelada.
The Mexican in Town, Jl Pariwisata Pantai Kuta, Kuta, Lombok, p. +62 896 8285 8539; Open daily 6pm – 10pm.
9. Kemangi Bar & Kitchen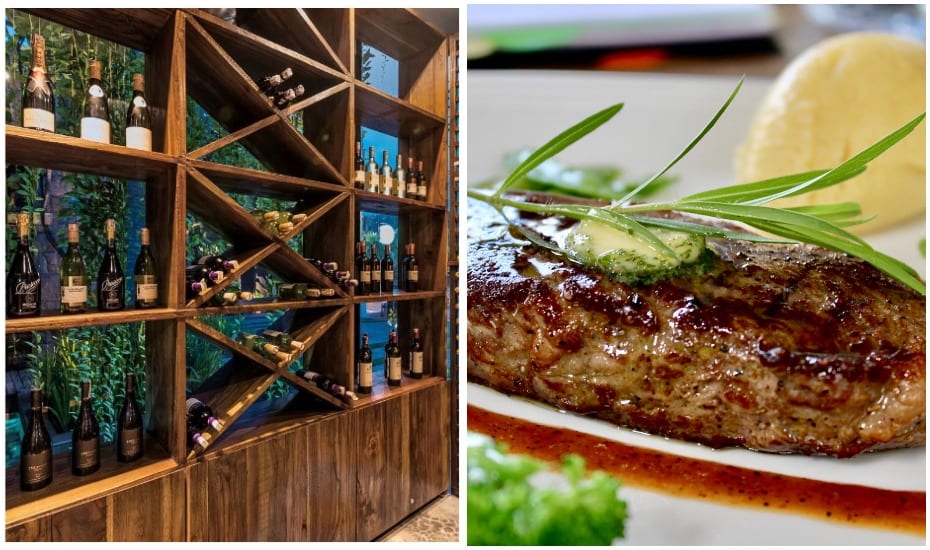 Best for: Affordable wines and fancy Indonesian fare.
Elegant and chic, Kemangi offers sophisticated Indonesian dining in a beautiful setting. A great place to sample local food at its finest, and with an impressive and well-stocked cellar, you'll also want to sip your way through the affordable wine collection…
Kemangi Bar & Kitchen, Jl Pariwisata Pantai Kuta, Kuta, Lombok, p. +62 370 756 1777 / +62 878 6152 4585, e. [email protected]; Open daily 12pm – 9.30pm.
HOTELS, VILLAS & RETREATS: Here's where to stay in Kuta Lombok
Catch some z's at these cool island abodes. From simple homestays to plush private villas and boutique escapes, here's our fave places to stay in Kuta Lombok and beyond, listed (roughly) in descending price order.
1. Villa Sorgas
Grab your mates and book a luxury stay at this four-bedroom hillside villa. Relax in the infinity pool while you take in the breathtaking views of Tanjung Aan beach and Gerupuk Bay. The team are on hand to make sure you have an unforgettable stay, organising everything from private chefs and yoga classes through to fishing trips and private surf lessons. There's nothing quite like it around…
Villa Sorgas, Gerupuk, Lombok, e. [email protected]
2. Selong Selo Resort and Residences
Topped high up on a mountain's edge lies the stunning Selong Selo Resort and Residences. If anyone has seen a more zen beach view, please let us know! Selong Selo offers several sleek and modern bespoke villas, ranging from designer studios and eco-glamping tents, to a dazzling seven-bedroom cliff-hanging villa, engulfing the spectacular bay view below. Selong Selo's casual open-plan Aura restaurant lovingly serves up fresh and healthy all-day Western staples as well as all the Indonesian classics. There's also a gym, a spa, and even a kids club if mum and dad fancy a surf sesh at nearby Mawi's legendary waves. Selong Selo also offers concierge, a private chef and butler services, plus blissful spa treatments. The daily shuttle bus to the beach tops it all off, or simply pitch-up on a sun lounger and soak up that jaw-dropping Selong Selo vista…
Selong Selo Resort and Residences, Jl Batu Jangkih Sepi Mungkung, Selong Belanak, Mangkung
3. Villa Strata
A luxury five-bedroom abode with 360 degree panoramic views of ocean and rugged hillsides, Villa Strata (just next door to Villa Sorgas) is an architectural wonder. It's decked out with contemporary interiors and dramatic geometric framing, matched by local wood and natural stone, lining an infinity pool that appears to disappear over the horizon. Squishy sofas and an ultra-modern kitchen frame the al-fresco ground floor lounge, while upstairs, all of the air-conditioned minimalistic rooms are sunset-facing, capturing the evening's sundrops over Lombok's awesome landscapes. For unobstructed views all around, head to the sprawling rooftop with a chilled bottle of vino…
Villa Strata, Gerupuk, Lombok, p. +62 823 5903 3028, e. [email protected]
4. Seven Havens Luxury Residence
Exactly as its name suggests, this stunning boutique resort, perched high up on the hillside, is made up of seven havens, each with breathtaking views over the crystal clear Selong Belanak bay. A glittering infinity pool centres this ocean-breezy sanctuary, dotted with plush Soo Santai beanbags and a fully-stocked kitchenette and dining room. For the most panoramic view of them all, stay in the Havens of Tranquility suite right at the front of the resort, with its grand natural backdrop set behind floor-to-ceiling windows. It's a 360-degree vista of spectacular scenery and sublime luxury.
Seven Havens Luxury Residence, Jl Raya Selong Belanak, Lombok, p. +6281337388339, e. [email protected]
5. Segara Lombok Beach Resort
Bright white sands, a sparkling ocean and untouched natural surroundings for as far as the eye can see – Segara Lombok is like something straight out of a postcard, and that's before we've even mentioned the gorgeous resort. Segara's luxurious beach bungalows with natural thatched roofs pepper the palm-studded horizon, fronted by an on-site restaurant and glittering infinity pool that looks out over Serangan's pristine bay and world-class surf break. Situated slightly out of town in the peaceful village of Serangan, Segara is the perfect place to switch off, unwind, and soak up the very best bits of South Lombok – in all her natural beauty.
Segara Lombok Beach Resort, Serangan Beach, Selong Belanak, Lombok, p. +62 823 4096 3101, e. [email protected]
6. Amber Lombok
Head slightly out of town to Amber Lombok in Serangan, where gorgeous sea views, bohemian chic rooms and the very first beach club in south Lombok awaits. The resort is blessed with beautiful minimalist architecture, where natural elements and textures meet designer touches and spacious outdoor living areas. The gem of the resort is Amber's beach club, which includes a restaurant, bar and an infinity pool overlooking the ocean. Take a dip and try your hand at surfing, kitesurfing and scuba diving, or simply kick back and feast on truffle dumplings and hand-tossed pizza. Add to that a craft cocktail or three, and you've got yourself a picture-perfect beachfront vacay amidst an Insta-worthy setting. Bliss!
Amber Lombok, Torok Bay, Selong Belanak, Lombok, p. +62 853 3875 3290, e. [email protected]
7. Sempiak Villas
Situated on the idyllic shores of Selong Belanak beach, Sempiak Villas is the perfect beachfront getaway. Using natural, local materials throughout, each villa has been carefully constructed and offers its own unique design and furnishings. With a beachside restaurant, pool, yoga and spa, it's a truly special place to unwind.
Sempiak Villas, Jl Datuk Lopan, Selong Belanak, Lombok, p.+62 821 4430 3337, e. [email protected]
8. Roots Lombok
A hidden gem in the local fishing village of Gerupuk, Roots Lombok is a tropical-chic oasis just minutes from the main jump-off point to reach Gerupuk's famous waves. It's tucked away in the heart of the village yet just footsteps from the main Gerupuk strip, surrounded by lush greenery and a warm, welcoming vibe. The rooms are immaculate, each one designed with gorgeous island style. The service is even better, where the hosts make you feel perfectly at home, with homemade breakfast spreads served up by the pool each morning. Choose a surf, yoga or combo package to really get a feel for the Roots experience. The only downside? You'll never want to leave…
Roots Lombok, Jl Mandalika Resort Pantai Putri Nyale, Gerupuk, Lombok, p. +62 8234 163 7965, e. [email protected]
9. Villa Alba & Villa Karinya
Two stylish and eco-conscious two-bedroom villas tucked away on a quiet and shaded back street of Kuta, Villa Alba and Villa Karinya are tranquil, hidden gems for guests to call home. Expertly designed by the highly regarded and local sustainable architecture firm, Bambook Studio, the villas are bright, airy and bursting with style. Chill by the pool, snuggle up on the sofa or simply enjoy all the home comforts of these modern tropical oases.
Villa Alba & Villa Karinya, Jl Baturiti, Kuta, Lombok, p. +62 813 3707 7341.
10. Jivana Resort
Stepping into Jivana is like stepping into an endless tropical garden. You're completely enveloped in nature with stunning tropical plants, groomed lawns and peaceful ponds. The accommodation is equally stunning. They offer a range of options from double rooms through to three-bedroom private villas. Make sure you check out the swim-up bar!
Jivana Resort, Jl Raya Kuta, Kuta, Lombok, p.+62 370 615 8000 / +62 853 3316 6838, e. [email protected]
11. Mana Yoga Retreat
A tropical and lush oasis offering a range of beautifully appointed accommodation options fit for all budgets, Mana Retreat is the perfect place for a relaxing stay in the centre of Kuta Lombok. It features a yoga studio offering daily classes, an onsite spa, swimming pool, healthy restaurant and an evening cinema (they even supply the popcorn!). And psst, if you're staying longer, you'll want to check out their yoga retreats too.
Mana Yoga Retreat, Jl Baturiti, Kuta, Lombok, p.+62 853 3862 8659, e. [email protected]
12. The Dome Village Resort
For a totally unique place to stay in Lombok, how about staying in an eco-dome? The Dome Village Resort is all about eco-friendly barefoot luxury, offering a number of domes for the ultimate island getaway. There are domes for two, plus a high-end dome which can fit up to four people. Located on a hilltop, you'll have one of the best views over southern Lombok's white sandy beaches and bays. The best bit is, the surf breaks are just minutes away!
The Dome Village Resort, Rajan Pujut No. 20, Sengkol, Lombok, p. +62 817 7500 9892, e. [email protected]
13. Sikara Lombok Hotel
Nestled between palm trees and lush gardens is Sikara, a topical yet modern hotel that screams island escape. For extra comfort and space (and a giant bathtub!), nab yourself the 40-square metre Supreme Room with its own private terrace. Taking centre stage within the resort is the tranquil tropical pool, where you can relax and mingle with other travellers on sleek white lounges.
Sikara Lombok Hotel, Jl Mawum, Kuta, Lombok, p. +62 370 650 2749, e. [email protected]
14. Rascals
Rascals is a boutique resort and spa located right in the heart of Kuta Lombok. Each of its 38 rooms is designed with a purpose: the Dream Room for a good night's sleep, the Rumah Baru for extra space, and the Plush Pads for peace and quiet. Whichever room you choose, you'll find modern amenities, comfy beds and a rainforest shower in every bathroom. And with a spa that offers relaxing treatments throughout the day, this is one oasis you'll want to have on your list.
Rascals, Jl Kuta, Sengkol, Lombok, p. +62 821 4535 4865, e. [email protected]
15. Origin Lombok
Nestled in nature, this tranquil boutique resort sits just on the outskirts of Kuta, a short drive to Tanjung Aan beach. Offering a range of beautifully designed rooms, many with direct pool access, you'll feel like you're in a top resort at a fraction of the price. With a spa, yoga and two large swimming pools, it ticks all the relaxation boxes.
Origin Lombok, Jl Raya Sengkol, Kuta, Lombok, p. +62 819 3794 6193, e. [email protected]
16. Rawa Lombok
A boutique hotel with a rustic but modern feel, the rooms at Rawa Lombok are incredibly spacious and beautifully furnished with lots of thoughtful touches. We particularly love how cold the air-con is, how hot the showers are, and how many movies come pre-loaded on the big TVs! Top tip: sip on a cocktail while the sun sets from the rooftop bar and pool, then feast at Markisa (the downstairs Mediterranean restaurant) after dark – it's reason enough to stay.
Rawa Lombok, Jl Pariwisata Pantai Kuta, Kuta, Lombok, p. +62 823 0132 9989, e. [email protected]
GET SALTY: The best surf spots and surf schools in Kuta Lombok
With crystal clear waters, untouched beaches and a range of surf breaks for all levels, getting salty is a must in Lombok. For those looking to test out or improve their surfing skills, there are many surf camps and surf guiding teams operating in the area.Here's our top picks.
1. Surfcamp Lombok
Arguably Lombok's first surf camp, Surfcamp Lombok is on the shores of five fantastic surf spots. Whether you're looking to master the basics or learn advanced techniques, their courses cater to a range of levels. It's a full-on program with surfs twice a day, video/photo analysis and lots of land-based theory. Perfect for those who want to take the next step (or first step) in their surfing careers.
Surfcamp Lombok, Gerupuk, Lombok, e. [email protected]
2. Nalua Surf
Offering surfing packages, rooms and a cute surf shop right in the centre of Kuta Lombok, Nalua Surf is like a home away from home. Their beginner surf package will get you on your feet in no time, while their adventure package is perfect for those looking to explore the islands' breaks with an experienced guide. Beautifully decorated, here you'll find simple rooms with the added bonus of an idyllic rooftop hangout spot perfect for sunset.
Nalua Surf, Jl Raya Kuta, Kuta, Lombok, p.+62 819 0796 9162, e. [email protected]
3. Drop In Lombok
A peaceful lodge teetering high on a hill with breathtaking views over rice paddies and local villages, Drop In is perfect for those looking to completely switch off and enjoy Lombok's natural surroundings. Drop In offers small group surf, dive and yoga packages tailored to different levels. You'll also find cute bungalows with private verandas, a swimming pool, BBQ area, a workspace and a restaurant serving delicious homemade cakes and treats for refuelling after a long day of surfing. Bonus: check out some of the amazing community projects they've helped to set up in the local village.
Drop In Lombok, Jl Kener, Desa Sukadana, Kuta, Lombok, p.+62 819 0723 4673, e. [email protected]
4. Kura Kura Surf Camp
Offering weekly surf camps for the complete novice through to the advanced surfer, Kura Kura Surf Camp invites you to stay in quaint homestay-style accommodation. Their camps start on the same day each week to ensure they can follow each surfers' progress and make sure all beginners get the necessary theory lessons before hitting the water. It also must be mentioned that they were the first surf camp in the area to have a local female surf instructor – hang five to that!
Kura Kura Surf Camp, Jl Mawun, Mengalung, Kuta, Lombok, p. +62 859 5411 8606, e. [email protected]
SPA, YOGA & GYM: Where to relax, recharge & workout in Kuta Lombok
Because there's more to Kuta Lombok than just epic cafes, surf and tropical hotels, here's where you can hit the spa, gym, yoga studio or boutique shops.
1. Bliss out at Matcha Spa
Sitting on one of the main Kuta Lombok strips with an incredible number of highly-trained spa therapists, there's ample opportunity to bliss out at this little oasis. Indulge in a day of pampering with a wide range of treatments, including divine massages, facials, body scrubs and nail treatments. Go on, treat yo' self!
Matcha Spa, Jl Raya Kuta, Kuta, Lombok, p.+62 823 3905 0182; Open daily 10am – 7.30pm.
2. Stretch it out at Mana Yoga Retreat
So much more than just a place to practice yoga, at Mana Yoga Retreat you can swim, chill out with a good book, master the slackline, or bliss out at the beautiful spa. Offering a range of yoga styles four times a day in beautiful tropical surroundings, friendly, experienced teachers are ready to guide the novice through to the experienced yogi.
Mana Yoga Retreat, Jl Baturiti, Kuta, Lombok, p.+62 853 3862 8659, e. [email protected]
3. Align those chakras at Ashtari Yoga
Set atop the hills overlooking Kuta Bay, practice yoga while you enjoy the breathtaking scenery at Ashtari. The open air, almost-floating yoga shala is also a great place to spot monkeys swinging in the nearby trees! Ashtari also offers yoga classes at a number of hotel locations around Kuta Lombok – check their schedule for details.
Ashtari Yoga, Jl Mawun, Kuta, Lombok, p.+62 823 4053 9445, e. [email protected]
4. Break a sweat at Loka Lombok
Don't worry gym junkies, Loka has your workout needs covered (and your healthy eating and relaxation, too!). Their daily Crossfit and Muay Thai classes offer a solid workout for those looking to balance out those holiday munchies. Post workout, pull up a beanbag and recover in their scrumptious adjoining health café – the menu has been curated by a nutritionist, and it is simply delish!
Loka Lombok, Jl Raya Kuta, Kuta, Lombok, p. +62 823 3903 3138, e. [email protected]; Open daily 7am – 10pm.
5. Shop at Flow Surf Store
If retail therapy is how you like to relax, then a visit to surf store Flow is a must. Stocking an unrivalled range of premium surf board brands, including Channel Islands and Hayden Shapes, not to mention all the latest trends in surfing apparel and island wear, you'll be looking your best in and out of the water.
Flow Surf Store, Jl Raya Kuta, Kuta, Lombok; Open daily 8am – 10pm.
So there you have it: a complete guide to Kuta Lombok, Gerupuk, Selong Belanak and beyond!