From rainy season to dry season, our Bali weather guide will help you decide when is best to visit Bali & construct the perfect itinerary to make the most out of your island vacay.
Stunning beaches, adrenaline pumping activities, and so much culture to absorb – Bali is a huge draw for travellers and nomads alike, looking for a true island escape. Located right beside the equator, Bali is blessed with a tropical climate, stable temperatures (ranging from 26 to 32℃), 80% relative humidity and long sunshine hours all year-round. But the question that's often asked is: when is the best time to visit Bali? Well, the answer depends heavily on what you want to do during your time in Bali, and how the seasons (wet or dry season) will affect your plans. So, to help you make the right decision and plan your itinerary, here's our month-by-month guide to Bali weather. Whether you're visiting during wet or dry season, we've got you covered – just don't forget to pack your sunscreen, sunnies and maybe even a raincoat…
WEATHER IN BALI FROM APRIL TO OCTOBER: DRY SEASON
Bali's dry season – and peak summer holiday season for that matter – is from April to October each year. This is the busiest time for tourism on the island, especially July, August and September, due to lower rainfall and a greater number of sunshine hours. The dry season is not to be mistaken with the summer season though – dry season in Bali is actually considered winter, and although you'll be blessed with blue skies and warm weather each day, you'll also experience cool winds that lowers the temperature slightly. It's the perfect season for outdoor and water-based activities in Bali, as the heat is generally tolerable, never really exceeding 30℃. And whilst dry season peaks in August and September (the lowest chance of rain), you can expect a few days throughout the season with welcoming light rain and a breeze to offset the heat. Expect sunshine, beach days and plenty of opportunities for a sunset cocktail!
April in Bali – best Bali weather for quiet beach hangs
April marks the official end to the island's wet season (hooray!). Expect clear, sunny and hot days, with some reaching a whopping 32ºC. With this glorious climate and fewer crowds, April is a great time to visit Bali's famous spots peacefully. Spend your days splayed out on a white sandy beach and work on your tan, or go island hopping to the smaller islands off the coasts of Bali.
May in Bali – best Bali weather for exploring the island
Being off season, May is one of the best months for an island adventure. With relatively fewer tourists, plus temperatures still reaching up to 31ºC and nine hours of sunshine each day, you and your travel pals can spend quality time freely exploring the island. There's plenty to do for all types of travellers too – leisurely swims in the warm ocean, an active day of hiking through the jungles, or ticking off all of Bali's best attractions. End each day by catching the sunset at one of Bali's best beach clubs before going for an al fresco dinner on Jimbaran beach…
June in Bali – best temperature for water sports & island activities
In general, Bali's dry season is best for all kinds of water activities, with pleasantly warm temperature and relatively clear waters. It's a great time for quintessential water sports, like banana boating, snorkelling, scuba diving or stand-up paddle boarding. You'll also find that the offshore winds are at their best between June and October, which means pro surfers can take to waves at some of Bali's best and most challenging breaks along the southern coastline. Beginner surfers will also find plenty of spots to work on their surf skills, from Jimbaran and Kuta, all the way to Canggu too.
July in Bali – best for high season adventures (and school holidays!)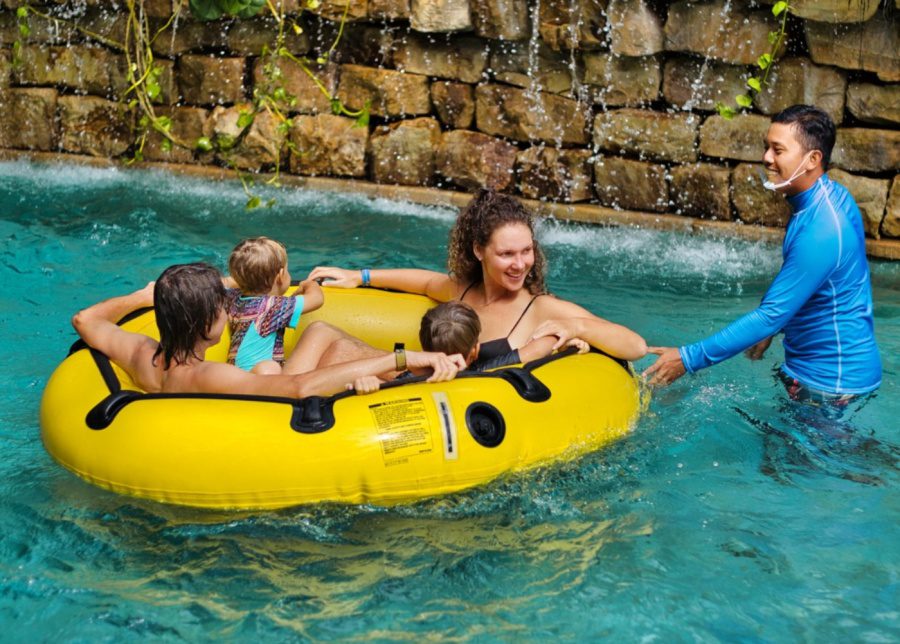 Did someone say school holidays? What better way to help your kids wind down from exams than with an unforgettable family vacay to Bali? In terms of the weather, July is much the same as June: slightly longer days and warm (but not too hot) temperatures, with little chance of rain. It's also high-season, so expect plenty of events and a certain buzz in the air throughout the island. Whether you're taking the kids to the beach for thrilling water sports or slipping and sliding at Waterbom – Asia's No. 1 water park – you'll find plenty of things to do all over the island to keep everyone happy.
August in Bali – best for kite flying & partying by the beach
August is Bali's driest month – you won't need to pack your raincoats or umbrellas at this time of year! With the southern monsoon ramping up the winds, August is the perfect month to colour the skies with large kites. You'll see locals heading down to the beach, carrying gigantic kites and spending the day flying them high up in the skies. Although it seems like just a favourite pastime during this season, it is in fact an important Balinese tradition, believed to ward off pests from the lush agriculture. Head east to one of Sanur's beaches for the best seat in town. Otherwise, take to the town and party at the iconic high season events in Seminyak and Canggu – August is a prime month to party in Bali.
September in Bali – best for clear days & mountainous hikes in the north
Not too hot, not too rainy – September is Goldilocks' kind of weather! Perhaps the best time to visit if you're after lots of sunshine paired with a cool breeze, September offers the best of both worlds: fewer visitors post-high-season, and fabulous weather. With a maximum temperature of 31ºC, approximately nine hours of sunshine per day and no slippery ground from any recent rains, it's the perfect setting for a hike or waterfall hunt in the north. Try going for a sunrise hike up. Mount Batur, followed by an adventure to a secluded waterfall for a day full of serious exploration!
October in Bali – best tides for fishing
Bali's temperature throughout the month of October usually sits somewhere between 24ºC and 31ºC. It's right between dry and wet season, so the amount of sunshine decreases and chances of rain increases by the end of October. But with the relatively calm breezes, warm water temperatures and abundant sea offerings, October is one of the best months to try your luck at fishing in both the sea and fresh waters.
WEATHER IN BALI FROM NOVEMBER TO MARCH: WET SEASON
Before we divulge into rain and thunderstorms, we should point out that Bali's weather is generally fantastic all year round – if you can wear bikinis, boardies and flip flops during any month of the year, that's got to be good, right? Just be prepared that they might get a little drenched during November to March… Hello, Bali's rainy season! Expect abrupt moody downpours of rain (sometimes even localised), but then the skies will clear and you are left with a perfect hot day and blue skies, with temperatures rising up to 33ºC. The wet season is all about high humidity and heavy rainfalls, but these downpours sometimes last only a matter of minutes to hours (often overnight or early mornings), meaning you can be very lucky and still continue with your island adventures. Plus, there'll be far fewer crowds to deal with!
November in Bali – best for day trips to nearby attractions
November is very similar to October in terms of temperature but with a slightly higher chance of rain (still lower compared to the rest of the wet season). Rain is often on and off by now (usually quite light too), so its just luck of the draw on whether you will see any rain or not. Generally speaking, all normal activities can continue in November as this is just the start of the rainy season (and sometimes it arrives quite late anyway!). The amount of sunshine in November starts to decrease, but there is still plenty of time to pack in plenty of tanning and awesome day trips to outdoor attractions, like Hindu temples, the Ubud Monkey Forest or Uluwatu's famous beaches.
December in Bali – best for family festivities, shopping & food tours
The monsoon season start to pick up in December – heavier rains and less sunshine. But fret not – when it rains, it doesn't last all day. Instead, random rainstorms will come and go within a matter of an hour or two. This means that there's still plenty to see and do without the need for an umbrella! In December, Bali welcomes many families and kids for the year-end holiday season, with family-friendly events and tours (indoors and outdoors) to keep everyone happy. A shopping trip, spa day, cafe-hopping or a day out at an indoor-outdoor venue are just some of the fun things you can treat yourself to in December.
January in Bali – best for indoor activities
With January being Bali's wettest month, the greenery is well and truly blooming in time for the new year. Much like December, early January will still be quite busy with tourists flocking to the island for a Christmas and New Year getaway – hence why this month is still considered a peak season. So with a typical day only getting six hours of sunshine, we suggest making the most of it by trying a whole bunch of activities that offer shelter from any downpours, like a Balinese cooking class, getting a new do at a top salon, or shopping 'til you drop at Canggu's hippest boutiques… You don't need a whole lotta sunshine for that!
February in Bali – best for self-care rituals and cosy days indoors
Another month that's usually peppered with downpours, Bali's weather in February is usually very similar to January, and you should be prepared for frequent rain and spending a cosy day indoors. Celebrating Valentine's Day can be tricky, as it's hard to predict whether a picnic on the beach is going to get rained off or not! Either way though, there is plenty to do in Bali come rain or shine. A little tip for you: go all out on an ahhh-mazing pampering sesh at one of Seminyak or Canggu's best spas.
March in Bali – best for trekking through lush landscapes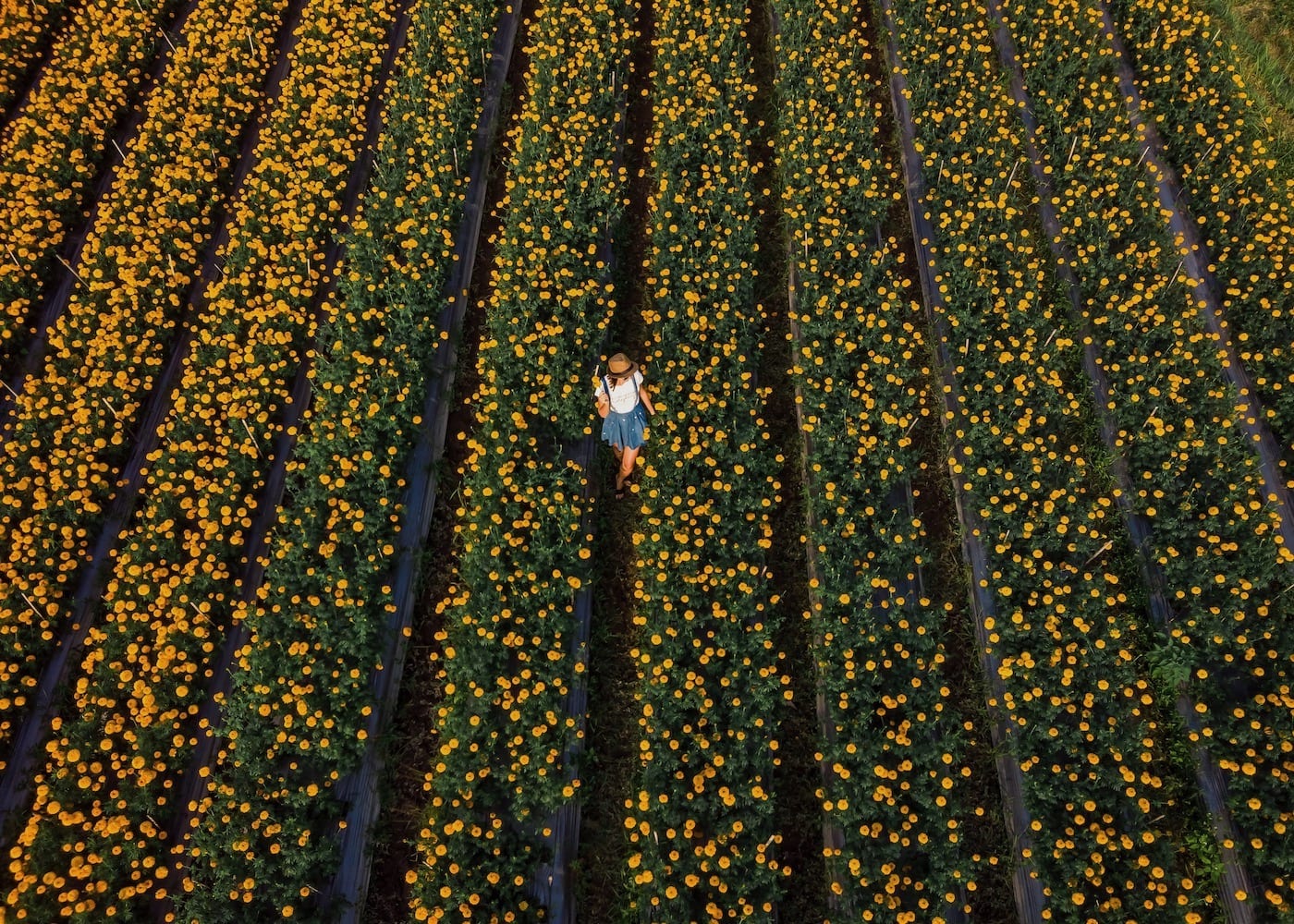 March is what's called the 'transition season' – AKA the start of the refreshing change from wet season to dry season. The temperatures tend to drop a little (as does the humidity), and the rainfall reduces too. For sun-seekers, you'll be pleased to hear that March welcomes an increasing number of sunshine hours, and more opportunities to spend the day outdoors. So there's no better way to celebrate the end of the rainy season than by hiking Ubud's emerald rice paddies, walking through the marigold field in Karangasem, or by wandering the farms of Bedugul – after all, the lush landscapes will be positively thriving after all that rain!
Need more ideas on how to spend your holiday in Bali? Check out this handy neighbourhood guide.