Step aside, boring chicken nuggets. These family-friendly restaurants in Bali will keep the kids' happy & well-fed with awesome children's menus & action-packed playgrounds...
Mums and Dads, we get it. There's nothing worse than the look on other diners' faces when your hungry little hell-raiser is having a hangry meltdown. And god forbid, the only solace is a menu for grown-ups, laced with yucky vegetables. Yup, finding a family-friendly restaurant in Bali is a high priority for any parent – but luckily, there's plenty to choose from…
From fabulous cafes in Canggu to pirate-themed feasts on Nusa Dua beach, Bali is full of family-loving establishments designed to keep the toddler tantrums at bay. So, to help you find the best kid-friendly restaurant for your fam, we asked local writer and fellow mum, Rebecca Foreman, to compile the ultimate list of Bali's best family-friendly restaurants in every neighbourhood – the best places for the kids to chomp and chow down while you chill out… And psst! For extra parent points, check out Rebecca's list of awesome things to do with kids in Bali – you can thank us later!
Best family friendly restaurants in Bali: Seminyak
1. Biku
High Tea at Biku is as charming as you'll find on the island, and for the kiddos, it's a chance to play grown-ups and experience a true English tea party. Housed in a gorgeous traditional "Joglo", the littlies will squeal with glee as they're served the Children's High Tea – a multi-tiered platter of Alice in Wonderland china bearing all sorts of goodies; think colourful cupcakes, gingerbread men, scones with jam and cream, and scrummy sandwiches (with the crusts cut off, of course). There's no shortage of tea either (served up in adorable pink polka-dot teapots) for Mums and Dads, plus a full a la carte menu available throughout the day. If you don't want any tears, book ahead as it does get busy.
Biku, Jl Petitenget No. 888, Seminyak, p. +62 851 0057 0888, e. [email protected]; Open daily 8am – 11pm.
2. KU DE TA
Ok, we know what you're thinking. A cocktail-fuelled Bali beach club can't be family-friendly. Well, at KU DE TA, that couldn't be more wrong. Every Sunday, KU DE TA welcomes families for brunch and long, leisurely lunches, served up alongside all kinds of fun activities including swimming, petting zoo, games and kiddie-crafts. All the kids activities are free and professionally supervised, meaning mums and dad can sit back and soak in the beachside vibes while the little ones do their thing.
KU DE TA, Jl Kayu Aya No. 9, Seminyak, p. +62 361 736969, e. [email protected]; Open daily 8am – midnight.
3. Da Maria
Da Maria is where you'll find colourful Amalfi coast vibes crossed with tropi-cool Bali style, served up with great, freshly-prepared and wholesome Italian dishes in a fun atmosphere with fabulous service. Kids are welcomed, as the Bambini kids menu is packed full of Italian favourites like cheesy pizzas and freshly-made pastas and gnocchis, and gelatos to sweeten the deal. It's all so simple and fuss-free – the whole fam will love it.
Da Maria, Jl Petitenget No. 170, Seminyak, p. +62 361 934 8523, e. [email protected]; Open Tue – Sun 4pm – late.
4. Potato Head Beach Club
Another family-friendly Bali beach club to add to the list, Potato Head is the ultimate hangout for cool kids and even cooler parents, with delish food dished up beside the seaside, centred by a large grassy patch for the kids to run amok. Feast on freshly prepared wood-fired pizzas, pasta, fish and chips, and mac and cheese, and for tiny tots, highchairs are available on request.
Potato Head Beach Club, Jl Petitenget No. 51B Seminyak, p. +62 361 473 7979, e. [email protected]; Open daily 10am – midnight.
5. Sea Circus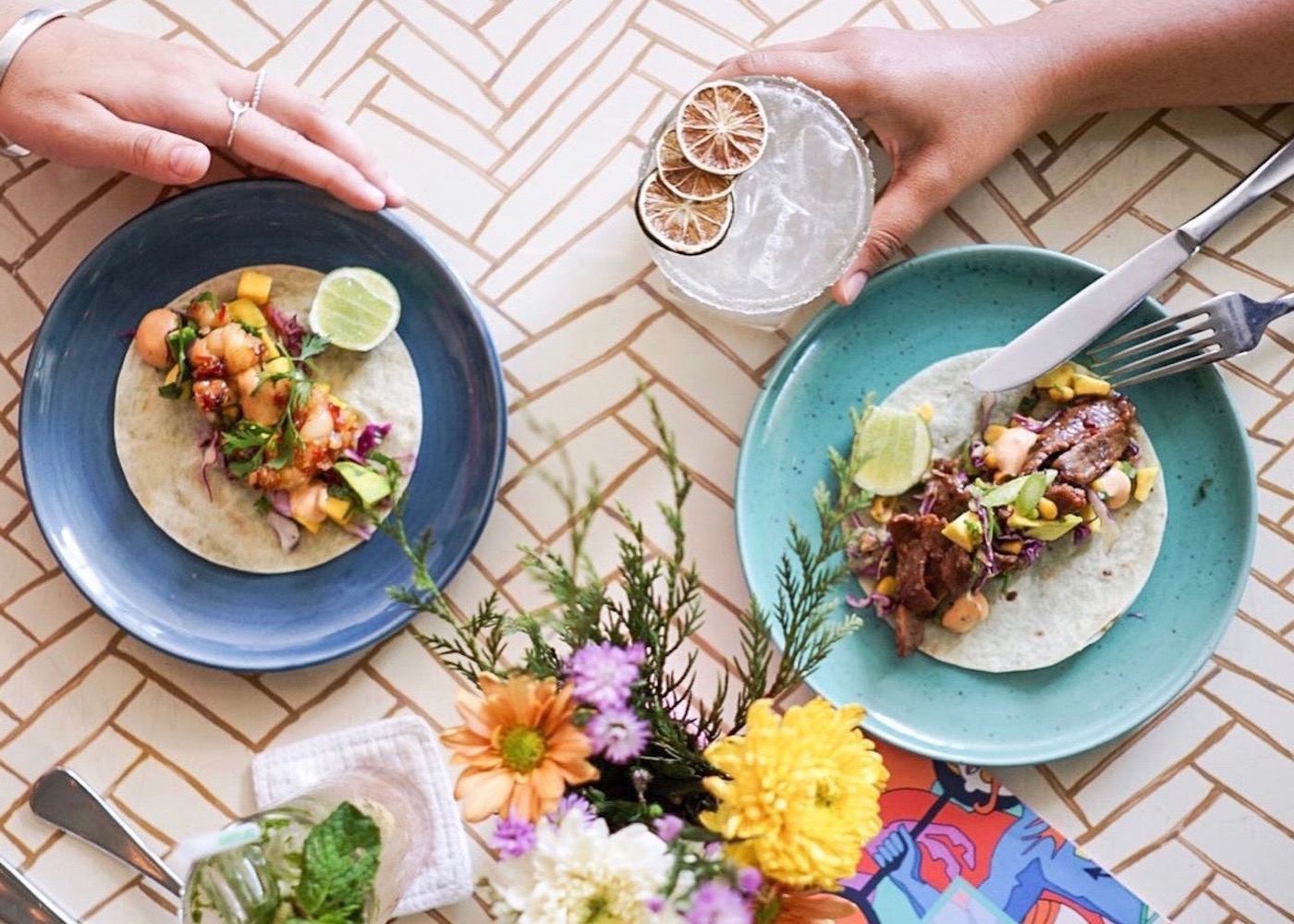 For a funkadoodle atmosphere and awesome, wholesome menu rolled into one, take the kids to Sea Circus for a technicolored brekkie, lunch or dinner, featuring the Next Gen menu for kids. This colourful beach shack (complete with a snazzy mirror ball!) is all about ultimate healthy options alongside the devilishly indulgent, like kiddies pesto pasta and quesadilla, and boozy brunch cocktails and summer poké bowls for the parents.
Sea Circus, Jl Kayu Aya No. 22, Seminyak, p. +62 821 4789 7995, e. [email protected]; Open daily 7.30am – 10pm.
6. Mano Beach House
Perfectly poised beside Seminyak's Petitenget Temple, Mano Beach House is all about boho beachside vibes and relaxed, family-friendly dining. The menu is well thought out, including all-day breakfast options, fresh salads, big burgers, fresh juices and smoothies. Independent swimmers can slosh around in the pool, while parents can kick back in a bean bag or beneath the bamboo cabana – all the while taking in the sea views and groovy tunes.
Mano Beach House, Jl Pantai Pura Petitenget. p. +62 361 473 0874, e. [email protected]. Open daily 11am – 11pm.
7. KYND Community
SO much more than just a vegan café, KYND is a community of earth-conscious foodies serving up plant-based creations that will knock your sandy socks off. Veggies and vegans will love their inventive menu that's full of both sweet and savoury knockouts, while carnivores will get some serious education on just how good plant-based food can be. The kids will also love it, not just for the cute decor, but also for the delicious and nutritious kids menu, like spaghetti with bolognese sauce and rawmesan, or soy cheekan nuggets served with crispy french fries and sliced apples. You'll also want to bring the whole fam on Sundays for the good ol' Sunday roast (plant-based of course!) – finish it all off with a vegan ice-cream from the technicolored creamery next door. Now, who says vegan food is boring….?
KYND Community, Jl Raya Petitenget No. 12, Seminyak, p. +62 859 3112 0209, e. [email protected]; Open daily 8am – 10pm.
8. Unicorn Café
This is the ultimate treat for unicorn-loving littlies, a place where they can immerse into the world of… you guessed it: unicorns. Choose from a Unicorn-only menu of sweet cakes, cookies, candy or croissants, accompanied by Unicorn milkshakes, coffees and hot chocolates. To find it, just head to the end of a rainbow…
Unicorn Café, Jl Batu Belig, No. 10A, Seminyak, p. +62 81 338 539 413, e. [email protected]; Open daily 9am – 9pm.
Best family friendly restaurants in Bali: Canggu
9. Milk & Madu
A Canggu institution, Milk & Madu is like a home kitchen away from home – a cool neighbourhood cafe and hotspot for yummy mummies. You'll find no shortage of families dining here, feasting on fresh cafe staples from breakfast and lunch, right through to dinner. The littlies can run around in the back garden play area or get busy with toys, books and arts and crafts in the treehouse. Once they're all played out, the children can fuel up with the Little Ankle Biters menu for a wholesome brekkie, or the Happy Kids Meals menu for lunch and dinner, which includes pizza, fresh juice, house fries and sliced fruits. Stop by on the weekends for free arts and crafts 'til 7pm.
Milk & Madu, Jl Pantai Berawa No. 52 (p. +62 851 0278 1872) & Jl Batu Bolong No. 88a (p. +62 812 3714 9445), Canggu, e. [email protected]; Open daily 7am – 10pm.
10. Sprout Cafe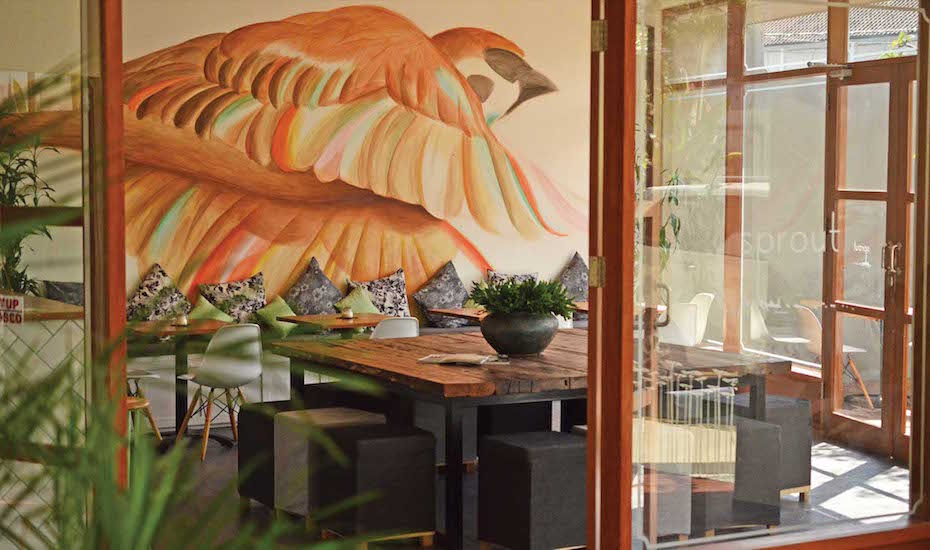 Located next door to The Garden Kids Club, you'll always see other Mums and Dads doing the drop-off and then filing in for one of Sprout's famous cream-of-the-crop coffees and wholesome breakfasts. This cafe is great to meet up and have a chat as the uber relaxed tunes set the tone, and the food is uncomplicated and wholesome. It's a place where everyone, including the kids, can find something fresh to enjoy from the main menu or Little Sprouts kids menu.
Sprout Cafe, Jl Raya Semat No. 18A, Canggu, p. +62 812 3665 3165, e. [email protected]; Open daily 7am – 5pm.
11. Lacalita
Everyone loves Lacalita for its breezy, colourful vibes, bold murals and epic Mexican food. The kids can choose from all sorts of fresh fare that lets them dig in with their hands, from tasty tacos to burritos and quesadillas. From lunch until late night, sit outdoors on the deck and watch the world go by, or head inside for the technicoloured interiors. Swing by for Taco Tuesday from 4pm for affordable tacos plus margarita combos for mums and dads.
Lacalita, Jl Pantai Batu Bolong No. 68, Canggu, p. +62 822 4731 2217, e. [email protected]; Open daily 12pm – late.
12. Made's Warung
A Bali institution offering a no-fuss and relaxed place to graze, hang and play, Made's Warung serves up authentic regional fare and a good mix of international and Asian cuisine – plus a playground for kids with tonnes of activities throughout the week. A cubby house is on hand for afternoons of make-believe and high quality, socially interactive equipment, and for even the most active children, there's hours of unlimited fun here, where they can climb, swing, jump and slide while parents chill out in the cafe.
Made's Warung Berawa, Jl Subak Sari 13 No. 8, Canggu, p. +62 361 934 7778 / +62 812 3938 4754, e. [email protected]; Open daily 11am – 9pm.
13. Bistro C
Located in Finns Recreation Club's and overlooking the vast green of the iconic sports field, Bistro C is another family favourite with a focus on fresh, quality produce, and an extensive menu that caters to everyone. Adults and kids can go alfresco and feast on casual breakfasts, leisurely lunches, sunset cocktails and relaxed dinners with family and friends, or head indoors for that cool AC. Combo deals for kids are available that cover off even the fussiest of eaters, not forgetting movie night every Saturday and Sunday at 6.30pm. High chairs are provided and Splash Waterpark is conveniently located just next door for those that don't want the fun to stop.
Bistro C at Finns Recreation Club, Jl Raya Pantai Berawa, Canggu, p. +62 361 848 3939 / +62 859 6437 1000, e. [email protected]; Open daily 7am – 8pm.
Best family friendly restaurants in Bali: Ubud
14. Clear Cafe
Once you've passed Clear Cafe's wooden door and bright orange marigolds lining the stairway, the vibe at this iconic Ubud restaurant is a mix of hippie-cool meets magical jungle treehouse – complete with a fireman's pole to slide from the upper dining areas to the ground floor. There is absolutely no shortage of awesome healthy food on offer here, including a truly international menu of vegetarian and pescetarian dishes that span the continents, plus a Cool Kids Menu featuring Super Hero Quesadilla, Tiger Fish Sticks and Captain Hook's Tuna Burger. It's little wonder celebrities visiting Bali with kids flock here in droves… and psst – a second location is now open in Canggu!
Clear Cafe, Jl Hanoman No. 8, Ubud, p. +62 878 6219 7585, e. [email protected]; Open daily 8am – 11pm.
15. Taco Casa
Taco Casa is a solid staple for Mexican food-loving families in Bali, with three outlets dotted across the island. What child doesn't love building their own burritos or tacos, with freshly-sourced produce and made-from-scratch ingredients? And the kicker? You won't find any nasties here, like lard, MSG or preservatives. All of this family-friendly goodness, and that's before we mention the super-fast service, fun-loving atmosphere and affordable price-tag.
Taco Casa, Jl Raya Pengosekan, Ubud, p. +62 812 2422 2357; Open daily 11am – 10pm.
16. Pizza Bagus
Universally regarded as one of the first Italian restaurants in Ubud, Pizza Bagus serves up exactly that – damn good pizza. Bring the family and enjoy an affordable feast of classic Italian dishes, including pastas, pizzas, and their signature carbonara – and don't forget to try their gelato. With foosball, dartboard, games, colouring sheets and a small play area for littlies, there's plenty here to keep the kids entertained.
Pizza Bagus, Jl Raya Pengosekan, Ubud, p. +62 361 978 520; Open daily 8.30am – 10pm.
Best family friendly restaurants in Bali: Jimbaran & Uluwatu
17. Sundays Beach Club
Location, location, location! This uber cool and super chic beach club offers lip-smackingly delicious brekkies, lunches and dinners by the seaside, spanning all of your favourite ocean-inspired staples. While loungey tunes set the beachside vibes, let the kids take part in complimentary water activities (like snorkelling, SUPing and kayaking) and by nightfall, cosy up next to the fire pit and roast marshmallows before tucking into a freshly prepared pizza.
Sundays Beach Club, Jl Pantai Selatan Gau, Banjar Wijaya Kusuma, Ungasan, p. +62 821 4405 7406, e. [email protected]; Open daily 10am – 10pm.
18. The Cashew Tree
This is about as cool as it gets in beautiful Bingin – a breezy, family-friendly cafe with a kids playground and super scrumptious healthy, organic menu. There's so much space for little terrors to run around here, with friendly doggos on-site who love a good pat. There's also an entire counter of yummy gelato, and the adjoining Bali Training Centre welcomes little fitness fanatics to join in on the alfresco workouts. 
The Cashew Tree, Jl Pantai Bingin No. 9, Pecatu, p. +62 85 953 789 675; Open daily 8am – 10pm.
19. Sundara Beach Club
Sundara Beach Club can't be beat for all-day lounging and swanky beachside dining, and it might just be Bali's most beautiful spot for a Kids Club, too. Sitting directly behind the infinity pool just metres away from the ocean, Sundara's Jimba Kids Club is fully-staffed and air-conditioned. The offspring can be offloaded here where they'll be kept well and truly occupied with fun, games and activities – all the while, mums and dads can enjoy some luxury alone time in the beachfront gazebos or sun-splashed daybeds, grazing on the Asian fusion menu, with kids options available too.
Sundara Beach Club at Four Seasons Resort Bali at Jimbaran Bay, Jimbaran, p. +62 361 708 333, e. [email protected]; Open daily.
Best family friendly restaurants in Bali: Sanur
20. Naughty Nuri's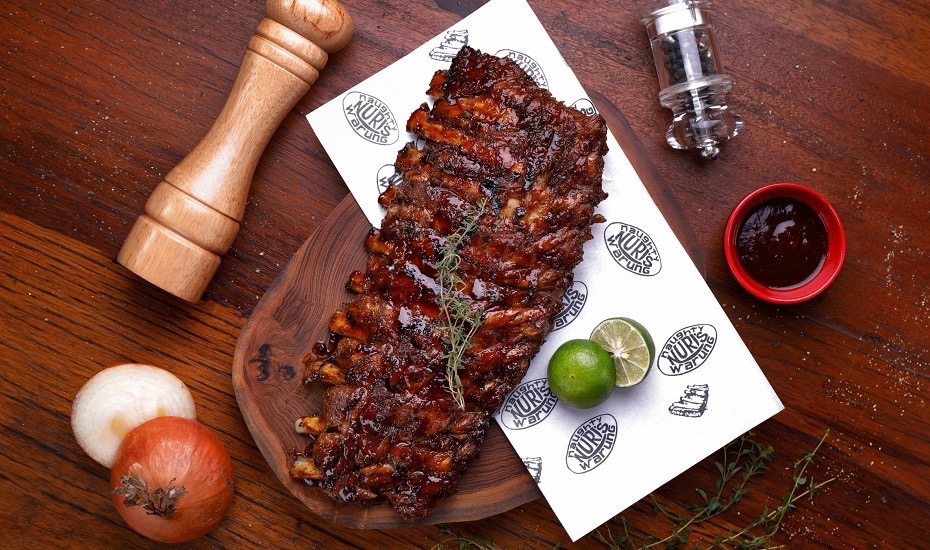 A true carnivorous institution, Naughty Nuri's is famous for its killer, sticky pork ribs that'll leave you and the kids licking your fingers clean. Little piggies will love the juicy burgers, Fish 'n Chips and Spaghetti Alla Bolognese, but it's certainly the ribs here that the whole family will want to get their snouts around. All of this is served up in a casual vibes, with cold beer and twisted martinis – the perfect setting to get some pork on your fork. Psst, you'll also find Naughty Nuri's in Seminyak!
Naughty Nuri's Sanur, Jl Bypass Ngurah Rai No. 77, Sanur, p. +62 361 280 734, e. [email protected]; Open daily 11am – 10pm.
21. Pizzaria
Sitting right on the beachfront of Hyatt Regency Bali, Pizzaria is the easy, breezy Italian restaurant and bar where you can savour and salivate over authentic Italian flavours on the white sands of Sanur. The kiddos can graze on antipasti, pizza from the wood-fired oven, pasta, seafood and meat while enjoying the view and playing on the beach. Then on Sunday, come for the family-friendly brunch with delicious food and free-flow of non-alcoholic drinks – perfect way to spend some quality family time!
Pizzaria at Hyatt Regency Bali, Jl Danau Tamblingan No. 89, Sanur. p. +62 36128 1234; Open daily 11am – 11pm. 
22. Soul on the Beach
Located on the sand at Sindhu Beach in Sanur, Soul on the Beach is perfect for families with kids that need to run and play in close proximity to casual and relaxed dining vibes. The beach is safe for swimming and there are all sorts of beach activities on offer close by. The menus are creative and wholesome, constantly evolving and complimented by a variety of daily specials.
Soul on the Beach, Jl Pantai Sindhu, Sanur, p. +62 813 3975 1932; Open daily 7am – 11pm.
23. Genius Cafe
When it comes to the best kids menu in town, this cafe and social club really is pure genius. For health-conscious eaters slap-bang against a fantastic chilled out beach vibe, Genius Cafe is where you'll find an impressive Little Genius kids menu with great vegan options and allll the wholesome ingredients, like organic fried eggs, local fish, veggie sticks with house-made hummus and plenty of pizzas and pastas. Be sure to check out the cafe's calendar for cool Little Genius events like pet day or baby turtle release from time to time.
Genius Cafe, Mertasari Beach, Sanur. p. +62 877 0047 7788, e. [email protected]; Open daily 7am – 9pm.
24. The Glass House
It's hard not to miss The Glass House, with its white plantation shutters, high glass walls and ceilings, and sense of calm and tranquility. Choose between sitting in the outside 'glass house' or inside in air-conditioned comfort. Coffee and homemade cakes change on a daily basis and the kitchen is open for great Aussie breakfasts, lunches and dinners. Only the freshest food is served and delivered daily from the markets of Bedugul. The kids menu delivers old favourites like spaghetti bolognese, chicken nuggets Bali-style, toasties, chips and even vegemite on toast!
The Glass House, Jl Danau Tamblingan No.25, Sanur. p. +62 819 1612 7035; Open daily 7am – 10pm.
25. The Fire Station
A lively pub and grill, The Fire Station is the perfect place to haul up with the kids for an ice cold beer and good homely grub. Sit back and relax at the front or head inside for the air-conditioned leather interiors, when a Sunday dinner mood takes over and an extensive gastropub-style menu takes centre stage. A Fire Station favourite is the roast lunch every Sunday, with either pork and crackling, or slow-cooked Aussie leg of lamb served with all the trimmings. The kids can choose from burgers, pasta or fish'n'chips – good old english fare at reasonable prices.
The Fire Station, Jl Danau Poso No. 108, Sanur, p. +62 812 3908 7274, e. [email protected]; Open Tue – Sun 4pm – 11pm.
26. Byrd House Bali
Nestled in Sanur's beachside, Byrd House is a beach lounge with cosy Mediterranean vibes the whole fam will love. Mums and dads can sit back on sun loungers by the beach, sip on fresh cocktails poolside from brunch 'til sunset, or relax in the indoor sofas with colourful cushions while soaking in the bamboo-made nest-like interiors. The scrummy menu of comfort food and perfectly baked treats at the patisserie are of course not to be missed! Your kids can make some new friends at the restaurant's outdoor kids club, complete with a kiddie splash pool, a treehouse and a playground. Keep an eye on Byrd House's calendars for fun activities like baby turtle release and face-painting from time to time.
Byrd House, Jl Segara Ayu, Sanur, p. +62 361 288 407 / +62 812 3866 7935, e. [email protected]; Open daily from 6.30am.
27. Pier Eight at InterContinental Bali Sanur Resort
Sitting right on the beach in Sanur, Pier Eight is a family-friendly restaurant by day, and a chic beach bar by night. The menu features a variety of cuisines, from pastas and pizzas, to classic Indonesian dishes like satay and soto. With a long (and we mean long!) list of cocktails and house wines, you'll want to spend a long and leisurely evening propping up Pier Eight's bar. Drop by any day for an early breakfast, since this restaurant is one of the very best spots to watch the sunrise. You'll want to bring the whole fam, as the kids can roam freely (with supervision) with sands on their little toes at the kiddie play area right on the beach…
Pier Eight at InterContinental Bali Sanur Resort, Jl Kusuma Sari No. 8, Sanur, p. +62 811 3800 1775; Open daily.
Best family friendly restaurants in Bali: Nusa Dua
28. Prego
Come to Prego on a Sunday, because this signature restaurant at The Westin Resort is where you'll find a Sunday brunch that's especially themed for families. The kids will have nothing but hearty goodness on offer here, with a selection of home-made pastas, tasty-topped pizzas, made-to-order sandwiches and drool-worthy desserts – they can even try their hands at cooking in the kitchen! Outside, an outdoor play area provides ample space for supervised games, keeping young ones occupied for hours while Mum and Dad can fill up on parma ham and Prosecco. Keep your eyes peeled for Pippo the Squirrel's special appearance, and then splish-splash afterwards at the resort's Premium wing swimming pools, which offers access to all brunchers,
Prego at The Westin Resort Nusa Dua, Kawasan Pariwisata Nusa Dua, BTDC Lot N-3, p. +62 361 771 906 6934; Open Mon – Sat 12pm – 11pm & Sun 11.30am – 11pm.
29. Nusa Dua Beach Grill
An easy and breezy restaurant that won't turn away kids with sandy feet or salty hair, Nusa Dua Beach Grill is a beachfront BBQ restaurant that's perfect for the kiddos when they're fresh off the beach. Take a break from the heat and 'chill at the grill' with an ocean breeze as company. The menu offers a selection of easy daytime fare, such as pizzas and pastas, delicious seafood, and Indonesian staples, alongside a solid list of cocktails and cold beers for Mums and Dads.
Nusa Dua Beach Grill, Jl Pura Geger, Nusa Dua, p. +62 361 743 4779 / +62 811 3983 779; Open daily 8am – 8pm.
Best family friendly restaurants in Bali: Kuta
30. Cosmic Diner
This really is the ultimate American diner experience. Take the kids back in time with kitsch-tastic 60s decor and enough technicolour interiors to blow any Instagram cobwebs away. Mouth-watering burgers, pancakes and waffles are served up alongside pasta dishes, soups and salads – there's something for everyone to choose from. Go Cosmic, the kids will love you for it!
Cosmic Diner, Jl Sunset Road, Kuta, p. +62 877 6129 7722; Open Mon – Thu 11am – 9pm, Fri – Sun 11am – 10pm.
31. Jamie Oliver Kitchen Bali
At Jamie Oliver Kitchen, the kids can eat for free on scrumptious munch that's not only good for their little tums, but easy on your holiday budget too. Favourites include spaghetti meatballs, margherita pizza and happy chicken lollipops, plus six-veg curry with fluffy veggie rice. And to bump up the fun factor, there's even activity packs for the kiddos that include stickers, crayons, and colouring sheets.
Jamie Oliver Kitchen Bali, Jl Pantai Kuta, Kuta, p. +62 361 762 118, e. i[email protected]; Open daily 12pm – 11pm.
32. Splash Bistro at Hard Rock Hotel
What kid doesn't love a bit of al fresco dining by the pool with a freshly prepared wood-fired pizza followed sharply by trio of ice cream? But there's so much more to choose from. Kids can take their pick of Fish and Chips or chicken sausage pizza, or Indonesian-style fried rice and noodles, and even fresh grilled chicken salad.
Splash Bistro at Hard Rock Hotel, Jl Pantai Kuta, Kuta, p. +62 361 761 869; Open daily 10am – 10pm.
Finish it all off with some ice cream & gelato…
No lowdown on family dining is complete without a mention of ice creams and our favourites include: Gustos in Kerobokan, Massimo in Sanur and Mad Pops vegan ice-cream in Canggu.
Happy munching, Honeys!

Love this list of family friendly restaurants in Bali? Check out our list of top hotels with fun Kids Clubs too!