For your slow mornings and lazy afternoons, here are the best cafes in Bali... Think jungle-hugged coffee shops in Ubud, to beachside brunching in Seminyak!
Between fashion shopping in Seminyak, surfing in Canggu and trekking through the rice terraces of Ubud, adventuring in Bali can be hungry work. But the best way to fuel up for a day of island exploring? A wholesome breakfast, a great cup of coffee and a cosy nook to enjoy it all in. And luckily, Bali is jam-packed with awesome cafes on every corner, complete with those all-important breakfast staples (avocado on toast, we're looking at you), and strong beans for a much-needed pick-me-up. So, we've hopped our way around the island to find the very best cafes in Bali, from Ubud to Uluwatu, and of course, Seminyak and Canggu too. Here's where to go for the very best breakfast, brunch and delicious lunch in Bali – stunning views and Instagrammable dishes included!
THE BEST CAFES IN BALI
The best places for breakfast, brunch and lunch
THE BEST CAFES IN SEMINYAK
1. Shelter Café
With its breezy rooftop vibes and super chilled, tropical nooks to escape Seminyak's busy streets, Shelter has become a fave hideout for Bali's breakfast crew. Its eclectic and jungle-style space is perfect for morning meetings or great nibbles surrounded by exotic plants. We could spend an entire day here, munching away on the Middle Eastern and Mediterranean plates that are bursting in flavour and colour. And the best bit? They've opened in Canggu too, so you're never too far from Shelter!
Shelter Café, Jl Drupadi 1 No. 2b, p. +62 821 4706 4407, e. [email protected]; Open daily 8am – 4pm.
2. Revolver Espresso
One of the OG's when it comes to Bali's caffeine obsession, Revolver Espresso is where you go for some Seriously. Good. Coffee. What started out as a teeny tiny boutique coffee shop tucked away down a little laneway in downtown Seminyak, has become one of the island's best known coffee brands, with top-notch beans sourced from the best farmers, roasted and blended locally in Bali. Revolver now has two Seminyak locations and one in Canggu too, complete a long-time following that flocks to this island icon for sensational brekkies, alongside its insanely good cuppas. You could easily forget you're in Bali in this city-warehouse-style coffee nook!
Revolver Espresso, Jl Kayu Aya Gang 51, Oberoi (p. +62 812 3842 8343) & Jl Petitenget No. 101 (p. +62 851 0244 4468); Open daily.
3. KYND
SO much more than just a vegan café, KYND is a whole community of earth-conscious foodies serving up 100% plant-based creations that will knock your sandy socks off. Veggies and vegans rejoice, because their inventive menu is packed full of both sweet and savoury knockouts, while carnivores, get ready to be converted (or educated at least…) with some seriously good plant-based food. For brekkie and brunch, it's all about smoothie bowls, waffles and a hot latte. As for lunch, go for the big colourful salad bowls, butter "chicken" curry, peace-zzas and the most colourful cocktails around – finished off with a vegan ice-cream from the technicolored creamery next door. Now, who says vegan food is boring….?
KYND Community, Jl Raya Petitenget No. 12x, p. +62 859 3112 0209, e. [email protected]; Open daily 7.30am – 10pm.
4. Sisterfields
Bali's pioneering brunching institution, Sisterfields has been a hit since day one, establishing itself as one of the very best cafes in Bali. Drawing in Seminyak's hungry brunch crowds every single day for brekkie, lunch and dinner, it's fair to say that this Melbourne-inspired cafe is doing something right. Fear not though, the service at Sisterfields is always faultless, so it's never long before the ever-smiling staff have you settled in, sipping and snacking away on the incredible, Instagrammable dishes – pulled pork charcoal rolls, pancakes with red berries, and truffle mac and cheese, no less.
Sisterfields, Jl Kayu Cendana No. 7, Seminyak, p. +62 361 905 0507; Open daily 7am – 9pm.
5. Café Organic
Seminyak's Café Organic is undoubtedly one of the best (and tropi-coolest!) cafes in Bali… for good reason! With its fresh white walls, indoor palm trees and pineapples on every table, this place is a 'grammer's dream. The breakfast, nibbles and lunch menus are full of vegetarian fare that's not only fabulously presented, but also super health-conscious, from big salad bowls and veggie burgers, to loaded toasts and buffalo cauliflower wings. Drinks-wise, it's all about healthy smoothies, juices, top-notch coffee and happy kombuchas for a truly guilt-free tea break.
Café Organic, Jl Petitenget No. 99x Seminyak, p. +62 878 5522 3426, e. [email protected]; Open daily 8am – 4pm.
THE BEST CAFES IN CANGGU
1. The Avocado Factory
Avocado all day, every day – that's our kind of heaven. And luckily, The Avocado Factory agrees. Here, you'll find avocado in everything, from avocado on toast, avocado in your burger, avocado in the smoothie bowls and heck, why not add chunks of avocado to the dipping sauces, too? These guys are just as mad about nature's green gift as we are, giving our go-to the recognition it deserves – all overlooking the rice fields of the 'Gu. Everything on the menu features local avocados (from both Bali and Java) in some form or another. Try the Avo Pancakes for brekkie, the spicy avocado mash on sourdough for lunch (the chilli dust gives it an extra kick!), and finish it all off with an avo-licious chocolate mousse for dessert. It's all avo everything, ripe for the picking!
The Avocado Factory, Jl Batu Mejan, Canggu, p. +62 813 3738 2521; Open daily from 7am.
2. The Shady Shack
True to its name, you'll find shady seating areas beneath swaying palms at The Shady Shack. And as one of the best vegetarian and vegan cafes in Bali, you can expect an entire menu that's meat-free and centred around healthy and nourishing fare. We love the Heaven On Earth smoothie bowl with exotic fruits like soursop and goji berry for breakfast, followed by the hearty Tempe Bowl or juicy vegan burgers for lunch. FYI, the raw banoffee cheesecake is to die for. Grab a cold coconut, a long black or better yet, boost that immune system with a turmeric latte. Nommmm…
The Shady Shack, Jl Tanah Barak No. 57, Canggu, p. +62 812 3611 6466, e. [email protected]; Open daily 7.30am – 10.30pm.
3. Crate Café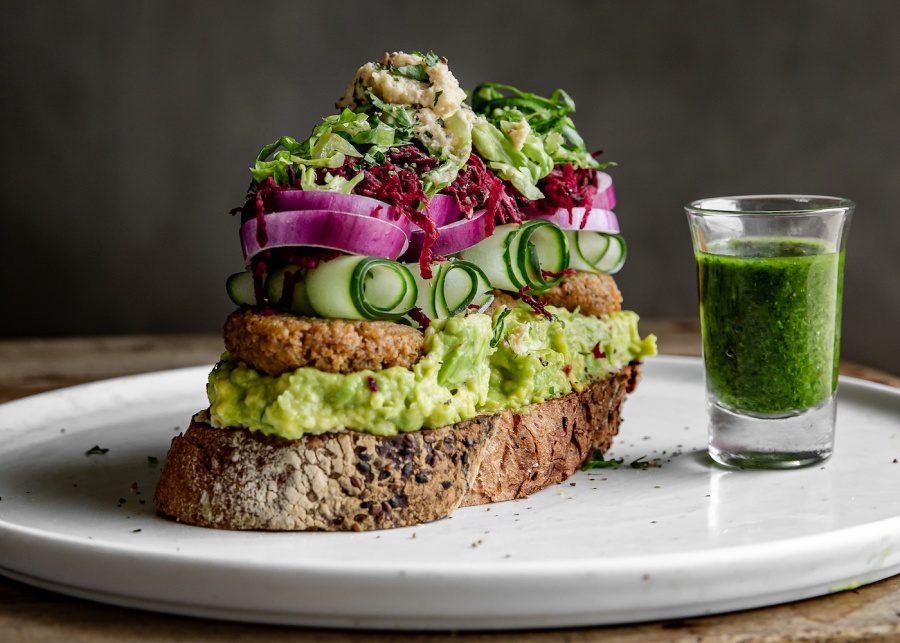 Hipster coffee shop meets boutique brunch spot at Crate Cafe – one of the coolest cafes in Bali. This buzzing hangout spot is tucked away on a quiet lane just off Batu Bolong, home to its iconic industrial-chic interiors, bold murals and of course, a long queue out the door every morning for its affordable and epic breakfasts. But fear not, the super fast service means their smoothie bowls and awesome coffees are never a long wait away, and hot tip: you can always pass the time by browsing their designer boutique.
Crate Café, Jl Canggu Padang Linjong No. 49, Canggu, p. +62 812 3894 3040, e. [email protected]; Open daily 6am – 5pm.
4. Baked
A one-stop-shop for brunch and bakery goodness, head to Baked in either Berawa or Pererenan to really start your day right. For breakfast, stop by for creamy poached eggs, fresh-outta-the-oven artisanal sourdough, and oh-so buttery croissants half the size of your head! Or go big with the royal folded eggs with Arctic caviar, or the Korean honey toast with mascarpone, honeycomb and elderflower. Plus, you can also grab some sweet treats to take home, like cruffins, Pastel De Nata and baklava.
Baked, Jl Pantai Pererenan No. 118, Perenanan, p. +62 812 4657 3336; Open daily 7am – 4pm.
5. Sensorium Bali
Minimalistic meets elegance at Sensorium Bali – an elevated brunch restaurant for a multi-sensorial culinary experience that will satisfy all five senses. Expect modern Australian cuisine with an Asian twist, and boundary-pushing creations like the Textural of Mushrooms (sautéed and fried wild mushrooms and seaweed paste on rye), a brunch ramen with 62-degree sous vide egg, and the signature Korean-style Bulgogi BBQ beef burger, loaded with homemade pickled daikon, spring onion, coriander and charred lime. Yup, this isn't your typical brunch spot…
Sensorium Bali, Jl Pantai Batu Mejan, Canggu, e. [email protected]; Open Tue – Sun 9am – 4pm.
THE BEST CAFES IN ULUWATU
1. Ours Bali
Uluwatu's favourite all-day cafe and restaurant, Ours would fit right into Bondi Beach, complete with tropi-cool interiors that mix Balinese open-living with Scandinavian architecture and Mediterranean flavour. And that's before we mention how damn delicious the food is! Graze on Moroccan fried eggs on chargrilled spicy sourdough for brekkie, before coming back for the crispy skin Barramundi at lunch and the chicken stroganoff for dinner. All of this is best enjoyed with Ours' list of classic cocktails. And with a focus on high quality local ingredients and a sustainable approach to food, you can feel good about tucking into the whole lot too…
Ours Bali, Jl Labuansait No. 39, Pecatu, p. +62 813 5337 3163, e. [email protected]; Open daily 8am – 11pm.
2. The Cashew Tree
Only a short stroll away from the cliff-tops of Bingin, The Cashew Tree is where families mingle over brunch and lunch in the al fresco restaurant, and come back again in the afternoon for a cold juice or smoothie. The fully stacked menu is fresh, healthy and organic, with plenty of vegetarian and vegan dishes alongside platters of fries and an epic cocktail list. There's even the uber-popular Bali Training Centre here, meaning you can tag a workout onto your morning coffee fix and swing by after for a much-needed fuel-up.
The Cashew Tree, Jl Pantai Bingin No. 9, Pecatu, p. +62 859 5378 9675; Open daily 7.30am – 10pm.
3. Ulu Artisan
For a casual pre-surf feast or a fancy night out with friends, head to Ulu Artisan just footsteps from Uluwatu's famous waves. Swing by early to feast on curried scrambled eggs, bacon pancakes, crispy potatoes and awesome cappuccinos. The daily rotating salad bar is perfect for lunch, while dinner time calls for the wood-roasted pumpkin and a Tokusen Wagyu striploin. Got room for dessert? Try the Bedugul strawberry sorbet with meringue, mascarpone and basil, or the sticky toffee pudding with croissant ice cream. You'll soon see why this sleek spot is one of the hottest new cafes in Bali.
Ulu Artisan, Jl Pantai Labuansait Suluban, Pecatu, p. +62 821 4062 9605; Open daily 7.30am – 11pm.
4. Gooseberry Restaurant & Boutique
From the creative babes who gave us Bali's internationally-acclaimed lingerie and swimwear label, Gooseberry Intimates, the sister cafe and restaurant is a tropical oasis of modern cuisine, air-conditioned interiors and a sun-soaked pool for a post-brunch dip. Tucked away above Bingin Beach, here you can graze on the brekkie and lunch staples (hellooo French omelette soufflé and potato waffles), or swing by later for dinner and go all out with the selection of wood-fired meats and grilled seafood.
Gooseberry Restaurant & Boutique, Jl Buana Sari, Gg Pirta, Pecatu, p. +62 821 4482 3166, e. [email protected]; Open daily 8am – 10pm.
5. Suka Espresso
Coffee lovers in the Bukit, this one's for you! Suka Espresso sources the best beans from all over Indonesia and South America to brew the perfect cuppa to start your day right. That's before we mention the breakfast and lunchtime dishes, all of which are super affordable and oh-so popular. Think avo on toast, stuffed sandwiches, chilli scrambled eggs and colourful smoothie bowls. Yup, this is a must-try tropical stop-off for your daily coffee and brunch fix…
Suka Espresso, Jl Labuansait No. 10, Uluwatu, p. +62 812 4652 7605; Open daily 7.30am – 9.30pm.
THE BEST CAFES IN UBUD
1. Pison
With rice fields in the backyard and European-style interiors, Pison perfectly blends Asian and Western influences in Ubud. The fusion menu highlights the abundance of local coffee beans and high quality, fresh ingredients. For breakfast and brunch, sip on a chilled Avocado Espresso as you graze on a buttermilk pancake or the creamy homemade chicken curry with poached eggs and a croissant to mop up all the goodness. You'll want to come back for lunch and dinner to try the Indonesian nasi goreng twists (the crispy pork belly is our fave!). Wash it all down with Pison's signature cold brews, or make it a Flat White Martini instead…
Pison, Jl Hanoman, p. +62 813 3774 9328; Open daily 7am – 10pm.
2. Milk & Madu
A list of Bali's best cafes simply wouldn't be complete with this OG. Milk & Madu is everyone's favourite when it comes to brunching all day. Originally from Canggu, the Ubud 'hood has been well-fed with M&M's oh-so-delicious all-day breakfast menu, sumptuous lunches and delectable dinners. We say start with skillet eggs for breakfast, followed by the variety of juicy burgers, and end the day with their epic wood-fired pizzas. And just like its Canggu sister, the vibes here are tropical, cool and cosy with just enough industrial-chic decor to make you #interiorcrush.
Milk & Madu, Jl Suweta No. 3, Ubud, p. +62 813 2975 6708, e. [email protected]; Open daily 7am – 10pm.
3. Alchemy
Vegan sorcery and raw chocolate wizardry come together at Alchemy, a gorgeously stylish Ubud cafe, where love, authenticity, health and gratitude are at its core. Think raw food goodness that will nourish your body from inside out, matched with sweet treats like their decadent banoffee pie or sugar-free ice cream Bounty bars – all best enjoyed with a cup of single-origin coffee or chilled kombucha. Simply magical.
Alchemy, Jl Penestanan Kelod No. 75, Sayan, Ubud, p. +62 821 4690 8910; Open daily 7am – 10pm.
4. Clear Café
A one-stop-shop for all things healthy and nourishing, Clear Café offers a 'clean food for clear minds' philosophy, matched with homey furnishings and a quirky soundtrack to serenade you all day. Check out the refreshing list of tonics and elixirs, before diving into the super-delish international vegetarian and pescatarian menu. This one's a must-visit Ubud classic!
Clear Café, Jl Hanoman No. 8, Ubud, p. +62 878 6219 7585, e. [email protected]; Open daily.
5. Cafe Pomegranate
Homemade is the name of the game at Cafe Pomegranate. Plonked right in the middle of Ubud's emerald green rice paddies, this al fresco cafe is a hideaway from the busy downtown streets, and is simply stunning all day. In the morning, start the day with a homemade chai tea and a pumpkin carrot soup looking out towards the majestic Mount Agung. Then for lunch, try the Singaporean-style wanton noodles and a refreshing jamu to wash it all down. And as the stars appear and fireflies come out to play, swing by for a Bonito Pizza that's best paired with the homemade Sangria…
Cafe Pomegranate, Jl Subak Sok Wayah, Ubud, p. +62 878 6080 3632, e. [email protected]; Open daily 9am – 9pm.
THE BEST CAFES IN SANUR
1. Genius Cafe
Looking for the best vegetarian and vegan-friendly menu in Sanur? Head to this cafe and social club right on Sanur Beach. Genius Cafe is pure genius when it comes to healthy dishes, with a menu full of great vegan, gluten-free, egg-free, dairy-free or nut-free options. Breakfast and brunch here call for colourful smoothie bowls, smashed avo or a big portion of scrambled eggs with veggies and sourdough toast. And if you're dining with kids, you'll want to check out the Little Genius menu with all its wholesome ingredients, like organic fried eggs, veggie sticks with house-made hummus and plenty of pizzas and pastas. Be sure to check out the cafe's calendar for cool Little Genius events too! Think pet days and baby turtle releases!
Genius Cafe, Mertasari Beach, Sanur. p. +62 877 0047 7788, e. [email protected]; Open daily 7am – 10pm.
2. Batujimbar Cafe
An oldie but a goodie, a list of the best cafes in Bali isn't complete without Batujimbar Cafe. A veteran in Sanur's culinary scene, head here for a taste of Indonesia with a few twists! For an authentic Indonesian breakfast, try the local fave Bubur Ayam – chicken congee with all the trimmings, and spice it up with a dash of sambal if you dare… You can't go wrong with Batujimbar's take on nasi goreng for lunch, and as for dinner, try the bebek goreng rempah; crispy fried duck leg that's been marinated with all every Indonesian spice you can think of, served with lalapan and sambal… A local feast at its best!
Batujimbar Cafe, Jl Danau Tamblingan No. 75A, Sanur, p. +62 812 4659 6499; Open daily 6.30am – 11pm.
3. Smorgas
Another expat fave in Sanur, Cafe Smörgås serves up a smorgasbord of authentic Swedish dishes. We're talking Toast Skagen (shrimp mixed with dill, boiled egg, mayo and crème fraiche) for breakfast, while for lunch, try the pickled mustard Herring with potatoes, or the classic Biff Rydberg with cubed beef, onions, potatoes, Dijon and runny egg yolk. Then for dinner, you can't go wrong with everyone's fave Swedish meatballs on mash, served with gravy, lingonberry and house-pickled cucumber.
Cafe Smörgås, Jl Danau Tamblingan No. 56, Sanur, p. +62 813 3705 5393; Open daily 7am – 11pm.
4. Over the Moon Cafe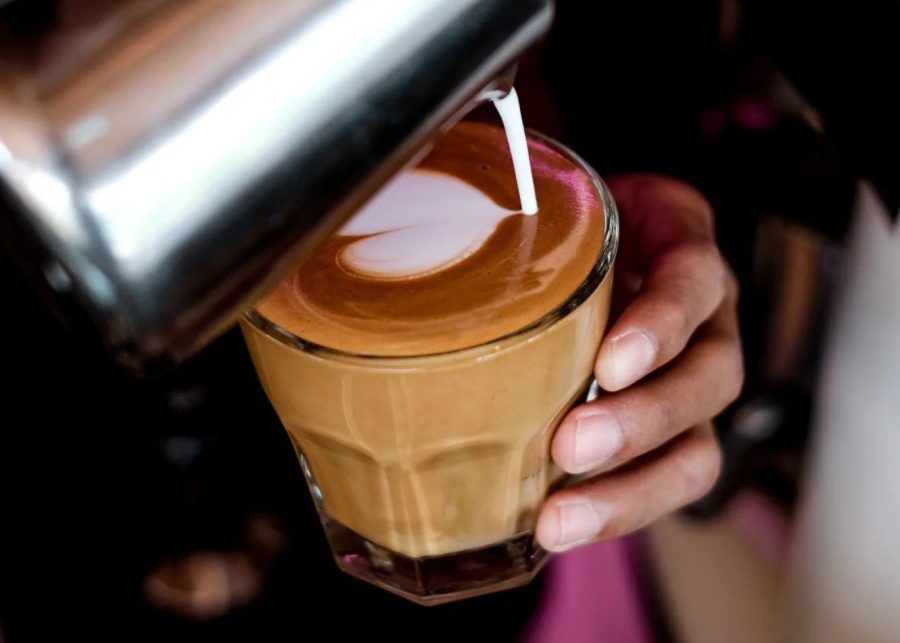 Cosy, family-friendly and great for digital nomads too, at Over the Moon you can tuck into wholesome food, and of course, a freshly-brewed cup of coffee. They use the best beans which are locally sourced and roasted by Seniman and Arca for a wonderfully rich flavour. All the classic cuppas are best sipped with the classic French toast for brekky, or the signature rice bowl topped with sticky tempe for lunch, before finishing off with a homemade bread and butter pudding.
Over the Moon Cafe, Jl Danau Tamblingan No. 19, Sanur, p. +62 822 2551 1012; Open daily 8.30am – 9pm.
5. LeMo Beach Cafe
Located right by the sea, LeMo Beach Cafe is one of the best cafes in Bali for a healthy breakfast and a golden sunrise. This beach shack chic cafe is where it's at for superb coffee and nutritious, delicious dishes (yep, vegan, gluten-free and sugar-free options are available too!). Grab a seat by the sand and sip on a hot coconut coffee, refreshing Jasmine Kombucha or dragonfruit smoothie, sprinkled with crunchy seeds, dried goji berries and shredded coconut. For lunch and dinner, take your pick from the wholesome, healthy dishes, and as dessert is the specialty here, it's only right to end each meal with a sweet treat by Malaika Kitchen Lab. Our fave? The delectable slice of pumpkin chocolate cheesecake…
LeMo Beach Cafe, Jl Duyung No. 69a, Sanur Beach, p. +62 811 389 897; Open Tue – Sun 7am – 10pm.
Have you tried all the best cafes in Bali? Check out Bali's best restaurants too!