School holidays around the corner? Spending a family holiday in Bali? These fun and educational kids camps in Bali have got you covered...
Calling all cool parents! If the school break is rolling around waaay too quickly, and if you're at a loss to find fun, exciting, educational things to do with the kiddos, then fret no more. We asked fellow mum and Bali adventurer, Rebecca Foreman, to compile the ultimate list of cool kids holiday camps that tick the boxes for curious kids on the move! Think cultural camps, educational programmes, adventure-packed activities, sports courses and even nature-bound camps that your little travellers can join for a single day, a full week or even throughout the entire school break. And yes, mums and dads, you can join in or drop them off (worry-free!) meaning you can hit the beach while they boost their brainpower… Parents, be sure to bookmark this list for your next family holiday in Bali!
Kids camps and holiday programmes for families in Bali
1. Island Camps at AYANA
For little adventurers with curious minds, sign up to Island Camps at AYANA Estate, where nature and all its outdoorsy wonders are at your fingertips. This five-star resort on Jimbaran's dazzling coastline is where mums and dads can soak in paradise, while kids are immersed in unforgettable nature-inspired programmes. For starters, young ones aged 2.5 to six years-old can join Guidepost at AYANA – a bilingual (English and Mandarin) week-long Montessori programme with indoor and outdoor classrooms, where daily activities sharpen language skills and immerse your explorer in nature. Then there's Green Camp AYANA, with its single or multi-day outdoor activities and nature programmes for kids aged between 7 to 12 years-old. Think bamboo building, survival skills and gardening too. And psst! These camps come with special room packages for families and their little campers, including discounted room rates, daily breakfasts, resort credit, spa treatments, Thalassotherapy experiences, and so much more… Book here to score up to 25% off!
2. Boundless Life
Boundless Life offers something quite special for families looking to immerse into a community. SO much more than just a holiday programme, they offer an immersive learning experience through which the kids can get to know the island and Indonesia's rich culture. Based in its gorgeous Sanur campus, the children can take part in Boundless Camps' two, four or six week programmes, with each two-week course focusing on a different topic. Think traditional Batik-making and pottery classes during art week, kite-flying during sports week, and excursions to the wildlife conservation centres during science week. The best part is, everyone in the family gets to make boundless connections and friendships with like-minded travellers!
3. Green Camp Bali
Unplug from your busy life and reconnect with your family at Green Camp Bali, part of the world-famous Green School, with its goal of pioneering sustainability within education. Nestled in the heart of Bali's breathtaking jungle, this is your chance to rediscover the joy of adventure, culture, creativity, and sustainable living with like-minded souls. Green Camp offers a number of meticulously designed camps and programmes that allow the kids to explore the great outdoors, learn about the environment and how to make a change, all whilst engaging with the island's captivating flora and fauna.
4. Pelangi School Camp
Pelangi School Camp is the ultimate camp for kids looking to get creative over the summer break in Ubud. Based inside this non-profit school, the Creative Summer Camp invites all students and children in the community to a day, a week, or the entire month-long programme. There's Kindy Camp for ages three to six years, where a world of exploration and imagination awaits for young learners. Junior Camp (for ages seven to nine) lets kids unleash their creativity and camaraderie through thrilling activities, while  Senior Camp (for ages 10 to 12) is where tweens can embrace challenges and build lasting friendships in an action-packed setting. Get the kiddos ready for creative nature-based projects, invigorating yoga, rhythm-filled music and dance, culinary escapades, swimming, cultural activities, guest artist appearances, and captivating arts and crafts. The possibilities are limitless!
5. Wood School
Kids, get ready for an unforgettable journey in beautiful Bali! People from around the world have the opportunity to come together to create magical memories at Wood School Camps. With this tried-and-true approach, the Wood School immersion camps offer fun and dynamic programmes that empower kids to shine individually, bringing Indonesian folktales to life through traditional costumes and captivating short films. From ongoing yoga and vegan cooking to painting, crafts, and woodworking, the opportunities for fun and learning are endless. And psst… expect the kids to create special treasures to bring home!
6. Junior Sports Academy
A part of Canggu's famous entertainment and sporting centre, Junior Sports Academy at Finns Rec Club is designed for cool kids to unleash their energy through the wonderful world of sports. Both on and off the pitch, kids aged three to 17 years can make friends and learn some serious skills from professional athletes and coaches. The academy is open throughout the school year, including term breaks and weekends. There's plenty of sports and physical activities on offer, from basketball, soccer and boxing, to swimming, surfing and dance. Psst… you'll want to check out the academy's calendar for its special sports camps, which are run by some of the world's most elite teams and athletes, like the Real Madrid Foundation. Yep, that Real Madrid!
7. Klim Swim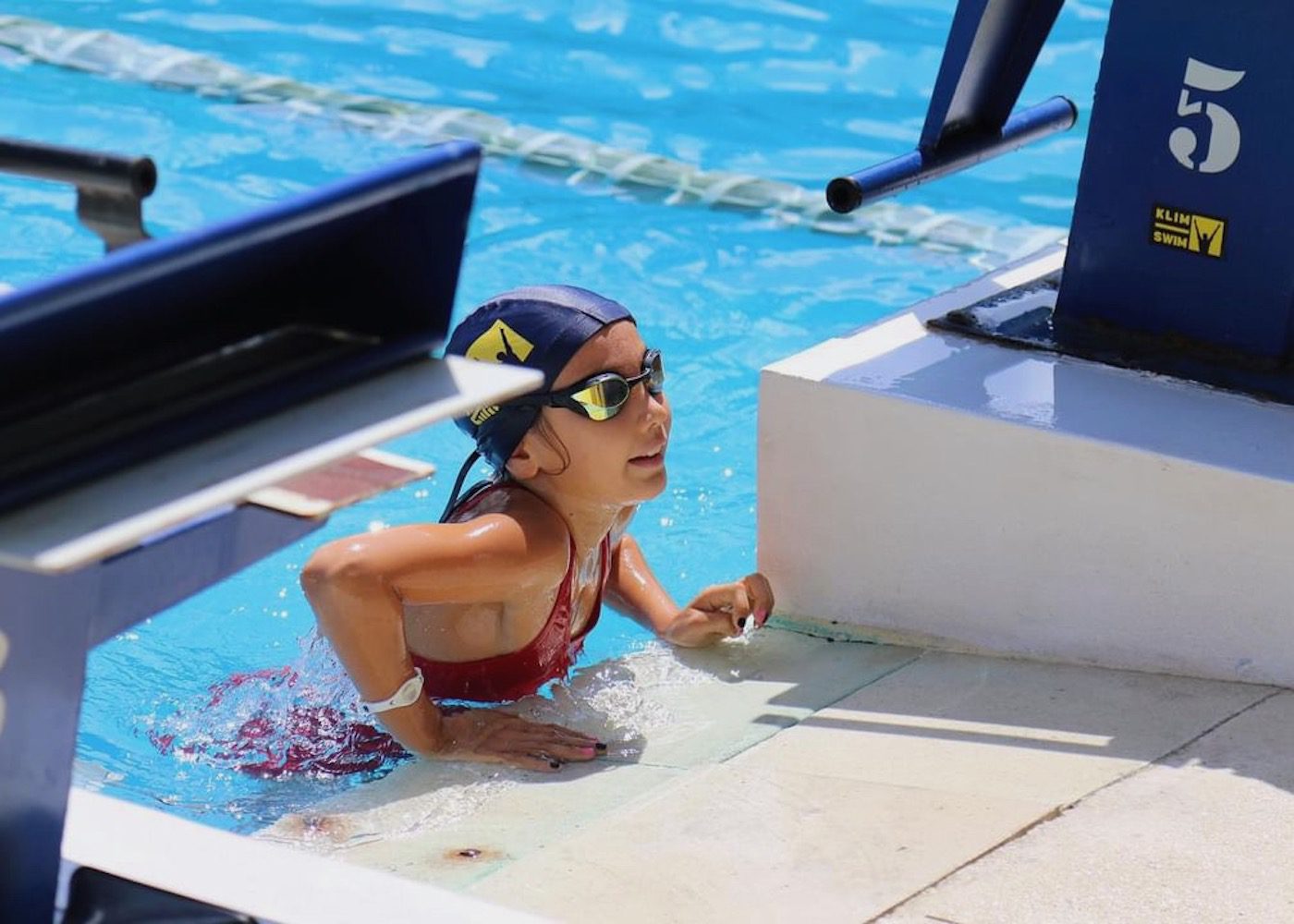 With Michael Klim as the Head Coach (AKA Australia's Olympic Gold Medalist) Klim Swim is the renowned, Australian-certified learn-to-swim institution that's now in Bali at Finns Recreation Club. Their programs range from Learn To Swim for infants as young as 6 months, to Pre-Squad & Squad training, school programmes, private lessons  and holiday camps too. Each programme imparts proper swimming techniques to swimmers of all skill levels, with an emphasis on water safety, technical prowess, and positive training habits, all within an engaging and safe environment. All classed are led by expert instructors (sometimes by Michael Klim himself!) and all swimmers will receive close guidance on strokes, drills, starts, turns, and finishes.
8. Capella Ubud
If you're looking for luxe-glamping digs combined with curated activities for children between 6 and 12 years old, then look no further than Capella Ubud. The Keliki Farmer programme takes a fascinating look at how Bali's rice culture, planting, growing and harvesting is linked to temple ceremonies. Stroll around the rice paddies and meet friendly villagers who'll you into their humble hut for a cup of tea, before stopping off for a homemade picnic and a shot at making your own bamboo-framed, hand-painted kite. The rice terraces surrounding Capella Ubud are the perfect location to launch your colourful creation, or take it home to hang on the wall. Next, the Balinese Home Cooking programme at the Camp's Post is helmed by your friendly Balinese host, Pak Dewa – a fifth generation Keliki farmer. He'll walk you through the verdant landscapes, plucking thriving seasonal ingredients and harvesting vegetables and fruit for his recipes. This one's for the whole family!
9. Soulshine
Not only for kids, Soulshine Bali believes all families should experience wellness without compromise. As such, their family-friendly rooms and suites are a haven for connection, comfort and togetherness. To help parents find their balance, highly trained nannies are at your service, allowing you the luxury of attending yoga classes or indulging in a tour while your kids are in expert care. The kids can splash in three pools, swoop down supervised water slides, and engage in on-site experiences. From interactive cooking sessions to immersing in the rice fields to learning about traditional farming practices and even trying their hand at planting rice – every activity promises hands-on joy and learning. For older children, there's mountain biking, heart-pounding ATV tours, and visits to enchanting water temples. Whatever they choose, each excursion is designed for a harmonious balance between self-care and cherished family moments.
10. Club Med Resort Bali
Club Med offers a haven of rest, relaxation, excitement and fun for all the family. This is the perfect place to take time for self within a caring and engaging environment for the kids. Each age bracket (0 to 17 years-old) has access to an extraordinary kids club with services and activities tailored for each age group. Just imagine, from baby to teen, all needs are taken care of, so you can take a moment to chill. And what about older kids? Club Med's "Freedom to Choose" philosophy lets teens explore a variety of sports and creative activities tailored to their interests, and as they tackle challenges together, bonds flourish naturally. Expect to watch your kids adventure, grow, and connect, while building life skills that extend long beyond your stay.
11. (BONUS) Kids surf camps in Bali!
When it comes to surfing, Bali has no shortage of schools and camps on offer. Kids of all ages can learn the art of riding waves all over the island. We've handpicked a few of our favourites that offer certified coaching and extra special care for water babies who want to dive in! Tailored lessons ensure your child's safety with high-quality gear and attentive instructors. Kids will gain confidence as they learn to ride the waves, supported by patient mentors guiding them to success. With single-person sessions, guaranteed extra attention, and theory lessons to enrich their understanding of surfing, these tried-and-tested surf providers are the bee's knees. Try: Rip Curl School Of Surf, Odyssey Surf School, and Tropic Surf.
Want more inspo for your next family holiday in Bali? Check out our kids guides for fun across the island!