Singapore's brimming with cool indoor activities!
Whether it's the rain, the haze or the heat, we've got you covered with plenty of fun indoor activities in Singapore.
They say that when it rains, it pours. We can't agree more! In this case, Singapore's pouring with cool things to do indoors during thunderstorms. Yes, the usual sheltered rooftop bars or binge-watch lists may come in handy, but why not try something new for a change? Before you text your friends to cancel your plans, send this list of indoor activities in Singapore to your group chats for a solid contingency plan. Have little ones? Our sister site HoneyKids offers a massive list of things to do with the kids!
Fun indoor activities and things to do in Singapore
1. Explore the jewel of Changi
Our airport is known for being one of the world's best for good reason, but Jewel Changi Airport takes things to a whole new level. All kinds of shops and restaurants are at your fingertips – you won't run out of things to do, for sure. Plus, we can never get enough of gorgeous attractions like the Shiseido Forest Valley and HSBC Rain Vortex. Oh, and the Canopy Park and Manulife Sky Nets will keep you (and your little ones) entertained for the day.
2. Escape is the name of the game
Make like Houdini and find your way out of escape rooms in Singapore – they're one of our fave indoor activities. Each mystery is a puzzle to unlock, so come with your thinking hats on and bring your buddies to tackle the clues together.
3. It's all about adrenaline fun
Who says you need to be outdoors to sweat it out? We've got awesome trampoline parks including Bounce and Amped, as well as laser tag spots. Let's not forget Axe Factor, where you can hurl an axe at a target board to vent your stresses.
4. Hit the gym
If your plans to go running just got ruined by the rain, head to the gym for a full-body workout instead. Not much of a gym buff? Perhaps boxing, yoga or Pilates classes are more up your alley.
5. Feel like a kid again
We're talking about indoor arcades. Fun times await at places like Cow Play Cow Moo, Timezone and Fat Cat Arcade. Seriously, we can spend hours playing our fave games. Time just flies!
6. All the world's a stage
We love our plays, dramas and musicals, especially when they're produced by beloved local theatre companies. Keep tabs on the likes of Pangdemonium, Wild Rice, The Theatre Practice, Singapore Repertory Theatre and loads more for incredible productions.
7. Nature, but make it indoors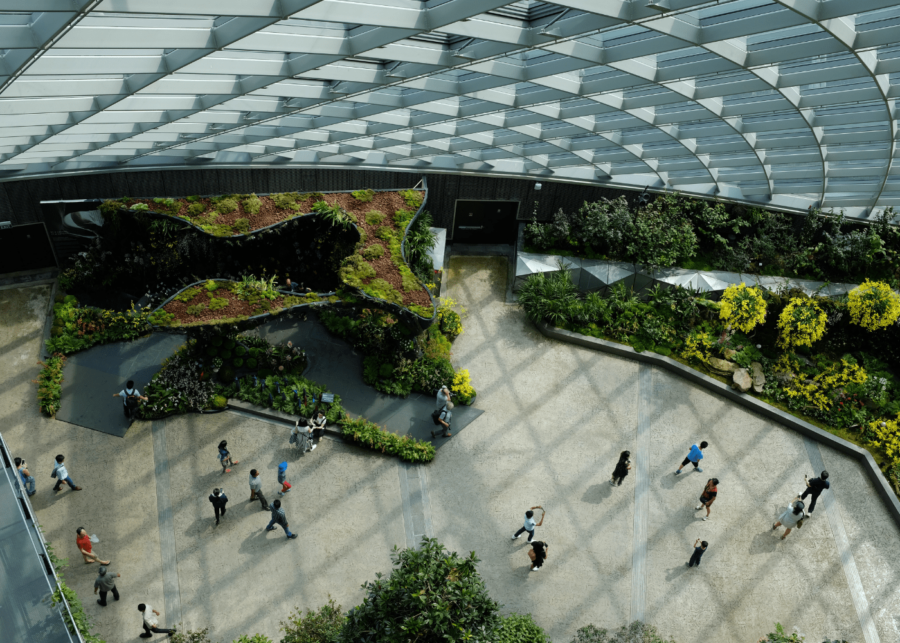 So you love exploring the great outdoors? Well, save yourself the hassle of umbrellas and wet clothes. Instead, make your way to Gardens by the Bay and marvel at the beauty of nature in air-conditioned attractions like Cloud Forest, Flower Dome and Floral Fantasy.
8. Shop your heart out
Spoken in true "White Chicks" fashion, Singapore is overflowing with amazing malls for retail therapy. Shopping is, after all, one of our favourite pastimes. From newer kids on the block such as Funan to a whole trail of malls along Orchard Road, you'll be spoilt for choice.
9. Treat. Yo. Self.
Real talk: we don't need a reason to treat ourselves every now and then. Hell, we're down for a spa sesh anytime! It's the perfect opportunity to indulge in a facial or loosen those knots with a massage, no matter your budget.
10. Watch a movie at an alternative cinema
Watching a movie at a mainstream cinema is one thing. But for a unique experience, book your tickets to catch an indie flick at one of Singapore's alternative cinemas instead. Psst: you can also go luxe with premium and gold class seats at theatres around town!
11. Put your fishing skills to the test
Who says prawning has to be outdoors? Fish @ Bugis+ is the country's only rooftop indoor prawn fishing spot. The chill space also offers longkang (drain) fishing for kids and a bar for those who love to admire the skyline view with a drink in hand. Come rain or shine, you know this family-friendly hangout will always be open.
12. It's a strike!
Strap on your bowling shoes for an afternoon of strikes and spares at the coolest bowling alleys in town. These hotspots feature everything from glow-in-the-dark parties to professional lanes – you'll be having a ball of a time indoors.

13. What's your age again?
Unleash the child in you or tap into your competitive side with indoor golf at Holey Moley. We love the quirky themes you'll meet as you make your way across the course. You'll never get bored here!
14. Say hello to the sound of silence
Fancy spending an afternoon surrounded by classic novels and new titles at a public library? Some of our favourite spots have amazing architecture and fab facilities. Just check out Tampines Regional Library (it boasts a running track and indoor playground!) and [email protected] (for fans of the performing arts). Of course, let's not forget the centrally-located [email protected], which you'll see splayed all over Instagram thanks to its lovely space.
15. Pick up a new skill
You've had this on your to-do list forever but just never found the time. Now's your chance to learn something new! From art jamming to cooking classes, creating your own cocktails to craft workshops, there's something for everyone. Some sessions need to be booked in advance, but there's no harm in trying your luck for an extra spot. *wink*
16. Curl up with a cute kitty
This one is for all cat ladies and gentlemen. Have purr-fect day with the cutest cats in town! Order a cup of coffee and proceed to destress by watching some kitty antics. *Controls squealing*
17. Hit the ice
Love the feeling of winter? Immerse yourself in the cold at skating rinks like Kallang Ice World and The Rink at JCube. You'll be putting your swish skills to the test! Alternatively, Snow City Singapore will bring back all your holiday memories with fun slides and bumper cars on ice.
18. We're hot for hotpot
Another favourite indoor activity in Singapore? Feasting! There's nothing like a boiling pot of steamboat to warm up your soul during a cold, wet day. Hotpot, steamboat or mookata? We've rounded up the best restaurants for you.
19. Update your wardrobe (and home!)
Multi-label boutiques are one of our favourite places to shop. They've got everything you need in one space. From fresh fashion to beautiful homeware, indie local labels serve up all things chic and fabulous. For more shopping adventures, head to homegrown fashion brands, stylish furniture and home decor stores, and thrift shops for pre-loved goods.
20. Give cafes a little lovin'
You might need to bring out your brollies for this. Even better if you're driving! We don't have to tell you about the wonderful cafe culture in Singapore. Our astounding number of cafes in every neighbourhood speaks for itself! Oh, and don't miss out on the best new cafes in town.
21. Get your culture fix
When you're looking for things to do indoors in Singapore, why not tap into your artsy-fartsy side? Feed your mind with our mega list of museums and art galleries. Plus, don't forget to check out our gorgeous, stroke-your-chin worthy permanent exhibitions and discover the secret museums on our island.
22. Bruno Mars, who?
Doesn't matter if you're a bathroom singer, show-stopping diva or can't hold a note to save your life. Belt out your favourite hits and karaoke classics at a karaoke studio near you. Hit that track!
23. Lose your-shelf at a bookstore
Calling all bookworms! If you're the type who can spend hours browsing through books of all genres, pop by the city's best bookstores for local literature, bestseller novels and magazines. Once you've found a title of your fancy, head to a quiet reading spot to curl up with a cuppa.
24. Join the tourists
Singapore is filled with plenty of attractions – we totally understand how hard it is to keep up. Play tourist for a day by visiting indoor hangs such as the Singapore Flyer, Trick Eye Museum, Madame Tussauds, Science Centre Singapore and S.E.A Aquarium for hours of fun.
25. Vent it out at a rage room
Next time you're having a sh*tty day, unleash all your frustrations at Singapore's only rage room, The Fragment Room. Each session provides you with breakable items such as plates, cups and vases, as well as electronics like TVs and radio sets. You can even bring something of your own – or your ex's, perhaps? Just suit up, gear up and get smashin'! Watch a throwback to our visit for an idea of what to expect.
With this incredible list of indoor activities in Singapore, you have no excuse to let a rainy day ruin your weekend plans!