Photography: Strong Pilates via Facebook
Get long and lean muscles at the top pilates studios in Singapore.
So you want to stick to your fitness goals, but you're tired of the same old cardio routine at the gym. We feel you! Take a break from that weathered treadmill and try a low-impact yet calorie-burning workout instead. Like yoga, pilates offers myriad benefits, including total body conditioning and strength-building. But it comes without the complex postures and meditation. It focuses more on back and core stabilisation. Keen to give it a whirl? Read on for our list of pilates studios in Singapore to help you kick your fitness levels up a notch.
Best pilates studios in Singapore
1. Strong Pilates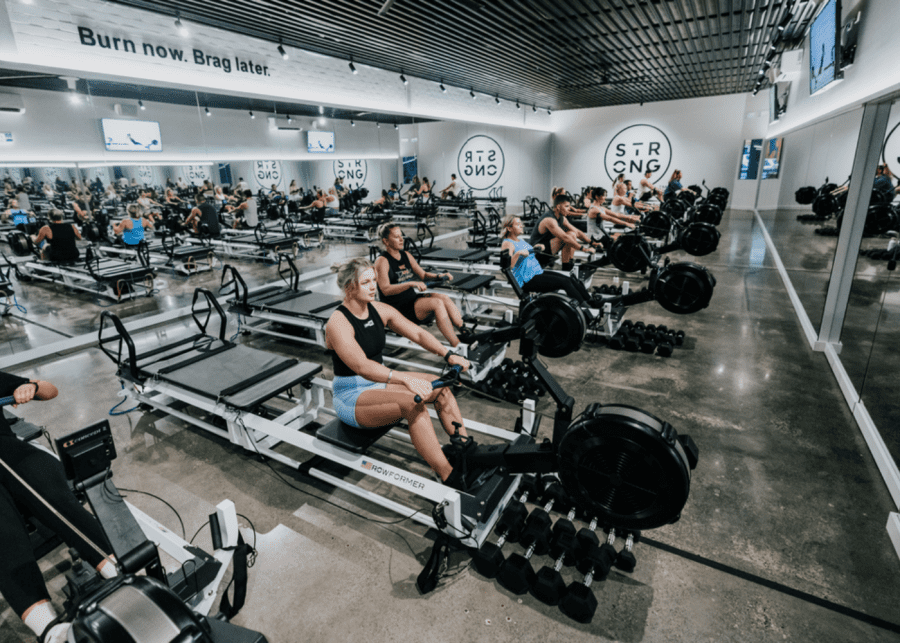 Having taken both the UK and Australia by storm, Strong Pilates has finally made its debut in Singapore. The brand brings a high-intensity workout that's low-impact that'll have you working up a sweat. Choose between classes that focus on strength, cardio, and even mobility. Keep an eye out because we've heard that it's planning to roll out even more studios across the island!
Strong Pilates, #02-01/02, Downtown Gallery, 6A Shenton Way, Singapore 068815
2. Absolute You
This boutique fitness studio, touted as Asia's largest of its kind, is well-known for its rhythm cycling workouts. But its pilates reformer classes are no slouch either. Here's where you can build your core strength, tone your body and improve your posture. Start from beginner sessions to familiarise yourself with the equipment and exercises. Then move on to circuit training or the signature fit and tone class.
Absolute You, #04-101, The Centrepoint, 176 Orchard Road, Singapore 238843
3. The Moving Body
At The Moving Body, pilates classes cater to everyone from athletes to everyday folk. Movements and intensity levels can be adapted for different body types or levels of fitness and flexibility. For newbies, kick off your introduction with starter sessions. Once you're more accustomed to the workouts, head to mat and reformer classes. At an advanced level? Sign up for power-packed exercises to strengthen your body.
The Moving Body, multiple locations including East Coast Road and Clemenceau Avenue
4. Pilates Fitness
This one's lauded as the first pilates studio in Singapore that offers goal-oriented classes to suit specific lifestyle needs. It has various programmes like the reformer group class with variations like weight loss, cardio jumpboard, and core-focused classes. Mums and dads, sign up for a couple prenatal workshop together. This prepares you for the birth of your little one through prenatal exercises that help relieve stress and keep the romance alive.
Pilates Fitness, multiple locations including East Coast Road and Serangoon Garden
5. Pilates Plus
Joseph Pilates once said that physical fitness is the first requisite of happiness. This studio champions these famous words. These folks believe in empowering clients through fitness to achieve vigour and freedom of movement. Just find a class that fits into your schedule, pop by the CBD location and stay on track with your fitness goals. Psst: the packages are pretty affordable, too!
Pilates Plus, #17-13, International Plaza, 10 Anson Road, Singapore 079903
6. Options Pilates Studio
As with most pilates workouts, you can expect to feel the difference in your body with just a few sessions. Whether it's in your energy levels, ease of pain in your lower back or improved posture. The studio also offers a variety of classes from private to semi-private and even group slots. And you get to try out specialised equipment like the reformer, Cadillac, ladder barrels and more.
Options Pilates Studio, multiple locations including Orchard and Sime Darby Centre
7. Sky Pilates
Founded by experienced pilates instructors and enthusiasts, this studio keeps classes small to ensure personalised feedback and focus on your personal needs. Aside from the usual mat and reformer classes, it also offers physiotherapy sessions. The clincher? It overlooks the treetops along Orchard to put your mind at ease.
Sky Pilates, #09-01, Forum The Shopping Mall, 583 Orchard Road, Singapore 238884
8. Pilates Flow
Get down to the classics! There aren't any new-age methods here – the trainers live and breathe the original teachings of Joseph Pilates himself. These workouts aim for strength, control, flexibility and grace. No matter your body type or experience level, you can get in touch with them for personal trainings or duet sessions that have you paired up with someone.
Pilates Flow, #02-06, Second Avenue Junction, 733 Bukit Timah Road, Singapore 269748
9. PowerMoves Pilates
Step into this calming, bright and airy studio, and you'll feel the peaceful vibes wash over you. It's one of the best-kept secrets in the fitness fraternity. Swing by to try out a range of matwork and reformer sessions to suit your individual body needs and goals.
PowerMoves Pilates, #02-05, Novena Specialist Centre, 8 Sinaran Drive, Singapore 307470
10. Focus
You can easily squeeze in a dose of mid-day rejuvenation with Focus' lunchtime slots. Open-spaced and well-lit, the state-of-the-art studio offers reformer or mat and movement packages. Give it a shot to hone in on strength and conditioning, or focus on stretching and alleviating muscle tightness.
Focus, #08-00, RB Capital Building, 22 Malacca Street, Singapore 048980
11. Pure Fitness
Pure Fitness isn't the first place you think of when it comes to pilates. But the mega gym naturally doesn't fail on that front. Its pilates classes strengthen and lengthen the muscles, building your flexibility and agility. Oh, and once you're done with your workout, you can chill out in the luxurious changing rooms or relax in the lounge over healthy bites and superfood smoothies.
Pure Fitness, multiple locations including Suntec City and Ocean Financial Centre
12. Breathe Pilates
While the usual mat and reformer classes are available, Breathe Pilates takes it up a notch with its fusion classes. It's all about toning your body, improving your posture, building up your core muscles and working on your flexibility. Choose your class level (beginner or intermediate/advanced) and select from the variety of workouts offered. You'll be blasting those fats away with ballet-inspired movements and cardio elements, stretching it out on the reformer to get rid of body aches, or working on exercises targeting your joint mobility and strength.
Breathe Pilates, multiple locations including Raffles Quay and Novena Medical Centre
13. Pilates BodyTree
Here's one for desk-bound executives. The bulk of its clientele is working professionals who need physical and mental relief. Singapore's first mobility fitness training studio focuses on physical fitness and joint health to make sure you've got enough flexibility and strength to perform movements well. Newcomers can start with a one-to-one mobility fitness assessment to figure out their body imbalances and aches. After this, you'll be recommended classes for the next step of your fitness journey.
Pilates BodyTree, multiple locations including Chinatown Point and Cecil Street
14. Pilatique Pilates Studio
Tucked away in a quiet corner of Gemmill Lane is Pilatique, an intimate studio that's based on Stott Pilates. It's a licensed training centre that has certified hundreds of instructors all across the world. This contemporary approach to the age-old regime involves your trainer keeping your mind active by explaining each movement, activating the connection between mind and body. The result? Better athletic performance and improved alertness. Sign up for one of the reformer group classes – they're capped at four to make sure you get the attention you need – to up your fitness game.
Pilatique Pilates Studio, 8 Gemmill Lane, Singapore 069250
Pick your fave pilates workout in Singapore and run with it!