Photography: DerekTeo via Shutterstock
Keen to try your hand at fishing or prawning in Singapore? We reel in the best places for a peaceful day out.
For some alone time spent relaxing in nature, fishing and prawning are great leisure activities if you have plenty of hours to spare. All you need is the proper equipment, lots of sunscreen and a good amount of patience to play the waiting game. Just remember to go to the designated areas and practice proper etiquette! From nature parks to reservoirs to outdoor areas, here are all the best places to go fishing and prawning in Singapore. Tip: before you go, check out these guidelines for sustainable fishing.
Where to go prawning in Singapore
1. Hai Bin
One of the most well-loved hotspots for prawning, Hai Bin never closes its doors to visitors. That means you can bask in the kampung spirit at this old school prawn fishing pond any time of the day (or night). Whether you're going solo or in a group, you'll enjoy the casual ambience of the space.
Hai Bin, #01-04, 6 Tebing Lane, Singapore 828835
2. Ah Hua Fishing
Explore Singapore's serene countryside and spend a day at this fishing hangout to reel in prawns or try your hand at pole fishing. The east-side spot may be a tad out of the way, but it's well worth the peace and quiet. Little ones can join in the fun with $1 koi fish feeding, too!
Ah Hua Fishing, 125 Pasir Ris Road, Singapore 519121
3. Orto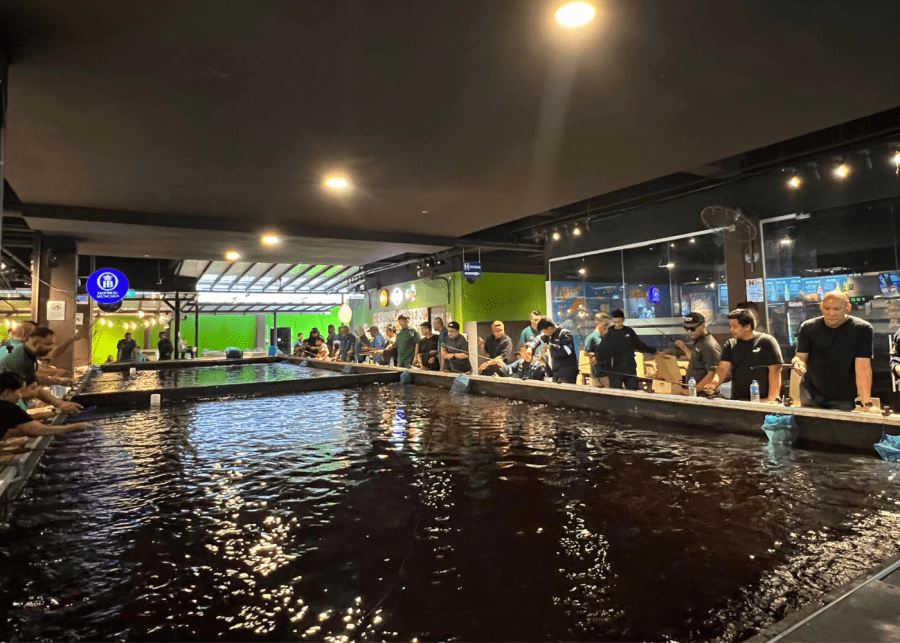 Formerly a family-friendly nature oasis in Yishun, kampung-style Orto is now in the west. The newest prawning spot in Singapore, it houses two ponds filled with big head prawns. Plus, the indoor space is well-ventilated, and you don't have to prepare a thing. As usual, rent your rods here, grab some bait, and grill up a feast once you've hauled your catch of the day.
Orto, #01-12/13, 27 West Coast Highway, Singapore 117867
4. Fish @ Bugis +
Not a fan of sitting out in the sun for long hours? Check out the city's only rooftop indoor prawn fishing pond instead. Activities here include saltwater prawning, freshwater prawning and longkang fishing for kids. For the ultimate chilling sesh, grab a beer and luxuriate in the air-conditioned arena while you wait.
Fish @ Bugis+, #07-05, Bugis+, 201 Victoria Street, Singapore 188067
5. Riviera Prawning
For 24-hour prawning in Singapore, swing by this no-frills spot in Punggol. It's usually not as crowded as Hai Bin, and you can snag any items you need at the store before casting your rod. For a little midnight fun, grab a couple of fellow insomniac friends and while away the hours.
Riviera Prawning, #01-11, 60 Punggol East, Singapore 828825
---
Where to go fishing in Singapore
6. Punggol Point Jetty
Just next to Coney Island, Punggol Point Park is home to a jetty that looks out on Pulau Ubin and the Johor Straits. The promenade is a picturesque waterfront hangout where anglers can catch snapper, barramundi, rays and more. But if you end up leaving empty-handed, you can always kick back with a meal at the nearby eateries. If you decide to venture further, do note that you can only fish along certain sections of Punggol Promenade, so it's best to check with NParks before you go.
Punggol Point Jetty, Punggol Point Park
7. Lower Seletar Reservoir Park
Drive north to find glittering waters and gorgeous greenery at Lower Seletar Reservoir Park. The fishing jetty extends out into the reservoir, allowing anglers to hook tilapias and large snakeheads. You can always take a leisurely waterfront stroll afterwards to stretch your legs! P.S. to care for the reservoir and preserve fish stock, you're encouraged to use only artificial bait and carry out catch-and-release practices.
Lower Seletar Reservoir Park, located along Yishun Avenue 1 and Lentor Avenue
8. Labrador Nature Reserve
Conveniently situated near Labrador Park MRT station, the nature reserve's seaside spots just are a stroll away, either down Labrador Villa Road or the lush green Berlayer Creek boardwalk. Plus, it's not too crowded and the park is home to historical relics from WWII if you're up for a little sightseeing. Anglers can head to the quiet jetty to fish for various species along the shoreline of the promenade.
Labrador Nature Reserve, located along Labrador Villa Road
9. Sembawang Park
For undisturbed views of the Johor Straits, head to Sembawang Park, a popular fishing spot by the beach. You can also catch flower crabs and mudcrabs here if you bring along cage traps. Just find a spot at the jetty and enjoy the peace that surrounds you as you wait.
Sembawang Park, Sembawang Road
10. Bedok Jetty
A popular fishing location in East Coast Park, this beautiful former military jetty stretches out more than 300 metres into the sea. That means you'll get scenic views and serene vibes as you cast your line and wait for the fish to bite. Whether you're a novice or an experienced enthusiast, Bedok Jetty offers shallow and deep water fishing for anyone to try. Big catches here include stingrays, as well as large garoupas and snappers.
Bedok Jetty, East Coast Park Service Road, Singapore 449876
11. D'Best Fishing at Pasir Ris Town Park
Gear up and head to Pasir Ris, where you'll find Singapore's largest commercial saltwater fishing pond. Open 24 hours, D'Best Fishing welcomes both beginners and skilled anglers, offering rods for rental if you don't have one. Whether you enjoy the morning sun on your face or a little midnight action, you can pop by anytime to test your skills, agility and stamina. The place also houses a kids' fishing area for an educational experience.
D'Best Fishing, 90 Pasir Ris Central (Pasir Ris Town Park), Singapore 519635
12. Changi Beach Park
This rustic spot is one of the oldest coastal parks on the island, popular with families for swimming, picnics and BBQ gatherings. For a tranquil fishing experience, pick the perfect spot along the beach and settle in for the day. Just bring your own rod and you're ready to go!
Changi Beach Park, located along Nicoll Drive and Changi Coast Road
Grab a friend for fun times at these fishing and prawning spots in Singapore!