Photography: Noémi Macavei-Katócz via Unsplash
Want to lose your-shelf in the wonderful world of books? Hit up these bookstores in Singapore if you've got a need to read.
Sure, we're in the age of digital, but there's no stopping serious bookworms in their quest to read (plus, who can resist the new smell of books?). From Singaporean writers and local literature to vintage paperbacks and international bestsellers, these online and physical bookstores in Singapore will satiate even the most voracious book nerd.
Best bookstores in Singapore
1. Epigram Bookshop
This local publisher is one of the few bookstores in Singapore that focuses heavily on Singaporean titles. It doesn't get any more local than this! Looking to enjoy your book with a cuppa? We recommend heading to Epigram Coffee Bookshop. It's located at the Tanjong Pagar Distripark alongside exhibitions by the Singapore Art Museum.
Epigram Bookshop, shop online or visit Epigram Coffee Bookshop at #01-02, Singapore Art Museum @ Tanjong Pagar Distripark, 39 Keppel Road,  Singapore 089065
2. Wordery
This UK-based bookstore is the brainchild of five friends with a passion for reading. It started with wanting to recapture the spirit of reading with an alternative online bookstore. This means new books for readers to discover along with genuine enthusiasm from staff on all things books. It's a combination of all the beautiful things of a traditional bookshop with the convenience of an online store. A big plus: Wordery is committed to working with charities to improve literacy among children.
Wordery, shop online
3. Thryft
This sustainable thrift store is truly one of a kind. It's got books ranging from art and photography to social sciences and geography. It's perfect for any students looking to get their textbooks for cheap. Come here to donate your pre-loved books in exchange for credit so that you can get new titles to read. 1% of Thryft's profits go to non-profit organisations and initiatives to support environmental and social issues.
Thryft, shop online
4. Blackwell's
While we might be bidding farewell to BookDepository and its inventory of 20 million books, Blackwell's is here to fill that gap. This family business has over 100 years of history behind it. It started as a physical bookstore in Oxford. Since then, it's grown to a chain of 30 shops and even supplies libraries, universities, and government departments. There's even a whole selection of books that have been signed by the authors! If you're a diehard fan of any writer, you might get lucky while scrolling through the site.
Blackwell's, shop online
5. Allscript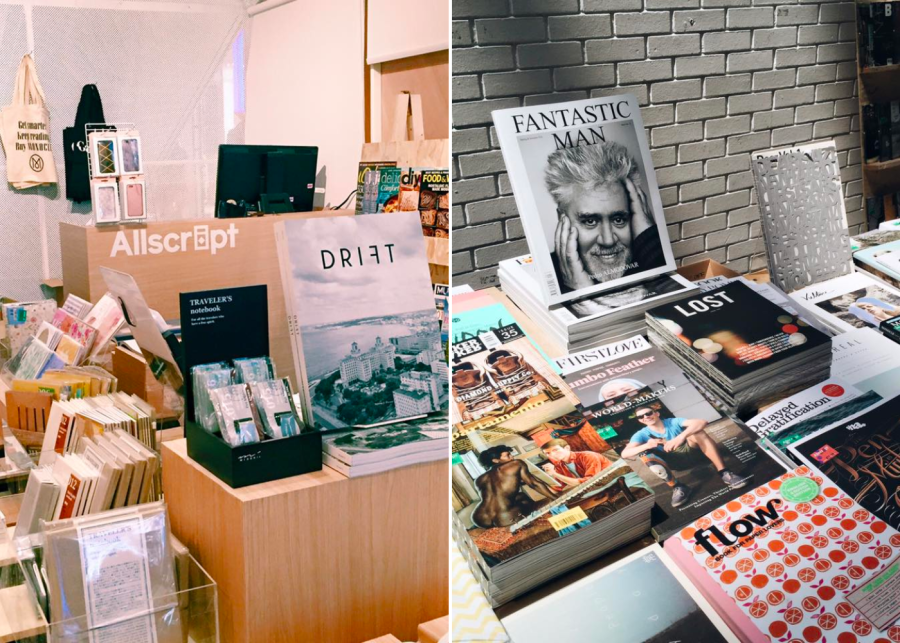 If you're a magazine lover, you'll adore this store. Founded in 1991, Allscript is out to deliver the best magazine content to readers everywhere. Its eclectic range covers over 3000 titles from all over the world. Think the likes of Elle, Harper's Bazaar, Reader's Digest, Harvard Business Review and more. So whether you're an avid fan or hobbyist of print magazines and media, this is the spot to be.
Allscript, shop online
6. ThriftBooks
ThriftBooks transformed from a pick-up truck of used books to a large online independent book seller. Besides selling on other ecommerce sites, it has its own online shop. The team behind ThriftBooks hand grades every title that comes to them. There are pre-loved reads in various formats and conditions that you can purchase. There's even a #BookTok tab where you can find trending books!
ThriftBooks, shop online
7. Woods in the Books
This independent bookshop in charming Tiong Bahru will take you back to your childhood. It specialises in picture and illustrated books for all ages. Whether you're a Tintin fan or you love The Hungry Caterpillar, it'll get you nostalgic for the good ol' days. It's a pretty perfect place to pick up gifts for expecting mums or children's birthdays! Those who just want to relive their younger days can also pop by for a quiet hang.
Woods in the Books, 3 Yong Siak Street, Singapore 168642
8. GOHD Books
For the discerning bookworm, this online bookstore in Singapore is where you can find rare books. Some are first editions, while others have been around for thousands of years. Pick out literary greats in its selection. Or cast your eye on vintage paperbacks and leather- or cloth-bound antique tomes. You'll find books on everything from philosophy and spirituality to art and design.
GOHD Books, shop online
9. Grassroots Book Room
A lovely little space tucked away from the bustle of Keong Saik Road. This independent Chinese bookshop has been around for decades. Swing by to browse through the selection of Chinese history, film, literature and politics, while you enjoy the cosy and calm vibes.
Grassroots Book Room, 25 Bukit Pasoh Road, Singapore 089839
10. Zall Bookstore
Hailing from Hubei, China, the shop features over 30,000 books – mostly in Chinese – covering literature, history and philosophy from China and Taiwan. Once you've picked out your reads, you can enjoy them at the cafe or head to the art gallery to browse through the exhibition display.
Zall Bookstore, #02-18, Wheelock Place, 501 Orchard Road, Singapore 238880
11. Littered with Books
Tucked away in the hip Duxton area is Littered with Books, one of our favourite bookstores in Singapore. This place has fantastic service, competitive prices and a well-edited selection of titles. Take your pick from non-fiction, crime, thrillers, sci-fi, fantasy and children's books, then read to your heart's content.
Littered with Books, Chinatown Point, 20 Duxton Road, Singapore 089486
12. Books Ahoy
Brought to you by the folks behind Woods in the Books, this bookstore caters specifically to young readers. Vibrant pictures and easy-to-read chapter books will transport your little ones to a world of adventure. With a collection of new novels, niche titles and classics, the quaint space is perfect to dive into children's literature. What better way to pique your little one's interest in reading?
Books Ahoy, #02-03, Forum The Shopping Mall, 583 Orchard Road, Singapore 238884
13. Basheer Graphic Books
This specialty bookstore for design books and mags is a favourite of many design aficionados. Texts are related to architecture, interior design, animation, fashion and art. Whether you work in design or just love the way these heavyweights look on a coffee table, Basheer Graphic Books has some stunning titles that are arguably works of art in their own right.
Basheer Graphic Books, #04-19, Bras Basah Complex, 231 Bain Street, Singapore 180231
14. Kinokuniya
Not only does Kino stock a wide genre of books that somehow manage to be impeccably arranged every time we visit, but it also has widely-anticipated releases and texts in different languages. Perfect if you have all day to peruse the fiction and non-fiction sections; not so perfect if your bank account needs a break.
Kinokuniya, multiple locations including Takashimaya and Bugis Junction
15. Ethos Books
Having been around since 1997, Ethos Books is an independent literary publisher in Singapore. The bookstore puts out fiction, non-fiction and poetry, and takes pride in offering a platform for up-and-coming writers from all backgrounds.
Ethos Books, shop online
16. OpenTrolley Bookstore
You'll find over 10 million titles imported from the US and UK on this online book peddler. From children's classics (with really pretty covers) and graphic novels to cookbooks and memoirs, you can say it's pretty well-stocked – and affordable too! Psst: get free delivery with a minimum purchase of $60.
OpenTrolley Bookstore, shop online
Time to hit up these bookstores in Singapore for an afternoon of reading.