Photography: Disney+
High and low, far and wide, have you still not found your movie guide? Here's our binge-watch list: you won't be hitting pause anytime soon!
Want to give those eyes a rest from the hours you've been scrolling to find the perfect thing to watch? You can relax, as we've got you covered. Our list of the latest binge-worthy TV shows and movies is the answer you're looking for. From feel-good comedy to crime dramas, there's something for everyone to enjoy with popcorn.
Best movies and TV shows to binge-watch
1. Ms. Marvel
Bright graffiti art and neon colours greet you as you dive into the world of 16-year-old Avengers fangirl Kamala Khan. Based on the Marvel comics character, we witness the story of a Pakistani-American school girl who is an aspiring artist and avid gamer. With her head in the clouds and her passion for Captain Marvel, she often gets into trouble with her conservative parents. But her world turns upside down when she discovers bangles with powers.
Highly anticipated for its representation of its first Muslim superhero, the show has lived up to the hype with its first episode. It's been received with a whole lot of love! Also, catch some sick beats from South-Asian artists like A.R. Rahman and Riz Ahmed making their way into the show.
Watch on Disney+
2. Hustle
Fans of Adam Sandler, get ready to see him in a serious new light. This movie brings you the best of both worlds with Sandler's trademark refreshing humour and inspiration in the form of a sports drama. Stanley Sugerman (Sandler) is an ageing NBA scout on the lookout for new talent when he spots Bo Cruz (real-life NBA player Juancho Hernangomez), a Spanish player with astounding skills. The trials and tribulations they undergo, as Stanley struggles to get Bo drafted into the NBA, form the rest of the story. The film features numerous cameos from real-life players, so basketball lovers are in for a treat.
Watch on Netflix
3. Top Gun
With Top Gun: Maverick garnering rave reviews at the moment, check out the original before hitting the theatres for the new one. This 1986 flick is all things action, adventure and heart. Aside from the great aerial fight scenes and decent plot twists, watch this one for the inspiring bromance that will have you reaching for tissues. US Naval aviator Pete "Maverick" Mitchell is a loose cannon who pushes boundaries to become the best, while "Goose" Bradshaw is his dependable wingman. Together, they enter Top Gun, the Naval Fighter Weapons School. The film will take you through a rollercoaster of emotions befitting of a sequel 36 years later.
Watch on HBO Go
4. The Umbrella Academy
The Emmy-nominated series is back with its third season! It combines time travel and superheroes to keep you at the edge of your seat. An eccentric billionaire adopts seven children who were a consequence of a miracle birthing event, creating a superhero squad that he calls, you guessed it, "The Umbrella Academy". After years of being estranged, the dysfunctional family meet at their father's funeral only to discover that an apocalypse is imminent. Can they save the world? Only one way to find out. Being a favourite of critics and fans, this one is worth bingeing.
Watch on Netflix from 19 June
5. Peaky Blinders
By the order of the Peaky Blinders or not, you can't resist watching this globally beloved show that's now coming to an end with its final season. Cillian Murphy is back, reprising his role of Thomas Shelby, the badass leader of the street gang. The show depicts the exploits of a gypsy family from Birmingham that rises amongst the ranks to become one of the most internationally feared crime groups.
It's well-known for its gritty, post-WWI aesthetics of opium-consuming, suspenders-wearing macho men, alongside its realistic and complex female characters. A performance to look out for is Polly Shelby, the matriarch of the Shelby family who's masterfully portrayed by the late Helen McCrory. Don't miss out on this legendary must-watch.
Watch on Netflix

6. Just Mercy
Raw, real, and relevant are a few things that come to mind after watching this film. It's one of those rare ones that stick to you like an aftertaste (of the good kind), long after you've consumed it. It begins in 1989 as we see Harvard law graduate Bryan Stevenson travel to Alabama to fulfil his dreams of providing legal services for the poor and wrongfully accused. Here, he takes up the case of Walter "Johnny D" Mcmillian, an African-American man who's waiting to be hung for the murder of an 18-year-old Caucasian girl.
This biographical legal drama focuses on the court battle and judicial struggles that follow because of racial injustices in the South. Jamie Foxx plays Johnny D to perfection and has great chemistry with Michael B. Jordan as Stevenson, but the side characters have to be credited for their noteworthy performances too. Although the pace starts off slow, the riveting plot keeps you at the edge of your seat, evoking strong emotions from its brutal portrayal of the past.
Watch on Netflix  
7. Made for Love
Back with its second season, this gem is the perfect entertaining mix of black comedy and sci-fi. An emotionally distraught Hazel (Cristin Milioti) escapes the clutches of a draining 10-year marriage, only to discover that her billionaire husband Byron (Billy Magnussen) has implanted a tracking device on her to reap "emotional data". Based on the Alissa Nutting novel, its stars deserve special mention for their electric performances – especially Magnussen, who adeptly balances being creepy and charming. Think "Black Mirror" but with comedic elements and emotional depth. Watch this one for something unique and original.
Watch on HBO Go
8. Shining Girls
Of course, the list can't be complete without a thriller, and we've got an underrated one based on the novel by Lauren Beukes. The fantastic Elizabeth Moss plays Kirby Mazarachi, who's an archivist at the Chicago Sun-Times. Suffering from the trauma of an assault that distorts her reality, she begins a hunt for her attacker after stumbling upon a death that has an uncanny resemblance to her own assault, leading to the discovery of a serial killer. With more twists and turns than you can count, this one needs your brain energy turned on to truly revel in it. But once you do, you're in for a mind-bending ride.
Watch on Apple TV+
9. The Godfather
The legendary Coppola masterpiece has finally made its way to Netflix this month. This is the OG crime family of them all. It needs no introduction but if you're one of those rare people who haven't watched it, here you go. Based on Mario Puzo's novel of the same name, it's the first instalment of a trilogy and tells the tale of the Italian-American Corleone crime family. The mob drama focuses on patriarch Don Vito Corleone (Marlon Brando) and his youngest son Michael (Al Pacino), who's reluctant to join the underworld but inevitably gets caught up in the violence and betrayal of the lifestyle. Touted to be one of the greatest films of all time, we recommend you revisit this classic with dad for the upcoming Father's Day.
Watch on Netflix 
10. Heartstopper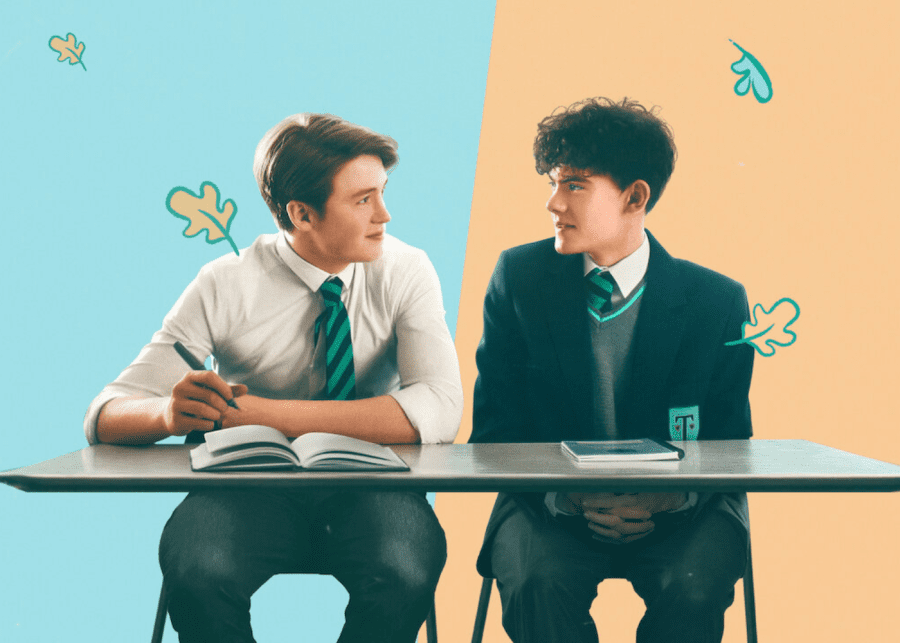 In the mood for something lighthearted? We've got the perfect show for you. Who doesn't enjoy watching first loves – with sparks, kisses, butterflies and all? Now we've gotten a queer representation of it. Teens Charlie and Nick bring us all of the innocence and beauty of middle school crushes, but from a refreshing queer perspective. Without giving out any spoilers, we'll just say that exploring sexuality and falling in love is witnessed in its purest, most heartwarming form here. Look out for the quirky, cute graphics that make their way onto the screens to symbolise different emotions.
Watch on Netflix
Are we missing out on any shows to binge-watch? DM us on Instagram or Facebook with your recommendations!